update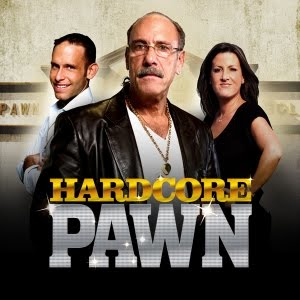 Season 0
Monday, December 21st, 2009

1: Pilot #1 - Robo Bites

Les Gold introduces viewers to the world of American Jewelry and Loan, a pawn shop in 8 Mile Detroit. Les and his son Seth try to manage irate customers and deal with head of security, Robo, biting a fellow employee.

Monday, December 21st, 2009

2: Pilot #2 - Ashley's Back

Les's daughter Ashley strikes a deal to return to the family business ,but it's not all plain sailing. A customer tries to pawn her teeth, another wants to sell his prize head and a drum kit comes in, but who will test it?
Season 1
not specified

0:

Monday, August 16th, 2010

1: Dangerous Cash

A customer gets angry and threatens the staff. Another customer brings in a 'Stripper pole' which results in the staff betting among themselves on whether it will sell.

Monday, August 16th, 2010

2: Booze and Guns

The Gold family debate arming themselves and their staff, following threats from an irate customer. They argue over a drink chilling machine a customer brings in to sell, resulting in another bet.

Monday, August 23rd, 2010

3: Bulletproof Gator

When an alligator turns on its owner, he tries to sell it to the Golds. Ashley and Seth want no part of the reptile. But will Les' nostalgia force him to make a bad decision? Then, a man wants to pawn his bulletproof vest so Les tells him he needs to take him outside and test it. Plus, tempers flare when Ashley mishandles a motorcycle pawn and everyone questions her abilities. Will Daddy's little girl get her way?

Monday, August 23rd, 2010

4: Trouble Inside

An employee becomes violent and nearly tears the family apart. Then, Ashley goes through the roof when an aggressive customer tries to sell 50 pairs of some-not-so-clean panties. And its 'show and tell' when a wacky puppet-maker turns out replicas of the staff.

Monday, August 30th, 2010

5: Moving Targets

Tensions boil over when a customer flips out over a mix-up with his gold chain. Then, Ashley loses it when a customer tries to pawn a cursed relic. Will its deadly history catch her in its grips...or will she throw it and the customer out the door?

Monday, September 13th, 2010

6: Father vs. Son

Les and Seth clash over the business when Les' idea to give away massive cash in the parking lot creates a dangerous situation. In the midst of the turmoil, Ashley recruits Seth in an attempt to make stripper poles in-house. Will the new venture turn a profit or leave the Golds belly up?

Monday, September 20th, 2010

7: Les' Big Gamble

Les flips out when his security guard shouts at a customer. Then, the staff squirms when Seth and Ashley clash over whether or not to buy a collection of venomous reptiles and hissing roaches. And, disgusted by their security staff's performance, the Golds decide it's time to find a new head of security.

Monday, September 27th, 2010

8: Gold at Gunpoint

Les takes Ashley and Seth to the pawn shop his Grandfather started in downtown Detroit. Then, a dominatrix brings her gear into the shop; will the Golds show this madam the door? And, Seth surprises his father with an emotional birthday present.
Season 2
Tuesday, December 28th, 2010

1: Crazy Cash

It's close encounters of the strange kind when Les is presented with an item that's alleged to communicate with aliens. Then, Seth squares off with a customer who flips out when she can't get her earrings out of pawn. Plus, an ex-adult film star brings in a big box of his biggest hits to the shop. And, Ashley is reduced to tears when she and Seth trade blows over a lost sale.

Tuesday, December 28th, 2010

2: The Big Bet

Les challenges Seth to a high stakes sales competition. As the battle heats up, Les faces his most dangerous customer yet. Will security step in or will Les throw down? Plus, Ashley goes toe-to-toe with a customer who won't take no for an answer.

Tuesday, January 4th, 2011

3: Storm's a-Brewin

The shop becomes a powder keg when hundreds of angry customers face hour-long lines. Plus, Les must determine if a customer is fencing stolen goods. Then, the Golds are presented with a rusty old tractor that could be worth a truckload of cash. And, Seth and Ashley's feud erupts in front of the entire staff... and Les is forced to intervene.

Tuesday, January 11th, 2011

4: Desperate Pawn

Seth takes a beating when a negotiation turns into a kung fu fiasco. Then, Ashley scrambles to find a customer's missing guitar. Plus, the Golds must stand together as they face off against a mob of desperate customers, all in a day that's brought in more business than they typically see in two weeks.

Tuesday, January 18th, 2011

5: Skulls & Scoundrels

A customer claims that he was overcharged for a watch. Ashley becomes irate with Les and Seth over their undermining of her authority. Les buys an elephant skull and porta-potty. Les has to take over a deal when Ashley offers too much money.

Tuesday, January 25th, 2011

6: The Gambler

A high stakes gambler visits the pawn shop for funds. The Golds bet he'll hit big, but are they pressing their luck? Then, Les calls security for backup when an argument over a missing item turns violent. And, things go from kooky to kinky when a customer tries to sell a gynecologist's table.

Tuesday, February 1st, 2011

7: Fool's Gold

Things heat up when an employee is asked to strip down and test out a tanning machine. A customer tries to sell her gold bracelet but Les tells her it's a fake. And, Seth has to determine if a gold watch is priceless or worthless.

Tuesday, February 8th, 2011

8: Cash Kings

Les makes an out-of-character impulse purchase that turns the pawn shop into an arcade. Then Ashley is threatened by a customer when a negotiation goes too far. And, Les gives a big loan to a customer with an unlikely sob story. Will she repay the loan as promised or has Les been fleeced?
Season 3
Tuesday, February 15th, 2011

2: Whack Job

A customer pushes the staff to their breaking point with an endless parade of worthless items. Then, Ashley asserts herself when a woman brings in what she claims is rare music box. And, Ashley and Seth band together against an unruly customer. TV-14-L

Tuesday, February 22nd, 2011

1: Hot Rods, Raging Tempers

When a customer tries to sell his dead wife's diamond ring, the Golds surprise him by turning the item into a priceless pendant. Plus, Ashley butts in on a heated negotiation sending Les through the roof and resulting in a full-out family feud. TV-14-

Tuesday, March 1st, 2011

3: Acid Test

Seth wants to make an expensive purchase that he says can save the store thousands. Plus, a customer wants to sell a fur coat allegedly made of rare monkey fur. Will Les bite or is this deal just bananas? TV-14-L

Tuesday, March 8th, 2011

4: Gold War

A granny threatens Seth with a shotgun when her fur coat turns up torn. Plus, Les has his hands full with a negotiation over a vintage gumball machine and an enticing gold sale. Meanwhile, a dispute over lazy employees erupts into an all out war between Seth and Ashley.

Tuesday, March 22nd, 2011

5: Family Feud

Les and Seth battle it out over the business when a difference of opinion explodes into a family feud. Then, Rich sees dollar signs when a customer brings in what's believed to be a secret government spy camera. And, when a customer reneges on an expensive piece of custom jewelry will the Golds get stuck with the bill?

Tuesday, March 22nd, 2011

6: Bad Blood

Les and Seth go through the roof when an employee smashes a flat-screen TV. Then, a couple unloads a storage facility worth of goods on the Golds. Will it be a windfall or trash pile? And, Ashley slams Seth in front of the staff.

Tuesday, March 29th, 2011

7: Les' Revenge

Les exacts revenge when Seth spends company money on an impulse purchase. Then, a customer pushes Rich too far and gets kicked to the curb. And later, when a guy brings in a rare piece of Detroit history, Les breaks out the big bucks.

Tuesday, March 29th, 2011

8: Gold Hustle

Les loses it on Ashley when her bad behavior costs him a big customer. Then, the store goes into red alert when a con artist scams a buyer out of his cash. And later, it's showdown time when Ashley stands her ground against her father and brother.

Tuesday, April 5th, 2011

9: Sibling War

Seth and Ashley's bitter rivalry reaches a boiling point and turns the store upside down. Meanwhile, a vintage collector's item sparks a heated negotiation. And, employees revolt when a customer tries to sell a gold tooth, but Les sees dollar signs.

Tuesday, April 12th, 2011

10: Les Way or the Highway

On another busy day, Les wants all sales staff on the floor, including those in the internet department, despite Seth's objections; to make a point, he gives Les a reason why he needs the internet department when Les buys collectible military figurines from a customer. A woman pays for her pawn of her TV, in which she's emotionally attached to. A man wants to buy musical equipment from Rich, but he accuses Rich of selling used merchandise at prices the customer feels is improper. A drunk man tries to sell his coins and Garbage Pail Kids cards, but his behavior killed any hope of a deal. A man sells a gold and diamond ring he thought was from the Baseball Hall of Fame, but actually belonged to someone who worked for the Yellow Pages. A woman, who was talking an unsavory language of sexual innuendo, pawns her wedding ring.

Tuesday, April 26th, 2011

11: Sucker Punch

Les scrambles to find a buyer for a pimped out party bus in order to win an old bet with Seth. Then, a mad scientist claims his vintage device can cure deadly diseases. Will the Golds bite or give Dr. Evil the boot? And, Seth makes a shocking revelation that sends a couple into a rampage.

Tuesday, May 10th, 2011

12: Melted Gold

Seth steps in when a customer and employee square off in the parking lot. Then, Les and Ashley learn the meaning of "nut up" when they try to calm down a customer's maniacal mother. And, the entire store gangs up on Seth to give him the birthday surprise of a lifetime.

Tuesday, May 24th, 2011

13: I Quit!

Les and Seth face down Ashley in a final power struggle that could change the face of American Jewelry & Loan forever.
Season 4
Tuesday, June 21st, 2011

1: Life After Death

With Ashley gone, business seems to really be picking up - or at least that what Seth thinks. A disagreement over a customer's loan erupts into a knockdown, drag out battle. Then, a rare automobile has Les and Seth very interested. Will they pony up or watch this dream car drive away? And later, Les longs to bring Ashley back into the business, but Seth will have none of it.

Tuesday, June 21st, 2011

2: Return of the Queen

Les snaps when a customer threatens to throw down over a broken necklace. Then, the Golds are presented with Saddam Hussein's signed personal documents and Iraqi currency. Will his signature prove to be the real thing or not worth the paper it's written on? And later, Les calls Ashley in for a family sit-down. He wants her back at the shop, but she has plans of her own. Will daddy's darling return and change the family business forever or will Seth stand in the way?

Tuesday, June 28th, 2011

3: Fire Bomb

A customer tries to rip off the store and quickly learns why you never mess with Les. Then, the Golds have the chance to buy a genuine Olympic torch. Will they win this deal or will victory elude them? And, a raging car fire in the parking lot threatens to catch the power lines, but things take a turn for the worst when the family learns someone may be inside the car.

Tuesday, July 5th, 2011

4: Les Walks Out

With Les gone, Ashley plots Seth's demise. Will he outwit his sister or fall prey to her divisive plan? Plus, a customer wants big cash for his jewelry but a disagreement over its worth leads to a vicious standoff. And, the Golds have the opportunity to buy a rare piece of memorabilia. Seth dangles an enticing deal in front of the seller, but one of them may be getting the shaft.

Tuesday, July 19th, 2011

5: Les Loses It

Seth negotiates like a tiger when a trove of vintage sports cards comes through the door. Then, the Golds scream when a customer's jewelry is revealed to have been pierced through the most intimate of body parts. And, a drunk customer gets belligerent, but when she calls Les the mother of all insults, he explodes like never before. Can security calm things down or will Les take things too far?

Tuesday, July 26th, 2011

6: Blood Lines

Ashley blows everyone away with her negotiating skills causing her feud with Seth to resurface. Then, Les is threatened with a trip to the hospital or worse when a shark suit sale goes wrong. Will he back down or ready to throw down? And, when the sibling rivalry reaches a fever pitch, Les is forced to make a decision that will change the way American Jewelry and Loan does business forever.

Tuesday, August 2nd, 2011

7: Turf Wars

With the store officially divided, Seth and Ashley square off to defend their turf. Then, an issue with a fake ID puts Les in a dangerous situation. And, an aggressive father with some high-tech gear for sale humiliates his son in front of the Golds and turns a business deal into a family brawl.

Tuesday, August 16th, 2011

8: All in the Family

Ashley and Seth have officially marked their territories. Tensions between the two run high, but when a customer demands drug money they are forced to band together for the good of the store. Then, a signed and authenticated Elvis record may command major cash, but will Les and Rich spend too much? And, the gloves come off when a customer threatens to attack Les after hours.

Tuesday, August 30th, 2011

9: Ashley vs. Rich

When Rich invades Ashley's territory in the jewelry and loan department, she puts him in his place. Then, Seth negotiates hard for high-value jewels, but when the customer starts abusing his girlfriend, things really heat up. Plus, Les eyes a rare piece of memorabilia from a famous movie and ignites a bidding war on the sales floor. And, Rich crosses the line and sends Ashley through the roof. With neither of them willing to back down, will Ashley find common ground or send Rich packing?

Tuesday, September 6th, 2011

10: New Hire. Now Fire!

Seth takes his biggest stand to date when a 'roid-raging meathead threatens his father's safety. Plus, Ashley surprises everyone with a brand new hire. She's confident this girl's a diamond in the rough, but Les and Seth aren't so sure. Later, Ashley discovers the new girl has been taking items from the jewelry case and is forced to challenge her. The confrontation erupts and Seth steps in to protect his sister and the family business. TV-14-L

Tuesday, September 13th, 2011

11: Seth vs. Rich

Ashley faces danger head-on when a riled-up customer refuses to leave the store. Then, the friction may have cooled between Rich and Ashley, but when he screws up a major job for Les, Seth takes the heat. Unwilling to fail in his father's eyes, Seth takes Rich on in a face-to-face confrontation with neither man willing to back down.

Tuesday, September 27th, 2011

12: Drop the Bomb

Les' plan to celebrate the store's 30th anniversary hits a snag when he dumps the job onto Ashley and Seth with the intention of bringing them back together. In the midst of all the family drama, Les has a meltdown when a customer tries peddling him fake gold.

Tuesday, October 4th, 2011

13: Total Meltdown

As the deadline approaches, Seth and Ashley scramble to pull their individual events together. Amidst a crushing wall of pressure from Les, customers that have fully lost their minds and fierce sibling rivalry, the chaos mounts to a breaking point. But when the dust settles and the cash is counted, Les delivers devastating news that rocks his family and staff to the core. TV-14-L
Season 5
Tuesday, November 15th, 2011

1: Aftermath

With Les' threat of opening another store looming in the air, Seth and Ashley must band together to convince him otherwise. Then, a customer looks for fast cash by trying to sell his prosthetic eye. And, when Les suddenly reveals he's found the location for the new store, Seth and Ashley go through the roof. But just when things seem to have settled down, Les does something that will change the family dynamic forever.

Tuesday, November 22nd, 2011

2: Final Decision

Les reveals to Seth and Ashley whether he'll buy the new pawn shop, but his decision has bigger consequences than anyone could have imagined. Amidst the chaos, Seth challenges a customer to a competition for a vintage bubble hockey game and Ashley gets caught in the crossfire when two customers go at it in the middle of the store.

Tuesday, November 29th, 2011

3: Stolen Gold?

After purchasing the new store, Les discovers a bags of jewels in an old employee's desk. But all that glitters ain't gold when he shows up to demand his goods back.

Tuesday, December 13th, 2011

4: Banned for Life

A woman pays her pawn payment, only to get into an argument with Ashley when she also has to pay interest. A man tries to sell Seth a plasma television that does not work; he later returns to pay for his Playstation 3 pawn, only to forget there is interest, accrued the second he receives the pawn; when he received the system, he complained that it was not his. A couple tries to sell a 1981 Cadillac hearse, complete with a coffin with a "corpse" inside; Ashley has no interest in it, but Les tries to make a deal. A man buys a pair of earrings to wear to a casino, but as his ears are not pierced, he tries to get someone at the store to pierce them then and there -- a service that American Jewelry normally does not provide. A woman tries to sell a fake gold ring with Swarovski crystals, but refuses to leave after learning that even the crystals are fake, resulting in her trying to strike an unusual offer with Seth.

Tuesday, December 20th, 2011

5: Rematch: Ashley vs. Tressa

Ashley's nemesis Tressa returns to sell the Rolex that got her fired. The Golds discover that she never actually paid for it and devise a clever plan to get it back.

Tuesday, December 27th, 2011

6: More Money. More Problems.

When Les sends a group of employees to the new store, Seth and his crew are left overworked and inundated with angry customers, which results in a showdown between father and son

Tuesday, January 3rd, 2012

7: Les Hunts a Thief

Les noticed several items in the back room that have gone missing, leading him to suspect that one of his employees is a thief. Also: a man tries to pawn a Playstation 3, but his pawn became no good once he threatened Ashley. A woman tried to sell a laptop computer, thinking it was an iPad, but refused to believe that Ashley was a manager when she called for one. A woman tries to sell a dinosaur bone, but Les was concerned that the bone was actually from an elephant. A couple pawns a fur coat to get the funds to get jewelry out of hock, but the girlfriend threatens violence to her boyfriend if they don't get a right deal. A man sells his guitar signed by Kid Rock, despite almost walking away over a few dollars' difference from Seth's offer.

Tuesday, January 10th, 2012

8: Full Metal Panic

Les and Seth are apoplectic after discovering that, for the first time in their history, loans are down. Later, when they find out why, the head of someone close to them will roll. Meanwhile, a woman proffers some home-grown, pharmaceutical-grade goods.

Tuesday, January 17th, 2012

9: Dirty Tape

A problem customer brings Ashley out from behind the security glass; some rare Nirvana memorabilia piques Rich and Seth's interest. Later, a customer who was robbed in the pawnshop demands to see the security tapes, but the Golds refuse and a confrontation ensues.

Tuesday, January 24th, 2012

10: Only in Detroit

Seth is blindsided when an ex-NHL star stops by the shop with a friend and, against Ashley's wishes, he offers the athlete a job. Elsewhere, Ashley faces off with a customer whose insults turn personal; Les contemplates buying a vintage fortune-telling machine.

Tuesday, January 31st, 2012

11: Black Out!

A storm threatens to knock out the store's power. With piles of cash at risk, Seth scrambles to create a battle plan only to be shot down by his father's old-school philosophy that insists 'everything will be ok.'

Tuesday, February 7th, 2012

12: Gold Battle Begins

Seth confronts Les about the blackout and opens the door to a screaming match over their conflicting business styles.

Tuesday, February 14th, 2012

13: Gold Day in Hell

Seth's plan to change the business structure is derailed when Les goes behind his back to confront the employees face-to-face, resulting in a confrontation between father and son.

Tuesday, March 20th, 2012

14: Face Off

The relationship between Seth and Les remains very frosty, with both sides refusing to speak to each other, to a point where Ashley tries to play peacemaker; nevertheless, neither side is willing to yield, leading to Ashley to lure them together and force them to make up. But when both sides still refuse to forgive and forget, Les decides to let Seth operate the store his way -- without Les to lean on. Also: a drunk man tries to sell Les a gold sports ring for funds to pay for his DUI conviction, but refuses to leave after learning that it was brass. A man sells a seat from the old Yankee Stadium, which he won in a charity auction. A woman tries to pawn her diamond necklace for funds to fix the windows in her car (which was broken into), but cops an attitude after learning from Ashley that it was fake. An elderly couple, hoping to get money for their son's wedding, failed to strike a deal with Les to sell their digital camera, but did have enough money to buy a gold necklace for $1000.

Tuesday, March 27th, 2012

15: Last Man Standing

In order to prove that he can run American Jewelry, Seth takes over Les's supervision duties, while Les watches from the sidelines; however, Ashley fears that he's wearing himself too thin. Her suspicions were proven right when a man sells Seth a "new" carpet cleaner without further inspection, but a clerk later informed Seth that it was actually used and repackaged. Furthermore, on the next day, the store is short on available cash, as Seth failed to get money the day before; worse off, it's a banking holiday, and Seth's plans to have someone get more cash won't work. Also: a man tries to sell designer eyeglasses, but Les informs him he paid too much. A woman complains to Ashley that someone stolen her identity and pawned her stuff, but Ashley informed her that she's not in the system. A widowed woman sells her hospital skeleton, which Les thinks would be cool to have - if the price is right. A woman tries to sell her bowling balls, but her backtalk made them worthless to Les. A couple sells a geiger counter, but they can't agree between themselves on how much to sell it for.

Tuesday, April 3rd, 2012

16: Family Traitor!

Seth makes a major blunder that could affect the store's financial situation, and Ashley dimes him out to Les.

Tuesday, April 10th, 2012

17: Millionaire Mayhem

A highly lucrative sale opportunity is presented to Les and Seth, requiring their immediate and full attention. When Ashley's selfish behavior threatens the deal, Seth loses it.

Tuesday, April 17th, 2012

18: Urban Hillbilly

An urban hillbilly sells unusual items to finance a farm; Seth's eye for authenticity proves handy when a customer peddles suspect music memorabilia. Later, the grateful hillbilly returns to show his thanks, but one of his farm animals gets loose in the store.

Tuesday, April 24th, 2012

19: Poachers!

Les tries to catch competitors poaching customers on his property; a man finds out that his diamond-encrusted watch is worthless.

Tuesday, May 1st, 2012

20: Ashley's Breakdown

Seth finds a hidden room filled with merchandise that his employees were unable to sell; Ashley gets into it with a customer over a diamond necklace. Later, Seth is irate over Ashley's purchase of a worthless roulette table.

Tuesday, May 8th, 2012

21: Ashley's Aftermath

Ashley's return leads to Seth getting put in his place; a customer who's been robbed tries to sell her last remaining valuable. Later, Les tries to get the kids back on track.

Tuesday, May 22nd, 2012

22: Devil in Detroit

The Golds attempt to catch a thief who has been staging break-ins; and a customer claims to be a devil. Later, security nabs a burglar in the parking lot.

Tuesday, May 29th, 2012

23: Cash Money Moron

Les trusts a customer's estimate on the value of an item and shells out big bucks, only to suspect later that he may have been taken to the cleaners.

Tuesday, June 5th, 2012

24: You're Fired. I Quit!

Seth's plan to get a cash influx into his Internet department hits a glitch when one of his guys makes a huge mistake. When Les demands that the situation be rectified, Seth takes a stand and confronts the big boss.

Tuesday, June 12th, 2012

25: Kill Em All

Les issues an ultimatum to the staff after uncovering some damaged merchandise.

Tuesday, June 19th, 2012

26: Rich vs. Les

In the Season 5 finale, tensions run high when Les promises to fire the employee who makes the next big mistake. When Rich drops the ball, the stage is set for a showdown.
Season 6
Tuesday, July 10th, 2012

1: Rich Returns

Season 6 begins with the return of the banished Rich, who hopes to regain Les' trust. When Rich eyeballs a load of stolen goods, he sees a way back into the boss's good graces. Meanwhile, Seth continues his efforts to take over the store, all under Ashley's watchful and disapproving eye.

Tuesday, July 17th, 2012

2: The Shocker

Ashley doesn't buy into Seth's new money scheme which, if it works, could mean big bucks for the store; and employees get quite a shock when a customer brings in a vintage electric chair.

Tuesday, July 24th, 2012

3: Million Dollar Story

Les loves a good story, but is he being duped by a group of savvy salesmen? Seth and Ashley try to pin him to the wall on his intent to buy, but Les stands firm.

Tuesday, July 31st, 2012

4: Amy Got Back

Seth is shocked when Les rehires a flaky former employee who he claims took advantage of them.

Tuesday, August 7th, 2012

5: Tripped Out Cash

Les buys rare rock memorabilia that may be worth a pile of cash.

Tuesday, August 14th, 2012

6: Motor Mouth

A fast-talking customer catches Les off guard and he's tempted to break with store policy.

Tuesday, August 21st, 2012

7: Cold Blooded Robbery

A customer is found hiding in a refrigerator; Ashley swears he was waiting for closing time to sneak out and rob them.

Tuesday, August 28th, 2012

8: Les' Spending Spree

Les buys a set of Vietnam-era miltary walkie-talkies and a roadster. However, the warehouse is overflowing with vehicles and other items that Les bought in the past, but never sold, irking Seth and Ashley. Les failed to convince them that it takes awhile to sell the items at a price that will earn the store the most profit. To save face, Les sells a 1941 Chevrolet, but the price must be right. Also: a man gets irate when he couldn't show his pawn slip in order to get back his TV; after he was kicked out, he found his pawn slip -- in his pocket. A woman named Marcus gets angry when the wedding ring she laid-away was sold, as she was late on her payment. A woman with extra-long finger nails sells her gold ring.

Tuesday, September 4th, 2012

9: Burmese or Busted?

Les receives a jar that could be worth a lot of money, but Ashley is not convinced of its value; a customer brings in some family jewels and receives the shock of her life.

Tuesday, September 11th, 2012

10: Lawyer Up Son

A fake receipt triggers a battle royal with a customer who returns to the store with a lawyer.

Tuesday, September 18th, 2012

11: Seth's Big Bet

Ashley challenges Seth to a most unusual competition.

Tuesday, September 25th, 2012

12: Oh No He Didn't

The other store is sinking financially, so the kids approach Les about selling it. Les quickly shuts the idea down, prompting Seth to go behind his back with a secret plan.

Tuesday, October 2nd, 2012

13: Oh Yes He Did

Seth encounters some bumps in his plan to sell the pawn shop; the kids find themselves in an interesting situation when they meet with a buyer.

Tuesday, November 13th, 2012

14: Family Matters

In the aftermath of Seth trying to sell the business out from under his father, an unforgiving Les goes incommunicado and locks himself in the office. Later, a fight on the floor spills into the parking lot and threatens to get out of control.

Tuesday, November 20th, 2012

15: Pay to Play

Questions arise about the authenticity of a rare guitar, necessitating a gut decision from Seth and Les; Ashley and a customer go toe-to-toe with weapons; and a famous wrestler makes an interesting proposition.

Tuesday, November 27th, 2012

16: Shell Game

Les is put out when he discovers hustlers scamming customers in his own parking lot and moves to put an immediate stop to the rip-offs; a young fashionista is steamed when Seth turns down her goods; and an Xbox hotshot makes the showroom floor his own personal video arcade.

Tuesday, December 4th, 2012

17: Gold Meltdown

Ashley deals with some mother-daughter drama at the pawn window, and things threaten to get out of hand, while roommates get into an ugly dispute on the floor.

Tuesday, December 11th, 2012

18: Vintage Victory

Les and Ashley debate the value of an old bike, while Seth has his hands full with a troublesome Jersey guy. Later, a woman wants more TV than she can handle

Tuesday, December 18th, 2012

19: Ashley's Bad Day

Ashley's sassy attitude is costing the store business, so Les and Seth try to figure out what's bugging her; and a serial-killer groupie brings in some macabre items. Later, Rich gets to demonstrate his drum skills when a customer brings in a set.

Tuesday, December 25th, 2012

20: Motor City Dream Cruise

At Detroit's annual Dream Cruise, the Golds hope to cash in on automotive merchandise, but when Les passes on an offer for a historic Chevy sign, Seth goes behind his back and purchases it.

Tuesday, January 1st, 2013

21: Unforgiven

Les becomes concerned about Rich after he noticed that he spent too much time talking to a customer on a deal for a call box; however, Seth defends Rich's actions, as he felt it was simply good business. Les, still sore over Seth's attempt to secretly sell the Pontiac location, refused to give him the benefit of the doubt. Later, Rich accidentally left about $7000 worth of gold jewelry alone in front of a customer, while checking on the sale price of one of the items. In response, Ashley, who has seen what happened, told Rich that what he did was bad. Rich apologised for his actions, which Ashley and Seth accepted, but Les refuse to accept the apology, as he not only still has not regained Rich's trust that he lost earlier, but he still has a grudge against Seth over Pontiac. Also: a woman tries to sell a flat-screen TV, but hopes to sell the item diminished when her friend accidentally broke the screen. A man tries to sell a huge rocking horse -- which he transported in a horse trailer. Another man gets very upset when Seth could not make a sufficient deal over a laptop. And a man sells rare glass negatives of baseball legend Babe Ruth.

Tuesday, January 8th, 2013

22: Junkyard Intervention

A warehouse overflowing with broken electronics prompts Seth to go behind his father's back and order a dumpster in which to deposit the junk; and Ashley has a run-in with a woman whose pawn experience isn't to her liking. Meanwhile, a man claiming to be a lawyer tries to unload some jewels that may be fake.

Tuesday, January 15th, 2013

23: Watch Out

Les buys a watch from a collector for $5000. Seth told Les that he should have done some research on the watch's before he bought it, Seth's suggestion had fallen on deaf ears for Les, until he showed him the outcome on a verification website, which caused Les to turn livid.

Tuesday, January 22nd, 2013

24: Les' Mojo

Les' ability to close on business transactions comes into question, never more so than when an incredible opportunity presents itself and his children wonder if he'll be able to seal the deal.

Tuesday, January 29th, 2013

25: To Catch a Thief, Part 1

Jeff noticed a ring on the floor close to his workstation, but after conferring with Les, he chalked it up as a clumsy accident. However, his suspicions were heighened when he found some scrap jewelry on the floor, leading to he and Les to conclude that an American Jewelry employee is a thief. After a check on the security cameras yielded nothing due to technical problems, Jeff decides to create a sting operation as a way to catch the thief in the act. Also: an unruly customer threatens Les with death, resulting in a call to the Detroit Police Department when security found him too tough to handle. And Seth wonders if they can sell a pair of size 21 sneakers worn by Shaquille O'Neal, which are taking up a lot of space on the sports shelf -- along with some sports jerseys.

Tuesday, February 5th, 2013

26: To Catch a Thief, Part 2

Continuing from the previous episode, the following day, Les, Seth and Jeff look at the video footage of the thief after he had taken the gold ring purposely set up as part of the sting operation. After examining footage from previous days, they not only found their thief, they also found themselves sick and betrayed, as the thief was Joe, American Jewelery's chief of security.
Season 7
Tuesday, March 26th, 2013

1: Frisky Business

Following Joe's arrest in the previous episode, the employees were shaken up by the events. However, they expressed further displeasure when new security measures are implemented to make sure that no one steals anything. But when Seth announced that all employees' bags will be searched upon leaving the store, Les and Ashley thought that he went too far. But that wasn't far enough when Seth also wanted body searches, which he actually carried out despite Les and Ashley's warnings that it may lead to legal troubles for the store. Also: a man tries to sell a 19th-Century nautical compass for $150, but learns the hard way not to fool with Les when he discovered that that man was selling the same compass online for $33. A woman agreed with Les to sell her Blues Brothers statues for $300, but changed her mind after the deal was made, after her friends told her to hold out for more. A man wanted to buy an electric generator after losing power due to an unpaid bill, but refused to deal with Seth -- or even leave the store -- when he was unable to take it home to try it out first. And another man, unable to sell his ring because Ashley found it to be fake, found himself thrown onto the floor by Byron, the new head of security, when he tried touching Ashley.

Tuesday, April 2nd, 2013

2: Short Staffed

The day after Seth imposed his body search policy on his employees, the ladies that worked the redeem windows all took sick leave, leaving Les and Ashley to believe that the new policy is causing them not to come in. But it would later become possible that they will never return when an employee told Ashley in a phone call that Seth's new policies may cause her to quit.

Tuesday, April 9th, 2013

3: Monster Deals

After Seth rescinded his invasive search policies for American Jewelry's employees, the ladies that worked the redeem windows return to work. But Seth has a new problem -- profits are down, and he's looking for creative ways to get new customers into the store. Ashley has an idea that she tried out -- an inflatable gorilla with a banner reading "monster deals". However, Seth has a better promotional plan, which would explain why a couple of customers told Ashley to quit.

Tuesday, April 16th, 2013

4: Tipped Off

The staff had been receiving complaints from customers that a staff member had been letting customers cut in line in exchange for a $3 tip. They would later find out that Anton, who works the pawn desk, had been doing the evil deed. Les had decided to let Anton off with a warning, as he had been with American Jewelry for several years and is otherwise a trusted employee. However, Seth wanted Anton fired, as he was still burned over another trusted employee who was later arrested for theft - Joe the head of security.

Tuesday, April 23rd, 2013

5: Redeem Girl Rumble

Noticing that one of the employees was discontent with working the same redeem window each day, Seth decides to have them work different windows. However, Les becomes angered at the situation, as he felt that the arrangement was good enough as it was. But his own discontent falls on deaf ears when Seth insists on keeping the new assignments, leading to the employees to come close to fighting, and Ashley to play the role of peacekeeper.

Tuesday, April 30th, 2013

6: Busted

Jeff calls in sick, leading to Seth to order everyone to stay away from Jeff's desk in any circumstance. But when he caught Bobby J. near Jeff's desk, polishing a ring for a customer, he almost fires him, only to rescind the dismissal when Bobby J. told Seth that Les gave him permission to polish the ring. This led to Seth's argument with Les, in which he said that the policy applies to everyone, leading to Les to determine that Seth had become more security-hungry following Joe's arrest, and Ashley wishing that both men stop the bickering.

Tuesday, May 7th, 2013

7: Watch Your Back

Les sells a valuable Breitling watch for $42,000 to a trusted watch collector that he dealt with many times before; however, he did not have the cash at the moment, so Les gave him the watch in exchange for an IOU. Seth, however, had misgivings about the deal. The man later said that someone else will pay him the money as he leaves out of town; Seth still had bad feelings about it, but Les still has trust in the customer. But Les would end up getting an expensive lesson in trust when the customer pays him for the watch -- with over 40,000 watchbands.

Tuesday, June 4th, 2013

8: American Jewelry & Zoo

Following the debacle involving the 40,000 watchbands, delivered in over 100 boxes, American Jewelry has found themselves with limited space for anything else -- this includes "antiques" and "collectibles" that Les buys, but Seth and Ashley thinks are worthless junk, such as a 1950s salesman's sample model of an above ground swimming pool, a Christmas display from the old J. L. Hudson Department Store, and several taxidermied animals. The kids think the "junk" won't sell, and neither would the watchbands, but Les tries to prove them wrong, starting with a taxidermied boar's head. Also: a woman in labor and without a job buys an old rocking horse for her child from Ashley at a special rate, with Ashley covering the difference, but it ended up being a scam when her false belly fell out. And a man attempts to get a refund without receipt for a store brand "Cherokee" watch that he passed off as a "Rolex".

Tuesday, June 11th, 2013

9: Les Sells Out

With over 40,000 wristbands to sell and stored in 126 boxes, Les decides to sell the watchbands one by one, starting at $2 apiece. While Seth and Ashley remained skeptical of the whole idea, they didn't realise that in the end, all it takes is a little showmanship -- and some friends in the business.

Tuesday, June 18th, 2013

10: You Bet Your Butt

Seth and Ashley each make a series of bets to see if either of them, or Les, can purchase any item that comes into the store that they would otherwise dismiss as "junk", including a "Major Dollar" mascot costume and a rusted out Mobil Oil Pegasus logo. But when a set of first-class airline seats (the actual seats, not tickets) come into the shop, they get Les involved in the wager to see whether or not the seats will be bought -- the loser will take over the janitor's job for the final hour of the day.

Tuesday, June 25th, 2013

11: Homefront Heat

Seth notices that Ashley was low-balling on, or rejecting outright, various items that he would otherwise give higher deals on. In addition, the deals were often broken due to Ashley's rudeness. But when Seth's interference angers Ashley, Les intervenes in order to make peace. Also: a crazy man brings in a bass fiddle case, but the item inside is not a bass fiddle, and the man would not let Les look inside.

Tuesday, July 2nd, 2013

12: Strike Out

Ashley continues to lowball and mistreat customers to Seth's detriment, but an argument in front of a customer over a signed 1972 Detroit Tigers baseball has led Les to the end of his rope, to a point where he sends both of them home the rest of the day. However, the kids' frequent bickering may be harming not only his business, it may also affect his health.

Tuesday, July 9th, 2013

13: Les Goes Down

Customers brawl in the parking lot before the store opens; Les needs Seth and Ashley's help, but they're preoccupied with their quarreling.

Tuesday, July 30th, 2013

14: Return of the King

With Les out of commission, Seth and Ashley run the shop as co-managers, but when Seth's decision to cut back on staff leaves Ashley alone on the floor with one too many crazy customers, it's clear that sharing duties just won't work. Les must decide who

Tuesday, August 6th, 2013

15: The Trouble with Michael

Michael is a regular customer at American Jewelry, but the feeling is not mutual among the clerks, as everything he brought in was all but worthless. Ashley doesn't want him back anymore, and Bobby J especially has a hatred toward Michael, but Seth says otherwise, in the event that Michael actually had something of value. However, when Michael offered a car without a title, Seth felt that he was at the end of his rope -- until Michael offered a gold chain that might bring in thousands of dollars. Also: speed painter Dave Santia tries to paint Les's portrait in ten minutes in hopes to get money.

Tuesday, August 13th, 2013

16: Seth in Charge

Seth, who's Les's hand-picked manager, had an idea in order to speed up the lines and improve efficiency -- give out pawn tickets and cash in the same line, instead of separate lines for each. However, Seth's plan had resulted in longer lines and irate customers, to a point where Les reconsiders having Seth in charge.

Tuesday, August 20th, 2013

17: Back in Action

Les, now fully back in charge following his hernia operation, puts the staff on notice that everyone's job is at risk -- including Seth and Ashley, who Les says contributed to a drop in American Jewelry's revenue in all departments. Because of that, he placed both on probation, subject to the close, watchful eye of Les, and would remain there until Les determines that they can do their work properly.

Tuesday, August 27th, 2013

18: Back to the Hustle

When two teens claim that they got scammed by a mystery woman with an inside connection to the shop, Seth brushes them off, but Ashley makes it her job to find out if they are telling the truth. Are they just dumb kids who trusted the wrong person with a deal that was too good to be true? Or do the Golds have another thief on their team? Plus, Les sets his sights on a McFly ride, and teaches a Jersey Boy how it's done in the D. Share this one proudly.

Tuesday, September 3rd, 2013

19: Seth Snaps

Since Ashley resumed being a manager, she felt that she had every right to order Seth around, as he was still on probation. However, Ashley's regimental behavior was concerning Les, thinking that she's being a little too rough on Seth -- this included her criticizing Seth for buying things that she felt would all but take up space. But things come to a head when Ashley buys a 1950s Eljer toilet for $10, leading to Seth to buy it for $20, just so he can destroy it with a sledgehammer, before abruptly leaving the store angry.

Tuesday, September 10th, 2013

20: Computer Crash

Following his flip out in the previous episode, Seth chose to stay home. But when the computer system gone down, Seth had no choice but to come in and repair the system. But when an irate customer, who was already frustrated with having to wait until the system goes back up in order to redeem his pawn of a ring, he was given a wrong ring, owing to duplicate numbers on the pawn slips. This led to Seth and Ashley to work to retrieve the correct ring before the impatient customer returns.

Tuesday, September 17th, 2013

21: All American Jewelry and Loan

A Christian Reverend, who makes his belief of John 3:16 known on his shirts, sells Seth a rare baseball signed by Babe Ruth, complete with authentication papers. Knowing that the ball would be worth tens of thousands of dollars if genuine, Seth takes a risk and gives the Reverend a $1000 deposit, while he has it sent out to be verified. But when it came back as counterfeit, Seth and Les fear that they won't get their $1000 back.

Tuesday, September 24th, 2013

22: Breakdown at Tiffany's

A diamond pocket watch is brought into the store, but the owner has troubling authenticating it; Bobby J goes for a ride in a custom low rider.

Tuesday, October 15th, 2013

23: Gold Crash

With a major drop in the price of Gold, the store takes a huge financial hit. It's up to the Golds to sell, sell, sell, and make up for the loss.

Tuesday, October 22nd, 2013

24: Harolds Gamble

Les offers to buy a diamond-encrusted Audemars Piguet watch from a customer. After being burned by a similar deal earlier, Les had his watch expert take a close look at it. However, while the expert determined that the watch was real, a serial number check came up as counterfeit, leading to Les to question the abilities of the expert.

Tuesday, October 29th, 2013

25: The Outsider

Seth brings in a consultant in a desperate bid to increase their retail business, in the wake of the gold price crash.

Tuesday, November 5th, 2013

26: Seth's Secret

Angry over his father's dismissal of the consultant hired to help increase their sales, Seth goes MIA, leaving the store in the lurch. When he doesn't come back, Les goes looking - and is shocked at where he finds his son spending his time.
Season 8
Tuesday, December 17th, 2013

1: Seth's Return

After Les secretly found out that Seth was at Bill's Pawn Shop, Les confronted him, asking Seth why he would betray the family by visiting a competing pawn shop. Seth explained the real reason: he was branching out into consulting as a sideline -- the very thing that another person that Seth hired tried to do for American Jewelry earlier. As being a consultant is tantamount to disclosing family secrets to strangers, Les gives Seth a choice: "Family, or nothing."

Tuesday, December 24th, 2013

2: Fishing for Trouble

Les and Ashley get reeled in by the World's Largest Fishing Lure, but Seth thinks it will be a tough sell. Will they hook a big sale with this one of a kind piece? Or find themselves all washed up by the end of the day? Plus, things get physical when Byron is pushed too far, and Les squares off with a hot headed hillbilly.

Tuesday, December 31st, 2013

3: Scent of Deception

When Ashley smells weed in the warehouse, the hunt is on to find out who is getting high at work. Will Les's big cash reward bring out the snitches? Or will Seth's plan to drug test their employees reveal the culprit? Plus, Les takes a ride on a sweet custom three wheeled motorbike, and a potential Picasso comes through the door at American Jewelry and Loan.

Tuesday, January 7th, 2014

4: Growing Pains

Les is always on the lookout for deals, but when he hears about a hook up for truckloads of brand new goods, he makes a move that could change the store forever. Later, Seth takes a spin on a bar stool racer, Bobby J saddles up to a bucking bull, and Les goes toe to toe with a wanna be Liberace.

Tuesday, January 14th, 2014

5: Daddy Daughter Dance

Les becomes skeptical of Ashley's ability to sell after taking a misstep in selling a taxidermied deer head, leading to Seth to create a challenge for Les and Ashley -- the person who sells less items than the other person must work the "hard goods" line for the final hour of the day. This challenge was a true challenge for Les, until he came across a potential "Hail Mary" opportunity.

Tuesday, January 21st, 2014

6: Drama Online, Part 1

When Seth needs help in the online department, Les volunteers Ashley - who immediately oversteps by putting a rare Olympic torch from Seth's personal collection up for sale. When the item goes MIA, all hell breaks loose, with the store's reputation and a lot of money on the line. Plus, Les gets his hands on some petrified animal anatomy that he may wish he never picked up, and helps a tongue tied customer negotiate a sweet deal on a creepy Gothic Hope Chest.

Tuesday, January 28th, 2014

7: Drama Online, Part 2

As the drama between Seth and Ashley continues, Ashley's rash instruction leads to the destruction of an important shipment. Seth takes a ride in a hovercraft. Les kicks a rude customer to the curb, along with his worthless necklace.

Tuesday, February 11th, 2014

8: Seth's Soft Side

A couple, in need of money to pay their bills, sell a pair of Gretsch electric guitars to Seth, who paid $1800 for the pair. However, upon further inspection, Seth feared that he paid them too little for the guitars.

Tuesday, February 25th, 2014

9: Seth's Gamble: Part 1

Seth purchases a lot of collectible baseball cards on an online auction for $7000, with hopes of making a profit by selling them individually online. However, he bought the lot without consulting Les first. However, Les eventually found out about the purchase; as a result, he gave Seth an ultimatum: sell the entire lot in one week, or he'll be paying for it out of his own money.

Tuesday, March 11th, 2014

10: Seth's Gamble: Part 2

One week had passed since Les knew about Seth's $7000 purchase of baseball cards, and so far, he made $2500 off of what he already sold. However, he had until the end of the day to sell the remaining stock, or he would had to pay for whatever remains. Seth found a card dealer willing to buy the remaining lot, but whether or not Seth would still had to cover the remaining costs with his own money would depend on the outcome of the deal.

Tuesday, March 25th, 2014

11: Guards Go Home

Security guard Byron and his co-worker, Hook, was sent home by Seth (upon orders from Les) after being caught playing practical jokes on customers and other co-workers. However, Seth and Ashley wonder how secure the store would be without a security guard in the store.

Tuesday, April 8th, 2014

12: Busted Deal

Les makes a major deal with a new supplier for a truckload of TVs, but with the store already bursting at the seams, Seth and Ashley don't want the goods. When Ashley goes behind her Dad's back to "fix" things, Les flips out - but he may just have something new up his sleeve that will change Ashley's role at American Jewelry forever. Plus, Les gets giddy over rare Detroit Tigers memorabilia, and a pint sized classic car.

Tuesday, April 15th, 2014

13: New Blood

Ashley betrays her fathers trust; Les must bring in a secret weapon to do what Ashley won't.

Wednesday, May 28th, 2014

14: Meet the New Girl

On her first day at American Jewelry, Karen was assigned to the stainless steel jewelry section; however, Ashley is still worried that Karen would upstage her, while Karen worries that Ashley would create bad blood. This situation would later be put to a test when two young men, looking for cheap jewelry, began to become angry when Ashley focused on the expensive gold jewelry, only for Karen to point them towards the stainless steel jewelry.

Wednesday, May 28th, 2014

15: Fan Favorites

A look at the Top 20 moments from past episodes of Hardcore Pawn, selected from a poll of viewers.

Wednesday, June 4th, 2014

16: Cousin Competition

When Les takes his niece Karen under his wing to help out at the jewelry counter, Ashley doesn't hide her jealousy well. But will her sky high bidding on a one of a kind sculpture win back her Dad's good favor? Or drive him mad? Plus, a smoking granny gets hotheaded over a fake purse with Les, while Seth and Bobby J contemplate a road trip when a retro VW bus rolls onto the lot.

Wednesday, June 11th, 2014

17: Gold vs. Gold

Seth thinks Les is stuck in the past for hand delivering their gold to a refinery on the West Coast, and bets his dad that his new mail order service will provide a better return. But will the easy way pay off? Or cost the Golds a pretty penny? Plus, a senior strongman impresses the heck out of Ashley and Les, and Seth gets energized over an incredibly rare 1981 Bradley electric car.

Wednesday, June 18th, 2014

18: Karen vs. Ashley

Tensions between Karen and Ashley explode on the sales floor and when Les discovers that Ashley has banished Karen to a storage room he puts them both in the doghouse. Plus, Lady Gaga's bass player blows Les away with an act of kindness, and a guy tries selling Seth presidential autographs for 40 thousand dollars.

Wednesday, June 25th, 2014

19: Buy Baby Buy

Les leads a reluctant staff on a rampage of acquisitions, culminating in the most intense negotiation in Hardcore history! Karen needs Byron's help to handle a pair of unruly piano players, and a nine-year old kid gives Seth a run for his money on the sale of a rare sports item.

Wednesday, July 2nd, 2014

20: Shakedown!

A shakedown artist tries to make Les an offer he can't refuse, but the Golds fight back and turn the tables on the hustler. Seth and Karen feel the power of the force when a customer brings in a pair of high-end light sabers, and Ashley has her hands full with an angry customer who claims Ashley injured her.

Wednesday, July 9th, 2014

21: Along Came a Spider

Ashley pranks Seth to teach him a lesson about locking his door, but Seth to even the score with a prank of his own. Les takes the plunge on a prison toilet, and Bobby J tries to make a deal with an embarrassing granddad and his ventriloquist dummy.

Wednesday, July 16th, 2014

22: Inside Job

When the Golds uncover a series of bogus pawns, their investigation leads to a trusted employee and a stunning confession. A dramatic confrontation ends with the employee escorted out in handcuffs. Karen handles a tough guy with bad manners, and Seth tries making a deal for a Big Bird with a little kid.

Wednesday, July 23rd, 2014

23: The Hot Rod

Les and Seth visit a customer with a garage full of amazing vintage cars. Against his kids' wishes, Les offers big money for one of the guy's golden oldies...but can he close the deal? A male stripper shakes his money-maker before giving Byron the slip. Karen stumbles while making a big deal and Ashley forces a customer to kiss a Gremlin for money.

Wednesday, July 30th, 2014

24: Ashley In Charge

With Les and Seth away at the Autorama car show, and Ashley in charge of the store, the employees go a little crazy. Karen gets caught putting on a fashion show during store hours and Bobby J gets called out for being rude to a customer. Seth accuses his sister of being a bad manager but Ashley gets the last laugh.

Wednesday, August 6th, 2014

25: Karen in the Middle

When an argument with Seth leaves Ashley in tears, Karen attempts to broker a peace deal. Seth refuses, but Karen's gesture brings her and Ashley closer together. Plus, Bobby J takes a joyride on two-story tractor, and a watch snob finds himself on Seth's bad side.

Wednesday, August 13th, 2014

26: Million Dollar Deal: Part 1

A ventriloquist leaves Karen and Bobby J speechless, and an angry MMA fighter takes a swing at Byron. Plus, an odd couple delivers one of the biggest surprises in store history when they try to sell the Golds art they claim is worth over a million dollars. The paperwork is fishy but the Golds bring in an art expert who believes the paintings by Picasso, Miro and Chagall are real!

Wednesday, August 20th, 2014

27: Million Dollar Deal: Part 2

The Golds' investigation into the million dollar art deal takes more twists and turns, but eventually, Les shakes hands on the single biggest purchase in store history. Then, a shocking phone call reveals the art dealers may be fraudsters and the mega-deal is in jeopardy.
Season 9
Monday, December 29th, 2014

1: Million Dollar Resolve

The Golds have the opportunity of a lifetime when they stumble upon pieces of art that could be worth millions. But will they strike it rich or will they be left holding the bag? Seth gambles on a piece of Detroit history, and Ashley's patience is put to the test when dealing with a customer and his memories of his long lost cow.

Wednesday, January 14th, 2015

2: High Roller

Les hands out his biggest loan ever on a luxurious Rolls Royce, leaving Seth and Ashley concerned that the failed art deal may have messed with their dad's head! Will this latest gamble pay off or will another shady transaction leave Les' ego in tatters? Karen gets an impromptu lesson in martial arts, but can she strike a deal with her sensei? Plus, size really does matter when it comes to monster trucks.

Wednesday, January 21st, 2015

3: The Drag Race

When Les puts the kibosh on Seth's outlandish plan to boost business, father and son head to the race track to decide who's boss. Plus, Ashley shows off her haggling skills on a mannequin outfitted in bondage gear, but not before having some fun...at Bobby J's expense.

Wednesday, January 28th, 2015

4: Lights, Camera, Drama!

The Golds gear up to shoot a new commercial for the store which can only mean drama. All Les cares about is putting out a good product, but will everyone be happy with the final result? Plus, the shop gets a handful of sexy, when a woman tries to find her perfect mink coat.

Monday, February 9th, 2015

5: Karen's Big Idea

When Karen convinces Les to let her bring in a Feng Shui expert, will it boost sales and bring in positive energy? Ashley and Seth have some serious doubts. Plus, Seth gets an opportunity to buy a piece of Detroit Tigers history when a customer brings in four game-used bases from the 2011 playoffs.

Monday, February 16th, 2015

6: The Estate Sale

Ashley and Les hit the road to get first dibs on a huge estate sale, but will they find treasure or fool's gold? Seth takes a custom Corvette go-kart for a spin but pumps the brakes on the deal when the 12-year-old owner tries to play hardball. Plus, what price is Karen willing to pay to get her hands on a piece of '70s movie memorabilia?

Monday, February 23rd, 2015

7: Professor Les

When Les gets a last-minute invite to give a lecture at a local business school, Seth takes the pressure off by writing his speech. Can Les pull it off? Or will Seth's words translate into a disaster? Plus, Ashley and Bobby J go to war over a collection of Nerf guns, and negotiations hit a fever pitch when a wannabe ventriloquist walks in with a dummy that bears a striking resemblance to one of the Golds.

Monday, March 2nd, 2015

8: War on the Floor!

Les questions Ashley's management skills after two employees get into a fight on the shop floor. Will Ashley succeed as a peacemaker or create an even bigger problem? Meanwhile, Seth stumbles upon what could possibly be the biggest memorabilia deal the store has ever seen, but will it tank?

Monday, March 9th, 2015

9: Secret Shopper

Les hatches a secret plan to put his employees to the test, but how will Seth, Ashley and Karen react when they find out they've also been put under the microscope? Plus, a man in search of the perfect engagement ring ends up giving everyone road rage when he blocks the store parking lot with his truck.

Monday, March 16th, 2015

10: Cousin vs. Cousin

When Ashley interferes with one of Karen's sales on the shop floor, a family feud breaks out. Les urges them to work together, but when Ashley's half-hearted efforts to mentor Karen almost result in a big loss for the store, Les has had enough. Plus, Seth gets quite the show when a rock metal group shopping for a guitar breaks out into an impromptu jam session.

Monday, March 23rd, 2015

11: Seth's Big Mistake

Les finally lands a buyer for his special edition Lee Iacocca Mustang, but loses his cool when he learns Seth sent the hot rod out on consignment. Can Seth get the car back in time? Plus, Ashley sniffs out a bad deal on a Pepe le Pew statue, and Byron shows a Rick James wannabe the front door.

Monday, March 30th, 2015

12: Three Ring Circus Part 1

A customer's dunk tank inspires Karen to come up with a big idea for the shop. Seth and Les are on board, but will Ashley be down for the cause when she finds out what they have planned for her? Plus, Byron puts two hockey fans in the penalty box when they get physical over a vintage puck.

Monday, April 6th, 2015

13: Three Ring Circus Part 2

It's the day of the big event. Can ringmaster Karen pull it off without a hitch? Or will someone sabotage her efforts to impress her Uncle Les? And later, Ashley gives Les an ultimatum that could change the history of American Jewelry and Loan forever.