update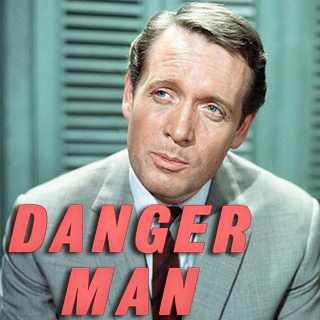 Season 0
not specified

1: U.S. "Secret Agent" Open

Original US titles.

not specified

3: Photo Gallery Season 01

not specified

4: Photo Gallery Season 02

not specified

5: Photo Gallery Season 03

not specified

6: Photo Gallery Season 04

not specified

7: A Man To Be Trusted - The Music Of Edwin Astley

A retorspective of Edwin Astley's music for the Danger Man series by his son, Jon Astley.

Saturday, December 28th, 1968

2: Koroshi Feature Length Version

Secret agent John Drake goes to Japan to infiltrate a secret society that specializes in murder. (Season 4 episodes combined and released for theatres.)
Season 1
Sunday, September 11th, 1960

1: View from the Villa

John Drake is assigned to investigate the murder of a banker, Frank Delroy. The trail leads Drake to the home of Delroy's lady friend, a small seaside resort (Portmeirion) where he recovers five million dollars and solves the murder of Delroy.

Sunday, September 18th, 1960

2: Time to Kill

John Drake flies to Paris, where his assignment is to find an international killer. He refuses to assassinate the man, but undertakes to retrieve him. The task becomes more difficult when Drake finds himself handcuffed to a young woman, Lisa Orin.

Sunday, September 25th, 1960

3: Josetta

A blind young woman, Josetta, is the only one who can identify her brother's killer. John Drake has the task of helping her to find and identify the killer.

Sunday, October 2nd, 1960

4: The Blue Veil

John Drake flies to the Arabian desert to investigate stories of slavery and finds himself befriending a Muslim lad and helping a stranded showgirl who believes Drake to be a slave broker.

Sunday, October 9th, 1960

5: The Lovers

At the request of an old enemy, Drake takes charge of security as the President of Boravia and his wife visit London.

Sunday, October 16th, 1960

6: The Girl in Pink Pyjamas

When a dazed girl is found wandering along a country lane, dressed only in her pyjamas, Drake discovers a plot to assassinate a Balkan President.

Sunday, October 23rd, 1960

7: Position of Trust

When Drake is shown a photograph of a young girl who is the victim of drugs, he sets out for the Middle East to break up the ring supplying opium. He is aided by an American agent, Sandi Lewis. Together they trace the source of the drugs, with the help of a courageous little man.

Sunday, October 30th, 1960

8: The Lonely Chair

When the daughter of a wealthy industrialist is kidnapped, Drake impersonates her crippled father in an attempt to save her without having to hand over crucial designs.

Sunday, November 6th, 1960

9: The Sanctuary

John Drake has to impersonate a prisoner who has just been released after serving a sentence for bombings. His assignment is to infiltrate a group of IRA commandos.

Sunday, November 13th, 1960

10: An Affair of State

Drake flies to a small Caribbean state to investigate the apparent suicide of an American economics expert, he uncovers a plot to obtain large sums of money, and in return he nearly loses his life.

Sunday, November 20th, 1960

11: The Key

When someone is leaking information from the American Embassy in Vienna, Drake is called in to investigate when the finger of guilt points to the Ambassador.

Sunday, November 27th, 1960

12: The Sisters

When a young, beautiful refugee pleads for political asylum, Drake is called in to investigate by his superior, Hardy. When the girl's sister arrives, Drake has a double problem to solve.

Sunday, December 4th, 1960

13: The Prisoner

Drake's assignment is to find a double for James Carpenter, an American who is confined to the US Embassy in a Caribbean city. Finding the double is only half of the problem. Substituting him under the eyes of the police is the other.

Sunday, December 11th, 1960

14: The Traitor

Drake travels to Kashmir in Northern India to seek out Noel Goddard, a former executive in the Indian Government, now a traitor. On identifying Drake, Goddard is given the message: 'John Drake. NATO agent. Eliminate.'

Sunday, December 18th, 1960

15: Colonel Rodriguez

John Drake flies to the Caribbean to aid an American journalist who had been arrested on a spy charge, but before he can effect a rescue is accused of the murder of a young nightclub singer.

Sunday, January 1st, 1961

16: The Island

John Drake is flying back to the mainland with two prisoners, when his plane crashes in the sea, near a tiny island. On reaching the island Drake finds himself a wanted man as the island's hermit owner believes Drake is an escaped prisoner.

Sunday, January 8th, 1961

17: Find and Return

Hardy assigns Drake to fly to the Middle East to find Vanessa Stewart, a beautiful girl wanted for espionage. Posing as a Baltic agent, Drake persuades her to accompany him before the British find her. A subplot comments drily on the ethics of espionage.

Sunday, January 15th, 1961

18: The Girl Who Liked G.I.s

Drake is assigned to investigate the murder of a young G.I. in Munich. He was last seen in the company of a young German girl, Vicki. Was she involved in the plot? Drake, posing as an American soldier, must find the answer.

Sunday, January 22nd, 1961

19: Name, Date and Place

When several prominent people are killed, there appears to be no connection. But John Drake's investigations uncover a murder ring, which he hires to kill himself.

Sunday, January 29th, 1961

20: Vacation

While vacationing on the Riviera, John Drake recognises a professional assassin. He succeeds in replacing the killer and undertakes an assignment working in the dark, as he has no idea who his victim is.

Sunday, February 5th, 1961

21: The Conspirators

John Drake's assignment takes him to a small island off the coast of Brittany. He must protect Lady Lindsay, widow of a British diplomat, and her two young sons, from two killers.

Sunday, April 2nd, 1961

22: The Honeymooners

When a Chinese businessman is murdered, a young couple on honeymoon become the prime suspects. John Drake flies out to the Far East to assist them, and finds himself in a dangerous situation.

Sunday, April 9th, 1961

23: The Gallows Tree

John Drake travels to the Scottish Highlands when the fingerprints of a stolen car belong to a master spy believed to have been killed ten years earlier.

Sunday, April 16th, 1961

24: The Relaxed Informer

Drake's latest case is to unravel a security leak. The suspect is Ruth Mitchell, an interpreter; but as Drake later discovers, the girl has been used without her knowledge.

Sunday, April 23rd, 1961

25: The Brothers

A plane crashes off the coast of Sicily and a diplomatic satchel is taken by mountain bandits. John Drake's task is to recover the stolen property, for which he enlists the aid of one bandit's girlfriend.

Sunday, April 30th, 1961

26: The Journey Ends Halfway

Drake travels to China to investigate the disappearance of an eminent doctor who had been trying to escape the Communist regime.

Sunday, May 7th, 1961

27: Bury the Dead

NATO agent Tony Costello is killed in a car crash while investigating a case of gun running. John Drake flies to Sicily to investigate and finds Costello's girl friend who is convinced it was murder. Before the case is solved, Drake discovers that you can bury the dead more than once.

Sunday, May 14th, 1961

28: Sabotage

When Paul Jason of Jason's Airlines is killed and several of his planes crash, John Drake assumes the identity of a hard drinking pilot to investigate the crash. Drake discovers a case of smuggling and finds himself in a tricky situation.

Sunday, May 21st, 1961

29: The Contessa

A freak accident leads to the discovery of a drug smuggling ring. The group operates by sneaking cocaine across borders in padded jackets, leading John Drake to nab one of the coats for his investigation. Posing as one of the smugglers, he soon makes contact with a Contessa; but believing her husband to be the one behind the operation, Drake continues to search for his whereabouts.

Sunday, May 28th, 1961

30: The Leak

Drake joins forces with a European doctor when workers at an African nuclear power plant fall ill.

Sunday, June 4th, 1961

31: The Trap

Drake travels to Venice to investigate the case of Beth Warren, a cipher expert at the American Embassy in London. She disappeared form her job, and rushed to Venice to be with her boyfriend when his brother way dying. But Drake discovers she is being used for the knowledge she has.

Sunday, June 11th, 1961

32: The Actor

Drake travels to Hong Kong to investigate the murder of a sound technician working for a radio station. He uncovers a plot where the secret information is being sent out in code over the air, transmitted as part of the station's English lessons.

Sunday, June 18th, 1961

33: Hired Assassin

Drake poses as a professional assassin in an attempt to prevent the assassination of a South American President. He joins a revolutionary group who are planning to kill the President.

Saturday, December 16th, 1961

34: The Deputy Coyannis Story

John Drake travels to a Balkan country to investigate the misappropriation of funds by a Minister. Drake uncovers the plot involving love, politics and revenge.

Saturday, December 23rd, 1961

35: Find and Destroy

A miniature submarine is wrecked off the coast of a South American country. John Drake's assignment from British Intelligence is to blow her up. Disguised as a fisherman, Drake races against time to find the submarine before the agents of a foreign power can.

Saturday, December 30th, 1961

36: Under the Lake

When twenty five million dollars in forged currency floods the European capitals, John Drake is assigned by U.S. Intelligence to trace the source. The trail leads to an ex-Nazi General staying at a lake-side hotel in the mountains. Drake faces death before he can solve the case and uncover the secret of the lake.

Saturday, January 6th, 1962

37: The Nurse

Drake travels to the Arabian Desert to rescue the American Consul and his family from terrorists who have assassinated the King. On arrival Drake finds he has additional problems trying to protect a pretty Scots nurse and the baby in her care - the future king.

Saturday, January 13th, 1962

38: Dead Man Walks

Hardy assigns Drake to investigate when the entire research team working in tropical diseases is killed by mysterious accidents. Drake travels to India, and uncovers clues that one of the scientists may be alive.

Saturday, January 20th, 1962

39: Deadline

When a wave of terrorism in the African jungle is likely to lead to a mass uprising, The Danger Man takes on the disguise of a 'gun-runner' in an attempt to penetrate the extremist organisation behind it.
Season 2
Tuesday, October 13th, 1964

1: Yesterday's Enemies

Drake travels to Beirut to untangle a web of Middle Eastern espionage

Tuesday, October 20th, 1964

2: The Professionals

Drake is targeted by a Czech spymaster who uses a beautiful young woman to ensnare his enemies.

Tuesday, October 27th, 1964

3: Colony Three

Posing as a clerk, Drake infiltrates a strange spy school in this very 'prisoneresque' episode of Danger Man.

Tuesday, November 3rd, 1964

4: The Galloping Major

Sent to Africa to monitor an election, Drake discovers a danger far more devious than ballot-stuffing.

Tuesday, November 10th, 1964

5: Fair Exchange

John Drake must follow an avenging agent, bent on murderous revenge.

Tuesday, November 17th, 1964

6: Fish on the Hook

In Egypt, Drake must uncover the identity of, and save, the mastermind behind the Controller - or the entire Middle Eastern British spy network will be compromised.

Tuesday, November 24th, 1964

7: The Colonel's Daughter

The death of a butterfly collector's assistant in India opens an unlikely investigation.

Tuesday, December 1st, 1964

8: The Battle of the Cameras

Agent John Drake becomes a gambler in the South of France to infiltrate the mysterious world of international secrets for sale.

Tuesday, December 8th, 1964

9: No Marks for Servility

In a Roman villa, Drake becomes an unwilling manservant to an unscrupulous extortionist.

Tuesday, December 15th, 1964

10: A Man to be Trusted

Drake is sent to the Caribbean to investigate a murder and see if the local intelligence contact can be relied on.

Tuesday, December 22nd, 1964

11: Don't Nail Him Yet

Drake poses as a put-upon schoolteacher to win the confidence of a suspected spy.

Tuesday, December 29th, 1964

12: A Date with Doris

Drake flies into Havana using the cover of a journalist, there to interview one of the heros of the revolution, Joaquin Paratore. His real purpose is to rescue another agent posing as a journalist (Miller) who has been framed for the murder of a famous actress. Miller had taken up with the actress when he found out she was Paratore's mistress and could provide useful information. After being wounded by the police and becoming the object of a manhunt, Miller relies on Drake to get him out with the help of ""Doris""

Tuesday, January 5th, 1965

13: That's Two of Us Sorry

Fingerprints left at the scene of a robbery in Scotland appear to belong to an agent whose been dead twenty years.

Tuesday, January 12th, 1965

14: Such Men Are Dangerous

Posing as an ex-con, Drake is recruited by an ultra-right wing organisation that trains assassins to eliminate world leaders.

Tuesday, January 19th, 1965

15: Whatever Happened to George Foster?

Drake must stop a wealthy British industrialist who is subverting a small nation to his own ends.

Tuesday, February 2nd, 1965

16: A Room in the Basement

Embassy walls and diplomatic immunity hide the kidnapped colleague of agent John Drake. Drake comes to the rescue when the man's wife approaches him for help.

Tuesday, February 9th, 1965

17: The Affair at Castelevara

Drake and his American counterparts have competing plans to prevent the execution of a former Central American Revolutionary.

Tuesday, February 16th, 1965

18: The Ubiquitous Mr. Lovegrove

After a car wreck, Drake finds himself enmeshed in a strange plot surrounding a casino.

Tuesday, February 23rd, 1965

19: It's Up to the Lady

Drake follows a couple on the run to Greece to prevent them from defecting.

Tuesday, March 2nd, 1965

20: Have a Glass of Wine

In France's wine country, Drake, a Russian agent and a local spy compete for control of a woman bearing military secrets.

Tuesday, March 9th, 1965

21: The Mirror's New

A British diplomat in Paris goes missing for a day, but can't seem to remember what happened.

Tuesday, March 16th, 1965

22: Parallel Lines Sometimes Meet

Drake trails two scientists to the West Indies.
Season 3
Thursday, September 23rd, 1965

1: You Are Not in Any Trouble, Are You?

To topple an Italian murder-for-hire ring, Drake puts out a hit on himself.

Thursday, September 30th, 1965

2: The Black Book

Drake goes undercover to discover who is blackmailing a general's brother.

Thursday, October 7th, 1965

3: A Very Dangerous Game

Disguised as a music teacher, Drake infiltrates a Chinese spy ring in Hong Kong.

Thursday, October 14th, 1965

4: Sting in the Tail

Drake tries to get at an assassin by tailing the killer's mistress.

Thursday, October 21st, 1965

5: English Lady Takes Lodgers

Investigating a security link in Spain, Drake finds himself enmeshed in a murderous scheme.

Thursday, October 28th, 1965

6: Loyalty Always Pays

Did an African defense minister strike a secret deal with the Chinese?

Thursday, November 4th, 1965

7: The Mercenaries

Drake interferes in a plot to take over an African republic.

Thursday, November 11th, 1965

8: Judgement Day

Drake finds himself at the mercy of a band of Israeli renegades.

Thursday, November 18th, 1965

9: The Outcast

Was the murdered girlfriend of a missing sailor selling coded secrets?

Thursday, December 2nd, 1965

10: Are You Going to Be More Permanent?

Who is responsible for the disappearance of agents in Vienna?

Thursday, December 9th, 1965

11: To Our Best Friend

Drake heads to Baghdad to clear the name of a spy suspected of leaking secrets.

Thursday, December 16th, 1965

12: The Man on the Beach

A murdered contact complicates Drake's mission in Jamaica.

Thursday, December 23rd, 1965

13: Say It with Flowers

In Switzerland Drake must determine if an enemy agent is really dead.

Thursday, December 30th, 1965

14: The Man Who Wouldn't Talk

Drake must free a captured British spymaster before he sellls his secrets.

Thursday, January 6th, 1966

15: Someone Is Liable to Get Hurt

A mysterious woman, an ancient prison cell and a gun-runner - a recipe for disaster.

Thursday, January 13th, 1966

16: Dangerous Secret

Drake must clean up after the government bungles an attempt to silence a young scientist.

Thursday, January 20th, 1966

17: I Can Only Offer You Sherry

Drake investigates an unlikely spy.

Thursday, January 27th, 1966

18: The Hunting Party

A security leak points to a wealthy lord.

Thursday, March 10th, 1966

19: Two Birds with One Bullet

A political party plans to assassinate their own candidate.

Thursday, March 17th, 1966

20: I am Afraid You Have the Wrong Number

Drake pursues a rogue agent.

Thursday, March 24th, 1966

21: The Man with the Foot

Drake drives to Spain for a well-earned holiday. But instead of sun and relaxation, he is greeted by miserable weather and a determined enemy agent.

Thursday, March 31st, 1966

22: The Paper Chase

Secret documents fall into the wrong hands.

Thursday, April 7th, 1966

23: Not So Jolly Roger

Drake works as a disc jockey at a pirate radio station.
Season 4
Friday, January 5th, 1968

1: Koroshi

A young Japanese woman dies by inhaling gas from an artificial flower before she can report the existence of a Japanese death cult to her British contact. Drake infiltrates the cult as a journalist reporting on a floral festival.

Friday, January 12th, 1968

2: Shinda Shima

Drake infiltrates the killers' headquarters by taking the place of a British electronics expert hired by the Sect.