update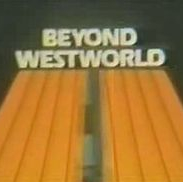 Season 0
not specified

2: Pilot

not specified

1: CBS Beyond Westworld Promo (1980)
Season 1
Wednesday, March 5th, 1980

1: Westworld Destroyed

Quaid plants a robot on a nuclear submarine and it is up to Moore and Oppenheimer to deactivate it.

Wednesday, March 12th, 1980

2: My Brother's Keeper

Quaid schemes to take over an oil company run by two brothers.

Wednesday, March 19th, 1980

3: Sound of Terror

Quaid uses a rock and roll band to smuggle an atomic bomb out of the country.

Wednesday, March 26th, 1980

4: The Lion

Quaid tries to stop the development of a race car that is very fuel efficient by one of Moore's old friends.

Wednesday, April 2nd, 1980

5: Takeover

Quaid uses his new mind control process on the police captain in charge of security for a political debate.