update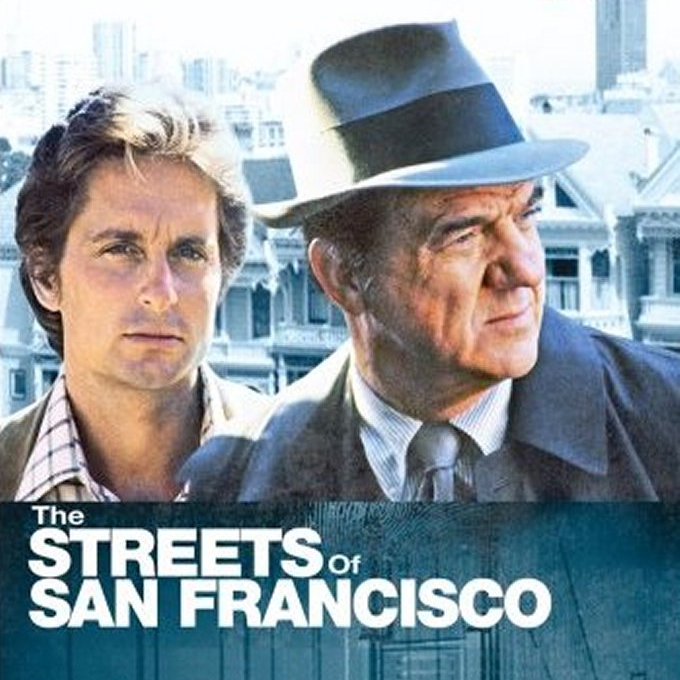 Season 0
not specified

1: Army Archerd Interview

An on-set interview conducted by famed Hollywood Variety columnist and long time movie premiere emcee, Army Archerd. The 3:46 interview of the show's stars, Karl Malden and Michael Douglas, takes place on the set for their office at SFPD headquarters.

not specified

2: Pilot Presentation

An 8:45 promotional presentation of the premiere episode of The Streets of San Francisco. It is essentially a movie trailer for the series premiere episode leading off with the production filmography of the producer of the series, Quinn Martin, before moving on to promote the episode itself.

Monday, January 27th, 1992

3: Back to the Streets of San Francisco

Mike Stone's back and his old partner, Steve Keller, is missing. So Mike heads up an investigation. At the same time, he is investigating another brutal murder. And he is trying to decide which of two inspectors shall he recommend for the position of Lieutenant; a woman who has a "Dirty Harry" tendency or a man who reminds him of Steve Keller.
Season 1
Saturday, September 16th, 1972

1: The Streets of San Francisco

Detectives Stone and Keller try to reconstruct the final days of a murdered young woman in order to find clues to identify her killer.

Saturday, September 23rd, 1972

2: The Thirty-Year Pin

When a police officer is fatally shot 3 days before he is due to retire, Stone undertakes a relentless search for the killer.

Saturday, September 30th, 1972

3: The First Day of Forever

Stone and Keller finally get a lead on a serial killer who has been knifing prostitutes when one of the victims survives the attack.

Saturday, October 7th, 1972

4: 45 Minutes from Home

A salesman attending a convention wrongly believes that he is responsible for the death of an attractive female hitchhiker who had lured him to her houseboat.

Saturday, October 14th, 1972

5: Whose Little Boy Are You?

A Vietnam veteran goes AWOL from the army in order to kidnap the son he has never seen.

Saturday, October 28th, 1972

6: Tower Beyond Tragedy

Investigating a young woman's death, Stone ends up saving another from murder at the hands of the same mentally-unbalanced man.

Saturday, November 4th, 1972

7: Hall of Mirrors

Stone sets out to discover why a young detective seems to be absolutely convinced of a murder suspect's guilt for no apparent reason.

Saturday, November 11th, 1972

8: Timelock

Stone appears to be the only one willing to give the benefit of the doubt to a convict who is accused of a murder while out of prison on a 36-hour pass.

Saturday, November 25th, 1972

9: In the Midst of Strangers

When a corner newspaper vendor goes after the muggers who stole his life savings, Stone and Keller discover that the crime is linked to the murder of a housing commissioner.

Saturday, December 2nd, 1972

10: The Takers

The murders of a flight attendant and a nurse who were rooming together lead Stone and Keller to suspect a jewelry salesman and his wife.

Saturday, December 9th, 1972

11: The Year of the Locusts

In their attempt to bring down a family of con artists who victimize entire neighborhoods, Stone and Keller are aided by dissension among the gang members.

Saturday, December 16th, 1972

12: The Bullet

A college professor, shot accidentally while trying to pay off a blackmailer, refuses to co-operate with Stone's investigation for fear that the publicity will lose him an upcoming promotion.

Saturday, December 23rd, 1972

13: Bitter Wine

A man who served 12 years in prison to protect his brother gets out only to find that the brother never told their father, a Greek restaurant owner, the truth about who should have gone to jail.

Saturday, January 6th, 1973

14: A Trout in the Milk

Stone and Keller suspect that an artist's fatal fall from his studio window was not an accident.

Saturday, January 13th, 1973

15: Deathwatch

Two fishermen (Colasanto and Caruso) decide to keep quiet after witnessing a human smuggling ring.

Thursday, January 18th, 1973

16: Act of Duty

Roommate (played by Brenda Vaccaro) of a slain police officer agrees to be bait in a rape investigation. After Mike Stone kicks her off the case, she continues on her own, hurtling headlong into peril.

Thursday, January 25th, 1973

17: The Set-Up

A retired hit man returns to San Francisco, not knowing that he will be the target of a hit.

Thursday, February 1st, 1973

18: A Collection of Eagles

A murder brings to light a coin dealer's plan to substitute fakes for the rare coins in a collection.

Thursday, February 8th, 1973

19: A Room with a View

One witness in a racketeering trial is killed with a booby-trapped car, and Stone worries that the remaining witness, Roy Chaffee, will be picked off by a hit man if he surfaces.

Thursday, February 15th, 1973

20: Deadline

Stone discovers that a murdered woman was involved with both a famous newspaper reporter and his son.

Thursday, February 22nd, 1973

21: Trail of the Serpent

A gang takes Mike Stone hostage after killing a policeman in an attempt to flee from a grocery store robbery. They want to trade Stone in for their leader, Buddy Sims.

Thursday, March 1st, 1973

22: The House on Hyde Street

When a boy disappears after school, suspicion falls on the neighborhood recluse.

Thursday, March 8th, 1973

23: Beyond Vengeance

After spending "a lousy" 12 years in prison for a rape / torture / murder, a young punk returns to San Francisco to seek revenge against Mike Stone who was the arresting officer.

Thursday, March 15th, 1973

24: The Albatross

A father finds out that the man who murdered his son is released on a technicality.

Thursday, March 22nd, 1973

25: Shattered Image

Mike Stone has reason to believe that the death of a politician is no accident.

Thursday, April 5th, 1973

26: The Unicorn

A priest (Fr. Scarne) won't tell Stone where a murderer (Abel Hoffman) is hiding. Stakes are raised by drug smugglers looking for a stolen shipment of heroin.

Thursday, April 12th, 1973

27: Legion of the Lost

Stone and Keller look into the beating death of three homeless men.
Season 2
Thursday, September 13th, 1973

1: A Wrongful Death

An angry father swears vengeance against Keller, who shot and killed his youngest son while trying to stop a robbery - but the truth is even more devastating.

Thursday, September 20th, 1973

2: Betrayed

A young executive stole money from his company, he then robs a bank to replace it. The robbery goes wrong and a security guard is killer and his live in client happens to be working at the bank that day as a part time teller.

Thursday, September 27th, 1973

3: For the Love of God

In order to stop a psychotic priest killer. Lt. Michael Stone goes undercover as a Roman Catholic Priest. The victims were all Clergymen who studied at the same seminary.

Thursday, October 4th, 1973

4: Before I Die

A cop (Nielsen) who finds out that he has a terminal illness, sets out to kill a racketeer (Danton) who had been his quarry for the last year and a half.

Thursday, October 11th, 1973

5: Going Home

A small timer robs a hardware store and after smacking the owner finds the safe open with two bags of money inside. He think he's hit the big time until he finds "the book". Running from both the mob and the police he runs to Alcatraz.

Thursday, October 18th, 1973

6: The Stamp of Death

Lieutenant Stone and Inspector Keller go after two insurance agents involved in the counterfeiting of an 1850 2 cent purple Guyana stamp which had a value of $250,000 ($1,000,000) in today's market.

Thursday, October 25th, 1973

7: Harem

Stone's daughter helps him break up a murderous prostitution ring. An unusual episode because of the appearance of Darleen Carr, who plays Stone's daughter, Jeannie.

Thursday, November 1st, 1973

8: No Badge for Benjy

A police informant is murdered, and his flinty daughter forces the police to go after his killers.

Thursday, November 8th, 1973

9: The Twenty-Four Karat Plague

Four men plan to heist radioactive gold over a poker game. Then find out that it is mixed with Uranium. The man smelting and forming the planchets gets radiation poisoning and it goes down hill for them fast.

Thursday, November 15th, 1973

10: Shield of Honor

Detectives Stone and Keller investigate how a contract killer obtained inside information on the movement of a mob witness.

Thursday, November 29th, 1973

11: The Victims

Three escaped convicts leave a path of destruction behind them as well as causing friction between Keller and his girlfriend, Connie.

Thursday, December 6th, 1973

12: The Runaways

Three runaways from Oregon, George, Jack and Sharon Morgan are squatting in an abandoned house. Sharon is very sick, but money is very limited. George decided to break into a local pharmacy after hours to obtain some medicine.

Thursday, December 13th, 1973

13: Winterkill

Angered by the rising cost of health care, an old man tries to pay his friend's bills by threatening a businessman with the bombing of his buildings.

Thursday, December 20th, 1973

14: Most Feared in the Jungle

A single girl named Barbara has a baby and is then told the baby was stillborn. However, she thinks it is alive and starts asking questions at the unwed mothers home where she lived.

Thursday, January 3rd, 1974

15: Commitment

accidental or intentional? the killing of a cop by another cop is the theme as one of our "81" investigators finds himself being investigated by his own department.

Thursday, January 17th, 1974

16: Chapel of the Damned

Stone and Keller work to crack a kidnap case where the mother is friends with an alleged psychic.

Thursday, January 24th, 1974

17: Blockade

A woman who has dedicated her life to a prominent family fails to see her neglected son has fallen in with a psycho - and may have helped him kill a woman.

Thursday, January 31st, 1974

18: Crossfire

Stone and Keller suspect there is more to a string of college campus shootings than meets the eye.

Thursday, February 7th, 1974

19: A String of Puppets

Det. Keller goes undercover as an ex-con musician to bust a crooked parole officer and his ring of parolees.

Thursday, February 14th, 1974

20: Inferno

Stone looks for the arsonists who set a fire that killed two firemen.

Thursday, February 21st, 1974

21: The Hard Breed

Two "Gunsmoke" writers teamed on this modern-day Western set at a rodeo in San Francisco's Cow Palace. A bronc rider dies in what appears to be an accident. A rodeo clown looks around the scene after the police leave and discovers the rider's rope -- which was cut almost halfway through before it broke, leaving the bronc free to throw him. The police come back to investigate the scene, and before long the chief suspect is also murdered in another "accident."

Thursday, February 28th, 1974

22: Rampage

A team of angry fathers, who are fed up with crime in their neighborhood, take a vigilante approach at solving the problem. During one of their rampages, a police informant is killed and the murder is blamed on the group. The murder leads to a narcotics ring and Stone and Keller have to try to link the crimes together.

Thursday, March 14th, 1974

23: Death and the Favored Few

Stone and Keller investigate the murder of a society publisher whose method was to coerce subscriptions from wealthy clients by blackmailing them. The investigation leads the detective to a wealthy woman and her daughter, who were among the ones being blackmailed and who still have secrets to hide.
Season 3
Thursday, September 12th, 1974

1: One Last Shot

An alcoholic cop gets his partner killed in the line of duty, then tries to cover up his negligence before Stone and Keller uncover the truth.

Thursday, September 19th, 1974

2: The Most Deadly Species

When a high-ranking hoodlum's son is found murdered he brings in the help of the adrogynously named "Sydney"--a hit woman who's assigned to murder the three thugs responsible. Stone an Keller are looking for them, too. Somehow Sydney becomes Keller's next door neighbor and a relationship develops during their investigation. When Stone & Keller discover two of the hoodlums have died before they can be brought into custody, Stone suspects the worse: his partner is sleeping with the killer. Sydney is played by Brenda Vaccaro, who at the time was married to Michael Douglas.

Thursday, September 26th, 1974

3: Target: Red

Bill Bixby plays a hit man who plans on assassinating a Red Chinese Leader on a State Visit to San Francisco. He also dresses up as a nun (a la Max Klinger) to gain access to his hiding place.

Thursday, October 3rd, 1974

4: Mask of Death

John Davidson plays a drag role of "Carole Marloe", which I think he's a female impersonator doing Carol Channing. Davidson dates older men as "Carole" and kills them using a hatpin to the heart.

Thursday, October 10th, 1974

5: I Ain't Marchin' Anymore

To solve the murder of an AWOL Marine, Keller goes undercover to join a group of Vietnam War protesters.

Thursday, October 17th, 1974

6: One Chance to Live

A woman (Joanne Linville) secretly conceals an affair with a married diplomat (Edward Mulhare), whose wife hires a youth (Steven Keats) to threaten to kill her.

Thursday, October 24th, 1974

7: Jacob's Boy

The prime suspect in a murder case may be innocent of this crime, but he fears Stone and Keller will discover he got away with murder once before... 25 years ago.

Thursday, October 31st, 1974

8: Flags of Terror

When five terrorists whose plan to pass through a security checkpoint at a boating dock fails, they flee taking on several hostages including Inspector Steve Keller, in order to try and demand safe passage to flee the country or they'll blow up the hostages.

Thursday, November 7th, 1974

9: Cry Help!

A troubled teen from a broken home is suspected of shooting a friend's stepfather.

Thursday, November 14th, 1974

10: For Good or Evil

After a young man witnesses a gangland murder, he starts working with the killer to gain favor with the gang.

Thursday, November 21st, 1974

11: Bird of Prey

Lieutenant Michael Stone and Inspector Steven Keller investigate the murder of women. The murderer was wearing an officers uniform of the United States Air Force.

Thursday, December 5th, 1974

12: License to Kill

Stone's ex-partner comes to town with a deadly vendetta: kill the man who murdered his son.

Thursday, December 12th, 1974

13: The Twenty-Five Caliber Plague

A single .25 caliber pistol affects many lives in a single weekend.

Thursday, December 19th, 1974

14: Mister Nobody

When a humble shoe repairman confesses to murder, Stone and Keller suspect that he's taking the fall for the real killer.

Thursday, January 9th, 1975

15: False Witness

A hispanic police officer (Martinez) is fed up with his old neighborhood being turned into a narcotics haven by a pusher named Perez. Attempts to convict him have been repeatedly unsuccessful. The officer then goes as far as planting incriminating evidence to bring the pusher to justice.

Thursday, January 16th, 1975

16: Letters from the Grave

If the walls of Alcatraz could talk, they would reveal the hidden body of an inmate who was believed to have escaped 20 years ago.

Thursday, January 23rd, 1975

17: Endgame

When Keller is injured by a gangster, Stone's thirst for vengeance results in his demotion to a beat cop.

Thursday, January 30th, 1975

18: Ten Dollar Murder

Taxis across town are being robbed by a cop's son. But when one hold-up results in the murder of an undercover officer, the young man's joy ride is over.

Thursday, February 6th, 1975

19: The Programming of Charlie Blake

Stone and Keller's murder investigation is complicated by an ambitious psychiatrist easer to exploit his patient, a reformed ex-con.

Thursday, February 13th, 1975

20: River of Fear

A twelve-year-old girl sets out to prove that he stepfather killer her mother.

Thursday, February 20th, 1975

21: Asylum

Keller goes undercover at a mental hospital to uncover the truth about a string of mysterious deaths.

Thursday, February 27th, 1975

22: Labyrinth

Set in a midtown hotel, "Labyrinth" tells the story of a prizefighter who was supposed to throw a fight but didn't. Some representatives from the mob meet him to "discuss the matter" in his hotel room. He ends up beating up one of the men and throws him out the window. He beats up the other two and is shot in the process, but not fatally. He runs from the room and holding the gun he hides in another room with an adulterous couple. Stone and Keller are called in to investigate the hit man's death. The race is on: who will find the prizefighter first--the cops or the hired muscle? Included in the cast of characters is a traumatized ex-cop who quit the force and became the hotel's head of security.

Thursday, March 13th, 1975

23: Solitaire

Against his will, Stone gets a new partner while Keller recovers from a gunshot wound. Hippie-haired narc Al Walczinsky isn't too happy about having Stone as a partner either. Together they try to break up a narcotics ring that's gone murderous -- until Stone suspects that Walczinsky's in on the racket.
Season 4
Thursday, September 11th, 1975

1: Poisoned Snow

Stone and Keller investigate the death of a cop who dies during a drug sting -- and tries to prevent the cop's partner from doing more damage.

Thursday, September 18th, 1975

2: The Glass Dart Board

A psycopathic killer uses San Francisco High-rises as target practice.

Thursday, September 25th, 1975

3: No Place to Hide

Prison gangs intimidate weaker prisoners into having their wives smuggle drugs into prison -- and kill the wives if they don't. An episode with exceptionally good dialogue.

Thursday, October 2nd, 1975

4: Men Will Die

After Jeannie's friend Nancy kills one of her rapists, Jeannie is furious at the way the justice system works. She becomes involved with an aggressive rape crisis group headed by crusading attorney Catherine Wyatt. Rapist Jack Marlin becomes a target of their efforts.

Thursday, October 9th, 1975

5: School of Fear

Upon learning that a teacher was shot and killed during a student scuffle at a school he once taught at, a retired history teacher (played by Maurice Evans) takes it upon himself to corral a group of his former students and hold them hostage in an empty, condemned school. There, at gunpoint, he proceeds to teach them the finer points of history.

Thursday, October 16th, 1975

6: Deadly Silence

Stone is hit by a van, and has to undergo surgery to have his hearing restored.

Thursday, October 23rd, 1975

7: Murder by Proxy

Property owners who refuse to sell their parcels find themselves murder victims at the hands of a developer. With Bradford Dillman and John Ritter.

Thursday, October 30th, 1975

8: Trail of Terror

Keller is pursued by killers as he transports a prisoner to jail.

Thursday, November 6th, 1975

9: Web of Lies

Keller and Stone must rely on a compulsive liar while investigating a jewel robbery.

Thursday, November 13th, 1975

10: Dead Air

A radio host is accused of murder when a woman who threatened him dies.

Thursday, November 20th, 1975

11: Merchants of Death

Two rival gangs start a turf war with a youth worker (played by Greg Morris) caught in the middle.

Thursday, December 4th, 1975

12: The Cat's Paw

Stone conducts a murder/robbery investigation with Inspector Irene Martin.

Thursday, December 11th, 1975

13: Spooks for Sale

The death of a night-watchman during a burglary puts Stone and Keller into the midst of a spy-vs.-spy conflict between high-tech industrial espionage firms.

Thursday, December 18th, 1975

14: Most Likely to Succeed

Lt. Michael Stone and Inspector Steven Keller investigate a murder committed at an all-boys prep school.

Thursday, January 8th, 1976

15: Police Buff

A suspected murderer of a police officer is tried and set free -- and then killed by a vigilante.

Thursday, January 15th, 1976

16: The Honorable Profession

Robert Reed plays a fictitious doctor. During Act IV he packs up to leave town. The well-written episode begs the question whether Reed's character did more good than harm posing as a doctor.

Thursday, January 22nd, 1976

17: Requiem for Murder

A bishop tries to protect the person who shot him.

Thursday, January 29th, 1976

18: Underground

A cop seeks to catch his brother's murderer by going undercover in an illegal gambling operation.

Thursday, February 19th, 1976

19: Judgment Day

The son of a disbarred lawyer targets "Bleeding Heart Liberal" Judges who ruined his fathers career as a lawyer.

Thursday, February 26th, 1976

20: Clown of Death

Two retired brothers, both having worked as riggers for circuses many years before, are found murdered while a circus happens to be performing in San Francisco at the Cow Palace.

Thursday, March 4th, 1976

21: Superstar

Stone clashes with an abrasive NYC cop who is on the trail of his partner's killer.

Thursday, March 11th, 1976

22: Alien Country

An illegal immigrant gets a job in San Francisco, but moments later there is a raid by the Immigration Service and an officer is killed.

Thursday, March 18th, 1976

23: Runaway

Stone searches for a fugitive and is dogged by a runaway girl who is the fugitive's daughter.
Season 5
Thursday, September 30th, 1976

1: The Thrill Killers (1)

Misguided radicals take a jury hostage in a case where corrupt ""movement leaders"" are being tried for murder.

Thursday, October 7th, 1976

2: The Thrill Killers (2)

Mike and Inspector Dan Robbins make a last-ditch effort to save the jury from execution at the hands of the radicals. Steve leaves the police force.

Thursday, October 21st, 1976

3: Dead or Alive

A millionaire's (Duff) daughter (Eilbacher) is raped and murdered at a public tennis court. He finds a suspect and sends handbills over the city, posting a $1 million dead or alive reward for the suspect (Gail). The SFPD has to spend an extraordinary amount of time and manpower on this case when the greed of ""human nature"" takes over, causing innocents to be injured or killed in the process of trying to collect the reward.

Thursday, October 28th, 1976

4: The Drop

Mike thinks he's a murder target when a kidnapper specifies that he deliver the ransom money.

Thursday, November 4th, 1976

5: No Minor Vices

The father of a 16-year old girl murders her ""johns"" one by one, unbeknownst to her.

Thursday, November 11th, 1976

6: In Case of Madness

A songwriter-singer (Arnaz Jr.) is a suspect in the murder of his producer (Janis).

Thursday, November 18th, 1976

7: Till Death Do Us Part

Stone must protect a former book keeper's wife (Jessica Walter), in order to have her testify against several high profile mobsters who want her dead because of the evidence she has against them.

Thursday, December 2nd, 1976

8: Child of Anger

A clothing designer (Dorothy Malone) finds herself on the front page news after her daughter (Leslie Ackerman) confesses to the murder of her latest fling. Later, Lt. Stone and Inspector Robbins investigate her daughter's claim only to realize that she's really a witness and not a murderer, but will it be too late now that one of the murders (Jerry Douglas) decides that she may be able to identify him?

Thursday, December 9th, 1976

9: Hot Dog

Inpector Stone and Robbins go after a gang of thieves who use motor cycles to make there get away.

Thursday, December 23rd, 1976

10: Castle of Fear

Paranoia leads to someone shooting a cop skulking on their property.

Thursday, January 6th, 1977

11: One Last Trick

A former prostitute (Purcell) goes back to work to smoke out the murderer of another prostitute.

Thursday, January 13th, 1977

12: Monkey is Back

As a dare to try to win a spot among a gang of high school thugs in the 1950's, Charley Belasco commits a crime that sends him to prison for 20 years. Upon his release, he goes on a murderous rampage to hunt down the the high school thugs who spurned him.

Thursday, January 20th, 1977

13: The Cannibals

A mobster's son steals loot from his father and seeks protection from federal authorities in exchange for being a material witness against his father.

Thursday, February 3rd, 1977

14: Who Killed Helen French?

The police learn that a victim of spousal abuse has been leading a double life.

Thursday, February 10th, 1977

15: A Good Cop...But

A cop-killer's henchmen hunt the only witnesses to his crime, an officer and an informer.

Thursday, February 17th, 1977

16: Hang Tough

A narcotics cop (Beatty) who has only four months to go till retirement, roughs up a drug pusher (Campos) and plants a knife on him. In the cop's efforts to cover this up, blackmail and murder ensue. A parallel story has to do with uncovering the ""Tucson connection"", a major drug ring operating in San Francisco.

Thursday, February 24th, 1977

17: Innocent No More

Mike pushes to get teen gang members, who have made a mockery of the juvenile court, tried as adults.

Thursday, March 3rd, 1977

18: Once a Con

The main suspect in the murder of a coed is a prison inmate enrolled in a special program.

Thursday, April 28th, 1977

19: Interlude

Refusing to believe he murdered his wife, a man escapes from an institution for the criminally insane to find her.

Thursday, May 5th, 1977

20: Dead Lift

A bodybuilder's short temper causes murder.

Thursday, May 12th, 1977

21: Breakup

An episode where there are two parallel stories: A small business owner (Roberts) is going through divorce proceedings while his business is in financial straits. His wife's lawyer (Pressman) just happens to also be hunted by a revenge-seeking ex-con (Murdock).

Thursday, May 19th, 1977

22: Let's Pretend We're Strangers

A public defender (Linda Kelsey) is convinced that a young man (Wheeler) accused of murder, is innocent. Stone and Robbins are not convinced.

Thursday, June 2nd, 1977

23: Time Out

A San Quentin prison guard must hunt down the criminals who escaped while under his guard.

Thursday, June 9th, 1977

24: The Canine Collar

Mike and Dan pursue a smuggler who will stop at nothing to locate a dog collar containing stolen diamonds