update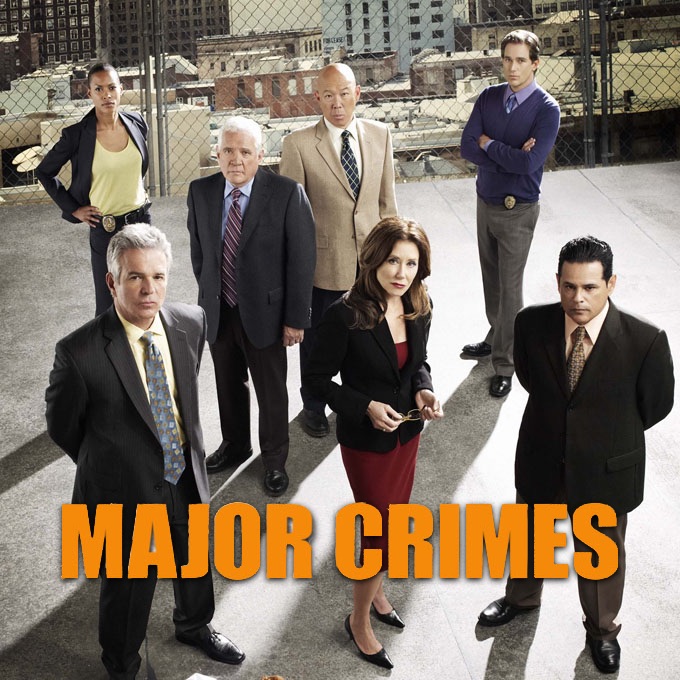 Season 1
Monday, August 13th, 2012

1: Reloaded

The department is still reeling with the recent departure of Deputy Chief Brenda Lee Johnson, creating a tough transition for the newly appointed head of Major Crimes, Captain Sharon Raydor. But there is little time for adjustment as the department rushes to reach a plea bargain when a string of grocery store robberies turns fatal. After proving to be a valuable source for the case, undercover police detective and military veteran Detective Amy Sykes is transferred to Major Crimes. Meanwhile, Raydor takes a big step to protect teenager Rusty Beck after he runs away from his foster family.

Monday, August 20th, 2012

2: Before and After

Growing pains within Major Crimes become apparent as the division works to obtain justice in a brutal homicide that turns out to be more complicated than expected. Raydor struggles to gain the respect of her colleagues while also trying to supervise Rusty 24/7. The changes within the department may become more than Provenza can accept.

Monday, August 27th, 2012

3: Medical Causes

The facts become blurry in a case involving a fatal car crash at a nightclub. Meanwhile, Rusty can finally look forward to his mother's return.

Monday, September 3rd, 2012

4: The Ecstasy and the Agony

The unit joins forces with the FBI when a homicide case spins around the Israeli mob and an "intuitive life strategist." Elsewhere, Provenza displays his vulnerable side, and Rusty's first school day takes an unexpected turn.

Monday, September 10th, 2012

5: Citizen's Arrest

When a kidnapping turns deadly, the squad scrambles to crack the case and turns to a district attorney for help. Meanwhile, DNA evidence shows that Rusty has connections to the justice system.

Monday, September 17th, 2012

6: Out of Bounds

The aftermath of a deadly shooting on gang turf finds Raydor making a daring maneuver that could threaten her career and jeopardize Det. Sykes' life. Elsewhere, Rusty makes it quite apparent that he has no interest in meeting his biological father.

Monday, September 24th, 2012

7: The Shame Game

When an activist to end human trafficking is murdered, the investigation leads to a possible eyewitness, a young prostitute wanting to get out of the business, and the pimp she works for becomes their primary suspect. Meanwhile, child services arrange a meeting between Rusty and his father, against Rusty's wishes.

Monday, October 1st, 2012

8: Dismissed with Prejudice

When a murder conviction is overturned after eight years, Tao is forced to question his past actions. And Rusty struggles to be himself during his first outing with his father, Daniel Dunn.

Monday, October 8th, 2012

9: Cheaters Never Prosper

A man from Las Vegas is found dead after an apparent overdose, but the facts become unclear as gritty details begin to unfold. Meanwhile, a series of strange events leave Rusty and Raydor wondering if Dunn (Ian Bohen) can be trusted.

Monday, October 15th, 2012

10: Long Shot

Season Finale. When a peaceful ceremony turns deadly, Major Crimes and the FBI team up to track down a dangerous sniper. And Raydor negotiates a deal that even Provenza can get behind.
Season 2
Monday, June 10th, 2013

1: Final Cut

The squad scrambles to garner a confession when the pregnant wife of a big-time film director is found murdered. Meanwhile, just as things seem to fall into place under Raydor's leadership, new Deputy D.A. Emma Rios challenges Raydor's intentions as Rusty's guardian.

Monday, June 17th, 2013

2: False Pretenses

A complex murder-suicide case has the department reeling. Meanwhile, when Rusty receives a mysterious and threatening letter Emma demands that he be relocated. Torn between her desire to protect Rusty and professional duty to the case, Raydor is forced to seriously consider Emma's request.

Monday, June 24th, 2013

3: Under the Influence

A meddling television writer-producer accompanies Sanchez and Tao on a ride-along so he can get an inside look at the LAPD. But what starts out as a simple outing quickly gets out of hand. And Rusty employs some unfair help when his teacher makes him re-write an essay.

Monday, July 1st, 2013

4: I, Witness

The LAPD flies a material witness into Los Angeles to testify, but in a horrible turn of events their witness winds up as the key suspect in an entirely new murder. Personal and professional stress takes a toll on Flynn. And the squad takes bets when Rusty brings a girl from class to hang out with him at the department.

Monday, July 8th, 2013

5: D.O.A.

The squad investigates a brutal murder, but they soon find that dark secrets are at the root of an apparent drug bust gone wrong. Meanwhile, Raydor's estranged husband of 25 years returns to Los Angeles to work as a court-appointed attorney. Charming and charismatic, Jack becomes fast friends with Rusty but Sharon continues to remain wary.

Monday, July 15th, 2013

6: Boys Will Be Boys

When a child with gender dysphoria goes missing, the Major Crimes division scrambles to solve the emotional case before it's too late. Torn between several suspects, the squad has to be careful as it tries to connect the evidence to a dangerous bully. Meanwhile, Jack Raydor attempts to make up for years of lousy parenting.

Monday, July 22nd, 2013

7: Rules of Engagement

In a case that brings gang violence and social profiling to the forefront, the squad realizes that things are not always as they seem. Complicating matters further, Sharon offers Jack the opportunity to be a court-appointed attorney in the case. Meanwhile, Rusty expresses apprehension about meeting Kris' parents.

Monday, July 29th, 2013

8: The Deep End

The media goes into a frenzy over race relations when the body of a young Latino man is found at the home of a white award-winning swimming coach. Flynn struggles with an emotional dilemma on the eve of his daughter's wedding. Kris' mother pays Raydor a visit to discuss some concerns.

Monday, August 5th, 2013

9: There's No Place Like Home

Provenza faces possible permanent desk duty while the squad investigates the suspicious death of a loathsome ICE agent which brings them into contact with the residents of an ancient apartment complex nicknamed La Shangri-la.

Monday, August 12th, 2013

10: Backfire

In a case that hits a little too close to home for Rusty, a 19-year-old prostitute is brutally murdered. The squad rushes to reach a deal with the remorseless killer they believe is part of a larger criminal enterprise. Their efforts, however, do not sit well with the judge assigned to the case.

Monday, August 19th, 2013

11: Poster Boy

The team works strategically to capture a spree killer who has put everyone on high alert. Trying to solve the case quickly, Raydor is torn between two seemingly right decisions, each of which comes with major consequences. Meanwhile, Rusty is given some extra freedom, but more threats leave him afraid to stray far from home.

Monday, November 25th, 2013

12: Pick Your Poison

After a bad batch of drugs claims the lives of two brothers, the race is on for the squad to find the dealer before more of their fellow high school students are threatened. Feeling smothered by his new around-the-clock security detail, Rusty faces a big decision.

Monday, December 2nd, 2013

13: Jailbait

When a newly released prisoner misses two back-to-back parole meetings, the squad is called in to track him down after the suspect's therapist expresses concerns over his mental state. Meanwhile, Sharon invites therapist Dr. Joe Bowman to the office to evaluate Rusty over a game of chess.

Monday, December 9th, 2013

14: All In

When a body turns up at a posh country club in a quiet neighborhood, the squad's investigation leads them down a money trail full of surprises. Flynn is noticeably distracted on the job, and Emma's actions have Rusty questioning her intentions, causing him to distrust her even more.

Monday, December 16th, 2013

15: Curve Ball

Christmas vacation is interrupted for the Major Crimes Division when a baseball scout is found dead in his RV. The squad works through the murder case, unfolding a complicated kidnapping scheme. Meanwhile, Rusty opens up to Dr. Joe about his mom.

Monday, December 23rd, 2013

16: Risk Assessment

When a well-off graduate student gets shot to death in a gang-riddled neighborhood, the Major Crimes Division must work with the FBI, including Fritz Howard, to find his killer. Throughout the investigation, it is revealed how each member of the unit became interested in joining the police force.

Monday, December 30th, 2013

17: Year-End Blowout

A year-end blowout sale becomes literal for a used-car lot after one of its owners is killed when a bomb explodes. While the squad tries to find who is responsible, Rusty dons a bullet-proof vest under the watchful eye of Lt. Chuck Cooper, an SIS (Special Investigation Section) supervisor, in an attempt to catch the person responsible for threatening his and Sharon's life.

Monday, January 6th, 2014

18: Return to Sender (1)

The squad must work quickly to track down a serial killer before he strikes again. Meanwhile, things get dangerous over a game of chess.

Monday, January 13th, 2014

19: Return to Sender (2)

The Major Crimes unit draws closer to finding a dangerous serial killer. Rusty faces his biggest challenge yet when he bravely takes the stand against Phillip Stroh. Complicating the case further, the team goes head to head with Linda Rothman, a tough, powerful attorney who doesn't let morals stand in her way of winning a case.
Season 3
Monday, June 9th, 2014

1: Flight Risk

When a father and his two young children go missing, the squad has to work quickly to find them, while uncovering a slew of terrible family secrets along the way. Meanwhile, Raydor does her best to trust Rusty as he begins to take suspicious trips out on his own.

Monday, June 16th, 2014

2: Personal Day

Shortly after being released from prison, a man who proclaimed his innocence is found murdered. The victim's case is reopened and the squad works hard to solve a seventeen-year old murder. To the surprise of Raydor, Rusty confesses the reason behind his recent suspicious activity.

Monday, June 23rd, 2014

3: Frozen Assets

The Major Crimes division faces a new challenge as they work to solve the murder of a dog that was left a 20 million dollar estate by his deceased owner. With the help of wannabe detective Jonathan Baird, aka Dick Tracy, the case takes a new turn as the squad begins to suspect foul play in the death of the dog's owner, a wealthy heiress.

Monday, June 30th, 2014

4: Letting It Go

The violent murder of an alleged rapist gives the squad the emotional task of questioning possible suspects. Meanwhile, Rusty begins to question his mother's motives as he catches her in a lie.

Monday, July 7th, 2014

5: Do Not Disturb

A murder committed in a hotel room is investigated and results in some potential international repercussions. Rusty thinks about how to share a huge secret with the rest of the squad.

Monday, July 14th, 2014

6: Jane Doe Number 38

The unit finds itself pursuing a protracted and circuitous path as it attempts to discern the identity of young runaway who was found murdered in a trashcan; Raydor seeks her husband's advice concerning an offer to Rusty.

Monday, July 21st, 2014

7: Two Options

When SWAT officers working Crime Suppression discover an elderly couple gunned down in their own home, Major Crimes must team up with the LAPD's Special Operations Bureau to hunt down a killer stalking the city of Los Angeles, and taking hostages along the way.

Monday, July 28th, 2014

8: Cutting Loose

Lt. Mike Tao of Major Crimes finds himself doing double duty when the star of the cop show on which he moonlights as a consultant becomes the prime suspect in the murder of his biggest fan.

Monday, August 4th, 2014

9: Sweet Revenge

The mysterious murder of a tech-entrepreneur with questionable morals and possible mob connections has the Major Crimes division working overtime. Meanwhile, Rusty struggles to feel accepted when Raydor's son Ricky comes home to visit and Fritz Howard prepares to assume command of the LAPD's Special Operations Bureau.

Monday, August 11th, 2014

10: Zoo Story

The LAPD finds itself in a precarious situation during an investigation into the disappearances of a string of young girls from a popular nightclub, leading to a turf battle between The Major Crimes division and the Special Operations Bureau. Fritz Howard remains on the mend from poor health, while Rusty's mom continues to struggle with the law and her sobriety.

Monday, November 24th, 2014

11: Down the Drain

A surrogate adoption gets complicated, leaving one person dead and a lot of people searching for answers. The Major Crimes division gets their hands dirty as they explore LA's underground water system. Sharon works to make Rusty officially part of her family, while he struggles to tell his biological mother (guest star Ever Carradine) about the upcoming adoption.

Monday, December 1st, 2014

12: Party Foul

The unit runs into difficulty when it comes to identifying a suspect after two individuals are attacked with scissors at a high school party; Provenza meets a woman who has an unusually powerful and immediate impact on him.

Monday, December 8th, 2014

13: Acting Out

A Hollywood comeback is interrupted when a former child star is found dead on skid row, leaving the director of the actor's current movie and his manager as prime suspects. Flynn's daughter comes to visit and the true nature of Sharon and Flynn's relationship comes to light.

Monday, December 15th, 2014

14: Trial by Fire

There is a miscarriage of justice when a gang banger is acquitted of murder and released from custody. Sharon's ex-husband, Jack Raydor represents the suspect in a subsequent murder. Rusty takes a chance when the guy he has a crush on visits the station.

Monday, December 22nd, 2014

15: Chain Reaction

Santa finds himself on the naughty list after robbing a bank, but a Santa flash mob complicates his apprehension and the Major Crimes unit scrambles to figure out how things went so wrong. Sharon's kids come to town for the holidays while Buzz starts training as a back-up police officer.

Monday, December 29th, 2014

16: Leap of Faith

Tensions flare when Flynn talks down a jumper, only to discover that he is a sex offender.

Monday, January 5th, 2015

17: Internal Affairs

Sanchez is put under the microscope when his mother's (guest star Ana Mercedes) caregiver is found murdered... Rusty is forced to take on Jack (guest star Tom Berenger) when he shows up at Sharon's condo acting recklessly.

Monday, January 12th, 2015

18: Special Master Part One

Phillip Stroh returns, demanding a new deal from DDA Rios in exchange for his cooperation; Major Crimes races to prevent the deaths of three women while trying to decode the source of Stroh's information.

Monday, January 12th, 2015

19: Special Master Part Two

The Major Crimes division works to stop a serial killer who has been targeting female sex workers; Captain Raydor seeks the help of a consultant; Stroh gets closer to achieving his deal.
Season 4
Monday, June 8th, 2015

1: A Rose is a Rose

The squad investigates a double homicide related to an ongoing string of home invasions in the Hollywood Hills. Meanwhile, Sanchez attempts to reintegrate himself in the division after his suspension over a questionable use of force, while Captain Raydor makes a fateful choice in the life of her adopted son, Rusty.

Monday, June 15th, 2015

2: Sorry I Missed You

When a dead body pops out of the trunk at the end of a car chase, the squad must untangle connections between a superstar chef; a middle-aged pediatric psychiatrist and his second, much younger wife; and a bankruptcy lawyer whose problematic representation threatens to derail the investigation. Rusty continues his attempt to identify the murder victim who called herself Alice Herrera, inadvertently threatening the case against her murderer.

Monday, June 22nd, 2015

3: Open Line

Major Crimes investigates the murder of a super model with close ties to a pompous celebrity photographer (Jamie Bamber) with boundary issues. Meanwhile, Raydor and Rusty give Assistant Chief Taylor a headache when they are both served subpoenas for their entanglement in the Alice murder case.

Monday, June 29th, 2015

4: Turn Down

During his first drive-along as a reserve officer, Buzz Watson discovers a dead body in a hotel room bathtub, not only threatening an extremely expensive wedding but also Flynn and Provenza's plans to take the division to a Fourth of July Dodgers game.

Monday, July 6th, 2015

5: Snitch

While the Major Crimes unit investigates a complicated gangland shooting, Det. Amy Sykes finds she must protect the identify of a witness capable of identifying the killer. Rusty struggles with how to manage newly gained information on the Alice case, and Lt. Flynn works to gain the courage to take his relationship with Captain Raydor to the next level.

Monday, July 13th, 2015

6: Personal Effects

When the squad comes across a pile of bones, they fall into a web of connections as they find their victim has an unnerving past. Rusty continues to pursue his investigation of the Alice case with the help of a new friend. Meanwhile, Rusty also gets roped into helping Provenza make a major move.

Monday, July 20th, 2015

7: Targets of Opportunity

After a shooting leaves two LA police officers dead, the Major Crimes unit must work with the Deputy Chief of the LAPD Special Operations Bureau, Fritz Howard, to piece together a high stakes case involving a fugitive witness. Meanwhile, Rusty works with the team on the case in order to secretly gather more background information to support his own, journalistic investigation into the life of the girl who called herself Alice Herrera..

Monday, July 27th, 2015

8: Hostage of Fortune

New information prompts the re-opening of an old kidnapping investigation, forcing Captain Raydor and her Major Crimes Division into partnership with a potentially corrupt FBI agent. Rusty has a major breakthrough in his investigation on Alice Herrera, but discovers he and T.J. are possibly not the friends he thought they were.

Monday, August 3rd, 2015

9: Wish You Were Here

The division investigates an online video of a bloodied, half-naked man walking down a street with a gun. Meanwhile, Rusty at last finds Alice Herrera's brother and reaches out to Sharon for help.

Monday, August 10th, 2015

10: Fifth Dynasty

After Major Crimes identifies a murder victim as the son of State Superior Court Judge known for being tough on criminals, the squad hunts through her current case load, which involves an Aryan motorcycle gang and, much to their surprise, connected to the disappearance of a thirteen-year-old boy.

Monday, November 2nd, 2015

11: Four of a Kind

Four wealthy one percenters are left for dead outside a hospital emergency room in a twisty- curvy murder that leads through an impossible list of suspects, including a high school daughter with her father's iPhone password, a diabetic chauffeur, the owner of several LA parking lots and a mysterious woman with great legs who trips up Lt. Andy Flynn on her way to Mexico. Meanwhile, Rusty pursues a taboo subject for his next story on "Identity."

Monday, November 9th, 2015

12: Blackout

Jack Raydor (guest star Tom Berenger) is back again, defending a man who is attempting to withdraw a confession in the murder of his wife. A last-second video purporting to provide the defendant with an alibi alerts the Major Crimes team to the possibility of a conspiracy. Rusty interviews Slider, while Flynn is still living with Sharon due to his injury.

Monday, November 16th, 2015

13: Reality Check

Sharon and the team investigate a murder during the taping of a reality competition show pitting married couples against each other. The case has a profound effect on Sanchez, bringing back memories of his late wife. Meanwhile, Rusty meets Slider's lawyer.

Monday, November 23rd, 2015

14: Taking the Fall

The Major Crimes team is called to investigate a follow up attack on a victim of road rage, as a business executive and his wife fall prey to a furious driver in a pickup truck. As Thanksgiving approaches, Flynn suffers a setback on his road to recovery. And Rusty finally gets the interview with Slider that he wanted.

Monday, November 30th, 2015

15: The Jumping Off Point

Sharon and the team investigate the murder of a young man pushed off the top of a parking structure who was somehow able to afford a high-end apartment without any visible means of support. Meanwhile, Lt. Andy Flynn suffers through the ministrations of an overly cheerful physical therapist.

Monday, December 7th, 2015

16: Thick as Thieves

With Flynn on desk duty as he recovers from injuries, Sharon and the team investigate the murder of a fugitive diamond thief whose body was found by his bail bondsmen. Rusty is put in a tight spot when his relationship with Slider is discovered by Marianna's brother.

Monday, December 14th, 2015

17: #FindKaylaWeber

A professional baseball pitcher's daughter goes missing, and the Major Crimes team's investigation leads them to the very limits of the justice system. Rusty is put in an extremely awkward position as Slider approaches the last phase of his trial.

Monday, December 21st, 2015

18: Penalty Phase

Sharon and the team track an unhinged killer making his own film with his victims as the stars as a new romance takes wing.

Monday, February 15th, 2016

19: Hindsight: Part 1

A young woman and her 3-year-old son are shot to death while driving through gang territory in the wrong colored car, and the gun used in the murder is quickly connected to the most troubling series of unsolved homicides in LAPD history. As Captain Sharon Raydor and the rest of her division attempt to solve the mystery, Amy Sykes begins an uneasy alliance with a disgraced former LAPD detective with a novel theory and a corrupt past.

Monday, February 22nd, 2016

20: Hindsight: Part 2

A startling discovery is made in a church. Meanwhile, Stephanie and Sanchez bond over lost loved ones; Rusty discovers that his biological mother's ex is an on-the-run fugitive; and Tao is pushed too far by an old partner.

Monday, February 29th, 2016

21: Hindsight: Part 3

When another victim is found, Sharon angrily turns her attention back to former LAPD Det. Mark Hickman; Fritz and his team help the LAPD show up in force at Tamika's funeral; Tao makes a discovery involving Peter Goldman.

Monday, March 7th, 2016

22: Hindsight: Part 4

Information pours in about past victims; Lt. Cooper and Amy Sykes are caught in an unexpected gun fight; Sharon makes her way toward the truth.

Monday, March 14th, 2016

23: Hindsight: Part 5

The threads of seven murders are tied together; the field of suspects is narrowed to three; Mark Hickman confronts the truth about his past; Sharon uses an unreliable witness; Provenza and Patrice solve their wedding issues.
Season 5
Monday, June 13th, 2016

1: Present Tense

The squad investigates the disappearance of a teenage girl who vanished while volunteering at a homeless shelter; Buzz opens the cold case file on the murder of his father and uncle; Andy Flynn considers selling his house.

Monday, June 20th, 2016

2: N.S.F.W.

The murder of a Sex Crimes detective leads Major Crimes into the world of pornography; Rusty's biological mother returns with some surprising news.

Monday, June 27th, 2016

3: Foreign Affairs

After an ISIS inspired attack against a member of the US Armed Services, the FBI asks for Captain Raydor's help in finding a terrorist, joining the Bureau in a race against the clock before the terrorist can strike again.

Monday, July 11th, 2016

4: Skin Deep

When Flynn looks into purchasing a new home and seeks input from Provenza and Buzz, an unexpected turn of events leads to a new investigation for Major Crimes. Meanwhile, Buzz continues to look into the circumstances surrounding his father's murder.

Monday, July 18th, 2016

5: Cashed Out

Det. Julio Sanchez's application to become a foster parent is jeopardized by his reactions to a particularly gruesome murder after the Major Crimes Division finds a chopped up body burned to bits in the barbecue pit of an L.A. Park.

Monday, July 25th, 2016

6: Tourist Trap

The city's tourist industry is threatened by an English journalist when a pair of British tourists are attacked on their second honeymoon in Venice Beach; Rusty's biological mother tries to make peace with him.

Monday, August 1st, 2016

7: Moral Hazard

After a shootout in a tow yard leaves three people dead, Major Crimes must scramble to find a disturbed man with a bag full of guns and a long list of grievances before he kills again. Meanwhile, Rusty pushes against LAPD policy in an attempt to find more evidence related to the murder of Buzz's father and uncle.

Monday, August 15th, 2016

8: Off the Wagon

Andy Flynn and Mike Tao investigate the mysterious overdose of a young Hollywood star; Rusty decides how to handle the pregnancy of his biological mother.

Monday, August 22nd, 2016

9: Family Law

Major Crimes investigates a divorce attorney with a lot of angry clients; Lt. Tao goes under cover in the world of college-age hookers; Buzz learns the identity of a suspect.

Monday, August 29th, 2016

10: Dead Zone

The squad uncovers a large criminal operation while investigating a murder; Buzz encounters someone who may have been present at his father's murder.

Monday, September 5th, 2016

11: White Lies: Part 1

In attempting to clear up lose ends from their investigation of a gang of White Supremacists, Major Crimes detectives audit the trial of serial killer Dwight Darnell, and end up facing their most deadly case ever while Rusty's psychologist, Dr. Joe, faces an unexpected confrontation that leaves his life in jeopardy.

Monday, September 12th, 2016

12: White Lies: Part 2

The Major Crimes unit continues to investigate the conspiracy behind Dwight Darnell's murders and his links to the Zyklon-Brotherhood. Sharon Raydor, disturbed by her own reactions to the case, seeks penance in the Ritual of Confession.

Monday, September 19th, 2016

13: White Lies: Part 3

The Major Crimes unit gets closer to the elusive mastermind behind the Dwight Darnell murders; Buzz and Rusty's investigation into the murder of Buzz's father comes to an end.

Wednesday, February 22nd, 2017

14: Heart Failure

When Captain Sharon Raydor and the Major Crimes Division investigate the murder of a young woman found in the LA River, their case is not only impeded by a secretive PI working for a tech industry millionaire, but also by Deputy Chief Winnie Davis, who regards Sharon as competition for the promotion to Assistant Chief of the LAPD.

Wednesday, March 1st, 2017

15: Cleared History

When Major Crimes discovers a young one-man-geek-squad with his throat cut in his living room, suspicions swirl around his roommate and some unwitting customers.

Wednesday, March 8th, 2017

16: Quid Pro Quo

A case goes sideways at trial when defense attorney Linda Rothman is able to destroy Det. Amy Syke's credibility on the stand. Helping Rothman as a defense investigator is Amy's old nemesis, Mark Hickman.

Wednesday, March 15th, 2017

17: Dead Drop

A heavy body is found forty feet up a tree surrounded by marijuana when Dr. Morales shows up with his father, a retired detective from Uruguay; Julio Sanchez works to get legal guardianship of Mark Jarvis; Andy Flynn prepares a surprise for Sharon.

Wednesday, March 22nd, 2017

18: Bad Blood

Sharon's son Ricky comes home for a surprise visit; the department investigates the murder of a retired LAPD fraud detective, who may have been murdered for an arrest she made decades ago.

Wednesday, March 29th, 2017

19: Intersection

As the war between bikes and cars escalates, Acting Assistant Chief Fritz Howard deploys Major Crimes to solve a tragic hit and run. Lt. Provenza, frustrated by the never-ending contest to succeed Russell Traylor, contemplates retirement.

Wednesday, April 5th, 2017

20: Shockwave: Part 1

A murder investigation turns explosive while Captain Sharon Raydor duels with Chief Winnie Davis for control of her case as she and her squad try to determine if they are dealing with a terrorist. Meanwhile, Rusty gets some alarming news from Gus.

Wednesday, April 12th, 2017

21: Shockwave: Part 2

Conclusion: After discovering the identity of the bomber her division has been searching for, Sharon Raydor and the Major Crimes squad struggle to determine his next target.
Season 6
Tuesday, October 31st, 2017

1: Sanctuary City: Part 1

When three fifteen-year-old boys vanish from a Catholic school field trip, new Asst. Chief Mason orders Major Crimes to treat their disappearance as a critical missing. Meanwhile, Sharon receives more evidence that Phillip Stroh may be returning to Los Angeles.

Tuesday, November 7th, 2017

2: Sanctuary City: Part 2

While the search for the missing boys continues, the squad faces off with an untrustworthy priest, an angry ex-husband, and threats from the F.B.I. Rusty startles Flynn and Sharon with a surprising request.

Tuesday, November 14th, 2017

3: Sanctuary City: Part 3

As Major Crimes continues to search for the remaining St. Joseph's Three, Sharon finds her personal life threatening her career.

Tuesday, November 21st, 2017

4: Sanctuary City: Part 4

While dealing with a difficult personal matter, Raydor continues to investigate the disappearance of the St. Joseph's Three, their relationship with an overly protective priest and the possibility that two of the 15-year-old boys could be killers.

Tuesday, November 28th, 2017

5: Sanctuary City: Part 5

As the case of the St. Joseph's Three leads to its unexpected conclusion, Sharon attempts to balance the case, the arrival of her family and her fast approaching wedding to Lt. Andy Flynn.

Tuesday, December 5th, 2017

6: Conspiracy Theory: Part 1

When a well-known attorney, celebrated for her defense of oppressed women is found dead, there are no shortage of high-profile suspects, including her son, her ex-husband, a film director whose career she helped destroy and a former football player whose sports bars/restaurant chain, Tackles, features scantily clad women. Meanwhile, Rusty and Gus confront issues in their relationship.

Tuesday, December 12th, 2017

7: Conspiracy Theory: Part 2

As the squad investigates the mysterious death of a second woman related to the Tackles case, and a new theory materializes, Sharon faces a health setback. Meanwhile, Gus reacts unexpectedly to Rusty's partial solution to their ongoing relationship problems.

Tuesday, December 19th, 2017

8: Conspiracy Theory: Part 3

While working two seemingly connected murders, the division suddenly uncovers a series of sexual assaults against servers from Tackles. As a new theory about the killer gathers steam, however, an unexpected twist throws Major Crimes off course and Sharon Raydor off- balance.

Tuesday, December 19th, 2017

9: Conspiracy Theory: Part 4

Sharon Raydor must make decisions related to her ongoing health problems while arriving at the solution of a series of murders and sexual assaults.

Tuesday, December 26th, 2017

10: By Any Means: Part 1

A surprise death in the law enforcement community seems to be the work of escaped serial killer, Phillip Stroh. Ricky Raydor helps the division with a difficult search for a Mr. and Ms. Bechtal, and Emily Raydor offers Rusty some sound advice.

Tuesday, December 26th, 2017

11: By Any Means: Part 2

Unable to locate Stroh in the present, the squad looks for answers in his distant past, hunting for the former Ms. Bechtal. Meanwhile, the squad struggles with Chief Mason, and Rusty grows frustrated with forced proximity to Gus.

Tuesday, January 2nd, 2018

12: By Any Means: Part 3

In the penultimate episode of Major Crimes, Phillip Stroh and his young British accomplice, edge closer and closer to their end game, while Lt. Provenza continues to push Asst. Chief Leo Mason into pouring more resources into the case. Rusty digs up an important clue.

Tuesday, January 9th, 2018

13: By Any Means: Part 4

In the series finale, Lt. Tao, is stuck in a room with a potential bomb. Provenza finally identifies the real Ms. Bechtal, and Major Crimes comes face-to-face for the very last time with Phillip Stroh.