update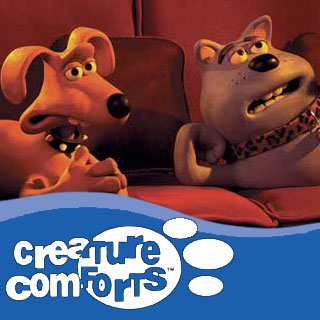 Season 0
7: Eyeballs And Fishlips - Making Of Creature Comforts 2

8: The People Behind The Puppets

9: Creating Creature Comforts 2: Rehersals

10: Animated Conversations

11: The Countryside Code

12: Deleted & Alternate Scenes

not specified

17: Deleted & Alternate Scenes

DVD Special Feature

not specified

18: The Countryside Code

not specified

4: Animated Conversations

not specified

5: The Making Of Creature Comforts 2

not specified

6: The People Behind The Puppets

not specified

13: Adam

not specified

14: Not Without My Handbag

not specified

15: Wat's Pig

not specified

1: Creating Creature Comforts

not specified

2: Fav Bits - Acting

not specified

3: Oscar Winner: Creature Comforts

Animals in a zoo discuss their experiences and opinions of life in the zoo. Among them is a jaguar who would prefer to live in Brazil, a bush baby who hides squinting eyes behind large glasses, and strange birds who wear fake beaks.

not specified

16: Heat Electric Adverts

A series of adverts created for the electricity boards 'Heat Electric' campaign starting in 1990
Season 1
Wednesday, October 1st, 2003

1: The Circus

Circus animals talk about their experiences of performing, and how they feel about it. Featuring Matilda the Cow, Miss Dynamite the Pig, and Mr Tickles the Seal.

Wednesday, October 1st, 2003

2: Pets at the Vets

Under the weather pets vent spleen in the waiting room. Clement has been thrown out of a wide range of surgeries, and lives in constant fear of something dropping on his head!

Sunday, October 5th, 2003

3: Working Animals

Working animals talk about their careers and things that have happened during their jobs. Animals interviewed include lab rats who fear retirement, Pickles the Dog, and a cockroach who multi-tasks.

Sunday, October 12th, 2003

4: The Sea

In this episode, creatures from the sea talk about events and experiences in their lives. Featured were: Fergal the Shark, Terry the Octopus, and Sue & Lorraine the Walrusses.

Sunday, October 19th, 2003

5: The Garden

Garden dwellers discuss life in the urban turf. The newly hatched Baby Robins share their garden with a three legged cat callled Daisy. Stan recently took his first flying lesson, and when Ted grows up he wants to become a woodpecker.

Sunday, October 26th, 2003

6: Feeding Time

Who visited your dustbin last night? Spanner and Trousers are eco warriors who enjoy eating liberated food under railway bridges. Trousers classes himself as rich in knowledge and doesn't believe in biting people, and Spanner will only let strange women pet him.

Sunday, November 2nd, 2003

7: The Beach

Coastal creatures rub up against the summer hordes. Terry loves the sea and needs little encouragement to have a good old fashioned splash around. Having recently washed up on these shores after a short trip to South America, he can confidently state that the English Sea is much more refreshing than the foreign one.

Sunday, November 9th, 2003

8: Pet Shop

Potential pets face their fear of being left on the shelf. Oscar is always on the go, and regards sleep as one of his favourite pastimes behind walking slowly, and pretending to be a strange looking rock. Just before embarking on one of his legendary siestathons, Oscar revealed that his biggest fear is being shut in a small space.

Sunday, November 16th, 2003

9: What's It All About, Then?

A grab bag of nature's finest speculate on where they come from. The Rudges try to avoid sunburn by taking a dip in the pool at least twice a day. They enjoy England and can adapt to whatever nature throws at them, but lack of personal space can cause nerves to fray - especially when Andrew gets hungry.

Sunday, November 23rd, 2003

10: Being a Bird

Our feathered friends reveal the ups and downs of life in the air. Trixie and Captain Cuddlepuss are primarily sofa inhabitants who find their domestic arrangement entirely satisfactory. Captain Cuddlepuss has a penchant for fress chicken served on a hand painted Chinese saucer - best enjoyed whilst Trixie is side-stepping the dog mess on her daily constitutional around the local civic grounds.

Sunday, November 30th, 2003

11: Is Anyone Out There?

What do Aliens think of our planet? And is it OK to kiss the postman? Mrs Green has been a UK resident for over eighteen years, and believes that there is nothing to gain from destroying the human race. She prefers people to communicate with her on an emotional level rather than intellectual level, whilst her mother enjoys pouring tea from a silver teapot during University Challenge.

Sunday, December 7th, 2003

12: Cats or Dogs?

The two most popular pets go head to head. Fluffy can fit three packets of peanuts into his mouth, and thinks children love him because he's got big stupid eyes and looks like a baby.

Thursday, December 25th, 2003

13: Merry Christmas

Christmas from the animals that make it happen. As the offspring of two renowned urban "tweeters", it was only natural that Charlie should follow in the great family tradition. Like many precocious youngsters, Charlie loves showing off his seven octave range, and thinks he could serenade anyone to sleep - even himself!
Season 2
Sunday, October 30th, 2005

1: Beast in Show

A rabbit reveals his never ending quest for breeding perfection. Whilst a Shetland pony shows-off a tidy set of hooves to impress his girlfriends, a competitive pig thinks that good losers are losers, and a chicken casts aspersions on the quality of the duck eggs.

Sunday, November 6th, 2005

2: The Brood

Have you ever wondered how a seagull feels when it's young leave the nest? Or how a monkey copes with teething? Or what happens when an amoeba argues with its Mum and Dad?

Sunday, November 13th, 2005

3: Pet Hates

Pigs and police horses talk about what gets on their nerves.

Sunday, November 20th, 2005

4: Impressions

A slug attempts to do its finest impression of a chicken.

Sunday, November 27th, 2005

5: Animals in the 'Hood

A mole describes how a leak can dampen spirits.

Sunday, December 4th, 2005

6: Sport!

A Wrestling Mouse demonstrates the best way to land safely!

Sunday, December 11th, 2005

7: Monarchy Business

The animals discuss the Monarchy.

Sunday, December 18th, 2005

8: Animal Magnetism

A Soft-centered collection of misty-eyed romantics reveal the art of seduction and the perils of falling in love.

Sunday, December 25th, 2005

9: Merry Christmas Everybody!

The animals talk about how they spend Christmas. Including how Hamsters cope with indegestion, and why dogs hate wearing Christmas hats.

Sunday, January 8th, 2006

10: Bed Time

Nocturnal critters shed light on what happens on the night-shift.

Sunday, January 15th, 2006

11: Self Image

Pampered pets pontificate on the pitfalls of personal grooming.

Sunday, January 22nd, 2006

12: Communication

After some monkeys debate the origins of our language, a cat contemplates deep sea communication, some rats argue over baby talk and a raven has a rant.

Sunday, January 29th, 2006

13: Safari Park

An itchy-footed meerkat, a giraffe without a working permit, a hyperactive ostrich, a territorial gorilla, a confused lion, a forgetful baboon and a lazy hippo, reveal what goes on behind the fences of a Safari Park.
Season 3
5: Communication / Feeding Time / Parrot Tongue Twister

6: Working / Birds / Love Animal Style

7: Great Outdoors / Pet Peeves / Talent Show

Friday, March 16th, 2007

1: Animal Magnetism / Secrets & Lies / Pets at the Vet

Monday, June 4th, 2007

2: Self Image / Winging It / Art

Monday, June 11th, 2007

3: Winter / The Zoo

Monday, June 18th, 2007

4: Growing Up / Fears & Phobias / Something's Afoot