update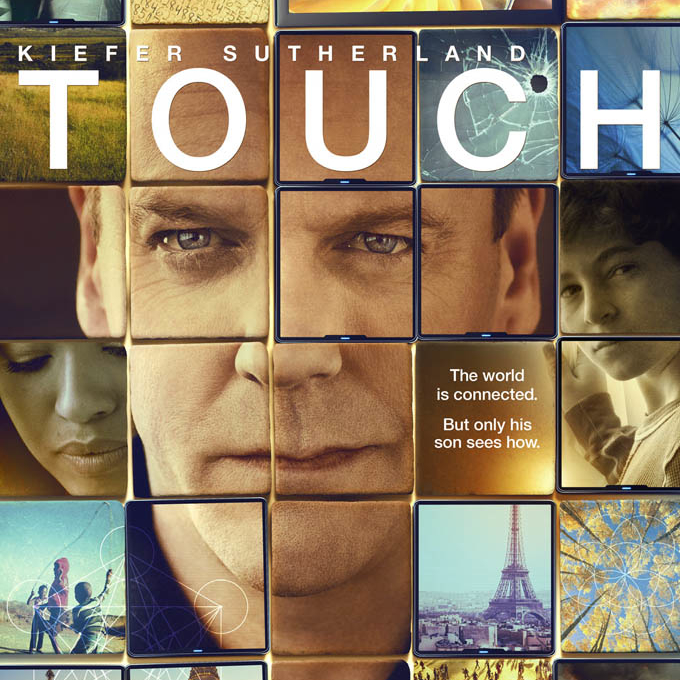 Season 0
not specified

9: Season 1 Deleted Scenes (1)

not specified

7: Fate's Equation

Behind the scenes, overview of Touch with Tim Kring, writer/executive producer.

not specified

8: Touch the World

Locations from Touch, with Tim Kring, writer/executive producer.

not specified

11: Season 1 Deleted Scenes (3)

not specified

12: Touch the World

Locations from Touch, with Tim Kring, writer/executive producer.

not specified

10: Season 1 Deleted Scenes (2)

Thursday, May 31st, 2012

1: Chapter 1

Thursday, June 7th, 2012

2: Chapter 2

Thursday, June 14th, 2012

3: Chapter 3

Thursday, June 21st, 2012

4: Chapter 4

Thursday, June 28th, 2012

5: Chapter 5

Wednesday, January 30th, 2013

6: Season 2 Sneak Peek
Season 1
Wednesday, January 25th, 2012

1: Tales of the Red Thread

Martin Bohm is a widower and single father who is haunted by an inability to connect to his emotionally challenged 11-year-old son Jake. But when Martin discovers that Jake can predict events before they happen, everything changes. Martin meets social worker Clea Hopkins and Professor Arthur Teller who may have the keys to help unlock Jake's mind.

Thursday, March 22nd, 2012

2: 1 + 1 = 3

Martin Bohm, a widower and single father trying to connect with his mute 11-year-old son Jake, is led to a pawn shop where a robbery triggers a sequence of unpredictable events that connect a distraught flight attendant in New York, a son visiting from India on a mission to spread his father's ashes, a middle school magician in Moscow, a cancer patient in New York and a mobster in the Bronx. It's up to Jake and Martin to link the thread between them all.

Thursday, March 29th, 2012

3: Safety in Numbers

When Martin comes in contact with a homeless man who possesses the same obsession with numbers as Jake, he sets out on a series of seemingly unrelated tasks that connect an abused African woman, a group of African boys entering a dance competition and an outgoing woman at California's famed Coachella Valley Music and Arts Festival. Meanwhile, Teller pays a visit to Jake's board-and-care facility and emotions run high for Clea.

Thursday, April 5th, 2012

4: Kite Strings

Martin crosses paths with a young man who has a history with his deceased wife, Sarah. A couple managing an online instrument repair business work with an Iraqi heavy metal band that has a teenage follower who is looking to share his comedic talent with an American soldier in Baghdad. But the soldier has troubles of her own when her convoy is ambushed, forcing her to hide in the Iraqi desert. Then, a lottery winner comes upon a depressed pastor.

Thursday, April 12th, 2012

5: Entanglement

Martin gets his laptop stolen on the day Jake is scheduled for an important evaluation. As a result, he becomes ensnared in a young Salvadoran woman's quest to avenge the death of her family. Meanwhile, Teller tries to reconnect with his estranged daughter. Also, a spirited Saudi Arabian girl tries to break free of the societal constraints imposed on her and a Montreal doctor attempts to meet a stranger on a train.

Thursday, April 19th, 2012

6: Lost and Found

As Martin and Clea work together to uncover a shocking development involving Clea's mentally-challenged mother, Teller steps into trouble when he visits Jake at the board-and-care facility. Meanwhile, a plane crash survivor seeks new purpose to his existence and a Chinese couple struggles to find balance between work and life.

Thursday, April 26th, 2012

7: Noosphere Rising

Martin attempts to find Teller's mysterious workshop and winds up aiding another professor, Logan, to win big at poker. Meanwhile, a young Italian man creates a viral video to track down the love of his life, whom he only met in passing, and a city slicker who plans to sell off his dead father's ranch, winds up learning a lesson from a horse that makes him appreciate the rural life his father chose. Then, Martin's sister-in-law, Abigail Kelsey, visits Clea and Jake at the board-and-care facility, much to Martin's dismay.

Thursday, May 3rd, 2012

8: Zone of Exclusion

Following numbers from Jake, Martin helps reunite a French woman with her biological mother and twin sister, then he attempts to find the person responsible for their estrangement. In the meantime, a superstitious young Italian woman is fretting when her astronaut husband loses contact with earth.

Thursday, May 10th, 2012

9: Music of the Spheres

Martin exposes a corrupt parole officer, and a Brazilian street musician uses his guitar to win the heart of a beautiful woman. In addition, Jake bonds with another mute boy, while Clea and Martin learn new information about one of Teller's key patients.

Thursday, May 17th, 2012

10: Tessellations

When Martin is mistaken for a criminal, he must involve himself with a heist crew in order to win back an innocent dock worker's job. Meanwhile, an Israeli boy and Palestinian girl fight to keep their relationship afloat. Clea uncovers some surprising documents about Jake, while Martin and his late wife's sister meet to make a pivotal decision.

Thursday, May 31st, 2012

11: Gyre (1)

The Aster Corporation's interest in Jake increases as Martin and Abigail seek common ground in the custody battle for his son.

Thursday, May 31st, 2012

12: Gyre (2)

Martin searches for a connection between Jake and Amelia, the missing girl who shares his gift for numbers.

Friday, September 14th, 2012

13: The Road Not Taken

Martin's car mysteriously breaks down in the town where he first became a reporter. When he begins to suspect his mentor is involved in illegal activity there, he risks severing their friendship in order to find the truth.
Season 2
Friday, February 8th, 2013

1: Event Horizon

While Martin tries to keep Jake safe from those who want to exploit his abilities, Jake is determined to find Amelia.

Friday, February 8th, 2013

2: Closer

Guillermo, a religious zealot, tries to attain his vision.

Friday, February 15th, 2013

3: Enemy of My Enemy

Martin's mission to expose Aster Corp. has global consequences; Guillermo continues to track down the 36 Righteous Ones; Jake leads Lucy to a woman with connections to her missing daughter, Amelia.

Friday, February 22nd, 2013

4: Perfect Storm

Unforeseen developments force Martin to make a decision and form a deal; Lucy goes to the police with new information about Amelia's kidnapping; Avram sees Guillermo in New York.

Friday, March 1st, 2013

5: Eye to Eye

Jake and Amelia escape their supervision to meet; while searching for the kids, Martin and Lucy find information about Calvin's brain-damaged brother; Guillermo faces a difficult decision.

Friday, March 8th, 2013

6: Broken

Calvin offers Lucy a troubling deal for Amelia's return; Trevor at Breakwire helps Martin and Jake look for Lucy; Guillermo meets a man hiking through the desert, leading to some life-changing decisions.

Friday, March 15th, 2013

7: Ghosts

Jake and Martin visit Breakwire to ask Martin's friend, an ex-Navy Seal, for help; chaos ensues when Guillermo closes in on Jake.

Friday, March 22nd, 2013

8: Reunions

After tracking down Calvin, who agrees to help them find Amelia, Martin, Lucy and Jake try to infiltrate an Aster Corps facility.

Friday, March 29th, 2013

9: Clockwork

As Martin tracks down a man Jake led him to, he discovers that he was Dr. Teller's first patient and is now on death row.

Friday, April 5th, 2013

10: Two of a Kind

Jake uses the cipher to find Amelia; a bloody path leads Martin to Guillermo, who is stalking Dr. Plimpton; as shocking events unfold, lives are lost.

Friday, April 26th, 2013

11: Accused

Martin decides to take a chance and spills the beans to Detective Lange in hope of clearing his name; Jake leads Avram to a possible Righteous 36 member.

Friday, May 3rd, 2013

12: Fight or Flight

After a run-in with an Aster Corps enforcer, Martin and Trevor go under cover to protect the Righteous 36.

Friday, May 10th, 2013

13: Leviathan

Aster Corps gets closer to completing the number sequence; Martin and Trevor race to stop them and save Amelia and Jake.