update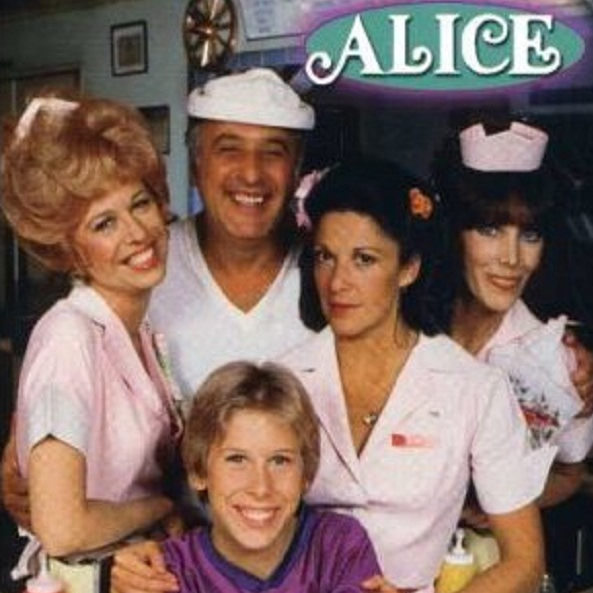 Season 1
Tuesday, August 31st, 1976

1: Pilot

Alice gets her hopes up to be a big star when a talent agent comes to town.

Wednesday, September 29th, 1976

2: Alice Gets a Pass

Alice falls for an ex-football player, who is now an actor.

Wednesday, October 6th, 1976

3: A Piece of the Rock

Alice meets her late husband's beneficiary.

Wednesday, October 13th, 1976

4: Pay the Fifty Dollars

Alice is mistakenly picked up by the five-0 for prostitution when she is performing in a nightclub.

Wednesday, October 20th, 1976

5: A Call to Arms

A sleepless night of obscene phone calls prompts Alice into considering packing a piece.

Wednesday, October 27th, 1976

6: The Last Review

A famous food critic dies in Mel's Diner, which freaks out everyone.

Saturday, November 6th, 1976

7: Sex Education

Aliec feels that Tommy is learning about sex too early when she finds a picture of a naked woman in Tommy's wallet.

Saturday, November 13th, 1976

8: Big Daddy Dawson's Coming

When Alice helps Flo get a man, the Man tries to help himself to Alice.

Saturday, November 20th, 1976

9: Good Night Sweet Vera

Alice and Flo try to keep Vera from O'Ding on sleeping pills.

Saturday, November 27th, 1976

10: The Dilemma

Alice is proposed marriage from an old boyfriend from the old neighborhood.

Saturday, December 4th, 1976

11: Who Killed Bugs Bunny?

Alice is thrilled that Mel is taking Tommy camping, until she finds out that it involves hunting as well. Alice refuses to let Tommy go, but he runs away to go camping anyway. It isn't until he shoots an animal that he realizes that his mother was right all along.

Saturday, December 11th, 1976

12: Mother-in-Law (1)

Rose Hyatt comes to visit Alice and Tommy, much to Alice's chagrin. And now she's talking about staying there....

Saturday, December 18th, 1976

13: Mother-in-Law (2)

Alice does all that she can to stop Rose from becoming a permanent Phoeniz resident.

Saturday, December 25th, 1976

14: Vera's Mortician

Vera's boyfriend might very well be a married man.

Saturday, January 15th, 1977

15: Mel's in Love

Mel falls in love with a young nature hiker from New Jersey.

Saturday, January 22nd, 1977

16: The Accident

Mel leaves Alice and Flo his car when he goes on a trip, but Flo gets it totaled in an accident that is spread out over several blocks. Will they fix it time before Mel gets back? Nope, Mel comes home early and finds out about his car from an angry Hispanic neighbor!

Saturday, January 29th, 1977

17: The Failure

A robbery heist gets messed up when the cash register is stuck. The robber thinks he is a failure, but he gets a chance to redeem himself when he helps a lady deliver a baby in the diner.

Saturday, February 5th, 1977

18: The Hex

A fake Gypsy is caught stealing the silverware by Alice, and she puts a curse on the gang.

Saturday, February 12th, 1977

19: The Pain of No Return

Alice might be in trouble with Uncle Sam when she learns that her recently deceased husband never paid his back taxes.

Saturday, February 26th, 1977

20: The Odd Couple

Flo's trailer is stolen, and Alice has the heart to let her stay at her house for a spell. The spell is broken when Alice finds out that Flo is an all-out slob and have unwelcomed visitors (Flo's latest boyfriend, not roaches).

Saturday, March 5th, 1977

21: A Night to Remember

Alice and Flo try to find Vera a man.

Saturday, March 12th, 1977

22: Mel's Cup

Alice unknowingly donates Mel's old Navy Trophy to a rummage sale.

Saturday, March 19th, 1977

23: The Bundle

A Bag full of money is found in the diner, and Alice is the only one who wants to find the owner.

Saturday, March 26th, 1977

24: Mel's Happy Burger

Alice gets her chance at stardom as a hamburger on a TV commercial for the diner.
Season 2
not specified

23: The Reporter

An investigative reporter seeks refuge in Mel's Diner.

not specified

24: The Bus

Mel and the staff prepare for a bus load of hungry customers.

Sunday, October 2nd, 1977

1: The Second Time 'Round

A suspected flasher and Flo's third ex-husband (Rod McCary) stir things up at Mel's Diner.

Sunday, October 9th, 1977

2: The Indian Taker

A Native American who claims Mel's diner is built on sacred ground refuses to leave.

Sunday, October 23rd, 1977

3: 86 the Waitresses

Mel incites his waitresses to quit by giving a new waiter better wages than theirs.

Sunday, October 30th, 1977

4: Alice by Moonlight

Alice's moonlighting job as a nightclub singer is taking its toll on her waitress job.

Sunday, November 6th, 1977

5: Single Belles

The girls accept an invitation to visit a new singles bar.

Sunday, November 13th, 1977

6: The Sixty Minutes Man

Alice suspects that a diner regular is really an incognito mobster.

Sunday, December 4th, 1977

7: That Old Back Magic

Mel can't be moved after his bad back flares up at Alice's place.

Sunday, December 11th, 1977

8: Love is Sweeping the Counter

Endearments replace the insults in Flo and Mel's relationship after they attend an out-of-town game together.

Sunday, December 18th, 1977

9: A Semi-Merry Christmas

Alice and friends are snowbound en route to her cousin's for Christmas.

Sunday, January 1st, 1978

10: Oh! George Burns

When George Burns stops into Mel's, Vera believes that he's actually the Deity he played in the movie Oh, God!

Sunday, January 8th, 1978

11: The Eyes of Texas

Flo's vanity keeps her from getting the eyeglasses she obviously needs.

Wednesday, January 11th, 1978

12: Love is a Free Throw

An amorous high-school basketball star starts putting the moves on Alice.

Sunday, January 22nd, 1978

13: Close Encounters of the Worst Kind

Hostility rages at Mel's after the workers decide to vent their petty grievances.

Sunday, January 29th, 1978

14: The Pharmacist

A pharmacist protesting food additives threatens to take his life in Mel's Diner.

Sunday, February 5th, 1978

15: Love Me, Love My Horse

Flo fixes up Alice with her bronco-busting brother (Burton Gilliam).

Sunday, February 19th, 1978

16: Florence of Arabia

Flo is courted by a rich Arab (Richard Libertini) who, unknown to her, already has three wives.

Sunday, February 26th, 1978

17: The Cuban Connection

Alice mediates a squabble between a womanizing photographer (Desi Arnaz)and his fed-up wife (Janis Paige).

Sunday, March 5th, 1978

18: Mel's Big Five-0

To Mel's disappointment, the girls take him at his word when he says he doesn't want a 50th-birthday party.

Sunday, March 12th, 1978

19: Don't Lock Now

Mel wants to know who's stealing food and making long-distance phone calls from the diner.

Sunday, March 19th, 1978

20: The Star in the Storeroom

Because she once baby-sat Jerry Reed, Flo is hounded for tickets to the singer's concert. Jerry plays himself.

Sunday, April 2nd, 1978

21: Mel's Recession

Mel considers firing a waitress to save money.

Sunday, April 9th, 1978

22: Earthquake

Everyone's rattled when a Native American predicts an earthquake.
Season 3
Sunday, September 24th, 1978

1: Take Him, He's Yours

Alice takes Mel up on his boast that he can raise her son better than she.

Sunday, October 1st, 1978

2: Car Wars

Mel sells the girls a car that won't start.

Sunday, October 8th, 1978

3: Citizen Mel

Mel identifies a holdup man who has a record for assaulting a previous witness.

Sunday, October 15th, 1978

4: Vera's Popcorn Romance

Vera meets a new boy friend at the movies, but refuses to bring him to the diner.

Sunday, October 22nd, 1978

5: Block Those Kicks

The diner personnel try to kick their bad habits.

Sunday, October 29th, 1978

6: What Happened to the Class of '78?

Flo's night life interferes with her night-school studies.

Sunday, November 5th, 1978

7: Better Never Than Late

While Mel is sleeping in the storeroom, Alice is robbed at gunpoint at the counter.

Saturday, November 11th, 1978

8: Mel's in a Family Way

Mel mistakes Alice's intentions when she invites him for a family dinner.

Sunday, November 19th, 1978

9: Who Ordered the Hot Turkey?

Mel unwittingly buys stolen turkeys for a Thanksgiving dinner he is having for orphans.

Sunday, November 26th, 1978

10: The Happy Hoofers

Mel is unhappy because Alice's second job — delivering singing telegrams — makes her late for the diner.

Sunday, December 3rd, 1978

11: A Slight Case of ESP

Despite his skepticism, Mel tries to find a way to exploit Vera's knack for foretelling the future.

Sunday, December 10th, 1978

12: The Principal of the Thing

Tommy wants Alice to stop dating his school principal (Gary Collins).

Sunday, December 31st, 1978

13: What're You Doing New Year's Eve?

Flo finds herself without a date on New Year's Eve.

Sunday, January 14th, 1979

14: Sweet Charity

Alice's date gets two extra tickets to a celebrity ball and everyone wants to go.

Sunday, January 21st, 1979

15: The Fourth Time Around

Flo and Mel's brother (Carmine Caridi) decide to take a chance at marriage — even though it's the fourth time for each.

Sunday, January 28th, 1979

16: Tommy's First Love

Alice is angry when Tommy conducts his first romance on her telephone.

Monday, February 5th, 1979

17: Mel Grows Up

Mel's pushy mother winters nearby, and Mel's not sure that he'll make it to spring.

Sunday, February 18th, 1979

18: Vera's Broken Heart

Vera is heartbroken after her boyfriend tells her that he's marrying someone else.

Sunday, February 25th, 1979

19: Alice's Decision

Alice's long-awaited break, a chance to fill a vacancy in a traveling trio will break her heart if she has to hit the road without Tommy.

Sunday, March 11th, 1979

20: The Last Stow It (1)

Mel tells the girls to ""stow it"" for the last time, then sells the diner to a humorless martinet.

Sunday, March 11th, 1979

21: The Last Stow It (2)

Unable to buy back his diner from the new restaurateur, Mel opens an eatery in Alice's apartment.

Sunday, March 18th, 1979

22: If the Shoe Fits

Alice and Vera vie for a role in a production being cast by an attractive director(Fred McCarren).

Sunday, March 25th, 1979

23: My Fair Vera

Acclaimed as ""brilliant"" in her role as Cinderella, Vera is asked to audition for a part in a supermarket commercial.

Sunday, April 1st, 1979

24: Flo Finds Her Father

Alice tries to bridge the rift between Flo and her father, who is now sorry for deserting the family when she was a little girl.
Season 4
Sunday, September 23rd, 1979

1: Has Anyone Here Seen Telly?

Telly Savalas gives star-struck Vera a thrill when he stops by the diner while she's working there alone. When no one believes her story, she quits in a huff.

Sunday, September 30th, 1979

2: Mona Lisa Alice

Alice's sour reaction to Tommy's matchmaking efforts threatens Mel's new promotional gimmick which is free meals to customers if his waitresses don't smile.

Sunday, October 7th, 1979

3: Mel Loves Marie

Mel gives a big engagement ring to his girlfriend Marie, but the sparkle quickly fades when he insists that she sign a premarital agreement.

Sunday, October 21st, 1979

4: Vera Robs the Cradle

Just one dance lesson and Tommy falls head over heels for his instructor, Vera.

Sunday, October 28th, 1979

5: Flo's Chili Reception

Mel is convinced that his chief competitor is romancing Flo just to get the recipe for Mel's Texas-style chili, rated by a food critic as being ""the best in the West.""

Sunday, November 4th, 1979

6: Little Alice Bluenose

Vera's boyfriend objects to her sketching nude males in art class.

Sunday, November 11th, 1979

7: Carrie Sharples Strikes Again

The return of Mel's domineering mother does nothing for his ego because after his back goes out, the customers flock in, for his mother's cooking.

Sunday, November 18th, 1979

8: Mel's in the Kitchen With Dinah

Things get hotter than Mel's chili when Dinah Shore invites Mel to prepare his recipe on her show and bring along one, but only one waitress.

Sunday, December 2nd, 1979

9: Cabin Fever

Mel, his girlfriend and the waitresses spend the weekend packed like sardines in a fishing cabin.

Sunday, December 9th, 1979

10: My Cousin, Art Carney

Vera asks Art Carney, a sixth cousin on her father's side, to endorse Mel's chili, so it can be marketed frozen as Chili con Carney.

Sunday, December 23rd, 1979

11: Mel, the Magi

A yule tale (with a touch of O. Henry's ""The Gift of the Magi"") finds the girls pooling their meager resources to celebrate Christmas at the diner.

Sunday, January 6th, 1980

12: Good Buddy Flo

Flo takes the wheel herself when she learns that her trucker beau has a female partner.

Sunday, January 13th, 1980

13: Alice in TV Land

Tommy stirs up trouble by candidly discussing his elders on a TV talk show.

Sunday, January 27th, 1980

14: Alice Beats the Clock

Mel installs a time clock which prompts the waitresses to demand overtime for the Sunday cleanup they used to do for nothing.

Sunday, February 3rd, 1980

15: Carrie's Wedding

Mel is delighted that his mother is planning to remarry until he meets his prospective stepfather.

Sunday, February 10th, 1980

16: My Funny Valentine Tux

Tommy has his heart set on taking his girl to a formal Valentine's dance and he needs a tuxedo.

Sunday, February 17th, 1980

17: Auld Acquaintances Should Be Forgot

Mel plays host to a buddy whose wife has just left him.

Sunday, February 24th, 1980

18: Flo's Farewell

A wealthy Houston restaurateur offers Flo a job she finds hard to refuse.

Sunday, March 2nd, 1980

19: For Whom the Belle Toils

Mel hires Belle, a Mississippi belle who rings Mel's chimes as ""one of the best waitresses I've ever had."" However, Belle is now aiming for lusher pastures as a country-music writer.

Sunday, March 9th, 1980

20: One Too Many Girls

The new waitress Belle is making big points with her old boss Mel, but she's scoring zero with Alice and Vera.

Sunday, March 16th, 1980

21: Vera, the Vamp

Heartbroken over her boy friend's sudden lack of attention, Vera begs Belle to transform her into a sex goddess.

Sunday, March 23rd, 1980

22: Profit Without Honor

Mel signs a profit-sharing agreement with the girls just before learning he'll get a tidy sum for letting the city condemn his property.

Sunday, March 30th, 1980

23: Cook's Tour

Mel is receptive to an infatuated tour guide, as long as she keeps steering tourists into his diner.

Sunday, April 6th, 1980

24: Here Comes Alice Cottontail

Alice allows Tommy to stay with Mel, prompting a wager between Alice and Mel, she bets that he will kick Tommy out and Mel bets that Alice will snoop on her son.
Season 5
Sunday, November 2nd, 1980

1: Mel and the Green Machine

An automated bank teller accidentally spews out $24,675 to an astonished but delighted Mel.

Sunday, November 9th, 1980

2: Dog Day Evening

After his safe is stolen, Mel rents the services of two very efficient guard dogs.

Sunday, November 16th, 1980

3: Hello Vegas, Goodbye Diner (1)

Robert Goulet makes an appearance when Vera wins a free trip to Las Vegas and Alice, Mel and Belle tag along to try their luck.

Sunday, November 16th, 1980

4: Too Many Robert Goulets (2)

Mel may get his diner back if Belle can get Robert Goulet to perform for a Las Vegas casino owner but when it seems she can't get him, Alice steps in and impersonates him.

Sunday, November 23rd, 1980

5: Vera's Aunt Agatha

Vera's Aunt Agatha, a freewheeling sexagenarian, makes a pit stop in Phoenix while motorcycling to Mexico. This prompts Vera to make a life altering decision, whether or not to ride off into the sunset with her aunt.

Sunday, November 30th, 1980

6: Tommy's T.K.O.

Against Alce's expressed wishes, Mel secretly teaches Tommy how to take care of a school bully.

Sunday, December 7th, 1980

7: The New Improved Mel

The sparsely attended funeral of a buddy persuade Mel to become Mr. Nice Guy and ensure a decent turnout at his own burial.

Sunday, December 21st, 1980

8: Carrie Sings the Blues

Mel's mother is singing the blues because her husband of six months has just left her.

Sunday, January 4th, 1981

9: Henry's Bitter Half

Henry's convinced that his wife of 20 years is suddenly being nice because she's having an affair, so he tells her he's having one too, with Alice.

Sunday, January 11th, 1981

10: Alice Locks Belle Out

As the new manager of her apartment building, Alice has the unenviable task of locking out a delinquent fellow tenant, Belle.

Sunday, January 18th, 1981

11: Vera Goes Out On a Limb

Vera goes out on a limb to save a century old tree in front of the diner from being cut down for a road-widening project.

Sunday, February 1st, 1981

12: The Jerry Reed Fish Story

The waitresses cut up a huge fish they find in the refrigerator, unaware that singer Jerry Reed had left it there until he could have it stuffed.

Sunday, February 8th, 1981

13: Bye Bye, Birdie

Mel gets into a nose-to-beak yelling match with Vera's new pet parrot.

Sunday, February 15th, 1981

14: Alice's Son, the Drop-out

Tommy is cutting classes to pursue a singing career and his first job is singing at a juice saloon.

Sunday, February 22nd, 1981

15: Carrie Chickens Out

During a visit, Carrie plans to help out at the diner and cook but a fed up Mel kicks her out and she goes to work for a competitor.

Sunday, March 8th, 1981

16: Macho, Macho Mel

When, Mel recounts the story of the little old lady who mugged him, the old lady becomes four thugs.

Sunday, March 15th, 1981

17: The Great Escape

A trucker chooses Mel's Diner as the place to tell her amorous driving partner to hit the road.

Sunday, March 29th, 1981

18: Alice Strikes Up the Band

Alice thinks she has found her main chance when she lands a gig singing at a big banquet with a 1940's theme and an influential audience of restaurant owners.

Sunday, April 5th, 1981

19: Who's Kissing the Great Chef of Phoenix?

Mel suddenly takes a romantic interest in Vera, who doesn't realize it's just a ploy to make his girlfriend, Marie, jealous.

Sunday, May 3rd, 1981

20: Baby Makes Five

Vera refuses to give up the baby girl someone left in her pile of wash at the laundromat.
Season 6
Sunday, October 4th, 1981

1: Bet a Million, Mel

Mel borrows $10,000 against the diner to bet on a 90-to-1 nag.

Sunday, October 11th, 1981

2: Guinness on Tap

Determined to leave her mark on the world, Vera sets out to break the tap dancing endurance record.

Sunday, October 18th, 1981

3: Comrade Mel

A towel boy from the Russian ballet takes refuge in Mel's storeroom.

Sunday, October 25th, 1981

4: Alice's Halloween Surprise

On Halloween, Alice's latest heartthrob asks her to shepherd his four kids for the evening.

Sunday, November 8th, 1981

5: Alice's Big Four-Oh!

It's Alice's 40th birthday, and for the milestone she gets a millstone, a visit from her meddling mother.

Sunday, November 15th, 1981

6: Mel's Cousin, Wendell

Smooth operator Mel teaches his shy cousin, Wendell, how to score with Vera.

Sunday, November 29th, 1981

7: Vera's Bouncing Check

Against Mel's orders, Vera cashes a check for an old flame, who's nowhere to be found when it bounces.

Sunday, December 6th, 1981

8: After Mel's Gone

Mel becomes despondent when he realizes he has no heirs.

Sunday, December 20th, 1981

9: Mel's Christmas Carol

The ghost of a partner past gives Mel the dickens on Christmas Eve after Mel fired Alice, Jolene and Vera.

Sunday, December 27th, 1981

10: The Wild One

Alice's spirit inspires a biker to recruit her as his ""old lady.""

Sunday, January 3rd, 1982

11: Alice Calls the Shots

Alice blows the whistle on Tommy's basketball playing when his grades start to slip.

Sunday, January 17th, 1982

12: Not with My Niece You Don't

Mel gives Tommy advice on how to charm the ladies, which Tommy promptly applies to Mel's niece.

Sunday, January 31st, 1982

13: Queen of Soaps

After getting hooked on soap operas, Vera becomes a washout at work and later quits.

Sunday, February 7th, 1982

14: Sharples vs. Sharples

Mel has a beef with his mother who wants to publish his secret chili recipe in her new cookbook.

Sunday, February 14th, 1982

15: Valentine's Day Massacre

Valentine's Day promises anything but hearts and flowers for the diner staff, who all quarrel with their dates.

Sunday, February 21st, 1982

16: The Best Little Waitress in the World

A book on building self-confidence inspires Vera to become ""the best little waitress in the world!"" Later, Mel leaves a newly confident Vera in charge of the diner.

Sunday, March 7th, 1982

17: Alice and the Acorns

Alice is visited by a high-school chum who's still suffering from her teenage inferiority complex.

Sunday, March 14th, 1982

18: Jolene Hunnicutt, Dynamite Trucker

To help Jolene's exhausted good buddy, the girls drive his rig to a mining town, blissfully unaware that they're hauling dynamite.

Sunday, March 21st, 1982

19: Mel Wins By a Nose

Mel considers getting a nose job while undergoing surgery for a deviated septum.

Sunday, April 4th, 1982

20: Give My Regrets to Broadway

Alice's actress friend from New York persuades Tommy that he has a brilliant future on Broadway.

Sunday, April 11th, 1982

21: Vera's Reunion Romance

Vera returns from her high-school reunion with stars in her eyes and a sparkler on her finger.

Sunday, April 18th, 1982

22: Monty Falls for Alice

A jilted acquaintance flips for Alice on the first bounce and when she doesn't reciprocate his feelings he threatens to jump from the Mel's Diner sign.

Sunday, May 2nd, 1982

23: Spell Mel's

To counter a competitor whose contest is drawing customers, Mel launches one too and ups the ante to $3000.

Sunday, May 16th, 1982

24: My Mother the Landlord

Mel happily envisions a rent-free future when his mother buys his apartment building but surprises him when she announces a $50 rent increase.
Season 7
Wednesday, October 6th, 1982

1: Sorry, Wrong Lips

Debbie Reynolds plays an actress whose torrid memoirs convince Mel he's the one she remembers as the greatest kisser in her life.

Wednesday, October 13th, 1982

2: Do You Take This Waitress?

Mel tries to outdo an old buddy who shows up boasting a track record of fast living and sporting a blonde on his arm as proof.

Wednesday, October 20th, 1982

3: The Secret of Mel's Diner

There's gold in them there walls, or so Mel reckons after learning that the eccentric who built his diner left $20,000 stashed in another building.

Wednesday, October 27th, 1982

4: Alice at the Palace

Joel Grey offers his services gratis as the leading man in a musical revue bankrolled by Mel and featuring Alice. Mel, however, has never heard of Grey and gives the role to his bookie.

Wednesday, November 3rd, 1982

5: Joel Grey Saves the Day

Joel Grey walks out after producer Mel turns a revue about New York into a desert musical with tunes like ""Two Tootsies from Tucson"" and ""Ramona from Arizona.""

Wednesday, November 10th, 1982

6: Alice's Turkey of a Thanksgiving

Alice's meddlesome mother knocks the stuffing out of her daughter's Thanksgiving dinner.

Sunday, January 9th, 1983

7: Carrie on the Rebound

Carrie is slow to come out of a depression after a quickie divorce.

Sunday, January 16th, 1983

8: Jolene's Brother Jonas

Jolene's brother pays a surprise visit, but the surprise is on him, he gets an icy reception from his sister.

Monday, February 28th, 1983

9: Alice Sees the Light

Everyone takes with a grain of salt Alice's claim that she saw a UFO.

Monday, March 7th, 1983

10: Vera the Virtuoso

Vera, whose cello playing can reduce a virtuoso to tears, is asked to play in a local string quartet.

Monday, March 14th, 1983

11: Alice Faces the Music

The waitresses pit their musical knowledge against that of three plumbers on a TV quiz show.

Monday, March 21st, 1983

12: Tommy, the Jailbird

Alice fears that freshman Tommy is abusing his new freedom away from home by majoring in extracurricular activities.

Monday, March 28th, 1983

13: Jolene and the Night Watchman

Jolene can't bring herself to bruise the tender feelings of a bruiser who saved her life and now considers her his girl.

Monday, April 11th, 1983

14: Mel's Dream Car

Mel is stripping his gears over his jazzy new Porsche he purchased for a measly $20.

Sunday, April 17th, 1983

15: Come Back Little Sharples

Mel has had it up to his keister with the way things are going so he absconds to his apartment for a beer and pizza binge.

Sunday, April 24th, 1983

16: Vera, the Torch

Vera wishes her landlady the worst for evicting her pets then feels responsible when the old crank's apartment catches on fire.

Sunday, May 1st, 1983

17: The Grass is Always Greener

In role reversals, Mel becomes an employee by accepting an executive position with a catering firm, and the waitresses become owners by buying his diner.

Sunday, May 15th, 1983

18: Tommy Fouls Out

Afraid that he's lost the ""right stuff,"" Tommy quits the basketball team.

Sunday, May 22nd, 1983

19: Vera on the Lam

After Mel decides to have the waitresses bonded, Vera owns up to a criminal past and takes it on the lam.

Sunday, May 29th, 1983

20: Mel's Cousin Wendy?

To steal a competitor's secret sauce recipe, Mel persuades his cousin to pose as a woman and apply for a job as a Burger Baby.

Sunday, June 5th, 1983

21: Sweet Erasable Mel

Mel's experiment with a computer goes well until Vera enters a transaction and erases every trace of Mel's financial existance.

Sunday, June 12th, 1983

22: Tommy Hyatt, Business Consultant

Using Tommy's marketing advice, Mel increases his business but also learns he's heading for bankruptcy.

Sunday, September 18th, 1983

23: Jolene Lets the Cat Out of the Bag

Jolene's hair is standing on end with a cat burglar prowling her neighborhood.
Season 8
Sunday, October 2nd, 1983

1: Mel is Hogg-Tied

Boss Hogg and Deputy Enos of ""The Dukes of Hazzard"" pay a surprise visit. Up to his usual low tricks, Boss makes an offer to lease the diner that Mel can't refuse but should.

Sunday, October 9th, 1983

2: Vera's Secret Lover

A secret lover is sending Vera everything from poems to balloons.

Sunday, October 16th, 1983

3: Jolene Gets Her Wings

Everyone's up in the air over Jolene's maiden flight as a part-time stewardess.

Sunday, October 23rd, 1983

4: Alice's Blind Date

Alice's dinner date with a high-school flame who's now blind turns into a delightful trip down sensory lane.

Sunday, October 30th, 1983

5: It Had to Be Mel

A popular singer stops for directions at the diner and ends up proposing to Mel.

Sunday, November 6th, 1983

6: The Over-the-Hill Girls

Both Carrie and Alice are turned down as singers by a supper club owner who thinks they're too old for the job.

Sunday, November 20th, 1983

7: Vera Gets Engaged

Who would have thought Vera would find love in a greasy spoon? Especially with a cop who just ticketed her for jaywalking.

Sunday, November 20th, 1983

8: Vera's Wedding

After a whirlwind courtship, Vera walks down the aisle with her intended.

Sunday, December 18th, 1983

9: The Robot Wore Pink

After Alice quits in a huff, Mel replaces her with a very efficient and popular robot named Blanche.

Sunday, December 25th, 1983

10: 'Tis the Season to Be Jealous

Working undercover as Santa Claus, Vera's new husband spots her kissing her former fiance.

Sunday, January 1st, 1984

11: Tommy Goes Overboard

Tommy's home from college feeling down,due to bad grades & a failed romance. Also,Mel gets a visit,his old Navy buddy Frank. Who ends up inspiring Tommy to consider a change,that Alice may not be crazy about.

Sunday, January 8th, 1984

12: Vera, the Horse Thief

No one can corral Vera after she discovers that a miniature horse is being mistreated by its trainer.

Sunday, January 15th, 1984

13: Jolene Throws a Curve

Trophy winner Jolene throws Mel a curve when she won't pitch on his softball team.

Sunday, January 29th, 1984

14: Lies My Mother Told Me

After 40 years, Mel learns that his mother lied when she told him his dog was a war hero.

Sunday, February 12th, 1984

15: Alice and the Devoted Dentist

When Alice chips a tooth eating Mel's chili, he sends her to his dentist who takes one look at her X-rays and falls madly in love.

Sunday, March 4th, 1984

16: Alice's Hot Air Romance

Alice gets a ride but hardly a rise out of a sexist ballonist whose hot air isn't confined to his balloon.

Sunday, March 11th, 1984

17: Dollars to Donuts

After a winning first day at the track, Tommy bets he'll score in the betting business.

Sunday, March 18th, 1984

18: My Dinner with Debbie

By proving she's a better cook than Mel, Vera's acerbic landlady may have found the elusive way to his heart through his stomach.

Sunday, March 25th, 1984

19: Vera's Fine Feathered Friends

Vera takes a tumble trying to rescue a nest of baby blue jays from the diner sign before Mel gets to them with a broom.

Sunday, April 1st, 1984

20: Jolene is Stuck on Mel

Jolene has second thoughts about marrying a TV game show host especially after a dab of permanent glue bonds her firmly to Mel.

Sunday, April 15th, 1984

21: Don't Play It Again, Elliot

A gift piano comes between Vera and Elliot when she can't pry him away from it.

Sunday, May 13th, 1984

22: Mel Spins His Wheels

Mel disdains accommodating the handicapped until two sprained ankles give him a different view, from a wheelchair.

Sunday, May 20th, 1984

23: Be It Ever So Crowded

Vera and Elliot buy a charming old house that comes complete with fireplace, furniture and antiques one of which is a shocking surprise.
Season 9
Sunday, October 14th, 1984

1: Romancing Mister Stone

Jolene and Vera play Cupid for a dateless Alice by putting an ad in a magazine's personals column.

Sunday, October 28th, 1984

2: Space Sharples

Mel gets a little spaced out after he thwarts a bank robbery while he's dressed up as Captain Galaxy for Halloween.

Sunday, November 4th, 1984

3: Big, Bad Mel

Mel gets an F for buying a day school to raze for a parking lot.

Sunday, November 18th, 1984

4: Houseful of Hunnicutts

Jolene loves her family, but finds it too much of a good thing when her father, five brothers, grandmother and family dog park themselves in her one-bedroom apartment.

Sunday, November 25th, 1984

5: Tommy's Lost Weekend

Alice is worried that Tommy's partying is leading to a serious drinking problem.

Sunday, December 16th, 1984

6: Undercover Mel

At Elliot's suggestion and lured by a $5000 reward, Mel goes undercover to smoke out rustlers selling stolen beef.

Sunday, December 23rd, 1984

7: Footloose Mel

Mel 86es a group of ""hoodlums,"" unaware that they're the break dancers expected to perform at the diner as part of an arts festival.

Tuesday, January 8th, 1985

8: Vera's Anniversary Blues

Vera yearns for a romantic first wedding anniversary, but it gets off to anything but a romantic start and goes rapidly downhill from there.

Tuesday, January 15th, 1985

9: Kiss the Grill Goodbye

Jolene's appearance on the ""Working Women"" talk show does nothing to boost business at Mel's Diner.

Tuesday, January 22nd, 1985

10: Vera, the Nightbird

Vera's secretly moonlighting as a sultry deejay called Nightbird and she's turning on all the males in Phoenix in the process.

Tuesday, January 29th, 1985

11: Alice Doesn't Work Here Anymore (1)

A country singer takes a personel as well as professional interest in Alice and begs her to join his band on the road.

Tuesday, February 5th, 1985

12: Alice Doesn't Work Here Anymore (2)

Whether Alice likes it or not, and she's not sure, country singer Travis Marsh gives her a chance to reach for the stars in a performance with him.

Wednesday, February 6th, 1985

13: The Night They Raided Debbie's

Answering a room-to-rent ad, Vera and Elliot's pushy landlady pushes herself and her kitschy furniture into their home and lives.

Tuesday, March 5th, 1985

14: One on One

Mel is a taskmaster in training Jolene for tryouts with a pro basketball team.

Tuesday, March 12th, 1985

15: Vera's Grounded Gumshoe

After getting shot accidentally with his own gun, Elliot quits the force and looks for a career more suited to his meager talents.

Tuesday, March 19th, 1985

16: Th-th-th-that's All, Folks

On the final day at the diner, Mel closes the blinds and gives away the cow creamers as the gang reminisces about the last nine years.