update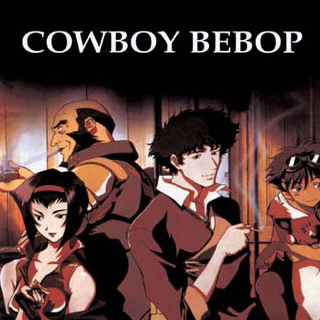 Season 0
Friday, June 26th, 1998

1: Mish-Mash Blues

Nothing lasts forever. All things must come to an end. That is the so-called way of Nature. It's rather sudden, but this is the last episode, so I would like to take this opportunity to remember all the things that have happened and think about them.

Tuesday, August 25th, 1998

2: Session #0

This episode is a teaser for the release of the series to DVD. It contains interviews with the staff and cast, character info, a story digest of the episodes not broadcast on television (due to its depictions of gratuitous violence, only a handful of episodes were aired originally. The remaining episodes were not broadcast until 1999), the complete beginning/closing title sequences without the interference of credits or other text, and a couple of full length music videos featuring the theme track "Tank!" accompanied by the jaw-dropping animation found throughout the series.

Saturday, September 1st, 2001

3: Cowboy Bebop: The Movie

A tanker truck is blown to smithereens in the middle of a busy street, and a deadly viral infection is released with the explosion. The Bebop crew - Spike Spiegel, Jet Black, Faye Valentine, and Edward Wong Hau Pepelu Tivrusky IV - are instantly after the culprit when the gargantuan reward of 300,000,000 woolongs is announced. But the case gets stranger and stranger as the cold-blooded Vincent Volaju, who supposedly has been dead for ten years, seems to be the prime suspect. Meanwhile, Spike encounters the dangerous Electra, who too seeks the madman. Conspiracies and secrets better left alone are uncovered, and Vincent's reign of terror is nowhere near over yet...

Friday, December 21st, 2012

4: Ein's Summer Vacation

A newly animated special starring Ein! Included in the new Blu-Ray release.
Season 1
Friday, April 3rd, 1998

1: Stray Dog Strut

Spike and Jet's next case takes them to Mars, where they'll to try apprehend a professional pet thief and a priceless data dog.

Friday, April 10th, 1998

2: Honky Tonk Women

A night at the casino lands Spike and Jet in hot water when they cross paths with Faye Valentine, a stunning con artist wanted by the law – and the bad guys.

Friday, April 17th, 1998

3: Heavy Metal Queen

The Bebop crew pursues a renegade explosives expert, and Spike crosses paths with a nameless space trucker that hates bounty hunters.

Friday, April 24th, 1998

4: Waltz for Venus

Spike gets involved with a fugitive who is willing to risk his own life to restore his sister's sight. Can the Bebop crew save the day before tragedy strikes?

Friday, May 1st, 1998

5: Jamming with Edward

The Bebop crew tries to crack the case of mysterious satellite drawings appearing on the Earth's surface, but they'll need help from a hacker know as Radical Edward to earn their bounty!

Friday, May 8th, 1998

6: Ganymede Elegy

When a case takes the Bebop crew to Jet's old stomping ground, the big man crosses paths with an old lover – and her wanted boyfriend.

Friday, May 15th, 1998

7: Toys in the Attic

When an unusual, blob-like space creature infects Ein, Faye, and Jet, Spike and Radical Edward must figure out a way to save their friends.

Friday, May 22nd, 1998

8: Jupiter Jazz (1)

Faye robs and abandons the Bebop crew, Spike goes in search of a woman he once knew, and Vicious makes another deadly appearance.

Friday, May 29th, 1998

9: Jupiter Jazz (2)

Jet continues his mission to reunite his Bebop comrades, and Spike finds himself locked in a brutal dogfight with his old nemesis Vicious.

Friday, June 5th, 1998

10: Bohemian Rhapsody

The Bebop Crew embarks on a wild goose chase of a bounty hunt that leads them deep into space in search of an ancient chess master.

Friday, June 12th, 1998

11: My Funny Valentine

When Jet brings in a fugitive from Faye's past, the rebellious beauty must decide whether to turn him in – or give an old flame one last chance.

Friday, June 19th, 1998

12: Speak Like a Child

When a mysterious package arrives, Faye disappears on a gambling binge, and Spike and Jet embark on a frustrating search for ancient technology!

Saturday, October 24th, 1998

13: Asteroid Blues

Spike and Jet head to Tijuana to track down an outlaw smuggling a dangerous drug known as blood-eye. Jet wants the bounty, but Spike has eyes for a far prettier prize.

Saturday, November 14th, 1998

14: Gateway Shuffle

Faye teams up with Spike and Jet to track down a gang of space activists that plans on turning the human population into monkeys!

Saturday, November 21st, 1998

15: Ballad of Fallen Angels

Spike aims to collect the bounty on a member of the Red Dragon Syndicate, but his mission leads him into a deadly showdown with a face from his past!

Saturday, November 28th, 1998

16: Sympathy for the Devil

The latest case for the crew of the Bebop finds Spike pitted against a young boy with a talent for the harmonica – and murder.

Saturday, February 13th, 1999

17: Black Dog Serenade

Jet teams up with a former partner to settle the score with the man who took his arm, but he soon discovers that memories can be deceiving.

Saturday, February 20th, 1999

18: Mushroom Samba

After the Bebop crash lands, Ed and Ein's search for food turns up some very expensive mushrooms with psychedelic side effects!

Saturday, March 6th, 1999

19: Wild Horses

While Spike pays a visit to the man who built his ship, Faye and Jet go fishing for space pirates.

Saturday, March 13th, 1999

20: Pierrot Le Fou

Spike takes a beating during a chance encounter with an indestructible assassin. While Jet searches for the secret to the madman's power, Spike goes looking for payback!

Saturday, March 20th, 1999

21: Boogie Woogie Feng Shui

Spurred by a cryptic email, Jet goes looking for an old friend, but finds his daughter – and a mysterious sun stone – instead.

Saturday, March 27th, 1999

22: Cowboy Funk

Spike's attempts to apprehend the infamous Teddy Bear Bomber are maddeningly derailed by a mysterious – and clueless – cowboy!

Saturday, April 3rd, 1999

23: Brain Scratch

Faye goes undercover to collect the bounty on a deranged cult leader, but when the mysterious organization brainwashes her into a very deep sleep – she'll need a little help from her friends.

Saturday, April 10th, 1999

24: Hard Luck Woman

Faye and Ed discover clues to their respective pasts that could send the crew of the Bebop heading in very different directions.

Saturday, April 17th, 1999

25: The Real Folk Blues (1)

Spike and Jet are ambushed by members of the syndicate, and Faye has an unexpected encounter with a woman from Spike's past.

Saturday, April 24th, 1999

26: The Real Folk Blues (2)

Spike finally finds the woman he's been searching for, and Faye makes a surprising return to the Bebop. With the syndicate in hot pursuit, Spike seeks to end the reign of Vicious.