update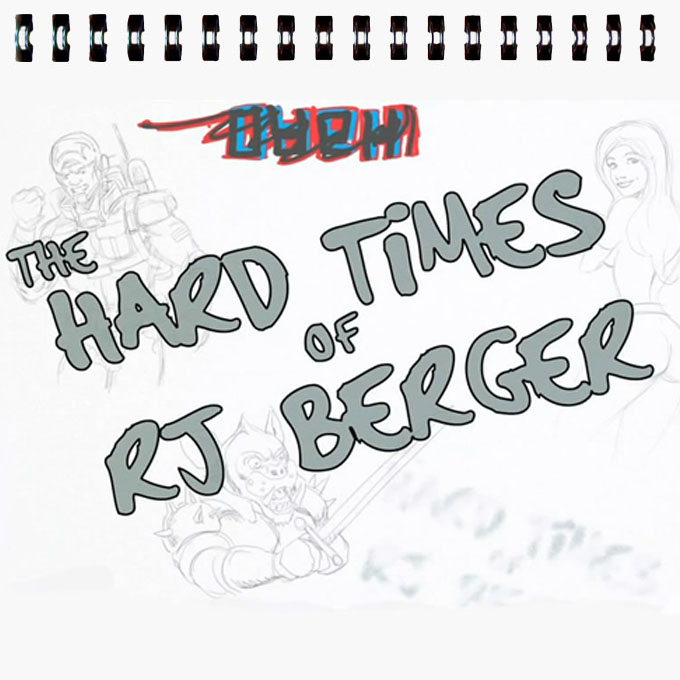 Season 0
not specified

1: Behind the Scenes
Season 1
Sunday, June 6th, 2010

1: Pilot

When RJ's shorts fall off in front of the whole school, his life is turned upside-down.

Monday, June 14th, 2010

2: Yes We Can't

When RJ's request for Computer Club funding is denied, he runs for student government.

Monday, June 21st, 2010

3: The Berger Cometh

RJ tries out for the school musical to get closer to Jenny Swanson.

Monday, June 28th, 2010

4: Here's to You, Mrs. Robbins

When RJ begins working to save money for a gift for Jenny Swanson's Sweet 16 birthday party, he soon learns his new employer has a strong sexual appetite, and Miles searches for a new best friend to replace RJ, due to his busy work schedule. At the end of the episode, RJ and Miles are best friends again.

Monday, July 5th, 2010

5: The Rebound

When Jenny becomes single, she asks RJ to study with her.

Monday, July 12th, 2010

6: Over the Rainblow

RJ becomes interested in a new girl at school and discovers that she is a member of the Purity Club.

Monday, July 19th, 2010

7: Tell and Kiss

RJ lies to the jocks about his progress with Claire; Miles is busted for spreading rumors.

Monday, July 26th, 2010

8: Nerds Gone Wild

RJ's parents go away for the weekend, leaving him in the care of a sexy babysitter; Miles throws a party for the nerds.

Monday, August 2nd, 2010

9: It's All About the Hamiltons

While in detention, RJ befriends a tough thug; Lily tries out for the cheerleading squad.

Monday, August 9th, 2010

10: Behind Enemy Lines

Unable to concentrate on his tutoring with Jenny, RJ fears that he's losing his focus and failing both himself and the girl of his dreams, so he and Miles conspire to steal a cheat sheet from a teacher's house. Unfortunaley, Miles makes the mistake of getting his psychopathic Iraq War Vet brother involved, and promising the answers for other jocks at Pinkerton High.

Monday, August 16th, 2010

11: Lily Pad

Lily's dreams might actually come true when RJ somewhat reluctantly decides to ask her to the upcoming dance. Things get a little sticky, however, when Miles raises the bar with an unlikely date and RJ finds himself in a tough spot.

Monday, August 23rd, 2010

12: The Right Thing

RJ and date Jenny try their hardest to have the "best winter formal ever," but RJ's guilt over leaving Lily lands him back at her hospital bedside, where the two keep their promise to lose their virginity together.
Season 2
Thursday, March 24th, 2011

1: RJ's Choice

Season 2 opens on a confused RJ, who is haunted by his friend Lily while yearning for his dream girl Jenny Swanson. Also, Miles deals with the ramifications for ball-beating Pinkerton's top dog, Max Owens.

Monday, March 28th, 2011

2: Cousin Vinny

In an attempt to win over the girl of his dreams, RJ asks Jenny on a date. When she says "yes," he and Miles prepare with a G-T-L makeover from Cousin Vinny (Jersey Shore's Vinny Guadagnino).

Monday, April 11th, 2011

3: The Lock-In

It's "Lock-In Night" at Pinkerton, and RJ finally gets the chance to have sex with Jenny, but a bitter Lily Miran will do everything she can to make sure that doesn't happen.

Monday, April 11th, 2011

4: Ugly Jenny

When Jenny suffers a breakout, RJ questions the depth of their relationship. At the same time, Lily receives her settlement from the bus accident and experiences her first taste of popularity.

Monday, April 18th, 2011

5: Deadliest Crotch

Distracted by problems with Jenny and his parents, RJ's grades start to slip. When he's forced to see a tutor, she offers him more than just academic advice. Meanwhile, Miles gets seduced by his teacher.

Monday, April 25th, 2011

6: Saving Dick

When RJ gets caught in a lie, his relationship with Jenny falters. In her absence, Amy joins RJ on a quest to save his drunk, depressed, and unemployed father.

Monday, May 2nd, 2011

7: You, Me, and Weezer

In an attempt to impress Amy, RJ ventures to the wrong side of the tracks to find fake IDs and tickets to a 21 and over concert. Special Guest Star: Weezer.

Monday, May 9th, 2011

8: Give Me a P

On the eve of their 20th anniversary, RJ's parents invite him to dueling dinners, and RJ is forced to choose between his mom and his dad. Meanwhile, Miles joins the cheerleading squad to lose weight.

Monday, May 16th, 2011

9: Hunkeez

With his 16th birthday rapidly approaching, RJ asks his dad for driving lessons. He gets way more than he bargained for when Rick takes him to Hunkeez, a male strip club.

Monday, May 23rd, 2011

10: Sex. Teen. Candles

After years of having his birthday ruined by Max Owens, RJ and his friends decide to throw a "Max Bash." When Max and his gang of jocks show up at the party, things get out of hand.

Monday, May 30th, 2011

11: Steamy Surprise

RJ finds out Max's "steamy secret," and things get complicated with Amy when he gets nominated for "Mr. and Miss Pinkerton" with ex-girlfriend, Jenny.

Monday, May 30th, 2011

12: The Better Man

RJ receives shocking news from Lily and faces off with Max Owens for the title of "Mr. Pinkerton."