update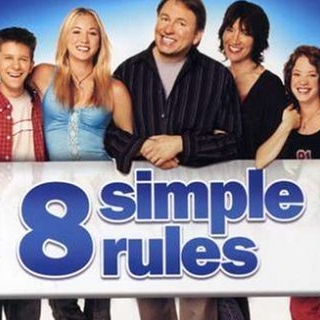 Season 0
not specified

1: Season 1 Gag Reel
Season 1
Tuesday, September 17th, 2002

1: Pilot

Paul had grown accustomed to Cate taking care of their son and two daughters. His job as a sports writer kept him on the road a lot during the kids' formative years. But when Cate decides to return to work as a hospital nurse, Paul takes a job as a columnist and undertakes the responsibility of helping out with the kids. Although not new to fatherhood, Paul is just a bit rusty on day-to-day interaction and discovers that he's grown a little out of touch with his kids - especially his daughters. His value has been reduced to a wallet and a ride to the mall. Sixteen-year-old Bridget (Kaley Cuoco, ""Growing Up Brady,"" ""Ladies Man"") has matured into a beautiful and popular teenager, with a different boyfriend each week and a taste for fashion that tends to be a little too revealing for her father's taste. By contrast, 15-year-old Kerry (Amy Davidson, ABC Family series ""So Little Time"") is intelligent and cute, but her lack of selfconfidence has led her to hide behind a mask of s

Tuesday, September 24th, 2002

2: Wall of Shame

Paul is left home alone with the kids while Cate is at a seminar on the day of the big Michigan/Ohio State football game. But much to Paul's dismay, the game soon takes a backseat when Bridget is accused of shoplifting and Kerry gets upset over her latest cause.

Tuesday, October 1st, 2002

3: Bridget's First Job

After seeing how much money Bridget spends on keeping up with the latest fashions, Paul tells her to go out and get a job to learn how to be fiscally responsible. But when she lands a job at a trendy mall clothing store that offers its workers a 40% discount, Paul and Cate begin to worry that she may not be learning the true value of a dollar.

Tuesday, October 8th, 2002

4: Wings

Bridget takes drastic measures when an overprotective Paul keeps coming up with excuses to delay her from taking her driver's test. Meanwhile, after convincing a less-than-confident Kerry that she has the talent to enter an art competition, Paul is shocked and Kerry is devastated when her submission is rejected, on ""8 Simple Rules for Dating My Teenage Daughter.""

Tuesday, October 15th, 2002

5: Son-in-Law

A sports-struck Paul lets Bridget do whatever she wants when she breaks up with Kyle and begins dating high school basketball wonder Travis ""The Rainman"" Smith - whose father just happens to be Michigan baseball legend Steve ""Canned Heat"" Smith (Terry Bradshaw). Meanwhile Kerry resents the fact that Paul still thinks of her as a little girl and not as a budding teenager ready to take on the dating world.

Tuesday, October 22nd, 2002

6: Cheerleader

Bridget is ecstatic when the cheerleading squad has an opening for a new member. But after telling Kerry that she is not cut out to be a cheerleader, Bridget is completely dumbfounded when her sister tries out and is chosen for the team. Meanwhile, Paul tries in vain to wean Rory off video games and introduce him to the world of books

Tuesday, October 29th, 2002

7: Trick or Treehouse

Paul seems to be the only one looking forward to a family Halloween, as Bridget, Kerry and Rory make plans to spend the spooky evening away from home and with their friends. But Paul's wish to relive the past by having the family get together for one last Halloween campout in the old treehouse may turn out to be the biggest nightmare of the evening.

Tuesday, November 5th, 2002

8: By the Book

In an effort to win back the love and respect that his daughters used to show him when they were young, Paul turns to a parenting book for some quick advice. But when Bridget and Kerry discover Paul's teaching tool, they try to use it to their advantage to get their father to let them go to a rock festival.

Tuesday, November 12th, 2002

9: Two Boys for Every Girl

Paul's plan backfires when--after telling Bridget to tell Kyle the truth about her date with another boy -- Kyle breaks up with her. Meanwhile, Kerry's first date turns out to be a dream, but she is devastated when the boy doesn't call her back.

Tuesday, November 19th, 2002

10: Give It Up

When no one can agree on where the family vacation should take place, Paul challenges the Hennessey clan to give up their bad habits for a week and the winner gets to choose the vacation spot. But the family's vices soon get the better of them, and secret collaborations and clandestine alliances threaten to foil the contest.

Tuesday, November 26th, 2002

11: Paul Meets His Match

After meeting his new editor Nick, Paul becomes quick friends with the man when he discovers they both have a common bond-being married fathers of teenage girls. But Paul soon learns that he may have something else in common with Nick-having the reputation of being an overprotective ""psycho dad."" Meanwhile, Paul wants to make Thanksgiving a family affair, and forbids Bridget and Kerry from inviting their boyfriends to the festive feast.

Tuesday, December 10th, 2002

12: All I Want for Christmas

Paul discovers that he has his work cut out for him for the holidays when he tries to find perfect gifts for the family to make up for last year's Christmas fiasco. Kerry also finds a stray dog during the holidays. Meanwhile, Cate is overjoyed when she is asked to sing a solo at the church's midnight service, but fears that seeing her family there will make her nervous

Tuesday, December 17th, 2002

13: Rory's Got a Girlfriend

When a proud Paul lets 13-year-old Rory go out on his first date, Bridget and Kerry accuse him of unfairly changing the rules because they were never allowed to date at that age. Meanwhile Kerry is shocked when Bridget receives a higher score then she did on a state aptitude test.

Tuesday, January 7th, 2003

14: Career Choices

Paul and Cate are shocked when they are called into the principal's office and informed that Bridget wants to skip her college prep classes in order to become an esthetician. Meanwhile, Paul is so impressed with Kerry's sketches of ""The Incredible Boring Woman"" that he gets the principal to print them in the school newspaper -- not realizing that the principal is the boring woman in question.

Tuesday, January 21st, 2003

15: Kerry's Big Adventure

After Kerry and her boyfriend break up, Paul tries to cheer up his blue daughter by getting Bridget to take her little sister with her to a party. But while talking to Kyle at the party, Kerry is shocked when a spark is ignited and the two share a romantic kiss. Meanwhile, Paul and Cate try to discover what is hidden in Rory's secret box.

Tuesday, January 28th, 2003

16: Come and Knock on Our Door

After discovering that boyfriend Kyle kissed Kerry at a party (the previous episode, ""Kerry's Big Adventure,"" airing Jan 21), Bridget gives her sister the silent treatment which is anything but quiet for Paul. But real life merges with fantasy when Paul has a dream that lands him in familiar territory, showing Kyle as a swinging bachelor living with Paul's two beautiful daughters in an apartment straight out of the 70s. The set of the classic comedy ""Three's Company"" was recreated down to the last detail for this episode.

Tuesday, February 4th, 2003

17: Drummer Boy (1)

Bridget defies the rules of the house after Paul forbids her from going out on a date with Ben (Backstreet Boys' Nick Carter) -- her college-age drum instructor. Meanwhile, Kerry is mad at Cate when her ex-boyfriend confesses that he thinks her mother is pretty.

Tuesday, February 11th, 2003

18: Drummer Boy (2)

Bridget takes the car and follows her older boyfriend, drum instructor Ben (Nick Carter, Backstreet Boys), to his college dorm. Conclusion of a two-part episode.

Tuesday, February 18th, 2003

19: Cool Parent

When Paul has to pick up Bridget and Kerry from a party that's been broken up by the police -- and "supervised" by co-worker Tommy (Larry Miller) -- Paul chastises his friend and unwittingly volunteers to host the next one. But when Paul falls asleep during the party and it gets out of control too, the kids think of him as a "cool parent," while the neighborhood parents think he's just as unreliable as Tommy.

Tuesday, February 25th, 2003

20: Every Picture Tells a Story

When Paul is asked by race car driver Carter Tibbits (Jason Priestley, "Beverly Hills 90210") to write a book about him, Paul brings the family to Tibbits' mansion to meet the driving legend and his sarcastically dry-witted butler, Cody (Robert Guillaume, "Benson", "Sports Night") -- who used to be Carter's crew chief. But a misunderstanding leads Rory to steal a photo from Carter's room, and it's Paul who's under suspicion when a security camera catches him trying to return the item.

Tuesday, March 11th, 2003

21: Kerry's Video

Kerry devotes her school video project to sister, Bridget, to illustrate the hypocrisy that life is much easier for the 'beautiful people.' But when Bridget discovers that the video makes her look shallow, she takes Paul's advice to enrich her life by taking up tennis again -- and ends up with a broken nose.

Tuesday, March 25th, 2003

22: Good Moms Gone Wild

While vacationing in Florida at Cate's parent's home, Paul and Cate catch Bridget and Kerry on the evening news partying with a group of Spring Breakers. But before a punishment can be implemented, the news runs archival footage that features a young, wild Cate letting loose in a bar. Meanwhile, a jealous Paul meets Byron (Ed Marinaro, ""Hill Street Blues,"" ""Sisters"") -- the man that Cate went out with during her college sophomore year -- and Rory befriends an elderly gentleman (Tom Poston, ""Newhart,"" ""Mork & Mindy"") whose stories about World War II turn out to be more fiction than fact.

Friday, March 28th, 2003

23: Career Woman

Paul's job as parental guardian becomes more of a full-time position when Cate is up for a promotion and has to spend more time at the hospital. Meanwhile, after Paul introduces the boy to the hobby of baseball card collecting, Rory trades the cards for something not exactly associated with the sport.

Tuesday, April 8th, 2003

24: Queen Bees and King Bees

Bridget and Paul are surprised to find themselves in similar situations when they are both alienated in their social circles. But they devise a plan to settle the score, leading Paul to crash a poker game with co-worker Tommy (Larry Miller) to get closer to boss Nick (Patrick Warburton), and Bridget trying to break up ex-boyfriend Kyle and her nemesis, Jenna.

Tuesday, April 29th, 2003

25: Bake Sale

Bridget begrudgingly becomes a mother when she is assigned to take care of a baby made out of a sack full of flour for school. When Kerry and Rory bake cookies for the Great American Bake Sale to help put an end to childhood hunger in America, Bridget begins to notice that her baby is developing a mysterious loss of weight.

Tuesday, May 6th, 2003

26: The Doyle Wedding

After reluctantly inviting socially inept neighbors Fred and Mary Ellen Doyle (""Cheers'"" John Ratzenberger & Shelley Long) and their kids over for dinner, Paul and Cate are shocked when the entire Hennessy clan is asked to take part in the Doyles' daughter's wedding. Meanwhile Kerry neglects to inform Bridget that geeky Donny Doyle (Thad Luckinbill, J.T. Hellstrom on ""The Young and the Restless"") has grown up to be a hunk, and Rory takes a part in a play as a cross-dresser in order to meet girls. Cate (Katey Sagal) sings the jazz classic, ""At Last,"" at the wedding reception.

Tuesday, May 13th, 2003

27: Sort of an Officer and a Gentleman (1)

Having learned that her sister, Maggie (Cybill Shepherd), is having marital problems, Cate is nevertheless not too thrilled when Paul invites Maggie to stay at the house -- the sisters have a long history of sibling rivalry. Meanwhile, Paul and Cate are impressed with how mature Bridget has become after they agreed to let her go out with neighbor Donny Doyle (Thad Luckinbill), who is home from the Naval Academy; and Bridget and Kerry wonder if Kyle has ulterior motives when he befriends Rory.

Tuesday, May 20th, 2003

28: Sort of an Officer and a Gentleman (2)

The sibling rivalry between Cate and Maggie (Cybill Shepherd) comes to a boiling point when Maggie gets a sexy, new makeover and gives Bridget a water bra as a gift. Meanwhile tensions between the Hennessy sisters mount when Kerry and Kyle begin dating, while Bridget's popularity takes a nosedive after she dissed her friends for Donny (Thad Luckinbill); and Paul becomes concerned when he finds an empty pregnancy test kit.
Season 2
Tuesday, September 23rd, 2003

1: Premiere

Bridget finds her popularity waning because of her exclusive, long distance relationship with Donny, while Kerry's social status skyrockets because of her relationship with Kyle. But Bridget's eyes begin to stray when she meets Damian - a sexy new kid at school. Meanwhile, as she waits for the results of her pregnancy test, Cate is stunned when Paul, Bridget, Kerry and Rory seem more concerned about how the baby could disrupt their lives than the blessed event itself. In fact, the only support Cate seems to be getting is from her nosy neighbors, the Doyles, who share a well-kept secret about their own family.

Tuesday, September 30th, 2003

2: Sex Ed

Bridget is horrified when Cate is asked to fill in as the sex ed instructor in her daughter's class. But Cate is in for a shock when she tries to answer a student's written question about being pressured to have sex -- and realizes it may be from Bridget. Meanwhile, Paul and Kerry are too embarrassed to look each other in the eye after watching a foreign film together that contains a sexually explicit scene.

Tuesday, October 7th, 2003

3: Donny Goes AWOL

When Fred and Mary Ellen Doyle ask Bridget to be a part of a video message they are sending to Donny at the Naval Academy, they are shocked to discover that Bridget has broken up with their son on the tape - and Donny goes AWOL to try and patch things up. Meanwhile, Paul is asked to help give a nickname to a neighborhood prankster who has been terrorizing the block, not realizing that the culprit may be living under his own roof.

Tuesday, November 4th, 2003

4: Goodbye (1)

The Hennessy famly must deal in their own way with the unexpected death of Paul. Cate's separated parents, Jim and Laura, come to visit and try to console the grieving family.

Tuesday, November 4th, 2003

5: Goodbye (2)

The family finds Paul's last written article, and reads it just before going to sleep.

Tuesday, November 11th, 2003

6: No Right Way

Cate is unprepared for the diverse reactions exhibited by Bridget and Kerry on their first day back to school since their father's death. Meanwhile, Jim tries his best to be helpful by making some questionable home improvements to the Hennessy home.

Tuesday, November 18th, 2003

7: What Dad Would Want

Cate persuades Rory to try out for basketball because that would've made his dad proud.

Tuesday, November 25th, 2003

8: The First Thanksgiving

While Cate plans to raise the family spirits with a special Thanksgiving dinner, Rory takes it upon himself to be the man of the house by looking after Bridget and Kerry when he learns that they are planning to attend a party with their boyfriends on the holiday. Meanwhile, Laura's visit to the Hennessy household ignites sparks between her and Jim.

Tuesday, December 23rd, 2003

9: The Story of Anne Frank and Skeevy

After Cate encourages Bridget to participate in extracurricular activities to beef up her college resume, Bridget shocks the family by landing the lead in the high school production of the story of Anne Frank. But after reading Anne Frank's diary, she doubts her own ability to play the role. Meanwhile, Rory's obsession with a dummy named Skeevy becomes a little unnerving for the Hennessy clan.

Tuesday, January 6th, 2004

10: YMCA

Cate decides the family isn't active enough and takes them to join the YMCA where Bridget works. Jim is overprotective of her at the YMCA and doesn't think she should be working there. Meanwhile Rory deals with a coming-of-age issue that keeps ""popping up"" at the worst of times.

Tuesday, January 13th, 2004

11: Get Real

The Hennessy household and Jim are thrown for a loop when Cate's wayward nephew, C.J., stops by to pay his respects to Paul and generally keep them company. But the irresponsible C.J. can't seem to resist getting himself into trouble when he advices Rory on techniques about kissing a girl and takes the blame when Kerry - driving with a learner's permit -- accidentally dents Cate's car driving Bridget on a late-night errand.

Tuesday, January 27th, 2004

12: Consequences

Rory steals a police dog when he hears about CJ's glory days of stealing his old school mascot, but Cate is shocked when the dog finds marijuana in Kerry's backpack. Cate thinks Kerry's using drugs because of her father's death, but it's really just teenage rebellion. Meanwhile, Bridget gets brought home by the police for not wearing a helmet on her boyfriend's motorcycle, after Cate telling her she has to.

Tuesday, February 10th, 2004

13: Opposites Attract (1)

In need of a tutor to boost her grades, Bridget hires Jeremy, hoping to make her chance of getting into a good college better. However, after her boyfriend gets sick, Bridget tries to persuade Jeremy to take his place. Meanwhile, Kyle treats Kerry to an very un-corporate Valentine's Day celebration. Rory gets pointers about the perfect gift for his new girlfriend Missy. Jim sends C.J. on an errand to get a ""special drug"" in Canada, which ends up just being Tylenol.

Tuesday, February 17th, 2004

14: Opposites Attract (2)

Bridget decides to make a move on her brainy tutor, Jeremy, but discovers that he may have his sights set on her debate team opponent. Meanwhile, after accidentally setting fire to C.J.'s van, Jim is not-so-thrilled when Cate forces him to share his basement room with his now homeless nephew.

Tuesday, February 24th, 2004

15: Opposites Attract: Night of the Locust (3)

After being told that she's fickle when it comes to relationships, Bridget is afraid that she may end up hurting Jeremy's feelings when her ex-bad boy boyfriend, Damian, returns to town. Meanwhile, Kerry is outraged and plans revenge when "provocative" dancing has been banned from the high school formal, which is being chaperoned by Cate and Jim; C.J. partners with Rory to broadcast school scandals over the internet, and Jim falls for Ms. McKenna, a member of the high school's PTA committee.

Tuesday, March 2nd, 2004

16: Daddy's Girl

On the advice of the family therapist, Cate is encouraged to pursue a once-thought-unobtainable dream of becoming a singer. Meanwhile, C.J. and Jim find themselves trying to bond in a bar when Cate encourages C.J. to take his grandfather out after he is dumped by his wife – in a letter -- and Kerry angers Bridget by dying her hair blonde after she complains that the romance is fading from her relationship with Kyle.

Tuesday, March 16th, 2004

17: Mall in the Family

After Kerry is promoted to assistant manager at a fast food restaurant in the mall, Jim is hired to handle the register. But when she witnesses his disdain for the customers, Kerry is faced with the dilemma of having to fire her grandfather. Meanwhile C.J., who has been employed as a mall cop, busts Bridget for sneaking into a movie without paying, and Cate catches Rory selling worthless family items on the internet under false pretenses.

Tuesday, March 30th, 2004

18: Let's Keep Going (1)

Cate sends Bridget and Kerry to their grandmother's house for a visit after the Hennessys decide against vacationing at the family cabin. But while on their road trip to grandma's, the girls are shocked to find Cate at their father's favorite saloon with a mysterious stranger. Meanwhile, Kerry makes Rory's life miserable when she discovers that he has a crush on her friend, Rachel.

Tuesday, April 6th, 2004

19: Let's Keep Going (2)

Upon discovering Cate in the arms of Artie - Paul's successor at the newspaper - Bridget and Kerry decide to blow off their planned trip to their grandmother's and take to the open road to sort out their feelings. But after meeting up with C.J., the girls find themselves at a familiar location that was beloved by Paul. Meanwhile, Rory continues to pine for Rachel Sharpe, who confesses her true feelings for him.

Tuesday, April 20th, 2004

20: C.J.'s Party

Cate banishes C.J. and grounds Bridget for going to C.J.'s college keg party; Jim has to take a written drivers exam after being pulled over with an expired license.

Tuesday, May 4th, 2004

21: Mother's Day

After witnessing some strange behavior from Bridget and Kerry, Cate tries to find out what they are up to -- not suspecting that they might be trying to set up a special Mother's Day getaway for her. Meanwhile, C.J. and Rory doubt Jim's ability to put an engine back together after he falls in love with a classic car -- which is in for a wax job at Rory's new detailing service -- and decides to fix a noise in the motor

Tuesday, May 11th, 2004

22: The Principal

When Bridget is busted over a school dress code violation, Cate is called upon to meet with her new principal, Ed Gibb. But Cate is in for a shock when she discovers that she went to high school with Ed -- who remembers it vividly -- though she doesn't remember him at all. Meanwhile, when C.J. becomes his massage therapist, Jim hurts his feelings when he refuses to admit that his wayward grandson has become good at something.

Tuesday, May 18th, 2004

23: Finale Part Un (1)

Part 1 of 2. Cate finds herself once again in the awkward position of having to deal with Principal Gibb when she forgets to turn in a health form for Kerry's trip to Europe. Meanwhile, Cate is resentful of Jim's relationship with Tina because she still hopes that her father will reconcile with her mother, and Rory plays a nefarious joke on C.J. when he sets him up with girlfriend Missy's already engaged sister, Sissy.

Tuesday, May 18th, 2004

24: Finale Part Deux (2)

Part 2 of 2. When Cate discovers that Bridget took the fall for Kerry for organizing the school sit-in, she agrees to have coffee with Principal Gibb in order to set the record straight. But the girls are convinced that their mother's innocent coffee meeting with their principal is really a date. Meanwhile, Kerry is furious when Bridget is elected student body president and wins a trip to Washington, D.C. -- because everyone thinks she organized the school sit-in -- C.J. keeps deluding himself that he's been chosen to be a roadie for Aerosmith over the summer, and Jim agrees to let Rory travel with him to Florida -- where he plans to try and win back his wife's affections.
Season 3
Friday, September 24th, 2004

1: First Day of School

Knowing that Kerry is dragging her feet over breaking up with Kyle, Bridget takes it upon herself to do it for her sister, which only makes matters worse for Kerry. Meanwhile, Cate is offered the position of school nurse by Principal Ed Gibb, and Rory's first day of high school proves embarrassing when he has to hit the showers after gym class.

Friday, October 1st, 2004

2: Changes

The kids question Cate's motives when they return from their summer getaways and discover that she has bought a new bed and changed her hairstyle. Meanwhile, after traveling through Europe over the summer, Kerry met and had a fling with a boy - which leaves Bridget jealous and Kerry wondering what to do about boyfriend Kyle; new high school Student Body President Bridget is convinced even further that life is a popularity contest after taking a trip to Washington, DC over the summer; and after a depressed Jim fails to win back the affections of his wife in Florida, Rory attempts to help him quit smoking -- which is complicated by Jim's discovery that C.J. was responsible for their irreconciliation.

Friday, October 8th, 2004

3: School Nurse

After Cate accepts the position of school nurse from Principal Gibb (Adam Arkin, ""Chicago Hope""), Bridget and Kerry are convinced that she only took the job to spy on them -- while Rory is ecstatic that his mom might be able to protect him from a school bully. Meanwhile, after Bridget inadvertently spills the beans about Kerry losing her virginity in Europe, a shocked Cate accidentally switches on the school's P.A. system and lets the whole student body in on their ensuing conversation.

Friday, October 15th, 2004

4: Out of the Box

Kerry is livid when Bridget unintentionally makes a mockery out of her art project at the mall. But she quickly forgets about Bridget when fellow artist and young hottie Tyler asks her out on a date. However Tyler's intentions may not be completely genuine. Meanwhile, while C.J. finds himself striking out at speed dating, Jim discovers that he's a hit with the ladies-which further humiliates his socially inept grandson.

Friday, October 22nd, 2004

5: Car Trouble

Bridget and Kerry are ecstatic when Cate hands them the keys to the minivan, except for one provision -- they are responsible for driving Rory wherever he needs to go. But when the girls fail to deliver on their promise to chauffeur their little brother, he takes matters into his own hands and attempts to drive himself -- and wrecks the car in the process.

Friday, October 29th, 2004

6: Halloween

Kerry doubts Bridget's ability to put together the school's Halloween party as part of her Student Body President duties. Meanwhile C.J. is hired as the party's security guard and sets his sights on catching Rory pulling off a prank, and Jim finds himself under attack by the neighborhood kids when he refuses to hand out candy to the trick-or-treaters.

Friday, November 5th, 2004

7: Coach

Bridget is psyched to join the high school tennis team when she develops a crush on Coach Scott. But her infatuation soon turns to disgust when she learns that Scott has a crush on Cate. Meanwhile, Kerry and Rory begin to question the authenticity of Jim's war stories while rummaging through his war chest.

Friday, November 12th, 2004

8: Secrets

Everyone in the Hennessy family fears the ringing of the phone when they all find themselves keeping secrets from one-another. Rory refuses to divulge the identity of the student responsible for bullying and beating him up at school, which leads Principal Gibb (Adam Arkin) on a mission to find the culprit and tell Cate; Bridget and Kerry use fake IDs to get into a club, where Bridget meets a cute guy and gives him her phone number -- before discovering that he's a cop (Colby Donaldson, ""Survivor""); Cate doesn't want the family to know that Bridget's tennis coach, Scott (Dan Cortese), is in hot pursuit to get her to go out on a date with him; and C.J. is distracted and forgets to pick up Rory's pain medication, which leads the pharmacist to call the house to find out if Rory's OK

Friday, November 26th, 2004

9: Thanksgiving Guest

While the family prepares Thanksgiving dinner for Cate to give her some much-needed time off, she's left with nothing to do until she brings home an unexpected guest while on an errand -- Principal Ed Gibb. Meanwhile, while C.J. deep-fries the turkey, Bridget and Kerry spar over pie recipes; Jim disassembles the TV in a shocking attempt to repair it; and Cate finds herself with an insurance adjuster the day after the holiday to find out who was responsible for burning down the garage.

Friday, December 3rd, 2004

10: Vanity Unfair

After Bridget is turned down for a role in a sports car commercial, Jim discovers that the head of the modeling agency who rejected her is his old flame Jackie (Raquel Welch). When he tries to persuade her to reconsider his granddaughter, Jim soon finds himself reminiscing over old times -- and possibly rekindling their romance. Meanwhile, Kerry and Rory discover a secret about C.J.'s past modeling experiences.

Friday, December 10th, 2004

11: Princetown Girl

Bridget is ecstatic when she learns that tennis scouts from Princeton are coming to her school to watch her play for a possible scholarship. But when Bridget's school forbids her to play because of a poor grade, Cate has to decide whether to use her clout as school nurse to help her daughter out. Meanwhile, Jim promises a nervous C.J. that he'll give up his room if he can spend one night alone in the attic.

Friday, December 17th, 2004

12: A Very C.J. Christmas

To keep C.J. from spending Christmas alone in Las Vegas, the Hennessy household bends over backwards to recreate one of Cate's first holiday memories to entice him to stay. Meanwhile, Rory decides to break up with his wealthy girlfriend when he fears that he won't be able to buy her a Christmas gift worthy of her upper class status.

Friday, January 7th, 2005

13: The Sub

Cate is shocked to discover that Principal Gibb (Adam Arkin, ""Chicago Hope"") has hired C.J. to be a substitute teacher at the high school. But when C.J. catches Rory cheating on a test, he is torn about reporting it when Cate tries to persuade him to look the other way. Meanwhile, when Bridget breaks her leg because of Kerry's blunder, she makes her little sister's life a living nightmare.

Friday, January 7th, 2005

14: C.J.'s Temptation

While Cate finds herself becoming jealous of Principal Ed Gibb's (Adam Arkin, ""Chicago Hope"") new girlfriend, Cheryl (Pamela Anderson), C.J. is asked by Ed to help tutor Cheryl for her G.E.D.s -- and finds himself unwittingly being hit on by her. Meanwhile, Rory feels awkward after Cate accidentally interrupts him during a private moment.

Friday, January 14th, 2005

15: Old Flame

After sending an email to former college flame Matt (Ed O'Neill) to see how he's been doing over the years, Cate becomes fed up with the unreasonable demands of her family and locks herself in her room for some alone time. But she's shocked when Matt shows up at her window and whisks her off to re-live some adventurous, old times - then she begins to question if his rebel lifestyle is just a front.

Friday, January 21st, 2005

16: Closure

When Cate and C.J. discover that Kerry has been e-mailing Bruno -- the boy she had a fling with in Europe -- they secretly try to snoop in her computer to find out what the two have been up to. But unbeknownst to them, Bruno is in the house and hidden in the attic by Kerry, while Bridget tries her best to talk her little sister out of doing something she may regret. Meanwhile, Jim discovers Rory's clandestine poker game and decides to deal himself in to teach Rory and his friends a lesson about gambling.

Friday, January 28th, 2005

17: Volleybrawl

Cate's alleged antics at Kerry's volleyball game threaten to make her team forfeit the match. Meanwhile, C.J. has a crush on Kerry's volleyball coach (former Pro Beach volleyball player Gabrielle Reece), and Bridget becomes upset when one of her friends begins dating her ex-boyfriend.

Friday, February 4th, 2005

18: Freaky Friday

Following a viewing of ""Freaky Friday"" in which she fell asleep, Cate awakens to find that she and Bridget have switched bodies, as have C.J. and Grampa along with Rory and his hamster. While Kerri sits back and enjoys their predicament, Bridget begins enjoying having her mother's voluptuous body while Cate can't stand her being in her daughter's body all of the time.

Friday, February 11th, 2005

19: Torn Between Two Lovers

Valentine's Day finds C.J. in a predicament when he commits to two different Valentine's Day dates - Principal Gibb's ex-girlfriend, Cheryl (Pamela Anderson), and Bridget and Kerry's uptight math teacher, Mrs. Krupp. Meanwhile, Bridget's excitement over being elected to the court of the Valentine's Day dance -- with a chance to be crowned Queen of Hearts -- quickly turns to shock when she discovers that Cheryl is also in the running.

Friday, February 18th, 2005

20: C.J.'s Real Dad

C.J. is shocked and delighted when his biological father (Danny Woodburn, recurring on ""Seinfeld"" as Mickey Abbott) – a motivational speaker and ""little person"" – reveals himself for the first time to his wayward son. But Jim doesn't trust the man and thinks he may have ulterior motives for the visit. Recording artist Ruben Studdard makes a cameo appearance.

Friday, March 4th, 2005

21: The After Party

After turning down Bridget's request to throw a ""harmless"" after-prom party in a hotel room, Cate decides to throw a school- sanctioned party at the house – which totally embarrasses her kids. Meanwhile, Kerry tries to make a political statement by inviting a girl to the prom, and Rory is overjoyed when a hot senior asks him to the dance.

Friday, April 1st, 2005

22: The Teachers Lounge

Officially a full-time teacher, C.J. is overjoyed to finally get access to the teachers' lounge. But he soon finds himself being bullied out of the room by the school's overzealous Home Ec instructor, Mr. Edwards. Meanwhile Rory wants to impress a girl, so Bridget and Kerry take it upon themselves to give him a full-fledged makeover.

Friday, April 8th, 2005

23: The Sleepover

After Principal Gibb (Adam Arkin, ""Chicago Hope"") and Cate fall asleep at the house while watching a movie, the family catches them and falsely assumes that the two are having a relationship. Meanwhile, Bridget, Kerry, Rory and C.J. are forced to go ice-fishing with Jim in order to spend quality time with their grandfather - but unbeknownst to them, Jim would much rather be left alone and is forced to keep up a happy fagade.

Friday, April 15th, 2005

24: Ditch Day

After C.J. discovers that Cate may be starting a clandestine relationship with Principal Gibb, he blabs it to Bridget. An angry Cate gets even by having Gibb put C.J. in charge of the detention of students on Ditch Day, and C.J. gets even by detaining Bridget. Meanwhile, because she is stuck in detention and can't complete the ditch day prank herself, Bridget convinces Kerry and Rory to steal the rival school's mascot. Nicole Richie (""The Simple Life"") guest stars as one of Bridget's fellow detainees.