update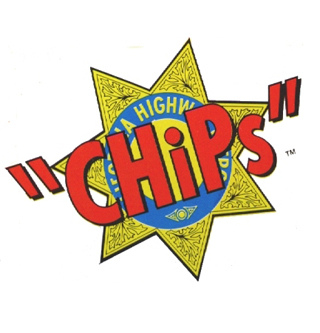 Season 0
not specified

3: DVD Extras

not specified

4: The Intro

The iconic intro.

not specified

5: 30 Year Reunion

A 30 year reunion of the cast of CHiPs.

not specified

1: The Real CHiPs

Erik Estrada meets real members of the California Highway Patrol

Tuesday, October 27th, 1998

2: CHiPs '99

Ponch has returned to the police force, and is determined to help his friend Jon in investigating various car thefts.

Friday, March 24th, 2017

6: CHiPS 2017

A rookie officer is teamed with a hardened pro at the California Highway Patrol, though the newbie soon learns his partner is really an undercover Fed investigating a heist that may involve some crooked cops.
Season 1
Thursday, September 15th, 1977

1: Pilot

Series pilot: Ponch and Jon chase a sports car theft ring.

Thursday, September 22nd, 1977

2: Undertow

A tow truck driver robs women who called for assistance. Ponch breathes in nitrous oxide (laughing gas) at an accident scene and becomes loopy.

Thursday, September 29th, 1977

3: Dog Gone

Jon takes a liking to a stray pooch found on the freeway, but when the dog won't stay quiet, he leaves the pup with Ponch; after a traffic stop, a trio of young toughs decide to teach Ponch a lesson, but it may be Jon who'll pay the price.

Thursday, October 13th, 1977

4: Moving Violation

While on a date, Ponch receives a ticket and decides to attend traffic school to hide the citation from Getraer.

Thursday, October 20th, 1977

5: Career Day

Two enterprising hustlers use CB radios to identify and rip off homes adjacent to local freeways; Ponch's former high school principal invites him to speak at the school's Career Day assembly after he and Jon arrest some joyriding frat bothers in a hearse.

Thursday, October 27th, 1977

6: Baby Food

When an unsecured load of defective baby food spills onto the freeway, Ponch and Jon must race against time to find two of the missing cases.

Thursday, November 3rd, 1977

7: Taking Its Toll

A pair of bandits rip off wealthy targets while they're stopped at local toll booths; Jon decides to write a novel based on Ponch's misadventures.

Thursday, November 10th, 1977

8: Green Thumb Burglar

Fresh plantings stolen from the highways near the command post nearly drive Getraer to distraction; a pair of psychic twins foretell gloom and doom in Ponch's immediate future

Thursday, November 24th, 1977

9: Hustle

A leather-clad duo on dirtbikes heists cash from area supermarkets; an eccentric defendant from traffic court vows to demonstrate that Ponch is incompetent.

Thursday, December 1st, 1977

10: Highway Robbery

A down-and-out vet lifting purses from women in traffic jams turns out to be a former classmate of Jon's; Ponch convinces Getraer to introduce him to the Easy-On Suntan Lotion model.

Thursday, December 8th, 1977

11: Name Your Price

A sophisticated ring of thieves drives away Rolls Royces in broad daylight; Ponch receives tickets to his favorite game show, "Name Your Price", which is similar to The Price Is Right.

Thursday, December 22nd, 1977

12: Aweigh We Go

A rash of tractor trailer rig hijackings finds Jon and Ponch assigned to the nearby highway scale station for training; Ponch tries to convince Jon that they should buy a speedboat.

Thursday, January 5th, 1978

13: One Two Many

A civilian impersonating a CHP officer terrorizes female drivers and lands Jon in hot water with Getraer; with his motorhome in the shop for repairs, Ponch temporarily moves into Jon's apartment.

Thursday, January 12th, 1978

14: Rustling

Jon and Ponch confront dirt-bike-riding cattle rustlers.

Thursday, January 19th, 1978

15: Surf's Up

The officers request a change of scenery and are temporarily assigned to beach patrol in Malibu.

Thursday, January 26th, 1978

16: Vintage '54

An 85-year-old woman reports her vintage car was stolen

Thursday, February 9th, 1978

17: Hitch-Hiking Hitch

Two teenage girls learn about the dangers of hitch-hiking.

Thursday, February 16th, 1978

18: Cry Wolf

A man calling in false alarms causes trouble for the highway patrol.

Thursday, February 23rd, 1978

19: Crash Diet

The CHP officers have to lose weight as part of a comprehensive physical conditioning program.

Thursday, March 2nd, 1978

20: Rainy Day

Jon and Ponch must carry out their patrols in a car during a rainy day and deal with a compulsive gambler and a string of carjackings.

Thursday, March 9th, 1978

21: Crack-Up

After Jon is injured in an accident, Ponch must partner with Sergeant Getraer.

Saturday, April 1st, 1978

22: Flashback!

A brash rookie patrolman causes Ponch to look back on his own early days as an officer.
Season 2
Saturday, September 16th, 1978

1: Peaks and Valleys

Central gets a new mechanic, Harlan Arliss. Ponch and Jon are accused of improperly moving an accident victim. Jon meets an old friend who tries to convince him that there are better jobs out there than CHP officers.

Saturday, September 23rd, 1978

2: The Volunteers

Jon and Ponch must take on the dangerous assignment of escorting a convoy of trucks carrying hazardous chlorine gas.

Saturday, September 30th, 1978

3: Family Crisis

Jon has to arrest his nephew after learning he and his friends were involved in stealing several cars for joyriding.

Saturday, October 7th, 1978

4: Disaster Squad

A television news crew creates negative publicity for Jon and Ponch when they air edited news segments making the officers look bad.

Saturday, October 14th, 1978

5: Neighborhood Watch

A group of skateboarding kids cause driving hazards, and a drunk-driver demands Ponch and Jon's attention repeatedly.

Saturday, October 21st, 1978

6: Trick or Trick

After stopping a speeding van carrying 13 black cats on Halloween, Ponch has an entire day of bad luck.

Saturday, November 4th, 1978

7: High Flyer

Ponch tries to get out of doing air patrol due to his fear of flying.

Saturday, November 11th, 1978

8: The Grudge

After being arrested on drug charges, five Alpha Alpha Omega fraternity brothers plan revenge on the CHP.

Saturday, November 18th, 1978

9: The Sheik

Jon and Ponch are frustrated by diplomatic immunity protecting a reckless driver.

Saturday, November 25th, 1978

10: Return of the Turks

A man pretending to be a CHP officer continually gets Ponch into trouble.

Saturday, December 2nd, 1978

11: Supercycle

Jon and Ponch pursue the Phantom, a daredevil artist who endangers bystanders.

Saturday, December 9th, 1978

12: High Explosive

After losing his job as a driver, a man steals an ambulance and fills it with dynamite.

Saturday, December 16th, 1978

13: Down Time

Ponch's vacation is ruined when a ring of car thieves steal his Firebird.

Saturday, January 6th, 1979

14: Repo Man

The officers apprehend a repo man who has been stealing cars.

Saturday, January 13th, 1979

15: Mait Team

Officer Sindy Cahill is involved in an accident that claims nearly a dozen lives. Jon and Ponch become part of the Major Accident Investigation Team to try to discover the cause.

Saturday, January 20th, 1979

16: Pressure Point

A rich businessman and his granddaughter become the target of an unscrupulous security firm. Ponch and Jon are placed on security detail.

Saturday, January 27th, 1979

17: The Matchmakers

A woman named Cora Gilford is forced to move from her home so she tries to kill herself. Derk, a 30-year motor veteran, is set to retire. The CHPs play matchmaker between Cora and Derk.

Saturday, February 3rd, 1979

18: Rally 'Round the Bank

Bank robbers use a fake bomb and a rally race to carry off their heists. Ponch receives a visit from his mother, and a safety citation.

Saturday, February 17th, 1979

19: Bio-Rhythms

A rival tries to take out a trucking company by any means necessary. Biorhythms are being charted to track highs and lows.

Saturday, February 24th, 1979

20: Quarantine

Central HQ has to be quarantined after a boy is brought in suffering from a mysterious disease.

Saturday, March 3rd, 1979

21: CHP-BMX

Jon and Sindy are training a BMX team for kids. Ponch takes care of a young boy who was caught vandalizing his school. Getraer is so distracted over his son's accident that he accidentally releases a dangerous drug dealer.

Saturday, March 10th, 1979

22: Ride the Whirlwind

Jon puts together a pilot program for a special trail bike team to deal with outlaw bikers illegally riding in the hills.

Saturday, May 12th, 1979

23: The Greatest Adventures of CHiPs

Jon and Ponch are away in Bakersfield. Sarge and their fellow officers back at Central reminisce about the past two years. The two heroes shall be honored with a special prize. This was a 90-minute clip show episode.
Season 3
not specified

0:

Saturday, September 22nd, 1979

1: Roller Disco: Part 1

Jon and Getraer ride together while Ponch is busy hunting down stars for the annual CHP roller disco.

Saturday, September 22nd, 1979

2: Roller Disco: Part 2

Jon loses the skater he's been chasing. Meanwhile, Ponch is still looking for his skater but can't find him. Jon lets troubled popstar Jimmy Tyler stay at his apartment.

Saturday, September 29th, 1979

3: Valley Go Home!

The rivalry between two teenage gangs intensifies when each blames the other for a series of robberies. Officers mediate a feud between teenagers. Ponch and Jon intervene when some irate surfers chase the Valley kids who bumped their car. Meanwhile, a couple of thieves use trash pickup as a cover to rip off beach-goers' tape decks.

Saturday, October 6th, 1979

4: High Octane

While Ponch and Jon resolve a confrontation at a gas station, Grossie and Getraer come across an accident caused by an oil truck. This episode marks Sindy Cahill's last appearance.

Saturday, October 13th, 1979

5: Death Watch

The death of a fellow officer sets Ponch and Jon on the trail of a stunt driver who instigates accidents to pay back insurance companies.

Saturday, October 20th, 1979

6: Counterfeit

A bogus clergyman prints counterfeit money that circulates to Ponch. Meanwhile, Ponch is worried that his blind date is too shallow.

Saturday, October 27th, 1979

7: Return of the Supercycle

Ponch ends up in hospital when he crashes while pursuing a jewelry thief on a motorbike. Jon and Ponch think it could be Roy Yarnell, who's back in town with his own stunt show. Meanwhile, a new female officer is interested in Jon, but his colleagues think she's there to spy on them.

Saturday, November 3rd, 1979

8: Hot Wheels

A spate of jewelry robberies is committed by thieves using city vehicles. Ponch thinks he's solved the crimes from his hospital bed. Meanwhile, practical joker Bill Clayton rejoins the team at Central.

Saturday, November 10th, 1979

9: Drive, Lady, Drive: Part 1

Ponch, Jon, Bear and Lenny go to Palma Vista to cover for the striking Palma Vista Police Department. While there, they help an orphaned 10-year-old girl find a new home, arrest a councilman's two sons and city manager's daughter on some serious traffic charges, and break up a hijacking ring. Ponch falls for a lady race car driver, but loses out in the end.

Saturday, November 10th, 1979

10: Drive, Lady, Drive: Part 2

Donna/Linda is taken back to her foster home, but Candi suspects something is wrong. Jon and Ponch catch the dune buggy, and Jon discovers the hijackers' hideout.

Saturday, November 17th, 1979

11: The Watch Commander

A new watch commander, Lieutenant Bates, tries to make sure everything runs by the rule book but eventually sees the need for flexibility. A pair of thieves are renting tractor units and stealing packed trailers from loading bays.

Saturday, November 24th, 1979

12: Destruction Derby

Ponch and Jon go undercover at a raceway to probe a drug ring.

Saturday, December 1st, 1979

13: Second Chance

Ponch and Jon try to apprehend a jewel thief who has hit several condos in Marina del Rey. A thief injures a young girl while making a motorcycle getaway. Ponch tries to befriend a recovering girl who was injured by the thief during his escape.

Saturday, December 8th, 1979

14: Wheeling

A trio of wheelchair-bound drivers create problems for Jon and Ponch both in and out of their vehicles. The father of a hit-and-run victim is determined to catch the driver responsible, with or without the help of the CHP.

Saturday, December 15th, 1979

15: Christmas Watch

A pair of thieves are robbing houses in the run-up to Christmas. Ponch is feeling down because he longs for a family Christmas and doesn't know his mother is flying in.

Saturday, January 12th, 1980

16: Jailbirds

First Jon then Ponch get put in jail for contempt of court when they refuse to name their informant. Getraer gets the rest of the team searching through parking violations to prove the defendant was no stranger to the raided warehouse.

Saturday, January 19th, 1980

17: E.M.T.

A swerving driver pulled over by Jon and Ponch turns out to be a fireman. Back at Central they volunteer for an E.M.T. course without reading the small print. The course is run by the fireman they pulled over, and he gives them a hard time. Later, Jon and Ponch save a car crash victim with a hang glider, and rescue a pair of kids from their cave-like den under the freeway.

Saturday, January 26th, 1980

18: Kidnap

A couple of kids are supposed to be touring the courthouse after winning a traffic safety contest, but, after starting one of the CHP bikes they hide in the back of Rolls Royce. Two fleeing criminals jump into the Rolls and drive off, initially unaware that the kids are in the back. After briefly losing the Rolls, Ponch decides to follow undercover in a borrowed car, and leads his colleagues to the kidnappers with his "La Cucaracha" horn.

Saturday, February 2nd, 1980

19: Off Road

Jon and Ponch enter a desert off-road race, unaware that a pair of syndicate thugs are using the race as a cover to retrieve a cache of stolen coins.

Saturday, February 9th, 1980

20: Tow Truck Lady

A tow truck driver steals cars with his tow truck to pay off a loan.

Saturday, February 16th, 1980

21: The Strippers

A Mercedes belonging to Jon's girlfriend gets stolen while they're skydiving. Jon and Ponch's subsequent investigation results in them crossing paths with a pair of narcotics officers who are investigating a similar drug smuggling operation.

Saturday, February 23rd, 1980

22: Thrill Show

A punk rock group, humorously called "The Bus Boys," is stealing from the patrons of tourist buses to get money for a demo record. Bonnie plans to leave her job on the force and join up with her former boyfriend, Crazy Ray Conner, the stunt driver with The Joey Chitwood Thrill Show.

Sunday, March 23rd, 1980

23: Nightingale

Various CHP officers encounter a mysterious female doctor who treats accident victims, then disappears before anyone gets her details. A teenage couple try to run away to Canada, but their van breaks down on the freeway.

Sunday, March 30th, 1980

24: Dynamite Alley

Bonnie flips her cruiser on the way back from Bakersfield, and the only witness is a boy she talks to on the CB. Grossman is writing an article for Highway Patrol magazine about hallucinations experienced while driving.
Season 4
Sunday, September 21st, 1980

1: Go-Cart Terror

The CHP pursues furniture thieves. Ponch and Jon prepare a go-cart team for competition while also trying to help one of its misguided members.

Sunday, September 28th, 1980

2: Sick Leave

Jon and Ponch try to help fellow officer Andy, who is pulling dangerous stunts at work, making warped judgment calls and causing a strain in his relationships.

Sunday, October 5th, 1980

3: To Your Health

Jon and Ponch help a farmer and his sisters, who have had several near-fatal accidents that look like sabotage.

Sunday, October 19th, 1980

4: The Poachers

Jon and Ponch chase poachers who sell the meat of the wild animals to restaurants. Two Native Americans assist their pursuit.

Sunday, December 7th, 1980

5: The Great 5K Star Race and Boulder Wrap Party: Part 1

A possible disaster at the fashionable Malibu beach and the department's annual charity fundraiser keep Jon and Ponch busy.

Sunday, December 7th, 1980

6: The Great 5K Star Race and Boulder Wrap Party: Part 2

Jon and Ponch continue with their evacuation program for Malibu residents. Two daredevil criminals plan their escape route from a mansion belonging to a film producer.

Sunday, December 14th, 1980

7: Satan's Angels

A gang of bikers kidnaps Bonnie. Jon and Ponch are sent to find her. Getraer's wife is in and out of the hospital on false labor alarms.

Sunday, December 21st, 1980

8: Wheels of Justice

Jon and Ponch try to get a drunken driver off the road. The staff cares for orphaned babies after an accident.

Sunday, January 4th, 1981

9: Crash Course

A car thief moves into the robbery business. Ponch has some problems to sort out with his bank account.

Sunday, January 11th, 1981

10: Forty Tons of Trouble

Jon, Ponch, and the gang try to stop a group of thieves that are stealing heavy equipment from an independent construction company owner.

Sunday, January 18th, 1981

11: 11-99: Officer Needs Help

A new system is put in use to send back-up faster to injured officers. Testing it, Jon and Ponch track down thieves that are stealing delivery trucks from loading docks

Sunday, February 1st, 1981

12: Home Fires Burning

As part of an insurance scam, arsonists start burning down mobile homes, causing chaos for Jon and Ponch. Meanwhile, they prepare for a basketball game.

Sunday, February 22nd, 1981

13: Sharks

A supposedly quiet day of scuba-diving finds Ponch and Jon face-to-face with a ring of drug smugglers and sharks.

Saturday, February 28th, 1981

14: Ponch's Angels: Part 1

Ponch and Jon are assigned to train the CHP's first female motorcycle cops.

Sunday, March 1st, 1981

15: Ponch's Angels: Part 2

The newly trained female officers nab a pair of thieves operating in and around a large marina.

Sunday, March 8th, 1981

16: Karate

Patroling his old neighborhood, Ponch encounters a boyhood friend who is corrupting local teenagers in his burglary operation.

Sunday, March 15th, 1981

17: New Guy in Town

An annoying rookie proves his worth when he saves Jon from death at the hands of the brother- and sister-in-law of a man the officer had imprisoned.

Sunday, April 5th, 1981

18: The Hawk and the Hunter

Jon and Ponch probe into a case involving an environmentalist's allegations that Baricza's father, Pete, is polluting their town with his insecticides.

Sunday, May 3rd, 1981

19: Vigilante

Ponch and Jon investigate a mysterious vandal harassing Getraer and his family. They also have to get a handle on a local community patrol operation. One of its members has become a vigilante, using excessive force while trying to fight crime in remembrance of his son who was run down by a drunk driver.

Sunday, May 10th, 1981

20: Dead Man's Riddle

A psychiatrist joining the Accident Investigation Team fears that she may have been responsible for a serious high-speed collision that the CHP is currently trying to recreate in an investigation.

Sunday, May 17th, 1981

21: A Simple Operation

Getraer injures his eye in a motorcycle accident and ends up in the hospital. A hit man thinks Getraer saw his attack and plans to eliminate him.
Season 5
Sunday, October 4th, 1981

1: Suicide Stunt

Ponch and Jon organize a stakeout to catch thieves who have ripped off a motorcycle show ticket office.

Sunday, October 11th, 1981

2: Vagabonds

A family in a camper van cause an accident to claim the insurance money. Ponch and Jon give chase.

Sunday, October 18th, 1981

3: Moonlight

Ponch and Jon investigate reports of toxic waste being dumped. Meanwhile, the other officers try to get the Sarge in on a celebration of Ponch and Jon's fourth anniversary as partners.

Sunday, October 25th, 1981

4: The Killer Indy

John and Grossie are having lunch at the Family Fun Park when Steve McLeish goes by chasing motorcycle speeders who are leaving a trail of accidents in their wake.

Saturday, October 31st, 1981

5: Weed Wars

Due to lack of laws on minors a young boy is used for drug smuggling.

Sunday, November 8th, 1981

6: Anything But the Truth

Jon and Ponch try to track down a man who is terrorising female drivers, and aren't helped by the fact that their main witness is a compulsive liar.

Sunday, November 15th, 1981

7: Bomb Run

The CHiPs have a task at a flight show. Bear meets his former girlfriend and nearly spouse Terry. Terry and her dad are planing to rob the flight show bureau. She tries to catch Bear again even she's married. Ponch takes flying lessons and is quite good, only the landings doesn't allow him to fly alone.

Sunday, November 22nd, 1981

8: Diamond in the Rough

A friend of Getraer's son is involved in an accident, while a gang of criminals plot a complex bank robbery. Getraer is giving Timmies friend a home while they're searching for his dad. Timmies friend has much problems with the role of a father as he never had one.

Sunday, November 29th, 1981

9: Finders Keepers

Steve is chased and harassed by criminals after recovering their stolen car. Jon falls for a country and western singer.

Saturday, December 5th, 1981

10: Fast Money

Hijackers use a hi-tech device in order to steal bearer bonds.

Sunday, December 13th, 1981

11: Concours d'Elegance

Jon and Ponch investigate a scam designed to skim profits from auction sales of rare antique motor cars.

Friday, December 18th, 1981

12: Mitchell & Woods

Female patrolwomen Mitchell and Woods find themselves on the trail of a murder suspect. You look for the CHiPs here? Sorry to disappoint you.

Sunday, January 3rd, 1982

13: Breaking Point

Ponch has a bad accident. After that he's not able to drive his motorbike and get's vacation from Getraer. His sister Patti visits him and both begin to think about a new start. The fellow officers have much to do to bring Ponch back.

Sunday, January 10th, 1982

14: Tiger in the Streets

Jon and Ponch pursue a vengeful mechanic and an escaped tiger. The leader of a poor conditioned animal park is blaming for that but he does not tell the police. Jon and Ponch meet a pretty deputy.

Sunday, January 17th, 1982

15: Bright Flashes

A criminal gang equipped with a powerful laser cause havoc, committing robberies and blinding witnesses. Ponch drives an Oldtimer race and Jon tries to help an old Western star who is giving up. Wayne Cato's horse has a secret that helps catching the laser attackers.

Sunday, January 31st, 1982

16: Battle of the Bands

A group of punk rockers cause trouble and get caught stealing and breaking into cars.

Sunday, February 14th, 1982

17: Alarmed

A gang is wanted for grand theft auto when they hunt down valuable cars for big money.

Sunday, February 21st, 1982

18: In the Best of Families

Jon and Ponch try to apprehend a family of car thieves who steal a CHP cruiser and commit robberies with it.

Sunday, February 28th, 1982

19: Silent Partner

Escaping car thieves injure Grossman. Jon and Ponch mistake a man with a hearing and speech defect for a drunken driver.

Sunday, March 7th, 1982

20: Flare Up

CHP officers evacuate a neighborhood where a chemical tanker overturned, spilling a potentially toxic gas.

Sunday, March 14th, 1982

21: The Game of War

Ponch and Jon have to deal with a bunch of soldiers whose war games get out of hand.

Sunday, March 21st, 1982

22: A Threat of War (a.k.a. Karate II)

Ponch and Jon tackle two karate chopping gangs. The officers meet Andy Macedon, Danny and Rivas again. A pine plant programm helps to solve the gang problems. No one believes Andy that he is no criminal anymore.

Sunday, April 4th, 1982

23: Trained for Trouble

While trained animal bank robbers make monkeys of the cops, Ponch discovers that a lookalike in CHP uniform is a stripteaser at a ladies only nightclub. The man behind the animal robberies only tries to help a woman who is badly hurt by his fault.

Sunday, April 18th, 1982

24: Ice Cream Man

An ex-CHP officer who became a criminal and then an ice-cream man gets caught up in a truck-robbing operation. The son of the ice cream man meets him believing his dad died years ago.

Sunday, May 2nd, 1982

25: Overload

Computer-theft plotters jam the CHP computer center and attempt to rendezvous with an ocean-bound yacht.

Sunday, May 9th, 1982

26: K-9-1

Ponch and Jon work with police sniffer dogs on the trail of bombs, drugs and thieves.

Sunday, May 23rd, 1982

27: Force Seven

Lt. John LeGarre(Fred Dryer), and Officers Skip Nichols (Tom Reilly) and Cindy Davis (Donna Kei Benù) belong to a secret LAPD police unit dedicated to the preservation of human life through the use of martial arts.
Season 6
Sunday, October 10th, 1982

1: Meet the New Guy

Ponch becomes the training officer of new rookie Bobby Nelson as they try to catch a pair of health-club thieves, and find a runaway teenage mother who has stolen back the baby she sold.

Sunday, October 17th, 1982

2: Tight Fit

Ponch takes a part-time job as a model for a jeans company, but he finds that he doesn't like being an instant celebrity. He discovers stardom takes him away from his real work, the rewarding job of catching a pair of diamond thieves as well as putting behind bars a sleazy photographer who's been involved in child pornography.

Sunday, October 24th, 1982

3: The Spaceman Made Me Do It

While on night patrol, Ponch and Bobby respond to a jewellery store alarm. The culprit turns out to be a young girl who claims an alien made her do it.

Sunday, October 31st, 1982

4: Rock Devil Rock

Ponch and Bobby help a rock star who claims attempts have been made on his life.

Sunday, November 7th, 1982

5: Speedway Fever

Ponch and Bobby go after a gang of high-speed bike bandits, and a young cadet at the CHP Academy tries to help his brother.

Sunday, November 21st, 1982

6: Something Special

Ponch helps children train for the Special Olympics. An old friend of Bobby's prepares for a parachute jump. Grossie buys a truckload of eggs.

Sunday, November 28th, 1982

7: This Year's Riot

On temporary duty Ponch and Bobby hunt a drug dealer and mediate a dispute over a nude beach.

Sunday, December 5th, 1982

8: Head Over Heels

Ponch meets the woman he wants to wed. But his love dies by an accident, caused by a drunken driver.

Sunday, December 12th, 1982

9: Return to Death's Door

A man blames Ponch for the death of his brother - who was also Ponch's friend - and challenges him to a race.

Sunday, December 19th, 1982

10: Fallout

Anti-nuclear protesters cause trouble for the patrol, not least due to the presence of Getraer's daughter Ellen in the group.

Sunday, January 2nd, 1983

11: Day of the Robot

Ponch and Bobby have fun with a robot assigned to their station until it becomes a threat to their lives.

Sunday, January 9th, 1983

12: Hot Date

Ponch is held prisoner in his own apartment by a couple of criminals thirsty for revenge.

Sunday, January 16th, 1983

13: High Times

Ponch and Bobby try to track down a couple of juvenile car thieves.

Sunday, January 23rd, 1983

14: Country Action

Ponch and Bobby are on the trail of a gang of cattle rustlers trying to sell cattle infected with anthrax.

Sunday, February 6th, 1983

15: Journey to a Spacecraft

Ponch and Bobby have to take care of a kidnapped dog and a sick child runaway. Kevin is dreaming from ufos bringing him away from his sickness. Ponchs friend allows him a look into the night sky.

Sunday, February 20th, 1983

16: Fox Trap

Ponch and Bobby try to prevent three female rock musicians from being victimized by an unscrupulous concert promoter.

Sunday, February 27th, 1983

17: Brat Patrol

Ponch and Bobby are on the hunt for a drug dealer, and get some help from a rag-tag gang of youngsters along the way.

Sunday, March 6th, 1983

18: Firepower

Ponch and Bobby try to catch a gang of bikers selling dangerous weapons on the black market.

Sunday, March 13th, 1983

19: Fun House

Ponch and Bobby look into a series of thefts at a local campus, while Bruce tries to find a little girl who is abducted by a woman.

Sunday, March 20th, 1983

20: Fast Company

Ponch teams up with Bruce to find the person behind a car theft.

Sunday, April 10th, 1983

21: Things That Go Creep in the Night

Ponch and Bruce try to protect a woman who is seemingly being stalked by a comic book character.

Sunday, May 1st, 1983

22: Return of the Brat Patrol

A band of teenage misfits, ex-members of Ponch's Explorer troop, returns to help him catch a group of junior-high extortionists.