update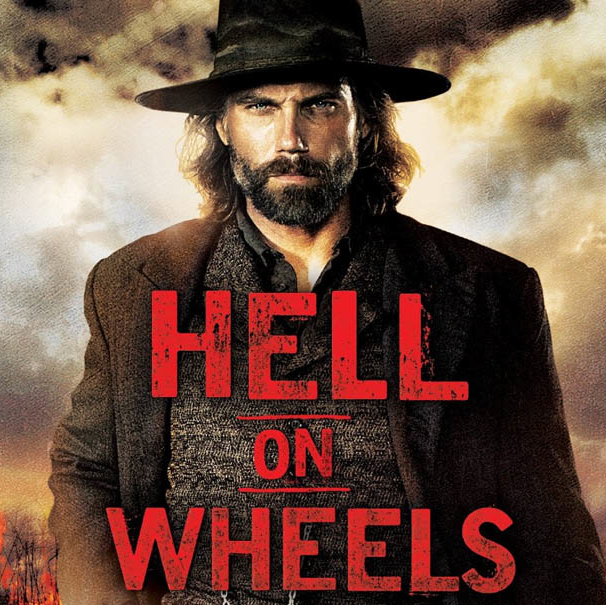 Season 0
Thursday, July 19th, 2012

1: Inside Hell on Wheels: Where Season 1 Left off

Monday, July 15th, 2013

2: Inside Hell on Wheels: Where Season 2 Left off

Anson Mount and the cast of Hell on Wheels analyze the unanswered questions from season 2.

Monday, July 22nd, 2013

3: Inside Hell on Wheels: A Look at Season 3

Anson Mount and the cast of Hell on Wheels give us a taste of what's in store for season 3.

Saturday, July 23rd, 2016

4: Inside the Final Episode

Preview of the final episode.

Saturday, July 23rd, 2016

5: The Golden Spike

Explaining the importance of the golden spike.

Saturday, July 23rd, 2016

6: Series Wrap-up

A look back at season 5.
Season 1
Sunday, November 6th, 2011

1: Pilot

A former confederate soldier journeys to the transcontinental railroad to seek vengeance.

Sunday, November 13th, 2011

2: Immoral Mathematics

Lily encounters natives in the wilderness. Cullen is questioned in regards to his recent actions against others. Meanwhile, Durant continues his push for political gain through his persuasions.

Sunday, November 20th, 2011

3: A New Birth of Freedom

When Lily goes missing, Durant organizes a search party. A subsidiary request prevents Cullen from his continued search for the sergeant involved in the murder of his wife.

Sunday, November 27th, 2011

4: Jamais Je Ne T'oublierai

Cullen's search for the sergeant nears its end; Durant keeps to his hidden agenda while assisting in Lily's recuperation.

Sunday, December 4th, 2011

5: Bread and Circuses

A bare-knuckle brouhaha between Elam and Cullen is spurred by Durant's latest attempt to deal with the railroad's financial crisis.

Sunday, December 11th, 2011

6: Pride, Pomp and Circumstance

Durant challenges the Cheyenne to a competition in an effort to bring a halt to ongoing negotiations. Meanwhile, Elam and Cullen try to prevent bloodshed in town.

Sunday, December 18th, 2011

7: Revelations

With Elam's life in the balance, Cullen must decide how much he's willing to risk. Meanwhile Durant faces financial ruin as Lily confronts the family of her late husband.

Sunday, January 1st, 2012

8: Derailed

Durant dispatches Cullen and Elam on a mission of vengeance. Lily struggles to find her place.

Sunday, January 8th, 2012

9: Timshel

A looming railroad deadline throws Cullen and Lily together; Joseph and Elam deal with what their violent mission has wrought.

Sunday, January 15th, 2012

10: God of Chaos

In the Season 1 finale, Cullen's past and future collide, impacting his life on the railroad.
Season 2
Sunday, August 12th, 2012

1: Viva La Mexico

In the Season 2 premiere, Durant and Lily steer the railroad further west, while Cullen and Elam land on opposite sides of the law.

Sunday, August 19th, 2012

2: Durant, Nebraska

Durant confronts a formidable threat to the rolling city, while a horrific crime leads Lily and Elam to join forces in order to attain justice.

Sunday, August 26th, 2012

3: Slaughterhouse

Cullen struggles to maintain order while Mickey's and Sean's lives are endangered; Lily and Elam clean up a mess of their own doing.

Sunday, September 2nd, 2012

4: Scabs

A tragedy leads Cullen to defuse an internal threat to the railroad.

Sunday, September 9th, 2012

5: The Railroad Job

Cullen's past catches up with him and threatens the fate of the railroad.

Sunday, September 16th, 2012

6: Purged Away With Blood

Despite fighting to save his own life, Durant must try to keep the railroad from going under. Meanwhile, Cullen comes to the aid of an old comrade.

Sunday, September 23rd, 2012

7: The White Spirit

In the aftermath of tragedy, Lily and Cullen struggle to maintain order in Hell on Wheels. Meanwhile, Elam makes plans for the future.

Sunday, September 30th, 2012

8: The Lord's Day

A new arrival stirs things up in Hell on Wheels, while Eva gets caught between Elam and Mr. Toole.

Sunday, October 7th, 2012

9: Blood Moon

Cullen prepares for battle while the town celebrates.

Sunday, October 7th, 2012

10: Blood Moon Rising

Cullen fights to save Hell on Wheels.
Season 3
Saturday, August 10th, 2013

1: Big Bad Wolf

After a hard winter, Cullen and Elam travel to New York to secure their positions on the railroad as Durant fights for his legacy from prison.

Saturday, August 10th, 2013

2: Eminent Domain

An unexpected roadblock forces Cullen to make a difficult choice as a reporter arrives in Hell on Wheels. Elam struggles with his new boss.

Saturday, August 17th, 2013

3: Range War

Cullen and Elam search for their stolen food on the prairie; a stranger's arrival threatens Elam's family.

Saturday, August 24th, 2013

4: The Game

Cullen and Elam try to secure a new lumber source following a railroad accident; Durant tells Louise a secret about Cullen.

Saturday, August 31st, 2013

5: Searchers

Cullen helps Elam track down a dangerous criminal; the town prepares to move down the tracks.

Saturday, September 7th, 2013

6: One Less Mule

Durant files an injunction against Union Pacific, threatening Cullen's position; Elam deals with a dangerous newcomer.

Saturday, September 14th, 2013

7: Cholera

When a cholera epidemic hits Hell on Wheels, Cullen must find fresh water before his workers die. Durant faces political fallout.

Saturday, September 21st, 2013

8: It Happened in Boston

After his workers defect to the Mormons, Cullen recruits Durant to help get them back. Meanwhile, Sean and Mickey's past comes back to haunt them.

Saturday, September 28th, 2013

9: Fathers and Sins

With General Grant's deadline only two days away, a gang of riders attacks Cheyenne while Cullen and Elam pay Durant a visit.

Saturday, October 5th, 2013

10: Get Behind the Mule

Cullen grapples with consequences while Elam mounts a rescue attempt. Durant receives Gen. Grant and the U.P. board in Cheyenne ahead of the deadline.
Season 4
Saturday, August 2nd, 2014

1: The Elusive Eden

Cullen awaits the birth of his baby, laboring under The Swede's thumb at Fort Smith. Durant deals with the fallout from a railroad accident.

Saturday, August 9th, 2014

2: Escape from the Garden

As Cullen plans an exit from Fort Smith, he challenges The Swede; when a new adversary arrives, Cheyenne feels his presence.

Saturday, August 16th, 2014

3: Chicken Hill

Cullen goes back to work on the railroad and butts heads with his new boss. Durant and Campbell battle over a valuable piece of real estate.

Saturday, August 23rd, 2014

4: Reckoning

Cullen deals with trouble at home as he takes railroad matters into his own hands. Campbell makes a move against Durant and Mickey.

Saturday, August 30th, 2014

5: Life's a Mystery

Cullens's family is at risk when a stranger arrives, stirring up old feelings; The Swede faces the consequences.

Saturday, September 6th, 2014

6: Bear Man

Following an attack by a bear, Elam struggles to survive in a Comanche village and find his way back to Cheyenne.

Saturday, September 13th, 2014

7: Elam Ferguson

Cullen attempts to reconnect with Elam upon his return. Durant takes matters into his own hands while putting an old problem to rest.

Saturday, September 20th, 2014

8: Under Color of Law

Cullen makes a decision to ensure his family's safety. Campbell hires a new federal marshal to clean up the streets.

Saturday, September 27th, 2014

9: Two Trains

Cullen goes head to head with the new marshal to recover his arrested railroad workers. Campbell confronts Louise over a story.

Saturday, October 4th, 2014

10: Return to Hell

Cullen, Durant, and Campbell try to negotiate a settlement on how the streets will be policed; an act of terror strikes Cheyenne.

Saturday, November 8th, 2014

11: Bleeding Kansas

Cullen and Durant work to save the life of a criminal; Louise supports Ruth as she copes with a loss.

Saturday, November 15th, 2014

12: Thirteen Steps

Cullen grapples with Ruth's unexpected decision; Louise jeopardizes her reputation to fight for a story she believes in.

Saturday, November 22nd, 2014

13: Further West

As the railroad prepares to leave Cheyenne behind in the Season 4 finale, Cullen returns to Fort Smith to retrieve his family.
Season 5
Saturday, July 18th, 2015

1: Chinatown

Cullen is in California with the Central Pacific Railroad, and must deal with the new workers.

Saturday, July 25th, 2015

2: Mei Mei

Cullen and Fong find themselves in peril as they transport a locomotive over the Sierra Nevada mountains. The Swede gains Phineas' trust.

Saturday, August 1st, 2015

3: White Justice

Cullen contends with violence in Chinatown set off by disgruntled railroad workers. Meanwhile, the Swede manipulates Phineas in his plot against the Mormons.

Saturday, August 8th, 2015

4: Struck

Cullen solves a Chinese labor strike in the wake of violence. Meanwhile, Durant pulls Mickey deeper into Union Pacific business.

Saturday, August 15th, 2015

5: Elixir of Life

Unexpected violence erupts in Chinatown during the festival of Tin Hau Don; Cullen confronts the Swede; and Durant involves Maggie in his latest scheme.

Saturday, August 22nd, 2015

6: Hungry Ghosts

Cullen and Mei escort precious cargo through the California wilderness; Eva nurses Louise back to health.

Saturday, August 29th, 2015

7: False Prophets

Cullen and Durant meet with President Grant to discuss the future of the railroad; the Swede puts his plan against the Mormons in action.

Saturday, June 11th, 2016

8: Two Soldiers

The Swede's murderous rampage on the Hatch homestead results in a long overdue showdown with Cullen.

Saturday, June 18th, 2016

9: Return to the Garden

Cullen faces life-changing decisions in Utah as Truckee adapts to life without him.

Saturday, June 25th, 2016

10: 61 Degrees

Cullen's nitroglycerin experiment provides an explosive backdrop for the railroad life in Truckee. Durant's plan turns deadly.

Saturday, July 2nd, 2016

11: Gambit

Durant's plot to ransom himself takes an unexpected turn when Campbell arrives in town with the Cavalry to coordinate a rescue operation.

Saturday, July 9th, 2016

12: Any Sum Within Reason

Chang force Mei to leave Truckee after discovering her secret; Cullen exorcises some old demons during his search.

Saturday, July 16th, 2016

13: Railroad Men

The race to finish the railroad comes down to inches, forcing all parties to contemplate the end of the line, and what the future holds for them.

Saturday, July 23rd, 2016

14: Done

The golden spike, government hearings and unpredictable actions mean new beginnings and endings for the survivors.