update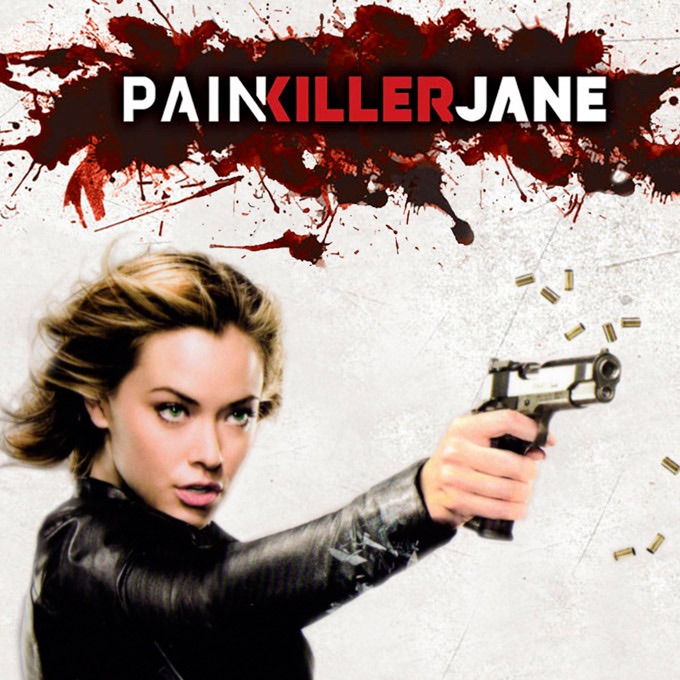 Season 0
Saturday, December 10th, 2005

1: Painkiller Jane

Special Ops Captain Jane (Emmanuelle Vaugier) is exposed to a biochemical weapon granting her recuperative powers and physical abilities. After the military discovers her new-found abilities, she escapes and uses these powers to fight crime, all the while eluding recapture by the scorned Army.
Season 1
Friday, April 13th, 2007

1: Pilot

Jane Vasco with the help of a new covert government unit must track down and contain the spread of "Neuros," genetically altered humans with extraordinary powers.

Friday, April 20th, 2007

2: Toy Soldiers

When military stockpiles start to go missing before a presidential visit, Jane and the team are forced into high alert. Meanwhile, Jane confronts a Neuro with the ability to control the dead.

Friday, April 27th, 2007

3: Piece of Mind

A Neuro with the ability to steal memory and knowledge preys on Riley putting the security of the entire operation in jeopardy.

Friday, May 4th, 2007

4: Catch Me if You Can

A Neuro who can see the future warns Jane and the team of their impending death on the day they arrest him. Meanwhile, the team is disturbed by the psychic's purchases

Friday, May 11th, 2007

5: Nothing To Fear But Fear Itself

When inhabitants of an FBI safe house start to experience unexplained dreams and visions, Jane and crew must investigate potential Neuro activity.

Friday, May 18th, 2007

6: Breakdown

While investigating psychiatric patients who share the same unusual nightmare, Jane and Maureen suspect a Neuro has the ability to use nightmares as weapons.

Friday, June 1st, 2007

7: Higher Court

The team investigate the suicides of individuals placed in witness protection and discover a Neuro who is capable of creating hallucinations.

Friday, June 8th, 2007

8: Friendly Fire

Awakening in a hospital Jane learns that she murdered Riley. Meanwhile, Maureen investigates a doctor researching Neuros.

Friday, June 15th, 2007

9: Trial by Fire

Connor is arrested for arson and murder while out hunting for a Neuro, which is believed to have started numerous house fires.

Friday, June 22nd, 2007

10: Portraits of Lauren Gray

A young woman suddenly ages overnight, Jane and Maureen go undercover to find the cause.

Friday, June 29th, 2007

11: Ghost in the Machine

Connor suffers a series of unfortunate events, believing it to be coincidental. However, he learns that members of his former police squad have died of strange causes.

Friday, July 6th, 2007

12: Something Nasty in the Neighborhood

Jane and Connor go undercover in a small town, posed as a married couple, after a federal agent's disappearance prompts an investigation.

Friday, July 13th, 2007

13: The League

An investigation is started after Neuros begin to die before the team can apprehend them.

Friday, July 20th, 2007

14: The Amazing Howie

Howie is a magician who can miraculously perform the impossible, which prompts Riley to begin an investigation into possible Neuro activity.

Friday, July 27th, 2007

15: The Healer

Sabotage hinders Jane's efforts to catch a Neuro, she becomes suspicious of a faith healer that she has been visiting.

Friday, August 3rd, 2007

16: Thanks For the Memories

Jane seeks help from a Neuro after Brian (Jane's boyfriend) and Joe forget who she is, the Neuro has the ability to remove and store memories within his mind.

Friday, August 17th, 2007

17: Playback

A Neuro causes the team to become stuck in a timeloop, causing them to relive the same day repeatedly. Meanwhile, the Neuro who caused the timeloop tries to finish an assassination.

Friday, August 24th, 2007

18: Jane 113

Jane discovers the disturbing truth about her abilities while searching for a Neuro who escaped the team.

Friday, August 31st, 2007

19: What Lies Beneath

The team respond when several incarcerated Neuros revolt and launch a prison break.

Friday, September 7th, 2007

20: The Beast of Bolnar

The residents of a small village are plagued by an invisible presence which is attacking and murdering the villagers.

Friday, September 14th, 2007

21: Reflections

Andre encounters a Neuro from his past that was chipped, but he learns that she has regained her abilities and she has a grudge.

Friday, September 21st, 2007

22: Endgame

Several dangerous Neuros launch a prison break after an emergency at NICO.