update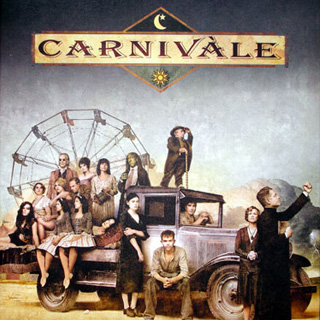 Season 0
not specified

1: The Making of Carnivàle

not specified

2: Season One Recap

not specified

3: Magic And Myth
Season 1
Sunday, September 14th, 2003

1: Milfay

Oklahoma Dust Bowl, 1934. 18-year-old Ben Hawkins is a young man whom lives with his physically sick, God-fearing mother. After his mother dies from a long illness, Ben unceremoniously buries her in the back yard of his home which is then repossessed for outstanding late payments. Ben is taken in by a traveling carnival troupe (titled Carnivale) and becomes acquainted with the residents whom include the kind-hearted dwarf owner Samson; his right-hand man and head rigger Clayton Jones; Gypsy tarot reader Sofie; the bearded lady Lila; girlie tent owner Felix "Stumpy" Dreifuss, his wife Rita Sue whom Felix solicits to some of the patrons, and their two teenage daughters Libby and Dora Mae; Gekco the Reptile Man; snake charmer Ruthie; Ruthie's son Gabriel, the low-IQ strongman; and conjured twins Alexandria (Alex) and Caladonia (Cat). Ben is revealed to have strange mystical powers of clairvoyance and healing which worry Professor Lodz, the blind mystic of the traveling troupe. Meanwhile in the small town of Mintern, California, an evangelical preacher, named Brother Justin Crowe, receives a sign when a woman vomits up silver coins that disappear before his eyes, that leaves him awakened to the possibility of mysterious powers that he has and it somehow gives him a psychic connection to Ben, both of whom have never met.

Sunday, September 21st, 2003

2: After the Ball Is Over

A practical joke which has him clean an old dirty trailer leads Ben to a piece of the puzzle of his past - a tuxedo-clad man named Scudder who Ben keeps seeing in his dreams and who may be his long-lost father. Meanwhile, Brother Justin and his sister Iris have a conversation with Justin's mentor, Reverend Norman Balthus, which makes him realize that he has a gift that he must put to use. With the help of a vision that comes to him at the right time, he persuades the owner of the local brothel Mr. Chin's to allow him to turn it into a house of worship for the local migrants. At the Carnivale, Sofie continues to tend to her comatose, telepathic mother, Apollonia, after their upsetting run in with Ben, whose powers can help, or harm.

Sunday, September 28th, 2003

3: Tipton

When the authorities of the cash-poor Oklahoma town of Tipton refuses to let the carnival set up show, Samson takes Jones' advice and temporally reinvents the troupe as a religious-revival show with Ben as the center act of a healer. In Mintern, Brother Justin's promise to the migrants of their new church upsets his regular congregation whom despise the seedy people. Meanwhile, Ben and Sofie team up to continue to search for clues about his mysterious past when they meet with an ailing old woman outside Tipton who knew Henry Scudder, Ben's father.

Sunday, October 5th, 2003

4: Black Blizzard

On the road to Babylon, Texas, the carnival encounters a horrific dust storm, called a 'black blizzard.' Intrigued with clues about his past, Ben follows Lodz into an abandoned house where the seer tests Ben's powers. Meanwhile, a lonely Sofie socializes with a handsome café owner. Samson visits an old flame while Jones, facing a roustabout mutiny of the carnies, comes up empty in his effort to meet with the mysterious and godly Management which controls Carnivale. In Mintern, Brother Justin struggles with an ultimatum by Reverend Norman Balthus: give up his new migrants ministry at Chin's, or face losing his old congregation at First Methodist.

Sunday, October 12th, 2003

5: Babylon

The carnival finally arrives in Babylon, a tapped-out silver mining town in rural Texas with few inhabitants. Samson tries to improve the troupe's spirits with a night of revelry at the local bar while Sofie and Libby (one of the chooch dancers) get closer and decide to attend the local cinema. Eventually, a group of restless miners arrive in time for the chooch show, but with drastic consequences when they start a riot. Meanwhile, Ben has an enlightening experience at the bottom of a mineshaft where he has a vision of the mysterious Scudder fighting in the trenches of World War I.

Sunday, October 19th, 2003

6: Pick a Number

Thirsty for payback after the murder of Dora Mae Dreifuss, one of the chooch dancers, Samson and the rest of the carnies, including Stumpy Dreifuss and Rita Sue, get caught up in an obscure, but fascinating phenomenon called "Carnival Justice" to root out the person responsible. Meanwhile, Ben's dark adventure in the mine shaft ends where Lodz welcomes him back into the fold. In Mintern, Brother Justin, highly distraught over the mysterious fire that destroyed Chin's and killed six homeless children, leaves the town and wanders in the wilderness, where he meets a group of hobos around a camp fire where one of them is an undercover reporter.

Sunday, October 26th, 2003

7: The River

While Brother Justin rediscovers his "birthright" on the banks of a river, Iris gets some unexpected support from an attentive radio reporter, named Tommy Dolan, whom offers to spread the word about Brother Justin's parish. At the carnival, Rita Sue and Stumpy argue over their family's future where she, afraid that the family will end up on the breadline, argues with Stumpy over leaving the carnival and moving to Hollywood. Meanwhile, Ben and Ruthie go hunting for snakes to use in her act, and Ben is forced to use his powers to heal Ruthie's simpleton son, Gabriel, after he injures himself, at a cost of several dead fish. Also, Samson goes to work on the bally, and Libby and Sofie see stars (and romance) on the western horizon.

Sunday, November 2nd, 2003

8: Lonnigan, Texas

Samson sends Ben on a road trip to enlist a new attraction, where Ben encounters a longtime carnival rival named Phineas Boffo. Back at the carnival, Sofie debates whether to defy her mother and join Libby on the bally of the chooch tent. Meanwhile, Stumpy tells Jones he needs to get his "candle waxed" and offers to set Jones up with Rita Sue. Lodz and Samson have a falling out over Ben's errand in which the old mystic turns to the mysterious Management. In Mintern, while Brother Justin is committed to a lunatic asylum and receiving treatments for "religious excitation," Tommy Dolan is posing a rallying cry for his radio listeners: "Where are you, Brother Justin?"

Sunday, November 9th, 2003

9: Insomnia

Ben tries to stave off the torments of his dreams by staying awake, but the lack of sleep is taking its toll. Meanwhile, Samson looks to drum up new business by resurrecting several tried-and-true scams, including "turtle boy" and "man eating chicken". Lodz warns a distrustful Ben about the dangers of not practicing his "gift." Sofie worries that her mother is losing touch with reality after she has a vision about her father raping Apollonia. Ben marvels at Ruthie's new snake-charming routine, and Lodz's psychic act gets a jolt from a mysterious source. In Mintern, Iris reaches out to Brother Justin over the radio airwaves who's still in the asylum, and Tommy gets a surprise reaction when he makes a pass onto Iris.

Sunday, November 16th, 2003

10: Hot and Bothered

Brother Justin returns to Mintern from his stay in the asylum to chart out a new direction for his ministry. At the Carnivale, Samson's loss is Lodz's gain when the blind mystic takes Samson's place as the liaison to Management. Libby catches on to her mother's deception of her lustful fling with Jones, while Sofie accuses Apollonia of "breaking the rules" when she forces Sofie to tell the truth to their tarot clients about their bleak futures. Ben and Samson come up empty in search of information about Scudder's whereabouts when they visit one of Scudder's hangouts; a men's club called the Templars Club. Stumpy takes his lumps in enlisting a new dancer, a Mexican waitress named Catalina, whom he runs into during a drunken bender in the troupe's New Mexico town. Also, Lodz and Lila wait for Ben to finally succumb to sleep, with a little of Ruthie's help, so Lodz can probe Ben's dreams.

Sunday, November 23rd, 2003

11: The Day of the Dead

With Management's blessing, Lodz hatches a devious plan to "reach" Ben, who is vulnerable after letting his guard down after his night of seduction with Ruthie. Rita Sue upstages Catalina's debut routine in the Gay Paree tent. Meanwhile, Sofie reads Stumpy's cards and doesn't like what she learns, and Ben learns that some wounds aren't easy to heal. In Mintern, Reverend Balthus is concerned about the influences surrounding Brother Justin, as well as some fiery allegations that Tommy Dolan threatens to make public that the fire that burned down Chin's was an inside job. For her part, Iris proves she'll do anything to advance her brother's career and reveals that she was the one responsible for the fire in order for Justin to turn to his dark side.

Sunday, November 30th, 2003

12: The Day That Was the Day

Faced with a crisis of life-and-death proportions of whether or not to cure Ruthie from a snake bite, Ben turns to Lodz for advice, and he ends up talking with the mysterious and unseen entity, Management, for the first time. Meanwhile, Stumpy and Rita Sue strike a deal with each other, and Jones, to save their marriage. Samson covers for Ben when a Texas Ranger comes looking for Ben in which Samson learns that Ben is a fugitive for a murder charge which he did not commit. Sofie settles a score with Libby and Jones by seducing Libby in order for Jones to find out after learning that he's been seducing Rita Sue. But the consequences are when Sofie finds herself in the grips of Apollonia's fury for this sapphic act. In Mintern, Reverend Balthus and Brother Justin contemplate the former's "greatest evil," with the latter pondering the prospect of salvation versus damnation among his congregation.
Season 2
Sunday, January 9th, 2005

1: Los Moscos

As the spiritual powers of Ben Hawkins evolve, the entity Management reveals it's identity to Ben, (the Russian soldier in Ben's dreams) and then exposes him to a vision of the cataclysmic disasters (a nuclear explosion) that awaits the world if Ben doesn't identify and conquer his nemesis: Brother Justin, the creature of darkness. In order to do this, Ben must find his father, the elusive Henry Scudder, who holds the knowledge of the preacher's identity and location. In the aftermath of the fire which killed Apollonia, Samson covers for Ben by claiming that he died in the fire to get rid of the Texas Ranger still hanging around the troupe, and Samson helps Ben hide the dead body of Professor Lotz, while Lila becomes concerned for the missing Lotz well being. A distraught Sofie runs away, leading a guilt-ridden Jonesy to assemble the carnies to go out looking for her. Meanwhile, Brother Justin's radio sermon has employed two new "apostles"; an occultist named Wilfred Talbot Smith, who aids Justin that he must kill Henry Scudder to become a true immortal, and a prison inmate named Varlyn Stroud whom is also "called" by the mesmerizing Justin's voice. Reporter Tommy Doyle continues to investigate the Chin's ministry fire, while Justin and his sister Iris use the radio to continue to spread the word, drawing throngs of weak and impoverished masses into their spiritual web, while Reverend Balthus suffers from a stroke.

Sunday, January 16th, 2005

2: Alamogordo, NM

Ben travels on his own to Alamogoro to seek out Father Kerrigan, a former preacher residing in a lunatic asylum, and who knew his father who tells him to beware of a mysterious tattooed man that both Ben and Brother Justin see in their dreams. Back at Carnivale, Stumpy continues his pursuit of Rita Sue and Libby's well being by gambling. Ben finds a distraught Sofie wondering on the road and brings her back to the troupe, while nobody realizes that although Sofie's mother is dead, her ghost (whom only Sofia and see and hear) still lingers around her. Still worried about the missing Lotz whereabouts, Lila looks through his trailer and finds that he couldn't have left at all. Sofie's comes to a decision about where she stands with Carnivale by doing some manual labor, which upsets the other men in the company. Meanwhile, Stroud breaks out of prison to begin his mission for Brother Justin. In Mintern, Justin and Iris start to make groundwork on the location of his latest ministry, the Temple of Jericho, while Dolan continues investigating the Dignity Ministry fire. Also, Justin starts paying late-night visits to Mintern's Chinatown, to a tattoo artist...

Sunday, January 23rd, 2005

3: Ingram, TX

When Carnivale sets up show in Ingram, Texas, Ben sets out to find some people who knew Scudder and stumbles into a bizarre moonshiners camp which proves both painful and revealing. Meanwhile, Stroud continues his quest to find Scudder by investigating the mining accident in the ghost town of Babylon. At Carnivale, Sophie still refuses to read Ben's future through the tarot cards, but the cards soon reveal something without Sofie's assistance. Ruthie's luck with her snake charming skills seem to be turning against her. Stumpy pitches Rita Sue and Libby to an underage audience, and he later gets a visit from a menacing bookie looking to collect. In Mintern, Tommy Dolan continues his investigation into the arson incident, while Brother Justin takes the catatonic Reverend Balthus under his wing, as well as takes advantage of his young and naive new housekeeper, Celeste.

Sunday, January 30th, 2005

4: Old Cherry Blossom Road

Still held captive in the moonshiners camp, Ben meets his blind and elderly grandmother who reveals some family secrets and a mysterious face of death. Meanwhile, Lila confides in the rest of the riggers that she suspects Samson was responsible for Lotz demise. Jonesy instructs Sofie to dig a large hole in the ground. In Mintern, Justin continues his mesmerizing evil sermons to his Temple of Jericho congregation where he has a seizure when he has a vision of the threat that Ben poses to him. In Los Moscos, New Mexico, Stroud reports his progress to Justin who advises him to turn his search to looking for Ben Hawkins. Iris tries to cover-up her own secrets from Dolan while imploring Justin not to keep secrets from her. Ruthie continues to see visions of the diseased Lotz and Apollonia, while Stumpy's moneymaking schemes begin to wear on Rita Sue and Libby.

Sunday, February 6th, 2005

5: Creed, OK

When the Carnivale stops outside Creed, Oklahoma, they receive an uninvited visitor: Varlyn Stroud who begins asking questions to Jonesy, and later to Samson, about where to find Scudder. Meanwhile, Rita Sue bails out Stumpy for his $400 gambling dues, but he bets (and loses) all of the money on a big fight anyway. In Mintern, Justin pushes Dolan to make a decision while Iris confesses to Dolan about being the one responsible for the ministry fire. Back in Creed, Ben pays a visit to an elderly mask-maker for information about Scudder, which turns into a literal nightmare. Ruthie confides in Sofie about her visions of seeing dead people, including Lotz and Apollonia. Sofie also finally reads tarot cards for Ben who thinks he finally knows where to find Scudder. At the end, Justin receives a mysterious gift: a death mask of himself and when he puts it on... he sees Ben.

Sunday, February 13th, 2005

6: The Road to Damascus

On the road to Damascus, Nebraska, Samson and the troupe stop to help when they run into a rival troupe that has fallen on hard times. In Mintern, Dolan tries to help Iris and Justin find a solution to their legal problems while Iris is surprised when she learns of Justin's real plan: to frame Dolan for the ministry fire. Back at Carnivale, Rita Sue learns that Stumpy lost all of their money with gambling while he and Jonesy come to blows over Rita Sue. Ben and Sofie decide to explore their growing romantic relationship with sex when she tells him that she intends to leaves Carnivale and wants him to come with her. Also, Ruthie appears to have a psychic connection with Lotz when she briefly speaks in his voice to Lila. Also, Ben finally decides to go on ahead towards Damascus when he learns from Sampson about Stroud who's on Scudder's tail.

Sunday, February 20th, 2005

7: Damascus, NE

When Carnivale finally arrives in Damascus, Ben gets closer to finding his father when another vision of a man with the shredded face leads him to the town's seedy hotel. Ben then goes to investigate further, and finally meets his father, who is working as a clerk at the hotel. Meanwhile, Bishop McNaughton arrives at Brother Justin's new residence at the Temple of Jericho at New Canaan where he puts Justin on notice about the content of his sermons. Back at the Carnivale, Jonesy cannot get the departed Sofie out of his mind, while Libby and Rita Sue continue their war of words. With Ben unaware that Stroud is on his trail, Ben learns more about who he is when he brings Scudder to Management. He learns that Scudder is Management's evil opposite. Also, Libby and Jonesy finally 'get it on' over their growing attraction to each other.

Sunday, February 27th, 2005

8: Outskirts, Damascus, NE

Ben and Samson have a heated argument over some bad news that Ben tells him about the death of Management, and Samson learns from Ruthie about seeing Stroud abduct Scutter. Ben suggests that they must track down Stroud at once so he will lead them to Brother Justin. Meanwhile, Iris and Justin back a local politician while Justin reveals his evil side to Reverend Balthus. Back at Carnivale, Rita Sue tries to play hardball with Bud, Stumpy's debt collector, by showing him who's the boss. Libby shocks her parents by revealing that she and Jonesy got married after a drunken night out, which prompts Stumpy to stage a dinner with them. In New Canaan, Wilfred Talbot Smith arrives with more bad news that he's interpreted a bad sign for Justin that his enemy has the power to destroy him with a special dagger. Lila offers to support Ruthie over her recent emotional status. At Carnivale, Jones is blamed for an accident when a car on the Ferris wheel collapses, and Ben resorts to draining the life force from a young woman to save the life of her son. At the end, Sofie finds a new job: as the new house maid for Brother Justin.

Sunday, March 6th, 2005

9: Lincoln Highway, UT

While driving down a desolate highway in rural Utah on his trail of Stroud, Ben comes across Jones and Libby, the victims of a vigilante group blaming Jonesy for the Ferris wheel accident, leading to Ben to try to heal Jonesy. Back at Carnivale, Ruthie has another possession by the deceased Lotz who leaves a lipstick message that Sofia is the Omega. Lila then tries to reach the deceased Lodz. At the Canaan camp, the invalid Reverend Balthus takes a shot at Justin during his fiery political sermon, and when chaos breaks out, Justin shocks the crowd with forgiveness. Meanwhile, Iris takes Eleanor on a picnic where she makes the mistake of confining in Iris that she suspects that Brother Justin is actually a demon, and Iris pays her back by revealing that she already knows... and then kills her. Sofie finds salvation in her new work for Brother Justin. On the road, Stroud lets the morphine flow for the captive Scudder, while Ben tries to get a head on Stroud's whereabouts.

Sunday, March 13th, 2005

10: Cheyenne, WY

Following another one of Ben's visions, he and Joney set out to find Stroud and they soon arrive in the Wyoming state capital where from a discarded newspaper in a recently vacated hotel room, they finally learn the name and location of Ben's nemesis. Back at Carnivale, Libby struggles to stick to her alibi that Jones concocts for them, but lets the story about Ben slip to her mother. Samson then has a heart-to-heart talk with Libby about Ben's magical abilities. At Justin's ministry camp, Stroud arrives and finally meets his evil master face-to-face. There, Wilfred Talbot Smith intercepts a near disaster for Justin and reneges on a deal with Scudder, who plans an escape... but Justin does a little backseat driving. Also, Iris discovers that Sofie is actually Justin's illuminate daughter, while Stroud increases security for Justin.

Sunday, March 20th, 2005

11: Outside New Canaan

When Samson announces that the carnival's next stop is in the Christian camp of New Canaan, California, both Lila and Stumpy challenge his authority. Jones arrives back with the troupe and gives Samson the information what he and Ben found about Brother Justin. Meanwhile, Libby urges Jones to reveal the secret of Ben's powers to the rest of the troupe, despite Samson's protest. While Ben infiltrates Justin's ministry camp to look for him, he finds Sofie being baptized as a new converts when a new tragedy rises from the pond... in the form of the murdered Eleanor. Later, Justin is startled by a development in the migrant camp when Samson and Jones arrive and persuade Iris to let them set up shop there. That night, when Ben wants to make his move to kill Justin, Jones intervenes and urges patience.

Sunday, March 27th, 2005

12: New Canaan, CA

In the cliff-hanging season finale, Samson devises a grand plan by scheming with Ben, Jones, and the entire troupe to lure Brother Justin to Carnivale for his confrontation with Ben. Meanwhile, Stroud wants to protect Justin who correctly suspects that the carnival is setting a trap for him. Sofie finds herself locked in a dark shed after she tells Justin her conflicted thoughts about where her loyalties lay, and soon becomes terrorized by ghostly visions of her mother. Rita Sue is touched by Samson's generosity of giving her the money needed to pay off Stumpy's loan shark. Later, the final confrontation approaches when Brother Justin persuades Iris to overcome her fear of heights by riding the Carnivale Ferris Wheel where Jones traps both of them in for Ben to drain Justin's powers, and Ben performs his most important healing of Reverend Balthus, leading to Ben and Justin finally meeting face-to-face, and the visions of Ben and Justin becoming full circle. At the same time, Joney sets out to rescue Sofie from Stroud, but soon realizes (way too late) that she has made her choice to which side her loyalties are.