update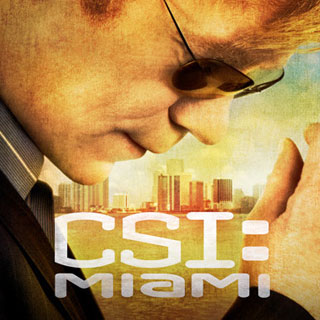 Season 0
Thursday, May 9th, 2002

1: CSI: Crime Scene Investigation - Cross-Jurisdictions - Pilot

This is actually CSI Season 2 Episode 22 but also served as the pilot episode for CSI: Miami. In this episode, Grissom and his crew handle their highest profile case to date when the city's former chief of detectives is slain execution-style in his house following a wild party. Missing from the residence are the chief's trophy wife and their 7-year-old daughter. Catherine and Warrick follow the trail to Miami, and soon enlist the help of Horatio Caine.
Season 1
Monday, September 23rd, 2002

1: Golden Parachute

Megan Donner returns to the CSI unit in time to work on a jet crash in the Everglades. While searching for survivors, they inexplicably discover a female victim found five miles from the crash site. When the only survivor says the woman opened the plane's hatch in order to commit suicide, Horatio is suspicious. The team must now recreate what happened on that fatal flight, especially when the pieces don't quite fit together.

Monday, September 30th, 2002

2: Losing Face

A serial bomber is on the loose. Will the team with the help from Caine's old bomb squad mentor be able to work out the puzzle and find the bomber?

Monday, October 7th, 2002

3: Wet Foot/Dry Foot

An arm in a shark's gullet and a girl who was shot at sea lead the team to a smuggler who was running Cuban refugees and cocaine in a foundering ship.

Monday, October 14th, 2002

4: Just One Kiss

A dead man with a slit throat and a partially burned face is discovered on a Miami beach, along with an unconscious young girl who was beaten and thrown into the ocean. The investigation leads Horatio to a prominent Florida family and its steely patriarch, who was once involved in a mysterious case that has plagued Horatio for years.

Monday, October 21st, 2002

5: Ashes to Ashes

When a priest is found dead in his rectory after being brutally shot, Megan, Calleigh and Speedle must untangle a messy web of familial issues that lead to his death. Elsewhere, Horatio and Eric attempt to solve the emotional case of an exploded vehicle, which was home to a mother with child.

Monday, October 28th, 2002

6: Broken

The whole team investigates the crime scene of an indoor amusement park when a young girl is found dead in the bathroom. They must track down the relentless man responsible for the heinous crime quicker than usual, as everyone on location has been detained until they can be cleared. What looks to be like a regular attempted kidnapping turns out to be much more than any of the detectives had bargained for.

Monday, November 4th, 2002

7: Breathless

Horatio, Calleigh and Speedle investigate the death of an exotic male dancer found dead after a sexual party, and must dig through the evidence to discover a motive. Meanwhile, Eric and Megan investigate the death of a man involved in diving that mysteriously died after climbing onto a random boat.

Monday, November 11th, 2002

8: Slaughterhouse

Horatio and his team must uncover the evidence in the brutal murder of an entire family in their own home. The only survivors are a blood-soaked toddler, and the father who's in surgery. The immediate assumption is that the mother is responsible – post-partum depression – but the evidence discloses a different outcome.

Monday, November 18th, 2002

9: Kill Zone

During a typical morning rush hour in downtown Miami, an unseen sniper chooses three victims at random and opens fire, killing each with a single shot to the head. Horatio and his crew rush to the scene, which is quickly mobbed by TV news reporters eager to spin the murders into a national story. The initial investigation doesn't reveal much, as there were no witnesses and little evidence remains. But the case heats up when the sniper strikes again, killing two more innocent people.

Monday, November 25th, 2002

10: A Horrible Mind

Horatio, Speedle and Calleigh root through the evidence in the homocide of a strange, and unorthodox college professor when they find him tied to a tree. Elsewhere, Delko and Megan investigate a car found in the water with a dead body in the trunk, and immediately suspect an insurance scam.

Monday, December 16th, 2002

11: Camp Fear

The team investigates the death of a young model, whose body was found near a juvenile detention camp for girls. Across town, Delko and Speedle probe the bizarre death of a man who was apparently burned from the inside.

Monday, January 6th, 2003

12: Entrance Wound

Horatio and Speedle investigate the slaying of a hooker who is found dead under a bed in a plush beachside cottage, her naked body having been stabbed 23 times. But the crime scene yields few traces of blood because the killer bathed the victim in the cottage's tub with cardamom soap. Across town at an urban gas station, Calleigh and Delko attempt to uncover why a German tourist was gunned down in an apparent carjacking. They learn that a masked assailant approached a vacationing couple's rental car, shot and killed the husband, but left the wife unharmed and then fled the scene.

Monday, January 27th, 2003

13: Bunk

Horatio investigates the death of a man who accidentally inhaled a lethal combination of chemicals in a neighboring house after he went inside to retrieve his cat. Elsewhere, a resident of a retirement community is found dead in a pool of blood, an apparent victim of a vicious attack.

Monday, February 3rd, 2003

14: Forced Entry

A nude man is found tied to his bed, having suffocated on a rag stuffed in his mouth while he was being sexually assaulted. Meanwhile, while investigating the murder of a crematorium owner, the CSIs discover dozens of bodies that were never cremated.

Monday, February 10th, 2003

15: Dead Woman Walking

A dead junkie is found on a Miami street with a broken neck and a wad of cash in his hand. When the body is taken to the lab, Alexx notices that the victim's right hand is burned down to the muscle, even though it wasn't like that when he was found. It's deduced that he was exposed to radioactive material. The investigation leads Horatio to an environmental lawyer involved in radiation cases. Shortly thereafter, she learns that she is being eaten up inside by the deadly substance and has only days to live, but she doesn't know how she ingested it or who gave it to her.

Monday, February 17th, 2003

16: Evidence of Things Unseen

Horatio and his team investigate after a Russian immigrant is stabbed to death in a peep-show booth, and the only witness to the crime is the stripper who was performing for him.

Monday, February 24th, 2003

17: Simple Man

Shortly before Horatio is set to testify at a high-profile murder case in which the defendant is the husband of a city councilwoman, he's given new facts that could prove the man is innocent. The information revolves around the discovery of a second victim who matches the profile of the first one and was killed in a similar manner. If the man on trial isn't guilty, then Horatio fears that a serial killer may be on the loose.

Monday, March 10th, 2003

18: Dispo Day

The investigation into a drug heist offers brief glimpses into the private lives of the CSIs, whose nerves are on edge when they become suspects in the crime they're trying to solve. A police convoy headed across town includes an unmarked truck filled with confiscated drugs being taken to an incinerator to be destroyed. The trip ends abruptly when thieves hijack the vehicle, kill its driver and shoot Speedle, who was riding shotgun. It's hard for Horatio when the media draw comparisons to a similar case several years ago in which his brother, an undercover cop, was killed. But it's worse for his team when Internal Affairs decides that one of them tipped off the robbers about the delivery.

Monday, March 31st, 2003

19: Double Cap

Horatio battles the FBI and U.S. Marshals as he tries to uncover why a woman was murdered at the side of a pool at a hotel. The investigation begins shortly after the woman is found dead from two shots to the head. The evidence suggests that it was a professional hit man, which is strange enough, but the case becomes additionally puzzling when the Feds and U.S. Marshals get involved. Plus, the murder weapon is linked to a cold case that was orinially investigated by Yelina. Meanwhile, Calleigh talks to her dad about his drinking problem after she's called away from work to drag him out of a bar.

Monday, April 14th, 2003

20: Grave Young Men

Horatio is approached by a parolee he helped put away several years ago, who begs for his assistance in finding his missing teenage son. As the investigation gets underway, Horatio discovers that the boy may be planning a deadly assault at his high school. Meanwhile, as Speedle investigates a man's death, the victim's flirtatious girlfriend, who was there when he died, tries to play on Speedle's obvious attraction to her.

Monday, April 28th, 2003

21: Spring Break

The team investigates the deaths of two college students who were in Miami on spring break. The first is a teenage girl found dead on a beach with her neck broken and human bite marks on her legs. The second is a young man found in the bottom of a hotel swimming pool who apparently died before he hit the water.

Monday, May 5th, 2003

22: Tinder Box

Speedle and Delko are present when a trendy nightclub catches fire, apparently from a DJ's pyrotechnics display, killing sixteen people and injuring dozens of others. But the ensuing investigation reveals it may have been arson to cover up a murder. Meanwhile, Horatio probes the death of a prostitute whose body is found in the bathroom of a judge's home and evidence suggests that she was in the club during the fire.

Monday, May 12th, 2003

23: Freaks and Tweaks

An explosion in a rundown barn nearly kills Horatio and his crew just after they find a dead man inside, bound with duct tape. The case gets personal for Horatio when he discovers that the leading suspect knew his late brother. Meanwhile, Alexx is shocked to learn that her best friend's husband has been murdered, apparently the victim of a random shooting.

Monday, May 19th, 2003

24: Body Count

An inmate at a massive Miami prison complex is stabbed to death in the prison yard. Shortly after Horatio arrives on the scene, a helicopter appears above the correctional facility. He immediately fears that the murder was a decoy to set up an escape. That's confirmed as three prisoners hop aboard the chopper and flee. As the investigation gets underway, the identities of the fugitives become known and a horrible realization sweeps over Horatio: two of the escapees are cold-blooded killers who already have their next victims picked out, and the other is a child molester who he recently put away.
Season 2
Monday, September 22nd, 2003

1: Blood Brothers

Horatio investigates the murder of a model intentionally run down outside of a Miami hotel by a driver who fled the scene. When the evidence leads to a suspect, governmental red tape puts an unexpected twist on the proceedings. Horatio and Yelina begin to confront their feelings for one another.

Monday, September 29th, 2003

2: Dead Zone

The body of a man involved in recovering sunken treasure is discovered pinned to the wall of his new cabin cruiser by a bloody spear fired from a speargun at close range.

Monday, October 6th, 2003

3: Hard Time

Horatio hunts for the person responsible for a vicious attack on a woman who was lured to a vacant condo and beaten with a piece of lumber.

Monday, October 13th, 2003

4: Death Grip

When a teen tennis phenom is abducted from her bedroom, the investigation leads to the waterways when a girl's arm is recovered in the belly of a alligator. Delko calls for an expert - his old college buddy and now alligator expert Jeff Corwin to assist.

Monday, October 20th, 2003

5: The Best Defense

The two young owners of a city bar are gunned down after hours and another man is wounded in the attack, which was allegedly committed by a masked gunman. Meanwhile, Calleigh's dad announces he is now a public defender and needs her help with a murder case in which a woman allegedly stabbed her boyfriend to death in his car with a screwdriver.

Monday, November 3rd, 2003

6: Hurricane Anthony

A man and his wife are trying to drive out of a hurricane's fury when they strike and kill a man in the blinding storm. Horatio finds that the lack of impact wounds on the victim's knees suggest that he struck the car as opposed to the car striking him. Meanwhile, in a seemingly unrelated case, Horatio finds another victim of the hurricane impaled on a fence. However, as the CSIs uncover the scattered remains of the post-storm evidence, it seems that these two cases may have a deadly connection. Meanwhile, after Calleigh witnesses a man looting a house, she realizes that she's got another case on her hands when she finds his ex-wife inside shot to death.

Monday, November 10th, 2003

7: Grand Prix

A gas man is engulfed in invisible flames and dies during a qualifying race at the Grand Prix Americas.

Monday, November 17th, 2003

8: Big Brother

Horatio is driven to find his brother's killer and protect the niece he never knew existed when a woman shows up with Ray's illegitimate child. The team explores a voyeuristic Internet site in connection with a stockbroker's murder.

Monday, November 24th, 2003

9: Bait

A young woman is attacked by a shark and later dies, but it's discovered that she was shot first. The case becomes even more difficult for the CSIs when one of their coworkers becomes a leading suspect. The dead woman worked for a private-investigation agency that specializes in luring and entrapping married men suspected of infidelity.

Monday, December 15th, 2003

10: Extreme

A young woman is thrown over the railing of a parking garage, but the investigation into her death uncovers evidence that she was killed before the fall and had likely been kidnapped. The victim's watch is traced to her boyfriend, who tells the detectives that she was a thrill seeker who was abducted during the course of an extreme kind of role-playing game. Meanwhile, Delko gets into trouble when he inadvertently interferes with a case after stumbling across a car-theft ring.

Monday, January 5th, 2004

11: Complications

An anesthesiologist who worked in a beauty clinic is discovered swinging from a rope in his two-story condo, but the investigation points to murder, not suicide. The case intensifies when it's learned that the doctor lost a patient the week before during routine plastic surgery and that the victim's husband believes she was killed.

Monday, January 12th, 2004

12: Witness to Murder

A diamond broker carrying two million dollars in merchandise is murdered after his car is hit by another vehicle and he gets out to confront the driver. The only witness to the crime is a developmentally challenged man who says the killer is someone named Colton. Meanwhile, outside of town, Speedle and Delko investigate the death of a teenage girl discovered at a rest stop with a broken neck. Shortly after the victim is taken from the scene, her body disappears during transport to Miami.

Monday, February 2nd, 2004

13: Blood Moon

A cigarmaker is found in his store tied up, beaten, mutilated, and murdered with a chaveta, a cigar-making tool featuring a rounded blade. The investigation leads Horatio to a group that helps Cuban refugees. Across town, a 25-year-old man is gunned down while withdrawing money from an ATM, but the motive doesn't appear to be robbery since the cash he withdrew is left behind.

Monday, February 9th, 2004

14: Slow Burn

Delko and Alexx are nearly burned alive when they investigate the death of a hunter found shot near a supposedly controlled burn in the Everglades. The fire suddenly rages out of control and traps them, forcing them to take refuge under a tarpaulin. Later, a second body is discovered, and this time it's a young woman who looks to have been beaten to death. After bite marks are found on the victim's breasts, Horatio is led to believe a sex offender is behind the attack – and the fire.

Monday, February 16th, 2004

15: Stalkerazzi

A celebrity photographer is found dead in his car following an accident, but Horatio believes he was murdered. The investigation leads to an A-list movie star who was caught in a compromising position in photos taken by the paparazzi.

Monday, February 23rd, 2004

16: Invasion

When a former surf champion is murdered in his home, the CSIs are determined to find the killer. Ted Henderson is killed in his own home and his body is missing, while his wife and son are left beaten and bound. While searching the home, Horatio finds heroin in the son's room and learns that he is secretly a drug dealer. Meanwhile, the CSIs find a home pregnancy kit in the bathroom that reveals Ted's wife is pregnant, but Alexx finds proof that the baby could not possibly be Ted's. Now, Horatio and the team find evidence that suggests that someone at Ted's surfboard manufacturing plant was not only the son's supplier, but may have a strong motive for the murder as well.

Monday, March 1st, 2004

17: Money for Nothing

Horatio is quick on the scene when an armored truck carrying $3.2 million is robbed in a daring downtown heist. During the holdup, the driver is killed and Horatio guns down one of the two thieves. The other escapes with the loot, but the money turns out to be counterfeit. The team must figure out what happened to the bank's money before it was replaced with fake bills. Making the day even worse for Horatio, Yelina spies him with his niece and assumes the girl is his illegitimate child, not her own late husband's daughter.

Monday, March 22nd, 2004

18: Wannabe

Horatio and Speedle's case hinges on the testimony of a forensic-evidence enthusiast who stole a blood-drenched latex glove from the scene of the murder of a man who was stabbed to death with a butterfly knife. When Speedle tracks him down, the CSI wannabe is impressed by the ease with which Speedle was able to locate him, and the two begin to develop a slight bond when he shows up at the crime lab the night before he is set to testify. However, their relationship is cut short when the young man is found dead in his forensics-shrine of a home. Meanwhile, Delko and Calleigh probe the shooting death of a young woman whose body is found wrapped in a plastic garbage bag in a dumpster near the ritzy Miami club where she worked.

Monday, March 29th, 2004

19: Deadline

Josh Dalton, a hot, young reporter for the Miami Sun, witnesses the murder of his friend, a city councilman's aide, in Miami's drug district, the Golden Triangle. Josh, who was suspiciously unharmed in the attack, claims that they were only down there on a story, but Horatio believes that there's more to the situation. Later, another writer from the same paper is found shot to death inside the trunk of her car, which was reported stolen. Now, as the evidence rejects Josh's version of what happened, the CSIs find themselves entangled in the world of fast-paced journalism and learn that there is a dangerously fine line between the truth and what sells newspapers.

Monday, April 19th, 2004

20: The Oath

A police officer collapses and dies after pulling over a car, and the investigation reveals he was murdered. Horatio grows suspicious when Internal Affairs gets involved in the case, leading him to believe that the killing wasn't a random crime. Meanwhile, Calleigh aids an abused woman who is living with one of the suspects in the probe. Yelina begins dating Horatio's nemesis – who is heading up the Internal Affairs inquiry.

Monday, May 3rd, 2004

21: Not Landing

After a small plane crashes at a Miami beach and the pilot dies, Horatio finds remnants at the crash site of chemical used in making cocaine, and it seems that the victim's business partner may have sabotaged the aircraft. However, when evidence suggests that the pilot may have died before the crash, the team investigates the victim's neighbors – all wealthy residents of a secluded cul-de-sac where lust, jealousy and greed are dangerous motives for murder.

Monday, May 10th, 2004

22: Rap Sheet

A security guard is found dead after shots ring out at a rap star's concert and the CSIs must investigate. Rap star 10-Large won't talk to the police regarding the murder or why someone would try to kill him. But when evidence suggests that perhaps 10-Large's bodyguard was the intended target, the CSIs must look into the dangerous world of personal security. Meanwhile, Alexx gets the shock of her life when a supposed cadaver from a recent car accident wakes up in her morgue, suffering only from hypothermia.

Monday, May 17th, 2004

23: MIA/NYC - NonStop

When a teenage girl returns home from a big party night at an underage nightclub to find her parents murdered, the search for the killer leads Horatio to New York City. Before he arrives, the New York detectives, led by Detective Mac Taylor, are called out to investigate the shooting of an undercover police officer – who, it turns out, is the lead suspect in the Miami case. However, the medical examiner determines that he has been dead for 72 hours and could not even have been alive at the time of the double-murder in Miami. After further investigation, Horatio and Mac determine that the real killer murdered the New York cop, then used his ID to get to Miami, and is still on the loose.

Monday, May 24th, 2004

24: Innocent

An adult film actress is found strangled in the park and the CSIs must find the killer. Blood and human tissue are found under Ashley Anders' nails and the DNA matches that of the CEO of the company that distributes her films – and he's a registered sex offender. Also, Calleigh discovers his answering machine audiotape on which he makes a threat against Ashley. However, there is an accident back at the lab with this crucial piece of evidence and Delko was the last person to handle it. Now, IAB's Rick Stetler is put on the case, much to Horatio's dismay, as the CSIs try to uncover further evidence in order to find the girl's killer.
Season 3
Monday, September 20th, 2004

1: Lost Son

After a large yacht slams into a major Miami bridge, the team finds that the man steering the boat was shot and killed before the accident. The victim's wife reveals that their son had been kidnapped and her husband was handing over the ransom – three million dollars worth of jewels. But when the team learns that the jewels were fake, the investigation leads them into a dangerous situation at a jewelry shop that may contain crucial evidence, where Horatio must face the unimaginable when one of the team is killed in the line of duty.

Monday, September 27th, 2004

2: Pro Per

A woman is killed during a posh party at an exclusive waterfront estate when a man opens fire on the proceedings from a cigarette boat. When a former con is arrested, he acts as his own lawyer and proves to be smarted than he appears. Complicating matters is the fact that the leading witness in the case is the dead woman's 10-year-old son, whom Horatio wants to protect, refusing to let him testify.

Monday, October 4th, 2004

3: Under the Influence

The CSIs must find the killer after a young woman is pushed in front of a moving bus. Alexx finds a bruise shaped like a hand imprint on the victim's back, proving that she was pushed in front of the bus, and her boyfriend, Jay Seaver, is the prime suspect. When one of Jay's office rivals also turns up dead, Jay reveals that he has a psychotic stalker, Claudia, who he thinks might kill to please him. However, when Jay hires a lawyer to protect Claudia, Horatio suspects that Jay may be more involved than they thought. Later, a man's body is discovered down an elevator shaft in a nearby building, and there is evidence to link the victims to a common killer. Meanwhile, Calleigh's father seeks her help when he fears that he may have killed someone after a night of drinking, and Horatio assigns a new CSI, Ryan Wolfe, to the case.

Monday, October 11th, 2004

4: Murder in a Flash

E-mails and text messages trigger a mass gathering of students to perform a random task on a golf course. However, as the crowd disperses, the body of a high school student is found. The original message triggering the "flash mob" is traced to a high school senior whose father is a high-powered defense attorney. The case changes direction when Horatio and the team learn that the schoolmaster's daughter may have had something to do with the murder and evidence reveals that the victim was having an affair with his chemistry teacher.

Monday, October 18th, 2004

5: Legal

An 18-year-old girl is stabbed to death in a bathroom of a popular Miami nightclub. Horatio learns that the victim was an investigative aide working for Alcohol Beverage Control and was monitoring underage drinking. As Horatio interviews the club's owner, an unknown man drives by the club, sees that the police are there, and crashes his car while fleeing the scene. However, the case gets more complicated when they discover another murdered victim inside the car. DNA from the second victim's watch ultimately leads them to a day spa where the services may not be entirely legal. Meanwhile, Calleigh and Ryan work together to determine whether an insecure and underage teenager at the club that night had anything to do with the murder.

Monday, October 25th, 2004

6: Hell Night

The wife of a famous baseball player is brutally killed in her home and her philandering husband is charged with the crime. The jury on the case, as well as the accused and his defense, visits the house to examine the crime scene, but when the lights are dimmed, as they were when the victim was killed, and then turned back on, the ball player is found dead with a meat clever in his back and a note that reads "guilty." Now, as Horatio and the team find that the husband's defense team tampered with the crime scene, they must examine the evidence to find the couple's killers. Meanwhile, Horatio gets a call from Yelina, who tells him that her son, Ray, Jr., is missing.

Monday, November 8th, 2004

7: Crime Wave

As a huge tsunami heads directly towards Miami, a ten-hour warning gives citizens just enough time to evacuate the city. In the chaos, two people are killed in a parking lot and the evidence leads Horatio to discover a plot to rob a bank timed to take advantage of the evacuation. However, as the CSIs close in on the robbery already in progress, they find that it's a more elaborate crime than they previously thought. In the wake of the storm, Ryan and Alexx discover a body washed up from a local cemetery that may have a different cause of death than originally recorded. Meanwhile, Horatio suspects that Yelina is being physically abused by her boyfriend, IAB's Rick Stetler.

Monday, November 15th, 2004

8: Speed Kills

A murder investigation takes Horatio and the team into the world of speed dating. Richard Laken is found killed by a tire iron outside a lounge following an evening of speed-dating. The team discovers his car is covered with acetone, which traces back to one of the female guests. She reveals that she dated Laken and he dumped her, so she doused his car with nail polish remover for revenge, but she didn't kill him. Now, when Horatio and the team learn that Laken recently witnessed a serious assault at a Miami Heat basketball game, they are on the hunt for two perps instead of one.

Monday, November 22nd, 2004

9: Pirated

The team investigates a modern-day piracy off the coast of Miami after six bodies are discovered floating in the ocean tied together by rope. Horatio suspects that a ship was hijacked with some of the crew killed and then dumped overboard. Evidence suggests that other crew members might have escaped on a life raft. Using radar and GPS technology, the CSIs find survivors but their stories don't match. Now, Horatio and the team must learn what really happened out in the ocean as they find themselves investigating the seamy underbelly of Miami's militias and arms dealers.

Monday, November 29th, 2004

10: After the Fall

The CSIs must investigate when a pedestrian is killed after a man falls from a building and lands on him. Horatio and the team find that the victim found on the sidewalk is not the same man who fell from the building, but the unfortunate person he landed on. The CSIs discover that the fallen victim is in possession of a sex DVD involving a top Miami criminal judge and a woman with a sordid sex life. When the woman is found dead, the team must delve into the complicated personal lives of those in Miami's judicial system in order to find the killer.

Monday, December 13th, 2004

11: Addiction

When a woman is killed in what looks like a carjacking, the CSIs talk to her husband, the oldest of the three brothers who run their lucrative family business. However, when it is revealed that the victim had a gambling addiction that could have bankrupted the company, the team must follow the evidence to find the killer. Meanwhile, Alexx hires a recovering alcoholic as a body hauler and must investigate when he is accused of stealing from the dead.

Monday, January 3rd, 2005

12: Shootout

When gang-related gunplay goes down in an emergency room, Horatio and the team must find the gang members responsible. The evidence suggests that an orderly in the hospital recognized the wounded gang member, who possibly killed one of the orderly's friends and alerted gang members to his location. However, the evidence doesn't match up and the CSIs discover that a cheating girlfriend, not gang retaliation, may be behind the shooting. Meanwhile, Ryan questions a mother in the emergency room after her story regarding her child doesn't add up.

Monday, January 17th, 2005

13: Cop Killer

During a routine traffic stop, a police officer is murdered and now Horatio and the team must track down the killer. The only witness to the murder is a civilian who was doing a ride-along with the officer, but who is now missing. Roadside evidence leads the CSIs to Missy Marshall, a teenage girl who was with the killer at the time of the murder. However, as the team searches for the civilian and the killer, they find that Missy may have been more involved with killer and the shooting than she is admitting. Meanwhile, Horatio and Rebecca's relationship is in jeopardy when they don't see eye to eye on a case.

Monday, February 7th, 2005

14: One Night Stand

The CSIs uncover a complex counterfeiting operation after a bellboy is found murdered at one of Miami's hottest hotels. The luggage that the deceased bellboy had been loading, as well as a heist of a special paper that money is printed on, leads the CSIs to uncover a complex counterfeiting operation. It's cruise season in Miami, which means that the population of Miami swells, giving the team even more suspects to the murder. Meanwhile, Calleigh must investigate when a woman goes missing, and is later found dead, after she and her husband attend a hot and flirty "friction" party.

Monday, February 14th, 2005

15: Identity

When the CSIs find a woman swallowed whole and killed by a gigantic snake, they uncover a covert drug smuggling operation. Evidence leads Horatio and the team to a drug smuggling operation where large snakes are suspected of be being used to bring illegal drugs into the country to avoid detection by customs. However, when Horatio finds that Clavo Cruz, a nemesis of Horatio's who hides behind his diplomatic immunity, may be behind the operation, the team must find a legal way to put the criminal behind bars. Meanwhile, Wolfe must find the truth when two women each claim that they are the real victim of identity theft and the other is the culprit.

Monday, February 21st, 2005

16: Nothing to Lose

Evidence leads the CSIs to believe that someone started a massive fire in the Everglades in order to cover up a murder. Local prisoners are brought in as free manpower to help fight the wild fire in the Everglades. However, when a serial killer escapes the scene, Horatio must track him down before he strikes again. Meanwhile, the body of a local college student is found shot to death and the fire has destroyed the crime scene and the evidence. However, when the team uncovers an illegal moonshine operation and homemade ammunitions in the vicinity, the CSIs uncover the real reason why the boy was out there.

Monday, March 7th, 2005

17: Money Plane

Someone uses a laser light to blind a pilot and bring down a jet, which carries $1.2 billion in checks to be delivered to banks on the eastern seaboard. The crime scene evidence reveals a victim, a young fundraising socialite, who was inside the plane but killed prior to the crash. Now, although the team has little to work with since the victim's wealthy family is opposing an autopsy, Horatio must follow the money trail. Meanwhile, Calleigh works on the case with her ex-boyfriend, Detective Hagen, and their romantic history could cause problems for both of them.

Monday, March 21st, 2005

18: Game Over

An extreme skateboarder and videogame tester is found dead on a half-pipe platform used to program extreme skateboarding video games. The CSIs discover that he was wearing reflective sensors when he was killed, so the motion-capture device used to produce these videogames recorded the murder as it happened, but not the murderer. Now the team delves into the highly competitive world of videogame programmers and testers to find the killer.

Monday, April 11th, 2005

19: Sex & Taxes

An IRS agent is killed while trying to repossess a delinquent taxpayer's yacht soon after the CSIs discover a second IRS agent shot to death. Now, just when everyone has a reason to detest the IRS, Horatio must find who is behind what could possibly be a series of murders right before tax day.

Monday, April 18th, 2005

20: Killer Date

Horatio's life is changed forever when he learns important information about his deceased brother. Horatio must now figure out what to do with this information about his brother, Raymond, and whether or not to tell Yelina. Meanwhile, the team investigates when a woman is murdered at a crowded bar after she's approached by a female employee of a service that helps men pick-up women. Also, when Delko loses his badge after some reckless behavior and it's used in a crime, he must locate the badge before it's used again.

Monday, May 2nd, 2005

21: Recoil

After a bitter custody battle, shots are fired outside the courthouse. Bullets fly and the target is the little girl's mother. Horatio goes after the father, who he suspects may not be the girl's biological father after all. However, when the mother's shady past is uncovered, the team finds that she has a lot of enemies who would like to take a shot at her. Meanwhile, Calleigh's father returns to the crime lab for her guidance but for an unexpected reason.

Monday, May 9th, 2005

22: Vengeance

A former high school football star is murdered at a reunion, the CSIs must find the killer. The victim was the big man on campus in high school and there are a lot of guests at the reunion with reasons to resent him all these years. Now, the team must investigate everyone, from the head cheerleader to the school misfit, to see who held a decade-old grudge big enough to kill. Meanwhile, Horatio and Delko arrive at a crime scene and discover that it's already been processed, leading Horatio to uncover further information about his brother possibly being alive.

Monday, May 16th, 2005

23: Whacked

An axe murderer on death row is given a stay of execution just moments before it was to take place, on the grounds that there may have been tainted DNA analysis used at his trial. Now, without using any DNA evidence, the team must race against time and reexamine all of the physical evidence in the case, just as they get a call on a new double murder that looks suspiciously like the case they're working on.

Monday, May 23rd, 2005

24: 10-7

While investigating the murder of man hired to make dirty bombs that terrorists intend to set off in Miami, Horatio finds the bloody fingerprint of his brother, Raymond, who he believed to be dead. However, when Raymond's son is kidnapped, he emerges from deep undercover and the estranged brothers must work together to save the boy. Meanwhile, while processing a crime scene, an unknown assailant holds a gun to Calleigh's head and, after a deadly confrontation in her gun lab, she is left doubting that she can continue as a CSI.
Season 4
Tuesday, September 20th, 2005

1: From the Grave

The team must find the connection between the two crime scenes; the killing of a drug dealer and the rape of a well-off family member.

Monday, September 26th, 2005

2: Blood in the Water

The team investigates the death of a foreign exchange student, the search for two missing teenagers, and the robbery of 10 million dollars in golden bars.

Monday, October 3rd, 2005

3: Prey

The search of a missing 17-year-old girl, whose trip to Miami turns into an ongoing nightmare.

Monday, October 10th, 2005

4: 48 Hours to Life

Horatio and the team are trying to figure out how to free an innocent young man after a harsh interrogation with Frank Tripp sends him to jail.

Monday, October 17th, 2005

5: Three-Way

Three suburban housewives on a girls' weekend in Miami are the prime suspects when the hotel's handsome pool boy is found murdered. When Horatio is tipped off that his team is facing a surprise efficiency review, he must trust Calleigh, Delko and Ryan to work together to find the killer. However, when they independently follow the evidence, each discovers that their analysis points to a different killer.

Monday, October 24th, 2005

6: Under Suspicion

The CSIs must race against time when all evidence in a murder case points to Horatio. When a murdered woman is discovered, Horatio admits that he was seeing her and that he was the last person to see her alive. Although the evidence logically points to Horatio as the killer, our CSIs must now dig deeper to find the real killer and learn who would have the motive and the method to frame him.

Monday, November 7th, 2005

7: Felony Flight

(Crossover episode with CSI: New York, Season 2 Episode 7.) A crossover episode that concludes on "CSI NY" begins with a convicted serial killer who escapes after sabotaging an airplane that was flying him from New York to Miami, where he allegedly buried a body. After fleeing the crash site, the man goes on a killing spree and abducts a college student. Mac Tayor arrives to help Horatio track the killer since Mac originally arrested the man in New York.

Monday, November 14th, 2005

8: Nailed

The CSI's are called out to investigate the murder of a young woman who was about to sign her divorce papers. Soon the husband turns out to be the ideal suspect. The only strange thing about the case is the murder weapon: a nailgun. The case becomes complicated when one of the CSI's is attacked when he returns to the crime scene and ends up in hospital.

Monday, November 21st, 2005

9: Urban Hellraisers

Eric Delko is at the bank, following an ATM taking his debit card, when three robbers wearing ski masks rush in. Delko knows he can't win against the three robbers but when one of them tries to rape a girl it ends in a shootout. The security tape leads them to Miami University and to the robbers next target and Horatio manages to arrest one of them. The trail leads to a videogame named "Urban Hellraisers" and when Ryan Wolfe starts playing it, it turns the similarities between the game and the actual crimes are very big. It's up to the team to catch the robbers before they commit a crime much more serious than the last one.

Monday, November 28th, 2005

10: Shattered

A drug lord is gunned in his Coconut Grove mansion and a suspect arrested at the scene claims he sells marijuana to Delko. Stetler, from Internal Affairs, investigates and the case quickly gets personal when Horatio gets involved. As for the shooting, the CSIs learn that two gunmen may have been involved. Also, Calleigh makes a major decision concerning her job.

Monday, December 19th, 2005

11: Payback

Horatio hunts for the man responsible for a brutal rape on a woman years back, after new DNA testing technology finds the convicted rapist innocent.

Monday, January 9th, 2006

12: The Score

The CSIs investigate the brutal murder of a man who was learning how to pick up women at a hot nightclub. Meanwhile, Horatio tries to help out Marisol, Eric Delko's sister, who was arrested on drug charges.

Monday, January 23rd, 2006

13: Silencer

The Mala Noche strike again and it's up to the CSIs to bring them down once and for all. Also, MAJOR secrets are revealed about the characters and their love lives.

Monday, January 30th, 2006

14: Fade Out

When evidence shows that a series of murders is linked to organized crime, Horatio and the team are instead lead to a pair of film students who have screenplay that contains the details of the crimes.

Monday, February 6th, 2006

15: Skeletons

When Horatio's nemesis, Walter Resden targets someone close to him, Horatio tries to stop him. Also Eric Delko's relationship with Natalia is tested when she thinks she may be pregnant.

Monday, February 27th, 2006

16: Deviant

Alexx's DNA is found throughout her neighborhood where she is suspected to be responsible for the death of a convicted child molester. The CSI team soon learns that mindset of the neighborhood could lead to any of community wanting the man gone. The team must find out who the real killer was to clear Alexx.

Monday, March 6th, 2006

17: Collision

What appears to have been a horrible car accident claims the life of a woman. The evidence turns up more information and another body. During this intense murder investigation Natalia must confess a secret in order for the case to be solved.

Monday, March 13th, 2006

18: Double Jeopardy

After a man is found not guilty of his wife's murder the CSI team finds evidence to the contrary.

Monday, March 20th, 2006

19: Driven

After a group of wealthy women are robbed at a luxury day spa, evidence leads the CSIs to believe that this is a part of a much larger car chopping scam and each of these women are being targeted for a home robbery. Matters become worse when Horatio discovers that Marisol was also at the spa during robbery and he must now protect her when her life is threatened. Meanwhile, Ryan must deal with the fallout after he freezes during a shootout.

Monday, April 10th, 2006

20: Free Fall

The CSI team must try to find out who is trying to kill a young couple who are released from prison. The couple was made out to be "media darlings" and soon find that not everyone though of them as darlings. Calleigh must work with her ex-boyfriend to help solve the case.

Monday, April 24th, 2006

21: Dead Air

The CSI team must locate a woman who has been kidnapped and dialed a wrong number on her cell phone. To try and find the woman the team must first figure out whom the kidnapped woman was trying to call in the first place. Marisol has a difficult decision to make and Horatio helps her. Natalia is surprised when Ryan asks for Delko's permission to take her out on a date.

Monday, May 1st, 2006

22: Open Water

A cruise ship that is docked in Miami is the scene for a double murder. The team investigates the long list of potential suspects but soon find that the list is dramatically decreased when the CSI's find a large amount of money is missing from the victim's stateroom. Horatio and Marisol's relationship evolves.

Monday, May 8th, 2006

23: Shock

The team is sent to investigate the death of a local celebrity, who is found murdered in her bathtub. The list of suspects includes her musician boyfriend, her assistant and her rival. The search for a young abducted girl is triggered, and Horatio tells Delko of Marisol and his plans.

Monday, May 15th, 2006

24: Rampage

The Mala Noche gang trial is obstructed when the defendant goes free with the help of the witness who is testifying. When a hit ordered by the Mala Noche gang on Horatio finds the people he loves lives are in danger. Delko finds that an ex-lover is disturbing any woman who he is now close to.

Monday, May 22nd, 2006

25: One of Our Own

In this thrilling season finale, the loss of one of their own is the first hit the lab will take. Getting back to the lab to process the evidence, they find it has been taken over by Federal Agents looking for stolen money from a previous case.
Season 5
Monday, September 18th, 2006

1: Rio

The episode picks up straight where "One of Our Own" left off. Horatio and Delko have arrived in Rio de Janeiro to hunt down Antonio Riaz, who ordered the hit on Marisol. The problem is that Horatio can't stop thinking about his late wife, and Brazilian authorities aren't being very cooperative. While there, Horatio runs into Yelina and finds out that Raymond is missing again. Ray Jr., now fourteen, teams up with Brazilian authorities and will stop at nothing to bring his father home safe, until Horatio learns the terrible truth... Raymond is already dead. Now Horatio must stop his nephew from getting himself killed trying to chase a ghost.

Monday, September 25th, 2006

2: Going Under

Calleigh is run off of the road in to a canal and causes freshly collected evidence to be compromised. The team must work to find new evidence, as most of the water-damaged evidence is unusable.

Monday, October 2nd, 2006

3: Death Pool 100

The dead body of a celebrity is found at an A-list party. They soon discover that the murder is linked to a "death pool," where gambling occurs on an offshore ship. A counterfeit ring is also discovered where 100-dollar bills are produced in this 100th episode of CSI: Miami.

Monday, October 9th, 2006

4: If Looks Could Kill

The CSI's investigate the murder of a male model and have to figure out the inner workings of the modeling world in order to find his killer.

Monday, October 16th, 2006

5: Death Eminent

The body of a local politician is found in an empty house. The entire neighborhood was upset that he was backing the use of eminent domain, allowing the government to force them out of their homes.

Monday, October 23rd, 2006

6: Curse of the Coffin

When strange accidents occur in the lab, the CSI team is spooked during a death investigation involving voodoo. As Halloween is near everyone starts to think that the lab is cursed.

Monday, November 6th, 2006

7: High Octane

After an accident where the driver was decapitated during a dangerous stunt, the evidence leads the CSI's to believe it was more than an accident. While gathering the evidence, the CSI's find they must go into the world of "sideshows."

Monday, November 13th, 2006

8: Darkroom

A murder and kidnapping becomes personal when DNA from a crime scene reveals that Natalia's sister Anya is one of the kidnapped women they are looking for. The team finds a safe full of photos of missing women and they must find the photographer who was using his camera to lure the unsuspecting women.

Monday, November 20th, 2006

9: Going, Going, Gone

After a young woman is found dead shortly after she was auctioned off for charity, the team finds that the woman was trying to uncover the true nature of the event's host. As the team delves deeper into the investigation they soon discover a larger plot that could put Miami in danger.

Monday, November 27th, 2006

10: Come As You Are

A Marine recruiter is found dead on a civilian shooting range with various bullet holes in him, but there is no blood at the scene. The investigators uncover that the victim was dead before he was shot and that his body was pulled onto the range. As the case advances, Horatio determines the murder may be tied to the death of a marine in Iraq who was killed in combat. Likewise, Natalia is shocked to learn that Nick asked Valera out and that she accepted.

Monday, December 11th, 2006

11: Backstabbers

When terror suspect Sonya Barak is targeted by her own people for assassination, she goes on the run, and Horatio sets out to capture her, both to protect her and bring her to justice.

Monday, January 8th, 2007

12: Internal Affairs

After Nick is found to have been killed with all the evidence pointing to Natalia as the killer the rest of the team has been sidelined by the Internal Affairs investigation. Horatio with the help of the night shift lab and Calleigh's ex-boyfriend have to find the evidence to clear Natalia.

Monday, January 22nd, 2007

13: Throwing Heat

After Frank steps on a land mine at a crime scene Horatio and the Bomb Technicians must deactivate the bomb. Delko gets hit with a large lawsuit after breaking up a domestic dispute.

Monday, February 5th, 2007

14: No Man's Land

A truck carrying weapons that were confiscated from previous crimes are now back on the streets of Miami. An old enemy of Horatio's puts the lives of two CSI's in harms way after a confiscated missile is launched into courthouse allowing Clavo Cruz to escape during his arraignment and injuring one CSI and the fatality of another CSI.

Monday, February 12th, 2007

15: Man Down

Horatio has Eric rushed to the hospital and watches as the doctors try to revive him. The rest of the CSI team finds evidence that may lead them to Cruz.

Monday, February 19th, 2007

16: Broken Home

The CSIs investigate when the parents of a baby sitter in an upscale neighborhood are murdered. As the team sorts through the neighbors' secrets and lies, they find an unexpected love triangle as a motive for murder. Meanwhile, a key piece of evidence found at the crime scene leads Horatio to expose a doctor with some dirty secrets of his own.

Monday, February 26th, 2007

17: A Grizzly Murder

Evidence suggests a victim may have been set up as bait, after he's found to have been attacked and killed by a black bear. It's discovered the killer may have been trying to hide another murder - that of a high priced hooker and her bodyguard, who were part of a prostitution ring catering to elite Miami clients.

Monday, March 19th, 2007

18: Triple Threat

After a wealthy businessman is killed at a charity event the CSI's first suspect his wife who was hosting the event. The blood evidence is thought to belong to the wife or her two secret twin sisters but leads the investigators in another direction after the victim is not who they thought he was.

Monday, April 9th, 2007

19: Bloodline

After a scalped body is found near a Native American casino, Horatio believes that the owners of the Casino and the County Supervisor may have had some involvement in the murder.

Monday, April 16th, 2007

20: Rush

After a movie star is killed at a celebrity rehab center, the CSI's investigate the secrets that the star was about to reveal and if this is what caused him to have been killed.

Monday, April 23rd, 2007

21: Just Murdered

When the mistress involved with the husband in Miami's ugliest divorce battle is found to have been killed the divorce battle intensifies and the body count rises.

Monday, April 30th, 2007

22: Burned

When one of Horatio's team lets their personal problems contaminate the investigation involving a spurned ex-lover, Horatio has to fire that team member.

Monday, May 7th, 2007

23: Kill Switch

After the murder of a suspected carjacker the team discovers that he may have been involved with a formidable drug lord and was suspected of drug running off Miami's shores.

Monday, May 14th, 2007

24: Born to Kill

There's a serial killer on the loose marking all of his victims with a Y on their chests and one or more of the csi's lives are in danger in this season 5 finale
Season 6
Monday, September 24th, 2007

1: Dangerous Son

When the team is investigating the murder of a probation officer and a hostage situation, Horatio learns that the main suspect could be his son.

Monday, October 1st, 2007

2: Cyber-lebrity

Stalkers turn an innocent teenage swimming star into a sex symbol plasting photos of her over the internet. When following her it is discovered Horatio may be in danger after his testimony in a grand jury.

Monday, October 8th, 2007

3: Inside Out

Horatio's son goes missing when a prison transport is attacked. Upon learning the identity of Kyle, he is targeted in order to get at Lt. Caine, who must find him before it is too late. Meanwhile, Ryan causes tension with his former colleagues when he is hired as an expert witness for the defense.

Monday, October 15th, 2007

4: Bang, Bang, Your Debt

The team investigates the puzzling death of a student and find evidence that Tim Speedle may not be dead.

Monday, October 22nd, 2007

5: Deep Freeze

The murder investigation of a sports legend has complications when his body is lost by the lab.

Monday, October 29th, 2007

6: Sunblock

Strange events begin to happen as the CSI team tracks down a serial killer who killed during a solar eclipse.

Monday, November 5th, 2007

7: Chain Reaction

The investigation into a runway model's death leads Horatio to his son and his nemesis.

Monday, November 12th, 2007

8: Permanent Vacation

A family is in Miami vacationing from Canada when one of their sons is killed.

Monday, November 19th, 2007

9: Stand Your Ground

A serial killer is on the loose with a craving, making Calleigh its next victim, which also jeopardizes her ability to do her job.

Monday, November 26th, 2007

10: CSI: My Nanny

Lifestyles of the rich and famous come under the CSI microscope when a wealthy family's nanny turns up dead.

Monday, December 10th, 2007

11: Guerillas in the Mist

A rare and illegal machine gun that 'vaporizes' its victims is let loose on the streets of Miami.

Monday, December 17th, 2007

12: Miami Confidential

The team uncovers the secret life of an unscrupulous FBI agent while investigating the murder of a young woman.

Monday, January 14th, 2008

13: Raising Caine

Kyle's mom shows up in Miami and she is the widowed wife of a billionaire. She wants Kyle back and will do anything to get him back.

Monday, March 24th, 2008

14: You May Now Kill the Bride

The murder of a bride at a wedding leads the CSI team to a strip club as the investigation progresses.

Monday, March 31st, 2008

15: Ambush

In the first of a two part episode, Horatio once again has to tangle with his ex, Julia, who has it out for him. Someone is out for Calleigh, and is compromising their investigation in the process.

Tuesday, April 1st, 2008

16: All In

In the second part of the two part episodes, Horatio deals with his past and the rest of the team works to rescue Calleigh from kidnappers.

Monday, April 21st, 2008

17: To Kill a Predator

A lawyer is run down by a car, then a man is shot down in a cafe. The only common link was that they were both caught on camera in a pedophile sting, and the team hunts for a vigilante.

Monday, April 28th, 2008

18: Tunnel Vision

After a body is found in a sinkhole, the team's investigation into the victim's death leads them to a robbery where the target is keeping a shocking secret.

Monday, May 5th, 2008

19: Rock and a Hard Place

A man is murdered when someone drops a piece of slate of a bridge. The team tracks the slate to one of their own and Alexx's son becomes a suspect. Then to make matters worse Alexx finds him in a warehouse holding a bloody knife over his friend who happened to be the other suspect.

Monday, May 12th, 2008

20: Down to the Wire

When a man is killed due to a fake 911 call, Horatio must face off with a private investigator who is systematically destroying the team. The PI also digs into the team personal lives and gets both Calleigh and Eric pulled off the case.

Monday, May 19th, 2008

21: Going Ballistic

As the first new medical examiner they have is shot, the CSIs learn the streets of Miami got more dangerous. Horatio must keep his team alive and restore order to his son's life. The clock runs out when one of their own is gunned down.
Season 7
Monday, September 22nd, 2008

1: Resurrection

The evidence on who shot Horatio leads the team to some of most Miami's dangerous including one of their own.

Monday, September 29th, 2008

2: Won't Get Fueled Again

The residents of Miami are killing each other after gas prices skyrocket and the CSI team encounters Miami's most brutal crime ring yet.

Monday, October 6th, 2008

3: And How Does That Make You Kill?

Delko's deepest secrets are threatened to be exposed when the daughter of his therapist is killed. The team rushes to find the killer before this happens.

Monday, October 13th, 2008

4: Raging Cannibal

Horatio and the CSI team are pit against Miami's Russian mob after a barbaric double homicide in the Everglades.

Monday, October 20th, 2008

5: Bombshell

While Horatio and the team investigate a murder at a trendy store, Horatio finds that Julia's instabilities have turned her into a ticking time bomb.

Monday, November 3rd, 2008

6: Wrecking Crew

Calleigh and Eric are put in danger when a 200-foot crane crashes into a tall Miami building. This also destroys Horatio's best chances of catching a crime boss.

Monday, November 10th, 2008

7: Cheating Death

Handcuffed, a man is found in his own hotel room. Meanwhile, a prank at the Crime Lab threatens an investigation.

Monday, November 17th, 2008

8: Gone Baby Gone

A baby is taken from her mother's arms in broad daylight, and the team must race against time to find her.

Monday, November 24th, 2008

9: Power Trip

When a savage killer runs rampant in Miami, Horatio must intervene to stop a member of the police force from getting too close to the case.

Monday, December 8th, 2008

10: The Deluca Motel

Horatio delves into Delko's past to find the killer who targets the motel Delko is staying at.

Monday, December 15th, 2008

11: Tipping Point

Local tipsters help the CSI's fight to save their neighborhood from a violent street gang's attempt to take over the area.

Monday, January 12th, 2009

12: Head Case

The CSIs use radical technology to unlock the secrets of a man's mind when he shows up covered in blood with no memory of where he's been.

Monday, January 19th, 2009

13: And They're Offed

When a murder occurs during a horse race, Horatio discovers that Ryan has a personal connection to the case.

Monday, February 2nd, 2009

14: Smoke Gets in Your CSI's

Calleigh and Ryan come close to being murdered while investigating a home in which they find the corpse of a doctor who's been performing illegal transplant operations in his garage...

Monday, February 9th, 2009

15: Presumed Guilty

Horatio and the team go head-to-head with a defense attorney (guest star Sean Combs) who may be involved in a murder cover-up.

Monday, March 2nd, 2009

16: Sink or Swim

When pirates take over a luxury yacht, Delko's future as a CSI is threatened just as his relationship with Calleigh moves to the next level.

Monday, March 9th, 2009

17: Divorce Party

The CSIs make a shocking discovery about their murder victim, while Horatio tries to save his son from Julia's erratic behavior.

Monday, March 16th, 2009

18: Flight Risk

When a flight attendant is murdered, the CSIs uncover all the dirty secrets of airplane travel.

Monday, March 23rd, 2009

19: Target Specific

Miami's wealthiest appear to be targeted in a series of stabbings and robberies, and evidence leads back to Russian mobster Ivan Sarnoff, who was last seen in prison, mocking Horatio.

Monday, March 30th, 2009

20: Wolfe in Sheep's Clothing

Wolfe faces a terrible dilemma when he's forced by an unknown assailant to cover up evidence in a murder/robbery, or else the kidnapped Billy Gantry will be killed....

Monday, April 13th, 2009

21: Chip/Tuck

A murder case involving extreme plastic surgery leads Horatio to Ron Saris, who is alive and seeking revenge on Julia.

Monday, April 27th, 2009

22: Dead On Arrival

When a reality star is murdered, the CSIs delve into the scandalous, sexy world of a TV dating show.

Monday, May 4th, 2009

23: Collateral Damage

An explosion in an upscale Miami eatery has the CSI team scrambling to figure out who would target a family enjoying a dinner out, and why...

Monday, May 11th, 2009

24: Dissolved

The CSIs investigate the case of a man boiled alive, Julia spirals out of control, and one of the team's darkest secrets comes to light.

Monday, May 18th, 2009

25: Seeing Red

Horatio fights to save Yelina and when Delko goes against Calleigh's plea and helps his dangerous father, his life is put in jeopardy.
Season 8
Monday, September 21st, 2009

1: Out of Time

Delko is found comatose, and we are taken back to the year 1997 to when the team first formed.

Monday, September 28th, 2009

2: Hostile Takeover

Horatio takes point as the negotiator when an armed gunman storms CSI headquarters and takes hostages.

Monday, October 5th, 2009

3: Bolt Action

Three volleyball players mysteriously drop dead on the court while Calleigh's testimony against Delko threatens his future as a CSI.

Monday, October 12th, 2009

4: In Plane Sight

When the most hated man in Miami is murdered, the CSIs go on the hunt for his killer and his hidden treasure.

Monday, October 19th, 2009

5: Bad Seed

Alexx Woods and Eric Delko return to help the CSIs stop a deadly outbreak in Miami.

Monday, November 2nd, 2009

6: Dude, Where's My Groom?

Two groomsmen wake up handcuffed together and covered in blood, with no memory of the raucous bachelor party the night before. Worse, the groom is missing...

Monday, November 9th, 2009

7: Bone Voyage (1)

(Crossover episode with CSI: New York, Season 6 Episode 7 and CSI: Crime Scene Investigation, Season 10 Episode 7.) Horatio Caine calls Las Vegas CSI Dr. Ray Langston to come to Miami when a severed leg found in the Everglades is discovered to belong to a girl who went missing in Las Vegas a week earlier

Monday, November 16th, 2009

8: Point of Impact

When the CSIs investigate who or what caused a horrific car accident, both drivers' darkest secrets are revealed.

Monday, November 23rd, 2009

9: Kill Clause

Deadly jellyfish are used as a murder weapon, and a mysterious woman from Jesse's past returns.

Monday, December 7th, 2009

10: Count Me Out

A young man gets involved with a dangerous operation in an effort to rescue his girlfriend who's been brought to this country to work as an indentured servant...

Monday, December 14th, 2009

11: Delko for the Defense

Eric Delko returns as an expert witness for the defense, pitting himself against his old team.

Monday, January 11th, 2010

12: Show Stopper

When America's sweetheart, Phoebe Nichols, bursts into flames during a concert, the CSIs expose the dark side of pop stardom.

Monday, January 18th, 2010

13: Die by the Sword

The bizarre case of a man chopped in half baffles the CSIs, while Natalia's injury puts her and Ryan in jeopardy.

Monday, February 1st, 2010

14: In the Wind

When doubt is cast on his murder conviction, a man receives a 24 hour stay of execution very little time for Horatio and the team to reaffirm his guilt or establish his innocence.

Monday, February 8th, 2010

15: Miami, We Have a Problem

The C.S.I. crew try to figure out exactly how and why a passenger on a private space shuttle trip died in space after his body is found having plummeted out of the sky...

Monday, March 1st, 2010

16: L.A.

Horatio heads to Los Angeles to hopefully clear Jesse's name, all while a former sports superstar is being investigated after a girl is found dead in his home...

Monday, March 8th, 2010

17: Getting Axed

The team investigates the axe murder of an office receptionist who was not well liked by her colleagues...

Monday, March 22nd, 2010

18: Dishonor

One of Kyle's army friends tries to protect his girlfriend from an "honor killing" and winds up as the number-one suspect in a murder...

Monday, April 12th, 2010

19: Spring Breakdown

Three hard partying, callous and seemingly unconnected young 20-somethings head to Spring Break for a wild time and end up in the morgue...

Monday, April 19th, 2010

20: Backfire

A victim's spirit won't leave Calleigh alone until she finds justice for his murder.

Monday, May 3rd, 2010

21: Meltdown

A seemingly perfect jewelry heist ends in murder and when crime scene evidence is stolen from the lab, and Delko returns to find the culprit.

Monday, May 10th, 2010

22: Mommie Deadest

When a suburban soccer mom is murdered, the CSIs uncover her family's dark past, while Delko continues his undercover mission.

Monday, May 17th, 2010

23: Time Bomb

When Horatio's ex-girlfriend is killed in an explosion, the team looks within their own department to find the killer.

Monday, May 24th, 2010

24: All Fall Down

A serial killer taunts the CSIs by leaving them cryptic hints, and the longer it takes them to decode these puzzles, the higher the death toll rises, on the eighth season finale of CSI: MIAMI.
Season 9
Sunday, October 3rd, 2010

1: Fallen

The CSI's must catch a madman causing havoc all over Miami and the team has to mourn one of their own.

Sunday, October 10th, 2010

2: Sudden Death

When a woman is murdered at an exclusive club, Horatio must search through an elite guest list to find the killer.

Sunday, October 17th, 2010

3: See No Evil

When a girl is kidnapped, the only witness is a blind man who heard the abduction.

Sunday, October 24th, 2010

4: Manhunt

When the man who killed Horatio's wife breaks out of prison and goes on a rampage, the team tries to determine what he is after.

Sunday, October 31st, 2010

5: Sleepless in Miami

When a man claims to have dreamed of a murder before it happened, Horatio and Natalia go under cover to investigate him.

Sunday, November 7th, 2010

6: Reality Kills

When a reality TV star is murdered, the CSIs investigate the show's cast, the obsessed fans and the stars' hidden pasts.

Sunday, November 21st, 2010

7: On the Hook

The team must figure out why a fisherman is being targeted and keep him from being killed.

Sunday, December 5th, 2010

8: Happy Birthday

On the 200th episode Horatio must find an attacker and save a pregnant woman and hope has an idea as to why she was attacked.

Sunday, December 12th, 2010

9: Blood Sugar

After an explosion at a sugar refinery information about an employee an comes to light.

Sunday, January 2nd, 2011

10: Match Made in Hell

When the investigation of a dead millionaire leads the CSIs to an elite dating service, Ryan poses as a wealthy businessman to expose the matchmaker's lies.

Sunday, January 9th, 2011

11: F-T-F

After a fire hydrant washes away evidence, the team must recreate a bizarre double murder.

Sunday, January 16th, 2011

12: Wheels Up

The team investigates a murder at a roller derby match.

Sunday, February 20th, 2011

13: Last Stand

Memmo makes a return, bringing chaos to Miami and pitting him against Horatio in a final showdown.

Sunday, February 27th, 2011

14: Stoned Cold

When a high school bully dies as a result of a stoning, the CSIs have to find out which nerd is responsible.

Sunday, March 6th, 2011

15: Blood Lust

The team hunt for a serial killer before he can take another victim - who may be one of the team.

Sunday, March 13th, 2011

16: Hunting Ground

The CSIs uncover an exclusive hunting club where the prey is human.

Sunday, March 20th, 2011

17: Special Delivery

When a delivery truck driver and a housewife on his route are murdered, the CSIs try to find their connection.

Sunday, March 27th, 2011

18: About Face

An escaped prisoner takes Natalia hostage and tells her a shocking secret about his crimes.

Sunday, April 10th, 2011

19: Caged

Horatio must protect a fighter from his brother who escaped prison.

Sunday, April 17th, 2011

20: Paint It Black

When the CSIs find a co-ed dead in a hot tub, they investigate a case marked by jealousy, psychosis and college roommates.

Sunday, May 1st, 2011

21: G.O.

When Horatio chases down a mysterious murder suspect who claims he was framed, he discovers an elaborate charade.

Sunday, May 8th, 2011

22: Mayday

In the season finale, Horatio must capture an escapee again when their transport plane crashes. And the team was shocked to discover that the fugitive has planned more than that.
Season 10
Sunday, September 25th, 2011

1: Countermeasures

Horatio and Natalia's lives hang in the balance, as Horatio stands between Natalia and certain death. Meanwhile, it's a race against time for the team to capture escaped killer Jack Toller before he kills again.

Sunday, October 2nd, 2011

2: Stiff

The discovery of a strange murder weapon leads the CSIs into the world of gigolos.

Sunday, October 9th, 2011

3: Blown Away

A tornado touches down on a murder scene, damaging the evidence and putting Ryan and Walter in grave danger.

Sunday, October 16th, 2011

4: Look Who's Taunting

Horatio and his team are hunting a sadistic psychopath who tortures women - and one of them may still be alive.

Sunday, October 23rd, 2011

5: Killer Regrets

Mexico's deadliest assassin is a target in Miami. Horatio's only hope is his worst enemy.

Sunday, October 30th, 2011

6: By the Book

In a deserted mansion, the CSIs find a body hanging that appears to have been killed by a vampire.

Sunday, November 6th, 2011

7: Sinner Takes All

A high stakes poker game is disrupted by a masked assassin, leaving one player dead and the CSIs baffled.

Sunday, November 13th, 2011

8: Dead Ringer

When Horatio finds another corpse with missing eyes, everything points to his nemesis, "The Taunter" – except he has an airtight alibi.

Sunday, November 20th, 2011

9: A Few Dead Men

The CSIs investigate when three convicted murderers are released from prison and someone starts killing them one by one.

Sunday, December 4th, 2011

10: Long Gone

Horatio is determined to find a family that completely disappeared.

Sunday, December 11th, 2011

11: Crowned

The CSIs expose the seedy underbelly of children's beauty pageants when a contestant's mom is murdered.

Sunday, January 8th, 2012

12: Friendly Fire

An eccentric genius is assassinated with the most unique weapon the CSIs have ever seen.

Sunday, January 29th, 2012

13: Terminal Velocity

When a skydiver is murdered, the CSIs discover that he has more than 100 children and all of them are suspects.

Sunday, February 19th, 2012

14: Last Straw

When the sisters of a Miami sorority are knocked off one by one, the CSIs try to end the murder spree.

Sunday, March 4th, 2012

15: No Good Deed

When a neighborhood do-gooder is murdered, Horatio and the CSIs discover that he was planning to blow the whistle on something big.

Sunday, March 11th, 2012

16: Rest in Pieces

When the Miami Taunter strikes again, Horatio meets with the matriarch of the suspected killer's family.

Sunday, March 18th, 2012

17: At Risk

When a beloved tennis coach is nearly killed, Calleigh discovers a personal connection to the case.

Sunday, March 25th, 2012

18: Law & Disorder (1)

A corruption scandal is uncovered by the CSI team which forces Horatio to face an old adversary. Malcolm McDowell returns as Darren Vogel.

Sunday, April 8th, 2012

19: Habeas Corpse (2)

Every member of CSI is a suspect when one of the team's enemies is murdered. When the investigation becomes deadly, Samantha Owens ends up having to be rescued.