update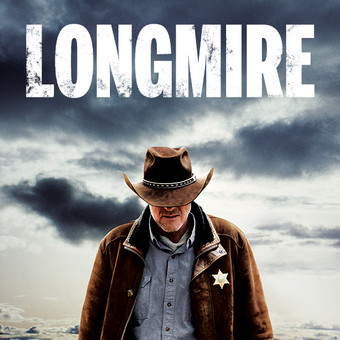 Season 1
Sunday, June 3rd, 2012

1: Pilot

Struggling since his wife's death and at the urging of his daughter, Longmire knows that the time has come to turn his life around. With the help of a female deputy new to the department, he becomes reinvigorated about his job and committed to running for re-election. When an ambitious young deputy decides to run against him for sheriff, Longmire feels betrayed but remains steadfast in his dedication to the community.

Sunday, June 10th, 2012

2: The Dark Road

Longmire and his team investigate the death of an exotic dancer with possible Amish roots. Cady's new relationship stirs up controversy.

Sunday, June 17th, 2012

3: A Damn Shame

Longmire uncovers long-buried family secrets when he probes the deaths of a man and his award-winning horses in a barn fire.

Sunday, June 24th, 2012

4: The Cancer

A fisherman discovers the bodies of two murder victims, including a teen from the Cheyenne reservation.

Sunday, July 1st, 2012

5: Dog Soldier

Walt and the team look into the disappearances of several Cheyenne foster children and an unregistered sex offender.

Sunday, July 8th, 2012

6: The Worst Kind of Hunter

Walt suspects a bear was baited to fatally attack a released murderer. Branch's retired uncle, a former sheriff, can't resist the lure of law enforcement.

Sunday, July 15th, 2012

7: 8 Seconds

A wealthy beer distributor is brutally assaulted for a seemingly worthless painting; Vic's husband is jealous of her relationship with Walt; Branch's father uncovers information damaging to Walt's campaign.

Sunday, July 22nd, 2012

8: An Incredibly Beautiful Thing

Henry uses his tracking abilities to locate an unstable young woman who may be involved in the murder of a gas-station owner.

Sunday, August 5th, 2012

9: Dogs, Horses, and Indians

The Tribal Council president is found dead on county land but it s clear he died elsewhere and there is soon a large suspect list. Walt deals with feelings of betrayal when he uncovers Cady and Branch s affair.

Sunday, August 12th, 2012

10: Unfinished Business

In the first-season finale, a teen is murdered after being acquitted of raping a Cheyenne girl. Later, Walt is forced to finally confront his wife's death.
Season 2
Monday, May 27th, 2013

1: Unquiet Mind

A prison transfer goes awry and Walt urgently pursues a serial killer and his fellow escapees, who have taken hostages, up a mountain. Facing an impending storm with very limited resources, Walt's mettle is put to the test and hypothermic hallucinations force him to face his past.

Monday, June 3rd, 2013

2: Carcasses

When a body is found in a compost heap, the victim's history of abusive behavior leads to a varied list of suspects. Walt and the team must cross county lines to track down the killer. Branch looks into Cady's abrupt departure from Absaroka.

Monday, June 10th, 2013

3: Death Came in Like Thunder

Walt and the team explore Absaroka's Basque community when a shepherd and his dog are found dead. Branch walks a thin line in his alliance with Jacob Nighthorse. Meanwhile, Cady looks to Detective Fales for answers about her mother's death.

Monday, June 17th, 2013

4: The Road to Hell

A cattle heist sends the team on an urgent search for the missing livestock and driver as well as the thieves. Walt is concerned by Vic's fearful behavior when she receives a mysterious bouquet of flowers.

Monday, June 24th, 2013

5: Party's Over

When a teenage girl is found dead, Walt and the team investigate ties to the illegal sale of prescription drugs. Meanwhile Henry reconnects with an old flame and Cady returns home.

Monday, July 1st, 2013

6: Tell It Slant

Walt is tipped off to the murder of a supposed psychic by the Contrary Warrior, a Cheyenne who does the opposite of what people expect. While deciphering his backwards clues, Walt must also deal with a public debate against Branch.

Monday, July 8th, 2013

7: Sound and Fury

After Henry overhears a disgruntled husband try to order a hit on his wife, Walt and the team must use what little information they have to prevent her murder. Vic is wary when an ex-cop from Philly shows up in Durant.

Monday, July 15th, 2013

8: The Great Spirit

When a wild horse is found dragging a dead body, Walt discovers evidence of an illegal rodeo at a local farm. Detective Fales comes to town to talk to Henry.

Monday, July 29th, 2013

9: Tuscan Red

Following an explosion on the reservation and the discovery of a charred dead body, Walt is bombarded with public confrontation as the Cheyennes blame the blast on gas leaked from fracking by Newett Energy. Meanwhile, Branch reconnects with Cady and uncovers information that could help him in the election.

Monday, August 5th, 2013

10: Election Day

On election day, Walt and Branch aren't thinking about politics when Cady is badly injured by a hit-and-run driver. Vic and Ferg investigate, and Walt has a flashback to when Cady was a little girl.

Monday, August 12th, 2013

11: Natural Order

When a game warden is killed alongside an elk that was poached, Walt discovers a connection to a rare expensive supplement. Walt completes his sacrifice, and Branch closes in on the truth about Cady's accident.

Monday, August 19th, 2013

12: A Good Death is Hard to Find

Longmire investigates after he receives a safe deposit box from a just-murdered inmate that contains a severed finger that is linked to both a new murder and a 20-year-old armed robbery. At the same time, Vic's paranoia peaks when she suspects she is being stalked, forcing her to confide in Walt.

Monday, August 26th, 2013

13: Bad Medicine

Walt and Branch team up when an apparent suicide is connected to Cady's accident. Meanwhile, Detective Fales returns with warrants, forcing Walt and Henry to face what happened in Denver.
Season 3
Monday, June 2nd, 2014

1: The White Warrior

Walt deals with the aftermath of Henry's arrest and Branch's shooting.The search for the shooter, however, is complicated by Branch's insistence that it was someone known to be already dead.

Monday, June 9th, 2014

2: Of Children and Travelers

An investigation into the murder of a Russian adoptee leads the team into a shady underworld; Henry faces trouble behind bars while Cady attempts to secure him competent legal representation.

Monday, June 16th, 2014

3: Miss Cheyenne

Walt splits his time working on a murder investigation and serving as a judge for a local pageant; Cady hopes an old friend can help with Henry's case.

Monday, June 23rd, 2014

4: In the Pines

Walt and the team track missing teenage campers on a leadership trip in the wilderness; Branch continues his unauthorized search for his shooter.

Monday, June 30th, 2014

5: Wanted Man

Walt teams up with Lucian Connally to narrow the field of suspects in his wife's murder. Branch's behavior causes problems.

Monday, July 7th, 2014

6: Reports of My Death

A media frenzy erupts when a long-lost heir who went missing 30 years earlier is found dead. Henry makes a risky decision on his own.

Monday, July 14th, 2014

7: Population 25

Vic's vacation turns deadly after she and Sean are kidnapped following an accident. Walt is forced to make an unusual alliance to rescue the pair.

Monday, July 21st, 2014

8: Harvest

A life insurance policy complicates the investigation into a farmer's apparent murder. Branch and Cady check out a lead in Denver. Vic receives an ultimatum from Sean.

Monday, July 28th, 2014

9: Counting Coup

Walt is seriously concerned by Branch's behavior, but makes a key discovery in the David Ridges case. Henry faces a major setback in his trial. Vic makes an important decision about her future.

Monday, August 4th, 2014

10: Ashes to Ashes

Walt seeks closure in his wife's murder and Henry's case; Branch is suspended but continues to investigate Jacob Nighthorse.
Season 4
Thursday, September 10th, 2015

1: Down by the River

The team struggles with the fallout from Branch's confrontation with Barlow, and Walt's crusade to bring Nighthorse to justice spins out of control.

Thursday, September 10th, 2015

2: War Eagle

Walt is forced to split his focus between new evidence in a personal case, and the murder of a caretaker at a former Japanese internment camp.

Thursday, September 10th, 2015

3: High Noon

The investigation of Nighthorse heats up, but not in the way that Walt was hoping for. Cady makes a shocking discovery.

Thursday, September 10th, 2015

4: Four Arrows

A body found in the luggage of a tour bus further complicates Walt's troubles with Nighthorse. Henry makes a bold move to help a mother and son.

Thursday, September 10th, 2015

5: Help Wanted

When the husband of a former soldier is assaulted during an apparent robbery, Walt is drawn into an emotionally charged investigation.

Thursday, September 10th, 2015

6: The Calling Back

A young Native American girl is raped on the reservation, which sparks new, volatile tensions between local oil rig workers and the Cheyenne people.

Thursday, September 10th, 2015

7: Highway Robbery

A highway robbery sets off an investigation into a strange relationship, while Walt struggles to let go of the past.

Thursday, September 10th, 2015

8: Hector Lives

When a former suspect in a rape case ends up dead in another county, Walt and Vic aren't convinced the death is an accident.

Thursday, September 10th, 2015

9: Shotgun

Henry's attempt at justice backfires, resulting in new problems for him and a new investigation for Walt.

Thursday, September 10th, 2015

10: What Happens On The Rez...

The line between justice and the law gets even blurrier for Henry and Walt as their hunt for a killer intensifies.
Season 5
Friday, September 23rd, 2016

1: A Fog That Won't Lift

A shaky Walt searches for Donna as he and Vic reconstruct what happened in the cabin. Mathias has a deal for Henry. Cady tells Walt about a job offer.

Friday, September 23rd, 2016

2: One Good Memory

Henry renegotiates his deal with Mathias. Walt's search for Donna leads to too many suspects. A phone message sends Walt down an unexpected path.

Friday, September 23rd, 2016

3: Chrysalis

Walt unravels the puzzling case of a girl and her missing father. Henry helps Cady find a place on the rez. Malachi and Jacob's alliance is weakening.

Friday, September 23rd, 2016

4: The Judas Wolf

Walt and Vic investigate the bizarre kidnapping of a despised drug company CEO. Henry and Mathias deal with the ramifications of an overdose.

Friday, September 23rd, 2016

5: Pure Peckinpah

Mathias must join forces with Walt after Henry discovers a drug dealer's body. Vic solves her housing problem. Malachi puts a bounty on Hector's head.

Friday, September 23rd, 2016

6: Objection

Depositions for Walt's case go badly. Ferg loses confidence in himself. Henry and Vic help lead Walt toward the big boss at Manifest Destinations.

Friday, September 23rd, 2016

7: From This Day Forward

When treasure hunters discover a body in a hollow tree, Walt finds a connection to an old case. Cady struggles to help a battered woman on the rez.

Friday, September 23rd, 2016

8: Stand Your Ground

Walt looks deeper into the Irish mob. Henry finds the book he needs, while Cady gets legal advice. Malachi and Jacob lob accusations at each other.

Friday, September 23rd, 2016

9: Continual Soiree

Walt's obsession with Jacob leads to more tension with Cady. Vic testifies against Gilbert. Walt's anger erupts at the Red Pony.

Friday, September 23rd, 2016

10: The Stuff Dreams Are Made Of

Walt gets more bad news from the mayor. Vic does a strange favor. As Walt learns what's behind the lawsuit, Henry and Cady each face tribal rituals.
Season 6
Friday, November 17th, 2017

1: The Eagle and the Osprey

A bank robbery ends in a shooting, giving Sawyer more leverage against Walt. When Henry goes missing, Cady tells Walt about a disturbing vision.

Friday, November 17th, 2017

2: Fever

While Henry recuperates, Walt investigates the murder of a man whose land is popular with treasure hunters.

Friday, November 17th, 2017

3: Thank You, Victoria

Chance Gilbert's plea appearance takes a dramatic turn that pulls Walt away from his own case and sets him and Vic on the path to a showdown.

Friday, November 17th, 2017

4: A Thing I'll Never Understand

An emotional Vic re-examines her life choices. Henry and Jacob join forces to pursue Malachi. Ferg helps Meg's mother avoid the tribal police.

Friday, November 17th, 2017

5: Burned Up My Tears

As the civil trial begins, things don't look good for Walt -- especially after a murder puts him and Vic under suspicion.

Friday, November 17th, 2017

6: No Greater Character Endorsement

The bizarre death of a drug dealer points to a violent new Hector. Cady tries to help a sick child whose parents don't trust Western medicine.

Friday, November 17th, 2017

7: Opiates and Antibiotics

Walt wonders if a presumed-dead member of the Irish mob is alive. Mathias questions Cady about Catori. A mobile clinic raises Henry's suspicions.

Friday, November 17th, 2017

10: Goodbye Is Always Implied

Jacob's troubles escalate at the casino. Walt gets an unexpected visitor. An inevitable confrontation leads to changed lives.

Friday, November 17th, 2017

8: Cowboy Bill

While Ferg secretly works the Cowboy Bill case, Walt and Vic try to find Shane Muldoon. Cady's office is trashed.

Friday, November 17th, 2017

9: Running Eagle Challenge

Vic gets a surprise visit from her father. An FBI agent helps Walt pin down the mole working with Malachi. A tough race enables Vic to move forward.