update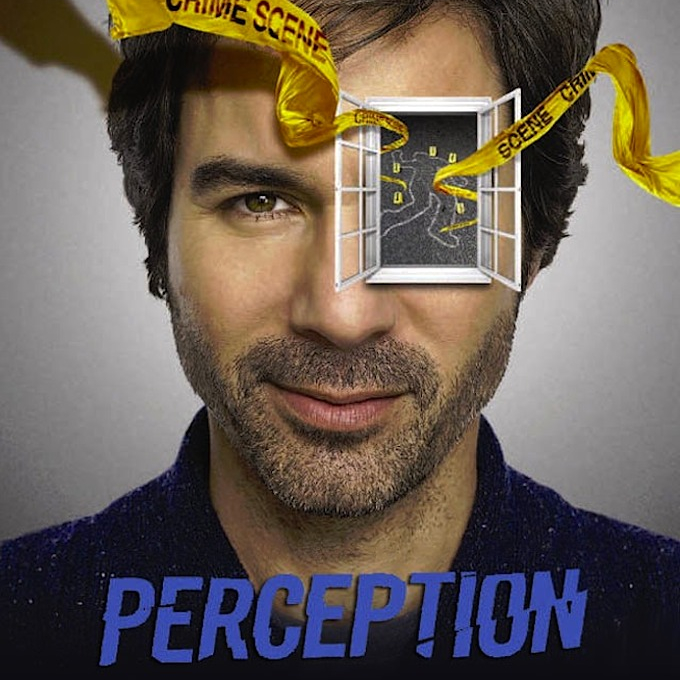 Season 1
Monday, July 9th, 2012

1: Pilot

Neuroscience professor Daniel Pierce (Eric McCormack) is recruited by a former student, FBI Agent Kate Moretti (Rachael Leigh Cook), to help out on a case involving the death of a pharmaceutical executive. But Daniel's schizophrenic hallucinations could potentially derail the investigation.

Monday, July 16th, 2012

2: Faces

Pierce is enlisted to help crack the case of a murdered mail-order bride. A twist marks the investigation when it's discovered the prime suspect suffers from an unusual condition. Elsewhere, Moretti is drawn to a handsome new professor.

Monday, July 23rd, 2012

3: 86'd

Pierce and Moretti race to find clues when a serial killer from 1986 begins killing again. They catch a break when they learn that one of the victims is actually alive. Moretti's dad, one of the investigators on the original case, offers his daughter advice. Pamela Reed also guest-stars as the mother of the surviving victim, while Armin Shimerman is the victim's psychologist.

Monday, July 30th, 2012

4: Cipher

Pierce tries to crack a coded message left in a newspaper by someone who may be connected to a murder. But time isn't on his side as another victim's life could be in danger.

Monday, August 6th, 2012

5: The Messenger

When a young man in a cult claims to be hearing the word of God, Pierce must determine if it's actually the word of God or a life-threatening neurological condition. Pierce and Moretti must also figure out if his murder is linked to his drug past or his new life with an organization that may be scamming people out of their life savings. Roger Bart guest-stars as Ethan Kendrick, a high-powered IRS agent looking into the finances of the organization. Meanwhile, the university gives Pierce an award for his research.

Monday, August 20th, 2012

6: Lovesick

Pierce is called upon to help the FBI investigate the murder of a therapist. Moretti spends more time with Professor Hathaway. And Dean Haley uses Pierce as bait to get a wealthy alumni's widow to fund a new building.

Monday, August 27th, 2012

7: Nemesis

Pierce must take a deep look into his own life when he is brought into a case involving a schizophrenic. Meanwhile, Moretti stops at nothing to impress her new boss at the FBI. Guest star Tom Sizemore plays a top-level Irish mobster, while guest star Edward Furlong plays a would-be tough guy who may have played a crucial role in the crime.

Monday, September 3rd, 2012

8: Kilimanjaro

Moretti and Pierce are called upon to solve a crime in their own backyard when a college student is killed in her dorm room. Pierce is forced into the uncomfortable situation of interacting on a personal level with more than one of his students, which forces him to confront difficult truths about his own past. The case comes just as Moretti is beginning to re-evaluate her relationship with Dr. Hathaway.

Monday, September 10th, 2012

9: Shadow (1)

A student tips off Pierce about a potential conspiracy to cover up the murder of a U.S. Senator.

Monday, September 17th, 2012

10: Light (2)

Moretti learns that there may be some truth to Pierce's conspiracy theory. Pierce's new doctor forces him to face the truth about Natalie.
Season 2
Tuesday, June 25th, 2013

1: Ch-Ch-Changes

FBI Agent Kate Moretti asks Dr. Daniel Pierce to determine the mental competency of a man being retried for murder. But the trial takes a shocking and unexpected turn when Pierce's findings question whether the person standing trial is the same person he was six years ago. Meanwhile, Moretti is unpleasantly surprised to discover that the Assistant U.S. Attorney prosecuting the case is her soon-to-be-ex-husband Donnie Ryan.

Tuesday, July 2nd, 2013

2: Alienation

Pierce and Moretti take on an extraterrestrial case when a woman reports that aliens have abducted her husband. When Pierce and Moretti arrive to investigate, however, they make a startling discovery. Meanwhile, things heat up between Pierce and his real-life girlfriend, Caroline, but his relationship could be jeopardized if he can't get his imaginary girlfriend, Natalie, out of his mind.

Tuesday, July 9th, 2013

3: Blindness

When a series of bizarre public murders occur, Pierce realizes that the killer is trying to send a message about inattentional blindness, but Donnie doubts this theory. But Pierce has a trick up his sleeve that can prove his point, and they must scramble to piece together the clues before the clever killer can make any more examples out of innocent victims.

Tuesday, July 16th, 2013

4: Toxic

Pierce accepts an invitation to work on a case from a renowned environmental activist concerning a chain of abnormal neurological reactions in a group of young girls. However, upon examining the girls, Pierce discovers that a dark secret is at the root of their ailments. Meanwhile, Moretti questions Pierce's motives in working on a case without her.

Tuesday, July 23rd, 2013

5: Caleidoscope

Pierce and Morretti plunge into virtual reality to solve the murder of Kurt Simpson, a man who spent most of his time in a massive multiplayer online game called Caleidoscope. After creating an avatar of himself to investigate the crime, Pierce struggles more than ever to distinguish between reality and fantasy.

Tuesday, July 30th, 2013

6: Defective

A new brain device to control tremors seems to have a defect that turns out to be far more serious than a technical malfunction, and Pierce partners with Donnie to investigate. Their unlikely alliance is tested when the case escalates to murder. Meanwhile, Lewicki learns a valuable lesson about dating.

Tuesday, August 6th, 2013

7: Neuropositive

When Moretti receives a deathbed confession about the hit-and-run murder of a teenager from 1992, she calls on Pierce to determine the ailing man's credibility. The case becomes complicated, however, when the alleged killer's physician, Dr. Hutchins, reveals that his patient's tumor has mysteriously disappeared. Pierce and Moretti must dig deeper into the past to uncover the truth behind a shocking series of apparent homicides.

Tuesday, August 13th, 2013

8: Asylum

Pierce investigates a gruesome stabbing at a psychiatric hospital. Guided by his hallucination of Sigmund Freud, Pierce becomes convinced the hospital is full of dark secrets.

Tuesday, August 20th, 2013

9: Wounded (1)

Donnie tries to help a war hero suffering from a neurological disorder, but what starts out as a good deed ends up having major implications. Pierce gets an unexpected surprise when a fling from his past shows up.

Tuesday, August 27th, 2013

10: Warrior (2)

Morretti faces criminal charges after taking things into her own hands while working on a dangerous case. Pierce and Donnie strive to clear her name, but as conflicting evidence builds, even Kate begins to question her own innocence

Tuesday, February 25th, 2014

11: Curveball

With the help of his hallucination, Hall of Famer Mordecai "Three Finger" Brown, Pierce fights for an autistic teen under interrogation for murder. Meanwhile, Dean Haley turns on the charm in order to convince a neuroscience prodigy to attend CLMU.

Tuesday, March 4th, 2014

12: Brotherhood

Pierce and Lewicki are caught off guard when Lewicki's brother Kenny shows up unannounced. In an unwelcome turn of events, Kenny is named the key suspect in a homicide case, leaving Pierce torn between helping a friend and serving justice. Meanwhile, Lewicki is approached with a tantalizing offer that makes him question Pierce's loyalty to him.

Tuesday, March 11th, 2014

13: Cobra

Tensions arise between the CIA and FBI after Pierce receives a tip that the CIA might be assassinating U.S. citizens. Things become more complicated when one of Pierce's close friends is murdered. Meanwhile, Moretti tries to overcome her trust issues with Donnie.

Tuesday, March 18th, 2014

14: Obsession

Pierce's mental stability is questioned and his job threatened when he is accused of stalking his ex-girlfriend, Caroline Newsome. As the situation escalates, Moretti works to find the real stalker with help from a visiting inspector from Canada.
Season 3
Tuesday, June 17th, 2014

1: Paris

Dr. Daniel Pierce's picture-perfect new life in Paris is suddenly turned upside down after he is approached by the FBI legat to help with a dangerous international case. Meanwhile, his assistant Max Lewicki and Dean Paul Haley plot to get Pierce to return to Chicago.

Tuesday, June 24th, 2014

2: Painless

When a prosecutor mysteriously drops dead in the middle of a courtroom, Pierce and Moretti go on the hunt for a killer. Meanwhile, Moretti and Donnie make some decisions about their future.

Tuesday, July 1st, 2014

3: Shiver

After a young victim with a developmental disorder is taken hostage in a bank robbery, Moretti brings in Pierce to interview the boy. When they finally track down the culprits, they discover the case is about much more than money. Meanwhile, Pierce's estranged father James pays him a visit.

Tuesday, July 8th, 2014

4: Possession

Moretti calls on Pierce to examine Elena Douglas, a woman who has confessed to murder and claims to be possessed by the Devil. Meanwhile, Donnie and Moretti's wedding plans hit a bump in the road.

Tuesday, July 15th, 2014

5: Eternity

When renowned neuroscientist Landon Jennings is found dead, Moretti and Pierce must figure out how someone could have gained access to his impenetrable study in order to kill him. Lewicki finds himself with twice the work when Pierce's father James moves in with them.

Tuesday, July 22nd, 2014

6: Inconceivable

When an infant is reported stolen, Moretti hunts down the kidnapper and makes a very bizarre discovery. As Pierce and Moretti investigate a related murder, they find that there might be another child out there who needs their help. Meanwhile, Donnie and Moretti discuss their future together when Donnie looks into buying a house in the suburbs.

Tuesday, July 29th, 2014

7: Bolero

After Pierce witnesses a gallery owner die during a seizure caused by a video installation, he convinces Moretti that it was actually a murder. Their search for the killer puts them in the middle of a brazen art heist. As Pierce works on the case, he is forced to re-examine his relationship with Natalie.

Tuesday, August 5th, 2014

8: Prologue

After a missing FBI agent turns up dead, Pierce is forced to face the one case he was never able to solve. When they discover that the killer is still out there, Pierce agrees to help Moretti, against the wishes of his therapist, Dr. Rosenthal, who believes it will only exacerbate Pierce's condition.

Tuesday, August 12th, 2014

9: Silence

Donnie and Moretti are caught in the crossfire when a sniper shoots up the lobby of the Federal Building. When Pierce determines that the shooter is afraid of Extreme Low Frequency radio waves, he and Moretti take a trip to the Quiet Zone in Virginia, where they think the shooter is hiding out. Meanwhile, an alluring woman named Shelby Buchanan courts Donnie to run for political office.

Tuesday, August 19th, 2014

10: Dirty (1)

When Donnie finds himself in a compromising situation, he calls Pierce for help. As the evidence begins to stack against Donnie, Pierce and Moretti struggle with their own fears and doubts, as they work to solve the case. During the chaos, Pierce must deal with his father after he assaults someone at the assisted living facility.

Tuesday, February 17th, 2015

11: Brainstorm (2)

Daniel's father and his friend Dean Haley are faced with the decision on whether to allow Pierce to undergo a high-risk surgery for his traumatic injury. Daniel works on solving a different kind of murder case.

Tuesday, February 24th, 2015

12: Meat

Moretti goes undercover to investigate the brutal murders of meat-company owners. Meanwhile, Pierce contemplates making a personal confession to Moretti.

Tuesday, March 3rd, 2015

13: Mirror

Pierce and Moretti uncover an international scandal while investigating the murders of a Bangladeshi diplomat and a Chicago reporter. Distracted by the case, Moretti struggles with preparations for her upcoming wedding to Donnie and turns to Pierce for help.

Tuesday, March 10th, 2015

14: Romeo (1)

After a student is found murdered, Pierce tries to find the killer while defending the victim's boyfriend, who is believed to be mentally ill and guilty of the crime. Meanwhile, Pierce must confront his feelings as Kate and Donnie prepare for their wedding day.

Tuesday, March 17th, 2015

15: Run (2)

When Moretti goes missing the day of her wedding, Pierce and Donnie set off in pursuit of the runaway bride. They soon learn that Kate has been abducted by a dangerous person from Pierce's own past. Now, Pierce and Donnie must risk everything to save Moretti before it's too late.