update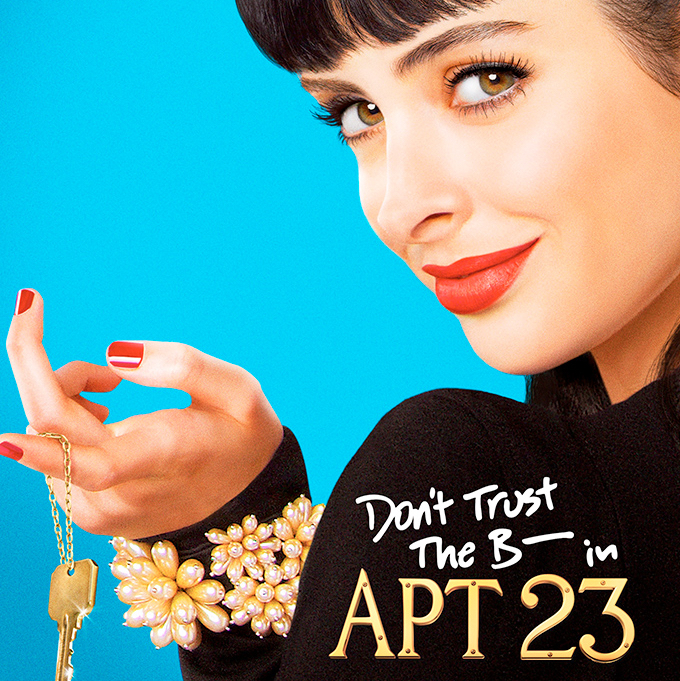 Season 1
Wednesday, April 11th, 2012

1: Pilot

When naive June is scammed by her new roommate Chloe, she decides to turn the tables on her and by doing so earns Chloe's respect.

Wednesday, April 18th, 2012

2: Daddy's Girl...

June begrudgingly lets Chloe set her up on a date; James teaches an acting class in which he can't escape his Dawson persona.

Wednesday, April 25th, 2012

3: Parent Trap...

On top of a demanding internship and two jobs, June also must figure out how to clean up a mess created by one of Chloe's ill-conceived ideas; James is excited when he lands a role in a movie with Kiernan Shipka.

Wednesday, May 2nd, 2012

4: The Wedding...

When a wedding invitation leaves single June down in the dumps, Chloe tries to give her more confidence --but does too good of a job.

Wednesday, May 9th, 2012

5: Making Rent...

After struggling to make ends meet, June comes up with a creative way to make extra money; James launches a line of super-skinny jeans.

Wednesday, May 16th, 2012

6: It's Just Sex...

Chloe encourages June to try casual sex; an embarrassing video of James and Chloe leaks, causing James to worry about its effect on his likeability.

Wednesday, May 23rd, 2012

7: Shitagi Nashi...

June tries to keep up with Chloe and her party lifestyle; James loses it when he finds out that Dean Cain has a bigger dressing room than he has.
Season 2
Tuesday, October 23rd, 2012

1: A Reunion...

Against Chloe's advice, James tries to facilitate a "Dawson's Creek" reunion.

Tuesday, October 30th, 2012

2: Love and Monsters...

June tries to stop Chloe from ruining her favorite holiday with her elaborate tricks; James throws a Halloween party.

Tuesday, November 13th, 2012

3: Sexy People...

Chloe tries to get a magazine to declare James the sexiest man alive; June becomes enamoured with James.

Tuesday, November 20th, 2012

4: It's a Miracle...

When June can't afford to fly home for Thanksgiving, Chloe invites her to her parents' house; James tries to get a photo-op at a soup kitchen.

Tuesday, December 4th, 2012

5: Whatever It Takes...

Chloe takes June drinking in the financial district, where she finds a hot broker and a job offer; James is paired with the worst dancer on "Dancing With the Stars."

Tuesday, December 11th, 2012

6: Bar Lies...

While James is in Los Angeles, Chloe uses his penthouse for one of her scams; June tries to teach Chloe about honesty; James causes a stir.

Tuesday, December 18th, 2012

7: A Weekend in the Hamptons...

Chloe tries to cheer her friends up by dragging them to the Hamptons, where she tries to crash the party of the year and hook up with its host.

Sunday, January 6th, 2013

8: Paris...

June is excited to meet a nice co-worker at her new job, but Chloe warns that the new person probably isn't being as friendly as she seems; Mark goes to James for help expressing his feelings to June.

Tuesday, January 8th, 2013

9: The Scarlet Neighbor...

When June and Chloe attend a tenants' meeting, June realizes she needs to clean up Chloe's act; Chloe decides to go after Mark; James tries to sabotage June's efforts.

Sunday, January 13th, 2013

10: Mean Girls...

June makes a real effort with Chloe to be BFFs, but Chloe is wary.

Tuesday, January 15th, 2013

11: Dating Games...

June and Mark are obsessed with a reality dating show, and Chloe convinces June to get out and actually date; the plan goes awry when they ask out the same guy, and James orchestrates various dating challenges to win the guy's affection.

Friday, May 17th, 2013

12: The Leak...

It is crunch time and James goes into serious training to be in top form for "Dancing with the Stars." Luther is tasked with the duty of keeping James on a strict regimen, but leave it to a jealous Chloe to try and sabotage it. Still, that's the least of their worries when embarrassing photos of James leak all over the internet.

Friday, May 17th, 2013

13: Monday June...

June has been so stressed and consumed with work that she has no time for anything else, including Chloe. Chloe's remedy for this is to slip June an herbal relaxant, but the next thing June knows, it's Tuesday and Monday is a complete blackout. As she tries to piece together what happened, June discovers some surprising things about herself. Meanwhile, James grapples with the idea that he may have impregnated June's friend, Crissy, on her wedding day.

Friday, May 17th, 2013

14: Teddy Trouble...

June is startled when a man she has never seen before jumps out of a door in the apartment that she has never seen before. It is Teddy, Chloe's childhood friend from Camp C.U.T.S. (Callous Unemotional Trait Survivors) who visits her every year when he goes off his medications. His visit coincides with the Carter Marsh Annual Warehouse Sale, where Chloe uses psycho and manic Teddy to her advantage against all the vicious out of town women at the sale. Meanwhile, James is devastated when he finds out that his Beek Jeans have been relegated to the "cooling rack" at the sale where no one is buying them.

Friday, May 17th, 2013

15: The D...

June receives her 1 year roommate evaluation from Chloe, in which she is shocked to find that she has been given a D. She eventually realizes that the only aspect in her life that she could possibly be slacking off in is her love life. Luther sets her up with James' agent's assistant, Will. Meanwhile, James is struggling to land an audition for a new Woody Allen film "Monte Carlo, Monte Carla."

Friday, May 17th, 2013

16: The Seven Year Bitch...

James invites Chloe and June out to dinner to meet the girl he has been dating, Emily. At the dinner, Chloe after barely talking to Emily says "Veto", forcing James to break up with her. Meanwhile, Chloe has begun working at a cell phone store, where she can fight with customers all day, and James has become fat, soft, and complacent.

Friday, May 17th, 2013

17: Using People...

June discovers that Chloe has been attending Alcoholics Anonymous Meetings, to share her crazy partying stories as well as take free booze from the alcoholics. Pepper sets Mark up on a date with one of her friends, and June struggles to hide her jealousy. Meanwhile, James learns that he is on the short list for Woody Allen's film "Monte Carlo, Monte Carla" but he may not get the role because Woody does not think he is deep enough.

Friday, May 17th, 2013

18: Ocupado...

Chloe tells June that Benjamin is going to be in town to shoot a commercial with James. She is excited and has even moved him up to #1 in her guy rotation. June tells Chloe that she has to tell him about her rotation if she really likes him.

Friday, May 17th, 2013

19: Original Bitch...

Chloe finally gets a chance to exact revenge on her ex-roommate... the original bitch.