update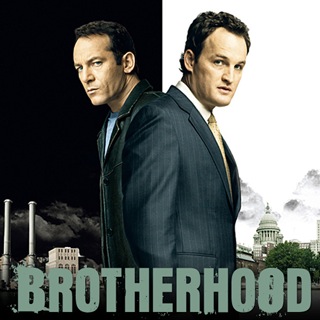 Season 1
Sunday, July 9th, 2006

1: Mark 8:36

Local politician Tommy Caffee's life gets complicated when his gangster brother returns home to Providence.

Sunday, July 16th, 2006

2: Genesis 27:29

Michael plays a game of Russian roulette with the mentally challenged brother of a neighborhood store he wants to take over. Tommy is working on keeping a highway spur from going through the hill by wheeling and dealing behind the scenes. Eileen gets some upsetting news at the doctor's office.

Sunday, July 23rd, 2006

3: Matthew 13:57

Tommy must help settle a garbage strike. Michael tries to recruit for his crew. Eileen's boyfriend misses their time together.

Sunday, July 30th, 2006

4: Matthew 5:6

The Caffee's Sunday dinner is interrupted by Treasury Agents looking for the conterfeit money. Michael takes care of the guy who "ratted" him out and Tommy looks to the speaker for help on a bill that will help his real estate deal.

Sunday, August 6th, 2006

5: Matthew 12:25

Tommy sees an opportunity to make some money when the governor asks him to introduce a bill that would create jobs on the hill but would also tear down some houses. Michael deals with Armenian drug dealers working out of a local bar. Rose fights back when they want to lay off 25 workers at the mill.

Sunday, August 13th, 2006

6: Samyutta 11.10

Michael helps out Declan's partner. Tommy sees a way to fix his zoning problems by helping a black minister.

Sunday, August 20th, 2006

7: Genesis 27:39

Tommy decides to work with Michael to save a local movie theater. Rose gets a new job and immediately tires to unionize her co-workers.

Sunday, August 27th, 2006

8: Job 31:5-6

Rose plans a surprise birthday part for Michael. Tommy decides to play dirty to be the majority leader.

Sunday, September 10th, 2006

9: Ecclesiastes 7:2

A deadly bus crash is caused by a suicide jumper. The bus was carrying passengers from The Hill back from a Patriots game. Michael tries to figure out a way to use this to his advantage with Freddie.

Sunday, September 17th, 2006

10: Vivekchaudamani: 51

When the Caffee's father shows up, he tries to get the boys to help him by threatening to sell the family home.

Sunday, September 24th, 2006

11: Matthew 22:10

A hit is ordered on Michael. Marty Trio works with the FBI to get Freddie by wearing a wire. Declan thinks his partner might be a dirty cop.
Season 2
Sunday, September 30th, 2007

1: One Too Many Mornings 3:4-8

Tommy outmaneuvers U.S. Attorney Ellis Franklin as he and Eileen struggle to keep up the appearance of a happy marriage. Michael, who has no memory of his attacker at the wedding, tries to re-establish his territory with Freddie and asks Declan to investigate the source of his head injury. Declan spirals out of control as he finds himself shut out at work and at home.

Sunday, October 7th, 2007

2: Down in the Flood 3:5-6

As Tommy begins his re-election campaign, he turns to his sister, Mary-Kate, rather than Eileen for support. Colin Carr, Tommy and Michael's estranged Irish cousin, returns to Providence – an event Rose views with deep distrust. Michael and Moe team up for a truck heist while Declan and Cassie have dinner with Cassie's parents.

Sunday, October 14th, 2007

3: The Lonesome Death Of ... 4:7-8

Colin helps Michael and Eileen cope with the unexpected death of a friend while Freddie tries to avoid a war with the Italians; Tommy helps smooth things over with the Speaker of the House's mistress.

Sunday, October 21st, 2007

4: Not Dark Yet 3:5-6

Rose causes problems between Tommy and Michael. Michael messes up Tommy's real estate deal. Freddie asks Declan for some help. Tommy and Dana get closer.

Sunday, October 28th, 2007

5: Dear Landlord 1:3-4

Tommy doesn't get support from the usual places while struggling to stay on track. Michal looks to make some changes in his life. Colin searches for his father. Freddie asks Declan for help in finding someone.

Sunday, November 4th, 2007

6: True Love Tends to Forget 1:1-4

Michael goes after more power while he and Kath get ready for their little addition to the family. Tommy tries to fix the problems in a bad area of The Hill. Eileen learns from other politicians wives.

Saturday, November 10th, 2007

7: Only a Pawn ... 1:7-8

Election day is here and Tommy is behind in the early exit polls. Michael goes with a hit man as a favor. Kath turns to Colin for help and he takes her to an abortion clinic.

Sunday, November 18th, 2007

8: Shelter From the Storm 1:1-2

Declan gets a new assignment from the FBI. Eileen is in for a shock when she becomes a volunteer at social services. Tommy is feeling pressure to become Judd's replacement as chairman of a committee. Michael and Collin enter a partnership with Nozzoli.

Sunday, November 25th, 2007

9: Call Letter Blues 1:2-6

It's Thanksgiving and Rose is fed up with everyone. She leaves and they are forced to figure things out on their own. Freddy and Marty Trio use some information to get a holiday furlough from prison.

Sunday, December 2nd, 2007

10: Things Have Changed 1:7-8

Freddie tries to get Nozzoli's help involving Michael. Tommy goes after the Speaker's chair. Eileen has had enough and confronts Tommy about his relationship with Dana. After losing someone close to them Colin and Rose become closer. The US Attorney's office investigates Freddie's furlough.
Season 3
Sunday, November 2nd, 2008

1: Uneasy Lies the Head

Unhappy being the speaker's lackey, Tommy explores the possibility of leaving politics. Rose's birthday party attracts both of her feuding sons. Declan is offered an opportunity to investigate government corruption.

Sunday, November 9th, 2008

2: Things Badly Begun

Tommy blackmails Mayor Panzarella into supporting the waterfront development but runs into opposition from a community group organized by Michael. Freddi Cork is forced to take a legitimate job as a car salesman. Eileen's pregnancy costs he a chance to advance. Declan begins his investigation to statehouse corruption as the disappearance of Federal Attorney Franklin draws attention away from his efforts. Rose begins to learn the joys of managed care.

Sunday, November 16th, 2008

3: Let Rome into Tiber Melt

A fire in an abandoned mill that kills several Latino squatters and a firefighter causes political fallout for Tommy. Colin begins drinking heavily because of a love triangle. Declan's investigation bears fruit and is expanded.

Sunday, November 23rd, 2008

4: The Course of True Love Never Did Run Smooth

Over Labor Day Weekend Tommy, Eileen and the family spend the holiday at a water front property where Tommy surprises Eileen with his plans for their new home away from the hill, his mom and Michael but Eileen won't let her self believe it until it happens. An incident at Nozzoli's barbeque pushes Michael's growing paranoia into overdrive. The absence of Kath and Colin who have gone away together does little to ease his mind. Declan and Cassie get away for a romantic weekend, which is ruined by their past marital difficulties.

Sunday, November 30th, 2008

5: Give Me The Ocular Proof...

Declan's investigation triggers alarms among the corrupt politicians so Tommy tries to finesse information from the investigation. Rose receives a diagnosis and shares the truth with Ellen. Michael and Colin begin to clash as they help Freddie plan a robbery.

Sunday, December 7th, 2008

6: The Chimes At Midnight

Tommy's plan to extricate himself from political entanglements hits a snag when Speaker Danatello seeks his help passing the budget. Declan learns more about Tommy's involvement in the Waterfront Project and connects Tommy to Nozzoli. Michael's jealousy over his mother's attachment to Colin adds fuel to his paranoia about Colin and Kath.

Sunday, December 14th, 2008

7: All The Interim Is Like A Phantasma

Michael returns to Kath but she and Colin begin to worry as the FBI fuels Michael's suspicions about their relationship. Eileen is confined to bed rest for the duration of her pregnancy. Tommy seeks Michael's assistance as Declan begins to zero his investigation in on the Waterfront Project.

Sunday, December 21st, 2008

8: Birnam Wood Comes To Dunsinane

Tommy becomes heir apparent for Speaker when Donatello's condition worsens; Freddie maneuvers to get on Tommy's good side; with the mob, the state police, and feds after him, Michael's obsession with Colin puts everyone in jeopardy.