update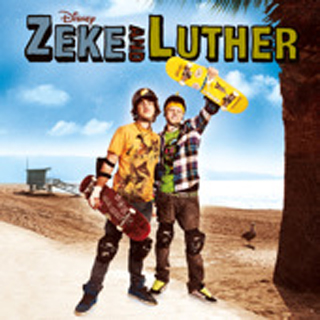 Season 0
Monday, June 29th, 2009

1: U Can't Touch This (Music Video)

Adam Hicks, Hutch Dano and Daniel Curtis Lee... of the Disney XD series 'Zeke and Luther' are out with a video for their remake of MC Hammer's signature hit 'U Can't Touch This'. - Ring the bell, school's back in session – break it down!" Disney XD's Zeke and Luther airs, fans will get to see the Adam Hicks and Daniel Curtis Lee's new music video, covering the classic MC Hammer song "U Can't Touch This." Cool skateboarding but what's up with them removing all reference to Hammer in the song? Seriously, a little homage to the creator, Disney! I doubt a lot of viewers will notice the altered lyrics anyway, as most of them are probably too young to know the words to the classic rap song. To them, I say: Stop. Hammer-time!
Season 1
Monday, June 15th, 2009

1: Bros Go Pro

Ginger books Zeke and Luther to perform a skateboarding stunt, by skating off a ramp and jumping over four king-size mattresses. But fooling around in their hotel room causes them to nearly miss the event.

Monday, June 22nd, 2009

2: Donut Jockey

Zeke and Luther get jobs as delivery men at Don's Donuts, in order to pay for new skateboard parts. Luther gets hustled by bratty little kids for free donuts, while Zeke makes frequent deliveries to an obsessed girl named Lisa Grubner.

Monday, June 29th, 2009

3: Crash and Learn

Zeke and Luther accidentally destroy their grumpy neighbor's garden, and leave Kojo with the blame.

Monday, July 6th, 2009

4: Pilot

Zeke and Luther try to get skateboarding sponsorship. Zeke arranges for the two to skateboard into the "Tunnel of Terror" to impress his British neighbor, but Luther drops out when the two get in a fight.

Monday, July 13th, 2009

5: Cape Fear

Zeke wants to have his own trademark skateboarding costume feature. Olivia volunteers to make him something, and gives him a cape.

Monday, July 20th, 2009

6: Skate Camp

The guys open up a skateboarding camp to encourage kids to take up the sport and Ozzie enrolls, but shows a lack of enthusiasm. Meanwhile, Ginger and Lisa plan a flute-playing competition.

Monday, July 27th, 2009

7: Luck Be a Rodent Tonight

Zeke and Luther try to make a skateboarding video after Kojo gets his mom to film one. They convince Garrett "Stinky Cast" Delfino, who has a crush on Ginger, to film it, and come out with a great video, but Luther's "good luck charm" rat eats the tape on the night that Zeke and Luther plan to present it to a large audience.

Monday, August 3rd, 2009

8: Cup Stacking

Zeke and Luther are preparing to set a new two-man butt-boarding record. And things seem set until their training gets interrupted by Luther's new-found fascination with cup stacking.

Monday, August 10th, 2009

9: Summer School

Zeke must sit through summer school with his not so very nice algebra teacher. He later learns that he was once an avid skateboarder and challenges him to a skateboarding competition to get out of taking classes for the rest of the summer. Meanwhile, Stinky Cast tries his best to impress Ginger, but ends up humiliating her instead.

Monday, October 5th, 2009

10: Haunted Board

Zeke and Luther are haunted when a cool looking board they bought off the internet turns out to be the legendary cursed "Eye of the Cat". In the meantime, Stinky Cast strikes a deal with Ginger in which he bets that he can truly frighten her.

Monday, October 19th, 2009

11: Road Trip

Zeke and Luther's favorite skate boarder of all time is Tony Hawk, and they find themselves on a trip to his childhood home.

Monday, October 26th, 2009

12: Luther Leads

Zeke and Luther celebrate their tenth anniversary of skateboarding together and find a security video from Donut Don that shows Luther was the first to ride a skateboard that the two of them found ten years ago. Meanwhile, Ginger wins a contest at Don's Donuts that promises her to own the establishment when Don retires.

Monday, November 2nd, 2009

13: Soul Bucket

Luther's grandmother wants his rock band, Soul Bucket to perform for her. Meanwhile, Ginger holds open auditions for a new best friend to replace Poochie.

Monday, November 9th, 2009

14: Not My Sister's Keeper

When a contest is held at Don's Donuts, the prize is a rare skateboard. But when Ginger goes missing, will Zeke search for her or just try to win the board?

Monday, November 16th, 2009

15: Rollerdorks

A feud breaks out between the skaters and the "Rollerdorks", a gang of disco dancing roller bladers. Meanwhile, Ginger uses Poochie's bird to get revenge on Zeke.

Monday, November 23rd, 2009

16: Crash Dummies

Zeke and Luther send a video to a show that features stunts performed on skateboards and are picked to join the show. Meanwhile, Ginger plans her own "surprise" birthday party and tries to get a guy who likes only girls who are taller than him.

Monday, November 30th, 2009

17: Adventure Boy

Zeke hopes to win Olivia over before she falls for a visiting TV hunk. Meanwhile, Luther takes care of a dog named Rufus that causes trouble.

Monday, January 4th, 2010

18: I, Skatebot

When Mr. Fitzle's skater-hating robot goes out of control and tries to destroy everyone, Zeke and Luther must risk their lives to destroy the robot.

Monday, January 18th, 2010

19: Law and Boarder

After Zeke and Luther ruin Ginger's potato wedge stand business, She gets revenge by having strict skateboarding laws implemented in the neighborhood.

Monday, January 25th, 2010

20: A Very Hairy Problem

Zeke risks everything to help Luther bring a movie gorilla named Sammy back to the reserve he came from.

Monday, February 1st, 2010

21: Skate Squad

Zeke and Luther along with Kojo and Ozzie form a varsity skate squad to get out of gym class.
Season 2
Monday, March 15th, 2010

1: Zeke Jumps the Shark

Zeke absentmindedly agrees to perform a skate stunt where he jumps over a shark tank—with sharks inside of it. Meanwhile, Ginger believing that Zeke won't survive the stunt finds a new replacement brother.

Monday, March 22nd, 2010

2: Tall Stack of Waffles

Luther decides to retire from skateboarding after he is told he will grow to be over 7 feet tall.

Monday, March 29th, 2010

3: Airheads

After a string of bad luck with their skateboarding, Zeke and Luther form an air rock band with Kojo and Ozzie joining later on. Meanwhile, Ginger is determined to win as much contests as possible at the county fair.

Monday, April 5th, 2010

4: Luther Unleashed

Luther becomes frustrated with Ozzie "posing" as a skater and wants him to stop once and for all, so Zeke encourages Ozzie to try skate photography. Meanwhile, Zeke and Ginger pull bathroom pranks on each other and Kojo tries to impress his girlfriend, Monica with his singing.

Monday, April 12th, 2010

5: Old Nasty

Zeke is astonished when Ginger takes up interest in skateboarding, he later finds out that the only reason why Ginger is interested in the sport is because of her having a crush on Deuce, the new kid in town.

Monday, May 3rd, 2010

6: Double Crush

Zeke and Luther are both smitten by a BMX biker girl named Dani, so Kojo offers to play matchmaker and oversee a series of dates with them to determine which skater boy Dani likes best.

Monday, May 10th, 2010

7: Plunk Hunting

Zeke and Luther chase after the Plunks who have stolen Nana Waffles' wig.

Monday, May 17th, 2010

8: Kojo's BFF

Kojo recruits a Tiki Delgado, professional skater to compete against Zeke and Luther in a skating competition.

Monday, May 24th, 2010

9: One Strange Night

Zeke, Luther and Kojo misplace their friend Kirby Cheddar after having a snow cone party with decade-expired snow cone syrup.

Monday, June 21st, 2010

10: Luther Waffles and the Skateboard of Doom (1)

In the first two-part episode of the series, Zeke and Luther are as excited as they can be when they get summer jobs at a skateboard testing factory. Meanwhile, Ginger tags along with the guys to sell her potato wedge maker to Mr. Garoosh

Monday, June 21st, 2010

11: Luther Waffles and the Skateboard of Doom (2)

Monday, June 28th, 2010

12: Crouching Zeke, Dancing Luther

Zeke dreams of a nearly impossible trick in which he balances atop his board while it stands vertically.

Monday, July 5th, 2010

13: Luther Waffles: Skate Cop

Deputy Dingle requires Zeke and Luther to participate in the station's Police Ride-Along Program and Luther really takes to the job. Meanwhile, Ginger accidentally gets kissed by Stinky Cast.

Monday, July 12th, 2010

14: Treasure

Zeke and Luther try to find a treasure of a famous banjo player/bank robber.

Monday, July 19th, 2010

15: Rocket Men

Zeke and Luther train with "Jumpsuit" Johnson to pull off a stunt with his rocket to get into a skateboarding magazine. Meanwhile, Ginger tries to get back a hat from Ozzie, that is believed to have been worn by Abraham Lincoln.

Monday, July 26th, 2010

16: Board in Class

Zeke and Luther fear they will get a bad grade in shop class since their Nana rejects their teachers marriage proposal. Meanwhile, Ginger gets a cereal named after her.

Monday, August 9th, 2010

17: Local Heroes

Zeke and Luther mistakenly assume the store they work at is being robbed. Meanwhile Ginger obsesses over a stuffed toy in a claw machine.

Monday, August 16th, 2010

18: Super Shredder

When Zeke and Luther convince an amateur at the skate park to try skateboarding full-time, they discover they've talked their favorite wrestler into quitting his day job.

Monday, August 23rd, 2010

19: Little Bro, Big Trouble

Luther tries to spend time with his little brother Roy but he goes off and starts hanging with the Plunks, while Ginger gets mad at Zeke because his brother is trying to be nice but always ends up failing.

Monday, October 18th, 2010

20: Robo-Luth

Luther gets a new robotic knee; Luther must choose between saving his new knee or his best friend. Meanwhile Ginger tries to figure out where Zeke sneezed in her room.

Monday, October 25th, 2010

21: The Bro List

Pro-skateboarder Tony Hawk arrives when Zeke and Luther set out to accomplish everything on their "bro list" before Luther moves out of town.

Monday, November 1st, 2010

22: Seoul Bros

Zeke and Luther's new manager gets them on a commercial for a Korean sports drink.

Monday, November 15th, 2010

23: Sludge

Kojo has crush on Zeke's visiting cousin.

Monday, November 22nd, 2010

24: Goin' Zoomin

Zeke and Luther must choose between two company sponsors.

Monday, November 29th, 2010

25: Ball of Trash

Zeke and Luther try to get rid of a giant ball of trash.

Monday, December 6th, 2010

26: Bro-ho-ho

Zeke and Luther get jobs as a mall Santa and elf. Santa Claus teaches Ginger the true meaning of Christmas.
Season 3
Monday, February 28th, 2011

1: Zeke's Last Ride

While doing a stunt in local Gilroy, Zeke has a massive wipeout and ends up in the hospital.

Monday, March 7th, 2011

2: The Unusual Suspects

Zeke and Luther question the suspects after Zeke is thrown from the pier while asleep.

Monday, March 14th, 2011

3: Two Guys, a Car, and a Wild Bear

Zeke and Luther are given a new car by their sponsors, but cannot afford to give it gas. So they put restaurant grease in it, which attracts a wild bear to it. Meanwhile, Ginger has a prank war with her gym coach, to force him to change her bad grade.

Monday, March 28th, 2011

4: Hyp-Bro-Tized

Luther goes to see a hypnotherapist because he is afraid to talk to a girl he likes. But he falls for another girl named Ronda who is from a motorcycle gang. The leader of the gang asks Luther to join their posse, but must complete the test.

Monday, April 4th, 2011

5: Daredevils!

Zeke and Luther win a contest to do the final stunt for a famous daredevil when he gets injured. Kojo dates a really tall girl.

Monday, April 11th, 2011

6: Sibling Rivalries

When asked to do a skate show, the host asks if Zeke and Luther have siblings so that they could come on the show. Fearing that they will humiliate them, Zeke and Luther get a fake Ginger and Roy.

Monday, April 18th, 2011

7: Luther Turns 4

Luther celebrates his Leap year birthday turning four years old, but the celebration goes too far when he plans to be the world's best 4-year old.

Monday, April 25th, 2011

8: Head of Skate

Zeke runs for mayor of Gilroy.

Monday, May 2nd, 2011

9: Zeke, Luther, and Kojo Strike Gold

Zeke and Luther make a deal with their new vice principal, they help her find a golden nugget in exchange for getting out of detention and her destroying their permanent records.

Monday, May 9th, 2011

10: Zeke and Lu's New Crew

After starring in a local commercial Zeke and Luther attract an entourage.

Monday, May 23rd, 2011

11: Skater Girl Island

Zeke and Luther go to skater girl island to recruit a new girl rider for the Riot skate team.

Monday, July 11th, 2011

12: DJ PJ

Luther becomes a hit sensation as a sleepwalking rapper.

Monday, July 18th, 2011

13: Trucky Cheese

After Zeke and Luther destroy Carl's new scooter, they attempt to repay their debt by selling cheese smoothies out of Carl's old food truck.

Monday, July 25th, 2011

14: Ice Heist Baby

Zeke and Luther must find a way to stop Mr. Montoyo's control over the ice and save Gilroy from overheating.

Monday, August 1st, 2011

15: Skate Troopers

Zeke and Luther get to be the stars of a show called "Skate Troopers" but Luther has a problem with one of the cast members.

Monday, August 8th, 2011

16: Bro, Where's Our Car?

Zeke and Luther's car gets towed right before they are booked to drive around a baseball field in it.

Monday, August 22nd, 2011

17: Lie Hard

Zeke and Luther lie about not having a family, until their new foreign family decide to move there with Zeke and Luther.

Monday, September 26th, 2011

18: Bro'd Trip

Zeke and Luther take a road trip to compete in the Tempe Skate International Tournament

Monday, October 3rd, 2011

19: The Gingernator

Zeke puts a modification chip in Ginger's earlobe changing her behavior by making her nicer.

Monday, November 28th, 2011

20: Skate Video Awards

Zeke and Luther enter the "Skate Video Awards" competition and try to make the best video. But when the video is finished, they realize that it is missing one thing: Skating.

Monday, March 5th, 2012

21: Skate or Swim

When Zeke and Luther meet a young amateur skater, they want to be his manager; but they find out that he is interested in synchronized diving and they are roped into helping him with that instead.

Monday, March 12th, 2012

22: Inside Luther's Brain

Zeke and Luther will lose Riot Skates unless they bring their grades up. So the boys realize they have to hit the books or hit the road.

Monday, March 19th, 2012

23: Kojo Loses His Mojo

Kojo gets struck by lightning and starts acting nice.

Monday, March 26th, 2012

24: Accidental Hero

Zeke saves a runaway baby in a stroller (which turns out to be Jumpsuit's baby) but tells everybody that Luther did it so that Luther can get some glory. But he is called out on national TV when baby Jarvis reveals that Zeke saved him.

Monday, April 2nd, 2012

25: There's No Business Like Bro Business (1)

While in Hollywood, Zeke and Luther meet movie star Vin Jackman who, upon meeting them, casts Zeke as his stunt double. Unfortunately, the stunt he must do is from the top of an extremely tall building. Meanwhile, Ozzie, who tags along on their trip, gets scammed by a fake talent agent into selling Zeke and Luther's car and must do whatever to buy it back. Back at ramps, Kojo is put in charge, but quickly messes everything up.

Monday, April 2nd, 2012

26: There's No Business Like Bro Business (2)

After many contemplatings, Zeke decides to do the stunt. He ends up succeeding, but, after Ozzie gets a picture of what looks like Zeke and Courtney kissing, Vin tries to fight Zeke. Vin then gets injured and the director asks Zeke to take Vin's place in the movie. Fortunately, after he discovers he will no longer be able to do skating, he declines his offer. Meanwhile, Luther becomes a successful rapper alongside a puppet dog, though his success means he must tour and leave Gilroy for good. Luther, though, didn't enjoy riding with the back-talking puppet and returned swiftly to home. Elsewhere, Ozzie tries to get a picture of Vin and Courtney kissing to get money from the paparazzi to buy back Zeke and Luther's car. At ramps, Kojo continues goofing up.