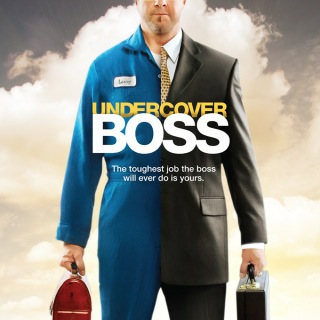 Season 1
Thursday, June 18th, 2009

s1e1: Andy Edge, Park Resorts

Andy Edge is a company director of Park Resorts, the second largest caravan holiday company in the UK. But with the tourism industry reeling from the recession and competition for customers fiercer than ever, Andy has made an extraordinary decision: to go undercover in his own business to find out what's really going on.

Thursday, June 25th, 2009

s1e2: Stephen Martin, Clugston Group

At just 42, Stephen Martin was recently appointed chief executive of the Clugston Group, a major force in construction, building roads, schools and supermarkets. But the industry is in crisis, so Stephen has decided to trade in his suit and expense account for a hard hat and a canteen lunch and, armed with a cover story, he visits his construction sites to work alongside his frontline employees.
Season 2
Thursday, July 15th, 2010

s2e1: David Clarke, Best Western Hotels

David Clarke, Chief Executive of mid-range hotel chain Best Western, goes on an undercover mission to examine the inner workings of his company, with mixed results.

Thursday, July 22nd, 2010

s2e2: Kevan Collins, London's Tower Hamlets Council

Kevan Collins runs London's Tower Hamlets council at a time when the new government is slashing public spending. Kevan faces a huge challenge, he has to make huge cuts, ?50 million over the next three years. But what does he cut and what does he save?

Thursday, July 29th, 2010

s2e3: Marija Simovic, Harry Ramsden's

Britain's best loved fish and chips restaurant chain is under threat. Harry Ramsden's new CEO Marija Simovic has taken on a struggling brand. The recession and increased fast food competition means the 80-year-old business is no longer an integral part of any seaside trip.

Thursday, August 5th, 2010

s2e4: Paul Fisher, The Jockey Club

Thursday, August 12th, 2010

s2e5: Colin Drummond, Viridor

Thursday, August 19th, 2010

s2e6: Narin Ganesh, Crown Worldwide Group

Narin Ganesh is the Finance Director of Crown Worldwide, a company who specialise in international relocations for multinational corporations, governments and private individuals. Narin Ganesh will go undercover as Paul Ramdhanie, pretending to be recently made redundant from an office job, to find out what's happening at the ground level.
Season 3
Tuesday, July 5th, 2011

s3e1: Vanessa Gold, Ann Summers

Vansessa Gold goes undercover at the adult retailer Ann Summers. Ann Summers' CEO Jacqueline Gold is one of Britain's best known business women. She has developed the family business away from the domain of the male 'raincoat brigade' to a taboo-busting female-friendly high street staple. Too famous to go incognito herself, Jacqueline sends younger sister and Deputy MD Vanessa undercover to visit stores across the UK. Despite having worked for the company since the age of 16, Vanessa has to overcome extreme nervousness when face to face with her customers, and when handling their often intimate questions about the products on sale. Is her reticence to talk sex echoed by the staff and customers? And has the brand got too safe for even the high street?

Tuesday, July 12th, 2011

s3e2: Andrew Withers, Southern Fried Chicken

Andrew Withers, boss of Southern Fried Chicken, goes undercover in his fast food franchise, and is shocked by what he discovers about the standards, staff, food and customers. Southern Fried Chicken was started by Andrew's father back in the 1960s and now has outlets across the UK. Andrew feels passionately that the SFC brand in the UK is in need of an overhaul, and feels himself at odds with the carefully constructed image he has spent years developing for the brand in 70 countries overseas. In the UK, SFC is associated with post-pub late night binge eats rather than seen as a family restaurant. Andrew spends time behind the counter to find out why the company's 200 UK franchises aren't living up to his expectations. Can he get his business back on track?

Tuesday, July 19th, 2011

s3e3: Kim Hamilton, The Blue Cross

The Blue Cross, one of the UK's leading animal welfare charities, undergoes the Undercover Boss treatment as Kim Hamilton takes a turn cleaning dog kennels and helping cats give birth. Having previously spent over 20 years climbing the ranks in banking Kim Hamilton now uses her business skills in the charitable sector. But ditching her suits for scrubs requires a different skill set, and hiding her identity from the staff and volunteers, who are the backbone of the charity, is even tougher. Can she pose as a volunteer without being unmasked, and what lessons will she learn that could shape the future of the charity?

Tuesday, July 26th, 2011

s3e4: Nikki King, Isuzu Trucks UK

Managing Director Nikki King goes undercover at truck dealers Isuzu Trucks UK. Nikki King, OBE, has worked her way up the business ladder in the male-dominated truck industry, but only started working `in a serious job' aged 40, following a divorce. In these tough economic times, will Nikki's return to the shop floor give her the insight and understanding to steer the company to greater success?

Tuesday, August 2nd, 2011

s3e5: Kevin McCullough, npower

Chief Operating Officer Kevin McCullough goes undercover at npower, one of the UK's top utility companies. Npower is capable of generating up to 15% of the UK's power at any one time. But earlier this year, Which? magazine reported that just 27% of the company's customers said they were satisfied with the service. Kevin McCullough is responsible for over 8000 npower employees. A local lad done good, 45-year-old Kevin grew up in Yorkshire and started his career in 1984, shovelling coal at the plant. After all the bad press, Kevin admits that because `the company made me everything that I am today, when people criticise the hard work our employees put in - it hurts.' Undercover Kevin sees for himself what his employees have to put up with, working a spell on the busy customer service team. There's a mountain to climb to gain back the respect of customers and staff; will Kevin's spell undercover go any way to turning the business around?

Tuesday, August 9th, 2011

s3e6: Martyn Birks, Poundworld

Martyn Birks, the director of Poundworld, goes undercover to discover why some of the budget chain's stores are failing to perform as well as expected, and why employee turnover is high. On paper the family run Poundworld is an outright success story. The company started life in 1974 from a Wakefield market stall and has since expanded to have branches nationwide. But the credit crunch has been a double-edged sword for Poundworld - the company has expanded to meet the demands of cash-strapped Brits, but without being able to raise their prices (above a pound) the profit margins are constantly being squeezed. Director Martyn Birks knows the company is having problems and that expansion has come at a price. With reports of unsettled and unhappy staff, who are working far beyond what they are paid to do, some stores are failing to perform as well as they have been, while employee turnover is high. Can Martyn find out what it will take to get Poundworld back on track?

s3e7: Oriental Trading Company

s3e8: Yankee Candle

s3e9: Taylor Made Golf
Season 4
Monday, July 2nd, 2012

s4e1: Pizza GoGo

In the first of the new series, Fouad Haghighat goes undercover in his dad's pizza delivery company to discover some shocking health and safety breaches, but also some inspirational workers. Thirty-year-old Fouad is preparing to take over Pizza GoGo, the UK's biggest home-grown pizza takeaway and delivery chain. His father built the business from scratch, but its future is now under threat. Many of the 97 franchises are struggling to compete with rival international food corporations, but Fouad's determined to safeguard his father's empire. His solution is simple - it's time to get tough with the wayward franchisees. But what he unearths when he goes undercover are empty stores, dangerous working conditions, and unanswered cries for help. He also meets a father and son team working tirelessly to make ends meet, and an inspirational franchisee who risked everything during the horror of the Tottenham riots. When the time comes to report back to his father at head office the way forward may not be as clear as Fouad first thought.

Monday, July 9th, 2012

s4e2: Oceana Nightclubs

The CEO of Britain's biggest nightclub chain, which includes well-known brands Oceana, Liquid, and Lava and Ignite, goes undercover in his own business. He's confronted with the results of cheap drinks promotions, but also meets dedicated medics and cleaners. In 2011, an accident at a Lava and Ignite venue resulted in the deaths of two customers and, with ?100m debts, Luminar Group Holdings went into administration. A group of investors, led by 51-year-old nightclub veteran Peter Marks, bought certain nightclubs from the administrator, convinced they could restore the name Luminar to its former glory. But six months on some venues are struggling to attract customers in a recession. Peter goes incognito into the clubs to learn more about the company.

Monday, July 16th, 2012

s4e3: Paddy Power

Company director William Reeve goes undercover on the shop floor of multi-million-pound gaming business Paddy Power. Famed for guerilla advertising and high profile ad campaigns, Paddy Power has grown from humble Irish origins to take on the big boys of British gaming. But when William goes undercover he unearths some shocking staff attitudes to punters. And when he's moved by a team rocked by repeated armed robberies, and a customer service agent dealing with racial abuse and suicide threats at work, William is forced to consider whether Paddy Power have more to worry about than just their customers.

Monday, July 23rd, 2012

s4e4: Francesco Group Hairdressers

Former celebrity hairdresser Jacqui McIntosh, now a senior manager of The Francesco Group, is on a mission to find out why the company's profits are down. Even in recession, the health and beauty market is buoyant. But if Francesco want to expand and take on the major players, Jacqui needs to go undercover to find out where things are going wrong. But she's left reeling when she's turned away by staff who don't feel trained to wash and dry Afro-Caribbean hair. She also unearths empty salons, complacent stylists, ageing franchisees and an older clientele, and meets a desperate owner dealing with visits from debt collectors. It's not all bad though, as she's inspired by a young, visionary stylist, and moved by a franchisee passionate about his NHS work crafting wigs for patients. By the time she returns to Head Office Jacqui knows there's a lot of work needed if Francesco Group is to take on the industry leaders.

Monday, July 30th, 2012

s4e5: HC-One

Pam Finnis, managing director of one of Britain's biggest care home firms, goes undercover to investigate standards of care. The private care home industry has been plagued with problems. In 2011, scandal-hit Southern Cross - then Britain's biggest care home operator - collapsed under ?50 million of debt. HC-One stepped in and took over a third of the homes. They now care for more than 10,000 people across 241 UK care homes, and the woman in charge of the day-to-day running of the company is Pam. Ex-nurse Pam finds going back to the floor tougher than she imagined. She discovers one home is in need of urgent refurbishment; she breaks down when she hears how her staff struggle to survive on their low wages; and she's upset to discover overstretched night shift staff unable to respond immediately to residents' calls for help. But Pam's also inspired by dedicated employees, some of whom choose to work on their days off in order to spend more time with residents.

Monday, August 6th, 2012

s4e6: Stena Line

Gunnar Blomdahl, CEO of one of the UK's biggest ferry companies, Stena Line, goes undercover on some of his own fleet of ships to find out if the business is delivering its promise of convenient, efficient and relaxing travel. Stena has recently invested over one billion pounds in increasing the look and size of its operation, but Gunnar is worried that standards have slipped. What he discovers undercover shocks him - paying customers onboard a building site at sea, sub-standard customer service, and flawed design on a brand new superferry. When he meets foreign crew earning less than the UK minimum wage and staff dealing with the uncertainty of seasonal contracts he faces difficult moral questions, and is moved by a Filipino crew member coming to terms with the death of his daughter while working away from his family. When Gunnar returns to head office he's determined to make changes.
Season 5
Tuesday, August 6th, 2013

s5e6: Quicksilver

Peter Harvey, boss of slot machine company Quicksilver, adopts a dramatic disguise and goes undercover in the hope of working undetected alongside his frontline staff. Hit hard by the smoking ban, the company has seen profits drop by a massive 30% and Peter is desperate to find new ways to attract more customers. Once undercover, the CEO is shocked at what he finds: a young female employee feels vulnerable working at night; a talented engineer with ideas has been told to 'shut up' by management; and venue staff feel so ignored by head office that many want to leave the company. The boss has to confront the reality, that it might not just be the company's dwindling profits he has to worry about but also his underappreciated staff.