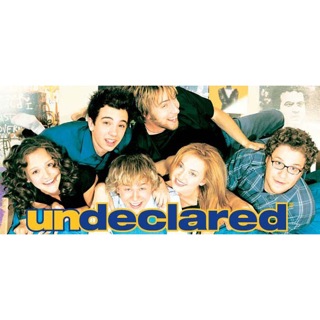 Season 1
Tuesday, September 25th, 2001

s1e1: Prototype

Steven Karp is a young man going off to college for the first time. He wasn't very popular in high school, so he's looking forward to wiping the slate clean and starting over in college. The day he gets to school, he is dispatched by his handsome roommate, Lloyd to go invite girls to the party they're having on their dorm floor that night. Steven tries not to let on that he's never had much experience with girls or hosting parties before. He and his other suitemates, Marshall and Ron, set off to wrangle up the ladies. Much to their surprise, the girls show up. Steven is enjoying the party until his father, Hal, shows up to tell him that he and his mother are getting a divorce. Rachel and Lizzie, the guys' female neighbors, are also at the party. Lizzie is determined to have fun in spite of her jealous back-home boyfriend, Eric, while Rachel is thinking about leaving school entirely. Steven is crying alone in his room when Lizzie walks in. He covers and says that he's just really overwh

Tuesday, January 8th, 2002

s1e2: Oh, So You Have a Boyfriend?

Steven tells a buddy back home to spread the word; he's lost his virginity to Lizzie. He also assumes this will make her his girlfriend. Lloyd lets him know that that's not exactly how it works. The best plan would be to sleep with her again. Right away! Marshall tells Steven how excited he is about the first of class in college. He's going to learn so much, he's like a sponge. Unfortunately, he is sorely disappointed when he can't stay awake in his Political Science class, which gets him in trouble with the professor. But Marshall turns his teacher around when he tells him he knows he's bored. If the professor's bored, then the students will be bored. He needs to rethink his approach to the MTV generation. Lucien is in love with Hillary, the upstairs RA. He's in awe of her RA know-how. But when Lucien introduces her to Lloyd, she immediately falls for him instead. Lucien doesn't have a chance with the aggressive vixen. Ron warns Lloyd not to get involved with an RA; she could use her

Tuesday, October 2nd, 2001

s1e3: Eric Visits

Lizzie drops a bomb on Steven as they walk across campus. She shows him all of the gifts from her boyfriend, Eric, and then tells Steven that she's going to break up with him when he comes to campus later that day. Steven hides his excitement in front of Lizzie, but gushes in front of the guys. He plans to move in on her once she dumps Eric. Ron shows up with a keg of beer left over from another floor's party. They have to return the keg later that day, but they can keep the beer, so they load as many containers as they can find with the beer. Rachel rushes over to tell the boys that Eric is here. They all go over to meet him and size him up. Eric appears to have no idea he is about to be dumped. Rachel and Marshall discuss this and it leads into Marshall confessing he feels as if girls never notice him. Rachel suggests a pet, like a snake, to help spruce up his image. Steven comes over to see how things are going with the break up, and Rachel and Marshall don't know because Lizzie's b

Tuesday, January 15th, 2002

s1e4: Jobs, Jobs, Jobs

Steven is forced to get a job in the school cafeteria with Marshall after his tuition check bounces and Hal is out of work. Not prepared for the rigors of the working world, Steven has personality conflicts with his manager. Marshall is the manager's favorite worker but Steven finds him to be quite bad at the job. Marshall gets Ron addicted to rice pudding from the cafeteria. Hal then invites Steven and his friends out for dinner to announce his new job and it turns out he is working as a waiter at the restaurant. Steven is embarrassed but Lizzie convinces him all is well and that his Dad is making a really great waiter. Meanwhile, Lloyd sets Rachel up with Jimmy, a freaky guy from his acting class who only speaks in impersonations. Rachel is scared by the guy and decides to dump him after much hesitation. Rachel and Jimmy decide just to be friends but Rachel learns that's almost worse when he looks to her for advice on his impersonations.

Tuesday, October 16th, 2001

s1e5: Sick in the Head

Marshall is feeling under the weather and Ron advises him to go to the campus health clinic. Rachel is against that idea, telling them that all doctors are quacks and natural medicine is the way to go. She knows several natural remedies and offers to take care of Marshall while he's sick. Ron convinces Marshall it's a good idea, because it will make Rachel feel smart if she actually helps Marshall get better. And that leads to "boob time." Marshall is more than happy to accept the offer because it will mean spending more time with Rachel. Steven is fed up with Lloyd's sexual escapades because he's constantly being put out of his room. He starts out sleeping on the common room couch, but Ron forcefully takes it over after Marshall gets sick and banishes Steven to the rec room. The rec room is filled with other losers whose roommates have a lot of sex. At first, Steven is very uncomfortable, but then he starts to bond with the strange bunch. The next day, Steven is angry when Lloyd infor

Tuesday, November 13th, 2001

s1e6: The Assistant

Everyone, especially Ron, is excited about Adam Sandler coming to perform at UNEC. Hal shows up, anxious to go to see Sandler with everyone. Ron and Marshall are unsympathetic to Steven's complaints about Lloyd' s bonding with Hal. After the concert, to everyone's thrilled surprise, Perry, who is on the activities committee, has arranged for Adam to hang out with them on their floor after the show. Ron is obnoxiously nervous and wants Adam's visit to be perfect so he'll come back. He frets over everything, including what type of music to play. While everyone else is thrilled too, Rachel couldn't care less. She chooses to study in her room instead. After the show, Adam and his friends, Loughran and Covert, are on their way to meet the gang on the fourth floor. Loughran is being a baby because he's hungry and he doesn't want to be the one to order the pizza again. He's fed up with his job. Adam and Covert tease him and, when they get out of the elevator, Loughran storms off in another di

Tuesday, October 9th, 2001

s1e7: Addicts

Rachel, Steven and Lizzie get hooked on cheating after a strung-out townie sells them some really good term papers. Meanwhile, Ron is forced to take a long hard look at his online trading habit after the stocks he bought with Lloyd's cash bottom out.

Saturday, June 28th, 2003

s1e8: God Visits

Steven is introduced to the Bible and later becomes a obsessed with the good book. Ron gets in an argument with Eric on the telephone and decides to get Steven and Lizzie back together. Ron talks to Lizzie and convinces her that getting back together with Steven is the right thing to do. Unfortunately, when Lizzie shows up in Steven's room and tries to make out with him, Steven prevents the attempt and starts speaking words from the Bible. Lizzie, becomes infuriated and storms out. Ron goes to her room and she says she wants nothing to do with Steven...later calling Steven a jerk. Ron goes to Steven's room and yells at him. Steven realizes what he has done, but it is to late. Also in this episode, Lloyd is lead to believe the purpose of his existence is meaningless, after he is told so by his professor. During this episode, a depressed Lloyd, clothed only in his boxers and a towel over his shoulders, cause all sorts of trouble....reason being, he doesn't think it matters.

Tuesday, January 22nd, 2002

s1e9: Parents' Weekend

It's parents' weekend at UNEC and everyone's family is arriving for a "pleasant" weekend long visit. Marshall's parents arrive, still unaware of the fact that Marshall is majoring in music, rather than business. Marshall tells Ron he will present the information to them through song,at the talent show. Ron learns of Mr. Nesbitt's mechanical leg after accidentally tearing it off. Lizzie's family are a no-show but Rachel's Mom is visiting for the weekend.Before she arrives,Rachel and Lizzie pack everything "bad" like condoms and pills into a stuffed frog. This trick, however does not outsmart Mrs. Lindquist as she finds the hidden goods in the frog.When she starts nagging on Rachel about it,Lizzie takes the fall and claims it was her stuff. Lloyd's sister Amanda comes from England for the weekend. She meets Ron in person,after having talked on the phone with him. She tells Ron about a dream she had about losing her virginity to a bear-man and she thinks that bear-man was him.She

Tuesday, November 20th, 2001

s1e10: Eric Visits Again

An enraged Eric and his two bumbling buddies storm UNEC after getting wind of Lizzie's other lover, leaving Lloyd to train Steven in self-defense.

Tuesday, December 11th, 2001

s1e11: Rush and Pledge

Hal tries to convince Steven to rush his old fraternity. The guys start to miss Steven, who spends all his free time at the frat house, and try desperately to stop him from going through with the pledge ceremony. Meanwhile, Lizzie decides to be a little sister.

Tuesday, December 18th, 2001

s1e12: Hell Week

War breaks out between the guys and Books after Steven quits pledging the Theta frat during Greek Week; Rachel and the girls duke it out over the "Freshman 15" and who has gained or lost the most weight since the semester began.

Tuesday, January 29th, 2002

s1e13: Truth or Dare

After Lizzie and Rachel decide to borrow video tapes from the guys shirtless, Lloyd concludes that the girls now think of them as their "brothers". They then question Ron about his love life and he says he is working on it and takes them to hide out behind a tree while they spy on a campus tour guide named Kelly. Lizzie approaches her and the guys learn that the two of them are friends and Lloyd yells out Lizzie's name and Ron runs away.Lloyd decides that the only way for them to fix their "brother" problem with Lizzie and Rachel is to play a game of truth or dare. So they devise a plan involving a script to change their minds about them. Meanwhile, Steven meets Perry who lives in the dorm storage closet after all the rooms where taken upon his campus arrival. Steven thinks he's cool and admires his video collection. Ron decides to write the script to set up the playing of truth or dare. Steven makes some altercations involving Perry into the story. The guys also tell Lizzie to invite

Tuesday, February 12th, 2002

s1e14: The Day After

Now that Steven has slept with Lizzie again, he gets to call her ""Baby"" and he couldn't be more thrilled. Eager to be her knight in shining armor, he offers to walk her to class, which, like a proper princess, she accepts. Lloyd can only roll his eyes as he watches this display. Meanwhile, Kelly and Ron post-coitally ogle each other and rag on Marshall while he lies in bed, alone. Rachel and Tina worry that Lizzie's on the rebound and is going to hurt Steven. Their advice, stay single and go out to the bar and party with them tonight. But Lizzie declines, she and Steven have plans. Lloyd is also worried about Steven and advises him not to be her ""bitch"" in the relationship and lose the power position. In turn, Steven tries to blow off Lizzie by acting aloof and weird, but they end up in bed together, again, for a little afternoon delight. Marshall is in shock that even Ron has a girlfriend and he's got nothing. Ron suggests asking Lloyd for his leftovers to which Lloyd agrees. Between

Tuesday, February 19th, 2002

s1e15: The Perfect Date

Steven attempts to give Lizzie the perfect date after hearing what Eric used to do for her. Rachel and Tina help to prepare for the date. Steven's high school friend Theo comes to visit the college campus but his plans to spend time with Steven are thwarted. And he must go to a party with Ron, Lloyd and Marshall. Marshall deals with his zit while Lloyd tries to score a ""chick"" but is rejected because of the way he treated her roommate.

Tuesday, March 5th, 2002

s1e16: Hal and Hillary

Marshall finds a new Japanese girlfriend on campus and communicates with her through translators. The relationship was formed, in part to make Rachel jealous. The plan works and Marshall discovers Rachel likes him after her and Ron send prank calls to Kicooki using the translators. Steven's attempts at avoiding his father cause Hal to meet RA Hillary. They commence in an affair which sparks Lucien's jealousy. He makes it his mission to get Steven kicked out of the dorm but fails. Lloyd and Steven decide to strike revenge by performing tasks such as barricading Lucien in his room with a pop machine. It is surfaced that Hillary was simply using Hal to get to Steven and the relationship is ended.

Tuesday, March 12th, 2002

s1e17: Eric's POV

With its future still undeclared by Fox, the comedy's freshman year closes out with a guest spot by Ben Stiller, who plays the trashy, shaggy former step-dad of Lizzie's ex, Eric, who still regrets losing her. But hope springs eternal after she agrees to attend Eric's birthday party, leading the slacker to seek out his platitude-spouting father figure for tips on winning her back. Sadly, the only thing Lizzie wants to repair is her hair after a faulty dye job turns her into a frantic, frizzy blonde mess with no patience for her current beau, the unhelpful and hopeless Steven.
Season 0
not specified

s0e1: Full Bluntal Nugety (Oh, So You Have a Boyfriend? Director's Cut)

Included on the DVD, episode 9B ("Full Bluntal Nugety") is a director's cut of episode 9 ("Oh, So You Have a Boyfriend") as it aired. Some scenes were deleted and others were re-filmed in order to trim time off the length of the episode. This was explained in the literature that came with the DVD. Ted Nugent guest-starred, but his scenes were cut.