update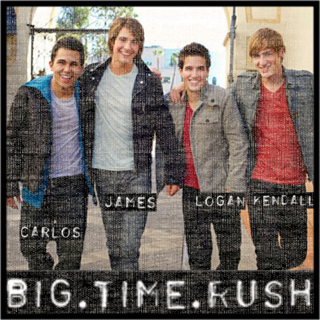 Season 0
Monday, May 24th, 2010

9: Any Kind of Guy

Music video for the single "Any Kind of Guy" from Big Time Rush.

Thursday, June 24th, 2010

11: Famous

Music video for the single "Famous" by Big Time Rush.

Monday, July 12th, 2010

1: 7 Secrets with Big Time Rush

Friday, July 23rd, 2010

13: City Is Ours

Music video for the single "City is Ours" from Big Time Rush's debut album "BTR."

Friday, August 20th, 2010

2: Live from Times Square

Join Kendall, James, Carlos and Logan of Big Time Rush in their first-ever concert special, recorded live in New York City.

Friday, October 1st, 2010

6: Til' I Forget About You

Music video for the single "Til' I Forget About You" from Big Time Rush's debut album "BTR."

Saturday, January 8th, 2011

7: Stuck

Music video for the single "Stuck" from Big Time Rush's debut album "BTR."

Sunday, February 6th, 2011

12: Boyfriend

Music video for the single "Boyfriend" from Big Time Rush's debut album "BTR."

Thursday, February 10th, 2011

10: Big Night

Music video for the single "Big Night" from Big Time Rush's debut album "BTR."

Thursday, March 10th, 2011

8: Oh Yeah

Music video for the single "Oh Yeah" from Big Time Rush's debut album "BTR."

Friday, June 17th, 2011

5: Worldwide

Music video for the single "Worldwide" from Big Time Rush's debut album "BTR."

Saturday, November 12th, 2011

3: Music Sounds Better With U

Consider this a promo for their 2nd Album, "Elevate" which released November 21, 2011. This also introduced their music video, "Music Sounds Better With U" which is their first single release from the new album. Lots of behind the scenes of the guys including a tour of their home-away-from-home tour bus. Note: Nick listed this as a regular episode, but it does not have the opening theme or any story line/plot.

Saturday, March 10th, 2012

4: Big Time Movie

Kendall, James, Carlos and Logan head to London for their first big world tour, but instead get mixed up in a mission to save the world. With their bags switched at the airport, they inadvertently gain possession of a device that could destroy the world.
Season 1
Saturday, November 28th, 2009

1: Big Time Audition

James, Carlos, Logan and Kendall get the opportunity of a lifetime when they are asked to head to Los Angeles and form a singing group. Once they are in Los Angeles, they must figure out a way to make Gustavo Rocque and Rocque Records happy in order to become a singing sensation.

Monday, January 18th, 2010

2: Big Time School of Rocque

The boys get a dose of reality when Kelly tells them they have to go to school at least four hours every day while they live in Los Angeles. While the boys want to go to the fun Palm Woods school, they learn that Gustavo has arranged to have their school located at the recording studio, so they are never far from his grip. The boys do whatever is necessary to take down the "School of Rocque" and go to the Palm Woods school. Meanwhile, an attempt from Mrs. Knight to home school Katie (Ciara Bravo) fails, so she tries to get Katie to act in a commercial to gain entrance in the Palm Woods, with the help of Mr. Bitters.

Friday, January 22nd, 2010

3: Big Time Crib

The boys are not thrilled with their boring apartment at the Palm Woods and hatch a plan to improve it when Gustavo creates a fun "fake" living area for them on a soundstage for an upcoming EPK shoot. The guys enlist the help of all their friends at Palm Woods to move all the cool games and gadgets from the set to their apartment.

Friday, January 29th, 2010

4: Big Time Bad Boy

The record company CEO thinks adding a fifth band member will broaden Big Time Rush's appeal and sticks the guys with a self-proclaimed "bad boy" named Wayne Wayne, who tries to inject dissension and tension within the group. Ultimately, Gustavo and the guys secretly band together to get him booted out of the band, in a "bad boy-off". Meanwhile, Mrs. Knight gets persuaded that there's an axe maniac on the loose, and forces Katie to play with a girl named Molly, who is later found to be a con actress that's 20 years old and tries to pass herself off as an 11-year-old girl driving in a high speed chase with cops, using Mrs. Knight's rental car, trying to get a job in Hollywood.

Friday, February 5th, 2010

5: Big Time Love Song

The guys chase the same girl named Jo, causing the band to fight. Meanwhile, James gets an allergic reaction to a body spray and Kelly (Tanya Chisholm) attempts to make him get an allergy shot, Gustavo gets a new personal helper named Freight Train, Katie has to write a report on her biggest hero and writes about Gustavo so she does not have to read anything, and Griffin wants a slow love song for the next song, but Gustavo cannot seem to figure out how to make the song work.

Friday, February 12th, 2010

6: Big Time Mansion

When Gustavo goes away for a few days to check out a new boyband called "The Windmills", the guys "mansion sit" for him much to Gustavo's dismay. After much discussion with Kelly, Gustavo allows the boys to "mansion sit" but they must follow his rules or else they are fired. Once at the mansion the guys think it will be an easy task, but what seems like a task they can handle soon turns into a "big time disaster" as things don't go according to plan. Meanwhile with Kendall and the guys away, Mrs Knight starts to fell less needed by her children, so Katie decides to help her mother out by pretending to be sick.

Friday, February 26th, 2010

7: Big Time Photo Shoot

The boys are at the Palm Woods, severely injured. Camille asked them why they look so beat up if they just got their picture in Pop Tiger. The boys show their entire flashback from beginning to end: The boys were having their very first photo shoot as Big Time Rush. However, with Gustavo and Kelly doing community service for vandalizing Matthew McConaughey's mailbox, Griffin took over and makes them "space matadors with stuffy puppies". A simple photo shoot becomes a race for time and the perfect shot. Meanwhile, Katie and her mom are determined to get an autograph from teen hunk Dak Zevon, and Mrs. Knight starts to go a little nuts when the security guards are mean to Katie, so she (Mrs. Knight) gets all the fans of Dak and tries to barricade the door to Dak's recording room.

Friday, March 5th, 2010

8: Big Time Break

The boys are relieved to finally be able to spend some time apart after finding out that Gustavo is taking the day off. Logan is determined to get into a math lecture taught by Phoebe Nachee, but is disappointed when he finds out that the lecture is at an all girls school. Carlos panics when he realizes his helmet is missing, but gets a surprise visit from his father, a policeman, who accompanies him on the mission to retrieve his helmet. James decides to spend his day off trying to set off his acting career with the help of Camille. Kendall is desperate to spend time with his crush, Jo, but is discouraged when she continuously reminds him she has a boyfriend. However, when Katie finds out that Jo does not have a boyfriend, she tells Kendall, and he is determined to get the truth out of her.

Friday, March 19th, 2010

9: Big Time Demos

The guys, who desperately want to remain in L.A., have to pass the greenlight of their demos for that to happen, after Kelly tells them they will be forced to head back to Minnesota if they do not get their CD's greenlighted. Mercedes Griffin, Griffins daughter, comes and pretends to be the "secret someone who picks the demos". They soon find out that the demos are picked by a chimpanzee, so they try to bribe it to pick Big Time Rush. Meanwhile, Mrs. Knight tries to be assistant manager to stay at Palm Woods for Katie's sake.

Friday, April 2nd, 2010

10: Big Time Party

When the boys find out they are not invited to their own party at Rocque Records, they decide to throw their own in the Palm Woods, since Mrs. Knight and Katie are off to San Diego, even though Mr. Bitters does not allow it. They call the party a 'social gathering', since there is no rule forbidding them, and the boys agree on only inviting 3 friends each. Kendall invites Jo, as his 'guest-friend-person-thing', while James invites the 3 hottest girls on his phone. It is unknown who Logan invited. Carlos cannot decide and ends up inviting the first 3 contacts on his phone and one of them is 'All Contacts' (Carlos thought it was "Al Contacts", thus inviting his whole phone). During the "social gathering," everybody in Carlos phone is now in the party which causes a big problem. Soon, Bitters is hunting for their party, so Kendall and Jo try to stop him before the boys get "3 strikes" and are thrown out of the Palm Woods. Both Camille and Mercedes arrive at the party trying to spend some time with Logan which causes a problem for him.

Friday, April 16th, 2010

11: Big Time Jobs

The boys have been breaking things while having too much fun at the Palm Woods and Gustavo has had enough. Rather than covering for them, Gustavo decides to teach the guys a lesson by making them get jobs to pay off $2,000.30 for the damages. Gustavo puts the boys on Freight Train's "No-Swim list" so they cannot swim in the Palmwoods pool until they pay all of the money back. Carlos becomes Gustavo's production assistant, while James attempts to become a model with Katie as his manager. At first, Logan and Kendall were going to be sign spinners. However, they get fired and start a babysitting service, which was not as easy as they expected. Eventually, Kendall and Logan make the kids wash cars. When Carlos is getting a coffee for Gustavo using an automated coffee maker C.A.L. (very likely a parody of H.A.L.), it makes a coffee with foam, and when it asks Carlos if he wants more foam, C.A.L. keeps on squirting more and more foam until the kitchen is full of it and more and proclaims it wants to cover the Earth in foam. The boys eventually pay Gustavo back his money, but then, people come storming in asking who will pay for setting up an illegal daycare service in the Palm Woods, using Palm Woods rags and towels, James' wardrobe, the coffee machine, and foam removal. Gustavo gets angry and wrecks his studio. Griffin sees this and asks him to pay him back the exact same amount of money the boys get fined. The episode ends with Gustavo, Kelly, and the boys washing cars.

Friday, April 23rd, 2010

12: Big Time Blogger

The boys must impress a well-known blogger, Deke whose words can control their career. They are going to be spending a "Day with Deke" very soon, so Gustavo hires people to train the boys to have a good "Day with Deke". When the interview starts, 5 minutes later, Deke writes a bad review, and the boys must figure out how to change his mind about them for a good review before he posts it through a series of traps. Meanwhile, Gustavo gets a "Scuttlebutter" account and sends out a Scutbut that he hate Brussels, the capital of Belgium. (He meant to type that he hates Brussel Sprouts)

Saturday, May 8th, 2010

13: Big Time Terror

Gustavo's mansion becomes flooded, so he decides to live with the boys at the Palm Woods until it's unflooded. However, the boys want him to leave as soon as possible and will do whatever it takes to make him leave. Meanwhile, Carlos and Mr. Bitters are trying to prove that there is a ghost in the Palm Woods, while Logan is there to prove him wrong.

Friday, June 4th, 2010

14: Big Time Dance

The kids at the Palm Woods are organizing their first school dance, and the boys of Big Time Rush have secured the perfect location, Gustavo's recording studio. However there is a catch, the guys have to perform one of their songs during the evening. Now on top of having to get the perfect date, the guys have the added pressure of giving their first performance in front of a live audience. Kendall and Katie attempt to find their mom a perfect date, during which Kendall forgets to ask Jo to the dance, instead asking her to do preparations for the dance. The Jennifers all take Carlos under different personas after rejecting all the guys who asked them including Carlos (Carlos being the coolest, but still out of their league) and a nerdy kid. Logan tries to find the courage to ask Camille, but keeps failing miserably. James in his attempts to help out Logan accidentally asks out numerous girls including Rachael.

Friday, June 18th, 2010

15: Big Time Sparks

The boys are told to stay away from Jordin Sparks while she stays at the Palm Woods and records a new song at Rocque Records. As they try to protect her, they only give her bad luck, eventually pushing her down a well and when Kendall tries to help her, Jo catches him and thinks he is cheating on her.

Saturday, June 26th, 2010

16: Big Time Fever

A heatwave strikes Hollywood and James starts to use tanning spray that's supposedly "mangerine" to the point of his skin looking orange. The boys find out that James has "Hollywood Fever" from Camille and when Gustavo sees this, he tells Kendall, Logan, and Carlos to fix James, or he will fire and replace him. Kendall, Logan, and Carlos go on a mission to get rid of the his tanning spray by chasing him around with water-guns. While on the mission, Carlos finds out that the one of the Jennifers went away so he joins their group and also catches Hollywood fever. Meanwhile, while Logan looks for James in Palm Woods Park, he runs into Guitar Dude who gives him a set of bongos and tells him to chill out, catching the fever and losing his uptight edge in the process.

Saturday, July 31st, 2010

17: Big Time Video

The boys learn that Camille is leaving the Palm Woods unless she gets a part in an acting job, and must help her, eventually promising everyone a part in their upcoming music video. But Gustavo said Camille cannot be in the video, and Big Time Rush tell everyone that they can be in the video. They gotta figure out how to get everyone in the video, and Marcos tries to direct the music video but Gustavo will not let him. They stole Mr. Bitter's car for the video themselves, including all the people they promise and Marcos is directing, and the video's amazing. Gustavo asks Mr. Bitters to sell his car, and makes it Big Time Rush Mobile.

Friday, August 20th, 2010

18: Big Time Concert

In the eye of their first album release, Griffin, the head of the record label, cancels the album, tour, and concert, forcing them to return to Minnesota, which threatens to break up their life-long friendships. James gets mad and he's got 3 record deal, and joins Hawk, Gustavo's Arch-Rival. Gustavo has to pay back to Griffin $2,000,000 to get back Big Time Rush, and to get them to come back and to finally perform concert. They come back to the LA, and they cannot stay in the Palmwoods again, so they all start living in the Rocque Records "RocqueWoods". James does not want to come back to Big Time Rush so they open an audition for the new James, but they can find anyone and James comes back and they prepare for the concert
Season 2
not specified

0:

Saturday, September 25th, 2010

1: Welcome Back Big Time

The boys have come back from their concert tour only to find certain things at the Palm Woods altered. Meanwhile, Jo is seen macking with a new guy.

Friday, October 1st, 2010

2: Big Time Fans

The boys get a chance to see one of their hometown friends when she comes over to visit, who happens to be very clumsy. Meanwhile, James gets a visit of his own by a crazed fan.

Monday, October 11th, 2010

3: Big Time Girlfriends

Each member of Big Time Rush is trying to deal with a female friend throughout the day. For an upcoming audition, James is trying to help Camille prepare for it. Meanwhile, in order learn about heartbreak, Gustavo tries to help Carlos get his first girlfriend. Also, Kendall and Jo are having a hard time trying to keep up with each other's busy schedule.

Friday, October 15th, 2010

4: Big Time Live

Big Time Rush is going to be featured on television for the first time.

Friday, October 22nd, 2010

5: Big Time Halloween

Things become very strange around the Palm Woods during Halloween.

Friday, November 5th, 2010

6: Big Time Sneakers

James and Logan try to buy and resell sneakers. Meanwhile, Jo's publicist wants the press to think that she is dating her co-star Jett, Kendall and Jo must hide their relationship, and doing so requires many different disguises when Kendall just wants to go to the zoo with Jo. Also, Carlos and Katie name themselves Robin and Hoodie, and try to find other ways to get their favorite fruit snacks, fruit smackers after Bitters makes the price insanely high so everyone cannot afford to buy them.

Friday, November 19th, 2010

7: Big Time Pranks

The boys hold their annual prank-day contest and the girls at Palm Woods want to participate, so it soon becomes a battle of boys vs. girls. Meanwhile, an awry prank-themed day with Gustavo and Kelly escalates into minor destruction and some violence. Logan becomes Dr. Hollywood's assistant for the day after his eyes got hurt because his own prank backfired on him. At the end, the prank war ended with Kendall and Katie as the champions.

Saturday, December 4th, 2010

8: Big Time Christmas

The boys are excited to head back to Minnesota for the holidays, but hours before their flight, Griffin, the head of the record label, insists on them recording a Christmas EP, and will not let them leave until it's done. So it looks like they will be spending their first Christmas away from home. After making the first song, Griffin told them the other two songs must be celebrity duets. Then Big Time Rush trying to do the duet with Miranda Cosgrove in Have a Miranda's little Christmas and another duet with Snoop Dogg. Meanwhile, Mrs. Knight attempts to pack up presents and clothes so she does not have to pay a luggage fee and Katie attempts to give a Scrooge-esque Mr. Bitters some holiday cheer.

Saturday, January 8th, 2011

9: Big Time Guru

Gustavo is really angry at Big Time Rush and he chases them into the Palmwoods. Big Time Rush ask for help from Buddha Bob, and he does the Himalayan monkey pinch on Gustavo and he becomes so mellow that he writes a horrible song for the New Town High soundtrack. Kelly and Kendall team up to help Gustavo return to his regular, angry self. Meanwhile, Logan downloads a Swagger app on his phone, which increases Logan's swagger and decreases James', causing James to almost "die" from dangerously low swagger counts. Carlos takes advice from a parrot, and when he is about to go on a date with a girl, the parrot tells him he has 24 hours to live, horrifying him and leaving him to live in the bathroom (Panic Room) of the apartment. The boys must now do whatever it takes to get back control of Big Time Rush, and make Gustavo get back to normal before the New Town High producers come and find that he has not written a good song.

Saturday, February 5th, 2011

10: Big Time Crush

Kendall and Jo help Carlos find a date, and Logan flirts with a new girl, Peggy, while he is still confused about his feelings for Camille. James wants to help Katie get closer to her new crush, Kyle, but becomes like an overprotective brother instead. Logan wants to get back together with Camille, but she goes on a date with Steve, and at the end all the boys are alone when they go see a movie they planned to see with their dates.

Monday, February 21st, 2011

11: Big Time Beach Party

The boys made a deal with Griffin, if they got a number 1 record, they can go to have a beach party with the other Palm Woods in his beach house in Malibu. When Kendall arrives alone since Jo had to go to reshoot a scene in her show a crazy fan girl, Sandy tries to 'steal' Kendall from Jo, claiming that she is his girlfriend and Sandy posts pictures of both of them, making Jo very jealous and forcing Kendall asking help from the Jennifers which fails. Meanwhile, after surfing, James is saved by a girl, Annie (Gage Golightly) who he believes is a mermaid, and with Camille's help he tries to prove it but also falls in love with her. And Logan and Carlos (who realized the only way to impress the Jennifers was to buy a beach house) search for gold, they find Patchy the Pirate (Tom Kenny) and together they try to find the buried treasure of Scratchy the Pirate by following his many clues. While Katie attempts to become Russell Brands manager and Mrs Knight attempts to attack the boys with sun lotion.

Saturday, March 5th, 2011

12: Big Time Songwriters

When Griffin is releasing the BTR deluxe edition album. Gustavo has to hire songwriters but they end up fighting and cannot write the song. So Gustavo writes the song himself. Kendall, James, Carlos, and Logan want to write their own song, Gustavo doesnt agree with them so the boys want Katie to open a health spa in the Palmwoods so they can write the song while Camille and Buddha Bob keep Gustavo busy. In the song writing process, Kendall and Carlos write a song named "Oh" while James and Logan prefer their song called "Yeah", this creates a fight between the members of the group. After the fight, they realize the song can collaborate together and form "Oh" and "Yeah", the song then becomes Oh Yeah and is approved by Griffin.

Saturday, March 26th, 2011

13: Big Time Reality

Griffin orders a reality show about the guys' lives, complete with the audience voting to eliminate one member of BTR. To stay interesting, Carlos and James resort to non-stop fighting, Logan and Camille fake a melodramatic relationship, and Kendall attempts to unplug all the cameras once and for all after one catches him off-guard at the Palm Woods pool. In order to get the show cancelled and keep the group together, the boys must try to prove to Griffin that a reality show is a bad idea.

Saturday, April 9th, 2011

14: Big Time Girl Group

When Gustavo begins working with a female pop group called the Kat's Crew, the boys of Big Time Rush get some jealousy when their new single "I Know You Know" is taken by the Kat's Crew. They start a war between each side (Big Time Rush & Kat's Crew), believing that Gustavo will forget about them and cancel Big Time Rush. The guys turn to "Boys in the Attic", Gustavo's first boy band, for some advice: they were also destroyed by a female group named "Angel Angels". In the end Gustavo decides to keep the guys and stop working with the Kat's Crew, but before the girls leave Rocque Records forever, Big Time Rush makes a song and a video with them. Meanwhile, Katie and Mrs. Knight and are trying to find good friends

Friday, April 22nd, 2011

15: Green Time Rush

In a class competition to win one week of no school, things do not go well as Kendall is partnered up with Jett - his big time enemy. Logan ends up with the school bully in which everyone's hopes were gone because everyone wanted to be Logan's partner. Carlos and James partner up but have trouble with figuring out what green project considering that there ideas were taken. Meanwhile, Logan is forced to do all the work for his project. When the bully helps with the roof of the project, he tells Logan that his brain does not work very well around people. Kendall's first green idea, does not work, due to being dangerous. James and Carlos decide to put a cow in every single apartment by cutting down on gas consumption, dairy, and elevator use. On the day of the project, Kendall and Jett still do not have an idea. Kendall finally gets an idea to put Jett in a box, due to Jett being an energy waster. Surprisingly, Kendall and Jett won the week off school. Much to Kendall and Jett's dismay, the two must speak to the governor, thus having to spend an extra week together.

Saturday, May 7th, 2011

16: Big Time Moms

James' mom, nicknamed the "Estee Lauder of the Midwest" for her successful cosmetics line, arrives at the Palm Woods to bring James home and groom him to take over the family company. The guys have to act fast to save the band, and figure out how to stand up to a woman not used to being told "no".

Saturday, May 21st, 2011

17: Big Time Prom King

The Palm Woods school is having its annual prom and Kendall, James, Carlos and Logan are all determined to win the title of Prom King and each will do whatever it takes to win. Carlos takes one of the Jennifers, but thinking he took the wrong date, Carlos dumps her, therefore the Jennifers team up again to destroy him. Kendall has to sneak Jo out of her apartment on being grounded, but they both get caught later on by her dad. Logan is jealous when Camille is going to prom with another guy so he tries to make sure James will be Prom King and queen with his date. But James ends up being hunted by three body guards, when trying to get Aubrey Stewart from "The Vampire Stories Chronicles Saga Trilogy". James and Logan both end up winning Prom King and Queen. Logan wins King, while James wins Queen.

Saturday, June 25th, 2011

18: Big Time Break-Up

Jo was offered a role in a major motion picture that shoots in New Zealand for 3 years. However, she lies to Kendall, saying that she is incapable of doing the movie due to her "New Town High " contract. But when Kendall and Katie check Jo's New Town High contract, it states that ", if offered a role in a major motion picture, she can get out of her contract. Much to Kendall's guilt, he tries to get Jo to break up with him by acting disgusting on their date. Jo then decides to take the role after Kendall convinces her. After her limo leaves, the boys realize that Kendall and Jo forgot their signature "Goodbye Kiss." The boys rush to the airport just before Jo's plane leaves for a proper goodbye.

Saturday, July 23rd, 2011

19: Big Time Single

The guys help Kendall cheer up after his big break up with Jo in order for him to get prepared for the band's new super huge summer single. While guys try to help Kendall cheer up he states that they'll never know what he's going through because they've never had their hearts broken. So James, Carlos, and Logan each date a girl from the Palmwoods for a few minutes and then try to break up with them to know what its like to get their hearts broken after a short relationship. James date the Jennifers and Logan dates Camille. When Kendall finally cheers up, James is upset because Jennifer broke up with him instead of vice versa ruining his perfect "never been dumped" record. Carlos is upset because he only spent 12 minutes dating 'red shirt girl' and it was "the best 12 minutes of his life." Meanwhile, Gustavo has writers block while trying to write the band's summer single that has to "rule the world."

Saturday, August 20th, 2011

20: Big Time Wedding

James accidentally proposes to a girl and Logan, Kendall, and Carlos have to stop the wedding before it's too late.

Saturday, September 24th, 2011

21: Big Time Rocker

When an eighteen-year-old rocker named Lucy Stone moves into the Palm Woods, James and Carlos compete with each other to see who she will chose as her boyfriend.

Monday, October 10th, 2011

22: Big Time Strike

The boys take a stand against Gustavo and refrain from recording a song for their follow-up album because of his harsh management style (such as electric shocks), which they call "striking it to the man".

Saturday, October 15th, 2011

23: Big Time Contest

A "Win a Date with BTR" contest held by a Teen Magazine goes all wrong with Logan's date an old lady, Kendall's date is a young boy only interested in his little sister. Carlos and James keeps swapping dates.

Saturday, October 29th, 2011

24: Big Time Superheroes

An early release of Hawk from prison proves to be a big mistake. A costumed Hawk, complete with large costumed henchmen, steals the hard drive that contains the only copy of the new album's masters. And only "The Supertastic Super-6" can save the day.

Saturday, November 5th, 2011

25: Big Time Secret

James works with Carlos to win over an old friend from camp (Daniella Monet) who is now a super model. Logan and Lucy try to find out what the secret is between Kendall and Camille and why are they spending so much time together. Gustavo, Kelly and Katie try to learn Mrs Knight's secret cookie recipe.

Saturday, November 19th, 2011

26: Big Time Interview

The boys sit down for a major Hollywood interview. They go back to their greatest moments and reveal pictures and secrets.

Saturday, November 19th, 2011

28: Big Time Interview

The boys sit down for a major Hollywood interview. They go back to their greatest moments and reveal pictures and secrets.

Saturday, January 28th, 2012

27: Big Time Move

A Big Time Fight between the boys have each of them wanting to move away from the others. (Season 2 Final)

Saturday, January 28th, 2012

29: Big Time Move

A Big Time Fight between the boys have each of them wanting to move away from the others. (Season 2 Final)
Season 3
Saturday, May 12th, 2012

1: Backstage Rush

The guys are on their last day of "All Over the World Tour" and they want to learn how to change costume faster so they can break a changing record.

Monday, June 25th, 2012

2: Big Time Returns

The guys return home from their tour as celebrities, but their priorities remain the same: relaxing and meeting girls. Meanwhile, Griffin pressures Carlos to pick his top song prior to a radio interview.

Monday, July 2nd, 2012

3: Bel Air Rush

Because of the insane fame rise of Big Time Rush poperazzi starts driving Big Time Rush insane so Gustavo is forced to move the boys to a mansion in Bel Air only to find out that they can never move out. This episode is a crossover episode with The Fresh Prince of Bel-Air.

Monday, July 9th, 2012

4: Big Time Double Date

Carlos and Jennifer are on a date. Katie and James team up and attack a waiter to try to help Carlos so he doesn't ruin his date with Jennifer by James becoming their waiter. Carlos discover him and makes him leave by throwing him on a table and pushing him away.

Monday, July 16th, 2012

5: Big Time Merchandise

Big Time Rush gets their own action figures, but they soon find out that those action figures can embarrass them like no one has ever done before.

Monday, July 23rd, 2012

0: Party All Night

Saturday, September 22nd, 2012

6: Big Time Surprise

Kendall has to deal with Lucy's ex-boyfriend Beau.

Saturday, September 29th, 2012

7: Big Time Decision

Kendall is unsure whether he has moved on with Lucy during Jo's absence, or whether he still has feelings for Jo. Meanwhile, Carlos has to make a choice to stand by either his best friend James, or his new benefactor Mr. Bitters, during a supposed zombie apocalypse.

Saturday, October 13th, 2012

8: Big Time Babysitting

Kendall and Logan have to take care of a rock legend before his Hall of Fame induction; James and Carlos are forced to watch Katie.

Saturday, October 20th, 2012

9: Big Time Gold

Kendall buys Jo a necklace but Camille believes Logan bought it for her; Gustavo hangs BTR's gold record.

Saturday, October 27th, 2012

10: Big Time Camping

Gustavo doesn't allow the boys to go camping because he fears for their safety, so they resort to camping on a soundstage with Jo, Camille and The Jennifers, but end up with a face off (Boys vs Girls). Meanwhile, Gustavo is trying to stop the boys camping section with the help of Kelly because he's afraid of them getting hurt. Elsewhere, Katie and Mrs. Knight are camping outside to get a new iSlab 3. Mr. Bitters had saved Jett a space on line.

Saturday, November 3rd, 2012

11: Big Time Rescue

Kendall, Jo , Camille, and Logan volunteer at a dog shelter and end up adopting 12 dogs. Meanwhile, James finds Carlos and Jennifer's puppy love sickening.

Saturday, November 10th, 2012

12: Big Time Bloopers

The boys mistakenly ruin the tape with their last episode, so they quickly set a blooper+outtakes episode hosted by Stephen Kramer Glickman as Gustavo Roque and Ciara Bravo as Katie Knight.
Season 4
not specified

0:

Thursday, May 2nd, 2013

1: Big Time Invasion

The boys try to stop the invasion of a British boy band; the boys hire a manager to help Gustavo; a rift forms between the band members.

Thursday, May 9th, 2013

2: Big Time Scandal

Lucy releases her album about being dumped by Kendall; James creates an Internet rumor that he and Cher Lloyd are recording a duet.

Thursday, May 16th, 2013

3: Big Time Lies

Kendall tries to keep Jo from knowing that he was with Lucy; Logan lies about being sick so he doesn't have to go to Camille's play; Carlos and James tell a lie to cover their destruction of Gustavo's office.

Thursday, May 23rd, 2013

4: Big Time Bonus

Griffin gives the boys a 20,000 dollar bonus and wants them to prove him they will spend them with responsibility.

Thursday, May 30th, 2013

5: Big Time Cameo

Gustavo books the boys to a lot of painful TV show cameos, but they decide to do no more cameos, until they get booked for "Coco.0", a show Carlos loves and has a pretty main character, Dara.

Thursday, June 6th, 2013

6: Big Time Tour Bus

Big Time Rush is on the way to their concert to San Diego, in tour buses, but they get stuck in traffic.

Thursday, June 13th, 2013

7: Big Time Pranks II

Palm Woods' prank wars kick off again, and this time the kids battle the adults. Logan pranks himself out and becomes "The Prankster Gangster", supplying prank tools to the kids.

Thursday, June 20th, 2013

8: Big Time Rides

James buys a motorcycle to try to impress Lucy; Kendall teaches Jo how to drive a stick-shift; Carlos and Logan hold on to a childhood treasure.

Thursday, June 27th, 2013

9: Big Time Tests

Logan brings Carlos along to the MCAT test as his good luck charm; James becomes obsessed with relationship quizzes.

Thursday, July 11th, 2013

10: Big Time Cartoon

The boys have been approached by two huge companies that are interested in expanding the BTR brand a little farther.

Thursday, July 18th, 2013

11: Big Time Break Out

At a party at Rocque Records, celebrating the release of their third studio album, Griffin asks the boys about which one of them is going to leave Big Time Rush and break out.

Thursday, July 25th, 2013

12: Big Time Dreams

It's the Tween Choice Awards, and BTR is nominated and booked to close the show! However, their night is in jeopardy when the guys uncover an evil plan to brainwash the audience.