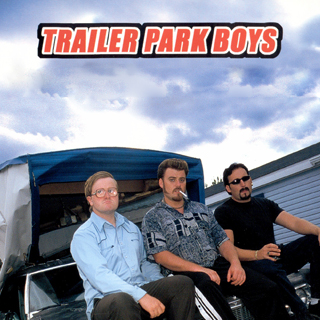 Season 0
s0e1: The Cart Boy (1995)

A short film about the 'Cart Boy' who later became Bubbles in Trailer Park Boys. Also features Ricky and Jason (who later became Julian) as security guards.

s0e2: One Last Shot (1998)

Ricky, Julian and Mr. Lahey appeared for the very first time in this short film.

Thursday, July 15th, 1999

s0e3: Trailer Park Boys - Pilot Film

After a psychic predicts his death, a small-time hoodlum named Julian hires a cheap documentary film crew to document the last few days of his mis-spent life. This is the film that pioneered the show of the same name.

Sunday, December 12th, 2004

s0e4: Dear Santa Claus Go F*ck Yourself

In this holiday prequel, it's 1997 and Sunnyvale Trailer Park is getting ready for the holiday season. Julian's got a great idea to make money this Christmas, Ricky gets confused between God and Santa, and Bubbles tries to get the Boys together for an annual Christmas bonfire. Meanwhile, Mr. Lahey is thrilled because Christmas is the only day of the year that his wife Barb allows him to have a few drinks. Directed by series creator Mike Clattenburg, this hour-long special takes place before Jamie was J-Roc, before Randy and Lahey were a couple, and before the Shitmobile was missing a door.

Sunday, March 5th, 2006

s0e5: Hearts of Dartmouth: Life of a Trailer Park Girl

Hearts of Dartmouth is an hour-long documentary that offers unlimited access behind the tightly closed doors of Trailer Park Boys, the show that has captured the hearts of a continually expanding international fan base. The doc eschews self-congratulations and instead will ask if a small group of passionate people armed with irreverence and a strong distrust of authority can change the face of television production - and if so, at what price? Directed by Annemarie Cassidy, a TPB crew member and wife of Trailer Park Boys creator/director Mike Clattenburg, Hearts of Dartmouth will offer a brutally honest yet intimate and personal look into the world and people who create Trailer Park Boys. However, Annemarie does not interview cast members, honouring the Trailer Park Boy mockumentary myth to never show a cast member out of character. Instead, she has spent hours piecing the TPB story together by interviewing the creators of this hit show - the people behind the scenes who struggle to get this groundbreaking series to air.

Friday, October 6th, 2006

s0e6: Trailer Park Boys: The Movie

The boys get arrested for robbing an ATM machine and spend 18 months in jail. When they get out, they decide to pull off "The Big Dirty" which is to steal a large amount of coins and quit their life of crime forever. This is a cinematic movie and is not filmed in the familiar mockumentary format of the TV series.

Sunday, April 8th, 2007

s0e7: Trailer Park Boys 101

From his unique perspective as not only a Trailer Park Boys fan but a guest star on one of its most popular episodes, Rush's Alex Lifeson guides the audience on an insider's tour of the world of Trailer Park Boys. Packed with hilarious clips from the first six seasons as well as producer interviews, this half-hour Showcase special is a must-see for not only fans of the hit series but for those who have been wondering what all the buzz is about.
Season 1
Sunday, April 22nd, 2001

s1e1: Take Your Little Gun and Get Out of My Trailer Park

After 18 months in jail, our Trailer Park Boys, Ricky and Julian , head back home to Sunnyvale Trailer Park aiming to get their lives back together again. The problem is that neither Ricky's fiancee Lucy nor his dad Ray will let him back into their homes, and some guy named Cyrus has moved into Julian's trailer, having crowned himself the new "King of the Park."

Sunday, April 29th, 2001

s1e2: Fuck Community College, Let's Get Drunk and Eat Chicken Fingers

Fed up with all their demands and complaints, Julian tells everyone that he is leaving the trailer park. Ricky, who has been living in Julian's car on his front lawn, has one week to find a new place to live. Mr. Lahey, the trailer park supervisor, is thrilled to hear of Julian's imminent departure but when he hears that Ricky won't be leaving too, his worst nightmare seems about to come true.

Sunday, April 29th, 2001

s1e3: Mr. Lahey's Got My Porno Tape

In desperate need of $2,000 to buy some hydroponics gear for his dope-growing business, Ricky reluctantly agrees to star in one of J-Rock's amateur porn films to be shot in J-Rock's trailer. Ricky, however, isn't quite up to the task, and the video, entitled "From Russia With The Love Bone", eventually winds up in Mr. Lahey's possession. Julian must convince Lahey that using the tape against Ricky would not be in Lahey's best interest.

Sunday, May 6th, 2001

s1e4: Mrs. Peterson's Dog Gets Fucked Up

While babysitting both Trinity and Mrs. Peterson's dog, Ricky accidentally gets shot and the dog devours a tray of hash brownies. A vet treats both the dog and Ricky. In order to pay the vet, Ricky and Julian must repossess a lawn tractor owned by a former patient who hasn't paid the vet's bill. The Boys successfully recover the tractor -- but not before Ricky gets shot for the second time that day.

Sunday, May 13th, 2001

s1e5: I'm Not Gay, I Love Lucy... Wait a Second, Maybe I am Gay

With Ricky's life still a mess, Julian tries to convince him that it's time to marry Lucy. Reluctant at first, Ricky changes his mind when Julian suggests that people will always think that Ricky is gay unless he marries Lucy. Julian's engagement present to Ricky is the '76 New Yorker, which for weeks was up on blocks in his front yard, and is now made operational thanks to a few purloined replacement parts.

Sunday, May 20th, 2001

s1e6: Who the Hell Invited These Idiots to My Wedding?

Lucy insists that Julian take over the job of organizing her wedding: which is odd since Julian isn't the groom, Ricky is. She wants lots of people and lots of food. The people part will be easy but getting that much food will be difficult on a tight budget. Julian's plan to hit a local grocery store runs into a snag when Ricky unexpectedly shows up in the middle of the heist. Shots are fired. The next day, the cops show up uninvited to the wedding.
Season 2
Sunday, June 23rd, 2002

s2e1: What in the Fuck Happened to Our Trailer Park?

When Ricky gets a job as a mall security guard, he puts Julian's dope-growing operation at risk and tries to arrest Bubbles for stealing shopping carts.

Sunday, June 30th, 2002

s2e2: Jim Lahey Is a Drunk Bastard

Julian and Ricky have to make sure that Jim Lahey wins the election for trailer park supervisor over their archrival Sam Losco.

Sunday, July 7th, 2002

s2e3: I've Met Cats and Dogs Smarter Than Trevor and Cory

Needing extra cash to expand their dope operation, Julian and Ricky open a bar and casino in J-ROC's trailer.

Sunday, July 14th, 2002

s2e4: A Dope Trailer Is No Place for a Kitty

When their dope plants become infested with insects, Ricky and Julian quarantine the surviving crop in Bubbles' shed, leading to a fiery conclusion.

Sunday, July 21st, 2002

s2e5: The Bible Pimp

Ricky's worst suspicions are realized when Julian falls for the daughter of a traveling Bible Salesman.

Sunday, July 28th, 2002

s2e6: Never Trust a Man with No Shirt On

After a big blowout with his boss, Randy quits his job and joins Julian and Ricky in their life of crime.

Sunday, August 4th, 2002

s2e7: The Bare Pimp Project

With their dope-filled Airstream trailer in tow, Julian, Ricky and Bubbles lead a convoy of police cars in a long chase through the countryside as a police helicopter circles overhead.
Season 3
Sunday, April 20th, 2003

s3e1: Kiss of Freedom

Ricky and Julian get out of prison rich men but Ricky kisses it all away in the end.

Sunday, April 27th, 2003

s3e2: Temporary Relief Assistant Trailer Park Supervisor

Ricky's job as Temporary Relief Assistant Trailer Park Supervisor threatens to blow the cover on Julian's bootleg vodka operation.

Sunday, May 4th, 2003

s3e3: If I Can't Smoke and Swear I'm Fucked

Ricky defends himself, Julian and Bubbles in court on charges of operating an illegal gas station

Sunday, May 11th, 2003

s3e4: Who's the Microphone Assassin?

Caught jacking more than just tunes, J-ROC tries to redeem himself by MC'ing a rap concert in the park.

Sunday, May 18th, 2003

s3e5: Closer to the Heart

Bubbles is so devastated about not getting tickets to the RUSH concert that Ricky decides to bring Alex Lifeson (Alex Lifeson) to the park to perform a private concert.

Sunday, May 25th, 2003

s3e6: Where in the Fuck is Randy's Barbeque?

Julian comes up with a plan to ""remarket"" barbeques. Ricky thinks it's a good idea to get his daughter, Trinity, and her friends in the Junior Achievers' Program to steal the barbeques since they are minors and won't go to jail.

Sunday, June 1st, 2003

s3e7: The Delusions of Officer Jim Lahey

Lahey looses his mind on the anniversary of his dismissal from the police force. He puts on his old police uniform and tells everyone in the park that he is a police officer again. He shoots at Ricky and ultimately imprisons Ricky and Julian in a homemade shed-jail.

Sunday, June 8th, 2003

s3e8: A Shit Leopard Can't Change its Spots

Ricky gets pissed off at Julian for inviting Officer Erica Miller on the cruise.
Season 4
Sunday, April 11th, 2004

s4e1: Never Cry Shitwolf

Julian gets out of jail only to discover that Ricky is the new supervisor of Sunnyvale Trailer Park. Ricky and his assistant, Bubbles, have been carrying out various illegal activities.

Sunday, April 18th, 2004

s4e2: A Man's Gotta Eat

Broke, trailerless and without rum, Julian decides to leave the park and ends up living in his car in an alley. Meanwhile, Randy will do anything for a store-bought cheeseburger.

Sunday, April 25th, 2004

s4e3: Rub 'N Tiz'zug

Julian, Ricky and Bubbles open a massage parlour in the park. J-Roc and DVS (Detroit Velvet Smooth) attempt to get J-Roc arrested to increase his ""street cred.""

Sunday, May 2nd, 2004

s4e4: The Green Bastard

On a family fun day in the Park, Mr. Lahey plans to get his old supervisor job from Ricky. Bubbles wrestles under the alias, ""The Green Bastard"".

Sunday, May 9th, 2004

s4e5: Conky

Bubbles has an infected tooth and the only way to get him to a hospital is with the help of his old childhood friend: a ventriloquist doll named Conky.

Sunday, May 16th, 2004

s4e6: If You Love Something, Set it Free

Bubbles befriends a dope-addicted mountain lion that has been eating weed from the Boys' marijuana fields..

Sunday, May 23rd, 2004

s4e7: Propane, Propane

The Boys are finally ready to harvest and sell their dope. Barb proposes to Ricky. Mr. Lahey goes off the deep end.

Sunday, May 30th, 2004

s4e8: Working Man

The Trailer Park Boys race to harvest their dope field while Jim Lahey slowly goes crazy.
Season 5
Sunday, April 17th, 2005

s5e1: Give Peace a Chance

The boys get out of jail only to find that Cory and Trevor messed up againâ??they don't own the park after all. Ray is hooked on VLTs.

Sunday, April 24th, 2005

s5e2: The Shit Puppets

Cory and Trevor start to work for Julian. The boys steal drugs from Cyrus and hatch a plan to hide it all until they can find a buyer.

Sunday, May 1st, 2005

s5e3: The Fuckin' Way She Goes

The boys hide all of the hash by using it to pave Ray's driveway. Ray's addiction to gambling and liquor gets worse. Ricky barbecues for his family with devastating effects.

Sunday, May 8th, 2005

s5e4: You Got to Blame the Thing Up Here

The boys find ways to help Ray now that his trailer has burned down. Bubbles realizes that the fire was not his fault.

Sunday, May 15th, 2005

s5e5: Jim Lahey is a Fuckin' Drunk and He Always Will Be

Bubbles pretends to be a spaceman when the boys buy a rocket set. Ray reveals Lahey's secret and Lahey goes off the deep end.

Sunday, May 22nd, 2005

s5e6: Don't Cross the Shit Line

The boys star in another one of J-Roc's greasy porn films. Randy and Lahey manage to get Ray arrested for disability fraud.

Sunday, May 29th, 2005

s5e7: The Winds of Shit

Julian devises a clever plan to sell part of their driveway in order to earn extra cash. Ricky gets a job as a janitor at a local vocational school.

Sunday, June 5th, 2005

s5e8: Dressed All Over & Zesty Mordant

Julian's biggest money-making scheme yet involves smuggling drugs in shopping carts. Ricky lets Trinity drive the shitmobile and she gets arrested.

Sunday, June 12th, 2005

s5e9: I am the Liquor

Ricky bails Trinity out of jail. Lahey goes on a drunk-a-thon, and finds out where the boys are hiding the hash.

Sunday, June 19th, 2005

s5e10: Shit Blizzard

Cyrus gets out of jail and goes after Ricky, Julian and Bubbles. The boys decide to surrender. Lahey saves Ricky's life.
Season 6
Sunday, April 16th, 2006

s6e1: Way of the Road

First show of the 6th season. Ray who is living in his truck sleeper disposes of his urine just like a trucker. Julian has a new plan to make money. Randy goes out on his own. Bubbles makes plans for his kitties.

Sunday, April 23rd, 2006

s6e2: The Cheeseburger Picnic

Randy takes over as park supervisor and plans a picnic for park morale. Mr. Lahey has a plan of his own. Lucy gets wasted and you won't believe who she turns to for comfort.

Sunday, April 30th, 2006

s6e3: High Definition Piss Jugs

Sunnyvale is finally going to get some publicity for their new "Convenients Store" and Bubbles "KIttyland" as a TV reporter comes to Sunnyvale. Lahey goes to the dump and finds something surprising. Randy has a new fan.

Sunday, May 7th, 2006

s6e4: Where in the Fuck is Oscar Goldman

Trinity is in danger of failing grade 6. Ricky comes to the rescue. Bubbles reveals that he has a fear of chickens.

Sunday, May 14th, 2006

s6e5: Halloween 1977

Randy power trips as he tries to clean up the park. Lahey tries to get incriminating evidence against the boys, and finds just the thing he thinks he needs to get back on the police force.

Sunday, May 21st, 2006

s6e6: Gimme My Fuckin' Money or Randy's Dead

Lahey appears before the police board. Julian prepares a surprise for Ricky. Ray becomes Assistant Trailer Park Supervisor.
Season 7
Sunday, April 8th, 2007

s7e1: I Fuckin' Miss Cory and Trevor

The boys try to profit from their latest scam of selling the meat that they have stolen from the grocery store. Meanwhile, Lucy is pregnant and Julian accepts a new job that is beneath him.

Sunday, April 15th, 2007

s7e2: I Banged Lucy And Knocked Her Up ... No Big Deal

J-Roc organizes a gang of thieves who are stealing bags at the airport. We learn more about Lucy's unborn baby.

Sunday, April 22nd, 2007

s7e3: Three Good Men are Dead

The boys help Lahey when his fellow police officers turn against him. Ray makes plans to return to the road.

Sunday, April 29th, 2007

s7e4: Friends of the Road

Bubbles and the boys get to meet heavy metal singer Sebastian Bach when they travel to Maine to attend a model train convention.

Sunday, May 6th, 2007

s7e5: The Mustard Tiger

The boys use Bubble's love for model trains when they make a plan to smuggle marijuana across the border into Maine. They send a team consisting of Jacob and his "crew" to scout the location, however the scouting team goes missing.

Sunday, May 13th, 2007

s7e6: We Can't Call People Without Wings Angels So We Call Them Friends

On a mission to find Jacob and his crew, the boys leave the relative safety of the trailer park for a dangerous adventure in the woods on the Maine border.

Sunday, May 20th, 2007

s7e7: Jump the Cheeseburger

Randy and Phil Collins go into business together, opening a restaurant called "The Dirty Burger". Meanwhile, Barb Lahey finally finds out who is her secret admirer.

Sunday, May 27th, 2007

s7e8: Let The Liquor Do The Thinking

Randy and Lahey devise a scheme to make some fast cash. To fool the police, Bubbles uses a disguise.

Sunday, June 3rd, 2007

s7e9: Going Off the Rails on the Swayzie Train

The boys go ahead with their plan to smuggle marijuana across the border using a model train. What could possibly go wrong?

Sunday, June 10th, 2007

s7e10: A Shit River Runs Through It

When the boys find themselves in trouble with the authorities it is up to Ricky to bargain for a deal. But, someone has to go to jail. Who will take the fall?
Season 0
s0e0: NO DVD EXTRAS, READ THE RULES!

Sunday, December 7th, 2008

s0e8: Say Goodnight To The Bad Guys

The time is one year after the boys successful "Train Scam" on the Maine border. Since then, Julian has insisted that they lay low and not spend any of the money, but the time finally comes that the gang will get their cut of the job. However, the boys and their money are soon parted and they are broke again, and now that they are penniless they have to deal with Lahey who has a brilliant new plan to evict them from Sunnyvale forever.

Friday, September 25th, 2009

s0e9: Trailer Park Boys: Countdown to Liquor Day

Ricky, Julian and Bubbles are about to get out of jail, and this time, Julian vows to go straight, even open a legit business. Soon the Boys will all be rich. At least that's what they've told the parole board. But when they arrive back at the park, they find it's not the same old Sunnyvale - and it's not the same old Jim Lahey, Trailer Park Supervisor. Lahey's a new man, hasn't had a drink for two years. And he has plans - BIG PLANS - for Sunnyvale. But unfortunately for Lahey, Julian stands in his way. With his big plans for Sunnyvale going down the toilet, his relationship with Randy broken down, and having the Boys back in the park is all way too much pressure for him to bear. For Jim Lahey, the countdown to liquor day is on. Meanwhile, Julian's having problems of his own and the Boys are forced to resort to doing what they know best - breaking the law. Lahey's descent into the liquor coupled with the Boys descent into crime puts them all on a collision course to mayhem and destruction.
Season 8
Friday, September 5th, 2014

s8e7: Community Service and a Boner Made with Love

Sentenced to community service, Bubbles insists that Julian and Ricky help him with a school puppet show. The Green Bastard teaches Ricky a lesson.

Friday, September 5th, 2014

s8e8: The Super-Duper-Industrial-Bubbles-Honey-Oil-Inator

When the compressor air conditioner breaks, Bubbles has to turn his sheds into an industrial honey oil manufacturing complex to save Ricky's weed.

Friday, September 5th, 2014

s8e9: Righties Loosies, Lefties Tighties

While being filmed by George Green, Bubbles gets his oil production going, aiming to make enough money to buy the trailer park for Barb and Julian.

Friday, September 5th, 2014

s8e10: Crawling Through The Shitpipe

The boys sell their entire honey oil output to Sebastian Bach, but to seal the deal for the trailer park, Julian has to do something truly terrible.
Season 9
Friday, March 27th, 2015

s9e1: TBA

Friday, March 27th, 2015

s9e2: TBA

Friday, March 27th, 2015

s9e3: TBA

Friday, March 27th, 2015

s9e4: TBA

Friday, March 27th, 2015

s9e5: TBA

Friday, March 27th, 2015

s9e6: TBA

Friday, March 27th, 2015

s9e7: TBA

Friday, March 27th, 2015

s9e8: TBA

Friday, March 27th, 2015

s9e9: TBA

Friday, March 27th, 2015

s9e10: TBA
Season 0
Tuesday, June 16th, 2015

s0e331: TPB10 On Set Part 7 - Ask Me Fucking Anything: Bubbles Pt 2

In Part 2 of Ask Me Fucking Anything, Bubbles talks about going into space, punching dirty fuckin' kangaroos, getting with the ladies... and his bird!

Friday, August 7th, 2015

s0e400: Podcast Episode 1 - Welcome to Ricky's Kitchen

This week on the Trailer Park Boys Podcast: Ricky, Julian and Bubbles discuss Donald Trump, Ricky's solution to the California drought, and how many minutes there are in 30 minutes. We also find out who has a crush on Hulk Hogan, and why Ricky wants a horse!

Friday, August 14th, 2015

s0e401: Podcast Episode 2 - Hungry Birds

Ricky, Julian and Bubbles bicker over hosting duties, and discuss the latest greasy entertainment news. And why does Ricky think the International Space Station is a ghost?

Friday, August 21st, 2015

s0e402: Podcast Episode 3 - Looly Looly Looly Chicken

What's on Ricky's mind this week? Birds in baby helicopters, eyeballs in strange places, and Sharon Stone! We also find out what (or who) Bubbles would do for $10 million...

Friday, August 28th, 2015

s0e403: Podcast Episode 4 - Our Guest Smells of Pickles

Bubbles has booked his first guest – it's not Rocky Balboa, but Ricky's still spoiling for a fight! The boys also discuss the benefits of keeping a woolly mammoth, and the difference between Greece and Grease!

Friday, September 4th, 2015

s0e404: Podcast Episode 5 - Supercat

Only an idiot gets injured making a podcast – and this week, that idiot is Ricky! Preston the TPB crew guy also spills the beans about Ricky's bad behaviour on set. Also: Bubbles tells a tall tale about his kitty Ronnie Pumpkin, Julian gets excited about a greasy tuna scheme, and the boys reveal next week's awesome guest...

Friday, September 11th, 2015

s0e405: Podcast Episode 6 - Cybersmoke with Snoop Dogg

Wake 'n' bake with Snoop Dogg as he joins Ricky, Julian and Bubbles via the world pipe! Snoop and the boys discuss Sweden, Ashley Madison, Deflategate, and how to get a robot high. Snoop also asks Bubbles some tricky questions about nuts! Episode Six is brought to you by Wahlburgers restaurant and bar!

Friday, September 18th, 2015

s0e406: Podcast Episode 7 - You Wanna Get Into It, Baruchel?

This week's podcast guest is international superstar and hat thief, Jay Baruchel! They discuss toonies, Goon 2, and why lettuce is bad for your internet connection. The boys also name their Dickweed of the Week! Episode Seven is brought to you by Wahlburgers restaurant and bar!

Friday, September 25th, 2015

s0e407: Podcast Episode 8 - Liquored up in London with the Mighty Boosh

The Trailer Boys Podcast comes to you from London, England, with guest stars Mike and Noel Fielding of Mighty Boosh and Luxury Comedy fame! The boys discuss British snacks, Julian's greasy trailer ghosts, what the Queen drinks for breakfast, and why Ricky once dressed up as George Michael. Episode Eight is brought to you by the world-famous El Mocambo live music venue, Toronto!

Friday, October 2nd, 2015

s0e408: Podcast Episode 9 - High as Fuck in Amsterdam

Ricky, Julian and Bubbles are podcasting from De Dampkring coffee shop in Amsterdam! The boys discuss the Red Light District, shrimp wangs, and Ricky's swan obsession. Then the weed kicks in and Ricky and Bubs lose it BIG TIME... Episode 9 is brought to you by the world-famous El Mocambo live music venue, Toronto!

Friday, October 9th, 2015

s0e409: Podcast Episode 10 - Esa Tikkanen

Ricky, Julian and Bubbles are in Helsinki, Finland, and are joined by hockey legend Esa Tikkanen! They discuss greasy Finnish facts, crazy hockey stories, and how to get a buzz on in a country with no weed. And find out why Bubbles is about to get a boot up his ass! Episode 10 is brought to you by the world-famous El Mocambo live music venue, Toronto!

Friday, October 16th, 2015

s0e410: Podcast Episode 11 - Blue Jays and Mr. Preparation H

The Boys are back in Ricky's kitchen! This week's topics include the Toronto Blue Jays, talking can openers, Disco Duck, and why Harvard can suck it. Ricky also attempts a daring jump stunt... Episode 11 is brought to you by Dragons' Den star Michael Wekerle! www.michaelwekerle.ca

Friday, October 23rd, 2015

s0e411: Podcast Episode 12 - Handgun Pillows and Moon Piss

The Boys are back for another TPB Podcash! They discuss Ships Bigger Than Juniper, Corn Slaves, Kangaroo Vaginas and why Ricky would cut a deal with Cheese Aliens! Episode 12 is brought to you by Liquormen's Ol' Dirty Canadian Whisky.

Friday, October 30th, 2015

s0e412: Podcast Episode 13 - Were You Born F**ked, Randy?

Randy takes over the TPB Podcast, and he's brought breakfast Dorito cheeseburgers! This week's topics include Canada's handsome new prime minister, green poop, and... cheeseburgers. RANDY!! Episode 13 is brought to you by Liquormen's Ol' Dirty Canadian Whisky.

Friday, November 6th, 2015

s0e413: Podcast Episode 14 - I'm a French-Mexican Superhero Disguised as a Hotdog

Ricky and Bubbles attempt to celebrate Halloween in November! Before they get arrested for trick-or-treating, the boys discuss $30 snuggles, space junk and the dangers of 'rocket load', and wrestling croco-dolphins. Episode 14 is brought to you by Liquormen's Ol' Dirty Canadian Whisky!

Friday, November 13th, 2015

s0e414: Podcast Episode 15 - Canadian Sniper

Today's guest is Canadian war hero and all-round badass Jody Mitic! He talks about his adventures in the army, and the injuries that changed his life. An unwelcome guest also shows up... but he's only had a coupla drinks! Episode 15 is brought to you by Liquormen's Ol' Dirty Canadian Whisky.

Friday, November 20th, 2015

s0e415: Podcast Episode 16 - Hi There, I'm Lampy Lamp

Ricky's had a fight with Lucy - is she cheating on him with one of the podcast sponsors? Also: Was Jimmy Hoffa murdered by a sofa bed? How do you fight a toothless shark? And why in the fuck does Ricky have a lampshade on his head? Episode 16 is brought to you by Liquormen's Ol' Dirty Canadian Whisky!

Friday, November 27th, 2015

s0e416: Podcast Episode 17 - Carrot Top's Fuck Den

Fuck Black Friday, it's Red Friday on the podcast as the Boys hang out with comedian Carrot Top in Las Vegas! Topics include strip clubs, Petey Big Bird, and Randy's new smell!

Friday, December 4th, 2015

s0e417: Podcast Episode 18 - Julian's Drunk Facts

This week's topics include crazy drunk pigs, alcoholic ants, bent birds, and money horses! The Boys also try to figure out what day it is, and Bubbles has a 'taco tummy' emergency!

Friday, December 11th, 2015

s0e418: Podcast Episode 19 - Live from New York City

From Central Park, NYC, the 19th (or 8th or 11th, who fuckin' knows) TPB Podcast! This week's topics including how to beat up Elmo, Gus the neurotic polar bear, "Tits & Grits", and why Randy and Lahey stink! And where the frig do you find dope in the "Center of the Park"?

Friday, December 18th, 2015

s0e419: Podcast Episode 20 - Dopeless & Buzzonless in Boston

The Boys are podcasting without a permit in Boston! Before they get arrested they talk about weird Boston facts, Trevor's nipple frostbite, space planes, and why Ricky wants a cock transplant!

Friday, December 25th, 2015

s0e420: Podcast Episode 21 - Christmas Podca$h

It's Christmas Day and the Boys are ready to unwrap their presents! They also discuss Ricky's new body, chugging sour milk, and the dangers of eating Ricky's breakfast wings. There's also a visit from two drunky Christmas elves...

Friday, January 1st, 2016

s0e421: Podcast Episode 22 - The Fucking Year in Review

The Boys recover from their holiday blowout and look back at the funniest and most fucked moments from the TPB Podcast! Highlights include Snoop Dogg, looly chickens, Ricky's stunts, and a hilarious meltdown in Amsterdam...

Friday, January 8th, 2016

s0e422: Podcast Episode 23 - New Year's Regulations

It's 2016 for everyone... except Ricky! The Boys discuss their plans to get healthy after their fucked-up New Year's blowout, pig gut condoms, and Ricky's Twister boner!

Friday, January 15th, 2016

s0e423: Podcast Episode 24 - Shit People Shouldn't Get Teached

How are Ricky's new year's resolutions going? How does science control daylight? Are there spots on a giraffe's wang? Find out the answers to these fucked questions, and more!

Friday, January 22nd, 2016

s0e424: Podcast Episode 25 - Let's Dance

The Boys pay their respects to Grizzly Adams, David Bowie and Glenn Frey, and Julian reveals his favourite dancing songs. They also discuss this year's Oscars, and Ricky's plan to fuck it up!

Friday, January 29th, 2016

s0e425: Podcast Episode 26 - Vincent van GoPro

What's happening to Ricky? He's making 'abacastraca' art, talking French, and doing math! Also: Amazing facts about barcodes, termites, and dead birds, and why Bubbles hates Mr. Magoo!

Friday, February 5th, 2016

s0e426: Podcast Episode 27 - Adam Baldwin

This week's special guest is Canadian rocker Adam Baldwin! They chat about sex, drugs and rock 'n' roll, attempt to explain Groundhog Day to Ricky, and discuss 3D vagina art. Ricky also tries to do a greasy business deal... live on air!

Friday, February 12th, 2016

s0e427: Podcast Episode 28 - Hello? Hello? Hello? FACK!!!

Ricky reveals why he's got a six-foot-long snake in his pants, Julian attempts to phone some TPB fans, and Bubbles tries to get a date on Tinder!
Season 10
Monday, March 28th, 2016

s10e1: TBA

After Ricky and Bubbles discover Jim Lahey's new start-up Julian concocts a plan to get in on the action.

Monday, March 28th, 2016

s10e2: Episode 2

Monday, March 28th, 2016

s10e3: TBA

Monday, March 28th, 2016

s10e4: Episode 4

Monday, March 28th, 2016

s10e5: TBA

Monday, March 28th, 2016

s10e6: TBA

Monday, March 28th, 2016

s10e7: TBA

Monday, March 28th, 2016

s10e8: TBA

Monday, March 28th, 2016

s10e9: TBA

Monday, March 28th, 2016

s10e10: Episode 10
Season 0
Thursday, December 10th, 2015

s0e14: Drunk, High and Unemployed: Live In Austin

Ricky, Julian and Bubbles bring their trailer park humor out onto the stage for a night of bravado, schemes and an intoxicated acting demo.
Season 11
Friday, March 31st, 2017

s11e2: Episode 2

Friday, March 31st, 2017

s11e3: Episode 3

Friday, March 31st, 2017

s11e4: Episode 4

Friday, March 31st, 2017

s11e5: Episode 5

Friday, March 31st, 2017

s11e6: Episode 6

Friday, March 31st, 2017

s11e7: Episode 7

Friday, March 31st, 2017

s11e8: Episode 8

Friday, March 31st, 2017

s11e9: Episode 9

Friday, March 31st, 2017

s11e10: Episode 10