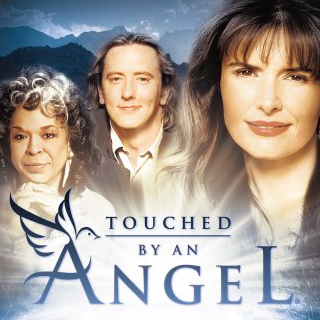 Season 1
Wednesday, September 21st, 1994

s1e1: The Southbound Bus

Tess guides Monica on her first assignment as a case worker after being promoted from search and rescue. On the southbound bus, she befriends David Morrow, a young boy who tells her that his mother and sister died in a car accident. After helping David fend off some bullies, Monica escorts him home. There she meets his father, Nick a police detective who is looking for a live-in nanny. Monica is hired on the spot, but soon has a chance encounter with Adam, the Angel of Death, who informs her that although David's sister, Katie died of crib death, his mother is very alive. Confronting the child with his untruth, Monica learns that his guilt-wracked mother left home afterwards and hasn't returned. She promises to bring his mother home and sets out to find her in Hewitt, leaving David is Tess's care. In a seedy cafe, Monica befriends two waitresses, and mistakes one of them as David's mother. She arranges a meeting between Ruth Ann and Nick, which backfires when the police office

Wednesday, September 28th, 1994

s1e2: Show Me the Way Home

Monica is assigned to Earl Rowley, a crusty baseball coach. Bitter because his Vietnam War injury prevented him from pursuing a major league career, he pushes his high school players hard, especially Peter Enloe, the star player whose own father died. Earl is less than thrilled to have a female assistant coach but is told that Monica was the only substitute teacher who had a strong credentials in both history and baseball. Tess, in the meantime, accepts a position working in a sports bar run by Peter's mother, Laura. A few days before a crucial game, Earl appoints the young man team captain and tells him a college scout will be watching the game tp see if Peter is worthy of a baseball scholarship. However, the coach also expects Peter to lead the team with his authoritarian leadership style. Prompted by Monica's history lesson that sometimes a person must stand up to a bully, the teamcaptain takes a stand against Earl, which results ini a fistfight and Peter's suspension from the

Wednesday, October 12th, 1994

s1e3: Tough Love

Monica serves as the personal assistant to Elizabeth Jessup, a prominent journalist, and the angel soon learns that her new assignment has a serious drinking problem. At a birthday party for her granddaughter Beth, Liz has too much to drink, which prompts her own daughter Sydney to take her daughter home. Soo afterwards, the newswoman makes a spectacle of herself while giving a speech at the Mayor's Centennial kick-off. This incident causes Sydney to stage an intervention for her mother with the help of Anita, a counselor at the New Hope Center. But this action backfires and an enraged Liz orders her guests to leave. Thenext day, Monica returns to work and learns that Liz started drinking to fit in with her male counterparts. Monica convinces her employer to visit the New Hope Center. However, upon seeing Anita, Liz loses her temper and storms out out othe the building. Although Sydney refuses to let Beth have contact with her grandmother, the child sneaks out to see Liz anyway

Wednesday, October 19th, 1994

s1e4: Fallen Angela

Monica learns to overcome her fear of water when she moves next door to Angela Evans, an avid boater with a secretive past. Years ago during college, she supportive as a call girl. Now that her husband Carter is running for the U.S. Senate, she is being blackmailed by Marshall, her former pimp. Monica convinces Angela to stand up to him, but learns that he had taken photos of her in compromising positions. Rather than tell Carter the truth, she attempt suicide by intentionally sinking her boat in the middle of the lake. Adam, cautions Monica not to violate Angela's free will by rescuing her. the resourceful angel shows the woman how her suicide would affect her loved ones, and she chooses to live. Revealing herself after the rescue, Monica admits overcoming her own fear of water when she saw Angela about to drown and encourages her to return home and confide in Carter. Together, the Evans decide to hold a press conference regarding Angela's past, freeing them from the threat of

Wednesday, October 26th, 1994

s1e5: Cassie's Choice

Cassie Peter's is pregnant and plans to give her baby up for adoption. Although neither Craig (the baby's father) nor Joanne (Cassie's mother) is present for the delivery, Monica is, posing as a nurse. After holding her daughter, Cassie changes her mind and runs away, much to the chagrin of the Feldman's, the adoptive parents. Monica and Tess are keeping watch over the mother and child when they learn from Adam, that the child is seriously ill. Monica gently prods Cassie to take the chihld to the hospital, where the teenager begins to realize she is not ready for the rigors of motherhood. Monica's revelation reinforces this fact, and Cassie returns home and gives the baby to the Feldman's. At the infant dedication, Mrs. Feldman announces that she and Ben have named their baby Faith. Cassie asks for a moment with her daughter and plays the flute for her legacy of music that runs in the family.

Wednesday, November 2nd, 1994

s1e6: The Heart of the Matter

Monica serves as a legal assistant to a young lawyer, Charles Hibbard, he mistakenly gives an inheritance to an eccentric young woman, Robin and must convince her to give it back. Charles is a hypochondriac with an imagined heart condition. Monica help him to open his heart and he falls in love with Robin.

Wednesday, December 7th, 1994

s1e7: An Unexpected Snow

Monica and Tess arrange an accident on a deserted road for Megan and Susana, two women involved with the same man. The angels create an estate where the women and eventually Susana's husband spend Thanksgiving together. The angels are assisted by Adam, who doesn't have the heart to kill the turkey for dinner. Monica convinces Megan that she must find someone else and Tess convinces Jack to return to his marriage.

Wednesday, December 14th, 1994

s1e8: Manny

Monica and Tess are party coordinators for Harrison Trowbridge Archibald IV, a stuffy doctor whose wife, Barbara, and mother, Amelia, are planning a prestigious social event to commemorate a new hospital expansion named after their family. They are in the midst or preparation when Manny arrives at their doorstep, claiming to be the Archibald's sponsor through Child Watch. unable to have children of their own, Barbara welcomes him with open arms although her husband remains suspicious. Just as Harrison starts to bond with ""Manny,"". Monica learns the boy is not from Child Watch but is really Luis, a homeless child who lives under the hospital. The angel reveals herself and urges him to tell the Archibald's the truth. When he does, Harrison becomes irate and wants to throw Luis out of the house, but Barbara and Amelia convince the doctor to wait until after the party. Tess, in turn, prods Amelia to tell her son the truth about his heritage, not only are the Bowthorpes of Charleston

Sunday, December 25th, 1994

s1e9: Fear Not!

A small town church is putting on its Christmas pageant, and little Serena desperately wants to be the angel. Her slightly retarded friend Joey, must come to terms with the fact that Serena is dying of a heart condition. Joey is patholigically afraid of the dark, his parents went out into the night and never came back. Since then , his older brother wayne has been his caregiver, and resented it. Monica reveals herself to Wayne, but he holds God responsible for his lousy life. When Serena dies the night of the pageant. Joey is led to the church by a bright star. Monica takes Serena's place as the angel, but when the rope supporting her breaks, Monica rises with glory and power and the entire congregation is awed by her angelic revelation and message "Fear Not."

Saturday, February 25th, 1995

s1e10: There, But For the Grace of God

Monica is stripped of her angelic powers to help a proud, homeless man named Pete. She also befriends Sophie and Zack a Desert Storm vet. Monica realizes that she has stood judgement on homeless people and after a prayer she washes Pete's feet. Sophis is reunited with her family. Zack trades his Marine corp rine for Pete's wifes ashes and a quarter to call home. With God's help Pete is able to go to colorado to spread his wifes ashes.

Saturday, March 4th, 1995

s1e11: The Hero

Three years ago, James Mackey defused a tense hostage situation by shooting the gunman who had fatally wounded James's partner. Now Monica is a journalist writing a story about the small-town sheriff and local hero. Although a loving father, Mackey places intense pressure on his son, Matthew so he can gain admission to the U.S. Naval Academy in Annapolis. Rather than risk not doing well, the boy cheats on a college entrance exam but gets caught. Afraid of how his father will react, Matt attempts suicide. While in a coma, Monica uses her angelic powers to talk to him and convince him to live. She later helps Sheriff Mackey resolve his own inner torment, his late partner, Nick Hansen, was the true hero. Mackey had frozen when they confronted the criminals, and Nick saved his life. Monica convinces Mackey that God loves him regardless and is able to reunite father and son.
Season 2
Saturday, September 23rd, 1995

s2e1: Interview with an Angel

Tess is in an uncharacteristically grumpy mood as she gives Monica her new assignment, to be interviewed by Callie Martin, a cynical reporter writing an expose on angelic encounters. Explaining that she is an angelic experience, Monica recounts the story of a recent case. Heart transplant surgeon Dr. Joe Patcherek is assigned to operate on Ethan Parker, the drunk driver who killed Joe's five children. Since that incident Joe and his artist wife, Lisa have drifted apart. She has immersed herself in a sculpture that will stand in the children's wing of the hospital as a dedication to her kids. During a heated, emotional conversation, Lisa urges her husband to forgive her, Ethan, and God for their children's deaths. Later, in the middle of the surgery, Monica, the transplant coordinator, stops time and reveals herself to Joe. She tells him that he is holding his own life in his hands and that no one except God has the right to determine whether another human should live or die. A

Saturday, September 30th, 1995

s2e2: Trust

Monica is a rookie cop, her assignment is to help Zack, who's returning to the force following rehabilitation from a gunshot wound. He's requested a new partner, which upsets his old one, Ben. We see that Zack has become addicted to pills and when he and Monica bust a drug dealer, Mason, he steals his stash. His erratic behaviour causes him to miss Mason's preliminary hearing, and a freed Mason assaults a teenage girl. Zack lives in fear, he has recurring memories of being shot. When Monica reveals herself she assures him that faith is the one armor that bullets can't pierce. Zack helps capture Mason and, armed with new faith, is able to face his addiction and reconnect with his wife.

Saturday, October 7th, 1995

s2e3: Sympathy for the Devil

Matt Duncan books rodeo into an arena he manages not realizing that his estranged father is one of the feature attractions. Ty Duncan is a grizzled veteran of the rodeo circuit and wants to reconcile with his son before he dies. Monica's who's acting as Matt's bookkeeper, is horrified to learn that the midway's fortune teller is Kathleen, a former friend and fallen Angel, who is determined to keep father and son apart. She decides to focus on little Daniel Duncan, who had previously been told his grandfather was dead. Kathleen makes sure that Ty meets Danny, which infuriates Matt who is led to believe Monica is at fault. The ""dark angel"" also makes a pass at him, since his wife is out of town. After the youngster slips into the corral of a dangerous bull, Monica rescues him and then intercedes in the resulting fight between Matt and Ty. She reveals she was sent to end the cycle of hatred between father and son and to uncover Kathleen as a force of evil. Ty makes a memorable fi

Saturday, October 14th, 1995

s2e4: The Driver

High-powered TV reporter Debra willis hits a teenager and the nleaves the scene of the accident. Her old buddy Leo, a veteran detective takes on the case and Debra, still covering up, ends up reporting on her own crime. Debra has always used the tage line, ""As my mother always says..."" but we find out that in real life her mom Grace is an icy cold perfectionist whose daughter was never good enough. Debra had attempted suicide as a teenager, now she tries again but is stopped by Monica, who reveals herself as an angel and shows Debra that she has the right to be less that perfect, God will still love her. Debra comes clean and retains the love and support of her boyfriend George.

Saturday, October 21st, 1995

s2e5: Angels on the Air

Monica works as a personal assistant to radio personality Sandy Latham, who is renowned for her caustic rapport with listeners and bring her wit. in that capacity, the angel hopes to repair Sandy's relationship with Claire, who is continually mortified that her mother used her as a pawn in the ratings battle. Meanwhile, Tess joins Sandy as an on-air sidekick, encouraging her to be more supportive of her llisteners and her daughter. After Claire is humiiliated by one of her mother's stunts, the girl gets involved with a black marketr CD scam to get money to run away from home. monica uses her angelic powers to protect Claire and reveals that she is neveralone with her pain because God is there also. Tess, likewise, reveals a similar message to sandy, who is still recovering from her ex-husband's infidelity. The angels encourage mother and daughter to work through their pain.

Saturday, October 28th, 1995

s2e6: In the Name of God

Tess returns to the town of a previous assignment and she and Monica help Joanna open an Aids hospice. Joanna is injured in a bomb blast and Tess is brought face to face with a white supremacy group headed by her previous assignment Tim. Tess's anger causes her to be replaced by another angel, Sam. Monica is able to enlist the help of a nosey neighbor Jerry, and the angels do battle with Satan, who's posing as a politician. Tess and Monica reveal themselves to Tim and show him that he was motivated by fears stretching back to childhood. together they drive Satan out of the community.

Saturday, November 4th, 1995

s2e7: Reunion

Returning home for her mother's funeral, Megan Brooks arrives with a Dixieland band playing ""When the Saints Go Marching in"". This incident raises the ire of her grandmother, Clarice Mitchell, a renowned poet. Clarice's son, Sam and Megan had been high school sweathearts, but their lives drifted apart. Now that she is recently widowed, Sam is interested in rekindling and spontaneously proposes to Megan. Clarice, however is horrified to discover that Megan is HIV positive. The mother urges her son to retract his proposal, and at first Sam literally drives away. But realizing his selfishness, he returns and pledges to stand by Megan through their coming years together. Now Megan has reservations about the marriage leaving Sam completely confused. Revealing that she has been conduit through which Clarice received divine inspiration, Tess urges the poet to give her blessing to the nuptials because this is Sam and Megan's time to live and love. The wedding proceeds apace after the

Saturday, November 11th, 1995

s2e8: Operation Smile

Ginger works as an exotic dancer, in which unlikely venue she meets Monica. Ginger hires Monica to babysit her little daughter Emily, who was born with a disfiguring cleft palate. Ginger fears other kids in her trailer park will taunt Emily, but Monica invites Jeremy, who befriends the little girl. When Jeremy learns about Operation Smile, an organization of doctors who perform pro bono plastic surgery, he suggests Emily as a candidate. Ginger has taken Emily's affliction as a punishment from God for past transgressions, and refuses to accept the charity offer. Jeremy leads Emily off to Nashville (and Operation Smile) anyway by stowing away on Albert's pick-up. Albert is actually transporting stolen goods elsewhere, when Tess intercepts the entire crew. She confronts Albert and redirects their journey across state via a balloon. Monica reveals herself to Ginger, she is angry that she assumes her daughter is a punishment from God, she should know that Emily is a great gift. In

Saturday, November 25th, 1995

s2e9: The Big Bang

Monica and Tess find themselves caught in the middle of a bank holdup. Jackson, the arrogant and brilliant stick-up man, holds Monica and a very pregnant Alison hostage, as he forces the president of the bank, Max Chamberlain into the vault. But when an earthquake shakes the building, Monica, Max and Alison are locked in the vault. Jackson insists on freeing them. Alison is his wife. Max was closing the bank, they were about to lose their insurance and desperate Jackson was targeting Max in revenge. Inside the vault, Monica reveals herself to the unborn child in Alison's womb, reassuring him that the world is not to be feared, that God will watch over him. The metaphor stands for the bank as well, when the vault door swings open, Jackson cannot shoot Max as planned, for Max is carrying out Alison, and Monica is carrying out his son. Rescue workers open the bank entrance and the little group within, like thinfant, emerge into the world.

Saturday, December 2nd, 1995

s2e10: Unidentified Female

Jennifer has a burn on her finger and a hole in her memory. Two detectives are rigoursly interrogating her about a shooting death she witnessed. As she is cross-examined, her jumbled memories enevtually coalesce into a narrative. A reporter for the trendy magazine Curb, Jennifer met Clay Martin, a real-estate developer, in an elevator at her office building. He invited her to a party where she met his best friend, Alex as well as Monica. Against his mother's wishes, Alex had beentraveling in search of his real father. Despite the former roommates cross words, not the least of which regarded the fact that Alex's ex-girlfriend was now dating Clay, they soon reconciled. Jennifer subsequently had a heart-to-heart talk with Alex where the prodigal confided he was on his way home to deliver yellow roses and an apology to his mother. Afterwards she just happened to be in the room when Clay shows Alex and antique gun. Although apparently unloaded, the gun contained a chamber that round

Saturday, December 16th, 1995

s2e11: The Feather

The sequel to the first season's Christmas episode ""Fear Not"", ""The Feather"" continues the story of a littles church's congregation now that they've seen Monica reveal herself in all her glory. Awed, trying to figure out what it all means, the congregation susceptible to Charles, a con artist posing as a preacher. He seizes a feather which fell from Monica's dove and holds it up the church as physical proof of the miracle. He's diverting piles of donation offerings into his own pockets when he's confronted by Wayne, who turns out to be his brother. Years ago, Charles and Wayne ran the preacher scam together, Wayne is now a reformed man and he's determined to stop him. The issue is brought to a head when Joey, who's been ministering to a crack baby that was left in the church, brings the infant to Charles for healing, he can't do it, of course, but Monica reveals herself again and reminds the church that they worshipped a feather instead of a King and their need for fame deafened

Saturday, January 6th, 1996

s2e12: The One That Got Away

En route to a wedding in a picturesque mountain meadow, Monica meets an uninvited guest, Andrew, an Angel of Death whom Tess is well acquainted with. The angel's new assignment focuses on former law school classmates traveling via train to the nuptials. Mark Monfort and Susan Duplain rekindle their passion, having ended their relationship just before graduation. However, their friend, Lisa Magdaleno is still reeling from the suicide of her fiance, Doug who was expelled from law school for cheating. Mark had been unaware of his best friend's death and more importantly of his own involvement. Jealous that Doug received a clerkship she wanted, Susan tricked Mark into helping her change Doug's exam to make it look like he plagiarized it. With Andrew's assistance, Monica shows Mark that Susan's quest for power and prestige is out of control. After an intense confrontation with her, he turns to Lisa for comfort and support.

Saturday, January 13th, 1996

s2e13: 'Til We Meet Again

The Carpenter family gathers as their father, Joe prepares to die at home. Although grown, the siblings demonstrating the roles they become accustomed to. Kate, the eldest, takes charge like their mother, Elizabeth but is not quite as overbearing. Chris, the middle child, stuns his sisters with the news that he is estranged from his wife. And Kim, the youngest, is the creative one who never seemed to fit in with the rest of the family. Monica and Tess, as the home-care nurse and interior decorator, get caught in the crossfire as Chris and Kim resist Kate's domineering behaviour. The angel's mission is to help expose a family secret before Joe dies. Andrew informs Monica and Tess that time is rappidly approaching. Amidst a heated argument, Kate exposes the secret, Kim is not Joe's biological father. Upon returning from a brief trip, Elizabeth convenes a family meeting to discuss the matter. Years ago, she had a torrid affair with her husband's business partner. Joe forgave hi

Saturday, January 20th, 1996

s2e14: Rock 'n' Roll Dad

Rock 'n' Roll star Jon Mateos has it all, a loving wife Evie, a devoted teenagae daughter Samantha, and a son Dylan. He relies on Evie for support and she responds by trying to be everywhere and do everything for him. Jon's comfortable world is turned upside down when Evie, rushing from her daughter's concert to a TV appearence by Jon, is killed in a car accident. Faced with actually having to raise his children, and deal with their emotional trauma, Jon rereats into work and then rapidly descends into and drug use. Monica who is Jon's driver, watches as his attempts to record a new song, 'Nowhere', disappear down the bottle and up his nose. Tess is the kid's nanny, Samantha slips around her to go out with friends to a concert. But en route they stop at a motel to party. Samantha didn't plan on this and runs out. She pages her dad, but he's too stoned to pick up his pager. Eventually Sam hitches a ride with a trucker. When the driver points out they're at the spot where Evi

Saturday, February 3rd, 1996

s2e15: The Indigo Angel

Club Indigo, once St. Louis' premier blues and jazz club, has fallen hard times. It's owner, Sam, is getting on and his grandson Zach arrives to convince his grandfather to sell the club and move into a nursing home. Sam resists. He's always told Zach that ""The Countess"" told him ""do nothing, til you hear from me"" and he's sticking to those words. Zach assumesthat Sam has embriodered the past greatness of the club, and that he's made up stories of all the jazz greats who played there and were friends. Especially that story about ""The Countess"", the mysterious singer who arrived in the sixties and put the club back on the map. Whether these stories are true or not, it's apparent that Sam should really be in a nursing home, he's losing his memory as well as his well-being. But Sam has always had an open-mike night on Mondays, and despite his grandson's protests, proceeds to hire Monica to M.C. the event. Zach tricks his grandfather into signing a power of attorney agreement so th

Saturday, February 10th, 1996

s2e16: Jacob's Ladder

As Monica studies a sleeping man in a run-down apartment, Tess appears and informs her she's in the wrong place, 801 Cedar Street Jacksonville, Florida rather than Jacksonville, Illinois. After using her angelic powers to tidy the apartment, Monica stoops to pick up a bag under the bed when the police burst in. The bag she's holding is full of cocaine, and the police arrest her. During interrogation, her claim that she's an angel makes her a candidate for a mental hospiptal. At her arraignment, Monica alone can see Sam, the angel from special services. He tells her the simple mistake of going to the wrong address has set events in motion that have to play out, but no matter what happens God will never laeve you of forsake her. Monica is assigned a court-appointed attorney, Jake Stone, a Vietnam veteran and hardened cynic. He tries to convince her to plead guilty but mentally ill. She refuses, however, and insists on a competency hearing. In the meantime, Monica is remanded to

Saturday, February 17th, 1996

s2e17: Out of the Darkness

What happens if you go into a coma, wake up five years later and discover you've lost everything that mattered to you? When we open Steve is celebrating the opening of he and his partner Matthew's architectural firm. Then his son falls off the roof, but is miraculously unhurt. Monica caught him, and unseen to the family, she also examines an angel key chain. This causes Steve to take his second car, a dumpy little model, and he's thrown out in an accident. When Steve wakes up, five years have passed, and we learn that his wife Bonnie has fallen in love with Matthew. Thinking her was a permanent vegetable, she's divorced Steve. His house looks completely different, he notices a dog lives there now. Steve reacts in rage, he breaks up Bonnie and Matthew's nuptials. Monica meanwhile feels so badly about causing all this trouble that she steps away from her assignment. Al is dispatched to talk sense into her. What is revealed is that Steve had carried on a legacy of abuse, there

Saturday, February 24th, 1996

s2e18: Lost and Found

Monica and Tess are assigned to Detective Frank Champness at the Centre for Missing Children. Champness is very good at his job, but is haunted by his failures, the children who have died or have simply never been found. Andrew, is also taking his shift at the centre. Andrew is intrigued by computers, and shows Monica how computer simulated age progression works. Monica discovers that Kathleen, is Frank's new girlfriend, and is pushing him to the breaking point. She distracts him from his cases and undermines all the good he has done for missinig children, pushing him close to quitting his job. In a dueling revelation scene, Monica defeats Kathleen and brings Frank back back from the influence of evil. Then, with the help of Andrew's age progression expertise, Monica helps him solve a 15 year old missing child case.

Saturday, March 9th, 1996

s2e19: Dear God

While working at the post office, Monica meets Max, who is responsible for handling ""dead"" letters addressed to Santa Claus, the Easter Bunny, and God. A Holocaust survivor, Max answers children's letters to God by telling them there is no God and not to place their faith in a fantasy. One little girl, Tanya Brenner, continues sending letters to God, even though Max only answered the first one and ignored the rest. Andrew, who has met the child, and Monica entice Tess ask God if they can read the letters. After receiving permission, they learn that Tanya's father is very ill and that his girlfriend, Sandy has been abusing the girl. Monica is outraged and wants to help out, but Tess reminds her that Max, not Tanya is her assignment. Taking matters into her own hands, Monica arranges Max to see a drunken Sandy hit the girl. Following this encounter, Max follows her homw, where her dying father beseeches the postal worker to find Tanya a new home. Shaken, Max runs away. When he d

Saturday, March 23rd, 1996

s2e20: Portrait of Mrs. Campbell

The women in Naval officer, Neil Campbell's life do not get along. His mother Marian and his pregnant wife April seem to be competing fir his love. After he goes out to sea, Monica enters their life as an artist commissioned to paint a ""portrait of Mrs. Campbell"". We learn that Marian is desperately in need of a bone marrow transplant and Neil cannot return home from sea. As the situation worsens, April volunteers to donate marrow despite her pregnancy. At this point we come to know the secret that Marian has been hiding for entire life, that she has a mentally challenged son, Tommy, who has been raised in facilities all of his life. Although Marian has always loved and cared for her son, she was encouraged by her parents to give him up as punishment for the sinful behavior that conceived him. As Marian's health worsens, Tommy emerges as the only viable bone marrow donor and, with the help of Andrew, the operation is arranged and is successful. April gives birth to a healthy b

Saturday, April 27th, 1996

s2e21: The Quality of Mercy

Joel Redding is a former soap-opera star who is coming to terms with middle age and life after television. He, his wife Sally and son Marshall have moved to a small town trying to regain a semblance of normal family life. While helping with a college theatre's fund raiser, Monica, Tess and Andrew witness tension between Joel and Marshall. Matters are further complicated when the aging actor initiates an affair with one his teenage ingenues. During one of Joel's extracurricular trysts, Sally slips while hanging a picture and seriously injures herself. Marshall finds his mother, calls for help, and gets her to the hospital. After authorizing the doctor to perform a risky surgical procedure, the teen rails at his father when he finally returns from his rendezvous. Tess reveals herself to the guilt-ridden husband, admonishing him to be faithful to his wife and son and admits he didn't quit the show, but was fired because of his age. Marshall is still reluctant to forgive until Moni

Saturday, May 4th, 1996

s2e22: Flesh and Blood

Monica befriends Kate Prescott, whose son is accused of a brutal murder. Angered by Thomas's acquittal, Leonard Page, the victim's father, tries to force the Prescott's to leave town. Tess advises the man to let God avenge his daughter's death, but he refuses to listen, even when Kate herself begs him to stop the vendetta. When she discovers some of the victim's belongings in Thomas's room, however, she doubts his innocence and issues a statement to the press. He responds by leaving town. But once the police apprehend the real murderer, Kate despairs because of her betrayal. Revealing herself, Monica tells the distraught mother her mistake was trusting evidence rather than faith. Tess meanwhile return's to the Page's house, urging him to let the healing process begin. Afterwards, Monica wonders what will become of Kate's son. Tess reveal that Mrs. Angeli, the kindly bus driver who gave Kate moral support during the trial is herself and 'advance angel"" who will watch over Thoma

Saturday, May 11th, 1996

s2e23: Birthmarks

Michael Russell is dying of cancer, a fact that his father finds hard to accept. A potter by trade, Whit is skeptical of technology and persuaded his son to leave city life for the family farm once his illness was diagnosed. Unbeknownst to Whit, Michael and Penny have undergone gamete fertilization, a process enabling Jolene to be the surrogate mother for their baby. Believing the pregnancy to be natural, Whit vows to have no part in raising his grandchild. Subsequent to one of his tirades, Jolene disappears. As Michael's health deteriorates, the situation looks increasingly grim, especially when Andrew arrives. Using a clever metaphor, Monica gently convinces Whit to accept the non-traditional pregnancy. Michael dies just as his son is born, and as his bereaved family visits the grave, Tess arrives with Jolene and the baby in tow. She gives the infant to his mother, who laments that Michael never got a chance to hold his son. Tess comforts Penny by pointing that he has a bir

Saturday, May 18th, 1996

s2e24: Statute of Limitations

The angels are assigned to The Morgan Bell Show, a tabloid talk show, with Monica having the plum job of assisting Claudia Bell, the program's embittered producer and Morgan's sister. A dark secret from the Bell's past forged their unhealthy symbiotic relationship, the glamorous Morgan is on-air talent while the obese Claudia calls the shots from the seclusion. Morgan's attempt to focus on uplifting topics backfires when an ""all-American"" mother is confronted by an illegitimate daughter raised in foster homes. The woman has a heart attack, and Morgan is irate that Claudia engineered the situation. Working together, the angels uncover their past, but inform the sisters that God can forgive any sin, no matter how long ago it was committed. Morgan and Claudia publicly confess their misdeeds, asking their victims and the television audience for forgiveness.
Season 3
Sunday, September 15th, 1996

s3e1: Promised Land

Monica is downcast because she failed one of her assignments, but Tess tells her to buck up because the cavalry's on the way. The two angels watch Russell Greene and his family pass by in a Suburban truck towing an Airstream trailer. After being laid off from his factory job in North Carolina, Russell packed up his wife, two children and mother to head to her home town, Chicory Creek, Kentucky where an old friend, Doc Rogers has promised to give Russell a job. they arrive, however just in time for the doctor's funeral. Erasmus Jones, another family friend, allows the Greene's to pull the trailer in his yard while Russell determines his next move. Complicating matters further is the fact that his brother, Joe skipped town, leaving Nathaniel, a nine-year old son, with Erasmus. Disappointed that the American dream has gone sour for him, Russell takes his wife, Claire's advice and prays for guidance. Unseen, Tess and Monica watch and realize that Russell is their man. The next day,

Saturday, September 21st, 1996

s3e2: A Joyful Noise

Monica begins working with Dr. Adam Litowski, a child psychiatrist is haunted by an event from his past that is influencing his treatment of Melissa Houghton, a young girl who claims to hear the voices of angels. While exploring a nearby church's bell tower late on a rainy night, Melissa encounters Clara, a mysterious stranger who escorts her home. convinced that the girl is possibly schizophrenic, Adam prescribes medication. Monica, however, knows Melissa is telling the truth and becomes more concerned when Andrew shows her that the doctor's daughter, Katie, whose birthday he plans to celebrate, is deceased. Adam denies that her death has affected his diagnosis of Melissa's ""illness."" Her mother, Emily is distressed by her reaction to the medication and is incensed when the doctor mistakenly calls Melissa,""Katie."" Shaken by the turn of events by Andrew's realistic mural of the rustic cabin where Katie died, Adam heads there intending to commit suicide, Monica intercedes by revea

Sunday, September 22nd, 1996

s3e3: Random Acts

A solemn Monica stands in the woods, reflecting on the events that transpired there earlier. Tess appears, reminding Monica that some ""days humans behave so badly to one another that it's all an angel can do to keep loving them."" The caseworker recalls how this assignment began. Fed up with the ""Yeah, whatever"" generation, Mike O'Connor questioned the significance of his career on the eve of his 20th anniversary as a teacher. Into his life walked Monica, his new student teacher. Unfortunately, so did Lucas Tremaine and Danielle Dawson, two petty criminals who randomly targeted Mike for kidnapping. Monica tacitly revealed herself to Mike, giving him counsel during his ordeal. The situation began to look less grim when the teacher recognized Danielle as a former pupil. But the violate Lucas forced Mike to get into the car's trunk while en route to steal the teacher's boat at Lake Washington. Unable to free Mike from the trunk, Monica encouraged him by playing the videotape his cl

Sunday, September 29th, 1996

s3e4: Sins of the Father

Monica poses as a journalist to interview Luther Dixon, a teenager on death row. During their conversations, Willis, the prisoner in the adjacent cell often eavesdrops, interjecting his unwanted opinions on Luther's situation. Meanwhile, Tess and Andrew try to help Valerie Dixon prevent her younger son, Samuel from ""gang banging."" Despite Luther's incarceration, Sam looks up to him as a role model. Monica correctly surmises that the boys father, despite abandoning the family during Valerie's second pregnancy, has negatively influenced both of their lives. The angel is astonished to learn that Willis, who is sentenced to die shortly for a murder he committed, is Luther and Samuel's father. Tess informs Monica that years earlier she had tried to dissuade Willis from running with a gang but had been ignored. Monica then reveals herself to Willis and convinces him to tell Luther the truth that he is his father. Luther initially rejects Willis and rails at him for leaving his mom to

Sunday, October 6th, 1996

s3e5: Written In Dust

Henry Moskowitz, a proud archaeologist on a dig at a Navajo excavation site, receives a surprise visit from zayda (grandfather). Sam hopes to reconcile with his grandson and Jewish family faith by basking him to say kaddish, the Hebrew prayer for the dead for him. Henry resists the reconciliation effort, still angry that his late parents disapproved of his marriage to a Catholic woman. Refusing to get in the middle of the strife, his wife leaves the dig site. Monica and Tess, posing as a research assistant and as a photographer, soon find themselves embroiled in a grater conflict. A group of Navajo elders led by Edison disrupt the dig, stating the site is on sacred ground. Although Henry quickly dismisses their claim, Sam and Edison discover common ground in the similarities of their respective cultures. Even Henry's student intern, Dillon New Eagle, begins to doubt the appropriateness of the excavation site by himself, he falls into a hidden cave. Gathered around a campfire wi

Sunday, October 13th, 1996

s3e6: Secret Service

Marty Dillard, an overachieving Secret Service agent, is at odds with Monica, assigned as an agent to protect a Presidential candidate. While off duty, Marty enjoys fishing and befriends Ulysses Dodd, an older gentlemen who teaches her to enjoy the sport for its own sake rather for sheer competitiveness. Baffled by a series of death threats to Senator Hammond, Marty begrudgingly accepts help from Monica and Andrew, who's posing as a forensics specialist. Working together, they manage to apprehend the would-be assassin and save the senator's life. However, the assailant's wayward bullet strikes Ulysses, whom Marty had invited to the campaign rally. She visits him in the hospital and begins to suspect his diabetes may be more serious than he let on. Hammond, impressed with Marty's savvy, asks her to head up his presidential detail. Yet she doesn't feel like celebrating when she returns to the riverbank and finds that Ulysses is still in the hospital. There Tess, attending nurse,

Wednesday, October 30th, 1996

s3e7: Groundrush

To Monica, Scott Walden seems like a perfect assignment. the charming owner of a small aviation company, he performs numerous charitable deeds and has been a wonderful surrogate father to his fiancee's pre-teen son. what Monica doesn't know is ""Mr. Wonderful"" has a secretive past, which comes to light after an employee borrows a plane to make a humanitarian, albeit illegal smuggling mission. FBI agents arrive and apprehend Scott, charging him with an eighteen-year-old murder committed by one William Grunwald. Insisting the man is innocent, Monica defends him to his fiancee, Jocelyn and his lawyer, Andrew. Unsure what tot make of these events, Scott's future stepson, Jeremy is comforted by Tess. Monica decides, though, to take matters into her own hands and uses her angelic powers to Scott escape. Andrew is confounded by her actions, especially since he has discovered Scott Walden is William Grumwald. Despite this knowledge, Monica continues to insist the man is innocent. Tess,

Sunday, November 3rd, 1996

s3e8: The Sky Is Falling

On Halloween, renowned author Leonard Pound is grief stricken regarding his wife, Grace's recent death. His son, Allan has hired Monica to attend the widower, who has lost the will to live. To help him, the angel prompts Leonard to revisit a pivotal event in his life, October 30, 1938, the night of Orson Welle's radio broadcast of The War of the Worlds, and the night Monica and Tess met. Dressed in his Buck Rogers costume, young Leonard gathered wit his family around the radio. His father, Tom, a state trooper, left the house to investigate the flaming object the reportedly fell in nearby Grover's Mill. As the broadcast continued, listeners began to fret, thinking it was the end of the world. Panic spread into the streets and the Pound family, along with others, sought shelter in a church. There Leonard literally bumped into Penny, a girl in a angel costume. Concerned about his father, he snuck outside and started searching. Back inside the church, Tess tried to calm the people

Sunday, November 10th, 1996

s3e9: Something Blue

Tess, Monica, and Andrew observe unseen as Kevin Abernathy proposes to Alison Miller in a forest glade. Six month's later, the angels are wedding coordinators for the couple. Although preparations have proceeded apace, Monica fells she has forgotten something and Tess admonishes her to remember because Kevin and Alison's future depends on it. Wedding day jitters are compounded by Kevin's eccentric Aunt Augusta and his klutzy sister, Peggy. But the arrival of Alison's estranged father, Stan causes her to have second thoughts about the nuptials. Kevin is especially taken aback because his bride-to-be had told him her father was dead. To prove his love, he reads the wedding vows he wrote but is dismayed to learn that Alison's hasn't written her own vows yet. While Tess tries to keep the wedding guests entertained, it becomes evident the wedding may not occur. Amidst the chaos, a mysterious blue envelope goes unnoticed in the bridal prep room. Monica wonders why Stan showed up unt

Sunday, November 17th, 1996

s3e10: Into the Light

James Block, a man with a heart condition, and a criminal past, gets a second chance after a near death experience. He suffers a heart attack after marrying his girlfriend, Rachel to prevent her from testifying against him. While ""dead"" James sees Andrew walking toward the ""light"", though himself moves in the opposite direction. Realizing he must change his ways, James initiates a campaign of goods works. Tess and Monica are assigned as nurses at the hospital where he is fulfilling community service he received for a crime. Neither angel is impressed, however, with his apparent change of heart, especially when they realize he records his good deeds in a notebook. James finds a kindred spirit in Amy Ann McCoy, a teenage Elvis Presley fan with cystic fibrosis. A bit of a con artist herself, the girl is unaware how serious her illness is. Meanwhile, James is haunted by a recurring nightmare if his near-death experience, finally realizing he was headed toward a roiling chasm of une

Sunday, November 24th, 1996

s3e11: Homecoming (1)

Working from different vantage points, the angels help rehabilitate Julia Fitzgerald, a drug addict who is down and out, posing as a street walker, persuades the police to round up the disheveled Julia with the other ladies. In jail, she is encouraged by the angel to enter the New Spring Halfway House administered by Tess. Though Julia wants to leave the program, her parole officer, Andrew advises her doing so will land her back behind bars since her arrest was a parole violation. Plagued by a past action she committed, the woman deserts the halfway house to rejoin her friend, Fran on the streets. But when she misses the rendezvous, Monica persuades Julia to go back. As she makes steady progress in rehab, the woman decides to make amends with the people she has offended. First on the list is Chuck, the bartender and former employer she stole from. He wants to have Julia arrested, but Andrew convinces the man to let her pay him back. She returns to the alley where she has jewelry

s3e12: Homecoming (2)

Sunday, December 1st, 1996

s3e13: The Journalist

At a television news station, Monica is the new weather girl and Andrew, a cameraman. sam explains their assignment is Rocky McCann, a hard-edged investigative reporter. Evasive regarding Tess's whereabouts, the special agent angels tells the duo he is supervising them because of the universal ramifications of broadcasting. Monica, attempting to befriend the reporter, agrees to help her with the research. Andrew's first assignment with Rocky is a story about Horace and Zelda Wittenburg, an elderly couple with four foster children. Impressed during the visit, the angel of Death is mortified when Rocky's story aired, it is an expose alleging child abuse. Monica, who biggest story is an upcoming lunar eclipse, sides with the reporter, while Andrew is frustrated by her rush to judgement. He confronts her, but Rocky tells him overlooking details on an earlier story led to a tragedy. After she reports Zelda had been arrested decades earlier for kidnapping her own son, the Social Serv

Sunday, December 22nd, 1996

s3e14: The Violin Lesson

Apprenticed to jordan Du Bois, a violin maker, Monica must ensure he finishes a violin he started 30 years earlier on the Christmas his son was born. The unsuspecting father doesn't realize Tony has come home for the holidays with a devastating secret, which the angel soon learns that Tony has Aids and has returned home to die. The truth comes out while father and son indulge in a lete night snack. Disappointed, Jordan distances himsself from Tony. Discovering the unfinished violin he had started those years ago, Monica learns that Tess had revealed herself to Jordan back then. She announced his son's impending birth and also gave him a piece of wood. but Jordan never completed the instrument becauase a flaw in the grain has appeared when he startted planing the wood. Showing Monica the scrap heap where imperfect wood is discarded, Tony confronts his father, who disowns him. After his health takes a turn for the worse, Tony enters an Aids hospice on Christmas Eve. His mother,

Sunday, January 12th, 1997

s3e15: Forget Me Not

Sara Perkins rebels against her over protective mother by hiring Monica as her new photography assistant. Though the angel understands what the woman has covertly taken a freelance assignment to Bosnia, Tess, a volunteer helping Charlotte at the public library, thinks Sara's actions are inconsiderate. Noting the mother and daughter act differently when the other is not present, Monica wonders what Tess does in her free time, but the supervisor is tight lipped. Sara returns from the trip and describes it to her mother, who becomes enraged and attacks her. While she receives treatment at the hospital, the angels comfort a confused Charlotte. Regaining consciousness, Sara indentifies her mother as the assailant. A police detective attempts to arrest Charlotte, but she resists violently and must be subdued. Jeff, the journalist who sponsored the Bosnian trip, and Monica visit Sara, who is shocked by her mother's attack. Over the years the pair's relationship has been troubled, but

Sunday, January 19th, 1997

s3e16: Smokescreen

Tess represents a group of former employees in a class-action suit against family-owned Fairchild Tobacco. Her opposing counsel in Marc Hamilton, who has accepted this assignment to the dismay of his mother, Esther. When he was growing up, both she and his late father worked for Fairchild as a maid and a chauffer. Young Marc vowed to one day sit in the back of a limousine rather than drive it. Now that he has arrived professionally, he is determined to live in the life of luxurious life his parents coouldn't afford. J.D. Sinclair, Fairchild's vice president and heir apparent, becomes impressed with Marc's legal prowess and doubles his hourly fees. He decides to buy the old Sinclair mansion. As they settle in, his wife Vanessa delivers the news that she's pregnant. She is concerned by Marc's newfound materialism, especially his hiring Andrew and Monica as a butler and maid. In court, Sinclairs is taken aback when he recognizes Esther as his family's former maid. Tess, however,

Sunday, February 2nd, 1997

s3e17: Crisis of Faith

In a hospital emergency room, a team of medic labors furiously to resuscitate an accident vistim. Monica and Tess observe unseen and are eventually joined by Andrew when it becomes apparent the patient cannot be revived. The angels reflect on the events that led to this tragedy. Their assignment had been to help Reverend Daniel Brewer open the Mount Calvary Teen Center. Posing as a building inspector, Monica could see that Tess and Andrew had performed admirably as the center's fund raiser and as counselor for the crisis hot line, respectively. But as the angels prepared to leave, they received word from God that the assignment wasn't over. Despite a basketball injury, Daniel gave an uplifting speech at hte center's dedication. But a cynical reporter barraged him with negative questions. Karen Gregg, the daughter of the church's accountant, approached the pastor to discuss a problem but was interrupted by the pushy journallist. Though Daniel made an appointment to counsel Kare

Sunday, February 9th, 1997

s3e18: Angel of Death

Tess instrucuts Celeste, an angel new to human form, and takes her to a Las Vegas showroom to see their assignment, Eric Weiss, an illusionist who calls himself the ""angel of death."" The supervisor angel volunteers her jittery charge to participate in his act, but Tess is dismayed when Celeste and her dog vanish. On a rampage, Eric fires his assignment and yells at his agent, Andrew, who is hard pressed to find another magician's assistant. Tess cuts Monica's vacation short to fill that position. As the case progresses, the angels realize that Eric's death wish is not merely an extension of his stage routine. The pieces start to come together after he reluctantly agrees to perform in Appleton, Wisconsin, his hometown and also the hometown of Harry Houdini. There he visits his mother, an impatient in a psychiatric hospital. She asks ""Danny, Eric's rael name, if he has seen his brother, Peter. He recalls a tragic game of hide-and-seek before abruptly ending his visit. Meanwhile,

Sunday, February 16th, 1997

s3e19: Clipped Wings

A ""clip show"" featuring excerpts of previous episodes. On the way to a performance evaluation. Monica encounters her rival, Kathleen. The dark angel tricks her former friend into entering the wrong office suite. There Monica encounters Jodi, a troubled woman comforted by the angel's accounts of past assignments. Meanwhile, Tess and Andrew fret while waiting for their colleague. The High Court judge, Ruth, is a distinguished but no-nonsense angel who was once Tess' supervisor. Troubled by Monica's tardiness and ""irregularities"" in her work, Ruth suspends Monica and revokes her angel privileges. While the judge reviews Monica's mistakes, Andrew recalls an assignment when she mistakenly went to Jacksonville, Florida, rather than Jacksonville, Illinois. Tess dispatches him to search the building. Andrew finds her, but she wants to give Jodi a revelation, but before starting her revelation, she's shocked to learn Jodi is actually Kathleen, whose evaluation was based on ruining Mon

Sunday, February 23rd, 1997

s3e20: Amazing Grace (1)

Tess visits Russell Greene, announcing that God has a special purpose for Josh. Despite his father's misgivings, the teenager departs with her and meets Monica, who has temporarily lost her sight. After the care breaks down, Michael Burns stops and gives Josh and Monica a ride to Denver. His grandfather owns an inner-city mini mall there and has asked him to fix it up so it can be sold. The inhabitants are abuzz about the new landlord, who has arrived with ""a kid and a blind lady."" Uncomfortable in the urban setting, Josh learns from Monica to look with heart rather than his eyes. The trio befriend Mary Harding, a luncheonette owner, her grandchildren, Calvin and Chanice Cantrell, Queenie, who runs a beauty salon, her vivacious best friend. Tonya Hawkins, Nicky Pacheco, a lwayer on a quixotic quest, Dr. Serena Hall, who persuades Michael to donate space for her Uncle Gentry's church, and Anderson Walker, a former activist weary of fighting the system. With racial tensions alrea

Tuesday, February 25th, 1997

s3e21: Amazing Grace (2)

After the shooting, Mary and Dr. Hall scramble to help their friends and loved ones. She learns the 45 Mr. Kim possessed was a record, not a weapon, but both are aghast to notice her own wound from a stray bullet. Meanwhile, Tess returns to Russell and tells him Josh needs his family. The Greene's arrive and are horrified to discover he had been shot. When the surgery is over, the doctor reports that Josh will recover, though he has been blinded. Calvin and Chanice receive news that their grandmother had died. Russell is astounded to learn that Anderson, a former adversary from this time in the Navy, is the one who saved Josh. Serena rails at Michael, blaming him for the tragic events. But buoyed by Queenie's encouragement and Monica's revelation, Michael decides to stay with his new ""family,"" feeling like he belongs for the first time in his life. Anderson, likewise inspired by Russell to regain his passion, gives a rousing eulogy at Mary's funeral, urging the community to take a stand against gang violence. Her sight restored, Monica , along with Tess and Andrew observe as the humans work together to paint graffiti-covered wall.

Sunday, March 9th, 1997

s3e22: Labor of Love

At a New York City hospital, Monica and Tess are assigned to Dr. Meg salter, a pediatrician. But when she decides to surprise her husband by boarding his flight to Paris, the angels have to call for back-up. Rookie caseworker, Celeste and Sam are put on the case, and so is Meg's fellow passenger Andrew, who had intended to take his first vacation in a century. Meg gets a surprise of her won when she discovers her husband, Brian is accompanied by his mistress, Olivia. As the plane heads into a storm, an already tense situation gets worse when the angels and Meg learn that Olivia is eight months pregnant. A consummate professional, Meg delivers a healthy, albeit premature baby girl, and the plane returns to JFK because of the medical emergency. By the time they get back, Olivia has had two seizures. Monica tends to the infant, while Dr. Parham and his trauma team work on the mother. Brian, overwhelmed by joy and sadness, receives a revelation from Andrew, he urges him to reconci

Sunday, March 16th, 1997

s3e23: Have You Seen Me?

After observing, with Monica and Andrew, respectively, the Monroe family at a breakfast and two businessmen who work in the same office building, Tess tells her changes their assignment will be difficult because it involves six intertwined human lives. The case kicks into gear when Hank Monroe sees a picture resembling his younger brother, Noah on the back of a milk carton. Perplexed, he looks through family albums but can't find any baby pictures of his brother. Andrew, meanwhile, fails to engage Grant Abbott in conversation but does befriend the talkative Ray. The angel starts to reveal himself, but Ray flees after Andrew's admonition that ""the truth will set you free."" Tess warns Andrew that time is running out. Visiting Grant at home, he sees that he is contemplating suicide. Monica, posing as a waitress at a 50's diner, counsels a confused Hank to ask his parents about the missing baby photos. But when their stories contradict, the youth realizes something is amiss. Inves

Sunday, March 30th, 1997

s3e24: Last Call

Monica disappointed in the human race, watches Tess perform in a small Chicago bar. She finishes and announces God has Monica give someone a miracle in this bar. Initially hesitant to decide, Monica observes the inhabitants, the owner Noah, who is upbeat despite being wheelchair bound, Claude Bell, a craggy employee with wasted ambition and hie co-dependent wife Loafer, an eccentric crossword-puzzle aficionado, Buddy Baker, a charming salesman who drinks to drown inner pain, and Amethyst, a young woman with dubious plan for her future. After observing awhile, Monica announces she is an angel with a miracle to give away. They respond with raucous laughter. Humiliated, she hides underneath a pool table. As the laughter continues, Andrew enters. He is stranger whom Claude is obsessed with beating. Having been the advance angel for the assignment, the Angel of Death takes a cue from Tess to find out what miracles these people need. Someone else soon enters the tavern, Mr. Burns fr

Sunday, April 13th, 1997

s3e25: Missing In Action

George Zarko, aka the ""Colonel,"" sits on a park bench watching kids play war. Monica thinks her assignment is to help the elderly Army veteran find the joy of living. But Tess responds that what really needs is to be understood. She gives Monica's swing a push, and the her human form transforms into that of an 80-year old woman. Entering the retirement home where George lives, Monica meets him and Stephanie Hancock, the officious Nurse Director. Tess, the volunteer Activities Coordinator, persuades Stephanie to use pet therapy to alleviate the patient's loneliness, while George grouses to Andrew, the facility's cook, that a resident has recently died and no one seems to care. Monica inadvertently inspires the veteran to rebel by lowering the flag to half mast. Irate, Stephanie plans to kick him out of the home. But Monica intercedes on George's behalf, vowing to be responsible for him. This selfless act endears Monica to him, and Tess warns her to be wary of how close she get

Sunday, April 27th, 1997

s3e26: At Risk

This episode is introduced and closed by General Colin Powell, U.S. Army, who served as General Chairman of the President's Summit on America's Future, which was held in Philadelphia April 27-29, 1997 and aimed to bring America to a new level of commitment in volunteerism. Jason DeLee, a troubled teen, steals a car but is promptly caught by the police. His mother, Lena can no longer deal with her son and releases her parental authority. Jason is placed in the custody of Denver Juvenile Services. Waters, the camp director, runs a tight ship and is taken aback when Tess arrives, announcing she is a new facility director and will be observing a new experimental work program. After the boys complete a survey, Monica, the coordinator for the work program arrives. A handful of teens volunteer for the program, Jason is not one of them. Later that day, Lena visits Jason in Tess' office. He is discoouraged when his mother says she just came to bring him some underwear and car magazines.

Sunday, May 4th, 1997

s3e27: Full Moon

As Ed Bingham prepares for a ceremony to honor his heroic efforts as a fireman, his wife, Sarah receives a terrifying letter. Carl Atwater, the man who raped her six years ago is eligible for parole. Frightened of Ed's reaction if he found out, Sarah conceals the letter from him. Instead she visits a Crisis Center and meets Tess, the receptionist, and Monica, a counselor. Although Monica fails to draw Sarah out, the distraught mother invites her to attend the parole hearing. There Sarah is crushed when Carl, who apparently found God in prison, is released. Despite a briefing by Andrew, his parole officer, Carl violates the most important condition of his parole by making contact with Sarah. Although he merely seeks her forgiveness, she panics, threatening him with garden clippers. Monica urges her to report Carl, but Sarah refuses. Monica does, however, convince her to confide in her husband. Meanwhile, Andrew witnesses Carl's simmering anger that his ex-wife, Emily will not

Monday, May 19th, 1997

s3e28: An Angel by Any Other Name

Tess works for a local nursery, and Monica is a postal carrier in the middle-class neighborhood where IRS auditor Carolyn Sellers lives. An avid gardener, she is eager to have her rose hybrid officially recognized but becomes dismayed when three people with Down Syndrome move into a group home next door to her. Tess tries to convince the hardened woman to calm down and accept Taylor, Jeannie, and David for the loving, sensitive people they are, but she refuses. Andrew, the group home supervisor, is nonplused when her first encounter with Carolyn is a tactic threat to ""keep those people in line."" After Taylor stops Stevie Sanders, a neighborhood boy, from playing in her vintage 57 Chevy, the car rolls down the driveway, crushes Stevie's bike, and just misses a young girl due to Tess' sudden intervention. Furious, Carolyn blames Taylor and calls the police. She also works her neighbors into a frenzy to take action against the group home. The next day Taylor confides in Monica, who

Sunday, May 11th, 1997

s3e29: Inherit the Wind

An orphanage burns on a dusty street as the Angel of Music observes singing. The song continues although he has relocated to a rowdy party at a mansion. Tess and Monica, unseen, are chagrined byb the excess as the host, Kevin Greeley, a carouses with friends. His father, Edward, confronts him but angirly exits. Kevin glimpses Monica in a mirror, but is gone when he turns around. As Edward ponders how to handle his spoiled son, Andrew appears, announcing God has granted the human one hour to set his affairs in order before his death. During that time, Edward opens his Bible, and dies while reading it. Days later, George is stunned that Edward left him one million dollars and a Bentley. Kevin, however is furious to receive only his possessions until attorney Tess informs him that he must locate Joseph Wells to claim the rest of his inheritance. He agian sees Monica's reflection in the mirror, but this time, she is there. She knew Edward and will help Kevin find Joseph Wells, bu
Season 4
Sunday, September 21st, 1997

s4e1: The Road Home (1)

Joe Greene, the long-lost brother of Russell returns speeding wrecklessly down the highyway as Tess, Monica and Andrew follow. When another car pulls in front of Joe, he runs the car off the road and kills a fahter and son, while saving the youngest son. Lying about the accident to the police, he is then thought to be a ""good samaritan"" and quickly leaves. When he runs out of gas, Andrew arrives as a hitchhiker and offers to give him gas in exchance for a ride to Chicory Creek. Once there, Andrew leaves and the car breaks down. Joe then breaks into the home of Erasmus Jones, not knowing that his family is there. Russell catches him in the kitchen, quickly saying hello by punching him in the face and the whole family is soon awake, marvelling at his return. At the hospital, the young boy injured in thewreck clings to his life while Monica acts as a hospital caseworker, comforting the mother, Mrs. Mills. She wants to meet the person who saved her son's life, and she supplies the

s4e2: The Road Home (2)

Sunday, September 28th, 1997

s4e3: Great Expectations

Bill McNabb, a cappuccino machine salesman, arrives with his pregnant wife, Joanne at Juliano's Coffee Shop where Andrew is acting as temporary manager. While Bill tries to sell the ""newest and best"" machine to Andrew. Joanne confirm their plans to give a baby shower for friends at the coffee shop later that evening. Having overheard the discussion of babies. Monica introduces herself as a lamaze teacher and invites Joanne to attend a class. Bill and Joanne then go to a doctor's appointment and learn that their baby is going to be born with Down Syndrome. Bill immediately mentions ""alternatives"" to having the baby and tells Joanne not to tell anyone about the diagnosis until they decide what to do. At the baby shower, a bus boy with Down Syndrome, Taylor, breaks dishes while avoiding a small child and this prompts Bill to tell Joanne that their baby ""is not a miracle"" but rather ""a mistake."" Joanne temporarily gives in, going to a community clinic but is unable to go through with

Sunday, October 5th, 1997

s4e4: Nothing But Net

Tess, Monica, Andrew and Ruth arrive in the announcer's box of a professiional basket-ball game overlooking their next assignment, Eric (E.Z.) Mony, the star point guard for the Salt Lake Saints. Tess tells the others that Eric is angry and rebellious, with a complete disregard for rules. As the angels look on, Eric shoves a referee. Although Ruth is told that her assignment is only to observe the situation, she is soon moving down in the stands in order to speak to the referee. Due to herinterference, a jersey is thrown into the crowd by Mony goes to a very impressionable 14 year-old named Darnell. Sam, the special affairs angel arrives to explain that the casse has just taken a turn for the worse because a bond was formed between E.Z. and Darnell. Later at the Boys Club, Sam coaches Darnell and his friends and introduces Monica as the new tutor. Meanwhile, as E.Z. is disavowing his status as a role model, we learn of the disappearance of a hockey player by the name of Winston

Sunday, October 12th, 1997

s4e5: Children of the Night

While Tess and Monica work at a inner-city coffee shop, they see their next assignment, a group of homeless teenagers who have given up their real names to avoid being returned to the families that they no longer trust. Doc, Lightning, China, and the missing Fish have formed a family and soon take in a young girl who is new to the street, changing her real name from Alexandra to ""Ally."" Losing their current shelter and trusting no one, the kids go to a junkyard where Rafael, offers to let them build a shelter in exchange for watching over the place. When all the collective money of the group is gone, China takes to the streets to earn money as a prostitute. As she gets into a car, the missing ""Fish"" is dying in the care of Andrew. Afterward, Monica and Andrew begin to lose heart while Tess and Rafael urge them to be patient and ""not push so hard."" China continues to dream of being a poet, writing in her treasured journal while Doc's cough worsens. Ally burns her her remaining pi

Sunday, October 19th, 1997

s4e6: Jones vs. God

The town of Clarion, South Dakota is in the midst of a farm killing drought when Tess and Monica arrive to help them with their growing crisis of faith. Justinian Jones, a struggling farmer, enters Cotton's barber shop where a heated debate quickly develops between he, Cotton, Judge Dawes and Risa, the town mayor, as to whether the town should sell out to huge agriculture company. Having arrived to serve as auctioneer of the towns assets, Andrew sits quietly in the barder chair as Risa advocates selling to the conglomerate before the drought kills the town. Opposed to he is Justinian who is determined to stay on his farm even if he has to sell his horse and ""pull the darned plow""himself. Continuing his tirade, Justinian decides to sue God. The Judge outlines how he should serve notice to God through the newspaper and hearing is set. Outside, Justinian's daughter, Leela tells her boyfriend Gordon of her plans to leave town in search of more opportunity while he tries to convince

Sunday, October 26th, 1997

s4e7: The Pact

The angels arrive at a camp for HIV positive teenage girls to find two veterans, Nikki and Erin picking on the ""newbies"" Melanie, Kim, and Abby. Acting as counselors, the angels get to know the girls and try to help them deal with their fears. Rafael speaks to Melanie, learning her mother died of Aids when she was a child. Melanie tells him of the song, ""Duerte Me Lindo,"" which her mother used to sing. Meanwhile, develops a crush on Andrew and is heartbroken when he seemingly rejects her. Tired of painting the names of past participants who are no longer alive on a rock known as ""the face,"" Erin talks the other girls iinto a suicide pact as some way of ending life their own way, without pain or pity. The girls then steal drugs from the infirmary where Rafael is working and prepare a suicide cocktail. As the girls all meet at ""the face"" to go through with the suicide, the angels arrive. Rafael begins playing ""Duermete De Lindo"" and Melanie loses her resolve to kill herself. As

Sunday, November 2nd, 1997

s4e8: Sandcastles

While Tess, Andrew and Rafael vacation at the beach, Rafael and Monica find a message in a bottle from a boy named Scooter Fisher. Tess gives them the option of helping the boy and both Monica and Rafael set out to find Scooter in the neighboring town, Pacific Falls. While Andrew stays with Tess to help repair her ailing Cadillac, Rafael and Monica begin their search at a local diner. As they meet and question Teresa, Larry and Leo, no one seems to have heard of Scooter Fisher. Dennis, a desperate man, pulls a gun when they approach him and Rafael catches the bullet when the gun fires. Benjamin Parker, skeptical, then sets out to uncover the scam. Monica then rescues a man at a muffler shop as his hydraulic lift fails and Rafael pulls a man out of a tool and die shop after an explosion. When Parker questions Leo, the owner of the muffler shop, about his angel encounter, wee see his watch inscribed with the name Scooter. Lee tells him the angels are looking for Scooter Fisher a

Sunday, November 9th, 1997

s4e9: My Dinner With Andrew

When the angels find themselves at a posh ""Books and Bachelors"" luncheon to benefit medical research, Andrew is quickly chosen to be auctioned off as an eligible bachelor. When the prominent scientist, Beth Popik, begins to bid on Andrew, her chief rival Kate Calder, outbids her and then refuses the date with Andrew, explaining that she wasn't bidding for andrew, she was bidding against Beth. Adam, another ""angel of death"" arrives, thanks Andrew for covering for him, and asks about the date with the doctor. When Andrew tells him that she refused to go to dinner, Adam explains that he must go on the date. Andrew then convinces Kate to have dinner with him, while Monica and Tess begin preparing an elegant restaurant for the meeting. Andrew and Kate then meet in the controlled environment of Chez Tess. Monica plays waitress while Tess cooks and although this is supposed to be a private engagement, another patron, Norman, enters and insists of being served. During dinner, Kate tells

Sunday, November 16th, 1997

s4e10: Charades

With the approach of a special tribute to the victims of the Hollywood Blacklist to be given by the Screen Guild, Tess and Monica arrive to help Libby Glaser, a powerful Hollywood agent, learn the truth about her Blacklisted father's last days. Monica arrives as Libby's new assistant and quickly impresses Libby with her connections by managing to connect her with the head of the Hollywood Screen Guild. Libby learns that the Guild chosen to restore her father's name to a film he made during the Blacklist era when he was forced to write under a pseudonym, and that they want Libby's mother, Vera King, to present the award with her co-star in the show, Clive Hathaway. Vera flatly refuses to present the award with Clive which surprises Libby as he was her father's best friend. Simultaneously, home movies from Libby's childhood mysteriously appear from an unknown source and Libby's memory is jarred as she views them. When Libby confronts her mother, Vera tells her Clive is the one who

Sunday, November 23rd, 1997

s4e11: The Comeback

Thirty years after suffering stage fright during her Broadway opening, Lillian Bennett returns to Broadway discourage her daughter from following in her footsteps. Arriving just in time to attend her daughter's audition, Lillian sees her old understudy, Amanda Revere, who has now become the famed diva she once dreamed of becoming herself. Monica arrives to audition for a supporting role and miraculously wins the role while Alison becomes her understudy. After Monica falls ill with a cold, Alison takes her place and Amanda takes an interest in her. When Lillian and Amanda finally meet in the presence of Allison. Lillian explains how she received yellow roses every night after rehearsal until the opening night when her ""lucky"" roses didn't come. Convinced she was doomed to fail, she stared into the prompter's box and froze, as Amanda had told her she would. Allison thinks her mother is jealous and doesn't realize why she just can't be happy for her. with the orchestra warming up,

Sunday, December 7th, 1997

s4e12: Venice

Tess and Monica arrive in Montana to help the elderly Annie Doyle reconcile her life before she lose her failing eyesight. Offering to help Annie with her daily errands, Monica escorts her to the weekly bingo game at church where Annie admits that hte only reason she plays bingo is to ""tick off "" her nosy neighbors, Emily, Russell and Markus. After winning at bingo, Annie and Monica return to the house where Emily explains that she has always wanted to see Venice. Monica thinks this is her mission and offers to take Annie to Venice but not before Annie realizes that her sight is really gone. Dr. Waldron arrives to sat that Annie has been losing her sight for a long time, but like the other townspeople, he seems unsympathetic. Crushed by the loss of her eyesight, Annie tells Monica to get out of her house. Tess encourages Monica, explaining that God wants Annie to see the truth about her life. Monica returns to Annie and asks to be her friend. Annie then explains that her husban

Sunday, December 21st, 1997

s4e13: It Came Upon A Midnight Clear

When Joey breaks the Christmas angel while he and Wayne decorate the Christmas tree, Wayne leaves him alone to monitor the turkey while he goes out into the snow to buy a new angel. As the storm causes the lights to go out, Monica arrives to console Joey by telling him the story of the Christmas she spent with Mark Twain in 1909. Monica begins, explaining how Twain returned on Christmas eve after a long absence to find his beloved daughter Jean, his housekeeper Katy Leary, a townswoman, Mrs. Allen with her daughter Helen. Immediately prior to Twain's arrival, Jean shows the others her Christmas gift to her father, a copy of a lost verse from her father's favorite Longfellow poem. When he arrives, Jean hurriedly hides the scroll on the tree. Mrs. Allen and her daughter Helen then leave, Twain comments that such sweetness is the stuff of Heaven. Twain reflects on the deaths of his wife, daughter and infant son and says he is too old to be cheered up. Back in the present, Edna arri

Sunday, January 4th, 1998

s4e14: Deconstructing Harry

Monica and Tess arrive at the DMV where Tess has been instructed to obtain a driver's license. Now ready to take the driving portion, Tess meets her instructor and assignment, Doris. Midway through the driving test, Doris tells Tess to follow a hearse which leads them both to the funeral of Harry Applegate. Doris enters the funeral and steals the ashes of her former lover as Andrew arrives outside as a state policeman. With Harry's ashes in her arms, Doris commands Tess to flee while Harry's widowe, Stella convinces Andrew to pursue in his patrol car. Monica prays at the DMV where she is still waiting for Tess to return and soon is guided to her next in the journey that both Doris and Stella are now taking. Doris tells Tess they are going to Pizmo Beach where she is going to spread Harry'sashes. Instructed by Doris to find food, Tess stops at the ""Heaven on a Bun"" where Monica is now working and quickly exit. Andrew then arrives with Stella and Monica tells him that they are go

Sunday, January 11th, 1998

s4e15: The Trigger

As Monica gives Tess an ice skating lesson we meet the seemingly happy Craig family at the rink where the son, Alex is finishing hockey practice. This family is Monica's next assignment as she gets a lesson that things aren't always what they seem. Linda and Ray Craig bring their children home to welcome Linda's sister Holly, who is in town for Linda's graduation from law school. Holly is overwhelmed to be back in the house of her childhood, a house that the Craig's recently bought back. Andrew, Alex's hockey coach, arrives at the house to return Alex's hockey gloves, which he left at the rink. This upsets Ray, abnormally so, and it becomes clear that there is a tension in this family when Ray grounds Alex for the whole weekend. Holly questions this, but Linda covers for Ray, explaining that he's had a bad day. Holly also finds a gun in the hall closet, and questions the safety of having a loaded weapon in the home. Later that night Holly wakes up to hear Linda and Ray having

Sunday, January 18th, 1998

s4e16: Doddlebugs

After the death of his wife, small town miister Erskine gave up his ministry and his lack of faith has spread to the rest of the townspeople. Erskine's son, Andy now fears he will die of cancer like his mother while his daughter, Bits, spends her time trying to draw the elusive doddlebug out of their holes. As Bits tries without success to draw a doddlebug out of its nest, a young man by the name of Pearhead answers a payphone. When he is told by a mysterious voice where to find a winning twenty-dolar lottery ticket, it appears God is finally on his side. After Pearhead enters Sis and Vinegar's Cafe and announces his ""miracle,"" Sis, her brother Vinegar, Ada, an aspiring singer all begin to sit vigil by the phone, waiting for heavenly advice. The voice first tells Sis to apologize to Vinegar for somoe hurtful things she has said and when she does, their relationship instantly improves. Ada then answers the phone and is told to forego her plans to sing in Atlanta because there is s

Sunday, February 1st, 1998

s4e17: Redeeming Love

As Monica and Tess take a walk through the city streets, they stumble across Monica's next assignment, a young woman sleeping under a pile of garbage. The woman's name is Lydia and she is a crack addict. As Monica follows Lydia into her apartment building, her beautiful clothes become like Lydia's, ragged and dirty. Lydia's new roommate. Meanwhile Lydia grabs Monica's coat and tries to sell it on the street. Monica tails Lydia back to her parents house, where she breaks in to steal money. But they show up, as do the police, and Lydia flees to a crack house. Monica finds Lydia smoking crack and causing a disturbance among the other addicts. Lydia runs into the street and gets hit by a car. When Lydia's parents arrive at the emergency room the doctor informs them that Lydia is not only an addict, but she's also pregnant. Their disbelief is shot-lived when Lydia delivers a crack-addicted baby girl. Tess, acting as a drug counselor, talks to Lydia's parents about her upbringing,

Sunday, March 1st, 1998

s4e18: Flights of Angels

Richard is an artist diagnosed with Lou Gehrig's disease, a terminal sickness that has a debilitating effect on one's motor functions. Richard is in denial about the prognosis but his wife Sally is not, and she prays for guidance for her family. Monica arrives to help her take care of her three boys, John Henry, George and Ray, while Andrew will assist Richard with his paintings. Sally explains that Richard is working against a deadline, he must finish more paintings if he wishes to show them at the gallery. John Henry, the oldest son, is aware that there is something wrong with his father, but attempts to get him to play games with him. Richard is too weak for this, and also preoccupied with finishing his work so that he can leave hi family with the revenue from his paintings. At the same time Richard is working on ""dream books"" for his sons, scrapbooks that contain sketches and mementos off all the things their father holds dear. When Richard's legs give out, he and Sally bre

Sunday, March 8th, 1998

s4e19: Breaking Bread

A timid baker named Matt Colletti is closing up his bakery one evening when two white men attack his black assistant in the street. Matt witnesses the crime but is too frightened to comoe forward. Tess tells Monica that is is their job to help him take a stand against the criminals, memebers of a white supremacist group. Andrew poses as a representative of the state's attorney's office, asking questions about the incident, trying to determine if it was a simple robbery attempy or a hate crime. Monica is hired as Matt's new assistant and dons an apron. Matt goes to the local church where Tess, the visiting preacher, unveils a beautiful new stained glass window which Matt has financed. The next day the two criminals show up at the bakery to ensure that Matt remains quiet about the incident, but a young mechanic named Derek threatens them and they leave the store without a fight. When a swastika-covered rock is thrown through the stained glass church window, it is a sign that the c

Sunday, March 15th, 1998

s4e20: God and Country

Rafael enters the army in an attempt to befriend a bitter soldieer named Tomas. Tomas hates the army, in particular his commanding officer Colonel Victor Walls. Both men are Hispanic but Tomas feels that Col. Walls has rejected his heritage by failing to use his original surname, Paredes. Tomas requests a transfer from this base, but Col. Walls denies the request. Rafael meets with Col. Walls, who suggests he change his name to Ralph as a means to get along better in the army. When Tomas hear of this, a fight breaks out in the barracks between Rafael and, Tomas, and another soldier. Rafael gets a scolding from Tess for being the first angel to hit an assigment and all three soldiers end up in the military jail. It is in jail that Rafael learns that Col. Walls is actually Tomas' father and he has another son, Paul who is missing in action in Bosnia. This is a further source of frustration for Tomas because the army cannot give the family any straight answersregarding Paul's sit

Sunday, March 29th, 1998

s4e21: How Do You Spell Faith?

Monica and Tess arrive in the life of a single mother, Mary, to help her reconcile her relationship with her son Aaron. Herself a former athlete, Mary relates to her eldest son Michael, who is the star wrestler of Olympus High School. Aaron, on the contrary, is more cerebral and spends the majority of his time spelling out words to hide the pain he feels for not having a father and not being closer to his mother. While the entire school supports Michael's wrestling efforts, Aaron is ignored by virtually everyone except his brother, who has become something of a father to him. When Tess encourages Aaron to take the test to qualify for the Midwest Regional Spelling Bee, Aaron reluctantly agrees and Michael is quick to support him. When Michael is killed on route to a wrestling competition, Mary is less able to relate to Aaron and her distance causes him to leave home in search of his father. Following the address on letters from his father that were given to him by Michael, Aaron g

Sunday, April 5th, 1998

s4e22: Seek and Ye Shall Find

Monica and Tess discuss the next mission in the one-stop town of Savage, Missippi. Monica slips on theicy pavement outside a bus station, hits her head, and suffers from amnesia. Inside the station Dr. Chester Crayton somewhat impatiently examines a frightened Monica. The doctor is on the way to a prison to watch the execution of a man who murdered his wife. The sation is filled with colorful characters including a bible salesman, the crusty station-keeper named the Colonel, a sweet old black lady named Effie, and a young pregnant Elvis fan, Sueellen. As Monica struggles to regain her memory, the doctor reveals that hatred and bitterness he feels over the murder of his wife. Andrew, on his way to ""work"" the execution, stops by the station and encourages Monica, who doesn't recognize him, to first seek out who God is, and then she will know herself. The bible salesman steals Effie's money, but Monica is accused of the crime and the Colonel calls the cops. Monica, thoroughly lost

Sunday, April 12th, 1998

s4e23: Cry, and You Cry Alone

Four aging comics sit around a diner table reminiscing about their careers and celebrating the fact that one of them is soon to leave on a cruise ship gig. One of the men offers to tell the story of Salt and Pepper, a famous comic team who suddenly broke up before they hit it really big. The story begins many years after the breakup, when Maury Salt arrives at the diner for his daily breakfast. Monica, a waitress at the diner, is the object of Salt's disdain when she doesn't know his usual order. During breakfast Salt reads the trade magazines and discovers that he and Pepper are going to be inducted into the Comedy Hall of Fame. When Monica inquires it becomes apparent that Maury and his former partner dislike each other, mostly because Pepper walked out on the act. The two men reunite and continue their feud at a press conference in spite of the fact that they've agreed to put on a show for the Hall of Fame induction. At the rehearsal Salt and Pepper return old routines but ca

Sunday, April 26th, 1998

s4e24: Perfect Little Angel

Monica and Tess meet their next assignment, Tracy Beringer as she achieves some very bad news via a letter in her mailbox. The nature of the news in unclear, however Tracy needs money very badly, telling her boss at the auto repair shop where she works that she needs money for college tuition. When she sees an ad in the paper for the Miss Colorado pageant, she tries to sign up, but one the many stipulations in that the young ladies must have a sponsor. Tracy, who desperately needs the pageant prize money, is upset until Monica, Tess, Rafael, and Andrew agree to be her sponsors, crowning her Miss Unincorporated Area #579. As they begin to prep Tracy for the pageant the angles discover a few strange things about her, she never lets anyone inside her apartment, she tells people that her parents died in a boating accident (then later says its a train wreck), and she plays the piano very well, but lacks the passion required of a truly great pianist. On the night of the pageant all is g

Sunday, May 3rd, 1998

s4e25: Elijah

Jacob Weiss, a bitter slum lord, is sentenced to spend two weeks in one of his own tenements and the angels arrive to help him understand the error of his ways. As the code enforcement officer, Monica quickly educates Jake on the changes that will need to be made but he is intent on trying to go around the law, offering her a bribe. He then continues to try any legal of avoiding his punishment until his mother and son urge him to come to Passover dinner which coincidentally falls on the eve when his incarceration is to begin. He then approaches the judge and makes a religious plea. Unfortunately for Jake, the judge attends the very synagogue where he claims to be devout and, having never seen Jake there, firmly refuses. Jacob then attempts to hide from the police at his mother's house but is picked up in the midst of the Passover meal. Tess meets Jake as he arrives for his internment and places an ankle monitor on his leg to ensure that he does not leave. Jake then settles in to

Sunday, May 10th, 1998

s4e26: Last Dance

The pressure to abstain from sex before getting married is almost as great for teenagers Greg and Jill, as the pressure from their mothers to be perfect students. Greg's mother, Liz, owns a flower shop, and doesn't like Greg seeing Jill, claiming it affects his grades and will jeopardize his ability to get into college. Jill's mother, Candace, still dealing with issues with her own past, demands complete chastity from her daughter. It is Monica and Tess' assignment to make sure these relationships don't self-destruct. Meanwhile Andrew, as a DJ, encourages the high schoolers to respect themselves and their bodies. Rafael, as a student teacher, fends off infatuated girls. Monica, as a substitute teacher, holds a meeting to plan the upcoming prom and chaperons Liz and Candace meet. Although they deny knowing each other, it is clear they have a history together. The truth is Liz and Candace were friends in high school, until Candace, who slept around quite a bit, stole Liz's boyfri

Sunday, May 17th, 1998

s4e27: The Spirit of Liberty Moon (1)

While testing a kite, Tess briefs Monica and Andrew on their next assignment, it can change many lives beause the ""courage of one single person"" can change history. That chance may come for Edward Tanner, CEO of Tanner Toys, and he may mot recognize it. It will come for one of Edward's employees, Jean Chang, a second time, she will recognize it and ""that's why she may say no."" Tess demonstrates her new ""portable kite"" that can fly without wind to Alex Stella, Edwards longtime friend and legal counsel for Tanner Toys. He is intrigued by the technology, but quickly brushes her off as Edward enters to discuss moving their manufacturing to China. Alex introduces Monica as China's open-door policy has given to Western businesses and recommends that Edward hire a translator from within the company. When the job is offered to Jean, she is offended, claiming she is Korean and they assume she was Chinese because she looked ""oriental."" Her cover is quickly blown, however, when she arrives
Season 5
Sunday, September 20th, 1998

s5e1: Miles to Go Before I Sleep

When Andrew arrives at the hospital to escort an elderly Mr. Richards to heaven, he makes Andrew promise to help someone else in the hospital, someone whose soul is dying. Mr. Richards directs Andrew to the bible he is leaving behind which, he insists, will answer Andrew's questions. Andrew meets up with Monica and Tess who are at the hospital to minister to the patients, but no one knows the whereabouts of Mr. Richards bible. Complicating matters, Rita Lasky, a terminally ill woman with no will to live, claims to have seen the Angel of Death and that it told her to ""hurry up and die."" Monica tells Rita God would never someone to give up, and that if an angel says something that is not from God, then it's not an angel. Meanwhile, Andrew is caring for John Monroe, a young man with brain cancer, who has faith that he will be miraculously healed. Arthur Bowers, a kind hearted orderly, tells John about Rita's angel-sighting and insists that there is an angel in the hospital. When Ri

Sunday, September 27th, 1998

s5e2: Vengeance Is Mine (1)

As the one year anniversary of Joe's tragic car accident approaches, the Greene family is in Springville. After seeing Joe depart for Turkey where he is intent on working, Russell is eager to get back on the road while Claire has a sense that she has work still to do in Springville. As strange letters begin to arrive for Joe, Claire volunteers to teach reading on death row at the local prison and meets Darlene, a young woman convicted of killing a man while on a drug-crazed binge. As Claire and Dinah try to help Darlene come to terms with her daughter and mother before she is executed, the angels learn that the letters to Joe have been sent by Sondra Mills, who is abusing alcohol and neglecting her son, Matthew, in the aftermath of her husbands death at Joe's hand. Tess works as an efficiency consultant at Sondra's office and tries to convince her to stop drinking and face her grief but Sandra is soon fired drinking on the job. Meanwhile, Monica is Matthew's teacher and tries to h

s5e3: Vengeance Is Mine (2)

Sunday, October 4th, 1998

s5e4: What Are Friends For?

The angels arrive in the life of mayoral candidate Carrie Carver to help her learn a valuable lesson about friendship. Monica arrives as Carrie's speechwriter when Carrie is called away by a message from an old college friend. Monica tells her ""truth is the best spin."" Carrie arrives at Frodo's, her old college hangout to find Tom, who is waiting to hear the news of most recent cancer test. Andrew is acting as a bartender, not knowing whether or not he will be escorting Tom. Carrie then resumes her campaign, formally announcing her candidacy for the office of mayor. Carrie then goes to her college reunion with Sam and Monica. Carrie then sees her old friend Billy. Sam looks on with controlled concern as Carrie and Billy dance to their old college song. As Carrie, Billy and Tom, ""The Terrible Threesome"" give an reunion performance, Tess tells Andrew and Monica ""Sometimes memories keep people harmonizing long after the music is over."" Carrie tells Billy she'll pull some strings

Sunday, October 11th, 1998

s5e5: Only Connect

When a widower named Donnie Mancuso is having problems with his son, Cameron, the angels arrive to help them learn from the least likely of souls, an autistic man by the name of Ferdie. Misunderstood all of his life, Ferdie lives in a shack on the edge of a baseball field in Cicero, Illinois. Although harmless, the townspeople are unaware of his autism and think of Ferdie as merely as ""weird."" Cameron befriends Ferdie, who shares his love of trains. Donnie, a former professional baseball player, pushes Cameron to work harder at baseball as a way of making friends. Cameron falls prey to peer pressure and participates in a prank that inadvertently results in the burning of Ferdie's shack. Monica appeals to Cameron's conscience, and he convinces his father to let Ferdie live with them until his shack is rebuilt. While having living with Donnie and Cameron, Ferdie behaves strangely but Donnie pays little attention because he seems harmless. Donnie finds Ferdie in the basement using

Sunday, October 18th, 1998

s5e6: The Lady of the Lake

Andrew and Tess show Monica how to skip stones on Lake Paradise, and notice that this lake is ""dead"" in that it has no birds, no fish, no people. It is Monica's assignment to help revitalize this lake, and at the same time, revitalize the life of Blake Chapman, who has returned to Lake Paradise after twelve years, as a representative of the Mayforth Corporation, the company that wants to buy the property around Lake Paradise. Blake is stunned when ""Monica's Bait and Tackle"" springs up on the lakeshore, especially when he realizes that Mayforth doesn't own the small patch of land the shop rests on. Monica, enjoying her new job as storekeeper and friend of the worms, refuses to sell the shop, thereby impeding the company's progress and infuriating Blake and the townspeople, including, Earl Gray, an old-timer, his hearing impaired daughter Laurel, her son Jeremy, and Eb and Flo, one time Vegas performers. They all stand to profit in different ways if the property is sold to Mayforth,

Sunday, October 25th, 1998

s5e7: Beautiful Dreamer

Tess substitutes at a Washington D.C. and asks the students what they want to be when they grow up. One of the children, Calvin, tells the class he wants to be an assassin. Tells tells Calvin that being an assassin is nothing to be proud of and to prove it Tess tells the class the story of John Wilkes Booth, the assassin of Abraham Lincoln. On April 14, 1865 Sam and Andrew arrive in post-Civil War Washington. Sam tells Andrew, then a caseworker, of his next assignment, Mr. Booth. Andrew meets Booth backstage at Ford's Theater, where stagehands are busily preparing for the evening's play. At the White House, Abraham Lincoln and his wife Mary make plans to attend the play. Monica, currently working in Annunciations, arrives as Mrs. Lincoln's seamstress. While Monica fits her dress, Mrs. Lincoln confides in Monica her worry for her husband's health, especially in light of a recent dream the President has had. That afternoon Andrew approaches Booth in a saloon outside the theatre,

Sunday, November 1st, 1998

s5e8: I Do

Monica tries to determine God's greatest gift to humans and hypothesizes that it might be marriage, the wedding of two people. Tess reminds her that a marriage is much more than a wedding ceremony. Stephanie and Michael are planning to elope with Michael's younger brother, Eddie, in tow, when Nancy, Michael's mother, finds out and demands that they have a traditional wedding. Stephanie and Michael relents and Monica and Tess note that this family runs like a dictatorship. While Stephanie is trying on dresses at Tess' dress shop, Eddie gives Michael a special gift, their deceased father's favorite tie, reworked as a bowtie so Michael can wear it at the wedding. At the bachelor party, Monica pops out of a cake, and befriends Eddie, who asks her to be his date for the wedding. On the day of the wedding, Stephanie and Nancy receive news that Michael and Eddie have been in a car accident. They rush to the hospital, Stephanie still in her wedding dress, to find Eddie fine, but Michael

Sunday, November 8th, 1998

s5e9: The Wind Beneath Our Wings

When Andrew arrives in the court of Judge Dorrie Chapin to notify her that she is the governor's first choice to fill a vacant Supreme Court seat, Dorrie and her ever-dependable mother, Emma, are overjoyed. Having met Tess while sitting in the gallery of her daughter's courtroom, Emma invites Tess and Monica over for dinner to celebrate. Later that afternoon, Emma is the subject of show and tell in the classroom of Dorrie's daughter, Jenny, and tells of her days as one of the only female pilots, the Lady Tigerettes, during World War II. When Emma and Jenny get lost on the way home after leaving Jenny's school. it is apparent that Emma is beginning to show the first signs of aging. The angels attempt to tell Dorrie that her mother is simply getting older but Dorrie is unwilling to accept that her steadfest mother is faltering. Dorrie tries to rationalize the situation suggesting that her mother will be fine with the lifestyle changes and vitamins until Emma falls asleep in the cour

Sunday, November 15th, 1998

s5e10: Psalm 151

Monica, Tess, and Andrew celebrate Monica's 100th assignment with a cake in a park. In the same park Audrey, a single mother who writes commercial jingles, celebrates her son Petey's birthday. Petey tries to blow out the candles but is racked with coughing, an effect of his disease, Cystic Fibrosis. Monica arrives at Petey and Audrey's home as a prospective border she meets Celine, Petey's best friend who is Celine Dion's number one fan. Celine introduces Monica to Audrey and Monica moves into their home. Petey plays a song for Monica on tape that Audrey began to write when Petey was born but has since been unable to finish. When he collapses on his way home from school, Petey is rushed to the hospital where, upon his release, he and Celine overhear some nurses saying he doesn't have much time left to live. Petey tells his mother, who is having trouble accepting the fate of her little boy, that when he dies, he wants to die at home. Petey, with Monica's help, begins to compile

Sunday, November 22nd, 1998

s5e11: The Peacemaker

As a part of his application to New York University, 17 year-old Mark Tanner videotapes the morning coffee ritual that his parents, Scott and Michelle, began during his recovery from a recent drug addiction. Although all appears well, Andrew warns Tess and Monica not to waste any time with this case. Scott arrives at the police precinct where he is a hostage negotiator to meet his new partner, Monica and invites her to dinner. When Scott is paged by the precinct dinner, Michelle lashes out, blaming Scott for always choosing his work over his family. Later, as Michelle rifles through her ""Memory Box,"" Mark enters. She shows him the wrist watch Scott gave her for their first anniversary but adds that he meant to have it engraved. When Mark asks if they are going to be okay after he goes off to college, she reassures him but her face registers doubt. As she exits, Mark finds divorce papers in the memory box and becomes angry with his mother. Later, while painting a portrait of her

Sunday, December 13th, 1998

s5e12: An Angel on the Roof

Charley, an aging south Texas motel owner, gets a Christmas Eve visit from Monica, who tells him not to fear, because she brings him tidings of great joy. Charley in a drunken daze, thinks the beautiful glowing angel is merely a hallucination, and begins a dialogue with his ""vision"" as he decorates his Desert Star Inn for the holiday. Monica tells Charley that he will receive a miracle the Christmas Eve, and he, somewhat skeptical, hypothesizes about what this will be. He hopes it will be a new star, something he has been waiting quite a long time to see through his high-powered telescope from the roof of the inn. Meanwhile, Tess serves coffee two three lonely truckers who celebrate the holiday at a truck stop. As they leave, Tess points them to the inn, but the truckers muse at the thought of spending an evening at the dilapidated motel. Elsewhere, Jorge and Marisol, a young Mexican couple, illegally across the border, panic when pregnant Marisol begins to show signs of an early

Sunday, January 3rd, 1999

s5e13: Fool For Love

Sara Parker, a successful big city District Attorney, is forced to some to terms with her past when an ex-boyfriend, Jesse, is arrested and she must interrogate him. Rather than face Jesse, who still has some strange kind of hold over her, Sara retreats to a pub for some sanctuary. Monica who is waiting tables at the bar while Tess serves drinks, offers to listen to Sara's story. Sara is reluctant at first, but then proceeds to tell Monica her story of ten years ago. As 17 year-old high schooler, Sara meets Jesse, a handsome troublemaker. Much to her mother's disdain, Sara and Jesse fall in love and, when he suggests they move to California to start a new life, Sara agrees. Sara is worried when she finds a gun in Jesse's glove compartment, but when Jesse says it's for protection she's too blinded by love to disagree. Soon, however, their money runs out, their relationship sours, and to take matters worse Sara learns she is four months pregnant. In order to get some money Jesse

Sunday, January 10th, 1999

s5e14: The Medium and the Message

Tess and Monica arrive at the office of NNT Television to pay a visit to T.K. McKenna, a network executive who once dreamed of ""being the best"" and now only wants ""to be first."" As T.K. is bragging about the ratings on a show featuring a hijacked bus which explodes, Monica arrives in T.K.'s office. But T.K. is not surprised, telling Monica that people drop in to tell him things all the time and that he has no idea who they are. Monica then tries to sell him on an idea of a show about angels in which the angels are sent by God who loves us all. McKenna wants to know more and Monica tells him like some of his visitors, angels are often undercover. We then see a series of clips from previous episodes where the angels play a variety of roles. T.K. then dismisses Monica and the idea. As Monica leaves, T.K. is told by another executive that 76% of people believe in angels. Outside, Tess tells Monica to change the heart of the man in order to change the network. T.K. finds Monica out

Sunday, February 7th, 1999

s5e15: My Brother's Keeper

Tess and Monica arrive in Park City, Utah as the World Cup Qualifier Ski race is about to begin. As Tess and Monica watch over two contestants, Jett Rudin and Will Heller, Tess explains that the two boys have been friends for their entire life but that their friendship is about to change. Although both boys are competitive, Will has never Beaten Jett. Jett is the center of attention, even to Will's father who taught both of them to ski. Monica approaches Jett for an interview, the angle of which would be the friendship of Jett and Will. Meanwhile, Will's father, Howard is more interested in securing an endorsement deal for Jett than his own son. When Monica interviews Will, his jealousy rises and he tells her there will be a new ""top dog"" on the mountain the following day. At the qualifying round the next day, Jett sets a new record and warns Will about a dangerous curve and loses his place on the World Cup first team. At the lodge later that night, Monica questions Will off

Sunday, February 14th, 1999

s5e16: On Edge

Tess and Monica are introduced to their next assignment when the Cadillac by Bart and Hayley Ewing, a father and daughter con team. The angels follow Bart and Hayley to Salt Lake City where Bart has promised Hayley she will be able to indulge her favorite hobby, ice skating. Monica works as an employee of the skating rink and is short-changed by Bart as he pays for Hayley's entry. When Hayley falls down, Andrew, the acting D.J., introduces her to an Olympic hopeful skater, Alex Thorpe and she agrees to help Hayley learn to skate. Meanwhile, Bart pretends to find some lost money in order to win the trust of Alex's father, Carl, who is the owner of the rink. Carl tells Bart of an upcoming fundraiser to benefit the Silver Blades Skate Team. Bart notices the cash drop bag that Carl is carrying and begins to hatch an idea for a scam. Later that night, Hayley tells her father she wants to do something other than con people, something she can be recognized for. At the rink the next da

Sunday, February 21st, 1999

s5e17: The Man Upstairs

Gus Zimmerman, an insurance salesman, arrives in Las Vegas to call on his largest account, the Paradise Grand Casino. Tess tells Monica that behind Gus' smile is a desperate man. Monica meets Gus at a bar where he explains that he is there to call on the casino manager, Mac, and earn the commission that will pay for his wife, Esther's care in a nursing home. As he guzzles ginger ale, Gus explains that neither he nor Esther drink or gamble. When Gus learns that Mac is no longer the general manager and the new management is not willing to see him, he orders another drink, this time with vodka. Gus goes to the cashier, withdraws a five-thousand dollar credit limit and loses it all on one roll of roulette. When Gus pleads with the croupier, ""I'll sign anything,"" the phone mysteriously rings and the new manager is ready to see him. Gus enters the office to find the new manager's name is Monique and she looks exactly like Monica. It becomes apparent that Monique is evil as she toys w

Sunday, February 28th, 1999

s5e18: Family Business

On their 35th wedding anniversary, Ben and Sylvia Mangione, owners of a car dealership, host a huge sale. Monica and Tess are on hand to help the Mangione family, and Phil the angel of reconciliation, will assist them, if the perennially late angel ever arrives. Mangione Auto World is a family business, with daughters Ellen and Dee Dee and Ellen's husband Frankie all working there. But one of the children, Buddy, moved to California several years ago, refusing to take over the family business, much to Ben's chagrin. During the sale, Buddy calls to say he is returning for the anniversary with a big announcement to make. Frank is upset that Buddy is turning because he thinks it may spoil his chances for taking over the dealership. Indeed, Ben hopes Buddy is returning to tale over the dealership. At the anniversary party Tess plays with the band, filling in for the still tardy Phil, while Monica caters the event. Soon, however, the police show up to let the family know that Buddy

Sunday, March 7th, 1999

s5e19: Anatomy Lesson

When Dewey Burton dies of a heart attack while running for help after finding a young girl trapped in a deep drain pipe, Tess tells Monica that his body is the key to saving the young girl and she only has four hours to do so. When Dewey's body arrives at the coroner's office, Monica arrives at the assistant to the skeptical pathologist, Ivar. Ivar believes that everything about a man's life can be determined from an autopsy. While Tess remains with the little girl, Jamie, Monica begins trying to change the heart of Ivar by telling him the story of Dewey's life from the details of his body. Monica begins by looking at the man's hands, deducing that he worked in construction, building homes which he could never afford himself. Tess continues to comfort Jamie as Dewey's wife, Faye, begins to search for her missing husband. As the autopsy continues, Monica learns more about Ivar, that he believes, ""In the end, we are helpless and what doesn't change anything,"" and that he used to pr

Sunday, March 28th, 1999

s5e20: Jagged Edges

Andrew helps an older man, clean out his garage, searching for a box he wants to give his daughter, Natalie. Doug has a heart attack, and as he is dying, Andrew assures him that God's angels will be on hand to deliver the box to Natalie. When Natalie, a stand-up comic, hears of Doug's death, she returns home with her infant daughter Lily to organize her father's things. Natalie begins to have flashbacks about her deceased mother, and how when Natalie was young, she would play the piano incessantly. Andrew tries to persuade Natalie to help him clean the garage and find the box, but she is unwilling to go into the garage. To get a break from her intense memories, Natalie goes to a comedy club to perform. Meanwhile, at a local hospital, Monica and Tess talk about how Natalie will react to learning her father's secret, that Amanda, her mother, is not dead, but has been institutionalized for many years. Natalie, indeed is shocked to learn this and that Amanda, after a slow recovery

Sunday, April 4th, 1999

s5e21: Into the Fire

Monica meets her next assignment, Melina Richardson at her latest temp job, a telemarketing agency. When the usually meek Melina is fired for yelling at a potential customer, she decides to attend a seminar of the Golden Path Institute hoping to find meaning in her life. After an impassioned speech by the Golden Path's leader, the charismatic Brother David, who persuades the attendees who ""feel called"" to board a bus bound for the institute. Melina, captivated by Brother David, gets on the bus. Tess tells Monica to stay close to her assignment. At the institute Monica and Melina are stripped of their possessions because Brother David feels it is important to leave the past behind. Melina, however, secretly keeps a picture of her ex-fiance under her bed. When David finds the picture, he summons a meeting of the whole group and exposes Melina's transgression forcing her to destroy the picture. Meanwhile, a mail truck arrives at the institute with letters for everyone, but Brothe

Sunday, April 11th, 1999

s5e22: Made in the U.S.A.

Nick Stratton, owner of Stratton Apparel, hires Vietnamese women to work in his sweatshop because they are willing to work for little pay. Monica's assignment is to help Nick, a ""good man with a bad attitude."" Nick hires Monica as his accountant the same day that Am-Nhac Nguyen starts at the factory, pressing pants on a faulty steam press. Am-Nhac and the other women are willing to work for Nick because he will pay for citizenship classes if they meet their rigorous daily quotas. Tess, who teaches the class, tells Am-Nhac that her father, Cadao, can attend as well. The next day Nick, under pressure from his clients, raises the quotas, and Am-Nhac, in a hurry to meet hers, severely burns her arm. Nick fires Am-Nhac because her injury will slow her down. Monica asks Nick why he is so hard on his workers, and Nick tells her his story. As a soldier, Nick helped a captured Vietnamese boy escape. Nick knew the boy was not Viet Cong because he had a peace symbol, an American fad, tat

Sunday, April 25th, 1999

s5e23: Full Circle

Monica re-enters the life of a former assignment, Kate Prescott, who has spent the last few years of her life waiting for her son, Thomas, to return home. When Monica was last with the Prescott's, Thomas had been falsely accused of murdering a young woman, and Kate doubted her son's innocence. Later, Thomas was cleared, and Kate has since felt guilty for not trusting her son. Now, Kate's neighborhood is being leveled to make way for a highway, but she won't sell her house to the government, wanting to remain there in case Thomas should return home. Monica appears to Kate to tell her that her prayers have been answered, that Thomas is returning home. Thomas arrives at the house with a surprise, his seven year-old son Dylan. At first Thomas seems to have changed his shady ways and accepted responsibility as a father, but Monica learns he is doing drugs and tries to warn Kate. Kate is unwilling to believe the truth about her son, and she finally agrees to sell the house. While tak

Sunday, May 2nd, 1999

s5e24: Black Like Monica

Monica encounters Tess on the side of a dirt road on the outskirts of Aynesville, a small Southern Illinois town. Tess, holding a bloodied rope and crying directs Monica to the body of a dead black man. Tess in anguish, tells Monica that she has given up on earth, and is returning to heaven. In downtown Aynesville, preparations are being made for the upcoming Civil Rights Day and a visit from Rosa Parks. Lavonda, the director of the celebration, wonders why Mooney, the set builder, is no where to be found. Monica arrives and takes Tom, Lavonda, Deputy James, the Mayor and a few others to the murder site, and they identify the body as Mooney's. The group suspects that the murder was committed to ruin the celebration, and with the exception of Tom and James, decides to keep the murder quiet. To ensure the cover up, Tom reluctantly locks Monica in a jail cell. As a black man, James protests the cover up and the abuse of Monica's civil rights. That night Monica prays for a way to

Sunday, May 9th, 1999

s5e25: Fighting the Good Fight

In a run-down apartment complex, 11 year-old Tim endures being teased by his older brother Steven as they try to sleep on a fold-out couch. Uncle Frank, the boys' reluctant guardian, threatens to beat them if they leave the house while he is gone for the night. As he does every night, Frank takes the vicious pit bull he keeps chained outside the door with him and leaves. Monica, Tess, Andrew, and Rafael are on hand for this assignment, but Rafael notes they made need someone else's help, someone who, unlike themselves, actually knows what it is like to be a child and have to fight to survive. The next morning, Frank returns with the dog and prepares to sleep on the same couch as the boys go to school, demanding them to come home late so he can sleep longer. After school, Steven taunts and punches Tim and won't let him hang out with his gang of friends. Instead, Tim wonders into Tess' gym, where Rafael and Tess train boxers. Tim, wanting to be able to beat up Steven, begins to tr

Sunday, May 16th, 1999

s5e26: Hearts

Monica is an aid to Dr. Sandra Pena, a Portland heart surgeon. Sandra's favorite patient, Ilena, is in need of a heart transplant and time is running out to find a compatible donor. Meanwhile, at a hospital in Boise, Angela, the victim of a horse riding accident, lays dying. Sandra is excited to learn that Angela may be the compatible donor Ilena desperately needs. Tess, an organ donor specialist, tries to convince Angela's husband Dan to donate Angela's heart. Unwilling to believe that his wife is dying, he refuses to agree to the transplant. In an attempt to life Ilena's spirits Monica introduces her to Sandra's daughter, Casey. The two teenagers quickly become attached. When Sandra learns that the heart is unavailable, she warns Casey of Ilena's fate, and insists she not see Ilena anymore. Rather than give up hope, Casey takes a bus to Boise, without Sandra's permission, in hopes of convincing Dan to donate Angela's heart. In Boise Casey meets Andrew, who has been sitting
Season 6
Sunday, September 26th, 1999

s6e1: Such a Time as This

In the middle of the African desert, Andrew snaps photographs of Sudanese slaves in the hot sun. Back in the United States, young Thomas Cooper is upset that his mother, Senator Katherine Cooper, has to return to Washington D.C. Monica is horrified to see the pictures that Andrew took, and wonders why the angels aren't in the Sudan. Tess indicates that Thomas is the little child that will lead them there. In Washington, Dr. Joseph Akot, working with Andrew and Monica, approach Kate about the problem of slavery in the Sudan, but Kate, espousing the Sudanese government's position, denies its existence. They persuade her, however, to keep the pictures and reads Dr. Joe's letter, which says that slaves can be bought and sold for fifty American dollars. Thomas is moved by one of the pictures in particular, of a small Sudanese boy, who Thomas names Sam after his older brother who died before Thomas was born. Thomas pleads with his mother to rescue Sam, but tells him that the issue is

Sunday, October 3rd, 1999

s6e2: The Compass

In July of 1944, a month after D-Day, a small squad of American soldiers make their way through the deadly battlefields of Normandy, part of the attempt by the Allied forces to re-claim France. Led by Sergeant Walker, the men are weary, and anything but unified. Cynical Private Joe Farady takes bets in how many casualties there will be at the end of each day. Private Eddie Rourke, full of optimism, is constantly at odds with Joe. Privates Nick Dante and Homer Stucky comprise the rest of the squad. Monica, on a Search and Rescue mission, watches over the man unseen. Through a flashback, we learn that the feud between Eddie and Joe began several months earlier, in an Allied canteen. Joe is upset to find Eddie dancing with Stella, a USO hostess whom Joe considers his girl. Stella isn't interested in Joe and tries to let him down easy. Tess, a USO singer, tells Monica that she is assigned to Joe, that she must help him decide to become a hero. Back on the battlefield as the comba

Tuesday, October 19th, 1999

s6e3: The Last Day of the Rest of Your Life

Corey, Stasi, Dolores and Larry meet at a support group meeting, all of them answering to the same ad, ""Are you ready for the last day of the rest of your life?"" They are all dying. Rachel shows up, too, but something deep and personal keeps her from going inside. As facilitator of the group, Monica explains that their purpose will be ""to give meaning to the life you're leaving behind and explore what it means to face death."" Dolores is 67-year-old wiseacre who is dying of emphysema. Stasi, who owns a hair salon, is a divorcee and mother of two, she has hepatitis. Larry, an avid bowler and construction worker, is dying of asbestos poisoning. Corey won't say what he's dying of, which annoys Larry. Finally Rachel gets up the courage to join the others and reveals that she has an inoperable brain tumor. Monica encourages them to make a list of things they want to accomplish before they die. At the next meeting, Dolores admits that she would like to learn how to dance. Stasi say

Sunday, October 17th, 1999

s6e4: The Letter

As Monica and Tess drive through the crop fields of central California, Monica comments on their beauty. But when Tess asks her to take a closer look, Monica sees the hardworking families, including many young children, toiling over the crops in the hot sun. One such family is the Morante clan. Patriarch Roberto works tirelessly alongside his wife Elisa, his teenage son Tino, and younger children Claudia and Miguel. They migrate with the season, always traveling to the part of the country that is being harvested. One of their few joys is the letter they receive each week from their grandmother. Roberto is illiterate so he has Tino read the letter, though Tino would rather be listening to classical music on the car radio. As the Morantes settle in the latest migrant camp, they meet Monica, the church volunteer, Andrew, the camp supervisor, and Rafael, a fellow migrant worker. At church on Sunday, Tino discovers the piano and begins to play. Tess offers to be his music teacher.

Sunday, October 24th, 1999

s6e5: Til Death Do Us Part

Molly Avey's preparations for her husband Jordan's 40th birthday surprise party are interrupted by a phone call from her doctor's office, they suspect she may have cancer, the disease that killed her mother and grandmother at the same young age. Andrew, working as the Avey's farmhand, believes that Molly is his assignment, but Tess cautions him that there may be some other surprises. Despite Andrew's pleas, Molly refuses to tell Jordan about the phone call and spoil the party. Instead of being happy at the surprise, Jordan seems depressed to find everyone gathered in celebration. He finds some joy in talking with his good friend Donna, and they reminisce about their high school romance. Molly and Jordan's young son Jimmy interrupts the party with the news that one of the cows has gone into labor. Jordan, Andrew, and Jimmy struggle to deliver the calf, and it is born premature. Jimmy plans to raise the calf and names it Hannibal, but Jordan tells him that some things are meant to

Sunday, October 31st, 1999

s6e6: The Occupant

On Halloween night all the angels have their hands full, and this night is no different for Monica, Tess, and Andrew, who attend to a spiritual battle at Salt Lake City's Mercy Hospital. The ambulance brings Lonnie, a deranged and suicidal homeless man. Lonnie frequently visits the ER and Duncan, the head of the ER and Lonnie's best friend from childhood, has diagnosed him with Multiple Personality Disorder. Andrew arrives to comfort Lonnie, but suddenly lucid, Lonnie claims to be ""Gregory"" and recognizes Andrew as an angel! Andrew looks to Tess for some insight and she relates Lonnie's history. Many years ago, when Tess was Lonnie and Duncan's Sunday School Teacher, she taught them that faith in God is like a mustard seed, though little, it can grow to be very large. Despite an abusive home life, Lonnie struggled to have faith, and cherished the mustard seed that Tess gave him. One Halloween though, a prank gone awry resulted in Lonnie burning a house down. Monica then continu

Sunday, November 14th, 1999

s6e7: Voice of an Angel

In New York City, Tess and Monica enjoy the vocal talents of some street performers, but when Monica tires to join in Tess points out that, clearly, singing is not one of her gifts. Monica reminds Tess that she has always prayed for a beautiful singing voice, and when she hears one echoing down the halls of Carnegie Hall, she believes God has finally answering her prayer. much to her disappointment, Monica finds the voice really belongs to a rude English orphan named Alice. Alice is in New York to perform in a vocal contest with her choir, and Monica's assignment. Tess tells Monica that she is to give Alice a ""singing lesson."" Monica reluctantly agrees to be Alice's chaperone for the day, and they start to explore the city. Alice, who remembers a song her father taught her, wants to see Herald Square, and Monica, trying to be friendly, takes her there. At Herald Square, Monica meets Andrew posing as a mime and relates a story. Centuries ago, in heaven, Monica was kicked out of

Sunday, November 21st, 1999

s6e8: The Whole Truth And Nothing But...

Monica, Tess, and Andrew sit on a Chicago park bench reading the Chicago Daily Guardian, a tabloidesque newspaper with the motto: ""If It's The Truth, It's News."" The angels cringe at the sensational headlines and Tess notes that there is more to the truth than just the ""facts"" these articles portray. According to Tess, Liz Bradley, the editor of the Guardian, is suffering from a contagious disease, cynicism. She is Monica's assignment. When Monica arrives at the Guardian to interview for a reporter job, she meets eager young Ray, who works as a gofer while awaiting his big break as a reporter. Liz is impressed with Monica and hires her, assigning her to a story about possible shady dealings between Mayor Hunley and some Taiwanese officials. Liz teams Monica with the Guardians' star reporter Lauren, who is also Liz's younger sister whom Liz raised. Lauren feels that Liz is to obsessed with her work, and as a result, the sisters fight frequently. Soon after Lauren and Monica

Sunday, November 28th, 1999

s6e9: Then Sings My Soul

In Andrew gives a tour of Taffy Town to a group of young schoolchildren. Taffy Town seems like a wonderful place, as evidenced in the warm video that plays for visitors hosted by the founder, Uncle Dudley. He is known to children as the man who makes all the taffy in the world. Tess reveals that when Uncle Dudley died five years ago, the spirit behind Taffy Town died with him. Monica meets Bo, son of Uncle Dudley and the current owner of Taffy Town. Bo has never been able to live up to his father's genial image, and has come to hate being saddled with the responsibility of Taffy Town. To make matters worse, Taffy Town is losing money, and Bo hires Monica as an efficiency expert to figure out why. Monica starts to interview the employees of Taffy Town, and finds the veteran staff to be hard working, yet a little lacking in spirit. Clarence, a blind man, works as the taste tester. Susie, following in her family's footsteps, works the big taffy machine while nursing a quiet love

Sunday, December 12th, 1999

s6e10: The Christmas Gift

Robert and Brianna return to their impoverished hometown of East St. Louis for the Thanksgiving holiday. This tradition annoys Brianna, who worked hard to leave this city behind, and wishes that Robert's widowed mother LaBelle would come to their safe and wealthy neighborhood instead. Monica and Tess watch unseen as Robert welcomes in the season with a beautiful carol played on his treasured trumpet. When a local homeless man named Gabe is drawn to the music, LaBelle welcomes him in for dinner, much to Brianna's chagrin. LaBelle tells Brianna that she is happy in East St. Louis, where she knows her neighbors and volunteers at the soup kitchen. After the holiday, Robert and Brianna work hard to afford their home by selling water filters. Though money is very tight, Robert buys LaBelle a cell phone for safety reasons. She calls him late one night to tell him that a vandal has broken a window in her home, so Robert promptly leaves for East St. Louis. Hours later, Andrew, a policem

Sunday, January 2nd, 2000

s6e11: Millennium

At a New Year's Eve party in the final minutes of 1999, the angels meet Angela, their new assignment. Tess tells Monica that Angela is reluctant to enter the new millennium because she does not want to give up the past. Tess also informs her that Angela has forgotten about an important appointment that she has made many years ago. in the crowded chaos of the party, Andrew, working as a waiter, accidentally spills some champagne on Angela's dress. Angela graciously retreats to the ladies room where she meets Monica, the attendant, who is able to clean her dress. Monica recites a poem to Angela, ""Oh! To be alive in such an age!"" and this triggers a childhood memory about Angela's father. When she leaves the ladies' room, the commitment-weary Angela becomes nervous when she oversees her escort, Nick, showing Andrew an engagement ring. Later, on the terrace, Angela tells Andrew about her father, Carl, whom she idolized. He was full of spirit and had a love of great poetry. Angela

Sunday, January 9th, 2000

s6e12: With God As My Witness

In Tess and Monica are on hand to witness their next assignment, Jim Sullivan, get fired from his job as a construction foreman. Trying to warn the project managers of potential safety hazards, Jim instead incurs their wrath. Tess reminds Monica that humans value themselves for what they do, rather than for who they are. In light of this, the angels must keep Jim from making any desperate decisions. Unable to find more construction work, Jim takes a low-paying job as a limousine driver and worries that he will be unable to financially support his wife and two daughters. As the bills pile up, Jim does make a desperate decision. Tailing his co-worker's advice, Jim decides to drive a questionable by generously-tipping client around for the evening. Monica, the limo dispatcher, warns against it, but the promise of quick cash is too tempting to refuse. Stuart Deane, Jim's passenger, is secretive about his business and appointments. Jim learns too much when Deane leaves their last

Sunday, January 23rd, 2000

s6e13: A House Divided

Andrew, on assignment as a sixth-grade teacher, resides over a parent-teacher night at the school. A simple game the parents plat turns into a scene when a divorced couple, Martin and Janet, argue over who better knows their son, John is humiliated in front of his classmates, but quietly hides his grief as Tess and Monica watch, unseen. As Andrew builds a relationship with John, he begins to understand the tug-of-war that is John's life. John lives with his mother and her new husband Phil, and spends the weekends with his father. When Martin and Janet do have to deal with each other, their communication is riddled with subversion and insults. One weekend while John and Martin eat pizza at a local restaurant, they run into Andrew and Monica, who describes herself as an ""advocate"", someone who helps people. When Janet arrives at the restaurant to deliver John's homework another fight erupts, and John decides that he would like to enlist Monica's services to help him divorce his par

Sunday, February 6th, 2000

s6e14: Buy Me a Rose

Greg and Ellen Sawyer have been married for 19 years. Tess and Monica's assignment is to make sure they stay married well past twenty. Greg, a successful Portland developer, is often to preoccupied with his work to notice Ellen. But when securing a business deal takes precedence over their 20th wedding anniversary celebration, Ellen begins to question her marriage. When Monica, working as Ellen's assistant, helps her go through some old boxes, Ellen discovers love letters from an old boyfriend, a musician named Denny. The passionate letters reawaken Ellen's sense of romance and she begins to wonder if she made a mistake in marrying Greg instead of Denny. Meanwhile, Andrew refuses to sell Greg a lucrative piece of property that would cement Greg's plans for a waterfront condo. In the ensuing negotiations, Greg barely notices when Ellen leaves to celebrate their anniversary alone at their cabin in the woods. Instead of going to the cabin, Ellen detours to Oregon City, in hopes of

Sunday, February 13th, 2000

s6e15: Life Before Death

Monica is ecstatic to be assigned to help her beloved Ireland, where she first set foot on earth. Her assignment is a group of teens from Northern Ireland, whom she hopes to persuade to come to the United States through a program called Project Children. However, the group of teens is made up of both Catholics and Protestants, religious groups that have been fighting a bloody religious war for centuries. Recently, a peace treaty was signed, but peace is dependent on the youth of Ireland. Monica interviews teenagers of the program, and finds bitterness and prejudices on both sides. She hopes that two particular teenagers, Tommy, a Catholic, and Rose, a Protestant, will be able to lead the others into peace. Tommy's brother Gavin, whom Tommy greatly admires, also encourages Tommy to work towards peace by accepting the trip to America. In America, the teens find that their prejudices are strong, and they are reluctant to overcome them. The first night, Tommy and Rose both wake fro

Sunday, February 20th, 2000

s6e16: A Perfect Game

The angels arrive at the Cherry Lanes Bowl-A-Rama where they meet Ziggy, the unhappy owner of the alley. Despite the fact that it is technically the angels ""night off,"" Monica takes immediate interest in helping the cantankerous woman. Ziggy, who is too proud to ask for help from anyone, refuses Monica's offers to watch the counter. At the same time, Darrell, a security guard, is led into the bowling alley blindfolded. Darrell's friends have brought him to Cherry Lanes to celebrate his birthday, unaware that Darrell and Ziggy, though once best friends, haven't spoken in years. Ziggy's resentment of Darrell is immediately apparent. As Andrew and Tess teach Monica to bowl, she's ecstatic when she knocks down one pin, but even more excited to learn that she gets a second chance at the remaining pins. On another lane, Tess counsels Renee and Warren, a newly engaged couple, who argue about whom to invite to their wedding. Monica questions Ziggy about her anger toward Darrell and sug

Sunday, February 27th, 2000

s6e17: Here I Am

Monica, Tess, and Andrew find themselves in a New York art museum, each assigned to a different individual. The museum is full of visitors of all ages, including a class of young children on a field trip. Keeping a wary eye on these youngsters is Bud, an older security guard whose retirement begins at the end of the day. Bud has emotional walls between himself and the rest of the world, and it is Tess's assignment to help knock them down. Monica is talking to Antonio, an artist who despises his displayed painting, a modern art piece compromising of yellow and above black whose dividing line is flawed by a solitary bump. In another wing, Andrew has revealed himself as the angel of death to Constance, a woman who has just discovered that she has cancer and is trying to determine what she has contributed to the world. Tess discovers that Bud is obsessed with a painting of a little girl holding flowers. Bud protects this painting more than any other in the museum, and even makes the

Sunday, March 12th, 2000

s6e18: Bar Mitzvah

Ross Berger, an 83 year old owner of a successful chain of exercise gyms, credits his recovery from a stroke to his own physical strength and will. He considers himself a self-made man and believes religion is for the weak. Ross' son Alan, on the other hand, is a man of faith in God and a well-respected college professor who deeply values his Jewish heritage. Alan's son Aaron, who is preparing for his bar mitzvah, admires his grandfather's physical strength more than his father's spiritual faith. Monica and Tess agree to help Ross produce an exercise video for stroke victims, while Andrew tutors Aaron in Hebrew, teaching him the true meaning of the bar mitzvah, the acceptance of his new responsibilities as a man of God. Alan's wife Connie is worried about Ross' influence on Aaron, but is even more concerned about Alan's frequent dizzy spells, one of which results in a serious car accident. When Alan receives the news that he is dying from a rapidly growing brain tumor, he confide

Sunday, March 19th, 2000

s6e19: True Confessions

As Monica and Tess discuss the end of winter, Tess reminds Monica that in some places winter lasts all year round. One such place is the Kewanee Women's Correctional Facility where Monica's assignment, Carla Robinson, is doing 25 years to life for murder. Monica joins the prison staff as a social worker and begins to implement a prison theater program. With Tess' help as a prison guard, Monica is able to get a small group of the prisoners to open up about themselves and their crimes. Carla though claims to be innocent and spends her time trying to get a pardon. Meanwhile, Andrew is a hospice nurse to Santos Gonzales, the father of Orbie, the man Carla was convicted of murdering. Even after several years, Santos is still bitter about Orbie's death. At the prison, Monica chooses to play ""Agnes of God"" for the women to perform for the rest of the inmates. ""Agnes of God"" tells the story of a young nun who becomes pregnant as a result of being raped. Agnes is accused of murdering t

Sunday, April 2nd, 2000

s6e20: Quality Time

Toni Cozzi organizes her life the same way she runs her family, in adherence to rigid schedule. Monica and Tess watch unseen as Toni prepares for her day, completing even the simplest tasks with perfect timing. Toni's way of keeping her family safe. That family includes: Amy, a high school volleyball player, and Angelo, the youngest, whose specialty is playing the tuba and getting into mischief. The family is just days away from the grand opening of their new pizza parlor ""Paul and Toni's Perfect Pizza."" Monica is hired as a chef and Andrew as a handyman. As Monica begins making the pizza, it becomes apparent that Toni won't reveal the secret of her family sauce, not even to her own family! At the same time, Toni worries about Amy's increasing appetite and water intake, and about her general moodiness, scared that Amy is getting into drugs. When Amy collapses on the volleyball court, the doctors diagnose her with juvenile diabetes. Tess, the nurse, teaches the family about the

Sunday, April 9th, 2000

s6e21: Living the Rest of My Life

Abby is a 71 year old widow who spends her days watching soap operas and her nights doting to her overly-attached son Phillip and his wife Judith. Monica and Tess's assignment is to help cut the apron strings between mother and son. When Monica arrives at Abby's door to collect clothes for the ""Living the Rest of My Life"" Retirement Community fundraiser, Abby is skeptical. Later, when Tess tells her about the activities that take place at ""Living the Rest of My Life,"" Abby agrees to visit to see for herself. Abby is excited to find many seniors who keep busy with all sorts of activities, though she tries to mask her enthusiasm. She meets Ramone, a young graffiti artist who serves mandatory community service hours by helping Andrew, the Community's handyman, paint the hallways. Abby also meets Lois, a retired artist and widow, who hides in her apartment angrily refusing to socialize with the other community members. Abby uses Lois and Ramone as reasons why she wouldn't want to mo

Sunday, April 23rd, 2000

s6e22: Stealing Hope

Ricky Hauk has just received the news that he's being laid off from his dead-end job as a mechanic at Al's Gas Station. Ricky vents his frustration by writing poetry on the bathroom wall, quickly erasing it before it can be preserved for posterity. Monica is hired to take inventory at the station, and she encourages Ricky to pursue his writing. When Shelley, a local college student, arrives with her snobby boyfriend Marshall, Ricky is immediately smitten. When Marshall notices Ricky's college hat, he accuses him of being a poseur, and the boys exchange words. As Marshall and Shelley leave, Ricky discovers Shelley dropped her school I.D. Later, Ricky agrees to help his little brother Joey win the Invention Convention at the College. When Shelley returns to the station in search of her I.D., Ricky claims to be a student at the college. Shelley suggests he enroll in her writing class. Ricky agrees to check it out. Ricky's mother Ellen is frustrated to find out about Ricky's plan

Sunday, April 30th, 2000

s6e23: Monica's Bad Day

Late one night in New York City, a desperate Monica hails a cab and demands that Merl, the driver, take her to the Queensborough Bridge, she says if she doesn't reach the bridge by 10 pm, someone will die. Flynn Hodge, the proprietor of Flynn's Bar and Grill also hops in the cab, claiming Monica hasn't paid her dinner bill. Tess and Andrew watch from the curb, noting that Monica is having a really bad day. in the cab, Monica tells the man that she is an angel and that they think she is crazy. Monica reminds Flynn that it was something he did earlier in the day that led to this desperate situation. Flashback to that morning, Flynn rushes to the bank to appeal a foreclosure on his restaurant. Due to Monica's poor parallel parking job, Flynn misses his meeting and, despite Monica's apologies, he yells at her. Tess counsels Monica to forgive Flynn right then rather than harbor her own anger and take it out on someone else. Meanwhile, Andrew counsels Simon to meet his estranged son

Sunday, May 7th, 2000

s6e24: Send in the Clowns

Monica and Tess laugh as they look at themselves in the mirrors of the fun house at the Grazeldi circus. Tess reminds Monica that, like their distorted mirror images, the circus is all about illusion. Davey Tucker seems like circus, yet Davey dreams about being a regular boy. Davey's father Leroy, an achondroplasoc dwarf, works as a circus clown. Since Wally Grazeldi is unable to pay the performers, many are quitting the show. But Leroy steadfastly remains, and Tess, a ""talent scout"" offers the talents of Monica as a clown and Andrew as a ringmaster. What Wally really needs is a human cannonball. He asks Leroy, but Leroy refuses, he has a phobia of small spaces. As Monica is coached in clowning by Leroy, she begins to learn more about the Tuckers, how close the father and son have been since Davey's mother, also a little person, died when he was a baby. Davey befriends Mary Jane, a local schoolgirl who is teased by her classmates for being overweight. Mary Jane tells Davey to

Sunday, May 14th, 2000

s6e25: Mother's Day

Celine sits at the grave of her friend Petey Carmichael giving him an update of the things that have happened since his death. She tells Petey that his mother, Audrey, hasn't been doing too well since he left, she refuses to compose music and she drinks frequently. Celine asks Petey if he can send some angels to help her. Tess and Monica reminisce about Audrey. Tess tells Monica that Audrey hasn't forgiven them for helping her day goodbye to her Petey. Since Audrey refuses to see Tess, Monica, and Andrew, another angel, Emma is assigned to Audrey. Emma, a very fastidious angel, rents a room from Audrey and immediately begins spring cleaning the cluttered house. Meanwhile, Andrew is assigned to Liz, a tough and demanding radio talk show host who has lost a child, though may years ago. Andrew proposes a series of radio shows on addiction. At the same time, Monica begins to appear in Audrey's dreams, repeating the phrase, ""That's what makes you strong."" The next day, Audrey begi

Sunday, May 21st, 2000

s6e26: Pandora's Box

The Radcliff family is a paradox of centuries. Mother, Kate, lives in the 19th Century, running an antique shop and avoiding technology as much as possible. Father, Charlie, lives in the 20th Century with his wide-screen TV and microwave. But Sarah, their 13 year-old daughter, and Millie, their kindergartner, live in the 21st Century, relying on the Internet to help them with their school projects. One night while researching Hawaii, Sarah stumbles onto a pornographic website. Charlie and Kate insist that she turn it off immediately, upset that this sort of material is so easily accessible. At the antique store, Kate meets Monica and they become fast friends. Meanwhile Tess, Millie's teacher, avoids Millie's questions about reproduction (her pet rabbit is pregnant) suggesting that her mom and dad will want to give her those answers. Kiki, Sarah's world-wise pal, takes her to the cyber cafe run by Andrew. At work, Charlie's co-worker shows him some porn sites on the web. Charl
Season 7
Sunday, October 15th, 2000

s7e1: The Face on the Barroom Floor

High atop a New York penthouse, Tess entertaining at a society party hosted by bon vivant Everett Clay when his octogenarian father Benjamin, who still runs the family business, makes a surprise appearance to chastise his son and grandson about their wasteful ways. The following morning, Benjamin tells Everett the Bible story of the prodigal son who squanders his fortune. Benjamin reminds Everett that his great grandfather started this company carving handmade buttons and that he's being disinherited to learn the importance of self-reliance and hard work, handing him a framed deerskin jacket, with buttons carved by his great grandfather. Angry and penniless, Everett busts the frame, when Tess appears in her Cadillac, offering Everett a ride to Colorado, where some friends of his had invited him to stay. Before long, they arrive in Central City, the mining town that was in its heydey at the turn of the century. They stop at the historic Teller House saloon where Everett notices a p

Sunday, October 22nd, 2000

s7e2: Legacy

Max Rigney shows up for his first day of college with his father, Sam, who is proud to show him the frat house of which he was once-president, the PIG House. Rafael meets them and introduces himself as a student. Tess and Andrew join Rafael, noting that Sam is paying for Max's education, but only if he goes to this school, pledges this fraternity, and takes all the right courses. Walking around the campus, Sam is greeted by Monica, he recognizes her voice and has a troubling flashback. He later discovers that Monica is a visiting philosophy professor, and secretly determines that Max will have to stay away from her, which shouldn't be a problem since he, Sam, has chosen Max's coursework. But that night, Rafael helps Max make a decision of his own and take one class his father hasn't chosen for him, Monica's philosophy class. He tells his mother about it on the phone, and mentions that he might not pledge PIG. He likes being his own man, but that night, his father drives two hour

Sunday, October 29th, 2000

s7e3: The Invitation

Rick and Annie Higuerra are expecting their first child and struggle to keep their debts. Annie, seven months pregnant, is undeterred by her husband's suggestion to cancel their Halloween party in a few days. The angels make their own preparations as Tess alerts Monica to Satan's presence in town. Monica, unseen, keeps vigil outside the Higuerra's apartment. Monica confronts Satan, in the form of a lion, but is resolved to protect Rick and Annie, causing the lion to retreat. Rick and Annie are awakened the next day by their new neighbor, Tess, singing the hymn ""When You Can't Move The Mountain."" Monica, working as a manicurist at Annie's salon, meets two of Annie's clients Millie and Clara, and a wayward 13 year-old boy, Dennis, who finds a set of tarot cards in an old box of decorations. Monica fears that Annie's interest in the cards is part of Satan's plans. Meanwhile, Rick tends bar in a scarcely populated lounge, his only regular is Cal, a bookie. Andrew, working as a pl

Sunday, November 5th, 2000

s7e4: Restoration

Cantankerous 102 year-old film director Chandler Crowne wants to die, but Andrew tells him he's got unfinished business. Enter Stevie Noonan, twenty-something student filmmaker who's making a documentary about the famous director who built his reputation on dark, depressing subject matter. Stevie's task is to persuade the reclusive genius for the dark films which became his trademark. In flashback, we find a young Chandler directing his leading lady, Ruby, in an ambitious and inspirational film called ""Redemption."" Besides dealing with a temperamental leading lady, Chandler had to contend with Sid Lumsky, the head of the studio, who fires one of his actresses for having an affair with a member of the crew. Forced to choose from a bevy of young unknowns, Chandler chooses Monica. Chandler then breaks off prematurely, leaving Stevie with unanswered questions. On her way out, Stevie lifts Chandler's pocket watch, only to return later with the pawn ticket as a bargaining tool to get

Sunday, November 12th, 2000

s7e5: Finger of God

Calvin Chillcut is a storm-chaser who tracks tornadoes for the National Severe Storms Lab. But die to the dearth of storm activity, the NSSL has just informed him to cease and desist. Distraught over the news, Calvin ties one on and sleeps through the first twister in 2 years. The next day, Calvin shows up at the local watering hole (the Die Hard Diner) with a hangover, and by this point, it's clear that a major storm is headed their way. Tess points out that Calvin doesn't have to turn in his equipment until tomorrow and urges him to stop feeling sorry for himself and get busy. Calvin takes her advice and starts tracking the storm and along the way stops to pick up a hitchhiker, Monica. Calvin explains it's his last day, barring a miracle. And before long, that's just what he gets, in the form of a twister. As the Civil Defense Tornado Warning sirens sound, the Sheriff advises everyone the diner to take cover. Some take his advice, but most feel perfectly safe in the diner,

Sunday, November 19th, 2000

s7e6: The Empty Chair

Betsy and Bud Baxter are in their 15th year of hosting the popular local TV program ""Breakfast with the Baxter's"" when they learn their show is being cancelled. Still reeling from the loss, Bud and Betsy are grateful when two unexpected visitors (Monica and Andrew) show up on their doorstep, feigning car trouble. Monica and Andrew become a welcome distraction for the Baxters, who have devoted their lives to their show and in doing so, have avoided dealing honesty with each other. With a captive audience, Bud and Betsy take a certain glee in telling their guests the whole ugly story of how they were unceremoniously canned after 15 years. Monica and Andrew try to convince the Baxters of the importance of grieving. But Bud pours himself another Scotch while espousing the importance of carrying on. Meanwhile, Betsy busies herself looking through some storage boxes for her mother's meatloaf recipe when she came across a baby's jumper outfit, a painful remind of the child the ""lost.""

Sunday, November 26th, 2000

s7e7: God Bless the Child

14 year-old Charnelle Bishop tells her grandmother that she's going to the museum for an essay she has to write about ""finding a piece of yourself in history."" But she's really going there to buy drugs from her dealer, Lamont. Monica tries to form a bond with Charnelle through her love of music, but Charnelle is wary of Monica. Monica catches Charnelle in the bathroom lighting up a joint and refuses to give it back until she begins her homework assignment. Monica tells Charnelle the story of how Billie Holiday fought her own battle against drugs. In flashback, we return to a Greenwhich Village speakeasy in 1939 where Billie Holiday is performing, with Andrew auditioning to be her pianist. But Charnelle isn't interested in hearing about love songs, she likes music that tells the truth. Monica resumes the story of how Billie Holiday reacted when she first read the lyrics to the song ""Strange Fruit."" the first song to tell the truth about lynching of African Americans. Monica pers

Sunday, December 3rd, 2000

s7e8: Reasonable Doubt

Monica is summoned to be a juror on a murder case in which the defendant could get the death penalty . The defendant, Brendan Falstaff, is on trial for the murder of his former girlfriend, Elizabeth Bennett. The prosecution maintains that Brendan Falstaff set fire to Elizabeth's house while she was asleep. The defense, however, maintains that their case in built merely on heresay and circumstantial evidence. After hearing both sides present their case, the jury is ushered into the deliberation room to reach a verdict. Carol Anne is selected as the foreperson and tallies the votes, but Monica holds the up the process by requesting the others to discuss the decision. Monst of the jurors are in agreement that the evidence support Brendan Falstaff guilty, based on investigators' findings that the fire was the result of arson, that a gas can was found in Brendan's trunk and that Mr. Gunderson, the neighbor across the street, identified Brendan's car leaving the scene of the crime. Mo

Sunday, December 10th, 2000

s7e9: The Grudge

Monica and Tess are driving through North Carolina in search of their next assignment when they get pulled over by a traffic cop and hauled into court. The presiding judge turns out to be Andrew, who shows no special treatment and sentences them to ""community service."" He assigns them to assist two members of the community whose feud (dating back forty years) has become a nuisance to the court, in the hopes that the extra assistance will enable to work out their differences out of court. Tess assists Pastor Robert Hannigan who is preparing for the arrival of his 12 year-old grand nephew, Brian,. Meanwhile, Monica assists Hannigan's neighbor and chief nemesis, Dr. Lucy Scribner, who submits a written critique of his weekly sermon. Monica and Tess ultimately realize the purpose of their assignments has more to do with Brian than the two feuding adults. Lucy strikes a rapport with Brian and explains the reason she became a doctor had to do with her having polio as a child. She was

Sunday, December 17th, 2000

s7e10: An Angel on My Tree

Tess hires Kathy Benson, a mother of three whose husband is in prison, to wrap gifts for the Christmas rush. Meanwhile, Andrew is conducting an anger management course at the prison where Kathy's husband is serving a five year sentence for manslaughter. Andrew asks the prisoners to submit their applications for Project Angel Tree, a nationwide program which enables them to submit their children's names to receive Christmas gifts from good Samaritans. While Kathy's at work, Monica baby-sits the Benson children Travis, Cassie and Cody and discovers that Cody has Tourette's Syndrome, a chemical brain disorder which causes him involuntarily twitch, emitting hiccup like sounds. In a newscast, we see footage of the attack on the 17 year-old boy (Matt McHale) one year ago which landed Joe in prison for manslaughter. When Kathy gets home, Monica discusses the effect of the attack on Cody's relationship with his father, who have not spoken since last Christmas. Kathy brings Travis and Cas

Sunday, January 7th, 2001

s7e11: Mi Familia

Miguel and Anna's marriage is interrupted by Anna's father, Tommy, who rejects his daughter's decision to marry Miguel, the father of their 6-month old child. Unmoved by Anna's protests of love, Tommy dismisses Miguel because of his gang affiliation. Tommy insists the two teenagers stay away from each other. Andrew and Rafael, working with the church, try to get Miguel to participate in a community outreach program for teenage fathers, but his participation is only to appease the suspicions of the local police. Miguel is determined to gain his respect the only way he knows how, through the gang. Gonzo, the hot-tempered leader, informs Miguel of his plans to kill a rival gang member. Miguel returns home to discover his mother, Lorena, has given away his room to Monica, who works as a church volunteer. This further Miguel's withdrawal from the people who truly care about him. Lorena confides to Monica's her disappointment in her son's lifestyle and longing for the son he once was

Sunday, January 21st, 2001

s7e12: The Lord Moves in Mysterious Ways

Monica and Andrew are planning a surprise party for Tess to show their appreciation. A new angel, Ronald, from Records and Permanent Files, shows up at the party hoping to meet Tess. The only problem is that Tess is running late and the hotel's banquet manager, Mr. Nalls, is pressuring them to move things along for the Chamber of Commerce banquet at five. Meanwhile, Tess, who is under the impression that Monica's in trouble, is having car problems, pulls into a diner/car repair station where a none-too-helpful cashier, Kelly, tells her she'll have to wait until Penny returns from a tow call. Meanwhile, back at the banquet room, Ronald tells Monica and Andrew about how he daydreams about helping people face to face. But he doesn't feel he has what it takes to be a caseworker. Tess, meanwhile, tries to get Kelly to help her, but Kelly insists she doesn't do favors, that anytime you do things for other people, you just get into trouble. As the 5 o'clock hour arrives with no sign of

Sunday, February 4th, 2001

s7e13: A Death in the Family

Detective Frank McCovey and his narcotics team obtain a warrant to raid the house of an elusive drug dealer based on a tip from his informant. The targeted address is an African-American neighborhood known for its criminal element. McCovey leads the raid, ignoring the signs that indicate they may be at the wrong house. McCovey charges through the apparent empty residence and mistakenly shoots an innocent 11 year-old boy, Jamal Griffin, who is hospitalized in critical condition. Reverend Davis, hardened by the social injustices perpetrated on his community, proclaims that this is one will not be ignored. Andrew, an Internal Affairs agent, suggests the truth behind the tragic event lies with the accidental death of McCovey's 10 year-old daughter's by a black man. McCovey refuses to discuss the matter, insisting that he followed proper procedure. Meanwhile, Jamal's mother begins her vigil beside her unconscious son and is joined by the police department's community relations office

Sunday, February 11th, 2001

s7e14: Bringer of Light

Monica and Tess are captivated by the thousands of stars that decorate the beautiful night sky. Monica elaborates on the majesty of God's heavens and it is revealed that the angels are actually sitting in planetarium hosted by Andrew. Across the city, 15 year-old Lucy Baker sits in her room looking at the sky, where only the moon can be seen above the city lights. Erica Baker joins her daughter and the two share a moment pondering what or who created the universe. ""It's just luck,"" responds Lucy's father and science teacher, John. Lucy is not convinced that her atheist father is right. At school, tension runs high between father and daughter, who is barely maintaining a C average. John reminds Lucy that her grade hinges on her next research paper and she needs to come up with a topic. Despite her struggles in science, Lucy excels in Monica's English class. Monica encourages Lucy's growing curiosity of how the universe was created by allowing Lucy to combine her research for h

Sunday, February 18th, 2001

s7e15: Thief of Hearts

11 year-old Corey Taylor is hanging out at the local newsstand when he spies a locket dangling near the cash register. He steals the locket in plain view and runs off before anyone can catch him. Alice Dupree, the newsstand attendant, contacts the police regarding the theft. Monica arrives in the scene as the officer on duty to get all the information. Alice gives Monica a photo of the culprit who was caught on her security camera as well as a sketch if the heart-shaped locket, which Alice describes as a priceless family heirloom given to her by her mother. Monica pays a visit to Corey's school and discovers that he's an orphan with a heart condition. But Alice remains unsympathetic, anxious to get her locket back. Monica tracks Corey down at the local arcade and gives him the opportunity to return the locket on his own. When he doesn't show up, Alice is irritated with Monica's trusting attitude. It just confirms what she's believed all along, that trust leads to disappointmen

Sunday, February 25th, 2001

s7e16: Winners, Losers & Leftovers

Liam Cadegan works for ApexOne Technologies, a high-tech company which has just been bought as part of a merger. While Liam is generally secure in his job and is clearly devoted to his family, he starts to become affected by the paranoia of those around him in the wake of the company, tense climate, even the least competitive person can switch gears and become a predator. Harlow meets with the employees by video conference and introduces Monica as the new vice president of community relations. Monica suggests aligning themselves with the Special Olympics and offers to arrange a meeting this weekend with her contact (Andrew). Liam, whose son will be participating in the Special Olympics, supports the idea, acknowledging the fact that his son is disabled. But Harlow preempts Monica's suggestion in favor of a corporate retreat he's scheduled this weekend. Josh Whitman (one of Liam's colleagues) reads between the lines and advises Liam to prepare for a gladiator-style competition whi

Sunday, March 11th, 2001

s7e17: I Am an Angel

7 year-old Mickey has been despondent since his mother's recent death. He lives with his Aunt Val and his older brother Ryan. When Ryan learns that Guy Garfield, the star of Mickey's favorite television show ""The Avenging Angel,"" will be appearing at an Angel Convention in Portland, he goes there in the hopes of persuading Guy to help his brother. Guy makes a grand appearance by way of his ""golden ladder"" which takes him back and forth to Heaven on his weekly series to cheering fans. But Monica and Tess have observed the real Guy, a boozing womanizer who is anything but angelic. Ryan stretches the truth and asks for help for his ""dying"" brother. Guy graciously agrees, milking the moment for all its worth. But once he's offstage, he makes it clear to Monica (who's filling in as his assistant) that he has no intention of keeping his promise. Monica decides to keep it for him by driving an unsuspecting Guy to the rural town where Mickey lives. Once Guy realizes he's been ""kidnapp

Sunday, March 18th, 2001

s7e18: Visions of Thy Father

17 year-old Jason Harris seems to have it all, a loving family, a beautiful girlfriend and aspirations of being a photojournalist. Jason's father Will Harris a prominent ophthalmologist, has been urging Jason to monitor an old eye injury which resulted in detached retinas. Monica is assigned to help this family deal with a secret, and she winds up working with alongside Jason in a local photo store. When Monica learns of Jason's talent for photography, she offers to introduce him to a photographer friend of hers Andrew at the Denver Daily Herald. Jason meets with Andrew and suggests his father for one of their ""day in the life"" photo spreads. Andrew takes Jason up on his suggestion and invites Jason to shoot it himself. Jason spends the next day shadowing his father, but when he returns for one last photo he walks in on his father kissing his receptionist Sherri and captures the moment on film. Jason returns home, now sharing the burden of this secret. Will talks to Jason priva

Sunday, April 8th, 2001

s7e19: The Penalty Box

Star hockey player, Jeff McHenry, a senior at the exclusive St. Crispin's prep school enjoys the privileged lifestyle afforded to him by his father's wealth. With his team on the heels of the playoffs and his father's financial support to attend Harvard, Jeff's future seems secure. Jeff's arrogance fuels rivalry with teammate, Chase Jennings, and draws alliances from both on and off the ice rink. When Jeff's substitute History teacher, Andrew, tries to teach his class about the St. Crispin's Day speech from Shakespeare's Henry V, it is clear that Jeff has never understood or practiced the humility that made Henry V a great leader. Jeff's mettle is tested when a bad investment bankrupts his father. Jeff painfully accepts his transfer to a public school, but is allayed by his father's assurance that his college tuition is safe. Jeff's adjustment to the socially and economically diverse Eastside High proves to be a difficult one. He refuses Monica's invitation, as the interim hocke

Sunday, April 15th, 2001

s7e20: Band of Angels

17 year-old Alex Wilson breaks into the music store where he works to steal a guitar, not counting on the fact that his boss and mentor, famed Blues musician Henry Baldwin, would be working late that night. Armed with a gun, Henry goes into the darkened store to confront the intruder. Henry is shocked to find Alex there and goes to call the police when Alex tries to stop him. There's a struggle for the gun and Henry is fatally wounded. Alex is arrested, found guilty and remanded to the local juvenile detention center until sentencing. Monica works at the detention center supervising a group of six boys, including Alex. In a show of false bravado, Alex makes it known that he's serving time for murder. Ronald (the angel from records and permanent files) suggests to Monica that perhaps the boys need to find some common ground. The next day, Tess surprises Alex with some strawberry pancakes for his birthday, and when everyone joins to sing ""Happy Birthday,"" they stumble onto some u

Sunday, April 22nd, 2001

s7e21: The Sign of the Dove

Andrew runs into a colleague, fellow Angel of Death, Adam, while spending his ""day off"" in Richmond, Virginia visiting the Mason family, a family he's had the privilege of following over many generations. Andrew occupies a special place in the Mason family, so much so that they've dedicated a special chair in his honor. Adam and Andrew stop in for a non-alcoholic beverage at the Mason family tavern, The Sign of the Dove, which is managed by Ben Mason, an affable young man who is to be married that evening. While Andrew and Adam talk shop, one of angel of death to another, Monica tries to get through to her assignment, Nicholas Freeman, a hard-working man own owns the print shop next door, which is being edged out by the competition. Driven to drastic measures to provide for his family, Nicholas is planning to blow up his print shop so his family can collect the insurance. While recounting his experiences with the Mason family, Andrew sees a dove on the window sill, a sign that Ben

Sunday, April 29th, 2001

s7e22: The Face of God

Dr. Sarah Conover is at the forefront of human genetics and on the verge of a historic breakthrough by being the first to clone a human being. Her headstrong pursuit is met with strong opposition from her supervisor, Brad Renslow, who questions the social ramifications of human cloning. Under the microscopic scrutiny of a government review team, Sarah anxiously awaits final approval to proceed from the company board. Sarah acknowledges to the throng of media that she is not playing the role of God, but improving upon him. For Sarah, the advancement of genetic technology ultimately leads to healthier and better lives and will allow infertile parents to have children. Fearing the possibility that Sarah will proceed without authorization, Brad assigns a boi-ethicist, Monica, to weigh the moral and ethical implications. The ease and eagerness with which Sarah demonstrates the initial steps of the cloning process causes Monica to question Sarah's motives and intentions. Sarah argues

Sunday, May 6th, 2001

s7e23: Netherlands

Monica works with the newly created Angel, who has yet to be named, trying to explain what it means to work with human beings and the rewards of helping them connect with God. The Angel is apprehensive, wondering why Monica chooses to stay on Earth after experiencing the wonder of being in God's presence. Monica explains that she stays because God asks her to, and because he loves them. But the Angel doesn't know what love is. Monica's first priority is finding the Angel a pair of glasses to correct her blurred vision and trade her angel garb for human clothes. After doing so, Monica shares her appreciation of different coffees with the Angel when a young girl named Madeline approaches. Madeline explains that she comes to this business complex with her mother who's looking for work. The Angel befriends Madeline and offers to fix her braiding her hair and discerning the angel's name to be ""Gloria"" from the hymn ""Angels We Have Heard On High."" Tess explains that Gloria has a very

Sunday, May 13th, 2001

s7e24: Shallow Water (1)

Perched on a rocky peak above a vast canyon, Monica reflects on her previous temptation by Satan and her triumphant return to God's grace. Monica is at a loss for words trying to describe the new gift God has given her. Tess explains that God has blessed her with the ability to see humans ""from the inside out,"" to see the past and how it has changed the present. Monica begins sensing the joyful sounds and images of the Winslow family as they were three years ago. Tess reminds Monica to patiently allow the events connected with the wreckage to unfold. Monica gradually retraces the history of the Winslow's to the present day. Meanwhile, Diana Winslow continues her therapy under the counsel of psychiatrist Rebecca Markham, to uncover the painful memory she has suppressed. Diana says she has prayed for an angel to help her reunite her family and reconnect her son Danny with the other relatives. Believing that Diana's faith in God has hampered her progress, Rebecca tries to refocus

Sunday, May 20th, 2001

s7e25: Shallow Water (2)

Cynthia and J.D. meet with Diana Winslow, who is still in denail that her son, Danny, is dead. Monica goes to the long-term acute center where Carter and Lila wait with their son, Joshua, who lies unconscious on life support. Monica hopes that they might be able to help her locate their other son, Jed, in order to help Diana remember what happened the night of the accident. Carter doesn't know where Jed is and wants nothing to do with him. But Lila feels differently and admits that perhaps Diana is right, that this family needs a reunion. Acting on a tip from Lila, Monica drives J.D. and Cynthia to Memphis in search of Jed. They follow the sound of a man singing until they finally find Jed on a street corner, dirty and disheveled, some spare change in his guitar case from passerby. Monica asks J.D. to convince Jed to return home to Nashville and begin the healing process. J.D. tells Monica he's no good at preaching, but Monica tells him to reach out to Jed through music. As Dr
Season 8
Saturday, September 29th, 2001

s8e1: Holy of Holies

Andrew pays a visit to Catherine, an 88-year-old woman who lost her husband in WWII. She has since lost her youth as well as her faith in her children and grandchildren. All except for one that is, her grandson, Paul. She shows Andrew a copy of the Memoirs of Nehemiah, an ancient document pointing out the hiding place of the Ark of the Convenant. After this revelation, she secures his promise to take it to the post office and ship it to Paul, who is away at school. Meanwhile, Tess, Monica, and Gloria are floating around Paul's campus and eager to get started on their next assignment. Andrew arrives and tells them what he saw. Gloria masquerades as a student to infiltrate Paul's history class. Here, she meets Thomas, a history professor with a zeal for Arklore. Later on Paul stops by Thomas' office with the Memoirs of Nehemiah. He thinks it might ""be something important"", because his grandfather traveled extensively in the Middle East during the war. Thomas assures him that i

Saturday, October 6th, 2001

s8e2: The Perfect Game

Ben McCloud, ace pitcher for the AAA Richmond Braves, is on his way to the Major Leagues. His biggest obstacle is his father, Norm. Norm is constantly critical of Ben's performance, including a two-hit shut-out. He wants so much for his son to make it to the Majors that he will except nothing short of perfection. He wants Ben to succeed where he failed though he is, in effect, pushing his son down the same path that ended his career. He is constantly embarrassing his son in front of the other players, and Ben is approaching a breaking point. Monica comes on board as the team's new trainer, allowing Ben to vent some of his frustrations, something he desperately needs. His father will not listen to him, and if he knew, would prevent him from visiting his grandfather, Candy, a great ballplayer in his own time. Norm's drive is all encompassing, he treats his son as little more than an avenue to success, and his own father as a pathetic liar. He is unable to accept his own father's

Saturday, October 13th, 2001

s8e3: The Birthday Present

When a cancer patient is taken by Andrew, Gloria's curiosity about death is piqued. Monica suggests she take a ""ride-along"" with Andrew. Meanwhile Robbie McGregor locks his sister Sarah in a bomb shelter to protect her from their abusive father. He then returns the key to his father's hey-chain. Later on, mailman Chuck Parker comes upon the McGregor house. Robbie answers Chuck's ""easy"" baseball trivia question, then asks about a special package he is expecting. Chuck hasn't seen it, but assures Robbie that he'll keep an eye out. Robbie father, Gary, hollers for him to ""Get in here!"". Robby does, and Chuck gets back in his truck, only to discover the package. Chuck hurries up to the door, but before he can knock, he hears an argument. At the sound of a slap, and Robbie's ""Ow!"", Chuck rings the doorbell. When Gary answers, Chuck presents the package and insists that Robbie sign for it himself. Gary refuses, so Chuck leaves. Gary demands to know what's in the package, Robbie

Saturday, October 20th, 2001

s8e4: Manhunt

The Angels go to a Happy Hour at the Monte Carlo, a bar run by one of Tess's former assignments. It is here that Monica learns that Zoe, a girl she saw earlier in the park, is her assignment. Zoe is lonely, heartbroken, and trying to come to terms with the end of a relationship with a great guy, Jeff. Her friends, Patty, Penny, and Maggie, try to cheer her up and help her ""Get over him."" The next day at work, Monica is hired to take over for Patty, who quit her job to get married. As the day progresses, Gloria arrives to fix all of the office computers, and Billy, an RDS delivery guy shows up with some packages. During his time in the office, his attention is solely focused on Zoe. Monica immediately notices the attraction, though Zoe is oblivious. Billy leaves and the girls go about their day eagerly awaiting Happy Hour. The clock strikes six, and they all hurry off to the Ladies room to get dolled up. Billy arrives with some apple strudel for Zoe. When he is unable to find

Saturday, October 27th, 2001

s8e5: Chutzpah

After Monica leaves Gloria alone at a Portland bus stop, Gloria learns about the Jewish people...from 3 skinheads. A short time after that, Gloria meets Sam Silverstein. Sam is a sofer, a Jewish man who hand-makes the Torah, the holy scripture. Sam is amazed that Gloria does not know the truth about the holocaust and encourages her to learn about it. Monica gets a job at the Portland Daily News as an editorial writer, where she works with Sam's daughter, Rachel ""Silver."" Rachel is the paper's editorial cartoonist but her job is in jeopardy because it isn't edgy enough. Monica also notices Rachel's extensive ""personal collection"" of cartoons depiciting her father and the Jewish faith in unflattering light. When Rachel invites Monica over to the family dinner to be her ""human shield"" Monica quickly learns how deep the wounds are between Sam and Rachel. The next day, Rachel puts one of the ""personal jabs"" in the paper and immediately her panel, ""Chutzpah!"" is the hit of Portland.

Saturday, November 3rd, 2001

s8e6: Famous Last Words

Monica and Gloria breeze into Carlisle, Arizona in search of a cup of coffee, and the Famous LAst Words of a death row inmate. Posing as an author, Monica steps into the Oasis diner, where she meets Shirlee, a waitress with a nice smile and a strange fascination with the families that come to see their relatives die by lethal injection. Meanwhile, across the street, convicted killer Daniel Lee Corbitt is trying to stay tough on the eve of his own execution. He brags about the fame that will come with his death, and about the ""book writer"" who's coming to see him. What Daniel didn't count on was the arrival of Andrew, his own personal Angel of Death, who has come to see him th rough the final 36 hours of his life. When Monica arrives in the prison with her assistant, Gloria, Daniel is only too eager to ignore Andrew and continue upon his request for immortality through a tell-all biography. He happily relates his history and the events that led up to him returning home, after year

Saturday, November 10th, 2001

s8e7: Most Likely To Succeed

Dennis Loggins is a young multi-billionaire. He's become a success, he's gotten in shape, he's spent years improving himself, and he's done it all for the love of a good woman. Or so he tells himself. The fact is that Dennis has engineered this facade of confidence and importance solely as a means for revenge. In high school Dennis was a nerd with a crush on the head cheerleader, Melissa. Due to her kindness and attention, Dennis's crush transformed into unrequited love. To make matters worse, he was constantly tormented and humiliated by Ricky, Melissa's boyfriend. On one memorable occasion, Ricky tricked Dennis into admitting his love for Melissa over a live microphone at the football game. Dennis never got over the humiliation, despite Melissa's assurance that he needn't worry. Now years later, Dennis is a success, and is eager to return Ricky's slights ten-fold. He hires Gloria on as an assistant specifically to find out what football team Ricky is playing for, and to hel

Saturday, November 24th, 2001

s8e8: Heavans Portal

Nick Albright is having difficult time adjusting to the changes in his family. His dad's business is going under, his parents are splitting up, and on top of that it looks like there may not even be a Thanksgiving. It is all of this and Nick's curiousity that lead him to make a terrible decision. After an attempt at family counseling with Monica, a failed reunion between his parents, and the constant babysitting of Gloria, Nick plans to sneak out. He wants to find the peace, love, unity, and respect that is missing from his home life, at a Thanksgiving Rave called Heavan's Portal. Gloria is not about to let him go, but as she can't seem to stop him, she decides to go along instead. At the rave, they meet Celestine and Grover, a couple of ravers who tell them about how ""we're all family"". Inside, they dance to the techno beat and are offered ecstasy, a drug that will bring them closer to God. Nick is eager to try it, and Gloria is intrigued with the idea of ""prayer in pillform"".

Saturday, December 1st, 2001

s8e9: When Sunny Gets Blue

A young man tries to help his mentally ill father, in rebellion against his mother's apparent indifference.

Saturday, December 15th, 2001

s8e10: Angels Anonymous

Andrew, acting as a marriage counselor, sends Yvette and Peter there when they have trouble talking anything but work. Monica catches the eye of Michael, a lonely paramedic, and leads him on a wild goose chase ending at Bubba's. Tess sends Leigh and her ""I'm the Boss"" husband Jimmy to the dive in order to squeeze lunch into their thoroughly planned outing. And Karen, a lawyer who has lost her sense of purpose, is stranded in the Polynesian nightmare when a bad client, a flat tire, and returning angel Rafael combine to alter her day. As they become aware of each other and gravitate toward a single table, they catch up on the years gone by, and make the startling discover that their former teacher Dave Price is bussing their table. Dave denies his identity at first, hating what he's become, and despising what he is about to do. He has agreed to help Bubba, the owner, burn the place down in exchange for a chunk of the insurance money. He figures if he can dodge his students and for

Sunday, December 16th, 2001

s8e11: A Winter Carol

In a small New York town, just a short commute from NYC, a lone Volkswagen Beetle sits abandoned in the train station parking lot. It hasn't moved in months, not since its owner, Bill Harper, took the 6:15 train into the city on the morning of September 11th. No one knows why he went to New York that day, and no one knows what became of him. It just makes it that much more difficult for his friends and neighbors to accept that Bill Harper will NOT be home for Christmas. This year Mr. Harper will not be around to plan the Christmas Pageant, or to give drum lessons to Benny Lewis. Benny however, refuses to give up hope, everyday checking to see if Mr. Harper's car has moved, or if anyone has gotten word from him. But the Benny's fear for Mr. Harper is nothing compared to the fear that has consumed his mother, Victoria, since that awful day. She, as mayor, refuses to have the Volkswagen towed despite the persistence of Charlie, the town sheriff. She is reluctant to let someone els

Saturday, January 12th, 2002

s8e12: The Last Chapter

Monica revisits the home of Elizabeth Jessup, a retired reporter who she once helped cope with alcoholism. Tess insists that Monica is there as the answer to someone's prayer. Monica hurries up the steps to offer Elizabeth whatever help she needs, only to discover that her help is not only unwanted, but resented. Elizabeth wants nothing to do with the angel that once helped her out. Monica shows up at an Alcoholics Anonymous meeting, where Elizabeth is celebrating seven years of sobriety. In the midst of her speech, she begins to slur her words, insisting that she hasn't been drinking, it's just a headache. After the meeting, Monica meets up with her and her daughter, Sydney and granddaughter, Beth. Monica expresses her concern and Elizabeth says that she's developed a tendency for transient cognitive episodes of undetermined origin. Sydney explains that the doctors suspect a brain tumor. Later on, Monica reads Elizabeth's memoirs, and asks why there is no mention of the fire

Saturday, January 26th, 2002

s8e13: Ship-In-A-Bottle

Tevis Lockwood is starting a new life with his daughters, Ashley and Jasmine. Leaving behind the sun and heat of Los Angeles, they move to the cold rainy Seattle suburbs so Tevis can take control of a large shipping company. His daughters are not overly enthused about the move, particulary Jasmine who fears that the cold and rain will bring illness with it. As they set about unpacking and arranging the new house, Jasmine in increasingly worried about the weather and the effects it might have on she and Ashley. Monica arrives as part of the transition team for the shipping company and with Gloria's help, looks after the girls while Tevis gets situated at work. Tevis arrives at the office pleased with his new station in life and eager to make an impression on the world. When he finds the reception desk empty, Tess shows up with a resume and answers the phone for him. Impressed by her initiative, Tevis hires her on the spot, not a moment before Joaquin, the real receptionist arrive

Saturday, February 2nd, 2002

s8e14: The Blue Angel

From being televised at the 1939 World's Fair, to finishing out his days as the director of a community acess station in South Bend, Indiana; Max Blandish has run the spectrum of television's growth. Once he had ideals and dreams, now all he jas is a lump of bitterness and emphysema. His failure to make the right choices has brought him to the bottom of the entertainment barrel, his cigarettes have brought him to the end of his days. Now, he tries to hide his ailment, while filling the airwaves with: singing cowboys, Elvis impersonators, chicken farmers, and the pinnacle of bad taste ""the Blue Angel"". Gloria arrives with a respirator, as a representative of ""Life Support"". Max has a fit and insists that he ordered no such thing, his longtime friend and cameraman, Elmer, admits that he did. Max storms off, and Monica appears to tell Gloria all about him. When she first met Max, he made the right choice to put a young Japanese girl on the air, and was fired for it. That was the

Saturday, March 2nd, 2002

s8e15: Secrets and Lies

Allen Lowry is having a great at the gym with his wife, Suzanne and their 17-year old daughter, Erica. Things couldn't be better. Unfortunately they could get a lot worse, and they do. In the middle of a one-on-one basketball game, Erica collapses. When Allen and Suzanne rush to her side, they discover a series of dark bruises across her back. The next day, at the hospital, the family waits for Erica's test results. When Dr. Nathans arroves he is accompanied by, Monica, a counselor from the organ donor department. The news is grim. Erica has leukemia and if she doesn't get a bone marrow transplant she is going to die. Allen heads downstairs to get tested for bone marrow compatibility while Suzanne comforts Erica. While Gloria draws blood for the test, she explains to Allen the odds of finding a match. Since Erica is a mix of the genetic material of both Allen and Suzanne, chances are that neither of them will be acceptable donors. She says that a brother or sister would stan

Saturday, March 9th, 2002

s8e16: The Princeless Bride

Liz and Jonas are in love, it's the day before their wedding and everything is perfect. The on;y thing that could go wrong is an act of nature. And the only thing that can make it right will be an Act of God. The wedding is to be held at the Peery Hotel in Washington D.C., the very spot that Jonas and Liz met. Liz arrives in a great mood only to be met with a new staff, a loitering homeless man, and an unwanted guest, Aunt Meg. All of this she can handle, just as long as Jonas makes his flight into town. Unfortunately Jonas decides to squeeze in one last meeting, and must take a later flight. Even more unfortunately, all later flights are canceled as a monster blizzard sweeps across the eastern seaborn. Forced to seek alternate transportation, Jonas catches a ride from a helpful cabbie, Andrew. Back at the hotel, Liz is shatteres as she receives phone call after phone call from guests unable to make it to town. Her wedding is ruined, her parents won't be there, the groom may

Saturday, April 6th, 2002

s8e17: Hello, I Love You

In the small town of Wells, Nevada good news travels fast, almost as fast as gossip. Danni Blake has been plagued by the latter for all of her short life. The shame of not having a father has kept her down. What's is that her school is planning a father-daughter. After a few scornful comments from her classmates. Danni storms home, upset. Her mother Nicole, tries to comfort her, but in the end, the only comfort that Danni will accept is in the form of information about her father. Nicole relents and gives Danni a card that he sent her on her first birthday. Danni cheers up considerably. Nicole goes off to work, leaving her in the capable hands of Monica. That night, Danni wakes up to a roomful of people. There was an accident at the factory and her mother was hurt. The next day, after visiting her still unconscious mother in the hospital, Danni uses the address from the birthday card. She hops on a bus and heads to Silver Springs in search of her father. With only last na

Saturday, April 13th, 2002

s8e18: Minute by Minute

The angels stand outside of Our Lady of Hope Senior High, watching as Sister Theodore enters the school. It's nearly, 6:00am, and all is not well. Punk Rock music blares from an old car as it pulls into the parking lot. John and Cory sit inside, both are seventeen and they're about to do something terrible. In the backseat of the car sits a box, and in the box are ten homemade bombs. They plan to blow up the school at seven o'clock, while everyone is next door at mass. Bobby is also seventeen, and he's the one responsible for building the bombs. When he arrives at the school to meet John and Cory, he realizes that he can't go through with it. Instead he heads down the street to Millie's, the greasy spoon diner where he works. He apologizes to Tess. the new manager, for being late, and starts his shift teaching Gloria how to work the register. They getalong well. Inside the school, Monica appears to Sister Theodore, telling her about the boy's plan. She tells her that God wi

Saturday, May 4th, 2002

s8e19: The Bells of St. Peters

Rose is the loving mother of Maggie, an oncologist. She is also her office manager, a meddler in her personal affairs, and a collector of various superstitions and faiths. In an attempt to ease tension in Maggie and her husband Brian's marriage, Rose has planned a trip to Rome. She is counting on her son-in-law and daughter to insist on accompanying her. She thinks that if they make the trip to Vatican Square on Easter Sunday to hear the bells of St. Peter's Cathedral, the miracle they need will happen. She has even gone so far as to hire Monica to temp in the office while they are away. Unfortunately things don't go according to plan. When a patient named Annie dies, Maggie is devastated, closing herself off to Brian, and canceling their plans for Rome. Rose tries to persuade her, but Maggie erupts in anger at her mother's meddling. She even takes Rose's fatigue to be nothing more than a sympathy ploy, her blood-work however tells another story. Rose has leukemmia. Maggie

Saturday, May 4th, 2002

s8e20: The Impossible Dream

Reggie Hunter has the voice of an angel and the love of his family. Unfortunately, he hasn't had the courage to sing in over 25 years. Instead he works as a janitor at his former high school, even though he was once good enough to audition for Berry Gordy of Motown Records. Every Sunday, he, his Aunt Charlotte, his brother Martin, and his sister Eleanor sit down to supper with the rest of their family. It is a family tradition that they have kept throughout their lives, missing only once for thier parents funeral. On this particular Sunday, news of Aunt Charlotte's impending retirement makes its way around the table, distressing Reggie. The only reason he can even tolerate his job is because Aunt Charlotte teaches choir at the school. The thought of her leaving upsets him so much, that he leaves the table. On Monday, Reggie goes unhappily back to work at the school, breaking in a new janitor, Andrew. Meanwhile at Detroit Metro Bank, Martin hires Monica as a new loan officer, c

Sunday, May 5th, 2002

s8e21: For All The Tea in China

Sarah and James Berrington are unable to conceive a child. They have tried everything, including in-vetro fertilization. Nothing works. When their final pregnancy test comes out negative, Sarah weeps, devastated. On the other side of the world, a Chinese woman staggers down a dark road with a small bundle in her arms. Finally she comes to the gate of a building and lays her bundled baby against it. As snow starts to fall, and the woman walks away from her child, she cries out in anguish. Back at the gate, Gloria cuddles the baby in her arms, waiting for morning. In New York, at the home they share with his grandmother, Lady Penelope Berrington, James and his wife consider adoption. Though they that Penelope will react poorly to decision, they decide to visit an adoption counselor. Everything seems to be in order, but they will need to be evaluated in home by a case worker. They take a series of pamphlets about adopting from various corners of the globe and return home to loo

Saturday, May 11th, 2002

s8e22: Forever Young

One year ago the Costello's were a happy family. Now, Don is losing his touch at work, his wife Stacey is wandering to the park at all hours of the day, and their son Justin has been suspended from school pending therapy. The root of the problem is the murder of Kimmie, their daughter and Justin's sister. Stacey shows up at one of Don's moivational speeches so they can drop Justin off at the office of his new therapist, Gloria. Don agrees and apologizes to Monica, the coompany evaluator, saying that he will meet with her later at his home office. At the therapy session, Gloria tries to discover the reason for Justin's fights at school, but he refuses to answer her questions. Later on, Monica tells Don of the negative feedback that he's been getting from his audiences. It seems that no one appreciates the mention of his dead daughter, it makes them feel manipulated. Before he can respond, Justin enters, telling him that his mom never came to get him at. Monica offers to cintinu
Season 9
Saturday, September 28th, 2002

s9e1: A Rock and a Hard Place

In the middle of the wilderness, at the base of a mountain a ways from the road, Monica and Tess discuss the derfect decor for a remote hotel. Meanwhile, in Glendale, Joe Collette arrive at his former home to pick up his 16 year old son Ricky, for a weekend camping trip. Joe's separation from his wife, Sandra, has had a negative effect on the whole family, but mostly Ricky, who acquired a drug problem and then spent sixteen weeks in rehab. The two of them hit the road despite Ricky's enthusiasm. Several hours into the trip. Joe stops the car to stretch his legs and check his map. As he and his son stand outside of their vehicle, a tiny asteroid, smashes through their windshield of their SUV cutting a hole straight through the seat and floor. Andrew shows up, with a tow truck, but even he is surprised by the reason for the breakdown. He offers to take their car to the nearest town, and drop them off at a little hotel that he knows. Tess and Monica check them in and settle them

Saturday, October 5th, 2002

s9e2: The Sixteenth Minute

Ed Gold is an under appreciated underwriter for Brewster Financial Services, and he's in a rut. His bills are behind, his paperboy keeps throwing the morning edition into the sprinklers, and he feels like a nobody. To top it all off, his wife, Gwen wants him to ask for a raise. He knows he won't get it, but he's revolved himself to asking. His boss, Mr. Norris, is even less eager to help him, than he is to remember Ed's name. But with a little angelic intervention, in the form of Monica as the PR person, Norris is only too eager to show his willingness to invest in his employees. And as his boss goes off to put in a request with payroll, Ed feels like a new man. To celebrate, heads home to spend his lunch hour with Gwen. Near the side of the road, and deep in the earth, a silver mine is set to collapse. As its support buckle, a dog breaks away from tis owner, chasing the sound off the stressed supports once he's in the mine, his owner Marla has no choice but go in after him, c

Saturday, October 12th, 2002

s9e3: Two Sides to Every Angel

On their day off, Monica and Gloria hit the road in Tess's Cadillac, looking to "bond". Gloria realizes that while she is a unique and distinctive angel, so is Monica, and as a result they don't always see eye to eye. So the two of them go off together to try to find some common ground. They eventually come upon a rustic cafe, where they meet Doug and Kristie, a young married couple who are about to celebrate their six month anniversary. As they sit and enjoy their coffee, they are interrupted by Sally, the cafe's owner, who says that there is a phone call for Monica. Puzzled, Monica walks down the hall to the phone. But she reappears almost immediately, handing Gloria Tess's car keys, and getting into the car. Gloria is so overjoyed to be given the responsibility, that she doesn't notice that something isn't quite right, that Monica is a little to eager to hand the car over, that maybe this isn't Monica, it's Monique, a demon disguised as an angel. But Gloria doesn't know about

Saturday, October 19th, 2002

s9e4: The Word

Monica becomes a substitute teacher for a class "resource students." Their learning disabilities and health problems have aggravated a number or subs and none of the temporary teachers have stuck around. One student especially needs her help. Her name is Charlee, and she has obsessive compulsive disorder. As a result of her disorder, she is constantly plagued with worry. Before class she checks her locker numerous times to make sure it is locked. Later on, she thinks the air dirty and after a few minutes, she gets so worked up that she has trouble breathing and is sent to the nurse's office. The nurse, Tess, tries comfort her, but Charlee insists on going home, and her father, Rolando, agrees to come get her. However, in order to do that, he must sign a release form though he has trouble locating the signature line. Rolando can't read. With this realization, the angels decide that Charlee is not only the assignment here. They go to visit Rolando that evening, in part to talk

Saturday, October 26th, 2002

s9e5: A Feather on the Breath of God

Lorena Watkins is dying. She has an inoperable brain tumor, and only a matter of days left to live. As though this weren't troubling enough, she also has a twelve year old daughter, Grace, and no family left to take her in. But what she does have, is a strong faith, and a sense of hope. She walks the labyrinth of a local church every day, taking that spiritual journey that will bring her and her prayers closer to God. And it has worked, because the angels are there and watching her unseen. They are going to help her find a place for Grace, just as her faith has found her a place in heaven. Lorena doesn't know that help is on the way though, she plans to contact social services and put Grace up for adoption, something that she expects will turn out okay. Lorena herself was adopted and loved her new parents dearly. But she has one card she'd like to play first, and it's a grim one. Sidney Alcott works with the dead. He runs a funeral parlor, and though he excels in his job, he

Saturday, November 2nd, 2002

s9e6: Jump!

Buzz Wescott dominates the drive-time airwaves throughout the Minneapolis-St. Paul area. His radio show is number one and about to go national. All he needs to get where he wants to be is that little something extra. Of course that little something is going to push him in a direction he never anticipated. With the ratings high, and the usual amount of idiot callers, Buzz is just getting into his routine of premade insults and mock outrage, when something happens. He is informed by his producer, Su Kim, and his call screener, Monica, that his guests for the hour have cancelled. It seems that the Siamese Twins he had booked are stuck in traffic due to the ill-time suicidal impulse of a depressed teen. Scott Hardwick, is fifteen, and reeling after the suicide death of his best friend. Having just arrived home from the funeral, while his parents are away on a cruise, he has stepped out onto a ledge in his apartment building. This decision has led to a gigantic traffic jam, as peop

Saturday, November 9th, 2002

s9e7: Bring On The Rain

Natalie Tate is trying to keep her life in very neat catagories. She wants to go to Yale, she wants to be like her friends, and she doesn't want anyone to know that she lives in a trailer with her mother, Annie, on the other hand thinks her daughter is; smart, studious, polite, and completely honest. And what Annie doesn't know will hurt her. Ever since they moved to town, Natalie has been passing herself as wealthy. She tells her friends and pretty much anyone who asks, that her mother is in Paris on business. But apart from these deceptions, she is trying hard to make something of her life. She is building a realtionship with her boyfriend, Ben, and she is taking the SAT's as often as she can in an effort to earn a scholarship. Annie, menwhile, is trying her hardest just to keep the two of them afloat. She works as a cocktail waitress at a trashy bar. She also plans to start selling cosmetics door-to-door in an effort to help her daughter along ti a brighter future. She is

Saturday, November 16th, 2002

s9e8: Remembering Me (1)

When Monica observes her new assignment, David, at a zoo with his family, Tess talks with the angel, Sam. He tells her that she must be strong for what is coming, and not fear because God is with her. Tess says she isn't afraid for herself, she is afraid for Monica. Sam nods and leaves. David Shatterfield is a husband and a father, and while he loves his family, he doesn't have much time for them. Even now, at the zoo, he spends his time talking on his cell phone, when he should be watching the bird show with his daughter. He is unwilling to let the day go by with out getting a little business in. His company is going through a major transition, and he feels the need to involve himself in every aspect. Tess joins Monica in her observation, and gets David's name wrong. Monica corrects her, thinking nothing of it. Later on, Tess is watching some zebras, but forgets what they are called. She refers to them as "stripey-horse-things." These slip ups come to a head, when driving

Saturday, November 23rd, 2002

s9e9: Remembering Me (2)

In the town of Joseph Wells, Kevin Greeley plays catch with his foster son, Nathan. He has been Nathan's guardian for seven years, and is in high spirits, because today, the adoption will be finalized.

Saturday, December 21st, 2002

s9e10: The Christmas Watch

It's Christmas Eve and all through the shop, a party is waiting for the workday to stop. The angels have come to lend joy and aid, to the little old watch shop that's starting to fade.

Saturday, January 11th, 2003

s9e11: Private Eyes

The sun rises over the grittier end of Chicago, and the light of dawn cuts right through Maury Hoover's eyelids and into his hang over. He grumbles his annoyance and embarks on another day of deceit, never knowiing that there are angels in his future. Scooping coffee grounds from his potted plants and wondering that they're still alive, he readie himself for the rigors of the day. But first....a client. The door swings open and steps in classic Femme Fatale, only this is Monica, so she's a Femme Angele. She plays the part perfectly, intriguing and mystifying Maury, until he agrees to take on her missing person case. And if he can wrap it up in two days, she'll double his pay. All he has to do is find Jim Grant. It shouldn't be hard, after all Monica has supplied him with a description, a last known address and a fingerprint. Before Maury can ask how she got the print, or what this guy is to her, she vanishes. Dames. Maury hits the local diner for some breakfast and to beg a

Saturday, January 25th, 2003

s9e12: The Root of All Evil

There are only a few hours left for the angels to infiltrate two sides of a heist that will go horribly wrong, Monica is not on the case, and so the angels must enlist the help of Adam, one of the angels of death. He and Andrew must insinuate themselves into the plans of two brothers on opposite sides of the law. Adam must partner himself with Mike, the edgier of the two. Filling in for one of Mike's associates, Adam must accompany him on what is essentially an arms deal in order to gain his trust. Meanwhile, Andrew is beginning his first day as an armored car guard. He set to be riding with the other brother, Pete, much to his surprise. On the other end of town, Gloria is assigned to help someone desperately in need of God's guidance, Father Madden, a priest. Gloria doesn't know what it is that he needs, or how to convince her that she's not a raving lunatic with a delusions of angelic granduer. What she does know, is that Father Madden needs to be where he is, in the lobby of

Saturday, February 1st, 2003

s9e13: A Time for Every Purpose

The Kellerman's are the perfect American family: they're business owners, proud parents, and they have a strong marriage. but life is about to turn less than ideal for Rob and Courtney and their son Sam. While working on pieces of their furniture and skipping stones with his son, Rob begins to notice a loss of strength in his hand. He can't get a solid grip without his hand quivering. At first he thinks it's nothing, but when the symptoms persist, he and Courtney decide to consult a specialist. It seems that their fears are not unfounded; Rob has ALS, more commomly known as Lou Gehrig's disease. As Rob and Courtney struggle to adjust to the changes in their life, Monica who was hired to set up their computers , takes a more active role in their life. She helps out where she can, and tries to get them used to the fact that Rob won't be around forever. She encourages him to cherish the time he has left and to involve himself in his son's life while he still can. Rob though not t

Saturday, February 8th, 2003

s9e14: And A Nightingale Sang

Snow falls, blanketing the streets and alleyways with a thick layer of impassible white. The throughways clog up and the hills ice over, and on what's supposed to be one of the busiest nights in the restaurant business, the Ritz Restaurante is virtually empty. With an overstocked kitchen of swordfish fillets and prime rib, Marty and Tricia, co-owners of the charming bistro, are having a less than stellar Valentine's Day. They've been married for ten years, and have put off starting a family until they were financially secure. At least they've never had to worry about filling the tables on February 14th, not until this year anyway. The place is not completley empty though, Andrew is here, as are Monica and Gloria. Andrew sits at a table by himself, enjoying the atmosphere, while his angelic cohorts have been hired on to help with the ""busiest"" night of the year. In truth, there is little for them to do. But the angels aren't the only souls to brave the weather. Riley is here wi

Saturday, February 15th, 2003

s9e15: As It Is In Heaven

Monica and Tess begin their 200th assignment together, on a sour note. While attempting to give Tess a gift, in celebration of their partnership, she accidentally takes her foot off the brake and nearly runs down her assignment. This does not go over well. Not only has she already alienated herself from the person that she is there to help, but she gets a ticket and must now attend traffic school. As a result, Gloria must fill in for her as the new volunteer at the community center. It is Gloria who must now assist Jesse, a smart urban youth who tutors underprivileged children. He is also the adoptive son of, Kelly, the woman who Monica almost hit. When Monica arrives in traffic school, she is surprised to find that Kelly is in fact her driving instructor, and she's not thrilled to see to see the new addition to her class. It is a grueling four hours of stop-sign quizzes and drunk driving videos. At the end, Monica tries to make peace with the woman she has come to help, but a

Saturday, February 22nd, 2003

s9e16: Song For My Father

Sarah Dardenne is front-woman of an up and coming band called ""The Jane Factor."" She is also a 17 year-old who is at odds with her father about her music, her cigarette smoking, and the prospect of college. It's bad enough that he calls her music ""trash"", but he is also is the music teacher at school. Either at home or in class, she must endure his lectures and his disapproval. The final straw comes when Richard forbids Sarah and her friends from practicing their songs in his garage. Luckily, the new neighbor across the street, Tess is a music lover and her house comes complete with a sound proofed. This is a small miracle, considering that the house was only on the market for an hour. But with Andrew as her real estate agent, and the fact that he works with her mother, Paula, at Wonderland Realty, all the pieces are in place for a garage band on the rise. Especially since Sarah's boyfriend, Ty, has set up a gig for them at the Retro Club, where local DJ legend, Bumper Doorman,

Saturday, March 1st, 2003

s9e17: The Good Earth

Stan and his friends are fascinated by the crazy old man who lives on their street. He's an inventor, a mad scientist, and he's building cars that run on chicken droppings...or so they say. There is also speculation that he is experimenting on dead bodies in his basement, but the truth is that Emmett Rivers is working hard to free the world from its dependence on oil. He is fashioning a device which, when it is finished, will convert hydrogen into energy. It will run on water. Of course, there are a few hitches. Emmett so far, is unable to get the machine just right. Everything is theoretically working, but it's just a little off. It's nothing a few months of fine work can fix. Unfortunately he might not get that chance. Monica has arrived, as an IRS agent, to look into Emmett's tax deductions. While she is there, Stan finally gets up the courage to sneak into the house and see just what the crazy old man is working on. But elsewhere, Carl Northram, an oil magnate, has been

Saturday, March 15th, 2003

s9e18: Virtual Reality

Marissa Atkins lies in a coma in her hospital room. She's been asleep for nearly six months, and shows no signs of recovery. Her future is locked away in a dormant mind, just like the future of the boys who did this to her are locked in the wheels of justice. Victor Jackson is on trial, for what is essentially vehicular manslaughter. The prosecution is trying to demonstrate that Victor intentionally ran Marissa over with his mother's car. The defense claims that Victor tried to stop, and that it was the fear of an inexperienced driver that led him to flee the scene of a an accident. The truth is somewhere in between, and must be discovered by the angels; Rafael for the prosecution and Andrew for the defense. With Tess acting as Judge, the trial begins. And while various evperts take the stand, Monica tries to make some headway with the witness to the alleged crime, Victor's cousin, Josh. Rafael brings to the jury's attention, the fact that Victor and his cousin had been playing

Saturday, April 12th, 2003

s9e19: The Show Must Not Go On

There's a lot to be said for a theater founded solely to celebrate children, but there is more to be said about a theater that, after 50 years, leases to do so. This is the case for the Egyptian Theater, a little community playhouse, that has aged with it's owner, Ben Horner. As the neighborhood grew dirtier and more dangerous, Ben grew more jaded. He began to view the children of the community as the enemy, and now his little theater is in shambles; frequently tagged by grafitti and filled with self-important, part-time thespians. This is how things stand when the angels arrive with a camera tot document the 50th anniversary of the Egyptian. Never one to mince words, Tess almost immediately confronts Ben, revealing herself as an angel and pointing him back in the direction of his roots. She wants him to write a new song for the 50th anniversary show, something to set the tone for the next 50 years. Ben is inspired. He can already hear the song, and excitedly tells Wally, his

Saturday, April 19th, 2003

s9e20: At The End Of The Aisle

Monica, Andrew and Tess are cordially invited to witness the joinging of Audrey Carmichael and Scott Morgan in holy, matrimony... or not so holt matrimony. While Audrey has been blessed with angelic visitations and knows for a fact that God exists and loves her dearly, she has no qualms about marrying a man who does not share her faith. In fact, Scott not only doubts the existence of God and angels, but he scorns the beliefs of those who do. Still, Audrey loves him and his son, and wants to be a part of their family. Scott is after all a good man, a good father. The difference between their beliefs would be a monir problem, if not for Audrey's promise to preach the word and testify to God's love. It is that promise, which has allowed her to pull herself together and get on with her life after her son Petey died. But now, she is so eager to get on with her life, that she is ignoring who she is, and what she know is true. When Monica discovers this, she begins to have doubts abou

Saturday, April 26th, 2003

s9e21: I Will Walk With You (1)

Monica meets Tess in the desert, at the same bus stop where she began her job as a case worker. It is from this, the place where her first assignment began, where she will take on her final one. If all goes well, Monica will advance from caseworker to supervisor. She can't wait to get started, so that she can start work as supervisor at Tess's side. But Tess tells her that it won't be that way. She's put in for a new position as well, back in heaven sitting at God's feet and singing his praises. She hasn't been training Monica to be her partner, she's been training her to be her replacement. Monica is upset to hear the news, but her goodbye is cut short by the arrival of the bus. She climbs aboard, wondering where she is going and what her assignment will bring. On board she meets Zack, a traveling handyman, seemingly without a care in the world. She asks where he's going and he tells her he's going where she is, Ascension, Colorado, the bus's final stop. When they finally a

Sunday, April 27th, 2003

s9e22: I Will Walk With You (2)

As the uproar increases, Wayne whisks Zack off to the jail to protect him from the frenzied crowd and to ask him some questions. Unfortunately Zack's answers are less than satisfactory and not entirely forthcoming. He is, quite simply, a drifter, and as such he has no way of backing up who he is or where he comes from. He does admit to being at the school on the day of the explosion, but he won't say why he was there. There is already talk of putting him on trial. Monica is dismayed, and sets to work getting Zack the best representation she can, i.e. Mike and Gloria. They are both certain that there is no case against Zack, and that even if it goes to trail, they should have no trouble getting a change of venue. They are both, however, wrong. The prosecuting attorney, Jones, is tough as nails and as twisted as a screw. He is also, according to Monica, the devil. Not onyl does he succeed in bringing the case to trial, but he also eloquently rebuffs all of the defense team's m
Season 1
Saturday, October 21st, 1995

s1e12: Angels on the Air

Caustic radio personality Sandy Latham offers daily advice to her radio audience even as she continues to alienate her teenage daughter, Claire, a little more every day. Tess joins Sandy as an on-air sidekick, and Monica keeps her eye on Claire when she decides to run away from home. Before this assignment is over, Monica serves as a chaperon at Claire's prom and has her first angel dance.

Saturday, October 28th, 1995

s1e13: In the Name of God

This episode, produced before the Oklahoma City bombing, explores a character named Timothy, who is a gifted leader consumed by hate. He sets off a bomb in opposition to an AIDS hospice and leads a white supremacy group. A battle between good and evil ensues. This episode features the first of many visits from the Special Services Angel Sam.
Season 3
Sunday, May 18th, 1997

s3e30: A Delicate Balance

In an empty gym Tess coaches Monica on their next assignment. They are interrupted by the arrival of Nadia Comaneci and Bart Conner, who will cover the gymnastics competition for a TV station. Andrew appears after they leave, and the angels then observe the Browner family. Rebecca Browner is a gifted gymnast, whose mother, Sandra pushes her to excel. Unfortunately, her younger brother, T.J. feels neglected. He and his friend dub themselves the ""Nobodies"" and visit a skating arena. Andrew, the arena's supervisor, is concerned by T.J.'s disregard for safety equipment. Meanwhile, Monica, Rebecca's new assistant coach. learns she is highly driven and has never fallen during a competition. Displeased that the television crew has ignored her daughter, Sandra complains to Tess, the segment producer. T.J. steals money from Andrew's cash register to visit the house where his family lived before his father died. He later confesses to Andrew, who makes him work off his debt. Sandra is
Season 4
Sunday, May 17th, 1998

s4e28: The Spirit of Liberty Moon (2)

Tess plants some seeds of courage in George, he helps Alex, Edward and Jean to infiltrate a ""re-education through labor"" camp under the the guise that they will use the factory being constructed to manufacture Tanner Toys. Jean recognizes a sickly worker at the camp as her husband, Gus. After a bittersweet reunion, Jean and the others quickly leave the camp when a guard becomes suspicious of their presence. Alex is angered to learn of the risks Edward has taken with the business and attempts to fire Monica, but is overruled by Edward. They later read a newspaper of Gus's death in prison and his ""renouncement"" of his actions in Tiananmen Square. As Jean resolves to speak out against the lies, soldiers move into their hotel, spot Jean and give chase. Later, Edward and Monica meet Jean in a busy street and offer to help her. As they walk away together, a soldier hands them a leaflet depicting a wanted criminal, it's a photo of Jean from her Tinanamen Square days. They go to meet G
Season 5
Sunday, May 23rd, 1999

s5e27: Godspeed

Major Josie Saunders grew up reading all about Charles Lindbergh. It was Lindbergh's flight across the Atlantic, along with Josie's own desire to make her mother proud, that fueled her drive to join the Air Force and later NASA. When, just a few days before her first mission to space, Josie learns from a NASA P.R. man, Andrew, that her mother has died, the frightening reality of what she's about the do hits home. When she returns home for the funeral and joins her fellow astronauts, we learn that one of the mission's Capcoms, Greg, is Josie's husband. In a private moment, he expresses some concern about her emotional readiness for the mission. He rightly asses that she might be angry and a little scared, but she denies it. Then she meets Diana, a brave little girl with brain cancer, who asks her to deliver a letter to God while she is in space. Josie becomes suddenly awkward and ends her time with Diana, throwing the letter away. Later, she tells Greg the truth. ""I don't know w