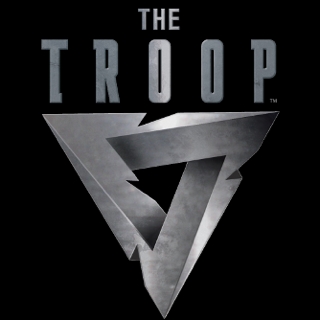 Season 1
Friday, September 18th, 2009

s1e1: Welcome to the Jungle

Jake is initiated into The Troop, a group that protects the town from alien monsters. His first mission is to help his mean neighbors, who have been turned to stone.

Saturday, September 12th, 2009

s1e2: Do the Worm

While saving a Senior Dance from a Mongolian death worm, Jake learns not to judge a book by its cover, and Felix becomes an unlikely hero.

Friday, September 18th, 2009

s1e3: There Is No I in Monster Hunter

Jake learns the value of teamwork. Meanwhile, Hayley finds out that it's not possible to be liked by everyone.

Friday, September 18th, 2009

s1e4: Forest Grump

A tree monster takes the form of a student in order to kill the student council. Also, Felix is forced into a situation where he must protect a boy that has wronged him in the past.

Friday, September 25th, 2009

s1e5: Pajama Game ... Of Death

Jake and Felix must infiltrate Hayley's cheerleader slumber party in order to find out which girl is hosting a bug alien. Also, Stockey is nervous about attending his Troop class reunion.

Friday, October 2nd, 2009

s1e6: Taming of the Cube

While fighting a gelatinous cube monster, Haley and Jake accidently switch bodies.

Friday, October 16th, 2009

s1e7: No More Master Nice Guy

Haley becomes suspicious when a mousy classmate suddenly gains status and power - which is revealed to be by controlling an invisible, subservient monster.

Friday, October 23rd, 2009

s1e8: The Great Punkin

On Halloween night, The Troop has to capture the monsters after the security system breaks down and the monsters escape.

Friday, November 13th, 2009

s1e9: Tentacle Face

Jake meets his monster-hunting hero, but discovers he's out growing the ability to hunt and capture the ultimate monster he has been chasing his whole career.

Friday, November 20th, 2009

s1e10: Lost in Translation

A Troop from Japan arrives to share monster-hunting techniques with our Troop, but cultural differences complicate everyone's attempts at defeating the elusive Noctem.

Saturday, December 12th, 2009

s1e11: The Good, The Bad and the Ickie Doll

Jake and Hayley discover that the hot Christmas toy, the "Ickie Doll", has been invaded by a Vapor Monster, turning the dolls into nasty, violent, living creatures.

Saturday, January 9th, 2010

s1e12: The Substitute

When a veteran Troop member named Bianca Stonehouse replaces Mr. Stockley due to his dentist appointment, The Troop discover that she is a monster in disguise, there to help another monster escape and to find the real Bianca Stonehouse before its too late.

Saturday, January 16th, 2010

s1e13: Unpleasantville

A strange Swarm monster causes everyone in town to behave perfectly, The Troop learns that perfection is overrated.

Saturday, January 30th, 2010

s1e14: My Gus is Back & There's Gonna be Trouble

Felix's new friendship with Gus creates a rift within The Troop. Little does anyone know of Gus's secret plans to destroy The Troop.

Friday, February 5th, 2010

s1e15: Speed

Jake and Haley must pretend to be a couple in order to catch the Eris Fairy(Victoria Justice) that's been running around the school breaking up couples in love. Felix works furiously to trap the Eris Fairy only to realize how much he relates to her situation. In the end, the fairy apologizes to Felix and tells him that she likes him.

Saturday, February 20th, 2010

s1e16: I, Monster

The Troop is in lockdown until they can figure out which one of them is really a monster.

Saturday, March 13th, 2010

s1e17: Like A Moth to the Spotlight

While hunting a Vampire Moth, the Troop must alleviate the suspicions of two of their classmates who witnessed a monster fight, but cannot be Snarked.

Saturday, March 20th, 2010

s1e18: Vampsters

When a group of part vampire/ part Hamster/ part Human monsters invade Lakewood, Jake must go undercover to infiltrate the group in order to find their lair.

Friday, April 16th, 2010

s1e19: Snarked Up

Jake is pregnant with a baby Snark, which makes his neck look weird. A griffin is harassing local ranchers and Haley and Felix have to take it out.

Friday, April 23rd, 2010

s1e20: Itty Bitty Baby Dragon

After Phoebe unwittingly "adopts" a baby Dragon and Jake and the Troop must figure out how to return it before the mother dragon finds them first.

Saturday, July 17th, 2010

s1e21: The Wrath of the Wraith

Jake and two other students attempt to stay overnight in an abandoned hospital rumored to be haunted by a Wraith.

Saturday, July 24th, 2010

s1e22: Hayley and Felix on the Side

When Haley and Felix are scratched by a Zylork, its venom makes them want to be eaten by the monster and Jake must save his friends from themselves.

Saturday, July 31st, 2010

s1e23: Double Felix

Felix creates a robotic version of himself that is better at his life than he is, but evil. Hayley is bitten by a monster which gives her symptoms that make her seem very nerdy.

Saturday, August 7th, 2010

s1e24: Don't Talk to Dr. Cranius

A Harvard-educated sponge named Dr. Cranius (voiced by Kelsey Grammer) is captured by The Troop. He then tries to manipulate the members so he can escape.

Saturday, August 14th, 2010

s1e25: Batteries Not Included

Mr. Stockley is the acting Principal at school and wants to the day to go perfectly to show off what he can do, but when an Oculypse escapes from HQ havoc is wreaked on the student body.

Saturday, August 21st, 2010

s1e26: The Next Stop: Lakewood

Gus is back from the mental hospital and he plans on destroying The Troop and taking over Lakewood. But in order to do he kidnaps Mr. Stockley, to enter headquarters and release all the captive monsters.
Season 2
Saturday, June 25th, 2011

s2e1: The Triangle

The troop has its long awaited return and it is full of surprises!!! Jake decides to ask out Hayley but has a tough time especially since she is dealing with the new girl, who is a bad chick. Meanwhile, Felix tours a special school.

Saturday, July 2nd, 2011

s2e2: The Monster Within

Everyone thinks Felix is a crime stopper. Meanwhile, Candace and Hayley start to become friends.

Saturday, July 9th, 2011

s2e3: It's All in the Game

Kirby comes to takes Felix's place and must take down a monster who is taking over the mind of video-gamers.

Saturday, July 16th, 2011

s2e4: Mirrors

Candace is attacked by a monster that sucks people into mirrors. So Hayley and Kirby must stop it before it attacks anyone else. Meanwhile, Jake tries to get his comic approved by Stanley Lee.

Saturday, July 23rd, 2011

s2e5: Oh Brother

Kirby's replacement is not what the Troop had in mind. Meanwhile, Candace and Hayley have a fight over telling Candace her secret and Candace's brother comes to visit.

Saturday, July 30th, 2011

s2e6: Through the Looking Glass

In the previous episode Jake broke open the portal to bring Candace to the Monster World. But, this releases Monsters into the real world. Now, Jake must go into the real world to retrieve the troop grid.

Saturday, August 6th, 2011

s2e7: Start me up

Kirby enters the science fair and so does his rival from hos old troop who uses a monster for her project which is a robot that attacks the school. Meanwhile, Jake and Hayley battle for concert tickets.

Monday, October 29th, 2012

s2e8: The Prisoner of Lakewood

A monster switches places with Hayley and realizes it easier to be a monster then a teenage girl. Kirby gets trained hard to become a good member of the Troop.

Monday, October 29th, 2012

s2e9: Doom Hound

Tuesday, October 30th, 2012

s2e10: A Sniff Too Far

A Flaying Pincer Mole has been attacking the school repeatedly and the only way to find its lair is to team up with the Sniffer... an incredibly annoying monster.

Tuesday, October 30th, 2012

s2e11: Eris Returns

Cecilia, an Eris Fairy sister (Daniella Monet) arrives and mistakens Etienne for Felix and they become a couple. Cecilia's ex-boyfriend, Tod comes from the monster world to get her back and get rid of Etienne. Meanwhile, Jake wants to ask Hayley go to the dance with him.

Tuesday, May 7th, 2013

s2e12: Road Trip (aka The Kiss)

Jake ,Hayley and Mr. Stockley get a distress call from another Troop team during driver's ed training. Jake and Hayley kiss. Meanwhile Kirby runs for Green Czar and Cadence helps him win against Mazie (Ashley Argota).

Monday, May 6th, 2013

s2e13: This Bird You Cannot Change

A Flying Swamp Monster that feeds on electrical energy has come to Lakewood and is not only terrorizing the city but is also threatening Prom from happening.

Wednesday, May 8th, 2013

s2e14: Ice Hassles