update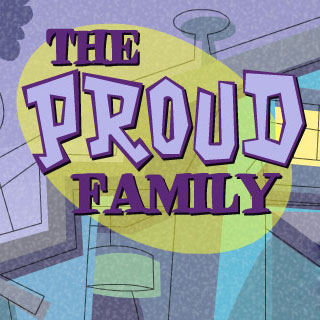 Season 0
Friday, August 19th, 2005

1: The Proud Family Movie

Penny and her family are lured on an all expenses paid vacation where a mad scientist captures them, refusing to let them go because Oscar won't reveal his secret Proud Snacks formulas.
Season 1
Saturday, September 15th, 2001

1: Bring It On

After Penny is announced the new member of the cheerleading squad, an old friend of Dijonay's, LaCienega, shows up. Dijonay lets her try out and she ""ties"" with Penny. To decide between the two, Dijonay schedules a cheer-off. Behind Dijonay's back, LaCienega makes fun of Penny. She realizes that LaCienega does not just go to the same school as her, but she is also her new neighbor! Her parents invite them over for dinner to welcome them to the neighborhood. Trudy makes friends with LaCienega's mother, Sunset. Oscar makes friends with LaCienega's father, Felix. Suga Mama makes friends with LaCienega's grandfather, Papi. Penny decides not to hold a grudge against LaCienega. Meanwhile, Oscar plans a ""camping trip"" (to watch TV) in Felix's home theatre. The next day, Penny tells LaCienega that she is sorry and wants to be her friend. But LaCienega still doesn't want to be nice to Penny. So Penny takes Sticky to eat with the Gross Sisters. Penny tells the Gross Sisters, Dijonay chose LaCien

Friday, September 21st, 2001

2: Strike

All Penny needs to do is clean up her room...but Oscar tells Penny to clean up the whole house. But she only gets her normal pay...five dollars. But five dollars isn't enough to see a movie with her friends. Because of this, Penny feels unappreciated...and underpaid. All of her friends feel the same way. So she and her friends decide they want grown-up money for grown-up work. To get their way, they ""must"" go on strike. No chores until they get a better bigger allowance pay! But because of that...they all get kicked out of their house. They'll do everything they can get get a raise of allowance. But slowly the strikers stop protesting and go back home. But Penny will not give up hope...even when there is no one left but her.

Friday, September 21st, 2001

3: Rumors

Penny is being very generous today. She is washing the dishes, making breakfast and complimenting her parents! wants to through a sleep-over on the same day as Trudy's veterinarian awards banquet. Trudy says no. Oscar thinks it's fine...but only because he doesn't want to go to the awards banquet. But Trudy drags him along. Penny suggests that Suga Moma could chaperone. Trudy thinks it's okay as long as she agrees. Penny knows she will because she and Suga Moma ""speak the same language."" Penny pays Suga Moma, twenty dollars to be the chaperone. her friends arrive. But before Trudy and Oscar leave, they tell them ""the rules:"" ""No loud music, no boys, no running up the phone bill, no boys, and most importantly...no boys."" Of course, what's a sleep-over without loud music and boys? Dijonay invites the boys over and starts the party music. Meanwhile, at the awards banquet, Oscar torments the pigeons by saying he eats buck. The pigeons get back at him by chasing after him. Back at the party

Friday, September 28th, 2001

4: Tiger Whisperer

It's take your daughter to work day! But Penny doesn't want to go with her mom. She wants to go with Dijonay's mom. Well, Penny has no choice. She has to go with her mom. While she is there...being a janitor, she meets a magician with a pet tiger (of whom he calls Sasha) who doesn't want to do a comedy act with him. The tiger tells Penny that he is not a girl and that his name is Aija. Penny tells the magician that. But both the magician and her mom doesn't belive it. Aija also tells her he doesn't want to be dressed up like a girl. But when Penny tells the magician, he refuses to believe it and he doesn't even think that Aija is a boy. Aija tells Penny ""dog."" Penny tells him he can't have the dog. But then she changes her mind. Just this once. She opens the cage. Trudy asks her ""what are you doing?"" Penny tells her she is only giving Aija the dog food. The magician doesn't want to believe that Aija will eat the dog food. But in fact he loves it. And he's smiling! As a reward, the magi

Friday, October 5th, 2001

5: EZ Jackster

Penny's crush on a new boy at school has repercussions beyond her wildest dreams when she helps promote his music-sharing Web site.

Friday, October 12th, 2001

6: Spelling Bee

Because of a preview of a 'Wizard Kelly Spelling Bee' that Oscar saw in the 'Wizard Kelly Movie Theatre,' he thought of him being Penny's age and winning that Spelling Bee. Oscar notices that his former spelling bee rival works at the theatre. So he goes over to him to make fun of him. But his rival thinks (and knows) that Oscar doesn't even know what the words mean. For revenge, he enters his son in the spelling bee. Later, at a 'Wizard Kelly' store, Oscar goes to pick up a product to help Penny with her spelling. But there is only one left and...guess who is there! His spelling bee rival! An they are fighting over it! They broke it. Later, Oscar's spelling bee rival's son meets the Gross Sisters. And they help him cheat. But he becomes disqualified for cheating. So it's up to Penny to spell the word 'bobbin'. Can she do it? Maybe by a little help from her dad...mouthing the letters!

Friday, October 19th, 2001

7: She's Got Game

Penny's efforts to impress a boy at school land her on the football team; and Oscar develops a new snack food called jelly poppers.

Friday, November 2nd, 2001

8: Forbidden Date

Penny breaks her father's no-dating rule when she goes to the amusement park and pairs up with a boy named Carlos. Elsewhere, her parents go on a double date to a day spa.

Friday, November 9th, 2001

9: Teacher's Pet

Penny's grades fall victim to a longtime grudge held between her teacher Ms. Dinkins and Suga Mama; Oscar and Trudy enroll the twins in a private preschool.

Friday, November 16th, 2001

10: Don't Leave Home Without It

Penny is entrusted with her very own credit card, which she plans on using responsibly, but it seems to have a mind of its own. Oscar, meanwhile, nearly spends his family out of house and home in his attempt to catch a mouse.

Friday, December 7th, 2001

11: Seven Days of Kwanzaa

As the Proud family goes Christmas shopping, they meet a homeless family. Oscar (of course) doesn't do anything to help them. But Trudy tells Oscar to find the family and give them some money. When Penny and Oscar find them, Penny ask them if they want to have a Christmas dinner with them. They'd love to! But Oscar wouldn't. On Christmas, they arrive seven hours early and presents the Prouds with a fruit cake. Nobody thinks much of it so they give it to Bobby. He throws it out the window! When Penny gives them their presents, they don't seem to like them. Trudy, feeling a bit concerned, asks them. They say that they celebrate Kwanzaa. Oscar asks, ""Kwa-whoo?"" The family tells the Prouds all about it and celebrate it with them. This may be when the Prouds learn the true meaning of the holidays.

Friday, December 14th, 2001

12: Makeover

For the school dance, Penny, LaCienega and Dijonay give Zoey a makeover. At school, the next day, they think that Zoey's hogging all of the boys. But Zoey wants to be with the foreign exchange student. But when Nubia sees Zoey's makeover, she wants her older sister to have one too. After the makeover, she started hanging out with Penny. But what Nubia didn't realize is that without her older sister, she is powerless. Nubia somehow convinces her to come back to staying with her. But before she goes, Penny gives her a friendship bracelet. But will she keep the friendship?

Friday, January 4th, 2002

13: The Party

Penny decides to throw a slammin' party, but LaCienega is throwing a party on the same night except with a guest appearance from Jennifer Lopez to blow Penny's party away. On the night of the two parties all of Penny's friends ditch her to go to LaCienega's and The Gross Sisters and Myron are Penny's only guest. Everybody tries to make Penny have a good time with the little party they have and she eventually gets even with her friends when LaCienega's party turns out to be a bust and they all go to Penny's in the end.

Friday, January 18th, 2002

14: Love Thy Neighbor

While grillign burgers, Oscar is finished usin a match, so he throughs it back behind him. The match lands in the bottle of kerocine. The bottle gets knocked over. And the Boulavardez's house starts on fire! Now the Boulevardez family has to move in to Penny's home. And LaCienega has to stay in Penny's room!!! Oh, the horror! The next day, their school has swiming tryouts to be on the swim team. LaCienega isn't very comfortable about it. It is because that LaCienega has really big feet. She is thrown out of the Wizard Kelly teen beauty pagent. Can Penny save her from herself and LaCienega?

Friday, February 1st, 2002

15: I Had a Dream

It's Black History Month and that means reports on famous people in black history! Penny got Angela Davis, Dijonay got Bessie Coleman, Zoey got Madam C.J. Walker, LaCienega got Shirley Chisolm, and Sticky got Al Sharpton! After class, they decide to run in the hallway. But the grumpy janitor is mad at them for doing this. The kids decide to tease him and they run away from him. Penny slips on the recently waxed floor and gets knocked out. Before school, the next day, Penny is ""dressed"" like Angela Davis. On her way to school, she gets swept up by a tornado and is set right next to school. Everyone is acting strange. Everyone has been saying to Penny to not go near white people (that includes Zoey!). The janitor (who was white), was the teacher and the teacher (who was black), was the janitor. The white kids sat separate from the black kids. After school, Penny comes home confused. Oscar has invented potato chips stacked up in a cylinder shaped can. Trudy asks her to help wash the dishe

Friday, February 8th, 2002

16: I Love You Penny Proud

It's Valentine's Day. And that means...love notes! But Penny didn't get any. All she got was spray paint on the wall of the school and buses saying 'I Love You Penny.' Whoever did it really likes Penny. But it is certainly not the guy who just suspended them for not doing it. The question is: Who did it? It's time to start investigating! Well, whoever he is, must work durinmg the night. He likes buses, so what better place to look than a bus station. And the secret admirer is... Johnny McBride from 5th period algebra who has a wheelchair. When Penny and her friends were let off from the graffiti, Johnny got his punishment...saying sorry? But how come he only has to apoligize when Penny and her friends get suspended? Later during the day, Johhny asks Penny: Will you be my girlfriend?

Friday, March 1st, 2002

17: Puff's Magic Adventure

Suga Mama needs Oscar to watch Puff. Oscar wants it to be his day off, but Trudy wants to go shopping. She demands him too, and he quickly goes. They pawn off the twins and Puff to Penny. Later, Penny is having a waterfight. When she isn't paying attention, the stroller with the twins is gone. The Gross sisters show up with a firetruck, and Penny tells them she quickly has to go because she's babysitting. The Gross sisters tell her she's whack because nobody's there. Penny runs quick to find them. Trudy is looking for new furniture. Oscar is watching a fake T.V. football game(the cardboard.) They agree to get an expensive case. On their way home, they see kids hanging over a bridge to the river. Oscar says that they are crazy, and he wishes they were his kids so he could tell him. Trudy sees that it is Penny, and tells him. They stop, and find Penny rescuing the twins. She is about the rescue Puff, but he falls and rides down the river. They have to go home and face Suga Mama. She is

Friday, March 15th, 2002

18: Enter the Bullies

Penny is sick and tired of the the Gross sisters. When she tries to get them to stop taking her money, the Gross sisters get really mad and want to hurt Penny. In order to hide from them, she skips school and hides at a museum. The Gross sisters find her but they don't catch her. Penny ends up getting her money back and teaches the Gross sisters about savings accounts.

Friday, April 12th, 2002

19: The Altos

There is a scavenger hunt put on by no other, Wizard Kelly. You figure out the riddles, and then go to that place and get the object. Whoever wins gets to be Wizard Kelly for a day. Also, in association with Proud snacks. Penny is walking down the street with her crew. The Gross sisters show up and jack their money as usual. When they turn around, there is a group of more bullies, and Sticky is right with them. They take the money from them, and Penny and her gang are shocked that Sticky would do this. At school, Sticky gives the money back. When Penny and Zoey complain too much though, he takes it back. The crew learns from Dijoney that Sticky's parents are divorced, and he has been weird. Penny goes home, and her parents are fighting a little. She gets a little worried and asks them if they are going to get a divorce. They explain to Penny that they love each other too much, but everyone gets in fights and she shouldn't worry. Penny tells them about Sticky stealing their money,

Friday, April 26th, 2002

20: Hip-Hop Helicopter

The hottest show around. Penny gets her girls when it comes to town. It's the hip-hop helicopter! After forming a dance group of Dijonay, Lacienaga, Zoey and herslef, the girls enter to be on the show. Dijonay's cousin offers to give them a ride, but thinks they're too lame. When they get there, they think it is amazing. Revealing skimpy outfits, the girls start dancing. Meanwhile, Suaga Mama and Oscar are head to head on bowling leauges. Oscar is an extremely poor sport. When Trudy looks up, she sees her girl on TV. Penny is in deep trouble. She promises her Mom she will never wear that kind of outfit until she moves out, even though she won. The next day, they are very popular at school. D's cousin now thinks they are cool. She booked them to a high school party. She tells them to wear the same outfits, but Penny promised her Mom not to. She gives in because her parents will be gone. Night of the party rolls around. Penny goes. She finds the guys there only want her body. They a

Friday, May 24th, 2002

21: Romeo Must Wed

Penny gets the lead part in the school production of ""Romeo and Juliet"". Kwok, who plays Romeo, really likes Penny and wants to run lines with her. Meanwhile, Penny's aunt Dee (a theatre actress) decides to work on the play. The drama teacher was so starstruck that he said it was okay. Trudy starts to think that her sister is trying to play the mother. When Penny and Kwok are running lines, Oscar catches them kissing. And being as ""concerned"" as he is, he thinks it was an ""I want to go steady with you"" kiss. Penny and Kwok kissed not just for rehersing, but because they wanted to. Later, Kwok tells Penny that he is going to get married. Penny then thinks that he was lying to her all this time. And she thought he really liked him. Penny then doesn't want to do the play. Was it all a lie? and Will Trudy put he foot down and tell her sister to back off?
Season 2
Friday, September 27th, 2002

1: A Star Is Scorned

When a music company hears of the group LPDZ, they all get a recording deal. Everything turns out well for them until Penny decides she wants to sing solo.

Thursday, October 24th, 2002

2: A Hero for Halloween

""Halloween is for kids,"" protests the 14-year-old, who says she won't be joining her pals at Wizard Kelly's Frightacular event, despite a performance by Lil' Romeo (who provides his own voice). Her parents, however, insist that she don a costume and have some fun. But with no ticket for the Wiz's sold-out party and after a run-in with the bullying Gross sisters, the night's more trick than treat. That is until Penny gobbles a magic snack that changes her attitude...and appearance. Elsewhere, an unhappy ghost haunts the Prouds' house. -Tvguide.com

Friday, October 25th, 2002

3: Ain't Nothing Like The Real Thingy, Baby

When Oscar agrees to bring popular children's show host, Thingy, to perform at the twin's birthday, he and Penny discover that Thingy is really Oscar's pretty old college friend, Debra, and Penny wrongfully suspects that they are having an affair.

Friday, November 8th, 2002

4: Poetic Justice

When there's a debate team at school Penny and Dijonay wind up on opposing sides. They start to argue about the issue causing a rift in their friendship.

Friday, December 13th, 2002

5: Behind Family Lines

Trudy and Oscar's families join together during the twins baptism, but during the whole time they all argue.

Friday, January 3rd, 2003

6: Hooray for Iesha

Penny and her friends protest the cancelation of their favorite TV show.

Monday, January 13th, 2003

15: Duck Story

Monday, February 17th, 2003

7: Camping Trip

Both the Proud and Boulevardez families get lost in the woods during a joint camping trip.

Friday, March 7th, 2003

8: Crouching Trudy, Hidden Penny

Penny is taking some karate lessons

Friday, March 28th, 2003

9: Pulp Boot Camp

Oscar and Trudy send Penny to boot camp to keep her from becoming a bully.

Friday, April 11th, 2003

10: Tween Town

When her parents ground her for sneaking off to a teenage nightclub and lying about it, Penny wishes for a worl without adults. ""Today Show"" wheatherman Al Roker grants her that wish, and all the adults in the world vanish. Penny and all her friends then all have the time of their lives without anyone telling them what to do except for Beebee and Ceecee who miss their folks.

Friday, April 18th, 2003

11: One In A Million

When Penny wins a chance to win $1,000,000 by shooting a half-court shot at the All-Star basketball game, Oscar convinces her to let him take the shot instead in order to fulfill a lifelong dream.

Friday, May 9th, 2003

12: Hmmm... Tastes Like

Suga Mama's latest recipe is much better than anything her son Oscar ever created with his snack company (which isn't saying much), and he attempts to capitalize on his mother's success.

Friday, May 23rd, 2003

13: There's Something about Rene

The Prouds' new nanny charms the entire family except a jealous Trudy.

Friday, June 20th, 2003

14: Adventures In Bebe Sitting

Dijonay sneaks off to see a concert, leaving Penny to babyist all of their siblings.

Friday, June 20th, 2003

22: Adventures In Bebe Sitting

Dijonay sneaks off to see a concert, leaving Penny to babyist all of their siblings.

Friday, July 25th, 2003

16: The Legend of Johnny Lovely

Penny rehearses for the debutante ball and meets a well-mannered man.

Friday, August 1st, 2003

17: The Camp, the Counselor, the Mole, and The Rock

When Penny and her friends volunteer to be junior camp counselors, Oscar decides to have one of the camp kids spy on Penny to make sure she isn't hanging out with any boys.

Friday, September 12th, 2003

18: It Takes a Thief

LaCienega's new boyfriend, Lil Wiz hooks up her friends with jobs at Wizard Kelly's store Wizingdale's. But when a watch is disovered to be missing by the store manager, Randi they end up getting fired. Penny and Suga Momma then go in search to find out who is the thief that stole the watch.

Friday, September 19th, 2003

19: Wedding Bell Blues

Suga Mama announces that she is engaged to marry a man who Oscar is convinced is nothing but a fortune-hunter.

Friday, September 19th, 2003

21: Wedding Bell Blues

Suga Mama announces that she is engaged to marry a man who Oscar is convinced is nothing but a fortune-hunter.

Friday, September 26th, 2003

20: Penny Potter

Zoe doesn't feel special, but when Penny's great aunt Spice comes to town, all of that chanages. Spice tricks Zoe in believing that she has the power of telekinesis. Pretty soon, Zoey becomes really popular and feels unique. But when Suga Mama exposes Spice for the phony that she is, Zoey still feels special in the end.
Season 3
12: Who You Callin' A Sissy?

When Penny's friend Michael is called a sissy, she takes responsibility for helping him defend himself

not specified

9: She Drives Me Crazy

When Suga Mama's driving license expires, Oscar agrees to give her lessons so that she can renew it.

Friday, October 10th, 2003

1: Monkey Business

Oscar's snack-tasting monkey accidently eats one of the Proud snacks at the factory and gets sick. Meanwhile Mariah Carey's pet monkey Franqius' gets sick from eating Proud snacks too. They both send the monkey's to Trudy's veterinarian office to get a chek up and the monkey's accidently get switched.

Saturday, October 11th, 2003

2: Thelma And Luis

When Papi is sent to a nursing home that turns out to be a front for an okra farm where the residents are forced to work, Penny and her friends join forces with Suga Mama to help Papi escape.

Friday, October 24th, 2003

3: Culture Shock

Penny and her friends spend the weekend at each others houses while writing a school paper about cultural differences.

Friday, November 7th, 2003

4: Election

Penny is running for school president against Wizard Kelly Jr., but unfortunately he's trying to buy everyone's vote. With the help of Zoey and the Gross sisters, Penny's friends try to sabotage Wizard Jr.'s campaign, but Penny prefers to take the high road and lose than resort to negative campaigning just to win.

Friday, December 5th, 2003

5: The Good, The Bad and the Ugly

Wizard Kelly puts on a ""Tween Idol"" contest with celebrity judge Alicia Keys. Penny learns that the contest is fixed so that the beautiful LaCienega's wins over the homely - but more talented - Agatha Ordinario. Alicia Keys guest stars as herself. And Ryan Seacrest also guest-stars as himself and host of ""Tween Idol"".

Friday, December 26th, 2003

6: Smackmania 6: Mongo vs. Mama's Boy

After Mongo, a famous wrestler, takes ill at the hands of Proud Snacks, Oscar is forced to step into the ring to defend Mongo's belt. Oscar, now known as ""Mama's Boy,"" does so with the help of his tag team partner, Suga Mama. Ironically, Mongo ends up having to fight Oscar to get his belt back.

Monday, February 16th, 2004

7: Suga Mama's Believers

Oscar runs Penny's baseball team. The team inclues all of Pennys friends. But when the team is on a soar losing streak the parents start to complain. So then Suga Mama is now head coach. When she gets the team she changes the team's name to The Believers. When they start to play in the games. They go on a winning streak. Until someone from Suga Mama's past comes back.

Saturday, April 24th, 2004

8: Twins To Tweens

Penny wishes for her Bebe & Cece to be older so thay can look after for themselves.

Friday, August 12th, 2005

10: Who You Callin' A Sissy?

When Penny's friend Michael is called a sissy, she takes responsibility for helping him defend himself

Friday, August 19th, 2005

11: Psycho Duck

Penny saves a duck when he's drowning. But soon the duck, Chester, goes psycho when Penny tells him to go home.