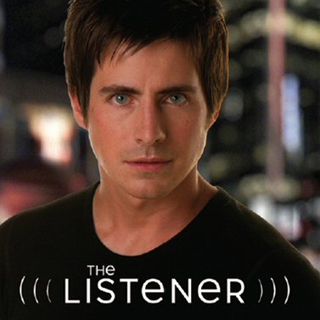 Season 1
Tuesday, March 3rd, 2009

s1e1: I'm an Adult Now

When Toby rescues a young woman of a terrible car accident, he starts having disturbing visions of the son of the woman, who has gone missing. The woman is traumatized and scared for being kidnapped to gun point. As the worry for the situation of the child increases, Toby realizes that it he is going to have to act fast to find a sense to the mental discords that are tormenting him.

Tuesday, March 10th, 2009

s1e2: Emotional Rescue

After receiving telepathic images of an explosion, Toby rescues his friend Vince from a fire in a block of apartments. Vince insists he didn't start the fire but has no credibility since he is a former drug addict and a meth manufacturer. As the investigation unfolds, Vince and Toby both end up on the suspect list.

Tuesday, March 17th, 2009

s1e3: A Voice in the Dark

After stumbling over a homeless man, Toby starts having visions of a missing girl who has been imprisoned by him. He pursues the man hoping to obtain more information on her whereabouts and starts having the sense that the homeless man shares his skill of telepathy.

Tuesday, March 24th, 2009

s1e4: Some Kind of Love

One night Toby meets beautiful pathologist Mina Delia Croce in a bar and spends some time with her at her apartment. The following morning she is found dead. Toby is initially considered a suspect, but everything takes an unexpected twist when the investigation reveals that Mina might have discovered a conspiracy at her workplace.

Tuesday, March 31st, 2009

s1e5: Lisa Says

Toby and Oz intervene in the case of Daniel, a boy from the streets who could be involved in a series of drug store burglaries. Determined to help him, Toby tries get close to him by sharing some of his personal life experience. But as Toby is approaching the truth on Daniel, he discovers that things are more complicated than he thought when Daniel's path crosses with a missing girl, Lisa Greyson, who may be in grave danger.

Tuesday, April 7th, 2009

s1e6: Foggy Notion

After Toby and Oz attend to a gunfire fight in Chinatown which leaves two dead, Toby helps Kim Chu, a blind woman whose brother Raymond is one of the murder victims. While helping Kim adjust to being alone and trying to find out who killed her brother, Toby discovers that the murder may be linked to a Chinese crime boss and that Raymond may have been involved in human smuggling.

Tuesday, April 14th, 2009

s1e7: Iris

Toby and Oz are called to a hotel after a baby falls out of a window. Before they can act, a mysterious teenage girl named Iris appears and places her hands over the baby and brings him back to life. Toby finds out she has a faith healing gift and gets a telepathic hit that makes him believe someone is trying to harm her.

Tuesday, April 21st, 2009

s1e8: One Way or Another

Toby and Oz are called to the scene of a sexual assault and Toby gets an image of the attacker wearing a white mask. Toby teams up with Detective Marks to investigate the attacker, which leads Charlie to believe the perpetrator is a previously suspected rapist from the area.

Tuesday, April 28th, 2009

s1e9: Inside Man

Toby and Oz are called to a crime scene only to find Wade and Wendy Lassiter fatally stabbed. As Toby examines the crime scene, he telepathically senses there is someone else present, the son of the two murder victims. Toby and Detective Marks' search for the murderer is complicated in that Andy is not only deeply traumatized, but may also be suffering from a mental condition. Meanwhile, Olivia's over-bearing sister Jennifer comes for a visit and Olivia asks Toby and Oz to run interference so that the two don't end up alone together.

Tuesday, May 5th, 2009

s1e10: Missing

During dinner at Oz's parents' restaurant, Toby and Olivia learn that the family is in danger of losing the restaurant if they do not come up with $100,000 in two weeks, At first Toby tries to use his skills to win at poker without success. Through Olivia, Oz finds that a man is offering a reward of $100,000 dollars for finding his missing wife, who he has been convicted of murdering.

Tuesday, May 12th, 2009

s1e11: Beginning to See the Light

Arriving at the scene of an accident, Toby and Oz unsuccessfully attempt to save the victim. As he is dying, Toby telepathically sees him thinking about a young woman who Toby thinks he was trying to kill. He is backed up by the fact that a gun fell from the man's body when he and Oz picked him up off the street. Toby subsequently finds a picture of the woman on the deceased's body and he and Oz set out to find her before she becomes a murder victim.

Tuesday, May 19th, 2009

s1e12: The 13th Juror

In court, Toby and Oz' tactics are called into question after they contaminate a crime scene. While Toby is reading the thoughts of the people giving testimony, he finds out that the victim's sister may know who is responsible for her death. Toby also takes an interest in an old man he and Oz took to hospital after he was hit by a car. As he spends more time with this mysterious man, he is shocked to discover that he may hold the key to at least a part of his own mysterious past.

Tuesday, May 26th, 2009

s1e13: The Journey

Toby introduces the accident victim who seems to know him to Dr. Ray, who instantly recognizes him as Frank Cardea, the man who brought Toby to him 20 years ago. As Toby continues to try to piece together Frank's fragmented memory shards, he realizes his mother is still alive and may be in mortal danger. Meanwhile, another man named Victor Cloonie appears with the benign intention of taking Toby to his mother. Toby, Oz, Olivia and Det. Marks all end up involved in the search for Maya, with potentially tragic consequences.
Season 2
Tuesday, February 8th, 2011

s2e1: Lady in the Lake

Toby, still haunted by guilt over the murder of his friend Detective Charlie Marks and the disappearance of his mother – has resolved to stop fighting against his mysterious gift and use his telepathic abilities to help others. When he revives a woman who nearly drowned, her amnesia gives him the perfect opportunity. As he sets out to help her remember her past, she's also being investigated by Sgt. Michelle McCluskey of the IIB, who has taken a special interest in Toby's connection to the woman and uncovered his more than coincidental history with a number of major criminal cases in the past.

Tuesday, February 15th, 2011

s2e2: Crime Seen

Sgt. McCluskey recruits Toby on a case involving smuggled weapons, which takes a turn for the worse when an undercover operative winds up dead.

Tuesday, February 22nd, 2011

s2e3: In His Sights

Toby investigates an assassination threat against a high-ranking military colonel who may have been involved in the mysterious disappearance of an army private.

Tuesday, March 8th, 2011

s2e4: The Brothers Volkov

Toby and Michelle investigate a suspicious homicide when a Russian Consul General is found dead and his son, protected by diplomatic immunity, confesses to his murder.

Tuesday, March 15th, 2011

s2e5: Inner Circle

Toby is brought in to investigate corrupt cops, but finds himself in over his head when one of them ends up dead from a suspected drug overdose.

Tuesday, March 22nd, 2011

s2e6: The Magician

Magnus, an imprisoned criminal mastermind holds the key to the whereabouts of a kidnapped judge.

Friday, April 1st, 2011

s2e7: Ace in the Hole

The death of a CSIS agent and a breach of classified intelligence prompt Michelle to turn to her estranged husband and Toby to infiltrate a high-stakes poker game.

Friday, April 8th, 2011

s2e8: Vanished

A mysterious woman with an unexplained psychic gift may hold the key to helping Toby uncover the whereabouts of a wealthy businessman's kidnapped baby.

Friday, April 15th, 2011

s2e9: Jericho

Toby goes undercover to help expose the identity of a hacker known as "Jericho-11" in a cyber crime investigation involving large-scale identity theft.

Friday, April 22nd, 2011

s2e10: Desperate Hours

Toby and Oz are taken hostage by two men posing as security guards when they are dispatched to a routine call in the financial district.

Tuesday, May 10th, 2011

s2e11: To Die For

Sgt. McCluskey, with the help of Toby, tries to determine if a mob boss is really behind the murder of Will Sterling, the business partner of a celebrated restaurant chef.

Tuesday, May 17th, 2011

s2e12: Eye of the Storm

Toby helps Sgt. McCluskey uncover who is behind the leak of government information and a sex tape featuring the Minister of Foreign Affairs.

Tuesday, May 24th, 2011

s2e13: Reckoning

Toby connects with a gifted young woman whose mental powers appear to rival or even surpass his own who maybe connected to a series of suspicious suicides linked to an old biker gang.
Season 3
Wednesday, May 30th, 2012

s3e1: The Bank Job

Despite his decision to ignore his telepathic abilities, Toby is forced to use them when he's taken hostage during a bank robbery.

Wednesday, June 6th, 2012

s3e2: Cold Case Blues

Working his first official investigation, Toby must contend with Alvin Klein's skepticism and personal agenda in solving a decade-old murder.

Wednesday, June 13th, 2012

s3e3: Curtain Call

When the life of a superstar performer is threatened, Toby poses as her assistant to watch her back and help the Special Ops Unit investigate.

Wednesday, June 20th, 2012

s3e4: The Taking

Toby helps the IIB investigate the abduction of an African teenager, whose father is an alleged war criminal.

Wednesday, June 27th, 2012

s3e5: Rogues' Gallery

Toby uses his telepathy as surveillance when Michelle goes undercover to bust a violent art theft ring.

Wednesday, July 11th, 2012

s3e6: She Sells Sanctuary

Toby and Michelle investigate the link between a cult and the disappearance of three young women.

Wednesday, July 18th, 2012

s3e7: Poisoned Minds

Toby and Michelle investigate the death of a pharmaceutical executive who released a drug with killer results.

Wednesday, July 25th, 2012

s3e8: Now You See Him

When Magnus Elphrenson escapes prison again, Toby must help Michelle recapture him before the criminal mastermind seeks vengeance on his nemesis.

Wednesday, August 15th, 2012

s3e9: Crossed

Toby starts doubting his abilities after Michelle questions the veracity of his insights during their investigation into a wealthy philanthropist's murder.

Wednesday, August 22nd, 2012

s3e10: Lockdown

Toby and the IIB race to track the source of a deadly virus before the outbreak claims any more lives.

Wednesday, August 29th, 2012

s3e11: Captain Nightfall

Toby and Michelle investigate a series of violent home invasions, which are being interrupted by a vigilante citizen dressed as a superhero.

Wednesday, September 5th, 2012

s3e12: The Bro Code

Oz unwittingly puts his life in danger after he convinces Toby to help a childhood friend who witnessed a murder.

Wednesday, September 12th, 2012

s3e13: The Shooting

With Michelle's career on the line, Toby and the IIB must prove she was set up after a bad tip led to the shooting of a suspect.
Season 4
Wednesday, May 29th, 2013

s4e1: Blast from the Past

Toby and Michelle investigate a string of high-tech thefts in Vancouver. Toby's personal life also heats up as his relationship grows with crime reporter Tia Tremblay, who is inexplicably the one person he can't read. Meanwhile, new director of emergency services Oz Bey realizes that being the boss is harder than he expected.

Wednesday, June 5th, 2013

s4e2: The Blue Line

Toby and Michelle track a gang of robbers armed with lethal, high-powered bullets under the additional pressure of a demanding new police superintendent.

Wednesday, June 12th, 2013

s4e3: Early Checkout

When Tia's colleague is targeted by a hotel owner, Toby pushes for an investigation.

Wednesday, June 26th, 2013

s4e5: Buckle Up

Toby goes undercover to find a group of thieves posing as police officers.

Wednesday, August 21st, 2013

s4e12: False I.D.

When Toby and Michelle go after a suspect in the murder of a Latin crime boss, their case is halted by interference from the police superintendent.

Wednesday, July 24th, 2013

s4e8: The Illustrated Woman

Toby's investigation into the murder of a tattooed woman leads him to believe that corporate espionage and blackmail are behind the killing.

Wednesday, June 19th, 2013

s4e4: Cold Storage

After a body is found in a storage locker filled with stolen goods, Toby and Michelle must find the killer who may have taken national defense secrets.

Wednesday, July 10th, 2013

s4e6: Witness for the Prosecution

When the key witness in a mob murder trial is shot, Toby and Michelle must contend with a suspicious FBI agent as they unravel a potential conspiracy linked to the original killing and retaliation.

Wednesday, July 17th, 2013

s4e7: Caged In

After Toby witnesses the suspicious death of a promising, young Mixed Martial Arts fighter, he probes the nefarious business dealings of two rival leagues.

Wednesday, August 28th, 2013

s4e13: Fatal Vision

After shooting and killing a suspect, Toby struggles with post-traumatic stress disorder (PTSD) as the IIB tries to stop an assassination.
Season 5
Monday, May 26th, 2014

s5e1: The Wrong Man

Toby and Dev investigate a serial killer who leaves live snakes with his victims, echoing the calling card of a past culprit who Michelle had previously put behind bars. Meanwhile, Michelle is trying to enjoy her maternity leave with her new baby girl and husband Adam but when her credibility is doubted with the suggestion that she may have arrested the wrong suspect, she must return to the IIB in order to save her professional reputation.

Monday, June 23rd, 2014

s5e5: Game Over

The IIB investigates after a successful videogame developer and former friend of Dev's is murdered on the eve of his new game's release.

Monday, June 30th, 2014

s5e6: Man in the Mirror

After a psychiatrist is murdered, Toby struggles to deal with a mentally compromised suspect.

Monday, July 7th, 2014

s5e7: Amuse Bouche

The team investigates the murder of a cooking show contestant, poisoned on live television.

Monday, July 14th, 2014

s5e8: White Whale

The IIB team investigates a mayoral candidate for murder after Becker becomes zealously interested in Toby's gift.

Monday, July 21st, 2014

s5e9: The Fugitive

After a neighbour of Oz's is murdered, the IIB team find out that he was behind a legendary coin heist and they need find the treasure to catch the killer.

Monday, June 2nd, 2014

s5e2: The Lockup

A former colleague returns to the team and jeopardizes the success they have just achieved.

Monday, June 9th, 2014

s5e3: Dancing with the Enemy

Toby and the IIB team investigate the abduction of a ballerina after Tia tips them to corruption at a dance company.

Monday, June 16th, 2014

s5e4: Smoke and Mirrors

While the team investigates a botched magic stunt that killed an investment guru, Becker's scrutiny of Toby threatens to expose his secret.

Monday, July 28th, 2014

s5e10: Family Secrets

Sibling rivalry becomes a major factor in the case of a playboy billionaire's murder and the investigation makes Toby wonder about his own family.

Monday, August 4th, 2014

s5e11: Zero Recall

Toby experiences memory loss after being drugged, and he's accused of participating in an armed-kidnapping incident.

Monday, August 11th, 2014

s5e12: An Innocent Man

Toby goes undercover in a prison to investigate a man he believes is being framed for a murder.

Monday, August 18th, 2014

s5e13: In Our Midst

Secrets from Toby's past are finally brought to light. Michelle, Toby, and Dev find themselves in the extremely uncomfortable position of investigating their own boss. On clandestine orders from Judge Samuel Griffin and Deputy Commissioner Earl Bamford of the IIB, the team must look into Becker's dealings with Curtis Maynard, a disgraced former cop with connections to drug dealing.