update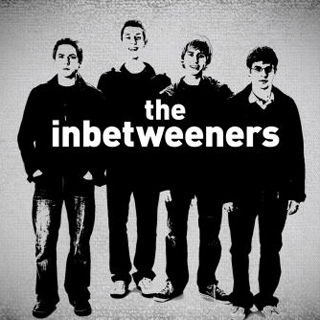 Season 0
4: A Day In The Life of James Buckley

5: A Day In The Life of Joe Thomas

6: A Day In The Life of Simon Bird

7: Behind The Scenes Featurette

8: Easter Egg 1

9: Easter Egg 2

10: Field Trip Featurette

11: Mr Gilbert Interview

12: Season 2 Outtakes

13: Season 2 Deleted Scenes

14: Season 1 Outtakes 1

Accidental Incest

15: Season 1 Outtakes 2

Sweary Dad

16: The boys thoughts from a spa

17: The Squirrel

18: In the Car

19: A day in the life of Greg Davies

20: Season 3 Deleted Scenes

21: Season 3 Outtakes

22: Season 3 Easter Egg

25: Movie Trailer 1

26: Movie Trailer 2

29: Meet the Cast

30: Season 1 Deleted Scence 1

The Headmaster's Office

31: Season 1 Deleted Scence 2

Walk to English

not specified

27: Rude Road Trip

The E4 comedy's four leading men James Buckley (Jay Cartwright), Joe Thomas (Simon Cooper), Blake Harrison (Neil Sutherland) and Simon Bird (Will McKenzie) have travelled to rude place names across the country including Old Sodom Lane and Adams Bottom to raise money for Comic Relief. The vehicle for the job was the show's bright yellow Fiat Cinquecento Hawaii, which, as Inbetweeners fans will know, caused much embarrassment for Simon when his father bought it for him after he passed his driving test. It also sported the odd red door, which replaced the passenger seat one after it was knocked off in the episode where the four lads go to Thorpe Park for the day. They were given their mission by actor Greg Davies, who played their sarcastic and antagonistic sixth form head Mr Gilbert.

Monday, September 6th, 2010

1: First Day Back

In a prequel to series three, Will, Simon, Jay and Neil discuss the school holidays, Will's 'accident' and the delights of being in the top year.

Monday, October 4th, 2010

28: The Inbetweeners - Revealed!

Thursday, February 3rd, 2011

34: Rude Road Trip (Comic Relief Special)

Comic Relief Special - As part of Red Nose Day 2011, Simon Bird, Joe Thomas, James Buckley and Blake Harrison jump in the yellow Fiat and hit the road in search of the rudest place names going.

Sunday, August 14th, 2011

23: The Inbetweeners - Top Ten Moments

This one-hour special counts down the top ten moments taken from all three series of The Inbetweeners. As well as revealing the top ten clips as voted for by the viewers, the programme meets the four actors who play Neil, Simon, Will and Jay, and hears from celebrity fans of the show, including Jimmy Carr, Harry Enfield, Matt Dawson, Ricky Gervais, The Saturdays and The Only Way Is Essex stars Mark Wright and James Argent.

Wednesday, August 17th, 2011

2: The Inbetweeners Movie

Will, Neil, Simon and Jay, four socially troubled eighteen-year-olds from the south of England go on holiday to Crete.

Wednesday, August 17th, 2011

24: The Inbetweeners Movie

Will, Neil, Simon and Jay, four socially troubled eighteen-year-olds from the south of England go on holiday to Crete.

Sunday, August 3rd, 2014

37: The Inbetweeners Go Global

Smashing UK box office records back in 2011, The Inbetweeners Movie took the world by storm following the runaway success of the hit E4 series. On the eve of the eagerly anticipated new movie release of The Inbetweeners 2, this special programme finds out just what it is about four uncool sixth-formers from suburbia that has caused audiences to take them to their hearts. Featuring a sneak peek behind the scenes of the sequel, classic moments from the series and first film, and interviews with cast, crew and celebrity fans. The show takes a look back at what's made them such iconic characters and finds out why this year's The Inbetweeners 2 is the most hotly anticipated comedy film of 2014.

Wednesday, August 6th, 2014

3: The Inbetweeners 2

Jay, Neil, Simon, and Will reunite in Australia for a holiday.
Season 1
Thursday, May 1st, 2008

1: First Day

When his father walks out on his mother and himself, bespectacled, nerdy Will McKenzie is forced to leave his private school and enrol at the local comprehensive, where his accent and appearance make him an easy target for the school psycho. Seeking to make friends with 'normal' boys he pals up with Jay, Neil and Simon, but none of them are exactly winners, as is evidenced when they try to buy alcohol in a pub

Thursday, May 1st, 2008

2: Bunk Off

The four bunk off School and get drunk. Simon tells Carli D'amato he loves her by writing it on her drive way in big letters. It ends badly when Simon and Will's parents find out what they've been doing all day.

Thursday, May 8th, 2008

3: Thorpe Park

Simon passes his driving test at the first attempt, less on account of his skills than the fact that Tracey, the saucy examiner, finds him cute. As promised, he agrees to take his three friends to Thorpe Park, where he can get in free as he knows the man who clears up the sick. Once on the road, Will, Jay and Neil realize that Simon is a rubbish driver. (Until The Happy Foundation Shows Up)

Thursday, May 15th, 2008

4: Will Gets a Girlfriend

To the amazement - and annoyance - of the other three boys, Will wins a Blind Date competition which pairs him off with Charlotte Hinchcliffe, the most desired girl in the school, and he even ends up in bed with her though he keeps his socks on.

Thursday, May 22nd, 2008

5: Caravan Club

The boys call Jay's bluff and agree to go to the Camber Sands meeting of the Caravan Club to see if it really is 'like a massive orgy'. Jay's dad is on hand to give advice on all matters sexual, whether they want it or not, Simon is falsely accused of rape, Will 'skids' and Neil leaves a surprise on Simon's car seat.

Thursday, May 29th, 2008

6: Xmas Party

As the only person to have volunteered for the job, Will is elected Chairman of the Organization Party for the end of term Christmas bash and ropes the other three boys into being his assistants. Simon, needless to say, is keen to use the opportunity to declare his public love for Carli D'Amato, which proves to be anything but a good idea.
Season 2
Thursday, April 2nd, 2009

1: The Field Trip

It's a new term and the infamous sociology and geography field trip to Swanage is coming up; all the boys are on board. A new girl, Lauren, has joined the school, and Will has taken a particular shine to her. The only problem is that she has eyes for Simon. Jay is on the lookout for a legendary Swanage MILF, and Neil is desperately trying to deflect the advances of an over-friendly teacher, Mr Kennedy.

Thursday, April 9th, 2009

2: Work Experience

Following a disappointing Valentines Day a mix-up in the work experience programme means that Neil gets to work in a newspaper office whilst Will is stuck in a garage, where he gets stripped and thrown in a pond as an initiation ceremony. Unwisely he inadvertently invites a work colleague to the school disco, where Simon gets a pleasant surprise from a female admirer.A run-in with a younger boy, however, means that ultimately the boys end up facing their customary public humiliation.

Thursday, April 16th, 2009

3: Will's Birthday

It's Will's seventeenth birthday and he is planning a dinner party but it clashes with a more popular bash so that his only guests are Neil, Jay, Simon and Simon's exchange student Patrice. Out of boredom they gate-crash the other party but only one of them is asked to stay and then bedded by the hostess as a sex object. The other four are sent packing. Needless to say none of those four are French.

Thursday, April 23rd, 2009

4: Night Out in London

Will decides the boys should reinvent themselves as trendy clubbers and they drive to London in Simon's car, though to gain entry to the best club in town Simon must swap his trainers for a tramp's filthy old shoes. Neil cuts his penis weeing into a can and when Jay inspects the damage they are ejected as perverts. Can things get any worse for the lads? The wheel-clamping of Simon's car might provide the answer.

Thursday, April 30th, 2009

5: The Duke of Edinburgh Awards

Will is asked to co-ordinate the school's Duke of Edinburgh award scheme, and immediately turns the situation to his advantage, using it as an opportunity to volunteer at an old peoples home to try and snare his former babysitter. The other boys help out, except for Simon who has problems of his own.

Thursday, May 7th, 2009

6: End of Term

Will is stressed over his exams. Simon seems to be making some headway with Carli at last. Looking back on the year the boys realise that things have not been all that bad, but that if they ever had their time again Jay would be less sensitive, Simon would take Carli's word with a pinch of salt. Will would drink a lot fewer energy drinks and Neil would remember his kit for his PE exam
Season 3
Monday, September 13th, 2010

1: The Fashion Show

It's the start of term and Carli is organising a charity fashion show, and like every school fashion show it's only for the coolest and best looking kids. This means our four heroes aren't involved - or at least not until the last minute when Carli's desperate, but their help proves to be a bigger hindrance than anyone could have imagined.

Monday, September 20th, 2010

2: The Gig and the Girlfriend

Simon wants to date a girl in the year below and to try and impress her, he goes to his first gig since his mum took him to see Take That at Wembley Arena. Will, Jay and Neil end up going as well which spoils Simon's chances.

Monday, September 27th, 2010

3: Will's Dilemma

Simon and his new girlfriend Tara go on a double date with Will and her friend Kerry. Simon ends up having his principles put to the test. Will has to balance up spending some time with a boring girl for the prospect of getting some real action.

Monday, October 4th, 2010

4: The Trip to Warwick

Simon and Tara visit pay her sister a visit at university and his friends decide to tag along. Will wants to take a look at the university. Jay decides to offer sex advice to Simon.

Monday, October 11th, 2010

5: Home Alone

Will is left home alone when his mother goes away for the weekend with an old schoolfriend, so he decides to take advantage of the situation. After a wild time with the boys ordering items off the internet and raiding the fridge, he wakes up to an unpleasant shock.

Monday, October 18th, 2010

6: The Camping Trip

Will decides to organise one last adventure for his friends before they all go their separate ways, so the gang heads off for a camping trip in the countryside. While Will draws on all his scout training, Jay, Neil and Simon are less than prepared for the great outdoors.