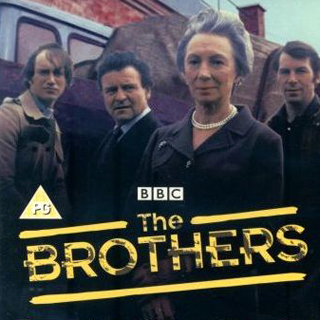 Season 1
Friday, March 10th, 1972

s1e1: The End of the Beginning

After the founder of Hammond Transport dies, his widow and three sons must deal with his will that greatly affects the three brothers.

Friday, March 17th, 1972

s1e2: Down to Business

Edward makes his bid for total control of the family business.

Friday, March 24th, 1972

s1e3: Confrontation

Mrs Hammond wants to see Jennifer, but Jennifer is reluctant.

Friday, March 31st, 1972

s1e4: Decisions

David decides whether to stay in the family business, or sell his shares to Edward.
Season 0
Sunday, February 10th, 2008

s0e1: The Cult of... The Brothers

On Sunday 10th February 2008, BBC 4 aired a retrospective of The Brothers as part of their CULT OF SUNDAY strand devoted to the classic drama serials broadcast on Sunday evenings. Many of the cast of The Brothers took part including Colin Baker, Kate O'Mara, Jennifer Wilson, Richard Easton, Robin Chadwick, Liza Goddard and Gabrielle Drake.
Season 1
Friday, April 7th, 1972

s1e5: The Party

The Hammonds are invited to a party given by an old friend of their father.

Friday, April 14th, 1972

s1e6: Turning Point

Conflicting individual interests causes family boardroom arguments.

Friday, April 21st, 1972

s1e7: The Perfect Day

Hammond Transport is ready to expand, until an unexpected crisis happens, then plans and people are put on hold.

Friday, April 28th, 1972

s1e8: Crisis

The financial crisis at Hammond Transport becomes more acute, and has repercussions for relationships within the family.

Friday, May 5th, 1972

s1e9: A Worm in the Bud

Hammond Transport is threatened by a take-over bid.

Friday, May 12th, 1972

s1e10: Full Circle

The future of Hammond Transport is getting better, but problems within the family continue, and new outside alliances form.
Season 2
Sunday, January 14th, 1973

s2e1: A Family Gathering

Mary Hammond returns from recuperation abroad, determined to drive a wedge between Edward and Jennifer. Harry Carter, of Carter's Express Deliveries, puts in an impressive offer for land adjoining the Hammond depot - land Edward thought was already promised to his firm.

Sunday, January 21st, 1973

s2e2: Wheels and Deals

When Mary finds a phone number in Edward's pocket she learns an ex-girlfriend is back on the scene. It is another weapon in her war against Jennifer. The Board have to vote on a take-over bid for Carter's firm. Edward will be against it. Or will he ?

Sunday, January 28th, 1973

s2e3: The Trojan Horse

Hammond Transport plans to take over Carter Express. However, Harry Carter knows more about the Hammond family than they think. Mary continues to manipulate the lives of her children but with Edward she may have gone too far.

Sunday, February 4th, 1973

s2e4: Snakes and Ladders

The Hammond family is divided over whether to take on Carter. It's in a deadlock, unless somebody changes sides. Ann confronts Brian about his new lady friend.

Sunday, February 11th, 1973

s2e5: Labour Pains

Harry Carter has cunningly invited all the Hammonds around to his apartment for drinks. One by one the brothers drop out, which leaves Mary and Jennifer the only guests that turn up ! Barbara is in awe of her new art tutor Nicholas Fox and at the depot trouble is brewing between the Carter and Hammond drivers…

Sunday, February 18th, 1973

s2e6: Negotiations

With strike action threatened, the Union is called in to settle the conflict with the two sets of drivers. Carter is determined that the Union won't have a say in the way he handles the unrest, but Ted is a much more experienced negotiator. David falls for the charms of Jill's flatmate Julie.

Sunday, February 25th, 1973

s2e7: Declaration of Independence

Ann's continued bating of Brian reaches a climax when she interrupts his evening with Pamela. The firm sinks deeper into debt, Ted pressures Brian into keeping them afloat. Barbara and her mother clash over her friendship with Nicholas.

Sunday, March 4th, 1973

s2e8: Errors of Judgment

Hammond Transport is struggling to complete it's delivery commitments. Barbara intends to go to Paris with Nicholas and Ann is using all her wily skills to gain Mary's support as she makes a move to keep Brian onside. A Board meeting reveals the extent of Hammond's troubles. The cash flow is perilous. They need to recoup their debts urgently.

Sunday, March 11th, 1973

s2e9: Storm Birds

The drivers strike continues over the use of Harry Carter's non-Union drivers. A full meeting of the Board members and Union representatives is made more difficult by Carter antagonising the Union. Jill and Julie call on Mary but Julie does not endear herself to the Hammond matriach. Negotiations falter and Hammond Transport is starting to flounder under the weight of the problem. Brian discovers Ann has been making secret visits to the family home.

Sunday, March 18th, 1973

s2e10: Tightrope

Whilst Harry wines and dines Jennifer, Ted arranges a late night meeting with Reg Turner and Bill. Ann arrives home unexpectedly to find Pamela waiting for Brian. Tom Parker has left the country, he owes Hammond Transport a lot of money. Without it they are sunk. Jill receives some devastating news. Carter plays a masterstroke to end the stalemate.

Sunday, March 25th, 1973

s2e11: A Marriage is Arranged

With the lorries back on the road, concern grows about the whereabouts of Tom Parker. Barbara is finding her trip to Paris with Nicholas Fox is not all she wanted it to be. Mary invites Jill to lunch and together they conspire to get David to the alter. Brian's discreet enquiries about Parker shows that he is in trouble, making finding him more urgent. Ted flies out to Parker's last known whereabouts in Corfu in a desperate bid to sort out the debt. Whilst he is away Carter makes a move for the Chair in the Board meeting.

Sunday, April 1st, 1973

s2e12: Women are Trumps

Edward has returned with grave news - Parker is going bankrupt. He also decides Carter has to go and gives him three options on which he can leave the company. But Carter wants buying out and cash is the one thing Hammonds do not have. Jill reveals the extent of her inheritance - £250,000. It occurs to Jill she might have the means to save Hammond Transport. With Pamela out of the picture, Ann and Brian start rebuilding their marriage.

Sunday, April 8th, 1973

s2e13: No Hard Feelings

The Hammond Board vote to buy out Harry Carter. He parts company on good terms with everyone - except Mary Hammond. David is not happy that Jill's money alone is keeping the business afloat. Ann plays her final hand in her game to get husband Brian to take her back. Despite constant bating from Julie, David marries Jill.
Season 3
Sunday, February 3rd, 1974

s3e1: The Hammond Account

The Hammonds are finding their feet and, with Jill's financial backing, can think of expansion again. They turn their attentions enthusiastically to Europe but David is strangely opposed to the idea.

Sunday, February 10th, 1974

s3e2: The Newly Weds

Barbara's marriage causes a stir. Why all the haste? And why the secrecy? No-one knows Johnny – but he knows that Barbara is a heiress.

Sunday, February 17th, 1974

s3e3: Suspicions

With their sights set on Europe, the Hammonds need a depot on the coast. So, at any rate thinks Brian. David, for reasons of his own, feels otherwise…

Sunday, February 24th, 1974

s3e4: Tug of War

Brian and David come into conflict, a new depot means more dependence on the guarantee provided by Jill, and there is enough tension already between her and David.

Sunday, March 3rd, 1974

s3e5: Hijack

The Dover depot has started to operate. Edward and Riley go to Boulogne to collect a valuable load, but their every move is being watched…

Sunday, March 10th, 1974

s3e6: Riley

Riley is charged with conspiracy! Edward believes him innocent, despite his criminal record. But Jennifer reveals that is not his only secret.

Sunday, March 17th, 1974

s3e7: Trade Wind

The brothers prepare for a boom in business. But are they equipped to cope with it? More to the point is Edward?

Sunday, March 24th, 1974

s3e8: Echoes

With Edward away in Dover, Brian and David fail to agree. Meanwhile Julie is still on the scene and Ann's thoughts turn to Nicholas…

Sunday, March 31st, 1974

s3e9: An Impossible Debt

Jennifer guesses the source of Barbara's loan and suddenly Johnny's debts assume unimagined importance. Soon the whole Company is concerned…

Sunday, April 7th, 1974

s3e10: Power for Sale

The sale of Jennifer's shares gives Brian and David an opportunity – but can they agree terms?

Sunday, April 14th, 1974

s3e11: Conspirators

Brian and David start dealing for Jennifer's shares, and Edward's position is challenged. But both brothers find they need their wives' support.

Sunday, April 21st, 1974

s3e12: Perchance to Dream

A party to celebrate David's birthday creates a convivial atmosphere. But for Brian the evening ends with a shock…

Sunday, May 5th, 1974

s3e13: Return to Nowhere

Ann is taken to hospital and an anxious period ensues… Meanwhile, Edward and Jennifer get away from it all, and Julie surprises David.
Season 4
Sunday, September 1st, 1974

s4e1: Emergency

Edward and Jennifer return from holiday, anxious to acquaint Mary with their marriage plans but find her collapsed with another heart-attack. The Hammonds prove their ability to rally round in a crisis. A good time for Riley's wife, Gwen, to lend her assistance.

Sunday, September 8th, 1974

s4e2: Secret Meetings

As the debate about going public begins, manoeuvres are made for control of the board. In readiness Brian meets merchant banker Martin Farrell, while Edward sounds out Riley.

Sunday, September 15th, 1974

s4e3: Investigations

The first steps are made for the Hammonds to go public. Farrell prepares the investigations, and in the process notices the company's organisational weaknesses.

Sunday, September 22nd, 1974

s4e4: Happy Anniversary

Riley and Farrell join the Hammonds' Board. At once Brian and Riley come into conflict. But Brian's behaviour is really a reaction of his worsening relationship with Ann.

Sunday, September 29th, 1974

s4e5: Partings

Edward and Brian attend a lunch in the city with Paul Merroney, a merchant banker, to launch Hammonds as a public company. Edward begins to act the role but Brian looks far from the part.

Sunday, October 6th, 1974

s4e6: Loneliness

Brian and Ann apart face the problems of loneliness; by contrast Martin Farrell and Jennifer enjoy dinner together. Meanwhile the Hammonds are invited to a shoot – on business.

Sunday, October 13th, 1974

s4e7: Hit and Miss

The procedure for making Hammonds a public company get underway, and the directors attend a shooting party to meet Sir Neville Henniswode – the chairman of their merchant bank.

Sunday, October 20th, 1974

s4e8: Public Concern

A local petition protesting about Hammonds lorries coincides with the firms moves to go public. But it is not only the residents the Board has to face.

Sunday, October 27th, 1974

s4e9: The Race

David, with the company's sponsorship, has his first experience of driving in a race. In an atmosphere of tension and excitement, Jill watches his performance.

Sunday, November 3rd, 1974

s4e10: Saturday

The men want a share of the fat profit they think Hammonds will make when they go public – if not, they may strike at a vital moment. Brian is involved in a serious car accident.

Sunday, November 10th, 1974

s4e11: The Guilt Behind the Gingerbread

The unrest at the depot continues – is Bill Riley behind it, trying to jeopardise the share issue ?

Sunday, November 17th, 1974

s4e12: A Bad Mistake

Edward meets prospective business-world share holders, but his frankness causes a set back.

Sunday, November 24th, 1974

s4e13: The Fall Guy

The company goes public – in an atmosphere of tension the share issue is placed on the market.

Sunday, December 8th, 1974

s4e14: The Crucial Vote

Edward fights for survival as Chairman and Managing Director of Hammond Transport Services Limited – and everyone's loyalty is tested to the full.
Season 5
Sunday, April 6th, 1975

s5e1: Life Goes On

The Hammond family has changed considerably in recent months – both publicly and privately – their future is wholly uncertain.

Sunday, April 13th, 1975

s5e2: The Self Made Cross

David finally comes to terms with Jill's death but the effects of Brian's divorce are about to reverberate into the future…

Sunday, April 20th, 1975

s5e3: Tiger by the Tail

Paul Merroney is proving to be a man of determined ambition with confident plans for Hammond Transport. Brian however is less sure of himself.

Sunday, April 27th, 1975

s5e4: Breakdown

Combining business and pleasure during a skiing holiday in Switzerland, Edward checks out a depot in Geneva which Merroney is keen to buy. Jennifer interviews potential staff.

Sunday, May 4th, 1975

s5e5: Special Licence

While everyone's attention is on Edward and Jennifer's wedding, Paul Merroney tries to manipulate Brian's business affairs.

Sunday, May 11th, 1975

s5e6: Flight of Fancy

During an early morning Board meeting, the Hammonds and Bill Riley learn that Merroney intends to bid on the same day for the ailing company. His work will be made difficult by a very tough lady – Jane Maxwell.

Sunday, May 18th, 1975

s5e7: A Very Short Honeymoon

On the surface, Mary seems to have accepted Jennifer as her daughter-in-law, but Edward doubts his mother's ability to avoid causing trouble.

Sunday, May 25th, 1975

s5e8: Big Deal

The alterations of Edward and Jennifer's new home are well in hand, but however much they would like to relax in their new home, the demands of business are never far away.

Sunday, June 1st, 1975

s5e9: Package Deal

While Edwards settles comfortably into marriage and David starts to enjoy life again, Paul Merroney quietly and skilfully begins to feather his own nest…

Sunday, June 8th, 1975

s5e10: End of a Dream

Edward and Jennifer move into their new home. The furniture has been delivered, ad the alterations are complete. All they need now is the go-ahead to start a family…

Sunday, June 15th, 1975

s5e11: The Judas Sheep

Having settled into their new house and discovering they cannot have children, Jennifer and Edward decide to adopt. They little realise the difficulties they must first overcome.

Thursday, May 22nd, 1975

s5e12: Jennifer's Baby

Merroney returns from the Lebanon, bringing with him the man he hopes will finance a new business deal. His interests seem to be with Clare Miller. Edward and Jennifer's only interest is their new baby.

Sunday, June 29th, 1975

s5e13: Warpath

An attempt by the Hammonds to oust Merroney is doomed to failure from the start. Is Merroney a natural winner or are the Hammonds born losers ? There is plenty of evidence to support both points of view…
Season 6
Sunday, January 25th, 1976

s6e1: Red Sky at Night

Life has changed dramatically for the Hammond brothers. Edward is the father of an adopted son, Brian recovers from his divorce and a breakdown in Italy and David is finding his social feet.

Sunday, February 1st, 1976

s6e2: A Clean Break

Edward and Jennifer's worst fears have been realised and William's natural mother has asked for him back. Jennifer is determined to keep him.

Sunday, February 8th, 1976

s6e3: Red Sky in the Morning

Hammond Transport is on the threshold of expansion into Europe beginning in France. David's enthusiasm for the place has more to do with Therese d'Alembert than with business opportunities.

Sunday, February 15th, 1976

s6e4: Oranges and Lemons

On their way back from France, David and Stacey have been searched by Customs Officials at Dover. Everyone – particularly Paul Merroney – wonders why ?

Sunday, February 22nd, 1976

s6e5: When Will You Pay Me?

Paul Merroney considers it is high time Edward resumed his responsibilities as Managing Director of Hammond Transport. He enlists Riley's help in the endeavour.

Sunday, February 29th, 1976

s6e6: Tender

News that RAI Transport is going into liquidation smothers the Hammond grapevine and Jenny decides that here is her chance to prove what form she is in.

Sunday, March 7th, 1976

s6e7: The Mole

Griffith Trevelyan, Chief Sales Executive of RAI Transport, the collapsing firm for whose oil rig installation the Hammonds wish to bid for, decides to play one contender off against another.

Sunday, March 14th, 1976

s6e8: The Chosen Victim

Jane Maxwell senses trouble when a small aircraft belonging to Luxury Air, part of John Kirkman's vast private company, stops at Dover airfield ostensibly to refuel.

Sunday, March 21st, 1976

s6e9: Blood and Water

John Kirkman has made an offer of 80p a share for Hammond Transport. The level has been cleverly pitched: not too high to arouse suspicion, not too low for Paul Merroney to ignore.

Sunday, March 28th, 1976

s6e10: The Devil You Know

Since the Hammond Board is evenly divided about Kirkman's offer, the final decision seems to rest with Paul Merroney. But can Sir Neville influence him ?

Sunday, April 4th, 1976

s6e11: Try, Try Again

The Hammond Board has rejected Kirkman's offer for the company and this has meant quite a victory for Paul Merroney. But Brian feels that Hammonds need help if they are to function in Europe.

Sunday, April 11th, 1976

s6e12: The Bonus

Although Brian and Edward have been discouraged from the idea of Hammonds merging with Van der Merwe, Paul Merroney is determined to find out exactly what the advantages would be.

Sunday, April 18th, 1976

s6e13: Birthday

Two important occasions: the first is Mary's birthday, the second is a SGM of the Hammond share-holders whose support for the merger with Van der Merwe,
Season 7
Sunday, September 5th, 1976

s7e1: To Honour and Obey

Hammonds Transport has merged with Van der Merwe. Merroney is marrying a bankers daughter and today is the wedding day…

Sunday, September 12th, 1976

s7e2: Home and Away

The honeymoon is over and its business as usual. Ann Hammond visits and wants to see Brian, but Edward is not so sure.

Sunday, September 19th, 1976

s7e3: Invitations

Ann turns up to see Brian and all the family is pulled into her search for reassurance.

Sunday, September 26th, 1976

s7e4: The Female of the Species

Jenny's off to Canada, Merroney to Amsterdam again, leaving Edward and April at a lose end.

Sunday, October 3rd, 1976

s7e5: Manoeuvres

David makes another attempt to get the better of Paul Merroney… all he needs is Simon Winter's backing…

Sunday, October 10th, 1976

s7e6: Arrivals and Departures

Merroney pushes Hammond Brothers into further plans for expansion, but a family bereavement reveals a new callous aspect to his character.

Sunday, October 17th, 1976

s7e7: The Distaff Side

A premature Board meeting is far from being a routine matter. It holds several surprises… David has sent a letter of resignation!

Sunday, October 24th, 1976

s7e8: Cross Currents

Mary returns from convalescence to find her family united in their opposition to Merroney's expansionist plans for the company – but emotionally in disarray…

Sunday, October 31st, 1976

s7e9: Ripples

Merroney, aware that the majority of the Hammond Board will vote against his scheme, decides to pre-empt them and Jennifer's outburst has unforeseen consequences.

Sunday, November 7th, 1976

s7e10: Celebration

The new freight planes are ready for delivery. To celebrate this Jane throws a party, at which April seems to get on well with her escort, them Merroney arrives…

Sunday, November 14th, 1976

s7e11: Windmills

One of the new freight planes has failed to reach its destination. The loss is covered by insurance – or is it?

Sunday, November 21st, 1976

s7e12: The Golden Road

Hammond Board members cast their votes to the Middle East project. The line up is 2 – 4 against and Merroney needs to level the odds.

Sunday, November 28th, 1976

s7e13: Out of the Blue

Will the bank lend Hammonds the money they need? Or will Merroney have to put into action Plan No. 2? The family could finally lose control of the company.

Sunday, December 5th, 1976

s7e14: The Knock on the Door

Mary fights a last-ditch battle to prevent the Hammonds losing control of their company. She calls a family meeting. Merroney may lose a more personal battle though…

Sunday, December 12th, 1976

s7e15: The Ordeal

Gwen is summoned to hospital when her son is involved in an accident. Will his injuries be serious? And where is Bill?

Sunday, December 19th, 1976

s7e16: The Christmas Party

The firms Christmas party makes Mary realise how the firm is changing. The business is slipping away from family control, as is the family from Mary.