update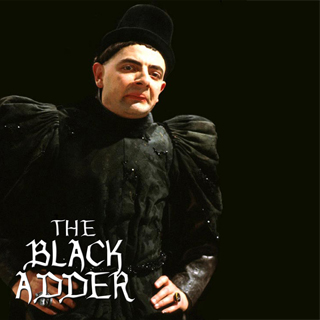 Season 0
not specified

32: Rowan's Essay on TV Comedy

not specified

1: Unaired Pilot

With his father away at the Crusades, Edmund comes up with a plan to prove his brother is illegitimate, thus making him Prince Regent. The Blackadder pilot was shot but never aired on terrestrial TV in the UK (although some scenes were shown in the 25th anniversary special Blackadder Rides Again). One notable difference in the pilot, as in many pilots, is the casting. Baldrick is played not by Tony Robinson, but by Philip Fox. Another significant difference is that the character of Prince Edmund presented in the pilot is much closer to the intelligent, conniving Blackadder of the later series than the sniveling, weak Edmund of the original series. Set in the year 1582, the script of the pilot is roughly the same as the episode "Born to be King", albeit with some different jokes, with some lines appearing in other episodes of the series.

not specified

13: Interview - Rowan Atkinson

An Interview with Rowan Atkinson about his time as Blackadder

not specified

15: Richard Curtis & Ben Elton in Soho

The writers chat about how the show was created.

not specified

17: Miranda Richardson at the BBC

Miranda Richardson is interviewed at the BBC about her time as the Queen on Blackadder as well as the other characters she played.

not specified

18: Hilary Bevan Jones at BAFTA

Hilary Bevan Jones is interviewed.

not specified

20: Rik Mayall in London

The legendary Rik Mayall chats about himself and how he took over the show as Lord Flashheart, in his own unique style.

not specified

25: Britain's Best Sitcoms - Blackadder

This programme was broadcast early in 2004 and was part of a series of programmes where viewers were asked to vote for their favourite sitcom. Each programme featured a particular comedy sitcom and was championed by separate celebrities. This programme featuring "Blackadder" has John Sergeant Iannucci saying why he feels it was the best Comedy Sitcom. A number of excepts are shown including some behind the scenes rehearsals, Various guests and actors from the show give an insight into the programme including Richard Curtis, Ben Elton, Stephen Fry, John Lloyd, Tony Robinson, Tim McInnerny, Hugh Laurie, Brian Blessed, Michael Grade, Dr Gary Sheffield, Lucy Moore, Miranda Richardson, Howard Goodall, Tony Aitken, Gabrielle Claister, Mandie Fletcher, Chris Wadsworth and Richard Boden.

not specified

26: Wogan Interviews Baldrick (Children in Need 1988)

not specified

27: Interview - Rowan Atkinson #2

Rowan Atkinson continues to go over his time on Black Adder

not specified

31: Miranda, Tony, Tim & Patsy go back to the BBC

Miranda, Tony, Patsy and Tim go back to the BBC to look at their old costumes. Do any of them still fit?

not specified

33: Bloopers

not specified

14: Interview - Stephen Fry in Africa

Stephen Fry talks about his time on the show, and his characters.

not specified

16: Tony Robinson in London

Tony Robinson talks about his time on Black Adder and his Baldrick character.

not specified

19: Hugh Laurie on set in Hollywood

Hugh Laurie chats about Blackadder and the varios roles he played in the series.

not specified

21: Costume Revisit

Friday, February 5th, 1988

2: The Cavalier Years

As the only two loyalists to King Charles (sounding a lot like Prince Charles), it is up to Blackadder and Baldrick to come up with a plan to save the King from Oliver Cromwell's death sentence. This special, set in the English Civil War, was shown as part of Comic Relief's Red Nose Day on Friday 5 February 1988. The 15-minute episode is set in November 1648, during the last days of the Civil War. Sir Edmund Blackadder and his servant, Baldrick, are the last two men loyal to the defeated King Charles I of England (played by Stephen Fry, portrayed as a soft-spoken, ineffective, slightly dim character, with the voice and mannerisms of Charles I's namesake, the current Prince of Wales). However, due to a misunderstanding between Oliver Cromwell (guest-star Warren Clarke) and Baldrick, the king is arrested and sent to the Tower of London. The rest of the episode revolves around Blackadder's attempts to save the king, as well as improve his standing.

Friday, December 23rd, 1988

3: Blackadder's Christmas Carol

In the late 1800s, a kind and generous Ebenezer Blackadder is visited the Ghost of Christmas Past, who shows him visions of his ancestors, and the future of the Blackadders if he does not follow the family tradition. The second special was broadcast on Friday 23 December 1988. In a twist on Charles Dickens' A Christmas Carol, Ebenezer Blackadder is the "kindest and loveliest" man in England. The Spirit of Christmas shows Blackadder the contrary antics of his ancestors and descendants, and reluctantly informs him that if he turns evil his descendants will enjoy power and fortune, while if he remains the same a future Blackadder will live shamefully subjugated to a future incompetent Baldrick. This remarkable encounter causes him to proclaim, "Bad guys have all the fun", and adopt the personality with which viewers are more familiar.

Monday, September 18th, 1989

4: The Shakespeare Sketch

This non-canonical sketch was performed on stage at the Sadlers Wells Theatre on 18 September 1989. It was written for and performed at an AIDS benefit concert directed by Stephen Fry, and features Rowan Atkinson as a Blackadder-esque character chatting with Hugh Laurie as "Bill" Shakespeare, talking about cutting various sections of Hamlet – in particular the "To be or not to be" soliloquy. Ultimately, Blackadder talks Shakespeare down from an over-long speech to the familiar 'snappy' phrase. The sketch was available on video as part of Hysteria 2 – The Second Coming, released by Palace Video on 21 May 1990

Saturday, November 14th, 1998

5: The King's Birthday

Blackadder is commissioned to provide entertainment for the royal gala for King Charles. A short sketch performed at the Prince of Wales' 50th Birthday Gala. It featured Rowan Atkinson as Lord Blackadder and Stephen Fry as King Charles II, and was televised on ITV (in the UK) on 14 November 1998.

Friday, December 31st, 1999

6: Blackadder Back & Forth

It's New Year's Eve 1999, and Blackadder makes a bold claim to his contemporaries. He claims Baldrick has built a time machine with which Blackadder will get historical evidence. What no one knows is that Baldrick really has invented a time machine, with one slight flaw. That sends Blackadder and Baldrick on a millennium's worth of adventure. Blackadder: Back & Forth was originally shown in the Millennium Dome in 2000, followed by a screening on Sky One in the same year (and later on BBC1). It is set on the turn of the millennium, and features Lord Blackadder placing a bet with his friends – modern versions of Queenie (Miranda Richardson), Melchett (Stephen Fry), George (Hugh Laurie) and Darling (Tim McInnerny) – that he has built a working time machine. While this is intended as a clever con trick, the machine, surprisingly, works, sending Blackadder and Baldrick back to the time of the dinosaurs, where they manage to cause the extinction of the dinosaurs, through the use of Baldrick's best, worst and only pair of underpants as a weapon against a hungry T.Rex. Finding that Baldrick has forgotten to write dates on the machine's dials, the rest of the film follows their attempts to find their way back to 1999, often creating huge historical anomalies in the process which must be corrected before the end. The film includes cameo appearances from Kate Moss and Colin Firth.

Thursday, October 19th, 2000

7: The Army Years

A short monologue performed at the Dominion Theatre for the Royal Variety Performance 2000. It features Rowan Atkinson as the modern-day Lord Edmund Blackadder of Her Royal Highness's regiment of Shirkers. The sketch was written and introduced by Ben Elton, who was the compère of the evening.

Monday, January 1st, 2001

23: An Interview With Richard Curtis

Edited from Laughter in the House: The Story of British Sitcom (1999)

Saturday, June 1st, 2002

24: The Royal Gardener

Rowan Atkinson has created a new reincarnation of Blackadder for a TV advert promoting the Queen's jubilee concert. The new character, Sir Osmond Darling-Blackadder, is keeper of Her Majesty's lawn sprinkler.

Monday, September 15th, 2003

8: Baldrick's Video Diary - A BlackAdder in the Making

A behind-the-scenes featurette, "Baldrick's Diary."

Monday, May 12th, 2008

9: Blackadder's Most Cunning Moments

A countdown of the top 40 "Blackadder" moments chosen by cast and crew members, celebrity fans and 15 genuine Blackadders.

Thursday, October 9th, 2008

10: Blackadder Exclusive - The Whole Rotten Saga

To mark the 25th anniversary since the first transmission of Blackadder in 1983, the iconic cast of the much-loved sitcom appear together in a documentary for the first time. The show includes an exclusive in-depth interview with Edmund Blackadder himself, Rowan Atkinson - the first time he has agreed to be interviewed about his experience making the show.

Thursday, December 25th, 2008

11: Blackadder Rides Again

Rowan Atkinson and the cast of the legendary comedy series Blackadder are back for a one-off documentary special this Christmas on BBC One. Blackadder Rides Again features the iconic cast in a documentary to mark 25 years since the original BBC transmission of the much-loved sitcom, first broadcast in 1983. Blackadder Rides Again includes the first-ever in-depth interview with Edmund Blackadder himself, Rowan Atkinson, about his personal experience of being involved in the sitcom and its phenomenal success. Set to join Rowan are the core cast and writing team who have gone on to become some of the greatest names in entertainment, both in the UK and US. These include: Stephen Fry, Hugh Laurie, Richard Curtis, Ben Elton, Miranda Richardson, Tim McInnerny and Tony Robinson. A 60 minute documentary produced by the BBC and broadcast on 25 December 2008, to celebrate the 25th anniversary of the show. It featured interviews with all of the major cast members and other contributors, including Rowan Atkinson, Stephen Fry, Hugh Laurie, Richard Curtis, Ben Elton, Miranda Richardson, Tim McInnerny and Tony Robinson. Rather than relying on 'talking head' interviews and clips from the show, the documentary included several pieces of rare, and even unseen material (behind the scenes clips, cut scenes from Series 1 etc.). It also reunited certain cast and crew members with their costumes, visited cast members on their current ventures, or took them to the original filming locations.

Wednesday, November 28th, 2012

12: Banker Sketch
Season 1
Wednesday, June 15th, 1983

1: The Foretelling

After arriving late for the Battle of Bosworth Field, Edmund kills King Richard III (whom he thinks is stealing his horse) and secures the crown for his father.

Wednesday, June 22nd, 1983

2: Born to Be King

With his father away at the Crusades, Edmund comes up with a plan to prove his brother is illegitimate, thus making him Prince Regent.

Wednesday, June 29th, 1983

3: The Archbishop

Edmund is appointed to the post of Archbishop of Canterbury after the king has the last one killed.

Wednesday, July 6th, 1983

4: The Queen of Spain's Beard

The King decides that Edmund should marry a Spanish Princess, who Edmund finds unattractive, in order to secure a treaty between Spain and England which will allow an invasion of France.

Wednesday, July 13th, 1983

5: Witchsmeller Pursuivant

Percy and Baldrick are to be burned at the stake with Edmund, when he is accused of being a witch.

Wednesday, July 20th, 1983

6: The Black Seal

After the King takes away Edmund's title of Duke, he recruits the 6 most evil men in the land to take the crown by force.
Season 2
Thursday, January 9th, 1986

1: Bells

Blackadder feels a funny attraction for his manservant and decides to marry when he discovers he is a she.

Thursday, January 16th, 1986

2: Head

After the Queen appoints Blackadder Lord High Executioner, he finds himself in trouble when the Queen pardons someone he executed ahead of schedule.

Thursday, January 23rd, 1986

3: Potato

After Sir Walter Raleigh takes the Queen's fancy by bringing her a potato, Blackadder decides to become an explorer with the aid of a legless sea captain.

Wednesday, February 5th, 1986

4: Money

The Queen hampers Blackadder's efforts to raise cash to pay off a debt to a sadistic bishop.

Thursday, February 13th, 1986

5: Beer

Blackadder's rich and Puritanical aunt and uncle pay him a visit to discuss his inheritance the same night he has a beer drinking contest.

Thursday, February 20th, 1986

6: Chains

Blackadder and Lord Melchett are kidnapped by a German spy right after the Queen decides she will pay no more ransom to kidnappers.
Season 3
Thursday, September 17th, 1987

1: Dish and Dishonesty

Blackadder becomes involved in politics by getting Baldrick elected MP, in an effort to stop the new Prime Minister, Pitt the Younger, from striking the Prince off the Civil List.

Thursday, September 24th, 1987

2: Ink and Incapability

Blackadder has one weekend to rewrite a dictionary the Prince Regent is sponsoring after Baldrick burns the only copy.

Thursday, October 1st, 1987

3: Nob and Nobility

After the Scarlet Pimpernel gets high praises Blackadder makes a bet that he can go to France and rescue aristocrats, too.

Thursday, October 8th, 1987

4: Sense and Senility

The Prince Regent hires a pair of actors to teach him to give better speeches and earn the people's respect after an anarchist tries to blow him up at the theatre.

Thursday, October 15th, 1987

5: Amy and Amiability

After Parliament cuts off the Prince's money he decides to marry a rich lady who obtains her money by moonlighting as a notorious highwayman.

Thursday, October 22nd, 1987

6: Duel and Duality

The Duke of Wellington has challenged the Prince to a duel for seducing his daughters and the Prince offers Blackadder anything he wants to take his place.
Season 4
Thursday, September 28th, 1989

1: Plan A: Captain Cook

Blackadder tries painting and cooking as ploys to avoid the scheduled big push out of the trenches.

Thursday, October 5th, 1989

2: Plan B: Corporal Punishment

Edmund is sentenced to death by firing squad for shooting and eating the General's favorite messenger pigeon.

Thursday, October 12th, 1989

3: Plan C: Major Star

Blackadder grabs yet another opportunity to return to England by organizing a morale-raising music hall show, including Baldrick's Charlie Chaplin impersonation and George's appearance as a lady songstress who captures the General's heart.

Thursday, October 19th, 1989

4: Plan D: Private Plane

Blackadder and the boys join the Royal Air Corps, where they are promptly shot down behind enemy lines.

Thursday, October 26th, 1989

5: Plan E: General Hospital

Blackadder is assigned to find the spy working out of the hospital.

Thursday, November 2nd, 1989

6: Plan F: Goodbyeee

Blackadder tries everything he can think of to get sent back to England when orders come in to go over the top in the first charge against the Germans since 1914.