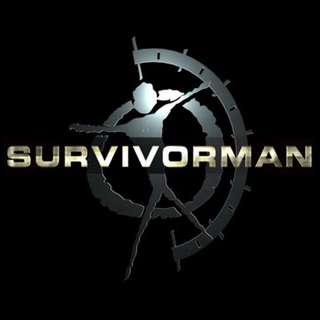 Season 0
Wednesday, June 8th, 2005

s0e1: Behind the Scenes (S01)

"Behind the Scenes" is an intimate one-hour look at the making of the Survivorman series. We go behind the scenes of this popular show to take a look at clips and outtakes over the nine episodes.

Tuesday, November 28th, 2006

s0e2: Off the Grid with Les Stroud

Les and his wife will explore the difficulty of building a 'green' home entirely off the power grid.

Friday, September 21st, 2007

s0e3: Behind the Scenes (S02)

Catch up on all of Stroud's adventures in season two of "Survivorman" in this episode highlighting the most exciting segments this season and featuring amazing never-before-seen footage and additional survival tips.
Season 1
Wednesday, April 6th, 2005

s1e1: Canadian Boreal Forest

The Boreal forest of Northern Canada is a vast tract of wilderness stretching from the Atlantic Ocean to the Pacific. It is home to moose and beaver, crisscrossed by rivers and lakes and frost-free for only about three months of the year. Les intentionally tips his canoe in mid-stream and crawls from the icy waters onto shore where he does a quick inventory of his supplies. A handful of cashews and beef jerky, a solitary match, a multi-tool and 50 lbs of camera equipment to document the next seven days in the bush.

Wednesday, April 13th, 2005

s1e2: Arizona Desert

The Sonora Desert in the South-Western United States covers an area of approximately 120,000 square miles. It is an arid, seemingly barren environment with scorching daytime highs and freezing overnight lows. Riding a dirt bike out into the official middle of nowhere, Les simulates a break-down scenario. He empties out the contents of his pack - half a gallon of water, a snack bar and his multi-tool-7 more days!

Wednesday, April 20th, 2005

s1e3: Costa Rica

A Costa Rican getaway - as far removed from everyday living as you can imagine: lush rainforests and deserted tropical beaches. Marooned on Costa Rica's Osa Peninsula, Les "Survivorman" Stroud has only a few items to aid him for the next 7 days: swimming goggles, 3 ballpoint pens, a multi-tool and the clothing on his back. On top of the keeping hydrated in the intense humidity and relentless heat, Les must cope with deadly snakes, enormous spiders, land-crabs and scorpions.

Wednesday, April 27th, 2005

s1e4: Georgian Swamp

The swamplands of Georgia's Altamaha River Basin are all that one would expect of a Primordial bog: dank, menacing, swimming with slithering creepy-crawlies and, of course, alligator-infested. This is the welcoming environment Les Stroud will be immersed in for seven sweaty days and bone-chilling nights.

Wednesday, May 4th, 2005

s1e5: Canadian Arctic

Pond Inlet, on the Northern reaches of Baffin Island, provides one of the most challenging landscapes our planet has to offer. Over 700km north of the Arctic Circle, it sits amidst grinding, ever-shifting flows of sea-ice where polar-bears roam in search of meat. In this severe climate, Les has been equipped with a bare minimum of raw materials to aid him for the next 7 days - a hunk of uncooked seal-liver, some oil-rich blubber for heat, a seal-hook, three matches, and a knife.

Wednesday, May 11th, 2005

s1e6: Mountain

Les is airdropped onto a snow-covered peak in the Canadian Rockies courtesy of the Canadian Mountain Air Rescue Service. They'll come looking for him in seven days. Until then Les is entirely on his own, save for the grizzlies, cougars and wolves that also call this place home. To emulate a real-life survival scenario - in this case a heli-hiking expedition come to grief - Les has been provided with a few readily salvageable items, among them a broken camcorder and tripod. One man's trash is another man's treasure!

Wednesday, May 18th, 2005

s1e7: Canyonlands

The spectacular red landscapes of Utah's canyonlands are as beautiful as they are inhospitable. Like outlaws of old who were known to eat their own horses out of desperation in this forlorn place, Stroud will cannibalize the mountain-bike he has ridden into the middle of nowhere. As well as these scavenged bike parts to aid him, he also has a multi-tool, a magnesium flint-stick and an old energy-bar - that he has a use for other than eating.

Wednesday, May 25th, 2005

s1e8: Plane Crash

In the remote winter-bound forests of Northern Ontario, a crashed plane lies in the snow beside a frozen lake. There is no one alive on board. But this plane didn't crash here - the decrepit old wreck has been airdropped from a helicopter to provide a temporary home for Survivorman. For a week Les will have to survive in this harsh snowy wilderness with only an axe, a multi-tool and a single blanket to aid him.

Wednesday, June 1st, 2005

s1e9: Lost at Sea

Living "off the land" takes on a new meaning as Les Stroud casts off for a week at sea. With no food and only a bare minimum of equipment, Stroud will be set adrift in an inflatable life raft off the coast of Belize. Battling hunger, thirst and the Caribbean heat, he must also keep his cameras dry to film the ordeal. To top it off - the life raft has a few bad leaks and needs constant bailing. It also leaks air and requires frequent re-inflation with a hand pump - Survivorman is in for a busy few days!
Season 2
Friday, August 10th, 2007

s2e1: Kalahari

Les begins the second season in the Kalahari Desert of southern Africa. The scenario: running out of gas in the middle of the desert. His supplies: enough water for only four days, two empty soda cans, an empty jar of peanut butter, some jam, an ostrich egg, a broken down truck, and a bucket. The dangers: the brutal summer heat where temperatures on the sand reach 140F/60C; dehydration and heatstroke; scorpions and highly venomous Cape cobras.

Friday, August 17th, 2007

s2e2: Amazon

Les finally gets to survive the one place he's always wanted to visit: the Amazon jungle in Ecuador. The scenario: brought by the natives into the jungle by canoe. The supplies: three feet of fishing line, a can of soda, a mosquito net, one match, "fire dust," a blowgun, a machete, and a spear. The dangers: stingrays, jaguars, spiders, ants, snakes, and scorpions. Added difficulty: Les is nursing a previous hip injury.

Friday, August 24th, 2007

s2e3: Labrador

Les journeys into Labrador in the Canadian Maritimes. The scenario: driving a dog sled team almost 100 miles back to civilization in late winter. The supplies: a .22 rifle, a bucket of caribou meat (for the dogs, not for him), and, for the first time, a self-designed survival kit. The dangers: hypothermia, getting lost, the weather's effect on the trail, and injury from the sled or the dogs. Added difficulties: the dogs aren't familiar with Les, the possibility of vicious fights between the dogs, and Les simulates the role of stranded dog sled driver.

Friday, August 31st, 2007

s2e4: African Plains

Les ventures into the plains of northeastern South Africa. The scenario: hot-air balloon crash. The challenge: hike back to the support crew. The supplies: a machete, a knife, a bottle of water, some rope, a small first-aid kit, and the balloon itself. The dangers: lions, leopards, elephants, buffalo, and the black mamba snake.

Friday, September 7th, 2007

s2e5: Alaska

This time Survivorman decides to demonstrate survival by sea kayak in an ocean bay called Taroka Arm (literally "black bear") for good reason. At this time of year, the salmon are active and are one of the black bear's favorite foods. Black bear and grizzlies that live in this area are among the largest in the world and gorge themselves on the silver salmon during this period.

Friday, September 14th, 2007

s2e6: South Pacific

Les demonstrates survival in the Cook Islands using SCUBA gear, a ship wreck and found articles.
Season 3
Friday, November 7th, 2008

s3e1: Sierra Nevada

Les tries to survive in the Sierra Nevada Mountains in California. This time he has more than just his trusty harmonica and his multi tool, He also has some basic backpacking gear as well like a tent, a sleeping bag, and a flashlight. When he doesn't show up at camp his team is forced to organise a Search and Rescue team to find him. Will they find him in time?

Friday, November 14th, 2008

s3e2: Colorado Rockies

"Survivorman" Les Stroud takes two horses into the Colorado Rockies and discovers the challenges of surviving for three.

Friday, November 21st, 2008

s3e3: Arctic Tundra

Stranded on northern Baffin Island, "Survivorman" Les Stroud learns harsh lessons in solo arctic survival in 24hour daylight.

Friday, December 5th, 2008

s3e4: Temagami Hunting

Survivorman Les Stroud finds himself scrounging to feed two people after a hunting trip goes wrong.

Friday, December 12th, 2008

s3e5: Australian Outback

Les Stroud is stranded in the outback when his ultralight airplane runs out of fuel.

Friday, December 19th, 2008

s3e6: Papua New Guinea

Les Stroud must survive in the jungles of Papua New Guinea.
Season 0
Wednesday, March 12th, 2014

s0e0:

s0e4: Stranded: Winter

Sunday, August 27th, 2006

s0e5: Urban Disasters: Flood

Stroud demonstrates techniques to survive flooding while in a house, an automobile, or an office building.

Monday, May 26th, 2008

s0e6: Surviving Alaska

Friday, January 19th, 2007

s0e7: On the View

Les Stroud is interviewed by the cast of The View. Episode number: 10x93

Friday, September 14th, 2007

s0e8: On The Late Late Show (1)

The Late Late Show with Craig Ferguson: Season 4, Episode 142. On Friday September 14th, 2007 Craig opens up with a monologue and then welcomes the following guests Eric Idle, Les Stroud, Finger Eleven. Les Stroud is interviewed by Craig Ferguson on The Late Late Show.

s0e9: Surviving Urban Disasters

s0e10: Snowshoes & Solitude

A year in the Wabikimi Wilderness. Les Stroud and Sue Jamison are prepared to spend one year in the isolated Wabikimi Wilderness surviving as the North American native would have 500 years ago, with no modern outdoor living conveniences. The young couple is fearful of the unknown wilderness. However, as the story unfolds it will be personal tragedies in the dead of winter that will test their character and personal fortitude.

Thursday, July 31st, 2008

s0e11: Surviving Sharks

Survivorman's Les Stroud hosts this look at how best to play it safe in the water, while testing popular theories of how to survive shark encounters. Les travels to the Bahamas and South Africa to test whether the behavior of Caribbean reef sharks and great whites changes depending upon the time of day. While in South Africa, Les and marine biologist Jeremiah Sullivan conduct an analysis of the great white's bite, and test whether kicking and splashing attracts sharks, and if it's safer to stay in a group or tread water alone if stranded in the ocean.

s0e12: Shark Week: Feeding Frenzy

s0e13: Science of Survival: Lost in the Snow

Les Stroud takes a look at the case of James and Jennifer Stolpa, who were stranded in the snows of the Sierra Nevadas with their infant son, and demonstrates some simple survival skills that would have made the Stolpas' ordeal a much less brutal experience.
Season 4
Sunday, August 19th, 2012

s4e1: Mexican Desert Island: Part 1

Les Stroud is shipwrecked on the desert island of Tiburon. Part of the Sonoran desert, Tiburon is searing hot in the day and freezing cold at night. The coastline is a barren stretch with no source of fresh water. Les must distill seawater and scavenge for clams and oysters amongst the rocks and mud to survive. With the threat of stingrays in the shallow waters and coyotes hunting the shoreline, Les battles hunger, fatigue and loneliness in this 10-day survival ordeal.

Sunday, August 26th, 2012

s4e2: Mexican Desert Island: Part 2

After five days of surviving on Tiburon's shore, Les Stroud treks inland in search of food, water and shelter. In the mountainous desert landscape, Les must avoid packs of wild coyotes, scorpions and rattlesnakes. Alone and carrying heavy camera equipment, he is at risk of exposure and dehydration. Making fire to distill drinking water, he survives on clams and edible plants in this 10-day survival ordeal.

Sunday, September 2nd, 2012

s4e3: Norwegian Mountain Survival: Part 1

Les Stroud strands himself in the Norwegian mountains to survive for 10 days taking little food, no water or gear, and no safety or camera crew. Does Les stay with his marooned car or push on to find help? Hauling 65 pounds of camera gear, Les makes do with what he has, builds crude shelter, eats what he finds, and proves it takes true will to survive.

Sunday, September 9th, 2012

s4e4: Norwegian Mountain Survival: Part 2

Being stranded in the Norwegian mountainswill prove to be the most difficult survival expedition of Les Stroud's 20-year career. With no food or water, no safety or camera crew, Les must haul 65 pounds of camera gear down the slick wet mountainside in the hope of finding shelter. Scavenging what he can from the barren landscape, exhausted and starving, Les draws on his years of experience and the will to survive in order to make it the full 10 days.
Season 5
Wednesday, January 15th, 2014

s5e3: Greneda Jungle

Les pits his jungle survival skills against the incredibly diverse mountain jungle terrain of Grenada's largest active mountain, Mt. St. Catherine. Nestled along the invisible line where the Caribbean Sea meets the Atlantic Ocean, northeast of Venezuela, this island jungle feels mysterious, shrouded in mist, veiled from the sun by thick blankets of cloud. For this, the high-altitude jungle has earned the name "Cloud Forest". Boasting its original ecosystem, the jungle is home to mona monkeys, tarantulas, scorpions, armadillo, iguana, parrots and possums –an abundance of food for Les if he can catch it. Les must use his years of jungle survival experience to avoid the many poisonous plants and trees indigenous to the jungle – all while carrying more than 50 pounds of camera gear on his back.

Wednesday, February 5th, 2014

s5e5: Lost Pilots: Summer

A special look at Les's first time surviving for the cameras in the Canadian wild.

Wednesday, February 12th, 2014

s5e6: Lost Pilots: Winter

Don't miss this lost pilot of Survivorman! Watch Les Stroud's first time surviving for the cameras in the dead of winter, enduring temperatures of -40 degrees in the remote reaches of northern Ontario.

Wednesday, February 19th, 2014

s5e7: Survivorman's Survival Secrets

Wednesday, January 8th, 2014

s5e2: Grenada Island

Les journeys to an active volcano chain found in the Grenadine Islands deep in the heart of the Caribbean Sea. Stranding himself on an uninhabited island called Frigate, Les is left to survive on his own. Discovered by Columbus in 1498, the island has remained untouched by civilization for centuries largely due to the fierce waves that pummel its craggy shores. Scouring the shoreline for edible marine life, Les must work to secure freshwater, build shelter and make fire. While being stranded on a Caribbean island may sound inviting, it is in reality incredibly difficult. Les is forced to eat prickly pear cactus, hunt for bird eggs and even contemplates trapping one of the thousands of turtles that occupy the island. When it comes to survival islands, the island of Frigate offers what all islands do: isolation…of your body, your mind and your spirit. Time away can be a good thing, but this is no vacation.

Wednesday, January 1st, 2014

s5e1: Argentina

Les Stroud travels to the Mitre Peninsula, a remote peninsula located on the easternmost tip of Isla Grande in the province of Tierra del Fuego, Argentina. This part of Patagonia is known as being particularly unforgiving and inaccessible due to the ever-changing weather, the absence of roads or paths and a combination of cliffs, peat bogs, forest and valleys. For 10 000 years, the indigenous people of Tierra del Fuego lived on the land. After the appearance of white men, the indigenous population was wiped out in a matter of 200 years. Despite efforts to settle in the peninsula that included seal fur factories, gold mining, logging and cattle ranching, no venture has ever endured the harsh environment. Les will be dropped into this inhospitable landscape and left to survive with no food, no shelter, no water, and no safety gear or camera crew.

Wednesday, January 29th, 2014

s5e4: Northern Ontatio

After all his years of wilderness survival around the globe, the forests of Ontario's Temagami still rank as some of the most difficult, harrowing and challenging survival experiences Les has ever faced. Breathtakingly beautiful, Temagami's old growth pine forests and refreshing blue lakes, bountiful with fish and wildlife, are sure to test Les's survival skills yet again. Les returns to the oldest mountain ranges in North America to survive with no food, no water, no shelter, no safety and no camera crew. He survives eating wild edibles, hunting for food, making a fire and building a shelter. Key challenges are the incessant sting of mosquitos, blackflies and deerflies, as well as staying ever vigilant for moose, wolves, bears and other territorial wildlife.
Season 0
Wednesday, March 12th, 2014

s0e24: Survivorman and Son: Northern Ontario

Les and Logan take on the role of two fisherman stranded in Wabakimi Provincial Park after the boat motor breaks down. All they have to survive with is their boat, fishing gear and no camera crew.

Wednesday, March 5th, 2014

s0e27: Survivorman and Son: Tofino

Les Stroud and his teenaged son Logan find themselves stranded for 5 days off the coast of Vancouver island during a kayaking trip with little supplies and no camera crew.
Season 6
Wednesday, April 29th, 2015

s6e5: Smoky Mountain Sasquatch

Les treks through the Great Smoky Mountain range in Tennessee following reports of Bigfoot sightings near an area where black bears can also be found.
Season 0
Thursday, April 23rd, 2015

s0e31: Survivorman Bigfoot, Part 4-Giants of the Forest

Les returns to the wilderness of remote Alberta to investigate evidence of Sasquatch activity. Armed with infrared camera and thermal imaging technology, Les investigates reports of Bigfoot sightings in pursuit of the truth.
Season 6
Wednesday, April 1st, 2015

s6e1: Legend of Klemtu Hill

Klemtu Hill is a volcano in British Columbia where Bigfoot reports are in the hundreds. Whatever is out there, it leaves tracks and even kills people. Les braves the dangers of this Bigfoot hotspot to find the truth behind these strange reports.

Wednesday, April 8th, 2015

s6e2: Where the Myth Began

Les tracks Bigfoot in the ancient red cedar forests of northwest California. This Sasquatch hotspot is renowned for reports of Bigfoot, and the forest is crawling with black bears. Will Les brave its dangers and catch Sasquatch on camera?

Wednesday, April 15th, 2015

s6e3: Mystery of Bigfoot Mountain

Wednesday, April 22nd, 2015

s6e4: Giants of the Forest

Wednesday, May 6th, 2015

s6e6: Searching the Southwest

Les follows a trail from Texas to Utah in his quest to catch Bigfoot on camera. Locals report encounters in haunted mountains and spooky canyons, and Les applies scientific methods and his survival skills to lure the legend out of hiding.

Friday, May 15th, 2015

s6e7: Hidden World of Bigfoot

Les searches for Sasquatch in the forests of North America, and uses a new approach.
Season 0
not specified

s0e45: Survivorman and Son: Ecuador