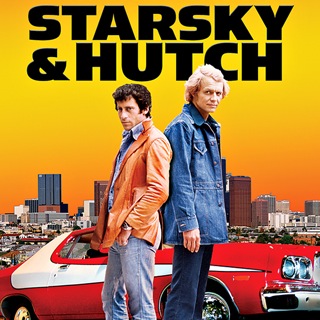 Season 0
not specified

s0e1: Featurette - It's Harder Than It Looks

Continuity mistakes highlighted throughout the series.

not specified

s0e2: Featurette - 'Starsky & Hutch - The Movie'

Small feature on the 2004 movie version.
Season 1
Wednesday, April 30th, 1975

s1e1: Pilot

A execution-style shooting in which two young lovers are brutally killed indicates that the intended targets were actually Bay City Police Detectives Starsky and Hutchinson, when the victims' car turns out to match Starksy's. All leads point toward a local crime-lord awaiting trial as being behind their (intended) murders. But when he flatly denies the charge, the pair set out to hunt down the real culprits...and motive.

Wednesday, September 10th, 1975

s1e2: Savage Sunday

An elderly couple, desperate to draw attention to the poor living conditions in their old folks home, have rigged the trunk of their car with fifty sticks of dynamite and a timer, planning to set it off outside City Hall. But the car is stolen by two thugs on a spree of armed liquor store robberies, unaware that the car is loaded with explosives, ticking towards detonation in the trunk. Starsky and Hutch initially are on the hunt for the two robbers â?? when they learn that the car is rigged with dynamite, they have mere hours to track it down before disaster strikes...

Wednesday, September 17th, 1975

s1e3: Texas Longhorn

Wealthy used-car dealer Zack Tyler and his wife stop to help two men seemingly having car trouble, only for the two thugs to rob Zack, and rape and murder his wife. Starsky and Hutch work all out using their underground contacts to track down the two murderers, but they don't quite realise that once they have found the culprits, that Zack intends to get even with his wife's killers by taking the law into his own hands...

Wednesday, September 24th, 1975

s1e4: Death Ride

Starsky and Hutch are involved in safeguarding a big time crime boss who has agreed to testify before a Senate sub-committee against some leading underworld figures. But when during escort of the crime boss, the party is ambushed and the man shot and hospitalised, and refuses to go ahead with the testimony unless his daughter is brought safely to him. So Starsky and Hutch are assigned to bring the man's daughter safely to him, but the trip is a dangerous one, as they are chased the whole way across state by ruthless hit-men out to see that they never make it, and thus the trial never going ahead. Further more, the daring detectives aren't even aware of the full state of affairs regarding the case...

Wednesday, October 1st, 1975

s1e5: Snowstorm

Starsky and Hutch, along with three other Detectives, are involved in a large drugs bust, where pure cocaine with a street value three million dollars is seized. But following the successful raid, the detective duo come under suspicion when $1m worth of the drugs disappear. They have 48 hours to clear their names and the three fellow Detectives, who they assume to be innocent, and nail the drugs lord behind the operation â?? the same man who was responsible for the murder of Captain Dobey's former partner years before... Throughout the case, Hutch keeps spotting a Dalmatian dog that seems to appear whenever danger lurks nearby...

Wednesday, October 8th, 1975

s1e6: The Fix

Hutch is dating a girl who was formerly associated with a big-time mobster. But Hutch is abducted by the jealous mobster, who forcibly gets him hooked on heroin, in order to find out where the girl is. Starsky must find his friend and the people who did this to him before it is too late and Hutch ends up dead...

Wednesday, October 15th, 1975

s1e7: Death Notice

When a message is left scrawled on a table cloth in a strip club that one of the strippers will be killed, Starsky and Hutch are called in to protect the dancing girls and find the strange man who was sitting at the table. The hunt for the man intensifies as the stripper who was threatened is murdered, and another warned in a message that she is next; but a surprise twist means that the duo may not be looking for the right man...

Wednesday, October 22nd, 1975

s1e8: Pariah

When Starsky and Hutch deal with an armed hold-up, in self defence Starsky is forced to shoot one of the felons - who turns out to be a 16-year-old youth. An enquiry into the incident is held and Starsky is cleared of any wrong-doing, and he and Hutch set out to find who supplied the teenager with the gun. But a mad-man who's son was previously knifed to death in a jail cell after Starsky arrested him, begins killing cops, demanding Starsky's resignation, and promising that the killings will continue until Starsky complies...

Wednesday, October 29th, 1975

s1e9: Kill Huggy Bear

Dewey, an old ""acquaintance"" of Huggy Bear's, robs a candy store, only to afterwards realise that the store is a front for a Mob numbers-fixing racket. Dewey once saved Huggy's life, and calling in the debt, he asks Huggy to use his underworld contacts and return the money to the Mob if they forgive him for the robbery. But Dewey's ex-partner and her new lover find out about the horde of stolen money, and decide to bump Dewey off, mug Huggy for the money before he can return it, and keep it for themselves. As a result, it is Huggy who is left owning the large haul of money to the Mob, and Starsky and Hutch â?? in the dark about the whole situation â?? must find out what is going on and save their friend, who is now marked as a dead man...

Wednesday, November 5th, 1975

s1e10: The Bait

Starsky and Hutch work undercover as snazzy-dressed drug dealing pimps in an operation to put a heroin-pushing syndicate out of business. They spring a young woman, arrested for unwillingly acting as a drug courier, from jail, and convince her to act as a lure in a bid to trap the elusive drug kingpin at the head of the syndicate...

Wednesday, November 12th, 1975

s1e11: Lady Blue

A former girlfriend of Starsky's is found brutally murdered, with the body bizarrely wrapped in radio antenna wire. As the detective duo investigate, it emerges that the girl had been working undercover as a cocktail waitress while tracking down a psychotic killer. But there are several suspects as to the murderer's identity â?? are Starsky and Hutch on the right track?...

Wednesday, November 19th, 1975

s1e12: Captain Dobey, You're Dead!

The Detective duo swing into action when Captain Dobey and his family are terrorised by a crooked ex-Cop who has just been sprung from prison and is determined to get his revenge on Dobey for putting him away...

Wednesday, November 26th, 1975

s1e13: Terror on the Docks

Starsky and Hutch set about tracking down a dock-worker suspected of murdering an undercover Policeman who was investigating a series of waterfront heists. But a childhood friend of Hutch's is preparing to get married, and it seems that her groom-to-be might be involved...

Wednesday, December 10th, 1975

s1e14: The Deadly Imposter

John Colby, an old friend of Starsky and Hutch's, returns to town, and asks them to use their connections to help him find his ex-wife Karen. But as they look for the woman, the duo find that there are things that don't quite add up, and, unbeknown to them, the man holds a sinister and deadly secret...

Wednesday, December 17th, 1975

s1e15: Shootout

After a particularly long and awkward interrogation, Starsky and Hutch decide to unwind for the evening by going for a meal at an Italian restaurant. But the evening out is hardly the relaxing time anticipated when the restaurant is taken over by two syndicate hit-men planning to take out a Mob boss when he arrives at the diner. In the commotion, Starsky is critically wounded by a gun-shot wound, and Hutch must try and keep his partner alive while dealing with the trigger-happy gun-men...

Wednesday, January 7th, 1976

s1e16: The Hostages

When Starsky offers for himself and Hutch to check on a waitress's missing friend, they find the man dead, leading them to stumble across a plot to rob an armoured car by a gang that are holding the driver's pregnant wife hostage, forcing the driver to go along with the plan...

Wednesday, January 14th, 1976

s1e17: Losing Streak

Down-on-his-luck jazz pianist Vic Rankin steals some money owed to him from a former boss, unaware that the cash is actually counterfeit. In over his head, Vic finds himself a hunted man and goes on the run, as his former boss, connected to the Mob, sends his heavies out to retrieve the money and wipe out the man who dare steal it. The race is on for Starsky and Hutch to find Vic before the Mob get to him...

Wednesday, January 21st, 1976

s1e18: Silence

The Detective duo meet Larry, a friendly ex-con deaf mute living at a local half-way house, when they book him on a small charge. But when the trail from a series of robberies leads all indications pointing at Larry of being the culprit, the pair are convinced of his innocence and that someone else is using him as the ideal pawn...

Wednesday, January 28th, 1976

s1e19: The Omaha Tiger

The dare-devil Detectives become involved in the wild world of professional wrestling when they visit Mac Johnson, a retired colleague, now a promoter in the sport, who has some information for them about a recent suspicious accident in which a man was killed. But when Johnson too turns up dead, again in highly suspicious circumstances, the pair investigate the growing spate of deaths...

Wednesday, February 18th, 1976

s1e20: Jo Jo

Starsky and Hutch blow a Federal stake-out in order to intervene and stop violent rapist Jojo Forentic from committing his latest attack. But after they apprehend the attacker, who sprays his victims with orange paint, the duo find themselves in an up-hill battle trying to get Forentic put away, due to all of his victims being too terrified to testify against him, and a Federal Agent who promises to protect Jojo in return from him leading them to the head of a drug-running ring...

Wednesday, February 25th, 1976

s1e21: Running

A washed up, alcoholic former model, who Starsky went to school with, is the only person to get a good look at a murderous thief when she finds him robbing her apartment. But when she refuses assistance from the Police, Starsky risks both his career and his life as he breaks procedure and hides the girl out at his home to safeguard her until the killer is caught, but the killer and his cronies are out to see that the girl isn't around to point the finger...

Wednesday, March 3rd, 1976

s1e22: A Coffin for Starsky

A masked assassin breaks into Starsky's apartment in the middle of the night, and injects him with a deadly poison. With the lethal drug quickly taking its hold, the rapidly ailing Starksy has less than 24 hours to live unless Hutch and himself can find the antidote in time. And to identify the exact poison in order to find the right antidote, they must first find the would-be killer...
Season 2
Saturday, September 25th, 1976

s2e1: The Las Vegas Strangler (1)

First part of a feature-length / two-part story. Dare-devil Detective duo Starsky and Hutch are loaned to the Las Vegas Police Department to snare a serial killer that has strangled a string of chorus girls. But the pair don't realise that they've been chosen for the case on more than merit alone – the prime suspect is an old high-school friend of Hutch's. While tracking down the killer, Starsky starts seeing an attractive show-girl – who could be the killer's next victim...

Saturday, September 25th, 1976

s2e2: The Las Vegas Strangler (2)

Concluding part of this feature-length / two-part story. The duo close in on the serial strangler who is singling out chorus girls, but the investigation holds some unexpected, startling implications about several people linked to the case...

Saturday, December 25th, 1976

s2e3: Little Girl Lost

It's the Christmas season, and while Starsky is happily getting into the festivities, Hutch is far more sceptical about people's sudden goodwill over the period. Responding to a call of petty shop-lifting, the pair meet Molly, a twelve-year-old tomboy, who lives with her father, a recently released convict turned alcoholic. But when soon after the girl's father is murdered by his two former partners-in-crime, who are determined to get their hands on the stolen diamond cache he went to prison for, Hutch finds himself taking Molly in for Christmas. Unfortunately, with Molly being the only one who now knows the whereabouts of the diamonds, the two crooks who killed her father are now after her...

Saturday, October 23rd, 1976

s2e4: Bust Amboy (a.k.a. Nightlight)

The Detective pair are determined to nail the wealthy Amboy, a crafty narcotics dealer who is supplying young prostitutes, and always avoids Police arrest with legal loop-holes...

Saturday, October 2nd, 1976

s2e5: Murder at Sea (1)

First part of a feature-length / two-part story. Investigating a murder, the tough duo go undercover on luxury cruise ship The Amolola, as entertainment directors Hack and Zack, where the case leads to them uncovering drug smuggling...

Saturday, October 2nd, 1976

s2e6: Murder at Sea (2)

Concluding part of this feature-length / two-part story. The Detective duo, undercover as cruise ship entertainers Hack and Zack, find that they have stumbled onto something much bigger than dope dealers – the ship is to be the meeting place for a group of leading syndicate figures...

Saturday, November 27th, 1976

s2e7: Vendetta (a.k.a. The Monster)

The Detective duo are on the case as criminals and public alike are endangered when Solkin, a Fagin-like felon, uses an imbalanced teenager to commit crimes including brutal assaults and murder for his own nefarious purposes. But when Hutch unwittingly aggravates him while investigating, Solkin goads his teenage henchman to stalk and terrorise Hutch and his girl-friend...

Saturday, October 16th, 1976

s2e8: Gillian

The Detective duo investigate a killing that is latest in a string of crimes in the red-light district. Off duty, Hutch is getting serious with his new girl-friend, the classy Gillian, but as the intreptid Detectives investigate the killing, Starsky by chance finds that Hutch's new love is a prostitute, who wants out but is being forced to continue by a cunning pimp and his mother. Starsky knows that his unwitting discovery could destroy his partnership with Hutch...

Saturday, October 30th, 1976

s2e9: The Vampire

When a dancer is murdered in bizarre circumstances, with marks resembling fang bites on her neck and an unusually large quantity of blood missing from her body, Starsky and Hutch delve into the underworld of occcult worshippers as they investigate what appears to be the work of a vampire...

Saturday, November 6th, 1976

s2e10: The Specialist

Starsky, Hutch, and two other Officers respond to an armed robbery on a jewellers, only for a woman to accidentally get shot dead from the gun-fire from one of the lawmen. The dead woman's husband is a Special Agent, paranoid after being retired from the service, and convinced that the Officers were really hit-men after him, and sets about extracting his revenge on each of the Cops involved in the death of his wife.With the man an expert in specialist weapons, Starsky and Hutch must stop the deranged Agent before he uses his expertise training to wipe them out...

Saturday, January 15th, 1977

s2e11: The Psychic

Huggy introduces the Detective duo to a friend of his, opening up a new cafe, who unwittingly has clairvoyant visions. Starsky is sceptical of such psychic ability, Hutch more willing to believe, but the psychic's predictions start to come true when his visions tie in to the whereabouts of a wealthy businessman's kidnapped teenage daughter, who is being held for a large ransom...

Saturday, November 20th, 1976

s2e12: Tap Dancing Her Way Right Back Into Your Hearts

Dedicated Detectives Starsky and Hutch are working undercover at a plush Hollywood dance studio, as a dance teacher and student respectively, to investigate an extortion racket operating from the club that lures members into compromising situations, and then bribes the victims for large amounts of money...

Saturday, December 18th, 1976

s2e13: Iron Mike (a.k.a. Captain Mike Ferguson)

The crime-busting pair's suspicions are aroused when they spot highly respected Police Captain "Iron Mike" Ferguson accepting an envelope from an underworld kingpin. When Ferguson recruits the duo to aid on a stakeout, they learn that he is receiving tip-offs about various criminal activities in return for ignoring and covering for the crime kingpin's operations. It's resulting in getting a number of criminal organisations off the streets, but it means that Ferguson is ultimately a corrupt officer, and the pair are torn what to do...

Sunday, November 28th, 1976

s2e14: Nightmare

A gang of rapists who attacked a retarded 19-year-old girl may go free because an ambitious district attorney thinks that the victim's testimony may be worthless in court.

Saturday, January 1st, 1977

s2e15: Bloodbath

On the day of trial of Simon Marcus, a murderous cult leader that Starsky and Hutch arrested, Starsky is snatched away by the cult leader's followers just before judgement is passed. The vengeful followers will only release him safely if their leader is released without charge. If Simon Marcus is sentenced to prison, then Starsky is sentenced to death. Hutch must find his partner before he is subjected to a deadly "religious" ritual, as foreseen in the deranged leader's visions...

Saturday, February 19th, 1977

s2e16: Huggy Bear and the Turkey

Huggy Bear has linked up with his friend, former Sheriff "Turkey" Turquet, to set up their own Private Detective Agency. Their first case sees them hired to find a woman's missing husband, and while trying to find him, they find themselves pursued by several undesirable parties who have various concerns with the elusive man in question...

Saturday, January 22nd, 1977

s2e17: The Set-Up (1)

First episode of a two-part story. The tough Detective partners are working incognito as truckers, in an operation to safely transport Joe Durniak – a man with Mob connections who Starsky knows from his childhood – who is promised protection and a new identity in return for giving testimony as a key state witness. But when Durniak is shot dead by a lone gunman convinced that Durniak was behind the murder of his wife, Starsky and Hutch find themselves uncovering a complex plot of bizarre deception. But as they investigate, they themselves come under suspicion for being involved with Durniak's murder..

Saturday, January 29th, 1977

s2e18: The Set-Up (2)

Conclusion of this two-part story. The duo try to uncover the truth behind Terry Nash – the well-intentioned gun-man out to avenge the murder of his wife and who, until recently, didn't seem to even exist – but in doing so, they are framed and wind up suspended from duty and becoming fugitives. Determined to unlock the secrets about Terry and to clear their names, the twisted trail of their investigations leads to a complex operation in which innocent victims are brain-washed into murdering those that they believe to be their enemies. But with the investigations getting too close to home, the masterminds behind the brain-washing set-up have new murder victims in their sights - Starsky and Hutch...

Saturday, February 5th, 1977

s2e19: Survival

After Hutch plays the key part in a successful undercover operation to nail a wanted racketeer, the captured felon hires a hit-man to prevent Hutch from testifying in court. The assassin runs him off the road and down an embankment, leaving Hutch trapped under the wreckage of his car, near death, in a desolate area, while Starsky desperately searches for his missing partner...

Saturday, February 12th, 1977

s2e20: Starsky's Lady (a.k.a. Revenge; a.k.a. Snowball)

Crazed killer Prudholm returns to extract his revenge on Starsky, who he blames for the death of his son while in Police custody. By targeting Starsky's beloved girl-friend, making sure that she is shot in a supermarket heist, leaving her with a bullet fragment lodged in her brain and facing impending death...

Saturday, February 26th, 1977

s2e21: The Committee

After the streetwise Detectives capture a rapist, they are outraged when the thug is let of with a lenient court sentence. Starsky openly vents his disgust at such light punishment - attracting the interests of a vigilante Police 'death squad', who are executing criminals that are given such lenient sentences, and see him as their next possible recruit...

Saturday, March 5th, 1977

s2e22: The Velvet Jungle

An illegal immigrant witnesses the murder of a co-worker who was threatening to expose the illegal activities of crooked Immigration officials, and is forced to hide out in fear as she too is now hunted by the killer. The Detective duo step in to investigate and uncover an illegal-alien smuggling operation...

Saturday, March 12th, 1977

s2e23: Long Walk Down a Short Dirt Road

The dashing Detectives try to catch the deranged stalker who is hounding a successful country singer, and will only stop if she pays him $10,000. At first, the anonymous madman just issues threats via phone, but when he turns to murder, Starsky and Hutch must piece together just who the extortionist is and capture him before anyone else is killed...

Saturday, March 19th, 1977

s2e24: Murder on Stage 17

The dare-devil Detectives work undercover as stunt-men on the set of a new Western movie, in order to investigate a series of suspicious, fatal "accidents" that has befallen several members of a long-standing group of actors known as the 'Wolf Pack', with the head of the group and star of the film fearing that he'll be next. As Starsky and Hutch roll with the punches and blows in their guises as stunt-men, the case leads them to uncover a bizarre story of thwarted stardom and twisted revenge...

Saturday, April 16th, 1977

s2e25: Starsky and Hutch Are Guilty

When a Police informant is brutally beaten, witnesses point the finger at Starsky and Hutch. As the vicious assaults continue, the Detective partners are dropped increasingly deeper in hot water as they realise they are being framed. Unbeknown to them, they're being impersonated by two look-alike impostors out to get the genuine pair a bad name and Police suspension...
Season 3
Saturday, September 17th, 1977

s3e1: Starsky & Hutch on Playboy Island (a.k.a. Murder on Voodoo Island) (1)

First half of a feature-length / two-part story. Tough Detectives Starsky and Hutch are assigned to go undercover on the luxurious, tropical Playboy Island to investigate the mysterious happenings connected to William Thorne, "the richest man in the world", who lives a reclusive life on the island, and who's associates are being murdered with what appears to be voodoo magic...

Saturday, September 17th, 1977

s3e2: Starsky & Hutch on Playboy Island (a.k.a. Murder on Voodoo Island) (2)

Concluding this feature-length / two-part story. Still undercover at the lush resort of Playboy Island, Starsky and Hutch must find out who is behind the voodoo murders and why, but as they look into the strange goings-on surrounding billionaire recluse William Thorne, they find themselves battling the black magic of a powerful witch doctor...

Saturday, September 24th, 1977

s3e3: Fatal Charm

While Starsky, Hutch and Officer Linda Baylor are working on an operation to trap a wanted drug dealer, Hutch receives a minor wound, and reports to hospital, where he meets nurse Diana Harmon. After they meet later at a bar, they spend a romantic evening together. But when afterwards Hutch, concerned by her possessive ways, doesn't plan to continue with the relationship, Diana starts displaying unbalanced, obsessive behaviour that not only jeopardises the Police operation, but puts Hutch in great danger...

Saturday, October 1st, 1977

s3e4: I Love You, Rosey Malone

Two Senate Investigative Committee agents want Starsky to strike up romance with a beautiful young woman he met while out jogging, in order to get close to her and extract information about her syndicate figure father. But as Starsky enters the "undercover relationship", he falls blissfully in love with the girl for real – and the two agents are manipulating them both...

Saturday, October 8th, 1977

s3e5: Murder Ward

The intrepid cops go undercover at a mental hospital, with Starsky as a patient and Hutch as an orderly, to investigate a number of mysterious patient deaths that have occurred at the asylum. With a female journalist, also undercover as a patient, they uncover that someone in the hospital is illegally using patients as human guinea-pigs for the testing of behaviour modification drugs...

Saturday, October 15th, 1977

s3e6: Death in a Different Place

The intreptid Detective partners investigate when a colleague – an old friend of Starsky's – is found dead in a sleazy red-light district hotel, and are shocked to uncover that the married murdered Lieutenant was a closet homosexual with a history of gay relationships. But just who is behind his death, and why?...

Saturday, October 22nd, 1977

s3e7: The Crying Child

A school teacher, fearing loosing her job if her concerns are unfounded, asks Starsky and Hutch to look into a suspected case of child abuse surrounding a continually bruised six-year-old boy in her class. The pair are drawn into a disturbing case of domestic violence, but they most prove their concerns if they are to save the young boy from further abuse...

Saturday, October 29th, 1977

s3e8: The Heroes

The streetwise cops are disgruntled when they are assigned to have a newspaper journalist accompany them for a couple of days, until they learn that the reporter is an attractive woman. As they try to trace a drug supplier who is poisoning the narcotics he pushes, the pair go all out to impress the reporter, but when she misunderstands their often unorthodox Policing methods, the woman writes a very unfavorable article about them...

Saturday, November 19th, 1977

s3e9: The Plague (1)

First episode of a two-part story. Starsky and Hutch collect a colleague from the airport, but soon after the man is struck down by a deadly disease caught from a passenger on the same flight. The streetwise Detectives must spring into action to find the carrier – an international assassin planning to make a hit on a major syndicate chief – as the entire city becomes threatened with the spreading, lethal virus...

Saturday, November 26th, 1977

s3e10: The Plague (2)

Conclusion of this two-part story. Hit-man Callendar, the carrier of the deadly plague, is still at large, and the disease has now claimed Hutch as it's latest victim. With his partner hours from death, Starsky races against time to track down Callendar to obtain an anti-toxin...

Saturday, December 3rd, 1977

s3e11: The Collector

A calculating criminal bumps off a loan-shark's collector and takes over the role, collecting debts for the head of the money-loaning racket – a washed-up former child star. The Detective pals investigate, only for it to turn out that the father of Hutch's girl-friend is one of the people owing money to the crooked racket, and that the vicious new collector is actually a notorious killer with an ulterior motive...

Saturday, December 10th, 1977

s3e12: Manchild on the Streets

When a friend of Starsky and Hutch's is wrongfully shot dead by a rookie Cop after the drunk driving of the man's pal leads to a Police pursuit, the pair must do their best to steer his confused teenage son away from a life of crime, as he grows intent on avenging his father's needless death and becomes involved with a small-time thief...

Saturday, January 7th, 1978

s3e13: The Action

Starsky and Hutch set out to bust an illegal gambling ring behind the brutal beating of a friend after he failed to pay off his debts. The duo end up playing for very high stakes as they infiltrate the illegal club, run from a mobile casino in the back of an 18-wheeled truck...

Saturday, January 14th, 1978

s3e14: The Heavyweight

The crime-busting partners meet a one-time boxing champ, now a dockland worker, who witnessed the murder of a Policeman arranged by a dockland racketeer. But the former champ's own life is endangered after he refuses to take a fall in a boxing fight for the vicious racketeer...

Wednesday, January 25th, 1978

s3e15: A Body Worth Guarding

Starsky and Hutch are assigned to protect visiting Russian prima ballerina Anna Akhanatova, whose life is threatened by political fanatics. Although Starsky is bemused by the appeal of ballet, Hutch is excited to get to meet Akhanatova, an idol of his – although when the pair actually meet, they quickly develop a fiery relationship. But as he safe-guards the girl while Starsky is investigating who is behind the threats, Hutch and the ballerina start to fall for each other...

Wednesday, February 1st, 1978

s3e16: The Trap

A trip to buy Starsky's expensive new watch ends in chaos as the duo try to catch a tearaway tomboy shoplifter. Soon after, they respond to a call from Huggy after some thugs smashed up his bar demanding information about Hutch and unbeknown to any of them, the pair are being guided into a carefully laid ambush at a desolate farm, in a trap set by a ruthless criminal with an old score to settle with Hutch. Worse still, Joey, the young shoplifting girl, has stowed away in Starsky's car, and ends up trapped with the Detective duo in a barn that will soon be set ablaze...

Wednesday, February 8th, 1978

s3e17: Satan's Witches

Staying in Captain Dobey's mountain cabin while on a short vacation, Starsky and Hutch are met with cold reception from the nearby townspeople, particularly the short-tempered local Sheriff. The cause of the people's fear soon becomes apparent when the pair find that they are neighbors in the woods to a coven full of Devil worshippers...

Wednesday, February 15th, 1978

s3e18: Class in Crime

Investigating a series of immaculately executed murders, the case leads Hutch back to school as a college student, to get the low-down on a brilliant college professor who teaches a senior student course on the "philosophy of crime" and specialises in murder...

Wednesday, February 22nd, 1978

s3e19: Hutchinson: Murder One (a.k.a. Hutchinson for Murder One)

Out of the blue, Hutch's estranged former wife Vanessa suddenly contacts him, attempting to rekindle their relationship. Hutch doesn't want to know, until Vanessa claims that she's ill with a cancerous tumour. But the next day, Vanessa is murdered in Hutch's apartment – and Hutch is the prime suspect. With two Internal Affairs agents investigating and seemingly convinced that Hutch is guilty, Starsky must help his partner trace the real culprits in order to clear his name...

Wednesday, March 1st, 1978

s3e20: Foxy Lady

An attractive young woman is the only eye-witness to a man being killed for the suitcase he is carrying. As Starsky and Hutch investigate, the girl goes about using her manipulative charms to not only outwit both of them, but also the mobster behind the killing, in order to keep the hot cash inside the suitcase for herself...

Wednesday, May 3rd, 1978

s3e21: Partners

Starsky's reckless driving in pursuit of two robbers lands both himself and Hutch in hospital, with Hutch seemingly suffering from amnesia, unable to remember his partner or anything about their jobs. Starsky reminds him of some of their past adventures in an attempt to revive his memory…

Wednesday, May 10th, 1978

s3e22: Quadromania

Starsky poses as a cab driver to investigate a series of strangulation murders of cabbies, performed by a man dressed in Shakespearean costume and with superhuman strength in his artificial hand.

Wednesday, May 17th, 1978

s3e23: Deckwatch

A serial killing seaman, who preys on prostitutes, is badly shot during his latest attack. Wounded and on the run, he resorts to holding Hutch's friend and her wheelchair-bound mother hostage in their home. Hutch poses as a paramedic to get inside the house as he and Starsky try to apprehend the desperate killer and safely free the hostages...
Season 4
Tuesday, September 12th, 1978

s4e1: Discomania

The streetwise Detective partners go incognito as disco dudes at Fever, a popular dance club, where Sergeant Lizzie Thorpe is laid as bait in a trap set for a serial killer, who is drugging, abducting and murdering attractive women who refuse to dance with him...

Tuesday, September 19th, 1978

s4e2: The Game

When they blow the capture of a wanted felon, Starsky and Hutch each blame the other, and lay down a bet to see whether or not Hutch can successfully elude Starsky for a whole weekend. But the exercise in hide-and-seek becomes more than just a game when Starsky realises that Hutch has unknowingly eaten contaminated soup, and could die from the potentially lethal botulism poisoning. It's a race against time as Starsky struggles to locate Hutch to warn him, but Hutch, unawares to the poisoning, assumes it's all part of Starsky's attempts to draw him out, and dons a number of disguises in order to stay one step ahead...

Tuesday, September 26th, 1978

s4e3: Blindfold

Responding to a jewellery store robbery, Starsky is distraught when he accidentally shoots an art student caught in the cross-fire, costing the girl her sight. Guilt-stricken, he forcefully strikes up friendship with the blinded young woman, without confessing that he's the law officer that caused her to loose her vision. But their subsequent relationship soon proves to be very dangerous, as someone seems determined to keep him away from her, and Hutch comes to question just how much of a chance by-stander she really was in the incident...

Tuesday, October 10th, 1978

s4e4: Photo Finish

Starsky and Hutch brush shoulders with high-society, at an exclusive party that photographer friend Marcie has invited them to, but the event grinds to a halt when an artist is shot dead by an unknown assassin. Marcie has caught the shooting on camera, and the Detective duo confiscate the pictures for Police evidence as they begin some black-tie sleuthing on the champagne circuit. But Marcie is determined to use the valuable photos to break into big-time journalism, and quietly holds on to one to sell to the highest bidder – only for her life to now be endangered by the killer, who is determined to get their hands on the incriminating film...

Tuesday, October 17th, 1978

s4e5: Moonshine

After they arrest two ploughboys who soon after die of poisoning, the Detective pals pose as country boys in order to track down some Southern moonshiners who have brewed a bad batch of bootleg whiskey. But the ruthless head of the innocent operation is determined to continue pushing the lethal brew at any cost...

Tuesday, October 24th, 1978

s4e6: Strange Justice

When his daughter is raped, long-standing, veteran Detective Slate is devastated, and shoots her attacker, who's been brought in for questioning. With the wounded rapist looking like he'll get off scott-free and Slate facing serious charges, the distinguished Lieutenant takes the law into his own hands to get even with his daughter's assailant - and it's up to Starsky and Hutch to stop him in time...

Tuesday, October 31st, 1978

s4e7: The Avenger

The intrepid Detectives investigate a woman's claims that a jealous brief acquaintance from San Francisco has followed her to the city and is responsible for the vicious murders of a string of the her lovers. But there is a sinister twist to the case, and Starsky unknowingly places himself in great danger...

Tuesday, November 14th, 1978

s4e8: Dandruff

The Detective pair are working undercover at a plush hotel as effeminate hair-dressers Mr. Marlene and Tyrone, to trim the plans of an international master thief known as The Baron, who is expected to strike at the private auction of a highly valuable cache of diamonds...

Tuesday, November 21st, 1978

s4e9: Black and Blue

When the partners in crime-busting respond to a reported burglary, Hutch is shot by one of the teenage robbers, leaving him critically ill in hospital. Starsky is paired with a dynamic new partner, black Policewoman Joan Meredith, to track down the thieves, and they find themselves on the trail of an operation that is using ghetto youths to commit burglaries, and then selling their hauls on the black market...

Tuesday, November 28th, 1978

s4e10: The Groupie

Hutch takes the guise of a bumbling swimwear buyer and Starsky poses as an eccentric photographer, as the Detective duo enter the fashion world to stitch up a garment-business racketeering ring. But as they look into the case, they receive an unusual offer of help from a woman eager to get in on the action – unfortunately, she only serves to compromise the undercover investigation...

Tuesday, December 12th, 1978

s4e11: Cover Girl (a.k.a. No Deposit, No Return)

When a leading model an old flame of Hutch's is told that she is terminally ill with Cancer, she arranges for a hit-man to end her life before the disease can take it's toll on her body. Then her doctors discover that she is in remission but her contact with the genius hit-man has been severed, and she must go to old friend Hutch for help to prevent the hit from taking place...

Tuesday, December 19th, 1978

s4e12: Starsky's Brother (a.k.a. Starsky's Little Brother)

Starsky's younger brother Nick arrives in the city to visit to his elder sibling. But the older Starsky soon has cause for concern that Nick is mixed up in criminal activities, when he is spotted entering a restaurant at the centre of a Federal stake-out that's trying to nail a counterfeiting scam...

Tuesday, January 16th, 1979

s4e13: The Golden Angel

The detectives are assigned to protect a wrestler who has received a death threat, with Starsky going into the ring himself to draw out a suspect.

Tuesday, January 23rd, 1979

s4e14: Ballad for a Blue Lady

The detectives are called when a witness is found dead before he can testify against a notorious racketeer. Hutch begins to suspect that his girfriend's brother may be involved.

Tuesday, January 30th, 1979

s4e15: Birds of a Feather

A former partner of Hutch's arranges the murder of a witness in order to pay off his wife's gambling debts.

Tuesday, February 6th, 1979

s4e16: Ninety Pounds of Trouble

When a contract is put out to kill a top union official, Starsky and Hutch go undercover as hit men to protect him. But while Hutch rehearses his performance as a trigger man, Starsky is plagued by a young admirer who may compromise his cover.

Tuesday, February 13th, 1979

s4e17: Huggy Can't Go Home (a.k.a. Huggy Can't Go Back)

An illegal poker game puts Huggy Bear in a tight spot - holding a dead man's hand and facing a choice between covering for a friend or obeying the law.

Tuesday, March 6th, 1979

s4e18: Targets Without a Badge (a.k.a. The Snitch) (1)

A friend of Huggy's offers to finger a judge who is supplying drugs but is killed before he can testify. The case looks lost, and the cops lose Huggy's friendship.

Sunday, March 11th, 1979

s4e19: Targets Without a Badge (2)

Starsky and Hutch have retired voluntarily but become involved in a blackmail case.

Sunday, March 11th, 1979

s4e20: Targets Without a Badge (3)

Conclusion. Starsky and Hutch discover a link between a friend and a crooked judge.

Tuesday, May 8th, 1979

s4e21: Starsky vs. Hutch

Competing for the affections of a policewoman, Starsky and Hutch neglect their investigation of the murder of a dance-hall girl.

Tuesday, May 15th, 1979

s4e22: Sweet Revenge

As Starsky lies in a hospital bed at death's door, Hutch goes after the powerful man who tried to have him killed
Season 0
not specified

s0e3: Featurette - The Third Star

Feature on the 1976 Gran Torino car used in the series.

Tuesday, March 2nd, 2004

s0e4: Behind The Badge

Interviews with the cast and creators of Starsky & Hutch.

not specified

s0e5: Promo Trailer - Original TV Promo Spots

Original TV Promo Spots
Season 1
Wednesday, April 21st, 1976

s1e23: The Bounty Hunter

When a Cop is shot dead, apparently by a bail-jumper, the Detective duo pursue the alleged murderer. But as Starsky and Hutch search for the felon, they find that they are not the only ones after the felon â?? an extortionist bail-bondsman and her accomplice are also on his trail...
Season 4
not specified

s4e0: Needs to be deleted