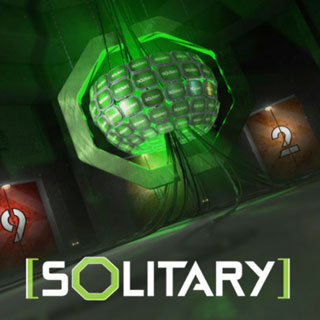 Season 1
Monday, June 5th, 2006

s1e1: The Experiment Begins

Nine guests enter Solitary and begin their new life of isolation. Their only contact with the outside world is a female computer, Val. They compete in a psychological game that tests their kindness or cruelty. Ultimately, a macabre sleep deprivation treatment causes one of them to break and quit the game forever.

Monday, June 12th, 2006

s1e2: Bed of Nails

Eight contestants continue on a grueling physical and psychological journey. They must use their wits to solve a mind-bending puzzle embedded in a horror film and then withstand endless hours lying on a torture table until one of them crumbles.

Monday, June 19th, 2006

s1e3: To Eat or Not to Eat

After days of near starvation, Val's seven remaining guests ride a vicious culinary roller-coaster as they are forced to continue eating until at least one of them literally explodes.

Monday, June 26th, 2006

s1e4: Brainwashing

Six remaining guests are told that everything they know is wrong as Val attempts to reprogram their minds. They engage in a battle of wills until someone cracks and leaves Solitary in the most surprising ending yet.

Monday, July 3rd, 2006

s1e5: Headspin / Tailspin

The grand experiment continues as Val makes her guests' heads spin. First, the contestants lose their marbles in a maddening test of concentration, and then they lose their equilibrium in the most turbulent treatment yet. All are pushed to the very brink, but only one will fall.

Monday, July 10th, 2006

s1e6: Val Turns Up the Heat

The final four guests enter their own personal mansions of fear, and discover their inner demons. Then Val turns it up a notch with a fiery experiment that tests each person's threshold for pain.

Monday, July 17th, 2006

s1e7: Everyone Goes Mad

After days without human contact, a test forces Val's guests to begin raving like mad men. Then they face off in a grueling battle of physical endurance that isn't over until someone collapses.

Monday, July 24th, 2006

s1e8: The Final Experiment

In the most difficult challenge yet, the final two guests are locked in Extreme Solitary and only one emerges with the ultimate prize: $50,000.
Season 2
Saturday, August 4th, 2007

s2e1: Welcome to Solitary... Now Go Home

The experiment begins where season one ended as the guests are locked into individual black boxes. One guest freaks out and quits before the first elimination treatment even begins, but when it does, the footbed-of-nails has everyone else suffering the agony of da' feet.

Saturday, August 11th, 2007

s2e2: Say Hello to Your Little Friend

Val surprises her guests with a small companion in Solitary. But her kindness ends quickly as the guests' sanity and stamina are tested trying to memorize a twisted message. The winning guest is spared an exhausting dance with a weighted dummy that drags everyone else down.

Saturday, August 18th, 2007

s2e3: From Dusk 'til Dominoes

A child's game becomes the most frustrating test yet as the guests try to steady their nerves and build an impossibly long chain of dominoes. Then Val turns up the cruelty in a treatment that blends the guests' favorite foods together into a vile smoothie that will "throw up" one of them for an exit from Solitary forever.

Saturday, August 25th, 2007

s2e4: Don't Let This Happen to You

Val's Solitary Auction puts the guests at each other's throats as they fight over comforts for themselves...and discomforts for each other - before Val's brutal "grump rope" treatment causes another guest to bite the dust.

Saturday, September 1st, 2007

s2e5: Open Wide and Say Ouch

Val has the Solitarians running like rats -- in a race to break their animal companions OUT of Solitary. Then Val issues a "gag order" that shuts everyone up in the most perverse treatment ever.

Saturday, September 8th, 2007

s2e6: Handcuffs Across America

A test of mathematical madness teaches one Solitarian that quitters never win. Then Val spins one guest out of control and out of Solitary forever in Solitary's latest Treatment.

Saturday, September 15th, 2007

s2e7: All Locked Up and Nowhere to Go

Val puts the remaining guests under lock and key... fifty times over. Then a relentlessly puzzling treatment with lots of ups and downs will help shape the final two.

Saturday, September 22nd, 2007

s2e8: Hell Night: Morning, Afternoon

The final two Solitarians compete in a vicious gauntlet of tests that pushes one to their limit. Then Val's Hammock from Hell promises to destroy one guest and make the other fifty thousand dollars richer.
Season 3
Saturday, January 17th, 2009

s3e1: Battle of the Pods

The experiment begins with a shocking twist. This season's guests enter Solitary two by two and must fight for their very existence from the moment they arrive. Then two guests are sacrificed at the Solitary altar before this 90-minute special concludes.
Season 1
Monday, June 5th, 2006

s1e0: The Road to Solitary

The people behind Solitary take viewers on a behind-the-scenes look into the show's origins and pre-production. The audience also gets a sneak peak into the coming tests, treatments, and tantrums that await the nine future pod people.

Monday, July 31st, 2006

s1e9: Solitary Reunion Special

Join the nine former pod people, including the grand-prize winner, as they look back on their time inside their octagon-shaped cells. Get the inside scoop on what it was like dealing with their solitude and the infamous Val.
Season 2
Saturday, August 4th, 2007

s2e0: The Road to Solitary 2.0

Val, the all seeing all knowing presence who runs Solitary, takes us on a tour of the roller coaster of season one, shows us what kind of crazies volunteer for Solitary 2.0., as well as a peak behind the scenes and a sneak preview of season two.

Saturday, September 29th, 2007

s2e9: The Union 2.0

The nine guests from "Solitary 2.0" meet for the first time to reveal their secrets and share their experiences from their pods. Hosted by Todd Newton.
Season 3
Saturday, January 24th, 2009

s3e2: Pinch Me, I Must Be Nightmaring

The remaining eight guests are put to the test - a nearly impossible one with over forty-thousand possible solutions - before they feel the sting of forty excruciating "Flesh Clips" in Val's most painful treatment ever.

Saturday, January 31st, 2009

s3e3: Rats

The agonizing conclusion of Val's ?Flesh Clip? treatment leaves the guests battered and bruised. Their nerves are further tested by dozens of snapping mousetraps. One guest unravels before an aromatic final-assault drives them all senseless.

Saturday, February 7th, 2009

s3e4: I Am A Complete Idiot

A shocking showdown sends another guest home forever. And a microscopic message has them all speaking in tongues. Later, they devour a feast of cruel confections that makes one guest's parting a sweet sorrow.

Saturday, February 14th, 2009

s3e5: Sweeny Pod

Val's mind games force the guests to question their sanity, and a gruesome test makes animals out of them all. Two guests earn freedom and a trip to "Club Val", while the other three are literally brought to their knees.

Saturday, February 21st, 2009

s3e6: Hello, My Name Is Chubby

Change is good for some guests?and bad for others, as two break down and two bulk-up to win a suffocating test. Then, a new Valphabet teaches them that ?P? is for ?Painful? and ?Q? is for ?Quit?.

Saturday, February 28th, 2009

s3e7: Rest In Pieces

Val's most macabre challenge yet has the final three guests attend their own funeral - they build their own coffins before having to lie in them. Later, Val spins a spine-tingling treatment that leaves two lives cliffhanging in the balance.

Saturday, March 7th, 2009

s3e8: The W Of S 3.0

The conclusion to Val's relentless experiment begins with one guest falling from grace. The final two go head-to-spinning-head in an "a-maze-ing" test that gives one of them an advantage in the electrifying final treatment.
Season 4
Friday, January 29th, 2010

s4e1: Unchained Malady

Val's new guests are shocked to find themselves locked in chains. The surprises keep coming when one guest is quickly eliminated... only to be replaced by a Solitary veteran.

Saturday, February 6th, 2010

s4e2: Fight Club

The guests are under the gun in Solitary's version of "Russian Roulette" before Val's most perverse treatment ever forces the guests to literally beat themselves up.

Saturday, February 13th, 2010

s4e3: A Pain in the Neck

The guests get scrambled trying to text on Val's "computer from hell," and life in solitary is so hard one guest may even quit before the treatment; a fiendishly twisted game of Twister.

Saturday, February 20th, 2010

s4e4: Going Ape

Lack of food, sun and sleep in Solitary makes the guests question their sanity before they go completely ape in a treatment that forces them to eat and run ... and eat... and run... until someone gives up for good.

Saturday, February 27th, 2010

s4e5: Escape from Valcatraz

Val redecorates the pods into cells that make the guests meager living space even more unlivable; before a thrilling prison break earns one guest freedom.

Saturday, March 6th, 2010

s4e6: The Head of Nails

The Guests step into the Matrix as Val turns a virtual maze into a mind-bending reality, before a skull crushing treatment of medieval proportions.

Saturday, March 13th, 2010

s4e7: Dunk if You're Ornery

Val plays head games with the final three Guests in a test that makes them color blind, before a treatment that requires mental balance and inhuman strength to survive.

Saturday, March 20th, 2010

s4e8: The Wheel of Misfortune

From nine to three, to two to WON. A bomb detonates in Solitary and earns one guest a serious advantage in the final treatment, the Human Hamster-Wheel of Misfortune.