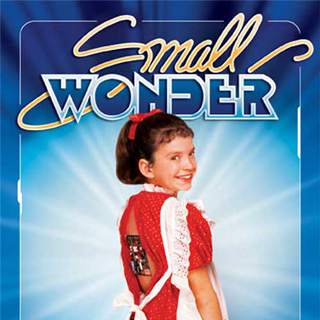 Season 1
Saturday, September 7th, 1985

s1e1: Vicki's Homecoming

Ted Lawson introduces his family to V.I.C.I. or the Voice Input Child Identicant: a secretly constructed robotic domestic aide in the form of a ten-year-old girl.

Saturday, September 14th, 1985

s1e2: The Neighbors

The Brindles, the Lawsons' snoopy neighbors, suspect the Lawsons are hiding something and attempt to sniff out their family secret; Harriet shows off her toy robot.

Saturday, September 21st, 1985

s1e3: The Sitter

When the Lawsons' babysitter cancels, Ted sees an opportunity for a new function for Vicki.

Saturday, September 28th, 1985

s1e4: The Suitor

The school nerd, Warren, falls in love with the only girl who doesn't slam the door in his face: Vicki.

Saturday, October 5th, 1985

s1e5: Sibling Rivalry

Jamie decides to run away when he feels that his parents attend to Vicki more than him.

Saturday, October 12th, 1985

s1e6: Spielberg Jr.

When Jamie and his best friend Reggie put together a sci-fi movie project for school, the directorial power goes to Jamie's head.

Saturday, October 19th, 1985

s1e7: The Lie

Jamie learns the value of consistent honesty when he can't convince his parents that he's not responsible for breaking a teapot.

Saturday, October 26th, 1985

s1e8: The Bully

When a bully begins extorting money from Jamie and his friends, Ted attempts to teach Jamie how to fight.

Saturday, November 2nd, 1985

s1e9: Slightly Dishonorable

Jamie uses Vicki to do his homework and gets on the school honor roll.

Saturday, November 9th, 1985

s1e10: The Adoption

After Bonnie Brindle tips off Child Services about the Lawsons' new child, Vicki must pass a medical exam.

Saturday, November 16th, 1985

s1e11: Child Genius

With Child Services watching, the Lawsons must hire a tutor for Vicki, and Joan resolves to complete her teaching degree.

Saturday, November 23rd, 1985

s1e12: Ted's New Boss

Following a house fire, the Brindles muscle their way into staying with the Lawsons.

Saturday, November 30th, 1985

s1e13: Brainwashed

When Vicki begins to mimic Harriet, Ted decides to reprogram her.

Saturday, January 4th, 1986

s1e14: The Burrito Story

Jamie attempts to mass-produce burritos made by Vicki.

Saturday, January 11th, 1986

s1e15: The Camping Trip

The Lawsons and Reggie and Harriet take a wilderness camping trip and get lost.

Saturday, January 18th, 1986

s1e16: Love Story

Jamie throws a lavish party to impress his first crush.

Saturday, January 25th, 1986

s1e17: Substitute Father

Brandon Brindle begins a father war when he finds that a golf-crazed Ted has been neglecting Jamie.

Saturday, February 8th, 1986

s1e18: The Robot Nappers

A rival robotics firm suspects that Vicki is a robot and plans to steal her.

Saturday, February 15th, 1986

s1e19: The Company Takeover

Cutbacks at United Robotronics have the Lawsons scrambling for odd jobs.

Saturday, February 22nd, 1986

s1e20: Good Ol' Lou

Ted is motivated to get the family into shape when an obese coworker loses a record amount of weight.

Saturday, March 1st, 1986

s1e21: Like Father, Like Son

Jamie tries out for the Pee Wee football team.

Saturday, May 3rd, 1986

s1e22: Vaudeville Vicki

A vaudeville actor becomes convinced Vicki is his long-lost daughter.

Saturday, May 10th, 1986

s1e23: The Real Facts of Life

Jamie attempts to educate his dad in the ways of love.

Saturday, May 17th, 1986

s1e24: The Grandparents

Ted must break it to his father that Vicki is a robot.
Season 2
Saturday, September 20th, 1986

s2e1: Root Beer, Women and Song

Still out to flatter the redoubtable Jessica, Jamie takes her out to an expensive restaurant while tightwad Ted puts Vicki in charge of household expenses.

Saturday, September 27th, 1986

s2e2: My Mother the Teacher

Jamie tries to recover his respect in class when his mother comes in as substitute teacher by trying to humiliate her out of her job.

Saturday, October 4th, 1986

s2e3: Vicki for the Defense

Playing a judge in a class simulation of a courtroom, Jamie dispenses uneven justice and gets impeached, while parking-ticket-skipping role model Ted tries to get himself arrested.

Saturday, October 11th, 1986

s2e4: Homeless Causes

Joan's civic project with the homeless prompts Jamie to bring home a bum, who virtually takes over the Lawson household.

Saturday, October 18th, 1986

s2e5: The Hustle

When Jamie is taken by a slick curbside vendor with a bad mini-TV, Ted goes after him for reparations -- and gets conned himself.

Saturday, October 25th, 1986

s2e6: Jamie's Older Woman

Jamie pushes Harriet aside in an unrequited crush on her 16-year-old cousin, who teaches him a lesson in respect.

Saturday, November 1st, 1986

s2e7: My Robot Family

When he's punished for thoughtlessly dropping the family's reservations to Mexico, Jamie dreams that the others are robots under his control.

Saturday, November 8th, 1986

s2e8: The Wonder Worker

To help Jamie's shy and withdrawn classmate who stutters, Ted programs Vicki to be her speech therapist.

Saturday, November 15th, 1986

s2e9: Have a Heart

Jamie tries to show Vicki the meaning of compassion by sharing, which she does -- including the dress off her back, while the Brindles move in with their marital dispute.

Saturday, November 29th, 1986

s2e10: Latchkey Dreams

To get on a community-sponsored Thanksgiving ski trip for disadvantaged kids, Jamie convinces the sponsors that his parents are separated.

Saturday, December 6th, 1986

s2e11: Computer Dating

To pay for a new bike he bought from the neighborhood bully, Jamie uses Vicki to run a school computerized match-making business.

Saturday, December 13th, 1986

s2e12: Smoker's Delight

Jamie learns a sobering lesson in using smoking and chewing tobacco to elevate his freshman status in junior high.

Saturday, January 10th, 1987

s2e13: Movin' Up

While Vicki learns to spend a day without duties or instructions, Ted's new prestigious job offer in Massachusetts tests the family's taste to social climb vs. its price of morality.

Saturday, January 17th, 1987

s2e14: Project Blender

To make his dad's ""button-pusher"" job seem important to his friends, Jamie hints that Ted is head of a top-secret project -- which even Ted's jealous boss, Brandon, believes.

Saturday, January 24th, 1987

s2e15: Class Comedienne

Nagged by classmates that Vicki has a wooden personality, Jamie overdoes it in secretly programming her a livelier one.

Saturday, February 7th, 1987

s2e16: Little Miss Shopping Mall

The Lawsons take up the Brindles' snobby challenge and enter Vicki in a mall pageant against Harriet.

Saturday, February 14th, 1987

s2e17: Victor/ V.I.C.I.

To help his Little League team's rock-bottom status, Jamie disguises Vicki as a boy to use her robotic abilities to bat for the pennant.

Saturday, February 21st, 1987

s2e18: Look into My Eyes

After Vicki watches a TV hypnotist turn volunteers into clowns and animals, she starts practicing her new mesmerizing ""skill"" on the Lawsons with hysterical results.

Saturday, April 18th, 1987

s2e19: Pint Sized Pick-Up

While in a store with Jamie looking for a present for her mock birthday party to convince Child Services that they treat her well, Vicki picks up an expensive watch and is picked up for shoplifting.

Saturday, May 2nd, 1987

s2e20: Community Watch and See

After being burglarized (while Vicki's home and they're at a restaurant), the Lawsons join the neighborhood watch.

Saturday, May 9th, 1987

s2e21: Here Kitty, Kitty!

To train Vicki to be more affectionate, Ted buys her a toy cat that only makes her mimic Jamie's past jealousy and run away.

Saturday, May 16th, 1987

s2e22: Vicki Goodwrench

During Jamie's part-time gas station job, Vicki fine-tunes a car to go 50 miles a gallon, causing oil companies and oil sheiks alike to drop by the Lawsons' door.

Saturday, May 23rd, 1987

s2e23: The Wedding

Ted and Joan decide to have the ceremonial wedding they never had -- until the Brindles butt in.

Saturday, June 20th, 1987

s2e24: Wham-Bam-Body Slam

Joan invites Wally Crandal, a former 90-pound weakling college classmate, over for dinner to meet his former school tormentor: Ted, who rigs Vicki to play even crueler tricks. Only Ted's unaware that Wally's grown into a top pro wrestler.
Season 3
Saturday, September 5th, 1987

s3e1: Vicki and the Pusher

When a schoolyard pusher tries to hook Vicki on drugs, the Lawsons help the police on a undercover sting.

Saturday, September 12th, 1987

s3e2: The Strike

A United Robotronics strike pits shop steward Ted against management rep Brandon; Joan has her students use the strike as a social studies exercise, which also goes awry.

Saturday, September 19th, 1987

s3e3: The Pool

While saving Harriet in the Lawsons' new pool, Vicki ""drowns"" and lands in the hospital under X-rays with a bewildered doctor.

Saturday, September 26th, 1987

s3e4: Screaming Skulls

Jamie stumbles into the membership of a junior high gang whose vandalism tests his sense of belonging with right and wrong -- and inducts Vicki as its moll.

Saturday, October 3rd, 1987

s3e5: The Electric Potatoheads

Jamie, Reggie, Harriet and Vicki try to start a rock group to play to Ida Mae's visiting agent friend.

Saturday, October 10th, 1987

s3e6: Geisha Vicki

To help Brandon get promoted to a job in Japan, Joan pretends that she's his estranged wife and that Vicki and Jamie are their kids.

Saturday, October 24th, 1987

s3e7: I Hear You

When Jamie befriends a deaf boy to score scout points, he learns a lesson in sensitivity and exploitation.

Saturday, October 31st, 1987

s3e8: Haunted House

When unseen Vicki is struck by lightning and begins influencing objects around the house, the shook-up and unwary Lawsons call in a pair of hapless ghostbusters.

Saturday, November 7th, 1987

s3e9: The Bad Seedling

Ted brings home Vanessa, an upgraded twin of Vicki whose revolutionary but quirky quasi-human artificial intelligence runs amok.

Saturday, November 14th, 1987

s3e10: My Living Doll

A Christmas show wherein Joan borrows a life-sized animated ""doll"" from a store for a charity show -- until Brandon gets his hands on it.

Saturday, November 21st, 1987

s3e11: Fat's Where It's At

Vicki literally balloons after Ted unwittingly upgrades her energy-supplementing polynucleotide processor with an appetite, which creates excess digestive gases and causes her a date problem for the school dance.

Saturday, November 28th, 1987

s3e12: Bank Hostages

Vicki, Jamie and Harriet are held hostage in an inept bank robbery.

Saturday, December 5th, 1987

s3e13: Breakfast of Criminals

Vicki is discovered by a marketing firm to play in a cereal commercial, but the Lawsons have second thoughts when her taste test reveals that the product isn't all it's crackled up to be.

Saturday, December 12th, 1987

s3e14: Girl on the Milk Carton

While Jamie and Reggie search for a story for the school paper, Vicki discovers that a new girl in class is a missing child.

Saturday, January 9th, 1988

s3e15: The Bossy Daughter

Jamie is picked up by the possessive daughter of Ted's boss who starts pulling his strings the wrong way.

Saturday, January 30th, 1988

s3e16: Home Sweet Sale

Ted begins remodeling the house, and Joan's new real estate side job gets upstaged when Vicki sells the Lawson homestead to an unscrupulous cowpoke couple.

Saturday, February 13th, 1988

s3e17: The Russians are Coming, the Russians are Coming

In an international junior high quiz, Vicki's school pits its top pupil -- her -- against an equally quick and infallible Russian whiz kid who has a secret of his own.

Saturday, February 20th, 1988

s3e18: In the Spirits

Due to Vicki's mishandling of terms, Child Services Officer Mrs. Fernwald thinks Ted is an alcoholic and threatens to take Vicki away unless he joins AA.

Saturday, March 12th, 1988

s3e19: The Perfect Daughter

To win a promotion over Brandon's boss fawning, Ted decides to reveal Vicki's robot secret to his boss at a company picnic -- unaware that Brandon is out to sabatoge Ted's effort.

Wednesday, May 4th, 1988

s3e20: Earthquake Vicki

Tired of the loud and impudent Brindles as neighbors, the Lawsons concoct a fake earthquake to scare them into moving.

Saturday, May 28th, 1988

s3e21: Ted's Dead

Due to Vicki's misinterpreting Ted's quip while doing the family's on-line banking, the Lawsons are re-categorized as deadbeats and Ted just plain dead.

Saturday, July 9th, 1988

s3e22: Big J, the D.J.

Jamie, competing with Reggie for school radio D.J., uses Vicki's voice mimicry to fake an interview with football star Lyle Alzado -- who happens to be in town listening in.

Saturday, July 30th, 1988

s3e23: Safety First

Vicky imitates Ted's demostration on saving a choking victim's life on Brendle. Brendle arrives the next day faking a broken neck and threatens to sue the Lawson's.

Saturday, August 6th, 1988

s3e24: How I Love Thee

While running an unauthorized answering service for grounded kids which nearly wrecks Ted's respect with his boss, Jamie and Vicki play Cupids to help Reggie nerve up to meeting the girl of his dreams.
Season 4
Saturday, July 23rd, 1988

s4e1: Big J, Private Eye

Prompted by Ted and his class to get his school reading assignment going, Jamie videos a book report based on a 1940s P.I. named Rick Savage.

Saturday, July 30th, 1988

s4e2: School Monitor

On their first day in junior high, Vicki becomes a hall monitor and Jamie tries to avoid Harriet for a dance while vying for a class fox. Meanwhile, Ted prepares to host a cybernetics conference.

Saturday, August 6th, 1988

s4e3: More About L.E.S.

L.E.S. is back, and despite Ted's assurances that the rogue A.I. program has been rendered harmless, it comes back in a big way by possessing Vicki's body (chassis?) as its own.

Saturday, August 13th, 1988

s4e4: Game Show

The Lawsons enter a game show to get back at the Brindles for trying to kick them off the eligibility list.

Saturday, August 20th, 1988

s4e5: Jailbirds

Jamie and Vicki are arrested for spray-painting a wall -- and its owner's $60 shirt.

Sunday, September 18th, 1988

s4e6: I Dream of Vicki

To keep his company's presence in an Arab country, Ted lets its visiting young ruler draft Vicki into his harem.

Sunday, September 25th, 1988

s4e7: Golddigging Ida

Joan's doctor father drops by to visit and Ida Mae smells a plump husband. Meanwhile, Vicki vies for school cheerleader.

Sunday, October 2nd, 1988

s4e8: It's a Gas

A digestion feedback problem with Vicki's polynucleotide processor generates nitrous oxide gas that brings laughs to anyone near her, but not to Vicki herself -- just as Ted's boss is about to visit about lay-offs.

Sunday, October 9th, 1988

s4e9: SuperSuds

While playing with Jamie's chemistry set, Vicki creates a potent laundry detergent that Ted -- and Brandon -- leap to market themselves.

Sunday, October 16th, 1988

s4e10: Battle of the Sexes and Robot

Ted, Jamie and Reggie go macho on an all-male fishing trip-- tailed by a slighted and competitive bevy: Joan, Vicki and Harriet.

Sunday, October 23rd, 1988

s4e11: Vicki and the Skyjacker

Fly-shy Brandon bribes the Lawsons' company to fly with him on a company job on a plane that is hijacked for Cuba.

Sunday, October 30th, 1988

s4e12: Luke and Ray

To help a withdrawn and bitter classmate cope with leukemia, Jamie and Joan help set up a play on fighting disease.

Sunday, November 6th, 1988

s4e13: Vicki's Glasses

Jamie regrets putting Vicki on guard duty for his pricey new bike when her eyes start to malfunction in a schoolyard of prowling thieves.

Sunday, November 13th, 1988

s4e14: Double Dates

Jamie winds up handling two dates on the same night, blind to the fact that one of them is Harriet in disguise.

Sunday, November 20th, 1988

s4e15: Vicki's Expose

Benny, an old college chum of Ted and Joan's is up to his same trashy school paper tricks in a big city rag now, fabricating a tabloid feature which by sheer chance ""exposes"" Vicki as a robot just as she's about to join a fashionable clique of girls.

Sunday, November 27th, 1988

s4e16: Doolittle Vicki

A new language translation device (Random Access Multiple Concurrent Linquistic Analytical Sequencer) installed in Vicki enables her to understand any language...even animals, like the bosses' dog. Mrs. Jennings forces Mr. Jennings to fire Ted when Joan balks at doing uncredited work for an affair.

Saturday, December 3rd, 1988

s4e17: Radio Show

Ted prepares for a robotics interview on a local radio talk show while Jamie looks for an idea for a class play.

Saturday, December 10th, 1988

s4e18: Pool Shark Vicki

To land a new promotion with the boss, Ted invites him over for dinner and a playful game of pool -- until Jennings starts betting the shirt off his back and a lot more playing against Vicki.

Saturday, December 17th, 1988

s4e19: Singing Telegram

Ted's singing telegram birthday greeting makes him pine back to his ""youthful years"" with a surfboard and prompts Jamie to start a singing telegram for schoolmates -- and competing with Reggie.

Thursday, January 5th, 1989

s4e20: The Rip-Off

While on a company vacation at a health resort, Jamie, Vicki, Brandon and Harriet see a burglar hitting their residence -- each with a different eyewitness account.

Thursday, January 12th, 1989

s4e21: My Favorite Martian

While Jamie tests out Ted's new laser projection system in Vicki's eyes, unwary Brandon glimpses her projection of a movie's flying saucer and calls the Air Force to investigate.

Thursday, February 9th, 1989

s4e22: Hooray for Hollyweird!

Ted brings back ""Bad Seed"" Vanessa, who again takes Vicki's place, locks Vicki in her/its cabinet and joins the family to Hollywood, where Ted must repair a movie's robot while Vanessa mugs into a screen test on the sly.
Season 0
Saturday, September 7th, 1985

s0e1: Episode Promo: Vicki's Homecoming

Saturday, September 14th, 1985

s0e2: Episode Promo: Guess Who's Coming to Dinner

Saturday, September 21st, 1985

s0e3: Episode Promo: Robositter

Saturday, September 28th, 1985

s0e4: Episode Promo: Nerd Crush

Saturday, October 5th, 1985

s0e5: Episode Promo: Runaway Jamie

Saturday, October 12th, 1985

s0e6: Episode Promo: Lights! Camera! Ego!

Saturday, October 19th, 1985

s0e7: Episode Promo: White Lies

Saturday, October 26th, 1985

s0e8: Episode Promo: The Fearless Five

Saturday, November 2nd, 1985

s0e9: Episode Promo: DisHonor Student

Saturday, November 9th, 1985

s0e10: Episode Promo: Vicki's Adoption

Saturday, November 16th, 1985

s0e11: Episode Promo: Child Prodigy

Saturday, November 23rd, 1985

s0e12: Episode Promo: Brindles Move In

Saturday, January 4th, 1986

s0e13: Episode Promo: Burrito Kings

Saturday, January 18th, 1986

s0e14: Episode Promo: First Love.

Saturday, January 18th, 1986

s0e15: Episode Promo: RoboBrat

Saturday, January 25th, 1986

s0e16: Episode Promo: Substitute Dad

Saturday, February 1st, 1986

s0e17: Episode Promo: The Robot Nappers

Saturday, February 8th, 1986

s0e18: Episode Promo: The Reluctant Halfback

Saturday, February 15th, 1986

s0e19: Episode Promo: Ted's Lay-Off

Saturday, March 1st, 1986

s0e20: Episode Promo: Vaudeville Vicki

Saturday, May 10th, 1986

s0e21: Episode Promo: The Birds, The Bees, and Robots

Saturday, May 17th, 1986

s0e22: Episode Promo: Grandpa Lawson's Visit

Saturday, July 12th, 1986

s0e23: Episode Promo: Health Nuts

Saturday, August 16th, 1986

s0e24: Episode Promo: Babes in the Woods

Saturday, September 20th, 1986

s0e25: Episode Promo:

Thursday, February 9th, 1989

s0e96: Episode Promo: Hooray for Hollyweird!

s0e100: Blooper: Self-conscious Tiffany

Winsome Tiffany gets embarrassed after flubbing a line.

s0e101: Blooper: It's Been A Long Day

Tiffany yawns between takes on the set of "Lights! Camera! Ego!"

s0e102: Blooper: Marla Flubs A Line

Watch lovely and demure Marla Pennington trip her lips with Dick Christie.

s0e103: Blooper: Tongue-tied Dick

The unflappable flubs a tantrum.

s0e104: Blooper: Counting Hiccups

Watch as hiccups skips our super-cool heroine's tongue! Well, actors are human...even V.I.C.I.

s0e105: Blooper: Jamie falls for Jessica

Need we say more?

s0e106: Blooper: Reggie tumbles from Grace

Hey, now it's twinkle-toes Paul's turn to take a tumble!

s0e107: Blooper: Reggie Vs. Chair

See Paul slug it out with an uncooperative prop! Who won?

s0e108: Blooper: Squeaky Syncing

An unprepared and surprised Tiffany just can't hold it in when she first lip-syncs on the fly a damaged V.I.C.I.'s call for help! Giggle on, girl!

s0e109: Extended Scene: Vicki does Marilyn Monroe Impression

See Vicki do Marilyn in this extended post-cut clip where impromptu coquette Tiffany hams it up with Christie.
Season 3
Saturday, August 27th, 1988

s3e25: The Cheater

Jamie takes the fall in exchange for Jessica's affections after he catches her stealing copies of the seventh grade's test.

Tuesday, September 6th, 1988

s3e26: Digital Love

Ted brings home a voice activated computer. Vicki finds herself falling for the computer, but trouble begins when the computer becomes obsessed with Vicki.

not specified

s3e0: