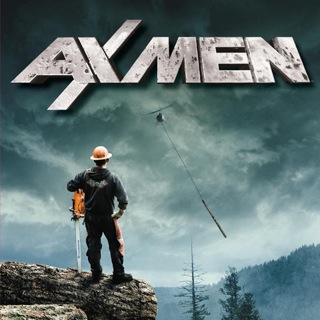 Season 0
Thursday, February 26th, 2009

s0e1: Road to Season 2

A preview of the season 2 from the reality series, including an introduction of the new crew.
Season 1
Sunday, March 9th, 2008

s1e1: Man vs. Mountain

Deep in the woods of the Pacific Northwest, rugged men make their living doing one of the deadliest jobs in the world... logging. Their mission is to retrieve timber perched on mountainsides too steep to access with machines, but it's no easy task. Plagued by mechanical failures, relentless weather, and unpredictable terrain, these brave men risk their lives retrieving the timber with which we built our country. Meet four companies trying to survive each day. Pihl Logging--a rag-tag group of loggers based in Vernonia, Oregon. Gustafson Logging--a close-knit crew working one of the most dangerous jobs in the region. J.M. Browning--the best of the best. Stump Branch Logging--the young guns with a lot to prove. These are the Ax Men.

Sunday, March 16th, 2008

s1e2: Risk and Reward

Just days into the fall logging season, the Ax Men are already being put to the test. J.M. Browning races to meet a big deadline. Stump Branch Logging tempts fate by jury-rigging their old equipment. The Gustafson Company races mother nature as they attempt to build a road to access their logging site. Father teaches son the lessons of logging as the men of the Pihl Company haul in the forest's cash crop.

Sunday, March 23rd, 2008

s1e3: Storm Season Strikes

As a storm closes in on the Oregon coast, the Ax Men race to stay one step ahead. Jesse continues to push the J.M. Browning crew to meet its looming deadline, while muddy roads trap trucks on their way to the Stump Branch site. Robby battles for control of the Gustafson crew. Pihl Logging feels the effects of the slumping lumber market.

Sunday, March 30th, 2008

s1e4: The Big Hit

Across Northwest Oregon, the Ax Men continue to grind it out. Storm season arrived with a vengeance--shutting some crews down while others struggled to stay afloat. Now a bigger storm is brewing. The stalled housing market's effects are hitting the Ax Men hard. Jobs will be shut down; men will be put out of work. This week, the housing market hits home.

Sunday, April 6th, 2008

s1e5: Market Meltdown

The loggers of the Pacific Northwest perform what is said to be North America's most dangerous job. Watch as the men react to news of upcoming layoffs. Gustafson Logging tries to get back on track, Browning Logging races to meet a big deadline and Pihl Logging needs to finish the Pig Farm Job. Despite Melvin's best efforts to keep up with his old equipment, Stump Branch Logging loses one of its most important machines.

Sunday, April 13th, 2008

s1e6: Reversal of Fortune

Logging has been called North America's most dangerous job. Logging giants throughout Oregon are falling. Two of the biggest--J.M. Browning and Gustafson Logging--are fighting to survive. Jay Browning, usually flush with lucrative deals, is forced to make tough decisions. Gustafson Logging is down but not out. Smaller outfits, like Stump Branch and Pihl, find winning strategies in their young leaders.

Sunday, April 20th, 2008

s1e7: The Close Call

The season is halfway through, and the gap between winners and losers is widening. Stump Branch tests a new but more dangerous logging strategy... and it poses great danger to the men in the rigging. The Pihl men play while the bosses are away. Browning Logging is a team divided. Jesse struggles to prove himself to his father... but faulty equipment isn't helping matters. A mistake on the Gustafson crew may end one man's career.

Sunday, April 27th, 2008

s1e8: Loggers Under Fire

In the wake of the plummeting logging market, the Ax Men are barely surviving. The Gustafson bosses have a close call while taking over for their laid-off crew. An old hook tender returns to the Browning team, stopping Jesse's ascension to company management. Pihl loses a crucial member of the team as it struggles to finish Pig Farm. At Stump Branch, the young guns take matters into their own hands when Melvin has to leave the site.

Sunday, May 4th, 2008

s1e9: A Logger's Thanksgiving

Thanksgiving arrives; winter weather strikes and the men of Pihl lose one man after another to illness. The younger crew members of Gustafson blow off steam while the bosses toil away. Jay is forced to ax some of the Browning gang staff. The season's first snow is a warning of things to come for the Stump Branch crew.

Sunday, May 11th, 2008

s1e10: Black Friday

Thanksgiving is over, but the return to work brings more trouble for the Ax Men. The Gustafson crew now faces a nearly impossible deadline after returning from a devastating two-week layoff. Pig Farm is close to its deadline, but half of the Pihl crew skips work, leaving greenhorn Cody to pick up the slack. Mistakes and inexperience at Stump Branch put profits and lives at risk. Jay Browning makes a troubling discovery about his next job.

Sunday, May 18th, 2008

s1e11: Storm of the Century

The town of Vernonia is declared a disaster area as the worst storm in 25 years pounds the Oregon coast. Members of Pihl and Stump Branch are forced to flee. Jay Browning can't be found. Darrell must act fast to save his house from falling trees as the town of Astoria descends into a blackout. The future of the logging industry is in jeopardy.

Sunday, May 25th, 2008

s1e12: The Toughest Season

A recap of the the show's first season.

Sunday, June 1st, 2008

s1e13: Picking Up the Pieces

The loggers try to put the storm behind them, so they can get back to work; Darrell makes a discovery that startles the crew; Jay struggles to motivate his crew without phone service; the Pihl crew comes to the rescue of one of its own.

Sunday, June 8th, 2008

s1e14: The Final Haul

The loggers toughest season begins to wind down; Jesse begins to wonder about the family business; rumors begin to spread, to the other crews, that the Gustafson crew is pulling out.
Season 2
Sunday, November 29th, 2009

s2e1: Ax Men Cometh

J.M. Browning and Pihl Logging are joined by two new teams of newcomers, Rygaard Logging and S&S Aqua Logging, in a race to see which team can cut down the most timber in the year's most dangerous season.

Monday, March 9th, 2009

s2e2: Initiation Day

After just starting the race, men from the groups begin quitting; Jay Browning's big financial gamble shows that it won't pay out; the Aqua Logging crew attempts to reel in what could be a once in a lifetime catch.

Monday, March 16th, 2009

s2e3: By Air, Land and Sea

A helicopter logging company makes it's presence know in the competition; Dustin tries to convince his father into returning to Pihl Logging; a member of the Rygaard team must face his fear when he has to climb a 100-foot tall tree; Jimmy and James watch their prized log fall through their hands.

Monday, March 23rd, 2009

s2e4: Moby Dick Strikes

R&R Conner Aviation have to make a decision to either keep their workers safe or to amp up production; Jimmy and James battle a deadhead log known as "Moby Dick."

Monday, March 30th, 2009

s2e5: The King Crumbles

A member of the Rygaard crew fights to save his job; Jimmy heads into minefield laced waters; the pilot from R&R gets trapped in fog.

Monday, April 13th, 2009

s2e6: Lost in the Fog

A helicopter is trapped when a fog rolls over a mountain; Jimmy's barge is threatened to be destroyed; and a crew of a downhill logging site faces challenges.

Monday, April 20th, 2009

s2e7: One Weak Link

Jimmy discovers a once-in-a-lifetime log, as the Pihl Logging team is challenged by formidable lumber. Also, the helicopter's team finds their weak link in their operation, the new pilot.

Monday, April 27th, 2009

s2e8: The Ax Falls

The bosses weigh through some tough decisions concerning the new guys, and one greeenhorn will be released.

Monday, May 4th, 2009

s2e9: Fresh Meat

The crews receive some new loggers. Then, a search is conducted when a cutter disappears. Also, tempers flare among the aqua loggers.

Monday, May 11th, 2009

s2e10: Clash of the Titans

A new pilot endangers the helicopter when he becomes reckless. Bad weather delays the aqua loggers; and a greenhorn attempts to prove himself.

Monday, May 18th, 2009

s2e11: The Reckoning (1)

The crews rush to meet their goals as logging season nears it's end, and one logger is let go.

Monday, May 18th, 2009

s2e12: The Reckoning (2)

The season two finale finds a fight erupting within one crew. Elsewhere, Jimmy has trouble with his barge, and a pair of crews are facing disasters.
Season 3
Sunday, January 10th, 2010

s3e1: Ax to Grind

The third-season opener introduces new locations as crews begin work in the summer. In addition to sites in the Pacific Northwest, loggers will battle the terrain and heat of Florida and Louisiana.

Sunday, January 17th, 2010

s3e2: Deeper into the Swamp

Greenhorns are tested by Rygaard; Jay Browning hires a new yarder operator; and an argument brews between two members of the Pihl crew.

Sunday, January 24th, 2010

s3e3: Diving for Dollars

Jimmy and James arrive in Florida and realize that the challenges are tougher than they expected; Rygaard runs into problems when a cable snaps; and Browning learns that rapid production has a high price.

Sunday, January 31st, 2010

s3e4: Boiling Point

Mistakes at Browning threaten the safety of the loggers; the Rygaard greenhorns receive an ultimatum; Melvin and Leland compete for the yarder seat; and Jimmy has a dangerous first dive.

Sunday, February 14th, 2010

s3e5: Surviving the Swarm

Melvin endangers other crew members with his recklessness; Jimmy has an encounter with an alligator; Shelby battles debris caused by Hurricane Katrina; and Jay Browning collapses while working.

Sunday, February 21st, 2010

s3e6: Showdown

Tempers erupt, especially among the Pihl loggers; Jay Browning suffers shock from an allergy; and a Rygaard greenhorn is let go.

Sunday, February 28th, 2010

s3e7: Chopping Block

Loggers are fired, and one disappears; Shelby takes a risky job searching for a sunken raft of logs; and Jay Browning gets some bad news.

Sunday, March 7th, 2010

s3e8: Assault by Air

The loggers struggle to get back on track after losing a man. At Browning, a weak cable threatens to kill half the crew, while the only remaining greenhorn at Rygaard is in the line of fire during a log-alanche. Shelby's camera crew gets lost in the swamp overnight. In Florida, Jimmy and James set out alone and score the season's first big catch. And, Conner Aviation returns to face the most dangerous heli-logging job of their career.

Sunday, March 14th, 2010

s3e9: Crash and Burn

Shelby's desperate dash for cash is halted when he crashes in the swamp. A monster gator stalks the S&S boys, pushing Jimmy to his breaking point. At Rygaard, Gabe competes against his own team and at Browning, Jay recruits DJ and Cody for a dangerous environmental mission. At Conner, a giant load breaks the belly hook off the chopper, grounding the heli-loggers.

Sunday, March 21st, 2010

s3e10: Curse of Kalina

Jimmy and James come face-to-face with the 12-foot gator that has stalked them for weeks. In the swamps of Louisiana, Shelby goes solo on a challenging mission. At Rygaard, greenhorn Dave disappears and at Browning, a string of setbacks makes Jay question if the Kalina job is cursed. The rookie pilots at Conner get the ride of their lives.

Sunday, April 4th, 2010

s3e11: End of the Line

Dave persuades Gabe to give him one last chance at Rygaard, but a careless error puts Craig on the verge of firing him; Jimmy's desperate decision to snatch a log already marked by the other Collins crew has Joe questioning his ethics; Swamp Man tries to pull a massive log from Lake Pontchartrain and stay ahead of both a fierce storm and a buyer's deadline; Josh and Kevin get their first practice at dropping cargo to the Conner ground crew; as Browning pulls in the last loads from its current job, Jay tells the crew that he has no new work lined up and must send them home.

Sunday, April 11th, 2010

s3e12: Eleventh Hour

Craig storms off the Rygaard site and Dave fails to show up, leaving Gabe to manage a shorthanded crew alone; after Jimmy's log-poaching last week, James goes out on the Suwannee by himself to hunt timber with Collins' other crew; when Jesse secures a new job for Browning, Jay brings in every available crew member to put wood on the ground; as Swamp Man makes a second try for the huge log stuck in Lake Pontchartrain, Shelby's old hernia flares up and sends him to the hospital; Josh and Kevin each make an actual heli-logging run, after which Bart evaluates their performance and hires Josh to fly for Conner.

Sunday, April 18th, 2010

s3e13: King of the Mountain

It's an all-out fight to the finish for Browning and Rygaard, as Gabe mounts a last minute surprise comeback. Shelby vows revenge on the lake log, and at Conner, it's up to the junior pilot to save the season. In Florida, it's the end of the road for Jimmy, but Joe Collins makes James an offer he may not be able to refuse.
Season 4
Sunday, December 12th, 2010

s4e1: Alaska

The fourth season of Ax Men returns and this year, the stakes are higher than ever. Father-and-son team Craig and Gabe Rygaard are back to take down reigning top dog J.M. Browning... but newcomer Papac Logging is gunning for both of them. Braving a remote island off the coast of Alaska, these guys play by their own rules and will stop at nothing to conquer one of America's final frontiers. Pihl Logging also returns, this time with a secret weapon whose arrival shocks the entire crew. While the mountain's top dogs battle it out in the northwest... in the other corner of the country, the aqua loggers also return. Jimmy Smith is back to reclaim his son and challenge rival Collins to a Log-Off in the black waters of the Suwannee River, while swamp logger Shelby Stanga is on a mission to find an assistant in the backwoods of Louisiana. It's the start of the most explosive season yet in the race to get the country's green gold and get out alive.

Sunday, December 19th, 2010

s4e2: Sink or Swim

Rygaard tries to tame two monsters at the same time--the super-juiced Mean Bean and the downhill site on which it's deployed. Pihl's greenhorn must prove herself to the crew but a deadly mistake could cost her everything. Jimmy encounters trouble on his way to the river. Shelby and his new assistant take drastic measures to unearth a monster log. And at Papac, tempers boil over, sending one man running for the hills.

Sunday, December 26th, 2010

s4e3: Day from Hell

On the edge of America's final frontier, it's every logger's worst nightmare: one of Papac's men has disappeared into thin air. Logging country is rattled to its core when logger Van Huffman goes missing in Alaska's remote wilderness. But when Papac's crew braves the harsh terrain and weather that batters Suemez Island, they find many reasons for concern and few for hope. Down south, the mountain's newbies are in hot water. At Pihl, Leah creates an upender that threatens the entire crew and at Rygaard, Dave's "work ethic" meets Craig's wrath. In Louisiana, Shelby messes with a lethal dose of TNT that could sink him and his swamp friends for good, while the Collins crew lands on the wrong end of a runaway boat.

Sunday, January 2nd, 2011

s4e4: Manhunt

At Papac Alaska, time is running out for missing logger Van Huffman. At Rygaard, Gabe gambles on a helicopter... and loses. At Pihl, rigging slinger Eric Davis is rushed to the hospital after a gruesome fall. In Louisiana, Shelby pulls an all-nighter to save his dog Piss Willy. And in Florida, Collins puts the Smith boys in their place.

Sunday, January 9th, 2011

s4e5: Battle for Survival

It's a battle for survival in logging country. In Bayou country, Shelby's nighttime mission brings him face-to-face with an alligator. In Florida, Jimmy and James push their luck to get one of the biggest logs in the Suwannee. At Rygaard, Dave goes down with an injury, while at Papac Alaska, the Colonel goes out in a blaze of glory. The tides are turning in logging country... and after tonight, nothing will be the same.

Sunday, January 16th, 2011

s4e6: Judgment Day

Logging country is turned upside down when one of the mountain's best bows out. At Papac, the men suffer under the reign of a new yarder operator. At Rygaard, it's machinery gone wild when a half-baked plan goes bad and threatens to take out a fellow man. In Florida, Jimmy and James are hunted by a venomous snake, while in Louisiana, Shelby is hunted by an old foe.

Sunday, January 23rd, 2011

s4e7: Under Fire

Logging country is teetering on the edge. At Rygaard, Gabe lands on the wrong end of a volatile log pile. At Papac Alaska, Coatsy risks sending their million-dollar yarder over the edge of a steep cliff. Down south, Shelby Stanga dodges gunfire on the Louisiana bayou, and in Florida, James Smith walks out on his father.

Sunday, January 30th, 2011

s4e8: Overboard

Ax Men is hitting the freezing waters of southeast Alaska when a new tug boat company enters the fold. Charged with towing Papac Alaska's million-dollar payday to the mill, this veteran crew is getting a new addition: former Pihl hothead Dustin Dethlefs. At Papac Alaska, Coatsy faces competition when a former rigger returns. At Pihl, the new greenhorn leaves a lot to be desired. In Florida, Jimmy Smith goes it alone, and at Rygaard, Craig goes over Gabe's head in an attempt to push chaser Dave Schroeder out.

Sunday, February 13th, 2011

s4e9: Lock & Load

At Rygaard, Craig's secret weapon arrives with a bang... but the crew's welcome of the new guy is far from warm. In Florida, Collins and Smith go log-for-log as both teams take a run at the lead in the Log-Off. At Olson, a broken log raft requires quick thinking from greenhorn Dustin Dethlef. At Papac Alaska, Joe and Coatsy face-off in a log rolling competition, and in Pihl country, a dangerous thinning site and temperamental equipment are a deadly combination for the rigging crew below.

Sunday, February 20th, 2011

s4e10: Fallout Zone

As the season reaches the halfway mark, logging country is feeling the pressure. In Florida, Swilley gets hooked in a pile of rusty metal while Jimmy and James ride a wave of high times. At Rygaard, Gabe puts his entire crew on the line when he decides to fall standing trees from directly under the skyline. In Oregon, Pihl's greenhorn lands on the wrong end of a 2,000-lb falling tree, and in bayou county, Shelby launches a dangerous nighttime mission in a part of the swamp known as "Alligator Alley".

Sunday, February 27th, 2011

s4e11: Tipping Point

Logging country is coming unglued. Rygaard is a war zone when the battle between chasers threatens to tear apart the entire crew. At Papac Alaska, Joe and Coatsy let the fists fly. In Florida, Jimmy suffers a season-ending injury. In the swamp, Shelby Stanga pushes his Log Dog past the tipping point... and for Pihl, the end is sooner than they think.

Sunday, March 6th, 2011

s4e12: King of the Hill

In this episode of Ax Men, it's out with the old, in with the new. King of the Mountain J.M. Browning returns with son Jesse leading the charge. At Rygaard and Pihl, both companies face season-ending crises. In Florida, James hires a new deckhand but takes a serious blow to the head...and in Cajun country, Shelby's got a new toy.

Sunday, March 13th, 2011

s4e13: Fraying at the Edges

While the competition between American loggers is more heated than ever... up north, there's a new game in town. Canadian top dogs Lemare Lake Logging are facing one of the toughest jobs of their career--a remote patch of land accessible only by boat. But when a major piece of equipment goes down, it threatens to end their season before it ever gets going. Down south, Browning's punishing pace comes at a price. In Alaska, rivals Joe and Coatsy settle their differences with an old school ax-chopping competition. In Florida, Joe Collins conjures up the spirits of the Suwannee, and in the backwaters of the bayou, Shelby's putting his swamp buggy to work.

Sunday, March 20th, 2011

s4e14: This Means War

From coast to coast, logging companies are willing to do anything to stay on top. At Browning, the crew gambles on a slipping skyline. In the bayou, Shelby puts his swamp buggy to the test pulling one of the biggest logs of the season. At Rygaard, Craig mounts an assault to get rid of Dave. In Florida, Joe Collins takes the plunge into the black waters of the Suwannee while S&S tries to regroup with the help of local deckhand Casey Roberson. And in Canada, Lemare receives devastating news that could end their season before it ever gets going.

Sunday, April 3rd, 2011

s4e15: The Mouth from the South

There's a new crop of loggers in Ax Men country... but fitting in with the old guard ain't easy. In Louisiana, a beauty queen quickly pushes all of Shelby's buttons at once. At Lemare, Steve and the greenhorn butt heads that ends with one of them quitting. In Florida, S&S's newest deckhand gets more Jimmy Smith than he can handle. At Papac Alaska, Joe and Coatsy get a chance to bury the hatchet... but at Rygaard, the bad blood between Craig and Dave is worse than ever and is on the verge of tearing the crew apart.

Sunday, April 10th, 2011

s4e16: Blast Off

From Canada to Louisiana, desperate times call for desperate measures. At Lemare, a washed out road threatens to trap their logs on the landing... until Gord decides to blast half the mountainside to make new gravel. At Rygaard, Gabe's got a surprise for his crew to put them back on track, while in Oregon, Jay Browning has a close call with a barberchair. In Louisiana, Shelby's bringing in a surprising new assistant: his wife Donna. And in Florida, Joe and Swilley hook a bigger log than they can handle and end up sinking their boat in the process.

Sunday, April 17th, 2011

s4e17: Man Down

As the logging season winds down, the pressure to produce, heats up. In Alaska, a family emergency takes Mark from the yarder seat and with no time for a shut down... Papac calls on the only guy with experience running the massive machine: Joe Linderborg. Meanwhile the men of Rygaard are feasting at the Honey Hole, pulling big wood and riding high. Down south on the Suwannee, Jimmy and James try to close the gap in the Log-Off while Joe and Swilley just try to get back on the water. And in the Louisiana bayou, a ghost threatens to derail Shelby.

Sunday, April 24th, 2011

s4e18: Final Countdown

It's time to finish the season strong. In Florida, the Log-Off is locked in a dead heat, and with Joe and Swilley sidelined after sinking their second boat, Jimmy and James are poised to take the top spot. Swamp man Shelby Stanga's log buyer is due in the morning, but a bite from a water moccasin may kill his plans for success. At Rygaard, Craig kicks Dave off the landing, but one moment of inattention could be the end for former chaser. At Browning, the crew battles a patch of tangled timber, and north of the border, the men of Lemare are racing to stay ahead of winter storms that could shut them down at any time.

Sunday, May 1st, 2011

s4e19: Fever Pitch

Across logging country, the final push begins. At Papac, Joe Linderborg's reign on the yarder has everyone running scared. At Browning, Jay receives devastating news that could mean the end of his career. On the Suwannee, S&S and Collins almost come to blows over a pair of logs. In the swamp, Shelby mounts his final and most important mission of the season--saving his Log Dog. And at Rygaard, one chaser blows up and bows out of the competition for good.

Sunday, May 8th, 2011

s4e20: Down To The Wire

It's the final week of Ax Men, and as the clock counts down, tempers heat up. In the bayou, Shelby races to raise his rig before offshore storms force the end of the season. In Florida, S&S and Collins cash in on the season's take... but for these bitter rivals, it's not over until it's over. At Lemare, Gord rushes to deliver a season's profit to the mill in time. And at both Papac and Rygaard, last minute gambles backfire and push the race to become King of the Mountain to the final seconds of the season.
Season 0
s0e2: Season 3 Extras

s0e3: Darrell Builds a Road

s0e4: Additional Footage

s0e5: Ax Men Equipment

s0e6: Problems on the Mountain

s0e7: Training the Newbies

s0e8: How to Fall a Tree

s0e9: Rookies for a Ride

s0e10: Shelby's Injuries

s0e11: Turtle Whisperer
Season 5
Sunday, January 8th, 2012

s5e1: Ax Is Back

It's a new season of Ax Men and a new battle for "king of the mountain." Papac returns as reigning king of the mountain, but the stress of maintaining the title pushes hook tender Coatsy over the edge. Rygaard's dangerous blowdown site fights them at every turn. Shelby Stanga needs to start this season strong, but a gruesome accident puts him dead in the water. Veteran Pihl cutter Levi Brown breaks out on his own, and a new yarder company joins the competition. S&S logging returns to Florida to log against new rivals, but infighting trumps the competition.

Sunday, January 15th, 2012

s5e2: Damage Control

Swamp Man Shelby Stanga is hired to remove a log from private property, but complications lead to disaster. Infighting reaches a fever pitch at S&S Aqua Logging, while the competition has a run-in with Mother Nature. A familiar face returns to Papac, much to Coatsy's dismay. Gabe Rygaard takes Dave out cutting, but things go awry. And the rookies of Big Gun Logging are adding to their ranks.

Sunday, January 22nd, 2012

s5e3: No Pain, No Gain

Jimmy Smith is smitten with his new assistant, while rivals Uncle Buck and Swilley push their equipment to the breaking point. Shelby Stanga scouts his newest log order with his darling wife Donna. Big Gun Logging faces an uncertain future when owner Levi Brown is admitted to the hospital. And at Rygaard and Papac, the chainsaws bite back.

Sunday, January 29th, 2012

s5e4: Hell Hole

At Papac Alaska, the site is turned upside down when the yarder operator walks off in the middle of the day. In Florida, Swilley's determination to beat S&S in the Suwannee River Log Off leads to a life threatening mistake. With their leader still in the hospital, Big Gun Logging loses control of the Ole Keasy site. At Rygaard, the rigging crew is learning safety lessons the hard way. And in the swamp, the bigger they are, the harder they fall.

Sunday, February 12th, 2012

s5e5: Cowboy Up

Start-up outfit Big Gun Logging hits a snag as their deadline approaches. In Florida, Buck & Swilley make a run for the lead in the Log-Off while Jimmy deals with a crew crisis. Shelby Stanga enlists the help of a voodoo team to get his cousin's ghost under wraps. In Washington, a string of accidents on Craig's watch threatens to shut down the site. And in the mountains Montana, a new company joins the ranks of the Ax Men, forcing everyone to "cowboy up!"

Sunday, February 19th, 2012

s5e6: Fists of Fury

It's a fight to the death between Shelby Stanga and a massive standing tree. At Rygaard, the bad blood between Dave and Fernando boils over. In Alaska, Papac's men are on the run when two machines get tangled up while in Florida, Buck and Swilley raise the stakes. And in Montana, the newcomers from Siderius Logging are gambling on life and limb.

Sunday, February 26th, 2012

s5e7: Wake Up Call

Shelby Stanga takes his newest assistant loggin' and froggin'. In Montana, young Siderius cutter Travis earns his stripes when he's forced into a deadly situation. The father and son team of S&S hits bottom, then hits gold. In Washington, a close call puts an end to the infighting, and at Papac, Joe lets loose.

Sunday, March 4th, 2012

s5e8: Out of Control

When a back injury puts Danny out of action on Big Gun's new job, Levi starts trying out two greenhorns, Josh and Ryan; turns of massive logs bring a widow maker down on the Papac camera crew and threaten to rip out the new tail hold; Shelby and another cousin fight bumblebees and underwater wildlife in search of valuable timber for Swamp Man's latest order; after Rygaard's heavy-duty carriage breaks loose and hurtles all the way down the skyline, Gabe gets in an argument with Craig and storms off the site; Jimmy kicks James off the S&S boat again and works alone while dodging speedboating locals; as Uncle Buck chases down the pieces of a 300-year-old sunken raft, Swilley gets pinned at the bottom of the Suwannee.

Sunday, March 11th, 2012

s5e9: Rygaard vs. Rygaard

Unable to see eye to eye, Rygaard runs two yarders side by side, doubling their production but increasing their odds of making errors. Meanwhile, Jimmy and James Smith are tired of fighting and look to an anger management counselor for help.

Sunday, March 18th, 2012

s5e10: Down and Dirty

The season hits the halfway mark, and everyone is upping his game. In the swamp, Shelby and cousin Belinda are under the gun to find a huge Cypress. In Florida, S&S hires a new diver but says goodbye to an old one. In Montana, the cowboys of Siderius must break in their greenhorn without breaking him for good. And at Rygaard, two yarders bring in twice the wood and twice the trouble.

Sunday, March 25th, 2012

s5e11: Let 'Er Rip

As the season moves on, everyone's going to greater lengths to stay on top. At Papac, an accident sends one man over the edge of the landing. In horse country, the loggers take to new heights in order to get the final tree of the job on the ground. At Siderius, greenhorn Jesse Kelleher is in need of redemption. And in the bayou, the swamp man gets into a shootout with another logger who's after Shelby's profits.

Sunday, April 1st, 2012

s5e12: Burning the Bear

In the swamp, the battle between Shelby Stanga and his nemesis Richard comes to a head. On the river, Buck and Swilley's boat goes boom. At Big Gun, one of their greenhorns shows his dark side. And at Papac, Joe and Coatsy bury the hatchet.

Sunday, April 8th, 2012

s5e13: Where's Willy

On the mountain, Gabe's two-yarder plan goes further off track when one crew member defects to the other team. Big Gun races their tightest deadline yet, while in Alaska, Joe and the new guy get into it. On the river, an accident could take S&S out of the Log-Off for good, and in the swamp, Shelby's trusty assistant Willy goes missing.

Sunday, April 22nd, 2012

s5e14: Falling Apart

From Alaska to the bayou, the hits are coming fast and hard. At Rygaard, a crew shakeup leaves everyone scrambling. In Florida, the tides are turning as S&S suffers a blow while Buck & Swilley get unexpected help from James. In Alaska, Papac takes to the open seas for a fishing trip, while, Big Gun must bring in a new yarder operator to have a chance at conquering their dangerous downhill site. And in the swamp, an accident may cost Shelby another one of his assistants.

Sunday, April 22nd, 2012

s5e15: Up in Flames

As the season enters the homestretch, everyone is risking more to stay on top. Jimmy Smith braves the depths of the Suwannee River for the first time in three years, but his fears may get the better of him. In the swamp, Shelby also takes on an old enemy--the log that flipped his winch last season. In Montana, the boys of Siderius are playing fast and loose, while at Rygaard, the crew pushes their yarder to the brink of disaster.

Sunday, April 29th, 2012

s5e16: Family Rivalry

At Rygaard, Gabe's two yarder sides are reunited, but the infighting that's plagued them all year is worse than ever. In Florida, the alliance between Team Buck and James Smith comes to a bitter end. At Papac, Joe's hard-yarding style sends the rigging crew running for cover. In the swamp, Shelby Stanga won't stop until he gets his revenge. And in New Hampshire, two new teams of ox loggers enter the race.

Sunday, May 6th, 2012

s5e17: Swamp Gold

Shelby stumbles upon something of potentially great value in the swamp; Craig and Wayne prank Dave in Washington; personality clashes in New Hampshire lead to ox-logger walk-offs; and James returns to S&S on the Suwannee.

Sunday, May 13th, 2012

s5e18: Up in Smoke

Shelby searches for gold in Lake Pontchartrain; a log-off in Florida goes to sudden death; and a potentially disastrous mistake occurs at Big Gun.

Sunday, May 20th, 2012

s5e19: Betting It All

From Alaska to Florida, one of the toughest seasons on record is almost over. At Papac, pushing hard pushes Joe to his breaking point, while at Rygaard, Dave has officially worn out his welcome. On the Suwannee, the teams are fighting to win the final round of the Log-Off, but a season's worth of bad blood between Jimmy and James comes to a head. In Louisiana, the Swamp Man gambles on a helicopter to search for a multi-million dollar sunken log raft.

Sunday, May 27th, 2012

s5e20: The Ax Stops Here

It's the nail-biting conclusion of the race to be crowned King of the Mountain. While Papac battles to bring their yarder operator back from the brink, Craig Rygaard forces Gabe to choose between him and Dave. At Big Gun, Levi drops a bomb, while in the swamps of Louisiana, Shelby's in a desperate race to find swamp gold. And in Florida, the Great Suwannee River Log-Off comes to a close, but when Jimmy doesn't like the results, he takes matters into his own hands.
Season 6
Sunday, December 9th, 2012

s6e1: All or Nothing

An all-new season of Ax Men starts with a bang. Swamp Man Shelby Stanga is in search of a million-dollar payday, but nemesis Richard is hot on his trail. In Florida, S&S Aqua Logging gets a new captain, but a rocky first day signals trouble on the horizon. In the northwest, reigning King of the Mountain Rygaard Logging returns with a surprising new addition, and in Alaska, the rowdy boys of Papac Alaska begin another season battling the toughest terrain in the country.

Sunday, December 16th, 2012

s6e2: We're Not Alone

The season has only just begun, and already, things are off to a rough start. In Alaska, Joe Linderborg is back in the yarder seat and the whole crew is paying the price. At Rygaard, DJ comes face-to-face with Craig after two years and the reunion isn t a happy one. In the swamp, Shelby and niece Stephanie stumble into a wasp s nest, and in Florida, S&S realizes they aren t alone on the Withlacoochee River. TVPG

Sunday, December 23rd, 2012

s6e3: Sabotage

It s week three and logging country is falling apart. In the swamp, Shelby must rely on niece Stephanie and cousin Belinda to do his dirty work. At Rygaard, the rigging guys formulate a plan to get rid of DJ. In Alaska, wild man Joe Linderborg takes it out on a choker-setter, and in Florida, James must cope with his dad s health issues while also leading his crew. TV14 D-L
Season 7
Sunday, November 10th, 2013

s7e1: Axes and Allies

Sunday, November 24th, 2013

s7e3: Burying the Hatchet

It's week three and the surprises keep on coming. In Washington, Gabe's king of the mountain title is in the hands of a novice crew, until he gets some help from an unlikely family member. Down in the swamp, Shelby's log buyer stops by for a surprise visit and things aren't looking good for the Swamp Man. On the Withlacoochee, the Kraken and Katelyn find that logging without Capitan Clint might not be as easy as they thought. At Chapman the newest member of the team fights for his life.
Season 8
Sunday, February 22nd, 2015

s8e11: Don't Cross The Boss

Ax Men has reached the midway point of the season, and the pressure to finish strong is higher then ever. In the Pacific Northwest, Rygaard logging has begun to claw its way back up the log count thanks to DJ Jeremiah, but today… he's a no show. In Alaska, their season-long lead is slipping away, and if they don't fill the seat in the yarder soon, they may not recover. Deep in the Louisiana Bayou, Shelby Stanga is still without his Jetboat, but with help from his niece and his trusty swamp buggy, his hunt for valuable sinker cypress continues. Up in the hills of Wyoming, Zitterkopf and Sons Logging rolls the dice and brings in a new hand to increase production, but this gamble may be a bust! And in Canada, Triack Resources attempt to haul logs out of a near impossible predicament.

Sunday, March 15th, 2015

s8e14: Log Runners

The battle for King of The Mountain rages on between the big boys of the Pacific Northwest. In Washington, the Rygaard crew has a problem with getting the wood to the mill, so Gabe's bringing in a trucking ace to get the job done. While up in Alaska, Papac has to deal with a dangerous unpredictable downhill site and mother nature isn't helping make it any easier. Down in the bayou, Shelby's got his jetboat back and has enlisted a couple of assistants to pull big wood for his log buyer. Down on the St. Johns River in Central Florida, the Chapman crew is in a tight battle with the Dreadknots. But today they'll have deal with their nemesis who's back to poaching logs. And in Wyoming, the Zitterkopf crew is still going strong but in order to stay on schedule, it's all hands on deck as David gambles by putting Ethan in the skidder for the first time.