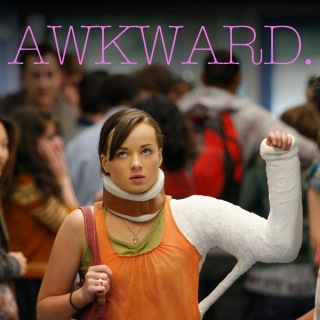 Season 1
Tuesday, July 26th, 2011

s1e2: Knocker Nightmare

Jenna gets her cast off, but her shirt comes with it. An unwanted photo op gives everyone a chance to voice their opinion - on the most intimate of subjects. Will anyone come to her rescue and wake her up from this nightmare?

Tuesday, August 2nd, 2011

s1e3: The Way We Weren't

Jenna and Matty's relationship is heating up in private, but in public she's still his secret. Will a party at Lissa's be their first PDA, or will an unexpected hot-tub visitor ruin everything?

Tuesday, August 9th, 2011

s1e4: The Scarlet Eye

A Homecoming bonfire gives everyone license to misbehave, and Jenna contemplates the ultimate decision: to DTR (define the relationship) with Matty or not DTR.

Tuesday, August 16th, 2011

s1e5: Jenna Lives

Jenna's big accident is a distant memory, and she actually starts to feel normal again until a strange stalker brings her suicide stigma back to life. Jenna even starts to wonder if her "that girl" reputation is preventing Matty from seeing her as girlfriend material or. does he already have one?

Tuesday, August 23rd, 2011

s1e6: Queen Bee-atches

Jenna mingles with the mean girls at an elite charity event. Later, things get even more awkward when she runs into Matty and Jake.

Tuesday, August 30th, 2011

s1e7: Over My Dead Body

A mock DUI event is held at the school, and Jenna gets cast as the victim. Meanwhile, Jake and Matty vie for her attention.

Tuesday, September 6th, 2011

s1e8: The Adventures of Aunt Ally & the Lil' Bitch

When Lacey's BFF Ally comes to town, they decide to "help" Jenna throw a rager. The next day, a forgetful and hungover Jenna struggles to reconstruct the events of the wild night and find out who she kissed.

Tuesday, September 13th, 2011

s1e9: My Super Bittersweet Sixteen

Jenna's sixteenth birthday isn't very sweet as she suffers one embarrassing experience after the next. Jenna is still reeling from the aftermath of her house party and dealing with the repercussions of everyone she's alienated. After failing her driving test and getting humiliated in the school cafeteria, Jenna wonders if she can repair her relationships with Matty and Tamara.

Tuesday, September 20th, 2011

s1e10: No Doubt

Jenna feels like she and Matty are actually on solid ground for the first time when he asks her out on their first real date. But, when Tamara reveals her suspicion that Matty wrote Jenna's care-frontation letter, Jenna starts to question everything about her romance with Matty.

Tuesday, September 27th, 2011

s1e11: I am Jenna Hamilton

As the night of winter formal approaches, someone shares the carefrontation letter with the whole student body, and Jenna must make a difficult decision.

Tuesday, September 27th, 2011

s1e12: Fateful

Jenna is still unsure about her relationship with Matty, but after she attends the winter formal with Jake, she begins to re-think all of her choices.
Season 0
s0e1: S01 - About The Show

s0e2: S01 - Behind The Scenes

s0e3: S01 - Character Intros

s0e4: Webisode - Morning Announcments

s0e5: Webisode - Sadies Anger Managent

s0e6: Webisode - V-time
Season 1
Tuesday, July 19th, 2011

s1e1: Pilot

In the series premiere of "Awkward", Jenna Hamilton finds out that getting the boy of her dreams isn't all it's cracked up to be. When a mysterious letter leads to a misunderstanding of epic proportions, Jenna realizes that her new stigma might be her ticket to social visibility.
Season 2
Thursday, June 28th, 2012

s2e1: Resolutions

A gift from Jake forces Jenna to decide whether she's ready to leave her past with Matty behind for good.

Thursday, July 5th, 2012

s2e2: Sex, Lies and the Sanctuary

Jenna revels in her and Jake's official relationship status until she learns a hidden camera is filming at the Sanctuary. She then goes to great lengths to destroy the tape, enlisting Ming and others to help.

Thursday, July 12th, 2012

s2e3: Three's a Crowd

Jenna and Jake's relationship is finally going smoothly that is untill Matty starts tagging along and tries to tempt Jenna constantly.

Thursday, July 19th, 2012

s2e4: Are You There God? It's Me, Jenna

Jenna struggles with her parents' separation. Feeling responsible, she tries to absolve herself by attending a church camp.

Thursday, July 26th, 2012

s2e5: My Love is a Black Heart

Jenna prepares for her first Valentine's Day with a boyfriend; Jenna and Tamara are jealous that Matty and Ricky seem to be moving on.
Season 0
not specified

s0e7: Dressing Awkward.
Season 2
Thursday, August 2nd, 2012

s2e6: What Comes First: Sex or Love?

Still reeling from Jake's proclamation of love, Jenna considers sleeping with him, believing sex might bring her some clarity about her own feelings.

Thursday, August 23rd, 2012

s2e9: Homewrecker Hamilton

Jenna desperately tries to fix things with Jake, but he is convinced that she is a cheater, with him having photo evidence of Jenna & Matty's makeout session the night before. Tensions between Jake and Matty come out during a pep rally. Meanwhile, Jenna's dad gets her a car and she takes this as a sign of her parent's forthcoming divorce. Ming also finds herself on the outs with the school Asians.

Thursday, August 9th, 2012

s2e7: Another One Bites the Dust

Jenna's plans to sleep with Jake are hindered by Aunt Ally's wedding, someone from her mother's past and Sadie.

Thursday, September 13th, 2012

s2e11: Once Upon a Blog

Jenna's imagination runs wild as she fictionalizes her blog in an attempt to change her fate.

Thursday, September 20th, 2012

s2e12: The Other Shoe

Jenna prepares for her trip to Europe as her decision about the boys goes public.

Thursday, August 16th, 2012

s2e8: Time After Time

Jake gets upset when he learns of Jenna and Matty's past,breaking up with Jenna saying 'the timing wasn't right'. Matty after finding out goes to comfort Jenna ending up with them making out on Jenna's bed. Once Jake hears Jenna's message on her phone admitting she loves him, he realises his mistake and goes to her house finding Matty and Jenna kissing. Meanwhile Lacey ends up dancing with her old boyfriend Ben at the wedding. Jenna's dad ends up coming finding them dancing and is heartbroken. And, Jenna tells Matty she is still in love with him.
Season 3
Tuesday, April 16th, 2013

s3e1: Cha-cha-cha-changes

In the season three premiere episode Jenna's junior year brings a wave of surprises and changes that potentially will impact her future in an indelible way.

Tuesday, April 16th, 2013

s3e2: Responsibly Irresponsible

The death of classmate will leave Jenna to reflect on loss, grieving, and taking responsibility for a secret she's keeping from Matty.

Tuesday, April 23rd, 2013

s3e3: A Little Less Conversation

As Jenna continues to question where she's going with her life, she has a new concern: Matty is suddenly becoming emotionally distant.

Tuesday, May 7th, 2013

s3e5: Indecent Exposure

When Matty moves in with the Hamiltons, Jenna discovers that cohabitation may be more than she bargained for.

Tuesday, June 4th, 2013

s3e9: Reality Check

After a late night coffee with Collin, Jenna can't stop thinking about him and what it means to have a crush as well as a boyfriend.

Tuesday, June 11th, 2013

s3e10: Redefining Jenna

Tensions arise between Jenna and Matty when Collin invites her to a swanky photography showcase at his house.
Season 0
Tuesday, June 11th, 2013

s0e9: Aftershow. You're Welcome.
Season 3
Tuesday, October 22nd, 2013

s3e11: Surprise!

After an impulsive make out with Collin, Jenna resolves to end her infidelity before Matty finds out.

Tuesday, October 29th, 2013

s3e12: And Then What Happened

Everyone pieces together events from Jenna's birthday party to figure out if her and Matty are still together.

Tuesday, December 17th, 2013

s3e20: Who I Want to Be

After Matty asks for permission to take Bailey to prom, Jenna reevaluates who she has become and who she wants to be.

Tuesday, May 21st, 2013

s3e7: Guilt Trippin'

Jenna's first date to the Homecoming dance conjures up old feelings of guilt for the girl she used to be and the girls who don't have dates.

Tuesday, May 28th, 2013

s3e8: Rubbed Raw and Reeling

A challenge from Mr. Hart forces Jenna to expose herself publically and in the process, she is confronted with some disturbing newfound revelations about herself.
Season 2
Thursday, August 30th, 2012

s2e10: Pick Me, Choose Me, Love Me

Jake and Matty demand answers from Jenna after reading her blog. Jenna gets confused on who she likes more but does not pick on the spot. Jake and Matty become friends again and constantly ask Jenna who she picks. Meanwhile, Jenna's mom gets revealed as the person who wrote the letter and gets criticized by many people. Jenna and the boys are in good speaking terms again.
Season 3
Tuesday, April 30th, 2013

s3e4: Let's Talk About Sex

Jenna's father takes matters into his own hands to talk to Matty's parents about their kids' relationship.

Tuesday, May 14th, 2013

s3e6: That Girl Strikes Again

The ghosts of Jenna's past reveal themselves along with Jenna's insecurity as Halloween hits Palos Hills.

Tuesday, November 5th, 2013

s3e13: Taking Sides

Jenna and Matty's breakup forces their friends to choose sides.

Tuesday, November 12th, 2013

s3e14: The Bad Seed

When Jenna and Collin start to get more serious, it causes tension in her other relationships.

Tuesday, December 10th, 2013

s3e19: Karmic Relief

Everyone at Palos Hills starts preparing for prom, while Ming is more concerned about her future with the Asian Mafia. Jenna does a few good deeds but it might not be enough for karmic relief.
Season 4
Tuesday, May 6th, 2014

s4e4: Sophomore Sluts

Rivals emerge for Jenna and Tamara.

Tuesday, May 13th, 2014

s4e5: TBA

Tuesday, June 10th, 2014

s4e9: My Personal Statement

Jenna and Tamara have to face up to the fact they may not be together in the future.

Tuesday, April 15th, 2014

s4e1: No Woman Is an Island

Jenna is determined to make a fresh start; lingering feelings for Matty harden Jenna's resolve.

Tuesday, October 21st, 2014

s4e16: Hashtag Drama

The battle of the sexes erupts again; Tamara and Jenna's "Dude Database" goes viral; a revealed secret causes friction between Jenna and Tamara.
Season 5
Monday, August 31st, 2015

s5e1: Prank Amateurs

Jenna hears a disturbing secret that threatens her resolution to stop thinking about Matty; senior pranks wreak havoc on the school.

Monday, September 7th, 2015

s5e2: Short Circuit Party

Jenna causes an accident at school with surprising results; Matty deals with the fallout from his altercation with Jake.

Monday, November 9th, 2015

s5e17: The Graduates/Holding on and Letting Go

Monday, October 26th, 2015

s5e9: Say No to the Dress

Jenna refuses to let a series of obstacles ruin her chance at having a dream prom.

Monday, November 2nd, 2015

s5e10: Reality Does Not Bite

The prom takes unexpected turns.

Monday, September 14th, 2015

s5e3: Jenna in Wonderland

Jenna gets a taste of popularity while Matty struggles with being shunned; Jake goes after a new student; Ally hosts a sex toy party.

Monday, September 21st, 2015

s5e4: Now You See Me, Now I Don't

The senior yearbooks are released; Jenna is depressed when she sees her superlative, but wonders what Matty will write in her yearbook.

Monday, October 19th, 2015

s5e8: An Indecent Promposal

Prom season arrives at Palos Hills High School; Jenna receives some surprising news.

Tuesday, March 15th, 2016

s5e13: I'm the Kind of Girl Who Found Her Voice in College

Tuesday, March 29th, 2016

s5e15: The Friend Connection

Jenna avoids a new relationship in order to connect with her co-workers. Meanwhile, Tamara throws a chic birthday party for Sadie that leaves more than one partier feeling less than celebratory.