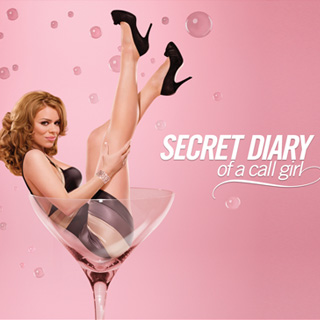 Season 0
Monday, January 25th, 2010

s0e1: Billie and the Real Belle Bare All

Billie Piper meets the real Belle de Jour, Dr Brooke Magnanti in an intimate and revealing conversation about her time spent as a high class call girl. In her first full length television interview Brooke discusses her reason for becoming a call girl, her clients' bizarre requests and her motivation to reveal her identity after six years of anonymity. The show also gives viewers a chance to see footage from the forthcoming third series of the drama inspired by her story. Billie gives Brooke the chance to talk openly about her work as a prostitute, and Brooke explains how it felt the first time she met a client, some of the outrageous scenarios she was involved in and finally her decision to give it all up to concentrate on becoming a bestselling author and a research scientist. Billie and Brooke also discuss the accusations directed at them for glamorising prostitution.
Season 1
Thursday, September 27th, 2007

s1e1: Episode 1

Meet Belle, a high-priced high-class prostitute who describes her life and her adventures. She meets with her clients and runs into some problems when she breaks her own rules.

Thursday, October 4th, 2007

s1e2: Episode 2

Belle is invited to the most prestigious adult party in the country, however her client doesn't want to join the action. So she tries to get rid of him just to engage with a couple she just met - however her personal life gets in conflict with that.

Thursday, October 11th, 2007

s1e3: Episode 3

One of Belle's favourite clients has booked her for the entire night. However she feels bored when her client falls asleep and searches for a new adventure.

Thursday, October 18th, 2007

s1e4: Episode 4

When a client, who is also her accountant, asks her to experiment with S&M, even Belle's eyes are opened! Hannah's best friend, Ben, suddenly springs on her the fact that he is getting married.

Thursday, October 25th, 2007

s1e5: Episode 5

Belle works for her favorite client together with another girl. When he dumps her for the new girl she's upset and calls Ben. He is still struggling from finding out about her secret identity.

Thursday, November 1st, 2007

s1e6: Episode 6

For once Belle might end up with a nice guy instead of a client. But will it work when Belle meets a guy and not Hannah?

Thursday, November 8th, 2007

s1e7: Episode 7

Belle has a couple as clients who want a foursome, so Belle has to find a man to help out. Belle's problem: she doesn't have that many friends she could ask for such a favor.

Thursday, November 15th, 2007

s1e8: Episode 8

Belle is offered a once in a lifetime opportunity to become more than just a regular prostitute. However what effect will her career change have on her life?
Season 2
Thursday, September 11th, 2008

s2e1: Episode 1

A journalist tries to blackmail Belle after he spots her with a client who turns out to be a politician. She also finds trouble in the form of Bambi, a girl with aspirations of becoming a high-class escort.

Thursday, September 11th, 2008

s2e2: Episode 2

Bambi runs into some trouble at work and Belle is considering her future, but first she agrees to go on a date with Alex.

Thursday, September 18th, 2008

s2e3: Episode 3

Belle struggles with having a relationship. If that wouldn't be enough already, she runs into trouble at work as well when the wife of a client shows up.

Thursday, September 25th, 2008

s2e4: Episode 4

Belle has a professional crisis. During a disastrous threesome with Bambi and a flashy nightclub owner, Belle freezes. She just can't go through with it. Why? She meets up with Ben and spells it out - she is in love with Alex. How can she ever work again?

Thursday, October 2nd, 2008

s2e5: Episode 5

So it's decided. Today is the day that Belle will finally come clean and tell Alex what she does for a living. She can't face lying to the man she loves any longer. The results are explosive.

Thursday, October 9th, 2008

s2e6: Episode 6

Belle is filling her days - and nights - with work as she tries to get over breaking up with Alex. So she's only too ready to accept an invitation to a sex party at a remote country manor house but then things turn nasty.

Thursday, October 16th, 2008

s2e7: Episode 7

Belle's night of passion with Ben has only confirmed to her that she needs to make a go of her relationship with Alex. She begs him to try again, ditches all her call girl paraphernalia and gets a job as a temp.

Thursday, October 23rd, 2008

s2e8: Episode 8

In the series finale, Bells is contacted by her old Madame for one last job. The client is adamant to have Belle and is willing to pay a high sum for her services. Meanwhile, Hannah has no luck in finding a job, and Ben tries to convince her to write about her experience.
Season 3
Thursday, January 28th, 2010

s3e1: Episode 1

In the Season 3 premiere, Belle's book is a success but she worries about having enough material for a follow-up tome. Belle's sister Jackie shows up on her doorstep needing a place to stay after leaving her unfaithful husband.

Thursday, January 28th, 2010

s3e2: Episode 2

Belle tries to broaden Jackie's sexual horizons by taking her to a fetish club, with surprising results. Blocked in trying to write another book, Belle seeks support from her editor, Duncan.

Thursday, February 4th, 2010

s3e3: Episode 3

The sexual attraction between Belle and Duncan heats up over a late-night chat session, while Jackie wants her sister to accept that she and Ben are now a couple, and Bambi ignores Belle's warnings and falls for a handsome client.

Thursday, February 11th, 2010

s3e4: Episode 4

Belle provides sage counsel to Ben regarding his failing relationship with Jackie, and to Bambi over her romance with her client, Byron - but she promptly ignores her own rules with Duncan.

Thursday, February 18th, 2010

s3e5: Episode 5

Belle resists the notion of a serious relationship with Duncan until Bambi announces that she and former client Byron have become engaged.

Thursday, February 25th, 2010

s3e6: Episode 6

The first meeting of Duncan and Ben does not go well, leaving Belle facing a dilemma: which man should she choose to keep in her life?

Thursday, March 4th, 2010

s3e7: Episode 7

Belle investigates the other side of the bed by hiring a male escort and experiencing the client point of view, but feels guilty about "cheating" on Duncan - whom she does not realize employed Bambi's services earlier in the evening.

Thursday, March 11th, 2010

s3e8: Episode 8

In the Season 3 finale, the secret tryst between Duncan and Bambi is revealed at the latter's wedding, leaving Belle heartbroken but providing fodder for her new book's final chapter. Ben reveals his true feelings at the eleventh hour.
Season 4
Tuesday, February 1st, 2011

s4e1: Episode 1

Belle deals with a new business proposition, an uninvited house guest, a challenging client and the all-important question hanging over her head: should she commit to best friend Ben?

Tuesday, February 8th, 2011

s4e2: Episode 2

Belle struggles after the reality of being a girlfriend, a chaperon and a high-class escort hit home, and when she meets Ben's mother there is an even bigger shock in store for her.

Tuesday, February 15th, 2011

s4e3: Episode 3

Belle's ability to separate work from pleasure is tested when she meets an alluring and dangerous new client. Meanwhile, Poppy's curiosity gets the better of her.

Tuesday, February 22nd, 2011

s4e4: Episode 4

Belle tries to help Poppy come to terms with the recent revelations, but Poppy has other ideas. A cruel trick by dominatrix Charlotte leaves Belle holding the 'baby'.

Tuesday, March 1st, 2011

s4e5: Episode 5

Belle travels to New York City to oversee production of the movie based off of her books, but thing don't go as she expects.

Tuesday, March 8th, 2011

s4e6: Episode 6

Belle arrives home from New York to a nasty shock that leaves her in a fighting mood, so she unleashes the closet wrestler in a client and confronts dominatrix Charlotte. Relations with Ben hit a new low.

Tuesday, March 15th, 2011

s4e7: Episode 7

Belle throws herself into a vampire role play, but the appointment comes to a sticky end. Belle and Ben are still frosty with each other, while the predatory Harry and minx-like Poppy are still on the scene.

Tuesday, March 22nd, 2011

s4e8: Episode 8

Belle finds herself in turmoil after Ben asks her to give up her job. She finds her life further complicated with Harry being around and one of her clients who looks familiar.
Season 0
s0e2: Five Year Plan

Bambi plans out her career and future.

s0e3: There's Something About Belle

Both Ben and Bambi reveal what they think about Belle.

s0e4: Low Fidelity

Bambi enjoys the gift of getting.

s0e5: Ben's Cocktail Hour

Ben teaches us how to make his favorite cocktail.

s0e6: Kiss and Tell

Bambi shares some of her unique experiences.

s0e7: The Morning After

Ben questions himself after cheating on Vanessa.

s0e8: A Little Treat

Bambi asks Belle for advice on a quick way to end her appointments with clients.

s0e9: A Real Pro

Bambi is interviewed by a journalist.