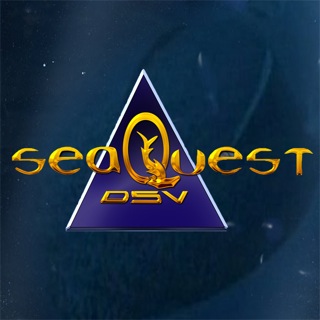 Season 0
Sunday, September 12th, 1993

s0e1: To Be or Not To Be (1)

The crew of seaQuest are joined by a reluctant Captain Nathan Bridger and set off to investigate a distress call from an underwater colony, only to find it is a trap by a renegade sub under the command of Captain Marilyn Stark, who has a personal vendetta against the seaQuest.
Season 1
Sunday, September 19th, 1993

s1e1: The Devil's Window

Darwin falls ill and will die if no cure is found, but a visiting scientist on an important UEO project is unconcerned with the fate of a single dolphin.

Sunday, September 26th, 1993

s1e2: Treasure of the Mind

When a preserved annexe of the Great Library of Alexandria is discovered, many nations send their fleets to lay claim to its treasures. The UEO orders Bridger to mediate the dispute and sends a team of ESP parapsychologists to help the negotiations.

Sunday, October 3rd, 1993

s1e3: Games

The crew of seaQuest rescue a warden and his only prisoner from beneath the ice cap. The prisoner escapes and reveals that he holds a deadly toxin which will be released unless the crew does as he says, which is launching the seaQuest's missiles against the UEO.

Saturday, October 9th, 1993

s1e4: Treasures of the Tonga Trench

When Krieg brings back what he believes is a priceless gem, greed runs amok on the seaQuest. No one listens to his stories of sea monsters in the area, until one attacks the seaQuest.

Sunday, October 17th, 1993

s1e5: Brothers and Sisters

The seaQuest discovers a group of children living in an old munitions facility on the sea floor and they must evacuate them, before, the structure collapses and unleashes a deadly explosion. Meanwhile, Lucas develops a crush on the teenage girl.

Sunday, October 24th, 1993

s1e6: Give Me Liberté

When Commander Ford and other crew members are contaminated with a deadly virus from a downed space station, Captain Bridger finds himself fighting against the clock and a government cover-up to save them.

Sunday, October 31st, 1993

s1e7: Knight of Shadows

When a small team from seaQuest board a ancient sunken ship in order to determine why it went down, they find themselves trapped in a series of very bizarre and supernatural events.

Sunday, November 7th, 1993

s1e8: Bad Water

A hurricane threatens to prevent the rescue of a French sightseeing submarine which is stuck in a freshwater sink hole and running out of oxygen. When a team from the seaQuest are forced to the surface they must rely on each other to survive the storm.

Sunday, November 21st, 1993

s1e9: The Regulator

When a vital component of seaQuest's air conditioning fails and regular channels fail, Krieg relies on a black market source called The Regulator. When Darwin disappears the seaQuest must track down the renegade who is seeking the meaning of life.

Sunday, November 28th, 1993

s1e10: seaWest

Hitchcock goes into an underwater gold mining colony in order to investigate a distress signal and discovers that the original and rightful owner of the mine and his family are being held hostage by an outlaw and his thugs.

Sunday, December 19th, 1993

s1e11: Photon Bullet

When Lucas visits a communications base populated by a group of young computer experts, a famous computer hacker, who now runs the Node, persuades Lucas to break into the World Bank and divert funds for humanitarian causes.

Sunday, January 2nd, 1994

s1e12: Better Than Martians

seaQuest is hurriedly dispatched to rescue a crew returning from a manned mission to Mars when their space capsule crash lands in the Atlantic Ocean, but the president of an militarised Asian federation wants them too for his own reasons.

Sunday, January 9th, 1994

s1e13: Nothing But the Truth

While in the middle of an special experiment when only a skeleton crew is aboard, seaQuest is boarded by a group of commandos who are quickly able to take control of the ship.

Sunday, January 16th, 1994

s1e14: Greed for a Pirate's Dream

When a top-secret UEO project shows the approach of a catastrophic volcanic eruption, the crew of seaQuest must convince treasure seekers on the island to abandon their lifelong search or face certain death.

Sunday, February 6th, 1994

s1e15: Whale Song

A renegade sub is sinking whaling ships, which are in themselves illegal and against their moral judgement, the crew of seaQuest must stop the sub from its mission. Meanwhile, Krieg is on a mission of his own: to have a cheeseburger, despite red meat being outlawed.

Sunday, February 20th, 1994

s1e16: The Stinger

In the lead up to an important demonstration, Lucas is knocked unconscious and the Stinger, seaQuest's prototype high speed sub, is stolen.

Sunday, February 27th, 1994

s1e17: Hide and Seek

A Servo-Croat dictator takes Drs. Westphalen and Lansdowne hostage in order to gain entrance into seaQuest in the hopes of using the ship's technology to rehabilitate his autistic son.

Sunday, March 20th, 1994

s1e18: The Last Lap at Luxury

At a summit conference, Lucas and group of UEO leaders are taken hostage, leaving the seaQuest crew to uncover a mysterious and complicated plot whilst searching for the hostages.

Sunday, May 1st, 1994

s1e19: Abalon

Ford accidentally stumbles onto a colony of genetically altered humans, adapted by a scientist to live underwater.

Sunday, May 8th, 1994

s1e20: Such Great Patience

Things threaten to go terribly wrong when the seaQuest crew discovers a million-year old spaceship. Their only hope is Darwin being the key to bridging the communications gap.

Sunday, May 15th, 1994

s1e21: The Good Death

When the crew of seaQuest are tricked into torpedoing a refugee ship containing Westphalen's daughter, Dr. Westphalen, Ford, and Shan are trapped trying to save her.

Sunday, May 22nd, 1994

s1e22: Higher Power

A brand new power plant which is set to supply energy to the whole world goes wrong and there is a danger of the polar ice caps melting. Bridger decides he must sacrifice the seaQuest in order to save the world. Meanwhile, Lucas has a reunion of sorts with his father.
Season 2
Sunday, September 18th, 1994

s2e1: Daggers (1)

When genetically engineered people, no longer happy with their captivity, stage a revolt, seaQuest, with some new faces are called in to help.

Sunday, September 18th, 1994

s2e2: Daggers (2)

When genetically engineered people, no longer happy with their captivity, stage a revolt, seaQuest, with some new faces are called in to help.

Sunday, September 25th, 1994

s2e3: The Fear That Follows

Extra-terrestrials that are searching for the beginnings of intelligent life are welcomed aboard seaQuest, only to be taken captive by a general determined to have their advanced technological secrets.

Sunday, October 2nd, 1994

s2e4: Sympathy for the Deep

Bridger responds to a plea from an old girlfriend living in an underwater colony that has been dedicated to non-violence. After ten years of peace, the citizens are trying to kill each other.

Sunday, October 9th, 1994

s2e5: Vapors

Piccolo's estranged father seeks his help after his wife becomes addicted to an experimental drug. When Bridger and Smith are discovered in an embrace, rumours spread like wildfire about their supposed shipboard romance.

Sunday, October 23rd, 1994

s2e6: Playtime

In response to the voice of a child calling for help, the seaQuest journeys through an underwater vortex and find themselves 250 years in the future where humans are on the brink of extinction.

Sunday, November 13th, 1994

s2e7: The Sincerest Form of Flattery

An experimental submarine escapes from its moorings and manages to launch its nuclear weapons targeted at New Cape Quest, a city with 5 million inhabitants including relatives of the seaQuest crew.

Sunday, November 20th, 1994

s2e8: By Any Other Name

A distress call from an underwater horticultural colony leads the crew into an investigation of the mysterious disappearance of all human life inside the former paradise.

Sunday, November 27th, 1994

s2e9: When We Dead Awaken

When a woman is released from a cryogenic institute after 22 years, she is targeted by an assassin. Brody attempts to help her, and discovers that she is linked to his past and to a possible murder.

Sunday, December 11th, 1994

s2e10: Special Delivery

Dagwood maintains his innocence after being found guilty of murdering the genetic engineer who created him, despite having apparently been caught in the act on video.

Sunday, December 18th, 1994

s2e11: Dead End

Henderson, Lucas, Brody, and O'Neill are drawn into a furious underwater whirlpool that pulls their shuttle beneath the ocean floor and into a maze of ancient caverns.

Sunday, January 8th, 1995

s2e12: Meltdown

A massive prehistoric crocodile is released from its icy tomb when extensive undersea farming and mining cause the temperature of the South Atlantic to rise.

Sunday, January 15th, 1995

s2e13: Lostland

Ford discovers an ancient warrior's helmet and sword that prove that the lost continent of Atlantis did exist. But the helmet may carry a deadly curse that could destroy Bridger and the crew.

Sunday, January 22nd, 1995

s2e14: And Everything Nice

On the mainland, Lucas falls for a beautiful woman and asks to resign from his position, however plans change when she is suddenly kidnapped by terrorists in an attempt to take control of seaQuest.

Sunday, February 19th, 1995

s2e15: Dream Weaver

A blind astrophysicist and a NASA commander team up with the crew to battle a hostile alien, hidden in a fallen comet that seaQuest was attempting to recover.

Sunday, February 26th, 1995

s2e16: Alone

Wendy employs her psychic abilities and risks her life in a battle of the mind against Avatar, a powerful paranormal being who threatens the world's security with his ability to place political leaders into comas.

Sunday, March 5th, 1995

s2e17: Watergate

The crew transports a pop star to an island military base. Upon arrival they encounter an apparition of the Greek god Neptune, who mistakenly believes the singer and Henderson are actually Minvera and Medusa.

Sunday, March 19th, 1995

s2e18: Something in the Air

The crew protects a group of researchers at an abandoned mining outpost while they study an ancient chest found buried deep in the Mediterranean. However the chest proves to be like Pandora's box, housing a demon who escapes and then preys upon the landing party.

Sunday, April 2nd, 1995

s2e19: Dagger Redux

A rogue nuclear physicist known only as the Marauder is determined to destroy the seaQuest. As part of his plan, he rescues a revenge-minded dagger who was imprisoned by Bridger.

Sunday, April 30th, 1995

s2e20: The Siamese Dream

In order to gain control of seaQuest's nuclear weapons, a powerful psychic plants a nightmare in both Piccolo and Dagwood's minds, so that he will be invited on board to interpret their dreams.

Wednesday, September 13th, 1995

s2e21: Blindsided

When his plane crashes in the South American jungle, Piccolo is kidnapped by a ruthless dictator who he finds out has secretly been creating artificial life forms that have now gone out of control.

Sunday, May 21st, 1995

s2e22: Splashdown (1)

The seaQuest is captured by an alien spacecraft and taken to Hyperion, a completely aquatic planet. The crew is then drawn into the civil war between the KrayTaks and the Hyperion resistance.
Season 3
Wednesday, September 20th, 1995

s3e1: Brave New World (2)

Ten years after its mysterious disappearance, the seaQuest appears back on Earth. A tough Navy officer, who had been obsessed with searching for the submarine, assumes command of the seaQuest due to the new hostile world climate.

Wednesday, September 27th, 1995

s3e2: In the Company of Ice and Profit

Captain Hudson is ordered to blow up an iceberg that has been directed towards Saudi Arabia by a corrupt businessman, only to find a group of refugees placed on the iceberg to prevent its destruction.

Wednesday, October 11th, 1995

s3e3: Smoke on the Water

The seaQuest attempts to find out the cause of the disappearance of a number of haulers from one of the remotest colonies in the Free Zone where Hudson meets up with a person from his past.

Wednesday, October 18th, 1995

s3e4: Destination Terminal

Lucas oversees the maiden journey of a revolutionary new underwater train, while Ford and Henderson go on a secret date as passengers.

Wednesday, November 1st, 1995

s3e5: Chains of Command

Hudson must relieve his old commanding officer from duty onboard a heavily armed underwater base after the base fires on Macronesia.

Wednesday, November 8th, 1995

s3e6: Spindrift

When Henderson is captured by Macronesia and sentenced to death, Hudson leads an undercover team to free her from the secure facility.

Wednesday, November 15th, 1995

s3e7: Equilibrium

Lucas must face up to Bridger over his potentially risky solution to combat an organism that threatens to reach epidemic proportions.

Wednesday, December 6th, 1995

s3e8: Resurrection

After faking his own death a second time, radical enviromentalist, Max Scully, returns and is pardoned for his murderous crimes, and Captain Hudson is ordered to escort him to an undersea ecological utopia, unaware of Scully's true intentions.

Wednesday, December 20th, 1995

s3e9: Good Soldiers

Captain Bridger seeks seaQuest's help to go deep into Macronesian waters and retrieve some top-secret data crystals that reveal unspeakable atrocities committed against humanity 20 years earlier -- crimes in which Bridger and Ford may have been involved.

Wednesday, December 27th, 1995

s3e10: Second Chance

The crew members travel through a "space-time sphere" that rockets them back in time to October 1962 and places them in the midst of the Cuban missile crisis, where they have to try to prevent a nuclear holocaust.

Friday, January 12th, 1996

s3e11: Brainlock

As the world leaders debate the renewal of the UEO charter a number of assassination attempts are made against the delegates.

Sunday, January 28th, 1996

s3e12: Reunion

When SeaQuest docks at a penal colony where the prisoners are enslaved, Henderson recognizes one and inadvertently causes a riot, allowing the inmates to escape--and take hostages.

Sunday, June 9th, 1996

s3e13: Weapons of War

The seaQuest is drawn into the dangerous neutral area where the UEO and Macronesian borders meet the territory of a silent and elusive Asian power.
Season 0
Sunday, September 12th, 1993

s0e2: To Be or Not To Be (2)

The seaQuest is confronted by another sub. They are attacked and find themselves defenceless and are forced to dive the ship and hide.