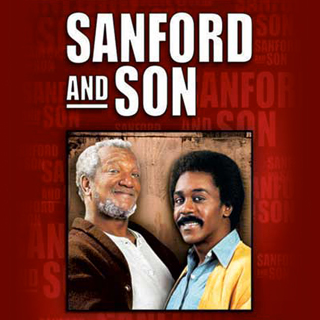 Season 1
Friday, January 14th, 1972

s1e1: Crossed Swords

Lamont buys a porcelain figure for $15 from a silent movie star and after having it appraised, Lamont and Fred decide to take it to an auction to make even more money on it. Fred and Lamont attend the auction pretending to be buyers so that the price can be jacked up higher. However, things go awry to Lamont's dismay.

Friday, January 21st, 1972

s1e2: Happy Birthday, Pop

Lamont buys Fred a new hat for his birthday and then tries to take him out on the town to celebrate. However, a visit to a fancy bar, a movie theater to see Fiddler on the Roof and dinner at a Chinese restaurant are far from a celebration for Fred.

Friday, January 28th, 1972

s1e3: Here Comes the Bride, There Goes the Bride

Engaged, Lamont is excited about his impending nuptials but on the wedding day he quickly finds himself the only one who is. The bride dumps him at the altar and he finds his relatives begging to get back their wedding gifts.

Friday, February 4th, 1972

s1e4: The Copper Caper

Fred and Lamont buy a load of copper from a man that has been stealing copper in the neighborhood. The man is late for a meeting with Lamont at the diner because he is ripping off the Sanford plumbing pipes, which he then sells to Fred and Lamont.

Friday, February 11th, 1972

s1e5: A Matter of Life and Breath

Lamont comes down hard on Fred to try to get him to quit smoking and has him go to the doctor for a chest x-ray. Later, the results are sent in the mail and Fred becomes convinced he has tuberculosis.

Friday, February 18th, 1972

s1e6: We Were Robbed

While cleaning the house, Fred knocks over Lamont's glass figurine collection. Trying to cover up the fact that he broke them, Fred makes up a story about how the house was robbed and how he fought them off. In the process, he is labeled as a hero and Fred takes advantage of it.

Friday, February 25th, 1972

s1e7: A Pad for Lamont

Lamont tries to have a quiet evening with his latest girlfriend, Darlene, but has little privacy thanks to an annoying Fred who keeps interrupting them. Fed up, Lamont decides to move into his own apartment, which at first worries Fred but then discovers he himself has privacy.

Friday, March 3rd, 1972

s1e8: The Great Sanford Siege

Fred does not feel like paying his bills and he throws them in the trash claiming that they never arrived, dragging out the services for as long as he can. After doing so, Fred receives threats that say that they will turn off the gas, electricity, and other utilities, and repossess his furniture if he does not pay.

Friday, March 10th, 1972

s1e9: Coffins for Sale

Lamont purchases two coffins from an auction to try and get a profit if he sells them to a funeral parlor. In the process, Fred becomes paranoid by having the coffins in the house and refuses to sleep in the house with the coffins. Lamont doesn't think much of it, until he begins hearing strange noises at night.

Friday, March 17th, 1972

s1e10: The Barracuda

Fred proposes marriage to Donna Harris, a widow whom Fred is in love with. Lamont can't understand why a practical nurse in her 40's would be interested in a 65-year old junk dealer, and does his best to oppose their impending nuptials.

Friday, March 24th, 1972

s1e11: TV or Not TV

Fred wants a new color television set and Lamont wants a new car. The problem is that they cannot afford both of them, so Lamont buys the car. However, after Fred discovers Lamont's purchase, he comes up with a scheme that involves him pretending to have amnesia until Lamont will buy him a color television.

Friday, March 31st, 1972

s1e12: The Suitcase Case

While collecting junk, Lamont runs across an old suitcase and decides it could be worth something. However, once he gets it home, Fred makes a shocking discovery when he opens the case to discover that it is stuffed with money. Lamont wants to turn the money in and Fred wants to keep it and locks in a safe. Just then a gunman shows up wanting the money.

Friday, April 7th, 1972

s1e13: The Return of the Barracuda

Fred and Donna reconcile their differences and get back together with marriage being on both of their minds. Fred breaks the news to Lamont, who once again is dead set against the whole idea and decides that two can play that game and cooks up a scheme to stop Fred and Donna's impending nuptials.

Friday, April 14th, 1972

s1e14: The Piano Movers

A wealthy man wants to get rid of a grand piano and Lamont gets a great deal on it. However, the big problem turns out to be moving it out of the man's apartment.
Season 2
Friday, September 15th, 1972

s2e1: By the Numbers

Fred wins $500 playing his lucky number but soon finds Aunt Ethel and Bubba inconveniently needing cash.

Friday, September 22nd, 1972

s2e2: Whiplash

After getting in an accident with the truck, Fred feigns a whiplash injury to collect damages.

Friday, September 29th, 1972

s2e3: The Dowry

When Fred finds out that his cousin's plump stepdaughter will inherit $10,000 when she marries, he tries to make Lamont the lucky groom.

Friday, October 6th, 1972

s2e4: Jealousy

Fred fumes with jealousy over Donna's patient, a pompous but sick man who makes Fred feel inferior.

Friday, October 13th, 1972

s2e5: Tooth or Consequences

Fred's toothache leads him to the dental clinic, where he insists on a white dentist but soon ends up with his foot in his mouth.

Friday, October 27th, 1972

s2e6: Card Sharps

After Lamont loses his shirt to some crooked poker players, Fred saves the day by turning the tables on them.

Friday, November 3rd, 1972

s2e7: Have Gun, Will Sell

When Fred, Lamont and Rollo try to sell a gun at a pawn shop, they are mistaken for stickup bandits.

Friday, November 10th, 1972

s2e8: The Puerto Ricans Are Coming!

Upset about his new Puerto Rican neighbor, Fred hatches a plan to have the city condemn Julio's property.

Friday, November 17th, 1972

s2e9: The Shootout

After Fred accidentally fires an antique rifle, he and Lamont become convinced that the bullet has killed their neighbor Goldstein.

Friday, November 24th, 1972

s2e10: Blood Is Thicker Than Junk

A fed-up Lamont quits the business and takes a job with a competitor while Fred tries to replace his son.

Friday, December 1st, 1972

s2e11: Sanford and Son and Sister Makes Three

An old flame stops by and tells Fred that he is her daughter's real father, but Lamont has already taken the girl out for a date, unaware that she may be his sister.

Friday, December 8th, 1972

s2e12: A Guest in the Yard

Fred and Lamont find a homeless man sleeping in a bathtub in their junkyard.

Friday, December 15th, 1972

s2e13: Fred & Carol & Fred & Donna

Fred must scramble to keep two dates entertained, much to the delight of a scheming Lamont.

Friday, December 22nd, 1972

s2e14: The Light Housekeeper

Lamont and Fred hire a maid who'd rather relax than work.

Friday, January 5th, 1973

s2e15: The Big Party

After Fred begins throwing parties for which he charges admission, two hoods show up wanting a part of the action.

Friday, January 12th, 1973

s2e16: A Visit from Lena Horne

After meeting Lena Horne, Fred tries to trick her into visiting him at his home.

Friday, January 19th, 1973

s2e17: Lamont Goes African

Lamont gets in touch with his roots but soon learns that Africanism is about more than just clothes and slogans.

Friday, January 26th, 1973

s2e18: Watts Side Story

When Lamont takes out Julio's sister, Fred spies on them and finds Julio's mother doing the same.

Friday, February 2nd, 1973

s2e19: The Infernal Triangle

Fred's new fiancee happens to be Lamont's old flame.

Friday, February 9th, 1973

s2e20: Pops 'n' Pals

With Lamont spending lots of time with Julio, Fred feels left out.

Friday, February 16th, 1973

s2e21: Home Sweet Home for the Aged

With Lamont joining a tramp steamer to see the world, Fred reluctantly enters a retirement home.

Friday, February 23rd, 1973

s2e22: Pot Luck

Lamont tries to turn a fast buck on a commode that he thinks is a valuable antique.

Friday, March 9th, 1973

s2e23: The Kid

A runaway child staying with the Sanfords breaks through Fred's gruff exterior.

Friday, March 16th, 1973

s2e24: Rated X

After Lamont, Rollo and Fred unwittingly show up at an adult movie shoot, a police raid lands them all in jail.
Season 3
Friday, September 14th, 1973

s3e1: Lamont as Othello

While visiting the home of Lamont's white drama teacher, Fred surprises the woman's parents and exposes their prejudices as well as his own.

Friday, September 21st, 1973

s3e2: Libra Rising All Over Lamont

Inspired by a visit to an astrologist, Lamont seeks peace with his father, but Fred is convinced that his indigestion may be fatal.

Friday, September 28th, 1973

s3e3: Fred, the Reluctant Fingerman

After Fred witnesses a burglary at Julio's place but refuses to identify the culprits, Lamont and Julio turn the tables to show Fred the value of being a good neighbor.

Friday, October 5th, 1973

s3e4: Presenting the Three Degrees

Rollo and Lamont convince Fred to let their three-girl singing act stay at the house, but Fred and his rowdy friends ruin the opening performance.

Friday, October 12th, 1973

s3e5: This Little TV Went to Market

Fred's new TV turns out to be one stolen from Grady, so Fred tries to unload it on Julio.

Friday, October 19th, 1973

s3e6: Lamont, Is That You?

After Bubba spots Lamont and Rollo mistakenly entering a gay bar, an incredulous Fred tries to find out if his son has become a homosexual.

Friday, October 26th, 1973

s3e7: Fuentes, Fuentes, Sanford & Chico

Convinced that Lamont is abandoning the business, Fred takes a bed at a seedy flophouse.

Friday, November 2nd, 1973

s3e8: Superflyer

To claim an inheritance in St. Louis, a nervous Fred must take his first airplane flight.

Friday, November 9th, 1973

s3e9: The Members of the Wedding

To spoil Fred's wedding plans with Donna, Lamont uses Esther and other family members to wreak havoc.

Friday, November 16th, 1973

s3e10: The Blind Mellow Jelly Collection

Fred donates a collection of Blind Mellow Jelly records to a library for a tax deduction, but after learning of the records' monetary value, he cooks up a scheme to get them back.

Friday, November 23rd, 1973

s3e11: A House Is Not a Poolroom

Lamont regrets his birthday gift to Fred of a pool table, which has turned the house into a billiards room for Fred and his shiftless friends.

Friday, November 30th, 1973

s3e12: Grady, the Star Boarder

To make some extra cash, Fred and Lamont take in Grady as a boarder but soon regret the decision.

Friday, December 14th, 1973

s3e13: Wine, Women and Aunt Esther

After the death of a friend, Fred and his buddies throw a party to feel young again but run out of gas long before they can make time with a group of younger women.

Friday, January 4th, 1974

s3e14: Mama's Baby, Papa's Maybe

Longtime family friend Grip comes to visit, with a shocking claim: he thinks he is Lamont's real father.

Friday, January 11th, 1974

s3e15: Fred Sanford, Legal Eagle

When Lamont tries to contest a traffic ticket, Fred creates disorder in the court.

Friday, January 18th, 1974

s3e16: This Land Is Whose Land?

Angry with Julio for leaving junk on his property, Fred gets a surveyor to mark the property line but is not pleased with the results.

Friday, February 1st, 1974

s3e17: Fred's Cheating Heart

Fed up with all of Fred's fake heart attacks, Lamont forces his father to check into the hospital for tests.

Friday, February 8th, 1974

s3e18: The Party Crasher

Lamont and Rollo set up a rendezvous at Rollo's place with two girls that doesn't go as planned, but Fred stops by and saves the day.

Friday, February 15th, 1974

s3e19: Lamont Goes Karate

Beaten up by a barroom bully, Lamont takes karate lessons to defend himself against the thug.

Friday, February 22nd, 1974

s3e20: Will the Real Fred Sanford Please Do Something?

A confused woman visits the house, insisting that Grady is Fred, the man with whom she had spent a drunken evening.

Friday, March 1st, 1974

s3e21: Tyranny, Thy Name Is Grady

With Fred away in St. Louis, Grady rules the house with an iron fist.

Friday, March 8th, 1974

s3e22: Aunt Esther and Uncle Woodrow Pffttt...

Woody comes to stay with Lamont and Grady after a fight with Esther.

Friday, March 15th, 1974

s3e23: The Way to Lamont's Heart

Spooked by his girlfriend's marriage ideas, Lamont uses Grady as the reason he can't tie the knot.

Friday, March 29th, 1974

s3e24: Hello, Cousin Emma...Goodbye, Cousin Emma

Grady's cousin Emma comes to visit and tries to take advantage of his hospitality.
Season 4
Friday, September 13th, 1974

s4e1: The Surprise Party

Fred returns from his extended trip to St. Louis and Lamont, Donna, Aunt Esther, Bubba, Rollo and Grady have planned a surprise party for his return. Fred no more than steps in the door and Aunt Esther and him are at each other's throats. However, the real problem comes when Fred does some eavesdropping on Lamont and Grady.

Friday, September 20th, 1974

s4e2: Matchmaker, Matchmaker

Lamont's Uncle George dies and in his will he gives Lamont $7,000 if he weds and has a child and names it after his uncle and he has a year to do all this. Lamont has decided not to get married any time soon but blinded by dollar signs, Fred sneaks down to a dating service to match Lamont up with an available woman. Lamont catches on to Fred's plan and makes up a plan of his own to intervene.

Friday, September 27th, 1974

s4e3: Ol' Brown Eyes

It's the 35th anniversary of Sanford & Son Salvage and Lamont has two gifts planned to give Fred. The first is a new window with the specially printed title of their business and the other is an expensive ring that everyone has chipped in to buy. However, when Fred runs across it, he becomes convinced that it was stolen from Frank Sinatra, after Frank's hotel room was ransacked by the Tip-Toe Bandit.

Friday, October 4th, 1974

s4e4: Grady and His Lady

Grady is bursting with news and breaks it to Fred and Lamont that he's engaged to a woman he met at J.C. Penny. However, Fred and Lamont are shocked to discover the "raging beauty" Grady raved about is not exactly a beauty queen. Fred soon finds Grady spending all his time with her and sets a plan into motion to break them up.

Friday, October 11th, 1974

s4e5: There'll Be Some Changes Made

Fred's friends Julio and Ah Chew are getting on Fred's nerves and Lamont takes on the challenge of trying to change Fred's bigotry towards minorities. When Lamont fails, he decides to move out and in with Julio, something that unnerves Fred who doesn't seem to get use to the arrangement.

Friday, October 18th, 1974

s4e6: Going Out of Business

The tax season has come and after an accountant goes through the books he finds that Fred and Lamont will end up owing the government. The accountant explains the situation and Lamont decides to go out and gets a job at a clothing store, so more money is coming into the household. Fred fears this may be the end of Sanford & Son Salvage.

Friday, October 25th, 1974

s4e7: Home Sweet Home

A Japanese land development company wants to buy out the neighborhood with plans to build a brewery in the area. Fred, holding out gets bitten by greed. Fred's greed is disguised as a "heartwarming" sentimentality and he's using it to squeeze as much money as he can get out of the developer.

Friday, November 1st, 1974

s4e8: My Kingdom For a Horse (a.k.a.) First Night Out

Fred makes a deal and buys a horse with a great racing history. Fred tries to get the animal to breed so that he can have a lot of money making champions hoofing and stomping around the place. However, there is just one problem Fred must overcome, the horse he bought is a gelding, which has Lamont saying "I told you so" to yet another one of Fred's moneymaking schemes.

Friday, November 8th, 1974

s4e9: Sanford and Niece

Fred has a romantic night planned with Donna but Aunt Esther drops in at the last moment with some news, her neice, Elizabeth is in town and she wants Fred to have her stay with him. Fred is against the idea at first but when he takes one look at her he agrees, she is the spitting image of his late-wife, Elizabeth. However, there is another problem, Elizabeth is planning to move into an apartment in town and she will have two roommates, one female and the other male.

Friday, November 15th, 1974

s4e10: Julio and Sister and Nephew

Julio's sister and nephew, Carlotta and Roberta, are coming for a visit and Julio has a problem, they are allergic to his pet goat, Chico. Thus, Julio asks Fred and Lamont if it would be okay for them to stay with them. Against the idea at first, Fred quickly softens to them and becomes involved with a problem that Roberto is dealing with at school.

Friday, November 29th, 1974

s4e11: Fred's Treasure Garden

With Fred in St. Louis, Grady has been put in charge of taking care of his garden. Grady quickly notices a strange plant growing and assumes that it's wild parsley. However, Rollo is convinced it's marijuana and Lamont decides to turn it into the police. However, when Smitty and Hoppy arrive, the plants are gone but Grady has made dinner for everyone, a nice big salad for everyone.

Friday, December 6th, 1974

s4e12: Tower Power

After Lamont's friend Sandra takes Fred and Lamont to an art museum, Fred finds out that he can make art out of the junk in his pile. Thus, Fred begins the creation that will convey his legacy for eternity. However, the final result is far from an artistic masterpiece and Lamont has to decide how to break the news to his proud father.

Friday, December 13th, 1974

s4e13: A Little Extra Security

Grady is getting too many Social Security checks in the mail and he is contemplating on whether or not he should be honest about reporting them or not. He finally decides the latter and keeps them, gambling them away in Las Vegas. Aunt Esther hits the ceiling when she learns of the situation and just then a phone call from the Social Security office comes into the Sanford residence.

Friday, December 20th, 1974

s4e14: The Merger

Julio has gotten tired of the junk business and that's when Lamont comes up with an idea, Sanford & Son Salvage should merge with Julio's business. Julio goes for the idea but Fred is against it, but they merge anyway to form Sanford & Fuentes Salvage. However, everyone soon realizes the consequences attached to such a decision.

Friday, December 27th, 1974

s4e15: Once a Thief

Lamont's friend Herman has just gotten out of prison and doesn't have a place to stay. So Lamont invites him to stay at the Sanford residence. However, when Grady learns that he's an ex-con, he nails down everything in the house. Meanwhile, Lamont finds Herman a job at Esther's hardware store and doesn't tell her that he has served time.

Friday, January 17th, 1975

s4e16: The Stand-Ins

Lamont comes home one evening and discovers Fred preparing a gourmet dinner and learns it's to celebrate the arrival of an old friend of Fred's, Bowlegs, a musician, who's visiting. Bowlegs' act is to be put on at a nightclub but when his partner strains his back, Fred and Lamont must fill in to fulfill the nightclub's requirements.

Friday, January 24th, 1975

s4e17: Strange Bedfellows

Lamont's politically involved girlfriend stresses involvement in the community's problems. This leads Lamont to phone into a radio talk show to express his views. Positive reaction leads to Lamont deciding to run for state assembly. But Fred soon finds out that this means that Lamont may move to Sacramento and leave the junk business.

Friday, January 31st, 1975

s4e18: The Masquerade Party

The cast appears on Wheel and Deal, hosted by Harry Monty.

Friday, February 7th, 1975

s4e19: Golden Boy

Fred's friend, Yerby is the manager of a champion boxer, Junior Joe Louis. Fred goes in and buys half ownership. Fred then begins training the boxer for an upcoming fight but soon runs into trouble. For Junior is pulled from the fight because of to Fred's stubbornness.

Friday, February 14th, 1975

s4e20: My Brother-in-Law's Keeper

Fred cleans the house from top to bottom and Lamont is stunned. Then he learns the reason: Fred's baby sister, Frances is visiting to announce her engagement. Fred is excited, but he soon finds her fiance, Rodney is white.

Friday, February 21st, 1975

s4e21: The Headache

Lamont has had a chronic headache for three days and isn't sure what's causing it. A doctor suggests that Lamont consult a psychiatrist since the cause may be stress. Once at the psychiatrist's office, the doctor determines that Fred is the cause of Lamont's headaches.

Friday, February 28th, 1975

s4e22: The Stung

Lamont has Julio, Rollo and another buddy over for a poker game and Fred has had it with their gambling. Meanwhile, an old friend of Fred's, Al Banks, a professional gambler, stops by for a visit and this gives Fred an idea on how to teach Lamont and his friends a lesson. However, the lesson goes awry and Al runs out with the cash.

Friday, March 7th, 1975

s4e23: The Older Woman

Lamont has been in a daze around the house, singing songs and incredibly cheerful to everyone he talks to. Grady and Fred deduce that the boy must be in love. Fred learns that Lamont is on the verge of proposing marriage to one particular girl who works at a dress shop. So he goes down to meet her and is in for a shock, since the girl turns out to be a woman at least ten years older than Lamont.

Friday, March 14th, 1975

s4e24: The Over-the-Hill Gag

Lamont takes Fred down the doctor's office for a checkup and Fred is socked with a large doctor bill. Realizing Fred's financial position, the doctor gives Fred six months to pay his doctor bill. Lamont overhears the conversation and becomes convinced Fred only has six months to live. Thinking Fred is dying, he rallies friends and family to prepare a party and try to get Lena Horne to pay Fred another visit.

Friday, April 25th, 1975

s4e25: The Family Man

Grady decides it's time for a change and moves out of Watts and into fashionable Westwood to live with his daughter, Ellie, her husband Hal, and their two children, Laurie and Haywood. As a housewarming gift, Grady purchases an oil painting to hang over their fireplace. However, the painting he chooses proves to be quite distasteful.
Season 5
Friday, September 12th, 1975

s5e1: Earthquake II

Fred wakes up one morning to discover what looks like a robbery took place but learns that there was a small earthquake overnight. Grady breaks the news that a big one is scheduled to hit on the 6th and a fed up Fred decides to sell the house and move. Meanwhile, Fred heads to Las Vegas to avoid the earthquake on the 6th and has a run in with Merv Griffin and Steve and Eydie.

Friday, September 19th, 1975

s5e2: Divorce, Sanford Style (a.k.a.) Divorcee, Sanford Style

Aunt Esther is fed up with her husband, Woodrow and has decided to end her marriage. She has become convinced that he's seeing other women behind her back and becomes even more convinced when Fred tries to hook him up with a swinger. Refusing to live in the same house with Woody, Esther moves in with Fred and Lamont.

Friday, September 26th, 1975

s5e3: Bank on This

Julio has moved out of his house and Fred and Lamont decide to buy it and turn it into a boarding house and call it The Sanford Arms. To get enough money for the project, Fred and Lamont go down to the bank to apply for a loan but soon find themselves hostages in a bank robbery attempt.

Friday, October 3rd, 1975

s5e4: The Sanford Arms

Julio's house has been transformed into Fred and Lamont's boarding house called The Sanford Arms. Now they've come to the task of finding some boarders and soon find themselves bombarded with an endless supply of crazies, including a hooker, an ex-con, a hippie, a newlywed couple, and Hoppy's eccentric mother.

Friday, October 10th, 1975

s5e5: Steinberg and Son

Fred and Lamont are appalled when they see a sitcom, Steinberg and Son which amazing seems to be modeled on the life of Fred and Lamont. Fred and Lamont decide to check it out themselves and go to a taping of an episode and are shocked to see the similarites. In fact, the only thing different from the sitcom and Fred and Lamont's lives are the names of the characters and the fact that the cast is white. Lamont and Fred hire a lawyer and prepare a million dollar lawsuit againt the producers.

Friday, October 17th, 1975

s5e6: Brother, Can You Spare an Act?

Fred's sister, Frances and her white husband, Rodney have been having some hard times and they stop by to ask Fred if they could stay with him for awhile. Meanwhile, problems at the Sanford Arms has Fred considering giving Rodney a job as general manager. But Rodney may not accept it since he's scheduled to perform in an act at a nightclub.

Friday, October 31st, 1975

s5e7: Della, Della, Della

The Sanford home has become a campaign headquarters for the candidate Bob Williams and Fred wants nothing to do with it. However, once Fred discovers, Della Reese is working on the campaign of Williams' opponent, he goes all out for it even thought he's not for the candidate.

Friday, November 7th, 1975

s5e8: Donna Pops the Question

Donna receives a marriage proposal from another man and she decides to base her answer on whether or not Fred is ever going to ask her. Fred must make the choice now as to whether or not he is going to marry Donna. This leads Fred into turmoil and leads him to ask Elizabeth a heart felt question on whether or not she would object to him remarrying.

Friday, November 14th, 1975

s5e9: My Fair Esther

Lamont is a judge for the Miss Watts Business Wife and the winner of the pageant wins $1,000. Fred quickly makes it clear that he will do anything to get his hands on the money. He even agrees to transform Aunt Esther into an elegant beauty as part of a bet he has with her husband, Woody.

Friday, November 21st, 1975

s5e10: Sanford and Rising Son

Lamont's friend, Ah Chew cooks dinner for the Sanfords one evening and a wary Fred is quite impressed at how good the food is. This leads Fred and Ah Chew to start a takeout business together with the headquarters in the Sanford home. Fred soon realizes that they should expand the business and turn the house into a Japanese restaurant.

Friday, December 5th, 1975

s5e11: The Olympics

Saturday night sees Fred heading over to Donna's for a date that he didn't tell her about before hand. Once he arrives, he discovers Donna already has a date with a man who's won the decathlon every year in the Senior Olympics. Wanting to outdo him, Fred decides to compete in the Olympics this year and beat his romantic competition.

Friday, December 12th, 1975

s5e12: Ebenezer Sanford

Fred is a Scrooge-like miser during the Christmas season and his friends try to get him to join into the Christmas spirit, but he rejects the attempts. After being accused of a being a Scrooge, Fred falls asleep and dreams up "A Christmas Carol." Now it is up to the spirits to take on the challenge that his friends failed at.

Friday, January 2nd, 1976

s5e13: The Oddfather

Fred lands in the hospital after an accident in which Fred accidentally witnesses a murder attempt. With a guarded hospital room, Fred becomes suspicious of everyone since the real criminal wants him killed. However, Fred is after the reward money he'll get if he testifies despite putting his life on the line.

Friday, January 9th, 1976

s5e14: Can You Chop This?

Lamont has been saving for acting school and has just enough money. Meanwhile, Fred sees a commercial for a get rich quick scheme and decides to give it a try. Thus, he invests Lamont's money in a supply of Whopper Choppers that he must try to sell. However, selling them is the hard part.

Friday, January 16th, 1976

s5e15: Greatest Show in Watts

A tenant at The Sanford Arms doesn't have enough money for the rent so he leaves Fred his pet elephant as collateral. Fred quickly finds a city official on his back for keeping an elephant in the neighborhood and he quickly comes up with an idea to make some money: put on a mini-circus. Bubba plays a clown, Esther a fire-eater, and Lamont a weight lifter.

Friday, January 23rd, 1976

s5e16: Fred Sanford Has a Baby

Lamont leaves town with Rollo to go on a fishing trip but before he goes, he makes a bet with Fred. He is sure Fred won't make money during the week he is gone. Fred sets to prove him wrong by renting out Lamont's room. Fred finds himself in a bind when the pregnant girl he boarded goes into labor.

Friday, January 30th, 1976

s5e17: The TV Addict

Fred has been watching way too much television and Lamont suggests that he go out and get some exercise. Fred scoffs and refuses which leads to an argument which results in the television breaking. Lamont refuses to get it fixed until Fred agrees to start exercising. Lamont later brings in a doctor to hypnotize Fred to help him get over his television addiction.

Friday, February 6th, 1976

s5e18: Lamont in Love

Lamont has been seeing Janet for quite awhile and Lamont thinks he's in love. But he doesn't know too much about her and hasn't wanted to push her into telling him. Thus, Fred decides to find out exactly what she's hiding and he goes undercover with Aunt Esther to dig up the dirt.

Friday, February 13th, 1976

s5e19: The Escorts

In another get rich quick scheme, Fred decides to go down to an escort service with a friend of his and try to apply as escorts. Flatly rejected, Fred decides to open his own escort service complete with false advertising which results in Fred having to escort three ladies in one night.

Friday, February 20th, 1976

s5e20: The Engagement Man Always Rings Twice

Lamont has been seeing Janet for some time now and he has decided to pop the question. Lamont tells Fred of his plans and he is happy for him. Unfortunately, Fred also discovers after the wedding that the couple does not want to live with Fred.

Friday, February 27th, 1976

s5e21: The Director

Lamont has gotten a part in a community play and has great news, George Foreman has agreed to appear in it as well. Dying to meet the boxer, Fred intrudes on the rehearsals and drives the director up the wall, which leads him to quit. This is when Fred steps in as director and makes some immediate changes.

Friday, March 5th, 1976

s5e22: A Pain in the Neck

Fred is being honored with the Watts Businessman-of-the-Year Award and he's all hyped up about accepting it. However, an unexpected turn of events lands Fred with a serious back problem and takes up means to try to get rid of it, including, acupuncture, meditation and a corset.

Friday, March 12th, 1976

s5e23: Sergeant Gork

While Fred is babysitting his soon-to-be grandson, Roger helps a customer and sells him some junk including three medals. After Fred learns of Roger's sale he envisions a story about just how he got those medals. Fred's story has him as a Patton like character fighting during World War II and battling espionage.

Friday, March 19th, 1976

s5e24: Camping Trip

Fred and Lamont go on a camping trip in the wilderness but Fred quickly gets sick of the great outdoors and demands that they return home. However, they quickly realize that they are stranded when the truck refuses to start. This leads father and son to reminisce about times they have spent together. Fred and Lamont recall scenes from previous episodes including: My Kingdom for a Horse, Earthquake II and The Engagement Man Always Rings Twice
Season 6
Friday, September 24th, 1976

s6e1: The Hawaiian Connection (1)

Three jewel thieves try and find a way to smuggle some expensive diamonds from Hawaii to L.A. That is where Fred and Lamont come in. Fred goes to Hawaii to attend a Junkmen of America convention. The crooks then plan to sneak the jewels on Fred so that he can take them to L.A. without knowing anything about it.

Friday, October 1st, 1976

s6e2: The Hawaiian Connection (2)

The diamond thieves continue their plot to have Fred smuggle the stolen diamonds into the United States. Freddy Wells sneaks into Fred's hotel room and plants the diamonds in his suitcase. Later, Lamont and Fred discover the diamonds and hesitate to call the police. During a mishap at the airport Fred accidentally misplaces the suitcase with the diamonds and the crooks start chasing Lamont and him all over Hawaii, trying to get them back. Meanwhile, the cops close on in, but not before guns are drawn on Fred and Lamont as the crooks trap them on a boat.

Friday, October 1st, 1976

s6e3: The Hawaiian Connection (3)

During a mishap at the airport Fred accidentally misplaces the suitcase with the diamonds and the crooks start chasing Lamont and him all over Hawaii, trying to get them back. Meanwhile, the cops close on in, but not before guns are drawn on Fred and Lamont as the crooks trap them on a boat.

Friday, October 8th, 1976

s6e4: California Crude

Fred and Lamont have been busy planting a small garden in their yard when suddenly a professor stumbles in and suggests that they may be sitting on some oil. Later, Fred plants his scarecrow in the garden and actually strikes some oil. This leads to Fred and Lamont to ponder the fact that they may soon be millionaires.

Friday, October 15th, 1976

s6e5: The Stakeout

Fred becomes smitten with a woman, Miss Wallace who comes to the Sanford residence looking for a place to stay at the Sanford Arms. Meanwhile, a thief has been spotted in the neighborhood and to get the reward money, Fred lets the cops set up a stakeout in his home. However, Fred is in for a shock since the thief has been in disguise as Miss Wallace.

Friday, October 22nd, 1976

s6e6: I Dream of Choo Choo Rabinowitz

Lamont's mother-in-law to be is coming to Watts for a visit and Fred is a little concerned about what she's going to think of a common junk man. This leads Fred to decide to create a legacy and tries to set a world's record and get his name in the Guinness Book of World Records. His goal is to be the person to stay awake the longest.

Friday, November 5th, 1976

s6e7: The Winning Ticket

Fred becomes a victim of a con game when, two men convince him to begin a bogus special "Sanford & Son" sales promotion, in which the lucky winner wins $500. However, Fred has no intention of handing out that much bread but unknown to Fred, the con men have rigged the game so they end up being the lucky winners and Fred will have to pay them the money after all.

Friday, November 12th, 1976

s6e8: Committee Man

Fred has been chosen to represent the Watt's businessmen on a community relatives committee and his first official decision is to allow the public library to be open an hour longer. However, his next decision doesn't seem to be so easy to decide after a crooked businessman tries to bribe Fred with $1000 to vote for a building expansion.

Friday, November 19th, 1976

s6e9: Fred's Extra Job

Lamont threatens once again to leave the junk business on account that they aren't making much money. However, he also wants to quit and get a full-time job due to his impending nuptials. Fred then hatches a scheme by borrowing money from the bank and pretending that business is picking up big time, while secretly working as a waiter at a restaurant down town.

Friday, November 26th, 1976

s6e10: Carol

Fred gets a letter in the mail from someone named Carol who claims that Fred knew her 40 years ago and that she's coming for a visit. However, Fred doesn't recall knowing any Carols and is in for a shock when Carol turns out to be a man. Another shock, Carol claims that he and Fred robbed a bank years ago.

Friday, December 3rd, 1976

s6e11: Aunt Esther Has a Baby

Aunt Esther and Woody have decided to have a baby and set up an appointment with an adoption agency to adopt an older child. However, on the day of a preliminary interview, Woody, so nervous about the prospects of being a father, gets drunk, threatening their chances for an adoption. A heartbroken Esther turns to Fred for help.

Tuesday, December 7th, 1976

s6e12: Here Today, Gone Today

Lamont and Esther decide to get the furniture re-upholstered as a surprise present for Fred. In order to get it done, they have to convince him the furniture was stolen. However, when Fred takes it upon himself to report it to the insurance company, he ends up with brand new furniture and Lamont is speechless.

Friday, December 10th, 1976

s6e13: Aunt Esther Meets Her Son

The day has come for Aunt Esther and Woody to meet their son but they are in for a shock when he helps himself to their cash register. Later, Esther is in for an even bigger shock when he announces that he doesn't believe in God. Esther promptly kicks him out and he takes refuge at the Sanford residence.

Friday, December 17th, 1976

s6e14: Sanford and Gong

Lamont runs into Chuck Barris in a parking lot and he generously gives Lamont four tickets to a taping of The Gong Show, which happens to be Fred's favorite game show. Fred decides to try to be a contestant and sets up an act with his brother-in-law, Rodney and Lamont. However, at the last minute, Rodney hurts his back and can't be in the act.

Friday, January 14th, 1977

s6e15: Fred Meets Redd

The tax season has come and Fred and Lamont have been going through their inventory to prepare their tax papers. However, Fred gets preoccupied when he discovers Redd Foxx is in town holding a look-alike contest and Fred is certain he will win the contest and the $100 that comes along with it.

Friday, January 21st, 1977

s6e16: Chinese Torture (a.k.a.) The Defiant One

Esther has stopped by the Sanford residence to talk Fred into singing for a talent show. Grady is all set to be in the show with a magic act and for his most daring trick ever, he handcuffs Fred and Esther together. The only problem is that he can't understand how to get the two out of this dilemma because the directions for escaping the trick are written in Chinese.

Friday, January 28th, 1977

s6e17: A Matter of Silence

The Sanford residence is in chaos and it is all due to Fred's sudden loss of hearing. Lamont is convinced Fred has a problem, but Fred denies it but Lamont takes him to a doctor just the same. However, after the doctor removes the wax build up, Fred decides to stay "deaf" just a little bit longer in an attempt to hold Donna's attention.

Friday, February 4th, 1977

s6e18: When John Comes Marching Home

Lamont and his fiancee, Janet are just one step away from the alter. However, a kink is put into their plans when after her wedding shower, her ex-husband John shows up. Meanwhile, Lamont has been having pre-wedding jitters and this just adds to them and Janet finds herself dealing with old feelings she thought had died long ago.

Friday, February 11th, 1977

s6e19: The Reverend Sanford

Trying to avoid paying property taxes, Fred registers to become a clergyman for the Divine Profit Church. He appoints Bubba as secretary and Woody as treasurer. However, when the Bishop stops by for a visit, Fred quickly realizes he's put his business in jeopardy thanks to some fine lines in the contact he signed.

Friday, February 18th, 1977

s6e20: The Will

Aunt Esther and Woody stop by for a visit and as usual, Fred insults Esther and she responds by promptly hitting Fred in the head with her purse. Apparently the blow to his head is so strong that it knocks him out and when he wakes up begins having memory lapses. This prompts him to make up his will and holds a will reading in the living room.

Friday, February 25th, 1977

s6e21: Fred the Activist

Fred wants a new stereo and tries to buy one on credit at a local electronics store. He soon discovers that they don't give credit to people over 60. This prompts him to take some action and befriends a rights group, The Gray Foxes and they begin picketing the store until they decide to change their policies.

Friday, March 4th, 1977

s6e22: The Lucky Streak

In order to keep The Sanford Arms, Fred and Lamont must raise $4,000 in a week. They begin to scramble and Fred turns to gambling. First he puts together a card game and plays against a hustler and then he makes a little trip to the horse track and bets on the horses. Finally, a trip to a casino ends with unexpected results.

Friday, March 11th, 1977

s6e23: Funny, You Don't Look It

Fred is tired of everyone walking all over him especially since he proclaims that he built his junk empire to what it is today, thus making him a king of an empire. Bubba suggests that Fred pay money to an agency to have them trace his roots. A couple weeks later Fred is in for a shock, he is a descendant from Jewish African kings.

Friday, March 18th, 1977

s6e24: Fred Sings the Blues

Lamont treats Fred to a dinner and a concert given by B.B. King. After the show, Fred wants to try to sell his songs to B.B., but fails, however, B.B. offers him a book about his life and why he sings the blues. This leads to an invitation for dinner at the Sanfords. While reading the book Fred panics when he reads the reason why B.B. sings the blues. He explains to Lamont that B.B. lost his girl in St. Louis to a guy who wanted to start a business in California. The girl's initials were EW (for Elizabeth Winfield).

Friday, March 25th, 1977

s6e25: School Daze

Fred has been neglecting Donna and she decides to investigate and soon discovers Fred has been leading a secret life, not even telling Lamont what has been going on. Donna is convinced that he is seeing another woman but they soon discover Fred is really going to night school to earn his GED diploma, which he never got since he dropped out of high school to support his parents.