update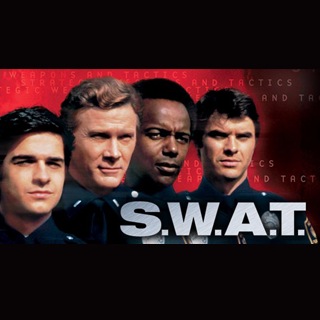 Season 0
Monday, February 17th, 1975

1: S.W.A.T.

Harrelson is the head of the Special Weapons and Tactics team, a unit trained to handle unusually volatile situations. His hard-nosed attitude about police work irks rookie Terry Webster.
Season 1
not specified

13:

not specified

0:

Monday, February 24th, 1975

1: Killing Ground

Street's partner, officer Rob Duran, is killed in the premeditated police assassination by two brothers bent on revenging their father's death. That and subsequent police killings serve to shape the psychology of Lt. Dan "Hondo" Harrelson's newly formed Special Weapons and Tactics team, "S.W.A.T." The team's task is to combat high risk, contemporary, urban crime as a strike force. The team consists of James Street, David "Deacon" Kay, T.J.. McCabe, Dominic Luca, and Harrelson. "S.W.A.T."'s first assignment is an acid test of their ability to survive as individuals and as a team. Their rigorous training is literally a fight against time.

Monday, March 3rd, 1975

2: Coven of Killers

Three members of Joey Hopper's "family," including newcomer Judy Collins, engineer Hopper's escape from a prison's hospital ward. After executing an assistant District Attorney, Hopper sends a recorded message to "Hondo" that he will be the next victim and that he also intends to punish the jury that found him guilty of other homicides. Russ Collins, owner of an underground newspaper which has published sympathetic articles about Hopper, refuses to admit knowledge of Hopper's whereabouts until "Hondo" informs Collins that his daughter has become a member of the treacherous cult.

Monday, March 10th, 1975

3: Death Carrier

In a period of a year, model Janet Warren dated three young men, and each has been killed by a sniper's bullet. Police have been unable to find motives or suspects. Since Janet is the only link, Hondo assigns officer Jim Street to pose as the beautiful girl's latest boyfriend in a plan to draw out the sniper who apparently has Janet under constant surveillance.

Monday, March 17th, 1975

4: Pressure Cooker

Hondo and his men have been working around the clock on cases such as a food market heist and a kidnapping investigation, when lady journalist Meredith Cooper reports, with police department approval, to spend several days with the S.W.A.T. team. Ms. Cooper's presence creates problems. Her beauty is distracting. Her manner is pushy and her opinion of policemen is anchored somewhere below sea level.

Monday, March 24th, 1975

5: Hit Men

Vincent Ritchie, serving a prison sentence, agrees to expose the secrets of a crime syndicate before a Senate committee when he learns of "family" plans to insure his permanent silence. As he is transported with a police escort from the penitentiary, Ritchie is gravely wounded in an ambush attack which claims the life of a police officer. While doctors fight to save the convict's life, Hondo's team and other S.W.A.T. units station themselves throughout the hospital, awaiting an expected attempt to finish Ritchie off.

Monday, March 31st, 1975

6: Jungle War

Bo Pritchard is a veteran police officer who also served with Hondo in Vietnam. Having completed S.W.A.T. training, Pritchard all but begs Hondo to give him a chance to work on the team until "Deacon" Kay recovers. But going into action with Hondo recalls memories of jungle warfare to Pritchard whose hostility and resentments eventually pull him into an emotional breakdown.

Monday, April 7th, 1975

7: Death Score

A terrorist group takes a professional basketball team hostage and demands money.

Monday, April 28th, 1975

8: The Bravo Enigma

The team must find an elusive assassin who is unaware that he is spreading a deadly disease.

Monday, May 5th, 1975

9: The Steel-Plated Security Blanket

As Hondo Harrelson and the S.W.A.T. team investigate the theft of an armored car, T.J. McCabe is spending his lunch hour with his fiancée, Susan, who is public relations representative for the Miss American Beauty Pageant. As Miss New Mexico tries on the crown and scepter, the armored car thieves attempt to steal the jewels, taking Susan and Miss New Mexico as hostages.

Monday, May 12th, 1975

10: Omega One

Student protestors steal guns and seize control of a nuclear reactor.

Monday, May 19th, 1975

11: Blind Man's Bluff

While leading the team in the rescue of several women being held hostage by two known killers in a massage parlor, Hondo is grazed by a bullet across his temple. He refuses to take time off for tests until dizziness and blurred vision force him temporarily to relinquish his command to Lt. Purcell, an officer whose methods and personality have a demoralizing effect on the S.W.A.T. team.

Monday, May 26th, 1975

12: Sole Survivor

After making a careful study of S.W.A.T. methods, Frank Hunter, a recently dismissed parole officer, recruits a group of ex-convicts with special skills. Then, after setting off a series of false S.W.A.T. calls throughout the city, Hunter and his well-armed specialists help themselves to a fortune in rare gold coins from a heavily guarded rare coin auction.
Season 2
Saturday, September 13th, 1975

1: Deadly Tide (1)

Hondo and his team go after a gang of jewel thieves who make their getaways under water.

Saturday, September 13th, 1975

2: Deadly Tide (2)

Hondo and his team close in on the gang that has been committing robberies using SCUBA gear.

Saturday, September 20th, 1975

3: Kill S.W.A.T.

Following a training exercise with S.W.A.T. officers from another division, Hondo and Street find the dead body of officer Frank Crane with the words "Kill S.W.A.T." pinned to his chest. The murder of Crane is the forerunner of a series of attempts to wipe out S.W.A.T. by brothers Mike and Simon Bishop and their fanatic sister-in-law, Joanna, who is convinced that the death of her husband was the result of S.W.A.T. "brutality."

Saturday, September 27th, 1975

4: Dealers in Death

Two officers go undercover to catch drug dealers.

Saturday, October 4th, 1975

5: Time Bomb

After completing S.W.A.T. exercises at a movie studio, Street realizes that he left his beeper on the lot. When he and his girlfriend return to collect it, they are trapped in the deserted studio by an embittered stuntman, who is planting explosives with the intent of blowing up the lot as an act of revenge.

Saturday, October 11th, 1975

6: The Vendetta

Mel Lang and Ralph Costa have served sentences in prison after being framed by one Carl Rigby and arrested by Hondo Harrelson. When S.W.A.T. is called upon to assist police in evicting heavily armed brothers Will and Johnny Brewer from a home taken over by Rigby, Lang and Costa plan to execute Hondo and Rigby and create evidence pointing to the Brewer Brothers.

Saturday, October 18th, 1975

7: Criss-Cross

Runaway teenager Kathy Benson, seeking shelter in the warehouse, calls police when several men break in. Before fleeing the scene, Kathy gets a clear look at the leader, Gregg Colby, a prominent citizen and former U.S. Senator, attempting to solve his money problems by stealing from his own warehouse, collecting the insurance, and later selling his own "stolen" merchandise. He pretends to offer assistance to police investigating the case so that he can silence the only eyewitness, Kathy.

Saturday, October 25th, 1975

8: Vigilante

Radio repairman Paul Julian has patched in on the S.W.A.T. radio band so he can show up at a scene of police action, where he can observe and judge each case from a concealed position. when Julian decides to punish two disarmed gunmen who have been talked into surrendering by Lt. Hondo Harrelson, S.W.A.T. is suspected of causing the senseless killings.

Saturday, November 1st, 1975

9: Courthouse

Howard Wilson is jailed and his partners, Mike Simon and Frank Peterson, escape before S.W.A.T. moves in to combat a race track heist involving a female hostage. Wilson is on the brink of revealing the names of his partners when a high-powered attorney, Jason Bridges, assures him that Simon and Peterson are planning to free him at all costs--even if the price involves the lives of court personnel when Wilson goes to trial.

Saturday, November 8th, 1975

10: Ordeal

Hondo and a convicted dope dealer are stranded in rough terrain when syndicate thugs who want to keep him from testifying sabotage their helicopter.

Saturday, November 15th, 1975

11: Strike Force

Hondo and his team are assigned to handle security for a demagogic former general who now leads a racist paramilitary group.

Saturday, November 22nd, 1975

12: The Swinger

D.A. Ainsely Stevens holds secret information which could convict two syndicate chieftains of capital crimes. Because Stevens insists on saying nothing until the grand jury convenes, and because police believe the mob has put out a "major contract" on Stevens, S.W.A.T. is assigned to guard him. But enforcer Mario Rosetti plans to abduct the prosecutor's daughter, Tory, and keep the girl until the father cracks. Oblivious to the danger, Tory is out for kicks as police and crooks try to track her down.

Saturday, November 29th, 1975

13: Terror Ship

A man steals a tugboat laden with explosives and threatens to blow up a famous marine biologist unless he is given a million dollars.

Saturday, December 6th, 1975

14: Murder by Fire

Marco, an arsonist-killer posing as a fireman, engineers a fire during Southern California's dry season in the area's most affluent neighborhood. While looting the evacuated home of a wealthy couple, one of Marco's men kills a fireman. When S.W.A.T. is called in to locate a possible sniper, T.J. McCabe is shot and Marco escapes with a truckload of loot.

Saturday, December 13th, 1975

15: Silent Night, Deadly Night

Millionairess Doris Bristol has brought gems into the hospital where she is undergoing cosmetic surgery. Her bodyguard, John DeLeon, is slain after he spots criminal Frank Malloy posing as a dying patient (part of a plan where a woman doctor and he plot to steal the jewels from the socialite). Hondo and his men, who are at the hospital putting together a Christmas party in the children's ward, find themselves on duty when the discovery of DeLeon's body leaves Mrs. Bristol unprotected and in apparent jeopardy.

Saturday, January 24th, 1976

16: The Running Man (1)

Syndicate hit men stalk an undercover officer, who plans to testify against the mob.

Saturday, January 24th, 1976

17: The Running Man (2)

The SWAT team protects a key government witness against an organized crime boss.

Saturday, January 31st, 1976

18: Lessons in Fear

Hondo Harrelson and his team are called upon to investigate robbery-homicides in which powerful drills and cutting equipment have been stolen. Meanwhile, Dom Luca is dating a student, Sharon Merlingdale, who is being carefully watched by Mark Worth, one of the killer thieves. The more Sharon sees Dom Luca, the more convinced North becomes that the girl must be eliminated.

Saturday, February 21st, 1976

19: Deadly Weapons

Bud Haskins, disowned after marrying a girl whom his father, John Haskins, disapproved, decides to help three "professionals" crack open the safe in the elder Haskins' warehouse. Bud is unaware that the thieves are actually after a huge arsenal of sophisticated, unmarked weapons that have been secretly imported for sale. Bud is slain after helping the criminals burglarize the warehouse. Although S.W.A.T. is assigned to investigate the burglary-murder, John Haskins recruits members of a tough Eastern mob to find the killers of his son.

Saturday, February 28th, 1976

20: The Chinese Connection

Lt. Eddie Chew is assigned to aid Lt. Hondo Harrelson when an elderly shop owner is fatally beaten by an illegal Chinese alien working as a shakedown man for Albert Parker, the Caucasian leader of what appears to be an all-Oriental crime syndicate, a deadly drug and protection ring. Hondo begins to doubt Chew's integrity when it becomes obvious that Chinatown criminals are being given secrets of his investigation.

Saturday, March 6th, 1976

21: Dragons and Owls

Clues to the perpetrators of a series of rapes are a religious medal and a Biblical quotation overheard by one of the victims.

Saturday, March 13th, 1976

22: Any Second Now

A group of militants take over a radio station and demand that their jailed leader be released or they'll blow it up.

Saturday, March 20th, 1976

23: Soldier on the Hill

A mentally unbalanced veteran touring a movie studio suddenly thinks he is back fighting in Vietnam.

Saturday, March 27th, 1976

24: Dangerous Memories

As Lt. Harrelson lies in a hospital bed, severely wounded, the other members of the team reminisce about their best moments together in clips from previous episodes.

Saturday, April 3rd, 1976

25: Officer Luca, You're Dead

Luca is charged with manslaughter after he is forced to kill a man who was holding his own wife hostage at gunpoint.