update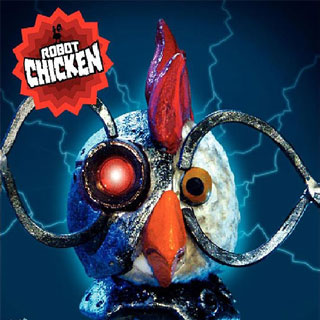 Season 0
Monday, January 1st, 2001

1: Sweet J Presents

This was the series that started Robot Chicken. It was an internet series originally made for Sony's Action Blast website.

Thursday, December 22nd, 2005

2: Robot Chicken Christmas Special

Goku and Gohan save Christmas, 'Who Killed Santa Claus', the final dinner turns into a food fight, Kill Bunny.

Sunday, November 19th, 2006

3: Playstation 3 Promo

Sunday, June 17th, 2007

4: Robot Chicken: Star Wars Special

Half-hour special of a Star Wars-themed Robot Chicken. This episode was originally to be aired during the Super Bowl Halftime Show.

Tuesday, September 4th, 2007

5: Behind the Scenes

Go inside ShadowMachine Films with creators Seth Green and Matt Senreich for an exclusive look at the making of Robot Chicken

Sunday, December 9th, 2007

6: Robot Chicken's Half-Assed Christmas Special

Hermey the Elf sucks at being a dentist. All Sally wants is a love note, but not for Linus it's misery. A nerd is stuffed into a locker and into the magical and confusing land of Narnia.

Friday, May 16th, 2008

11: Adultizzle Swizzle

It's Alien vs. Predator on the battleground of love in a special episode of "First Date." Frogger creates a huge car wreck in this episode. See what the future holds in the Carousel of Tomorrow. Popeye experiences a world without his hamburger-leeching friend in "It's a Wimpy-Filled Life." The modern video game Halo invades the old-school classic Donkey Kong. Mrs. McNally's, Army Firecracker, and Ponda Bada's Bad Day replacing "Stix are Intended for Children." Rated TV-14-DV

Sunday, November 16th, 2008

7: Robot Chicken: Star Wars Special II

Hilarity ensues when the gang at Robot Chicken further their parody of the iconic Star Wars. This episode, directed by Seth Green, focuses on the bounty hunters!

Sunday, December 6th, 2009

8: Dear Consumer (The Robot Chicken Full-Assed Christmas Special)

This is Robot Chicken's third annual Christmas special. AKA "The Robot Chicken Full-Assed Christmas Special"

Sunday, December 12th, 2010

9: Robot Chicken: DP Christmas Special

Holiday-themed spoofs. Included: the first Christmas; Batman and Robin's take on a song about them; a race between Superman and Santa.

Sunday, December 19th, 2010

10: Robot Chicken: Star Wars Special III

This will be the last of The Robot Chicken: Star Wars Series. Green announced after the release of the Star Wars Special that he jokingly said "I'm planning two sequels and three prequels". While the two sequels were true the other trilogy, Episodes IV-VI, probably won't happen unless there is a change in plans.

Sunday, September 9th, 2012

12: DC Comics Special

Robot Chicken tackles the world of DC comics in this special episode.

Monday, December 16th, 2013

13: Born Again Virgin Christmas Special

Robot Chicken takes down Christmas once again! Our writers reveal the origins of the Heat Miser and Cold Miser. Witness Ebenezer Scrooge learn the true TRUE meaning of Christmas. Learn the perils of getting a job at the North Pole. Discover how Santa Claus ruined World War One's greatest day!

Sunday, April 6th, 2014

14: DC Comics Special II: Villains in Paradise

A follow up to the first DC Comics Special with a focus on the villains of the DC Universe, The Legion of Doom.

Sunday, December 7th, 2014

15: The Robot Chicken Lots of Holidays Special

A celebration of every holiday that has ever existed, featuring Mother's Day with the Disney characters, a Jewish boy rapping about gelt, a pilgrim surprising his family on the first Thanksgiving, and Santa having trouble with a neighbor.

Monday, October 19th, 2015

16: DC Comics Special III: Magical Friendship

Batman and Superman's friendship takes a competitive turn and the fate of the universe hangs in the balance.

Monday, December 14th, 2015

17: The Robot Chicken Christmas Special: X-mas United

The Robot Chicken Nerd discovers who his father is... and lots of deaths.

Sunday, October 8th, 2017

18: Walking Dead Special: Look Who's Walking

The tale of Rick Grimes and his walker-battling friends gets a twisted retelling when the Robot Chicken Nerd visits the Walking Dead Museum and meets an aging survivor.

Sunday, December 10th, 2017

19: Freshly Baked: The Robot Chicken Santa Claus Pot Cookie Freakout Special: Special Edition

Santa experiences a memorable Christmas; the elves dream of the simple toys of holidays past; Krampus puts in a good word for the coal industry and Saint Nick meets his idol.
Season 1
Sunday, February 20th, 2005

1: Junk in the Trunk

See what happened after the cameras stopped rolling on Rachel Leigh Cook's memorable public service announcement. Also, witness the tragic end to one of the most beloved Transformers of all time, Optimus Prime. And no one will want to miss the outcome of "The World's Most One-Sided Fistfights Caught on Film." Plus, watch the wacky outtakes that were never meant for public view in "Bloopers." Rated TV-14-DV.

Sunday, February 27th, 2005

2: Nutcracker Sweet

"You Got Robo-Served" brings Voltron, the Defender of the Universe, to center stage in a break dancing contest against Robeast. In "Secrets of the Animal Kingdom," an educational trip into nature reveals the secrets behind the mongoose, hyena and lemming. Finally, deep into the underground tunnels of Disney World, Walt Disney's head lives on and feeds on Cuban children. Rated TV-MA.

Sunday, March 6th, 2005

3: Gold Dust Gasoline

"Missing the Ark," reveals the truth behind the animals that made it onto Noah's Ark. Go into a third-grade classroom to hear a kid's version of heroism, true love and fart jokes in "The Best Cowboy." Then, join Vin Diesel, Batman and Robin, Michael Knight KITT, along with a multitude of others, in "Three Fast Three Furious." Rated TV-14-DLV.

Sunday, March 13th, 2005

4: Plastic Buffet

In "Meteorgeddon," Harrison Ford and Aerosmith fly off to stop an asteroid that could destroy the Earth. See what happens when pet owners strap their animals to skis, sending them down steep hills and off cliffs in the Winter Pet Games. Then, watch Chucky get the stuffing knocked out of him when he steps into the lair of Lettuce Head Kids. The post-Muppet Show history of Dr. Teeth and his band is in "Behind the Music: Electric Mayhem." Rated TV-14-DLV

Sunday, March 20th, 2005

5: Toyz in the Hood

Barbie plays the Tooth Fairy in the darkest sketch comedy ever. Skeletor, Lex Luthor, Mumm-Ra, and Cobra Commander try to get to work. More bloopers.

Sunday, March 27th, 2005

6: Vegetable Funfest

Movie plot twists are spoiled; Beavis and Butthead destroy the Teen Titans; the cheesiest funeral comedy sketch ever; the Great Pumpkin destroys the Peanuts.

Sunday, April 3rd, 2005

7: A Piece of the Action

Super-villains and washed-up TV personalities like Corey Feldman, Vanilla Ice and Erik Estrada band together on a quest to Mordor in an attempt to destroy the One Ring in "The Surrealer Life." "Exhausted Budget Theater" uses Popsicle sticks to re-enact the beloved classic Debbie Does Dallas. And "The Cons of War" shows the truth behind the mysterious veil of comics/sci-fi conventions filled with geeks, dorks and Leonard Nimoy.

Sunday, April 10th, 2005

8: The Deep End

Find out what happens when seven superheroes are forced to live under one roof in "The Real World: Metropolis." Then catch Admiral James T. Kirk, Khan Noonian Sing and Kirk Cameron at work in a pizza joint in "Two Kirks, a Khan and a Pizza Place." Someone is on a mission to crack down the Santa Claus and the Easter Bunny in "Kill Bunny." Lastly, go backstage for America's favorite undead reality show, "Zombie Idol." Rated TV-14-DLV.

Sunday, April 17th, 2005

9: S&M Present

The Yakuza come to kill N'Sync, but leave Joey alive, left to avenge the others in "Enter The Fat One", scrambled porn, and the conclusion to "Enter the Fat One".

Sunday, April 24th, 2005

10: Badunkadunk

1. Happy Birthday, Billy:A skydiving clowns parachute malfunctions.2. My Bad:A jungle native impales one of his buddies with a spear.3. Fagabeefe:A guy says, 'fagabeefe'.4. Hollywood Spotlight:A revealing biography of the Incredible Hulk.5. Who's Nuts Now?:A squirrel with a sniper rifle.6. Sabrina the Teenage Bitch:In her new spin-off Sabrina is a condescending bitch.7. Pinocchio's Firewood:In order to keep warm, Pinocchio lies so that his nose grows and uses it as firewood.8. Chappaqua Follies:Bill Clinton hides his interns in his closet.9. Wheelchair Ride:An old guy in a wheelchair goes down a hill and flies off a cliff.10. Leon!!:Umm... You're just going to have to watch this one.11. Sabrina the Teenage Bitch (Part 2):Sabrina pretends to help her hungry cat get to his food, but then decides not to in order to be a bitch.12. Domestic Bird Squabble:A couple of Robins break up.13. Eternia News Network:Beast Man publicizes a sex tape between him and Teela.14. Inept Garbage Collector:A garbage man mistakes an occupied Port-O-John for a garbage can.15. Sabrina the Teenage Bitch (Part 3):Sabrina as a witch takes kids Halloween candy and throws it off of a bridge.16. Where's Michael?:Michael Jackson has yet another court appearance.

Sunday, May 1st, 2005

11: Toy Meets Girl

Shatner's wig makes the nightly rounds. Hilary Duff grooves it up in a bubblegum hip-hop rendition of "The Diary of Anne Frank". Finally, Michael Moore hosts a "Whatever Happened To . . ." retrospective on whatever happened to your favorite late 80s cartoon heroes.

Sunday, May 15th, 2005

12: Midnight Snack

Conan O'Brien as Randy The Oblivious Pizza Delivery Guy, World's Most One-Sided Fistfights: Mardi Gras, The Educational Wrestling Federation with Benjamin Franklin vs. The Wright Brothers, Oprah, The Terror of Rumpelstiltskin, and 12 Angry Little People.

Sunday, May 22nd, 2005

13: Atta Toy

In "Ding Dong, King Kong." A famous monkey breaks out of its cage, a Hollywood News and Gossip gets a nastly treament. The Smurfs are scrambling to find the one behind a string of serial killings in the village, killings that are mimicking the seven deadly sins.

Sunday, June 5th, 2005

14: Joint Point

Sailor Moon encounters a bone-chilling villain. A nerd wins a date with famous actress Scarlett Johansson. "Welcome to the Terrordrome" showcases inner-office machinations at the headquarters of G.I. Joe's nemesis Cobra. "America's Most Tragic Home Videos" will make you laugh and cry. Rated TV-MA.

Sunday, June 12th, 2005

15: Kiddie Pool

Then, it's a fight to the death in a retirement home, Matrix-style, in "Grandma Fu." Mary-Kate and Ashley save the world from a rampaging dragon with a bad skin condition in "A Day in the Life of the Olsen Twins." And "Unsolved Case Files" looks into the death of George Jetson at the hands of his robotic made in "I, Rosie." Rated TV-14-LSV.

Sunday, June 19th, 2005

16: Nightmare Generator

Jared from the Subway commercials gets locked in a bakery, another unsolved case file titled: Claus and Effect, Stephen Spielberg's new remake of Jaws, a new board game called Euthanasia, and a new mission for the A Team is underway. Rated TV-14-LV.

Sunday, June 26th, 2005

17: Operation Rich In Spirit

New video game Codename: Abortionator, Massage happy ending, Keanu Reeves and friends for "Keanu Sausage", Scooby Doo and the gang go to Camp Crystal Lake.

Sunday, July 3rd, 2005

18: The Sack

Predator First Date, Updated version of the videogame Frogger, Carousel Of Tommorrow : With Edgar Wembley III., Mayor McCheese press conference, (The Jewish James Bond) Ross Hashanah in Never Say Goy!, Life for Popeye, Olive Oil & Bluto: If there were no Wimpy., Violent Video games meet Donkey Kong and The Stix Rabbit and Cereal characters as the new drug lords.

Sunday, July 10th, 2005

19: That Hurts Me

1. That Better Not Be Poo:A man catches a kid before he could light a paper bag of poo on fire.2. Nerds are Hot:A nerd got laid.3. Simon Says Go Play In Traffic:Good way to get rid of the kids.4. Godzilla Remade Again:Godzilla gets remade again and is even more of a piece of crap than it was before.5. Fear Itself:Franklin Delano Roosevelt gets criticized for his speech.6. Cliff Pogo:A kid on a pogo stick falls off a cliff and comes back up.7. Where Do They Get The Energy?:Characters on a kids show energize up.8. Batmonkey:Batmonkey fights the Jokermonkey after he robs a bank.9. Crazy Davey:Crazy Davey files bankruptcy.10. Fear Itself (Part 2):FDR revises his speech11. Huggytime Bears:A man gets shot in the head with an arrow. Then he gets reincarnated as a Huggytime Bear. Then he pushes the shamrock bear into a fire and then returns to his original fire.12. I Got You, Timmy!:Revenge is a bitch.13. Big Horror Movie Brother:Freddy Kruger, Hellraiser, Ghostface, Michael, and Leatherface compete on Big Brother.

Monday, July 18th, 2005

20: The Black Cherry

Napoleon Bonamite; fizzing candy; "King of the Beach"; "You Can't Do That on Robot Chicken"
Season 2
Sunday, April 2nd, 2006

1: Suck It

Seth Green slimes the [adult swim] creator. He is put into outer space. He comes back. He gets slimed. He is renewed. See what happens when terrorism is used in jokes. A new superhero is in town. "The Six Million Peso Man" is his name. Two space invaders have a little chat. Mr. & Mrs. Brady shows us how The Brady Bunch is involved in the assassin business.

Sunday, April 9th, 2006

2: Federated Resources

A time-traveling jerk wreaks havoc on history. Lion-O, leader of the Thundercats, suffers as an Earth pet. Clifford the Big Red Dog gets in big red trouble. Evel Knievel wows his nursing home. The Swedish Chef "borks" his way through New York City. Corey Haim and Corey Feldman reunite to rescue the Predident's daughters.

Sunday, April 16th, 2006

3: Easter Basket

Fred and Barney brawl over a box of Fruity Pebbles. Kids have fun with the Phyllis Diller Spray-n-Play. An Egyptian pharoah builds a pyramid of Legos. Superspy Sydney Bristow gets aquatic in "Whalias". Anime and Santa collide in "A Very Dragonball Z Christmas".

Sunday, April 23rd, 2006

4: Celebrity Rocket

A Cuban youth plays Castro in "Dance Dance Counter-Revolucion"; Dirk the Daring from the video game Dragon's Lair fights middle age. That old dancing guy from the Six Flags commercials saves and ruins the day. Lindsay Lohan enters the world of Highlander and battles teen starlet foes.

Sunday, April 30th, 2006

5: Dragon Nuts

Morning Wood, Idle Nuts, Attack of the Giant Midget, a man catches a mermaid, Bruce Wayne's maid discovers the Batmobile, The Never-Ending Party, Channel 10 News, including Robot Flu, high speed chase, and a porn-eating computer virus.

Sunday, May 7th, 2006

6: 1987

Twinkie the Kid brings justice and good eating. Film directors turn to popular board games, such as Hungry Hungry Hippos, to make movies out of. Skeletor is visited by the local dentist, Darth Vader calls Emperor Palpatine about the Death Star, Johnny Cage recovers from a fatality, and Ted Turner attempts to clean up the environment.

Sunday, May 14th, 2006

7: Cracked China

Pikachu shows us another side of himself, while some kids have fun with "numb-chucking." A game of checkers leads to an inerstellar war, and a man befriends Eagle Eye Smith, the greatest blind man to ever live. Don't miss "My Little Ponys of the Apocalypse" or the new hit show, "Golden Girls and the City."

Sunday, May 21st, 2006

8: Rodigitti

Leonardo, Raphael, Michaelangelo, and Donatello adjust to life in a nursing home in "Senior Mutant Ninja Turtles". Cloud and company work hard in a fast-food joint in a spoof of "Final Fantasy VII". And Bugs Bunny is Sorry B Rabbit in a send-up that combines "Looney Tunes" and "8 Mile".

Sunday, May 28th, 2006

9: Massage Chair

Cuddles the fabric softener bear gets the wrong kind of hug. Corporate disputes get solved hand-to-hand in Office Fighter. Monkeys explore outer space on a budget. George W. Bush discovers he has Jedi powers. And we're back with more of those stupendous bloopers, including auditions tapes from MTV's Jackass!

Sunday, June 4th, 2006

10: Password: Swordfish

Care bears care a lot – about ethnic cleansing. See the action-packed story of Heimlich and his quest to unblock your windpipe. Ben Affleck sues the AFLAC duck. Corporate disputes get solved hand to hand in Office Fighter. Harry Potter uses magic to fight…puberty.

Sunday, September 17th, 2006

11: Adoptions an Option

Robot Chicken whores itself to corporate America. The Fantanas visit the Middle East peace process. E.T. finally returns home, but it's less cool than he remembered. The secret life of jack-o'-lanterns is finally revealed. A child's spaceship spells bad news for dad. The mythical Pegasus meets a demented little girl. Carney the Leprechaun is an irresponsible keeper of gold. Skynet goes online turning Inspector Gadget into an unstoppable killing machine!

Sunday, September 24th, 2006

12: The Munnery

Meet Cork, the world's greatest retarded detective. The legendary Kraken sea monster learns freedom isn't all it's krak-ed up to be. Weird al Yankovic's "Weasel Stomping Day" gets a Robot Chicken video treatment! The wishes of children come true, with new dire results. The crew of the Starship Enterprise faces their greatest foes yet – Themselves!

Sunday, October 1st, 2006

13: Metal Militia

Young Indiana Jones finds treasure at his elementary school. Rainbow Brite reveals her dark side. Rom: Spaceknight meets his ultimate nemesis! Into the blue gets a relevant skewering. Hulk Hogan busts out of prison camp in Hogan's Heroes.

Sunday, October 8th, 2006

14: Veggies for Sloth

The classic movie Beastmaster takes Broadway by storm. Lance Armstrong gets revenge on France. Thrill to the Worlds Most Creative Suicides! Buck Rogers learns what his name rhymes with. The gang from Archie Comics learns that nobody cheats Death for long!

Sunday, October 15th, 2006

15: Sausage Fest

Li'l Hitler will win your heart! The Library of Heaven yields answers even God doesn't know. The Burger King serves up some Delicious B&E. Garfield and Heathcliff take each other to court. A giraffe deals with the stages of death. The gang from Police Academy joins the X-Men.

Sunday, October 22nd, 2006

16: Drippy Pony

Learn the secret life of Batman villain the Penguin. Kids will love playing with My Stalker! Orlando Bloom must help his fellow passenger's survive after a plane crash. Jesus and the Argonauts find action and adventure, and turn their back on it. The Micronauts climb a mountain. The U.S. Government declared war on Christmas.

Sunday, October 29th, 2006

17: Day at the Circus

Snow Job finds his specialized skills aren't in high demand with G.I. Joe. Thing grows up and leaves the Addams Family nest. The Memory Game challenges the brainpower of contestants, and the penalty for failure is Death! The Black Stallion teaches us about race relations. Oprah and Dr. Phil team up in the greatest buddy cop movie ever!

Sunday, November 5th, 2006

18: Lust for Puppets

Montezuma gets his revenge. Cameron Diaz has just 24 hours to live. Some girl dates the Frankenstein monster which makes her father uneasy. Calvin and Hobbes have fun therapy adventures. Mario and Luigi stumble into the violent world of Vice City.

Sunday, November 12th, 2006

19: Anne Marie's Pride

Mr. T and the Foo Fighters forge an unlikely alliance. Stretch Armstrong needs a corn syrup transplant. A guy dates his GPS navigational system. Learn the untold origin of Alvin and the Chipmunks! Roger Ebert and guest reviewer M. Night Shyamalan present upcoming feature films, including Schindler's List 2 Schindler's Pissed. (aka 'Donkey Punch')

Sunday, November 19th, 2006

20: Book of Corrine

Vince Vaughn presents his new hit show, Vince Vaughn Bangs You Mom. Meet Casper's` brother Jasper, the Douchebag Ghost. Ninjas compete in a game show. A nerd gives us a much needed lesson on Go-bots. The cast of Sesame Street deals with a viral outbreak. A robot learns what it means to be alive. Robot Chicken holds a telethon the goes horribly awry.
Season 3
Sunday, August 12th, 2007

1: Werewolves vs. Unicorns

The Defenders of the Earth accept their limitations. The Decepticon Soundwave discovers he's a little dated. Shout On and Shout Off with The Shouter. People can lose at The Game of Life. Governor Schwarzenegger investigates the illegal immigration issue with Speedy Gonzales and Dora the Explorer.

Sunday, August 19th, 2007

2: Squaw Bury Shortcake

The Myth Busters team tackles masturbation myths. G-Force's Tiny needs to shed a few pounds. Popeye's friends hold an intervention over his addiction to spinach. Godzilla takes a rookie out for a Training Day. Tablesmasher attempts to defeat The Council of Evil Tables. Dirty Harry deals with a punk that does feel lucky. After retirement, Bob Barker handles the neutering personally.

Sunday, August 26th, 2007

3: Rabbits on a Roller Coaster

Randy experiences cross-dressing and death in The Worst Halloween. The crew of Battlestar Galactica defeats the FCC threat. Dick Tracy earns his name. Behold, the newest adventure of Turbo Teen. M.A.S.K.'s Matt Tracker takes a bride.

Sunday, September 2nd, 2007

4: Tapping a Hero

Law & Order gets chicken; a Gremlin under the supervision of President Bush wreaks havoc; Jesus confronts his virginity; Smokey the Bear recalls his namesake; Stan Lee and Pam Anderson dish super gossip. Rated TV-MA.

Sunday, September 9th, 2007

5: Shoe

Ted Kennedy and Jenna Jameson battle celebrities in politics and porn! Link's looking for a decent reward from Princess Zelda. The Homeless Airlines sort of take flight. Learn whatever happened to the micro machines man. Skeletor's latest plot against Eternia and He-Man goes a little too well.

Sunday, September 16th, 2007

6: Endless Breadsticks

Another black man in a Fat Suit movie. Big Jim tries to score. A cat in a hat has his way with the family pet and the kids need to get lost. When Snarf kicks it, Mumm-Ra sees his chance to destroy the Thundercats as Lion-O's new nanny.

Sunday, September 23rd, 2007

7: Yancy The Yo-Yo

The dinosaurs face their Armageddon. Barbie and a brat go head-to-head on MTVs Exposed. What happens on Tuesday when Wimpy has to pay for his burgers? Greatest American hero or greatest American nerd? Find out how infinite wealth has affected Richie Rich's teenage years.

Sunday, September 30th, 2007

8: More Blood, More Chocolate

An alien invasion isn't quite what it seems. Haunted houses are common, but not one with THIS kind of ghost! Can Bob the Builder take on the mafia? Probably. "Inside the Battlefield" revisits G.I. Joe's and Cobra's battle of the Weather Dominator, twenty years later.

Sunday, October 7th, 2007

9: Celebutard Mountain

Our PS3 Contest winner gets what's coming to him. Mr. Rogers is turning Japanese. Spawn faces Malebolgia with his one true skill - fiddling. Fonzie takes care of Cha-Chi the best he can in The Pursuit of Happy Days. Iron Man's feet become his greatest weakness. VH1's "Top 100 Final Episodes" features the end of Mork & Mindy, Love Boat and more.

Sunday, October 21st, 2007

10: Moesha Poppins

Move over House, it's your cousin, Condo! Empire Strikes Back's Lando Calrissian led our heroes into a dinnertime trap with Darth Vader, and hilarity's the main course! In the spirit of 300 comes 1776. Michael Moore uncovers whatever happened to the girls' toys of yesteryear.

Sunday, October 28th, 2007

11: Ban On The Fun

The Michelin Man helps out...with his life! Crystar, the Crystal Warrior, gets smoked! Thelma and Louise regret their suicidal ways. The Maytag Repairman's life REALLY sucks. The Laff-A-Lympics gang face their darkest games ever: Munich, 1972.

Sunday, November 4th, 2007

12: Losin' The Wobble

The Kool-Aid Man quenches some inconvenient thirsts. The mystery of why Enyclopedia Brown's parents aren't getting along. What new real will D&D's Venger conquer next? Wonder Woman reveal her revealing arch-enemy. Celebrities are drunk, but that's not why they go to rehab - they go to conquer the world! (Or something.)

Sunday, November 11th, 2007

13: SlaughterHouse On The Prairie

Never seek the help of She-Ra when she's in her period! Danny and the gang from Grease are building a new sex machine. The intensive Care Bears care more than their HMO will allow. The E.T. video game almost killed Atari and it's next target is you. Nobody in Smurf village ever expected the dam to break.

Friday, July 4th, 2008

14: Tubba-Bubba's Now Hubba-Hubba

Dracula fights back, 24 style! Superman picks the wrong pet sitter. Vehicle Voltron takes their sweet time, and the results aren't pretty. Unfortunately, no one can be told what the Pac-Mantrix is; you have to see it for yourself. Kevin Shinick finally gets even with that bitch, and we don't mean Carmen Sandiego. Pinhead and the other Cenobites join the Girls Gone Wild franchise.

Sunday, September 7th, 2008

15: Boo Cocky

Conan tells us "What is Best in Life" with a song. The Nerds find out Revenge comes with a price. President Jenna Bush trades the Oil Crisis for the Corn Crisis. The "Saved By The Bell" kids meet Jigsaw from "Saw," and Screech will never be the same. The Borg track the Enterprise to its hiding place...Las Vegas' "Star Trek Experience".

Sunday, September 14th, 2008

16: Bionic Cow

Sylar gets a new power in a Heroes parody. Mr. Magoo gets Laser Eye Surgery. Tarzan learns that not everything humans can teach him are as good as Jane's boobs. When Paris Hilton was stuck in prison, it was up to Nicole Richie to stage a "Prison Break."

Sunday, September 21st, 2008

17: Monstourage

Vic Mackey from "The Shield" switches places with the Fantastic Four's Thing and it's funny. Cowboys on a cattle drive have it bad in biblical proportions. Bronson Pinchot and Ludacris star in the off-Broadway production of "Don't Be Ridiculous". Fraggle Rock meets Watership Down when the Fraggles are forced out of their home and onto a desperate hunt for survival.

Sunday, September 28th, 2008

18: President Evil

Diggers have Dug their own grave, Dig Dug-style, ya dig? You've never seen a Vegas crime caper like "Ocean's Thirty-Eight." The government tries to contain an outbreak of cooties. Teenagers are exposed to movie trailers, but they're not exactly watching the screen.

Sunday, October 5th, 2008

19: Chirlaxx

The latest Japanese commercial for a yeast infection cream needs a famous pitch-woman. The enemies of America are on the run as President Bush becomes Captain Texas! If only the Kryptonian's had watched Jor-El's Inconvenient Kryptonian Truth. Sir Mix-A-Lot knows what King Arthur needs! A Glo Worm saves the day when a blackout strikes. We dedicate the season to the staff we've lost....and killed.
Season 4
Sunday, December 7th, 2008

1: Help Me

Seth and Matt enlist the help of Joss Whedon, Ron Moore and Seth MacFarlane to get their show renewed/ PaPappa the Rapper in court/ Tila Tequila is really a cyborg/ the Trojan Condoms mascot makes a surprise visit at a dinner with friends.

Sunday, December 14th, 2008

2: They Took My Thumbs

The creators imagine the contractor in charge of building those temples in Indiana Jones. Jason Voorhees gets ready for Friday the 13th. Witness the death of a salesman. What happens when the Justice League struggle through "Bring a Sidekick to Work Day?"

Sunday, December 21st, 2008

3: I'm Trapped

Witness the aftermath of the box office sale of Pluto Nash. The creators imagine the truth behind James Bond's sex life. Tony Stark gains an unlikely ally when escaping terrorists. Skeletor's plot involving a less-than-perfect clone of He-Man doesn't work out well.

Sunday, December 28th, 2008

4: In a DVD Factory

Find out the only way to kill a werewolf. Discover the secret origin of Composite Santa Claus. The creators imagine a deleted scene from the Daredevil movie. Hannah Montana has a date...with murder.

Sunday, January 4th, 2009

5: Tell My Mom

The true story is revealed behind Billy Joel's hit single, Piano Man. Joey Fatone shares an idea for a new sketch that he can star in, Spongebob Squarepants learns that Sandy has a little sponge inside of her, being a princess in distress isn't always glamorous, a life-sized crane game, Hungry, Hungry Hippo's gone horribly wrong, when you can't afford The A-Team, it's time to call the B-Team! Little Orphan Annie gets politically correct, and Billy Joel goes too far in discussing personal people's life events, and gets his come-uppance. Sam Witwicky Gets new Scooter.

Sunday, January 11th, 2009

6: PS Yes, In That Way

Strawberry Shortcake solves a robbery. Billy Dee Williams goes shopping. The creators imagine what happens when Harry introduces his cousin to the Hendersons. G.I. Joe welcomes a new member.

Sunday, January 18th, 2009

7: Love, Maurice

The creators imagine how Barbar might rule with an iron tusk, where O.J. might search for his ex-wife's killer and what Skynet might send back as their next terminator. Plus, check out the latest superhero movie, Kid Venison.

Sunday, January 25th, 2009

8: Two Weeks Without Food

The creators imagine how Zeus would spice up the "Clash of the Titans." See how "Star Trek II: The Wrath of Khan" would look like in an opera. Speed Racer competes in NASCAR Racing. Watch the latest edition to MTV's "The Hills."

Sunday, February 1st, 2009

9: But Not In That Way

The Giving Tree has much to give, everyone loves InuYasha, The Joker takes his revenge against Batman, and the creators imagine what happens when Punky Brewster discovers boys and who Stephen King's new neighbor might be.

Sunday, February 8th, 2009

10: I Love Her

The creators imagine how Freddy Kreuger got his start, what would happen if the Monchhichis drew first blood, how Criss Angel delivers the Ultimate Mind Freak at Hogwarts, if the Power-Puff girls were on drugs, and what a day with the Living Lohans might be like.

Sunday, July 26th, 2009

11: We Are a Humble Factory

Robot Chicken's unique take on MASK, The Black Hole, Armageddon, Star Trek TNG, WWE and more.

Sunday, August 2nd, 2009

12: Maurice Was Caught

Maurice plays Thermo Nuclear War WarGames style, Jean-Claude Van Damme re-imagines Gone With the Wind, we see scientists attempt to design a working jet pack and Annie holds a Sweet Sixteen party.

Sunday, August 9th, 2009

13: Unionizing Our Labor

Medieval Dukes of Hazard. The downward spiral of the Libertarian Party. Transients begin to wear Clark Kent's clothing. The creators imagine "Wii Fit: Humping Robot". The frog retaliates to the scorpion and the gerbil with violence. Smurfs engage in war with Snorks.

Sunday, August 16th, 2009

14: President Hu Forbids It

Deleted Out-takes from The Dark Knight; Dr. Manhattan's dark secret; the premise for Dateline's To Catch a Predator backfires big time; and the Robot Chicken nerd injects a little creativity into a gaming session of Dungeons and Dragons.

Sunday, August 23rd, 2009

15: Due to Constraints of Time and Budget

A deleted scene from Raider's of the Lost Ark is presented. Flubber sells out and becomes a condom product. The 1968 animated masterpiece Yellow Submarine gets injected with a dose of the 1990 masterpiece Hunt for Red October. Toad is the best Mario Kart driver and helps crooks make speedy getaways!

Sunday, August 30th, 2009

16: The Ramblings of Maurice

Breakfast cereals go viral. Two-Face doesn't know when to stop attacking Batman. G.I. Joe lays their pet dog to rest, and we see The Dark Crystal rap.

Sunday, September 6th, 2009

17: Cannot Be Erased, So Sorry

The creators imagine what the Humping Robot would look like on screen. John Connor tests out the new Terminator. Fantasy Island lives up to it's name. The nerd lands somewhere over the rainbow.

Sunday, September 13th, 2009

18: Please Do Not Notify Our Contractors

The Bachelor and the beast. We see how the knight guarding the Holy Grail spends his time and we are introduced to Montage Man.

Sunday, September 20th, 2009

19: Especially the Animal Keith Crofford!

The creators imagine the origin of the Wuzzles. Learn what Cloverfield's real intention was. See a new spin on Alfred Hitchcock's "Rear Window." Plus, there is a super sappy season-ender.
Season 5
Sunday, January 9th, 2011

1: Saving Private Gigli

Season Five of Robot Chicken opens with a bang on the beaches of Normandy! The creators imagine how Cabbage Patch Kids are made, what the reaction to shows like STOMP! are, and we see what Skeletor is forced to do when Snake Mountain is foreclosed on.

Sunday, January 16th, 2011

2: Terms of Endaredevil

The Secret Origin of Mo-Larr, Transformers 3 sneak peaks, Lara Croft vs. Tracey Ullman, Ernest as F#@!, He-Man and his father and Smurfatar.

Sunday, January 23rd, 2011

3: Big Trouble in Little Clerks 2

The creators imagine what goes on deep in the jungles of Pandoraa late at night, Harold and his purple crayon go on an adventure in a bad neighborhood, Major Nelson uses Jeannie to get back at NASA for firing him, and everyone in the G.I. Joe ranks gets to animal sidekick.

Sunday, January 30th, 2011

4: Kramer Vs. Showgirls

Dr. Drakken goes to prison; the Lego people race for space; Andy returns to his toys after college; and updates on the lives of TV characters from the 1990s are offered.

Sunday, February 6th, 2011

5: Malcom X: Fully Loaded

Find out what crimes your Thanksgiving turkey committed and was then pardoned for. See who earns the title of lamest villain ever.

Sunday, February 13th, 2011

6: Major League of Extraordinary Gentlemen

The Keebler elves defend their home against Cookie Monster. Also: how ice-cream sundaes were made; the reality of having a "spidey" sense.

Sunday, February 20th, 2011

7: Schindler's Bucket List

Sketches include the story of how Strawberry Shortcake's Baby Needs-a-Name got a name that is hard to forget; a roast is held to commemorate the Cobra Commander and climaxes in a surprise ending; secrets are revealed regarding Skeeter

Sunday, February 27th, 2011

8: No Country for Old Dogs

Special soldiers fight Hitler. See into Morgan Freeman's thoughts during a car accident.

Sunday, March 6th, 2011

9: Catch Me If You Kangaroo Jack

The creators ponder what a Diablo Cody eulogy would be like - home-skillett; the Joker finally gets what coming to him and find out how the Robot Chicken Nerd would fare in the world of Tron. Rated TV-MA.

Sunday, October 23rd, 2011

10: Beastmaster & Commander

Potato-chip cops dispense justice; a magical zebra assists a man; Green Lantern finds a new place for his ring; and a bloopers host offers a peek into his life.

Sunday, October 30th, 2011

11: Casablankman

A Rubik's Cube has an adventure; kids take part in a new fad; a secret lies behind a small door in a boy's room; and a 24-hour gym is explored.

Sunday, November 6th, 2011

12: The Departy Monster

Master Chief's face is revealed; life for Frankenberry is examined; Princess Toadstool's parents meet Mario; and Scarecrow navigates life in prison.

Sunday, November 13th, 2011

13: Some Like It Hitman

A look at life at Hogwarts, Winnie the Pooh's addiction, Donald Duck's family history and Tommy Tapeworm's latest victim.

Sunday, November 20th, 2011

14: The Core, The Thief, His Wife and Her Lover

Kratos from 'God of War' goes to extreme lengths to collect blood orbs; Superman grows tired of Lois' complaints and travels back in time; the Velveteen Rabbit gets the short end of the stick; 'Close Encounters' aliens explain little.

Sunday, November 27th, 2011

15: Casablankman 2

Doc Brown obtains plutonium; Jesus talks to normal humans; and Bella and Edward's life together is examined.

Sunday, December 4th, 2011

16: The Curious Case Of The Box

Comical look at the final moments before death. Dora the Explorer embarks on a dangerous Mt. Everest excursion. God is caught in the Garden of Eden. Clown-car crash.

Sunday, December 11th, 2011

17: The Godfather Of The Bride 2

Remember when MTV used to actually be about music? The MTV logo does and it's out for revenge. The Robot Chicken Nerd dreams of hanging out with Michael Knight from Knight Rider. A bunch of Spocks from the future gather for a surprise party and the creators imagine what television will be like in the year 2013.

Sunday, December 18th, 2011

18: Fools Goldfinger

Harry finds a new owner. A lost Lord of the Rings manuscript gets finished by Tolkien's 6-year old grandson. Find out the trouble of a bleeding alien. A guy finds out that in the world of dating, anything can become a bomb. Gay Tony calls for other video game characters to embrace their homosexuality.

Sunday, January 22nd, 2012

19: Fight Club Paradise

The chicken escapes! Sex and the City 3 tries to be more guy-oriented. Ranger Smith tries to stop Yogi Bear, Power Rangers style! The show celebrates 100 episodes with shocking ultra-violence! (What else?)
Season 6
not specified

21: Born Again Virgin Christmas Special

Robot Chicken takes down Christmas once again! Our writers reveal the origins of the Heat Miser and Cold Miser. Witness Ebenezer Scrooge learn the true TRUE meaning of Christmas. Learn the perils of getting a job at the North Pole. Discover how Santa Claus ruined World War One's greatest day!

Sunday, September 16th, 2012

1: Executed by the State

The G.I. Joe operatives face a big challenge. A look at vegetarianism; questions about the Starbucks logo; Orville Redenbacher's new role

Sunday, September 23rd, 2012

2: Crushed by a Steamroller on My 53rd Birthday

post-concert activities with Alvin and the Chipmunks; Mary Poppins' unusual behavior; the truth behind B.A.Baracus' distaste for flying; G.I. Joe's war experience

Sunday, September 30th, 2012

3: Punctured Jugular

A look at a "Fast and Furious" sequel a new role for Wilson from "Cast Away"; Scooby and the gang's Newest member

Sunday, October 7th, 2012

4: Poisoned by Relatives

Osama Bin Laden's end; "The Shirt Tales" gang in World War II; King Don's ruling style; overweight toons on a weight-loss show.

Sunday, October 14th, 2012

5: Hurtled from a Helicopter into a Speeding Train

A "Lord of the Rings" spoof; more adventures with E.T.; a birthday gift for Ben 10; a new mission for Captain Planet.

Sunday, October 21st, 2012

6: Disemboweled by an Orphan

Gadget has a surprise in store; Frosty goes through a change; and two Eternia tourists witness a battle between He-Man and Skeletor.

Sunday, October 28th, 2012

7: In Bed Surrounded by Loved Ones

A prank on Apache Chief; how the Lego people react to non-conformity; a look at a world without wolves; and the consequences of good times for Captain Kirk.

Sunday, November 4th, 2012

8: Choked on Multi-Colored Scarves

The creators imagine how Naomi Watts and Liev Schreiber live their life; Yin and Yang enter a dodgeball tournament; Greg Heffley tries his luck with a triangle and Huckleberry Hound playing James Bond.

Sunday, November 11th, 2012

9: Hemlock Gin and Juice

Dora the Explorer turns 15; the reason behind Angry Birds' rage is revealed; and Thomas the Tank Engine meets an explosive end.

Sunday, November 18th, 2012

10: Collateral Damage in Gang Turf War

E.T. takes over an ER; Harry Potter lands in a not-so-magical situation; the reason why Black Widow and Hawkeye remain part of the Avengers is revealed; and the characters encounter zombies.

Sunday, December 2nd, 2012

11: Eviscerated Post-Coital by a Six Foot Mantis

A brand new eco-friendly addition to Sesame Street; what happens when Mario from Super Mario Bros. gets rich; and some kind of Pinky & the Brain spoof.

Sunday, December 9th, 2012

12: Butchered in Burbank

Included: Monopoly in theaters; Dracula's dinner party; "The Little Mermaid" in New York; a new Dr. Seuss character.

Sunday, December 16th, 2012

13: Robot Chicken's ATM Christmas Special

Santa almost misses Christmas; Kano spends the holidays with Mrs. Cage; Justin Bieber releases a new song; and G.I. Joe has a special Christmas.

Sunday, January 6th, 2013

14: Papercut to Aorta

Spoofed: Rocky and Bullwinkle; Badtz-Maru; "The Hunger Games".

Sunday, January 13th, 2013

15: Caffeine-Induced Aneurysm

The truth behind "Airwolf"; the final episode of "iCarly"; a "Star Trek" song.

Sunday, January 20th, 2013

16: Eaten by Cats

The Teletubbies new roles as Power Rangers; Doc Brown's struggle with his time machine; 50 Cent's latest collaborator; a Lego person's birth.

Sunday, January 27th, 2013

17: Botched Jewel Heist

A meeting between Jason Voorhees and Michael Meyers; a rap for pescatarians; the future of holidays.

Sunday, February 3rd, 2013

18: Robot Fight Accident

The Nerd becomes Little Red Riding Hood; the Avengers take Broadway; Archie stands up for himself; Harry Potter applies for college; and the next "Aliens" film is imagined.

Sunday, February 10th, 2013

19: Choked on a Bottle Cap

Humping Robot attacks the U.S. Navy; an intervention for M.A.D. Cat; The Thundercats learn about estrus; Barbie's Ken creates Fight Club.

Sunday, February 17th, 2013

20: Immortal

In this season finale, Joss Whedon is back from the dead, unlike his many short-lived sci-fi series.
Season 7
Sunday, April 13th, 2014

1: G.I. Jogurt

Seth and Matt get Robot Chicken uncancelled, Gargamel sells Smurf Burgers, Catdog visits the vet, a drunken minotaur terrorises the British kids who own the cupboard leading to Narnia and GI Joe fight COBRA for a "Best P.S.A Award".

Sunday, April 20th, 2014

2: Link's Sausages

A look at what drives Pinky Brewster's punky power. Clarice Starling comes across Multiple Muggs. Skeletor attempts to blow up snake mountain.

Sunday, April 27th, 2014

3: Secret of the Booze

The identity of an alien is questioned. A new room-mate moves in with Bert. The Terminator meets his new wife's kids from a previous marriage. Papa Smurf has to go undercover.

Sunday, May 4th, 2014

4: Rebel Appliance

A dad has an uncomfortable talk with his daughter about the birds and the bees, the origin of bagpipes is revealed, and the Robot Chicken writers let the Robot Chicken Nerd take a trip into The Game of Thrones.

Sunday, May 11th, 2014

5: Legion of Super-Gyros

No one knows what disease Gerry injected himself with in World War Z...until the Robot Chicken writers take a crack at it! See Benjamin Franklin's greatest invention, Hannah from Girls gets a new boyfriend and we see the prequel to The Parent Trap.

Sunday, May 18th, 2014

6: El Skeletorito

The Cryptkeeper brings terror; Iron Sheik appears; the crew brainstorms a Candy Crush movie; and Woody Woodpecker receives a phone call.

Sunday, May 25th, 2014

7: Snarfer Image

The RC gang thought the drift in Pacific Rim could use a little reworking, the future is revealed to kind of suck for Looney Toons characters in Looper, Voltron gets a new number, and Skeletor takes a trip back in time to rid himself of He-Man.

Sunday, June 1st, 2014

8: Up, Up, and Buffet

Our writers imagine how Scrooge McDuck would do on Shark Tank, Fred Flintstone gets a colonoscopy, Shrek has a moment of clarity, and Doc from Mike Tyson's Punchout passes on to the great arena in the sky.

Sunday, June 8th, 2014

9: Panthropologie

The zany writers of the show put Master Chief and Cortana in an uncomfortable conversation, Drones are put into action on the G.I. Joe team, we see a few more animal totems from the Visionaries cartoon, and the little Lego folks take on some scary stuff in World War B.

Sunday, June 15th, 2014

10: Catdog on a Stick

Santa Claus shows he has slightly racist tendencies. The Bratz have fun in Summer. Tiger Woods stars in a animated film.

Sunday, June 22nd, 2014

11: Super Guitario Center

A look at the life of a lemming. A song is written about swamps. No one cares about Sleeping Beauty's latest dream. Shredder and April O'Neil embark on a forbidden affair.

Sunday, June 29th, 2014

12: Noidstrom Rack

The Zybots try to unite with the Autobots. There's a look behind the scenes at what happened during medieval times. The night crew of the Enterprise go on a adventure. Man-E-Faces experience being a star.

Sunday, July 6th, 2014

13: Stone Cold Steve Cold Stone

Why no one plays the piano in Wayne Manor; what James Potter did while in animal form; Disney Princesses fight.

Sunday, July 13th, 2014

14: Walking Dead Lobster

Kim Possible takes a trip to North Korea; Beanie Babies turn a man's life around; and the Robot Chicken Nerd takes an adventure with Doctor Who.

Sunday, July 20th, 2014

15: Victoria's Secret of NIMH

The Count from Sesame Street has a run in with Blade, Jor-El has some very helpful advice for Superman, and a new nemesis comes to Gotham City.

Sunday, July 27th, 2014

16: Bitch Pudding Special

Bitch Pudding seeks revenge on the citizens of Pastryville after they try to have her eliminated.

Sunday, August 3rd, 2014

17: Batman Forever 21

Bear Grylls deals with Wild Things; Dr. Ryan Stone calls a radio station; Brainy Smurf manipulates events; and Baloo discovers his roots.

Sunday, August 10th, 2014

18: The Hobbit: There and Bennigan's

Dumbledore breaks bad; a war on the Kitchen Commandos; where sheep go after being counted; and G.I. Joe Extreme.

Sunday, August 17th, 2014

19: Chipotle Miserables

Velociraptors from "Jurassic Park" learn to be clever; the possible cancellation of "Robot Chicken."
Season 8
Monday, October 26th, 2015

1: Garbage Sushi

Godzilla fights Jason; Bob the Builder gets competition from Handy Manny; Dinosaur Train proves improbable; and the Little Match girl finds a new, more dangerous use for her matches.

Monday, November 2nd, 2015

2: Ants on a Hamburger

Fonzie takes coolness too far; the girl from "The Ring" finds out videotapes are old technology; the Robot ChickenNerd gets lost in the CW.

Monday, November 9th, 2015

3: Zeb and Kevin Erotic Hot Tub Canvas

Pluto tries to break away from the dwarf planet crowd, an "American Girl" doll shortage causes chaos and "The Wild Thornberrys" realise they need to get "really wild" to stay on air.

Monday, November 16th, 2015

4: Cheese Puff Mountain

Pigeons wreak havoc; Naked Captain Picard hits it big; the Paw Patrol face the ultimate terror; and the Animaniacs take a course in sex education.

Monday, November 23rd, 2015

5: Cake Pillow

The Magic School Bus goes on its last ride; the circle of life confuses the Wonder Pets; and teenage Archie Andrews pursues a girl.

Monday, December 7th, 2015

6: Zero Vegetables

The "Robot Chicken" writers wonder whose job it was to walk King Kong; Michael Bay reveals the secrets to "Transformers Five."

Sunday, January 3rd, 2016

7: Joel Hurwitz

The purge is on and unbreakable laws are broken; the battle of the Ex X's; and The Predator and The Bachelor.

Sunday, January 10th, 2016

8: Blackout Window Heat Stroke

Only the RC writers know the true history of the brown M&M. What happened after Charlie won the Chocolate Factory? Can a perverted unicorn make a kid's dream come true? Maybe he shouldn't...

Sunday, January 17th, 2016

9: The Unnamed One

Robot Chicken introduces the next animated mega-hit: The Cheese League! Oprah lands a hot guest: C'thulhu. Galactus needs a new herald. Family Double Dare breaks a few families apart, and Nickelodeon's Guts teaches a boy to score.

Sunday, March 13th, 2016

10: Fridge Smell

'The Green Mile' seems much longer; Optimus Prime tries to shirk jury duty

Sunday, March 20th, 2016

11: Western Hay Batch

Everyone should butt out of the Power Rangers' business; Obi-Wan takes the low road to the high ground; The Terminator gets involved in the Garden of Eden.

Sunday, March 27th, 2016

12: Triple Hot Dog Sandwich on Wheat

Lex Luthor wants to buy some real estate. Inspector Gadget joins the US Army. Is being a My Little Pony just a phase? The story of Goldilocks and the Three Bears is revisited.

Sunday, April 3rd, 2016

13: Joel Hurwitz Returns

Daredevil wasn't the only person to lose his sense in an accident. Hogwarts students don't understand birth control. Solid Snake has an interesting visit to the bathroom. The Micronauts get a new public transport system.

Sunday, April 10th, 2016

14: Hopefully Salt

Superman forgets to lock the door to the Fortress of Solitude. The Nerd dies or has sex or both. The Teenage Mutant Ninja Turtles get their hands on some surplus military hardware.

Sunday, April 17th, 2016

15: Yogurt in a Bag

Liam Neeson discovers his movie seat has been… taken. A veterinarian explains how 101 dalmatians reproduce. The Crypt Keeper's schtick is stolen.

Sunday, April 24th, 2016

16: Secret of the Flushed Footlong

Some outtakes from Seth Green's Burger King commercial. Krang tries his hand at online dating. A look at Huey Lewis' lost hit song from "Back to the Future".

Sunday, May 1st, 2016

17: Food

Walter White Jr. raps about breakfast. The Exo-Squad have some jobs to do. Remy makes a new kind of ratatouille.

Sunday, May 8th, 2016

18: Not Enough Women

Darth Vader learns the meaning of "I'm Sorry". The Terminator alters the future a little too much. Edna Mode starts an incredible new job.

Sunday, May 15th, 2016

19: The Angelic Sounds of Mike Giggling

Has Lois Lane been super-murdered? Batman wonders if Superman can bleed. The audience votes on the season 8 finale spectacular!
Season 9
not specified

20:

not specified

0:

Sunday, December 17th, 2017

1: Hey I Found Another Sock

Writers must take Fury Road to get into the office; Beavis moves on from his life with Butt-head; Robot Chicken's Nerd is a guest in Westworld.

Sunday, January 7th, 2018

2: Scoot to the Glute

The crew wonder if Doc McStuffins can handle it in the emergency room; investors are less than thrilled with the first generation of hosts from "Westworld"; the Scooby gang tell each other how they really feel, with dangerous results.

Sunday, January 14th, 2018

3: Things Look Bad for the Streepster

Daniel Tiger is taught the toughest lesson of all; Nerd looks behind the curtain at Nick's Arcade and hates it; Jabberjaw goes on a much-needed vacation—to Amity Island.

Sunday, January 21st, 2018

4: Mr. Mozzarella's Hamburger Skateboard Depot

The team discover the emotions of adulthood in "Inside Out 2"; the pig from Black Mirror tells all to Howard Stern; the Nerd forces his way through "Star Wars: The Force Awakens."

Sunday, January 28th, 2018

5: Strummy Strummy Sad Sad

Robot Chicken joins the dinosaur revolution as Fred Flintstone runs for his life; Sebastian has union trouble with his orchestra; the MCU hold an intervention for Jessica Jones.

Sunday, February 4th, 2018

6: 3 2 1 2 333, 222, 3...66?

RC wonders how Harriet the Spy would fit into the modern world of Cyberwarfare. The Midnight Society figures out what is truly scary. Alvin and the Chipmunks play Coachella for the first and last time.

Sunday, February 11th, 2018

7: We Don't See Much of That in 1940s America

Miss Frizzle goes to great lengths to survive when the Magic School Bus crashes in the mountains; Harry Potter relives his golden years; Dominic Toretto gets fast and furious with the Titanic.

Sunday, February 18th, 2018

8: Ext. Forest - Day

The writers can't get a grasp of Fight Club's rules; Zack Morris takes a time out with the Avengers. Also: musings about whether old Rose's Titanic flashback was just a tall tale.

Sunday, February 25th, 2018

9: Factory Where Nuts Are Handled

Robot Chicken wants to expose the monster in its pocket; Megatron goes too far in Beast Wars; Wile E. Coyote sees if he can Get Away With Murder.

Sunday, May 20th, 2018

10: Never Forget

The minds at Robot Chicken uncover the real reason Indiana Jones hates snakes. Maxwell Lord gets an inside look at Supergirl's weakness. Date My Mom focuses on Jessica Rabbit's huge... personality.

Sunday, May 27th, 2018

11: Shall I Visit the Dinosaurs?

.The proud citizens of Robot Chicken stand up and demand the Furby genocide be recognized! Who watches the Watchmens' mouths? Bitch Pudding doesn't want to hear The Sound of Music.

Sunday, June 3rd, 2018

12: What Can You Tell Me About Butt Rashes?

The staff at Robot Chicken finally envision what a Sailor Earth would look like as the Sailor Scouts head out for churros. The Wicked Witch has some last-minute confessions you may not enjoy hearing. Richie Rich gets a lesson in capitalism.

Sunday, June 10th, 2018

13: Gimme That Chocolate Milk

The Robot Chicken crew witness the straw that breaks Captain Planet's back; a Spider-Man secret is revealed thanks to J. Jonah Jameson; The Nerd realizes his problems are Legion.

Sunday, June 17th, 2018

14: Why Is It Wet?

The creators of Robot Chicken revisit the POG craze for some reason. Mulan's disguise has worked too well. Rita Repulsa advertises a new use for her wand, and the Power Rangers refuse to pay the price!

Sunday, June 24th, 2018

15: Jew #1 Opens A Treasure Chest

Robot Chicken is there when one of Scooby Doo's villains realizes the silliness of his plan. Super Grover's secret identity is revealed! Calvin grows up but Hobbes wants no part of it.

Sunday, July 1st, 2018

16: He's Not Even Aiming at the Toilet

Robot Chicken reviews all the Star Wars plot holes that Galen Erso helped close in Rogue One. Peppa Pig's family deal with Brexit fallout. Some swine dare to make a knock-off of the Broadway mega-hit Hamilton.

Sunday, July 8th, 2018

17: Your Mouth Is Hanging off Your Face

King Kong fell from the Empire State Building; the Teenage Mutant Ninja Turtles don't have money to pay for a pizza; the Smurfs try some Sudafed.

Sunday, July 15th, 2018

18: No Wait, He Has a Cane

The writers of Robot Chicken tell Two-Face the most they've ever lost on a coin toss. The Joker bombs on stage, but not in our hearts. Jon Snow faces the greatest threat Westeros has ever seen!

Sunday, July 22nd, 2018

19: Hi.

Robot Chicken ends the season with a bang and some nudity as the Nerd jumps the Grand Canyon. Stranger Things are happening to the school bully… VERY Stranger Things. Witness the greatest Japanese commercial of ALL TIME!