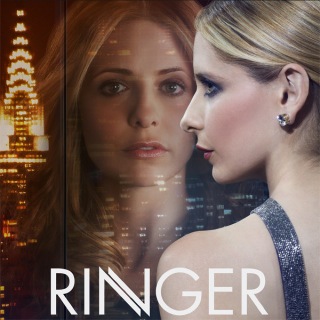 Season 1
Tuesday, September 13th, 2011

s1e1: Pilot

Bridget Kelly is six-months sober and starting to turn her life around when she is the sole witness in a murder trial. Despite the assurances of her FBI protector, Agent Victor Machado, Bridget knows her life is on the line. She flees to New York, telling no one, and reunites with her estranged twin, Siobhan Martin. Wealthy, pampered and married to the strikingly handsome Andrew Martin, Siobhan lives what appears to be a fairy tale life - a life where no one knows that Bridget exists. The sisters seem to be mending their frayed relationship - until Siobhan disappears mysteriously, and Bridget makes the split decision to take on her sister's identity. She discovers shocking secrets, not only about her sister and her marriage, but also about Siobhan's best friend, Gemma Butler and Gemma's husband, Henry.

Tuesday, September 20th, 2011

s1e2: She's Ruining Everything

Bridget's old life begins to catch up with her, as FBI Agent Machado decides to stay in New York and learn more about Siobhan's life and inner circle.

Tuesday, September 27th, 2011

s1e3: If You Ever Want a French Lesson

Things get tense between Bridget and Andrew after she uncovers some information about him; Agent Machado looks for Bridget; Henry and Gemma argue over an investment.

Tuesday, October 4th, 2011

s1e4: It's Gonna Kill Me, But I'll Do It

Bridget, as Siobhan, heads to the Hamptons with Andrew, Henry and Gemma; Henry intends to rekindle his affair with Siobhan; Gemma receives unsettling news.

Tuesday, October 11th, 2011

s1e5: A Whole New Kind of Bitch

Gemma (Tara Summers) asks Bridget (Sarah Michelle Gellar), who is still posing as Siobhan, to do her a favor that could cost Bridget everything. Henry (Kristoffer Polaha) is given some crushing news about his writing career, and Andrew (Ioan Gruffudd) has to deal with his tumultuous relationship with his teenage daughter Juliet (Zoey Deutch). Bridget meets a potential new sponsor named Charlie (guest star Billy Miller) at a local Narcotics Anonymous meeting, while Malcolm (Mike Colter) must face his demons when he is put in a position that could jeopardize his sobriety.

Tuesday, October 18th, 2011

s1e6: The Poor Kids Do It Every Day

When Bridget cannot get in touch with Gemma she begins to wonder if something has happened between Gemma and Henry. Juliet starts a new school, where she defends herself against the school bully and her teacher Mr. Carpenter comes to her rescue. Bridget asks Charlie to do her a favor that could come back to haunt her, while Agent Machado looks into Malcolm's disappearance.

Tuesday, November 1st, 2011

s1e7: Oh Gawd, There's Two of Them?

Still posing as Siobhan, Bridget is forced to reveal she has a twin to Andrew and Henry when Agent Machado starts closing in. Henry becomes a suspect in the whereabouts of his wife, Gemma and Juliet starts partying to dangerous extremes. Meanwhile, Malcolm escapes and is on the run from his kidnappers.

Tuesday, November 8th, 2011

s1e8: Maybe We Should Get a Dog Instead

Andrew and Bridget are told some upsetting news that also affects Henry. Juliet continues to form an unlikely bond with her teacher Mr. Carpenter and Malcolm shows up in New York, where Agent Machado confronts him. Meanwhile, Siobhan's relationship with Tyler is jeopardized.

Tuesday, November 15th, 2011

s1e9: Shut Up and Eat Your Bologna

Bridget begins to realize she is developing feelings for Andrew, while Henry and Andrew's business partner Olivia bond over common interests. Malcolm is suspicious of Bridget's new NA sponsor Charlie and Bridget makes an appointment with Siobhan's therapist, hoping it will help her discover some insight into her sister's life.

Tuesday, November 29th, 2011

s1e10: That's What You Get for Trying to Kill Me

Henry begins to target someone as a suspect in the disappearance of his wife Gemma and realizes he must work with Bridget to find out more information. Malcolm talks to the police about his suspicion of Charlie, while Juliet develops an unhealthy obsession with her teacher Mr. Carpenter. Meanwhile, Agent Machado meets with an informant back in Wyoming.

Tuesday, January 31st, 2012

s1e11: It Just Got Normal

Bridget offers to host a fundraiser that her friend Greer is holding for Juliet's school and discovers that Greer knew one of Siobhan's deep dark secrets. While back in New York, Siobhan discovers that Bridget has settled into her former life more easily than Siobhan expected and she is determined to change that. Meanwhile, Malcolm decides to work for Andrew at Martin/Charles in order to keep an eye on him, and Henry mourns the death of his wife.

Tuesday, February 7th, 2012

s1e12: What Are You Doing Here, Ho-Bag?

Juliet's mother Catherine arrives in town, where she proceeds to wreak havoc on Andrew and Bridget's relationship. Bridget discovers someone from Siobhan's past and thinks he might be the key to her learning more information about her sister. Meanwhile, Henry discovers a lead that causes Agent Machado to think he is closing in on Bridget.

Tuesday, February 14th, 2012

s1e13: It's Easy to Cry, When This Much Cash Is Involved

Bridget visits some of the last locations Siobhan went before she disappeared and discovers that Siobhan kept a secret office. Olivia finds out some information about Henry and blackmails him into introducing her to Gemma's wealthy father Tim Arbogast. Meanwhile, in Paris, Tyler struggles with a moral decision that could affect Siobhan and Andrew.

Tuesday, February 21st, 2012

s1e14: Whores Don't Make That Much

Bridget encounters Dylan, who was an important part of the sisters' past. After finding something in Henry's possession that belongs to Bridget, Malcolm befriends Henry to keep an eye on him. Catherine asks Andrew to make a big decision regarding Juliet that could change their family dynamic.

Tuesday, February 28th, 2012

s1e15: P.S.: You're An Idiot

Bridget realizes she's in over her head when Andrew proposes again; Olivia becomes suspicious of Malcolm; and Juliet makes a decision that doesn't sit well with her mother.

Tuesday, March 6th, 2012

s1e16: You're Way Too Pretty to Go to Jail

Machado's past with stripper Shaylene Briggs is revealed; Siobhan masquerades as Bridget to Malcolm; Henry realizes that Bridget knows more than she should; and Tyler takes something from Siobhan that's a key piece of evidence in her revenge plot.

Tuesday, March 13th, 2012

s1e17: What We Have is Worth the Pain

Bridget fears that something has happened to Malcolm when she cannot get in touch with him.. In an effort to find him, Bridget visits the hotel where Malcolm was staying and discover on security footage that Andrew was the last person to see Malcolm before he disappeared. Meanwhile, Juliet discovers that someone in her family played a part in the attack on Tessa and Siobhan admits to Henry the reason she faked her death.

Tuesday, March 20th, 2012

s1e18: That Woman's Never Been a Victim Her Entire Life

After an attempt is made on Bridget's life, Agent Machado is determined to find who was responsible. Henry accuses Siobhan of putting a hit out on Bridget, while Bridget thinks Olivia was behind it. Meanwhile, Andrew admits to asking Malcolm to leave town and Juliet goes missing.

Tuesday, March 27th, 2012

s1e19: Let's Kill Bridget

Bridget decides that the only way she will feel safe is if she testifies against Bodaway Macawi. Agent Machado gets suspended from the FBI, while Henry grows impatient with Siobhan's plan and tells her she needs to let go of her revenge plot or they cannot be together.

Tuesday, April 3rd, 2012

s1e20: If You're Just an Evil Bitch Then Get Over It

Still posing as Siobhan, Bridget admits to Agent Machado that someone tried to kill her months earlier and she thought it was Andrew. Bridget goes to Henry's apartment, where Siobhan overhears Bridget accuse Henry of Tyler's murder. Meanwhile, Catherine goes to desperate extremes to bring Andrew closer to her.

Tuesday, April 10th, 2012

s1e21: It's Called Improvising, Bitch!

Catherine's plan to drive Andrew and Bridget, posing as Siobhan, apart unravels. Agent Machado discovers who wanted to kill Siobhan all along and rushes to intercept the killer before it is too late. Meanwhile, Siobhan's plan to help Henry backfires when the main witness suddenly dies.

Tuesday, April 17th, 2012

s1e22: I'm the Good Twin

As the vow renewal nears, Bridget realizes she first needs to tell Andrew the truth about who she really is. Meanwhile, just as Bodaway Macawi starts to close in on Bridget, Agent Machado is forced off the case and Henry decides whether he should tell Bridget the truth about Siobhan.