update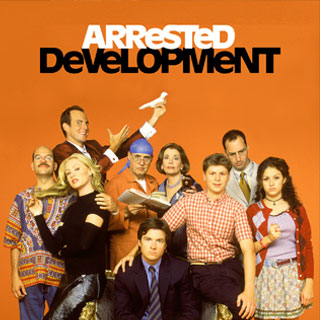 Season 0
not specified

2: Extended Pilot

28 minute version of the pilot episode.

not specified

3: Ron Howard Sneak Peak at Season 2

not specified

4: TV Land - "Arrested Development: The Making of a Future Classic"

Cast members talk about what it means to get the TV Land Future Classic award in their first year

not specified

5: TV Land - "Arrested Development: The Making of a Future Classic"

Cast members talk about what it means to get the TV Land Future Classic award in their first year

not specified

6: The Museum of Television & Radio Cast Panel Discussion

A panel of cast and crew members discuss the show, on-stage at the Paley Festival.

not specified

7: "TV Land Awards" - The Future Classic Award

The cast accepts their TV Land award

not specified

8: S1 Deleted Scenes for Episodes 07-08

not specified

9: S1 Deleted Scenes for Episodes 09-14

not specified

10: S1 Bloopers

From the episode 'Beef Consomme', Tobias overcompensates..

not specified

11: S1 Deleted Scenes for Episodes 15-19

not specified

12: Arrested Development Promo "Blind"

not specified

13: S2 Bloopers

not specified

14: S2 Deleted Scenes for Episodes 1-6

not specified

15: S2 Deleted Scenes for Episodes 7-12

not specified

16: S2 Deleted Scenes for Episodes 13-18

not specified

17: S2 Campaign Videos for The Immaculate Election

not specified

18: Overview: Season One in 3 Minutes

not specified

19: S3 Deleted Scenes for Episodes 1-7

not specified

20: S3 Deleted Scenes for Episodes 8-13

not specified

21: S3 Bloopers

not specified

22: S3 The Last Day on Location

Friday, May 3rd, 2013

1: The Arrested Development Documentary Project

This documentary follows the story of the show through fan, cast and crew, and celebrity interviews.

Friday, May 3rd, 2013

23: The Arrested Development Documentary Project

This documentary follows the story of the show through fan, cast and crew, and celebrity interviews.
Season 1
Sunday, November 2nd, 2003

1: Pilot

Meet the Bluths. In the pilot, Michael decides to take a job in Arizona after being passed over by George Sr. for head of the Bluth Company. George Sr. is jailed, and the family realizes they need Michael.

Sunday, November 9th, 2003

2: Top Banana

Michael puts George Michael in charge of the Bluth Bannana Stand, and his son subsequently burns down the stand. Elsewhere, Tobias auditions for a commercial, and Lindsay inadvertantly gets the part.

Sunday, November 16th, 2003

3: Bringing Up Buster

Michael spends quality time with Buster. George Michael auditions for a school play to get closer to Maeby. Gob breaks up with his girlfriend and has nowhere to go.

Sunday, November 23rd, 2003

4: Key Decisions

Gob decides to lock himself in his father's prison for 24 hours to get back in with the alliance, and to spend quality time with his father. Michael takes Gob's girlfriend to an awards show, and Buster inadvertently flirts with his mother's rival.

Sunday, November 30th, 2003

5: Charity Drive

Michael and Lindsay try to prove their charitable sides to each other. Gob demands George Michael's respect, and Buster continues avoiding Lucille 2.

Sunday, December 7th, 2003

6: Visiting Ours

Michael sets up an "intimate conjugal visit" for his parents, while it is revealed that George Sr. had an affair with Kitty, his secretary who recently slept with Gob. Tobias and Lindsay see a marriage counselor.

Sunday, December 14th, 2003

7: In God We Trust

Michael attempts to fire the family's incompetent, but likeable attorney. George Michael impresses Maeby with a muscle suit for a "Living Classics" pagent. Tobias has a psychological affliction where he is unable to take off his clothes.

Sunday, December 21st, 2003

8: My Mother, The Car

Michael loses his short-term memory, which Lucille uses to her advantage. Gob attempts to use the family yacht before Michael sells it. George Michael and Maeby attempt to see an R-rated movie about cousins having an affair. Buster and Lucille 2 take "the next step".

Sunday, January 4th, 2004

9: Storming the Castle

Michael cannot go through with his plan to break up Gob and Marta. A thug magician wants to take Gob's "legs". Maeby wears all leather to get back at her mother, and Lucille decides to confront Buster's relationship with Lucille 2.

Sunday, January 11th, 2004

10: Pier Pressure

Buster realizes that medical marijuana will help cure Lucille 2's vertigo, and pays George Michael to get it for him from Gob. Lindsay sends Maeby to spend a day with Lucille to punish her for bad grades. Michael thinks George Michael is on drugs and attempts to teach him a lesson.

Sunday, January 25th, 2004

11: Public Relations

When George Michael is rejected by a private school due to the family's reputation, Michael hires a publicist from his gym who he's been flirting with to change the public perspective of the Bluths. Meanwhile, Tobias is sent to Boston to reclaim his medical license.

Sunday, February 8th, 2004

12: Marta Complex

When Lucille throws an anniversary party for Tobias and Lindsay on Valentine's Day, Michael gives an impassioned speech about love. This makes Marta realize she has feelings for him and Lindsay realize she wants a divorce. Meanwhile, Buster decides to move out of the penthouse and Lucille revels in living alone for the first time.

Sunday, February 15th, 2004

13: Beef Consomme

After learning that Marta has feelings for him, Michael goes to her and they decide to get permission from Gob before taking things to the next level. Meanwhile, Lindsay and Tobias finally get to the heart of his "never-nude" problem and George Sr. faces his first hearing.

Sunday, March 7th, 2004

14: Shock and Aww

Michael falls for his George Michael's ethics teacher, whom his son also has a crush on. Meanwhile, Lucille adopts a 14-year old Korean boy, and George Sr.'s "Caged Wisdom" tapes have given him a new admirer.

Sunday, March 14th, 2004

15: Staff Infection

When Michael discovers his family has been receiving paychecks without working, he forces them all to get jobs within the company. Lindsay questions his management skills, and Tobias checks himself in at George Sr.'s prison to research a film role.

Wednesday, March 17th, 2004

16: Altar Egos

Michael attempts to have a one-night stand with an attorney whom he doesn't know is not only blind, but the prosecutor who is trying to put his father in jail. Also, Gob gets married on a dare, Maeby pretends to be a girl with a made up disease, and George Sr.'s admirer turns out to be an undercover SEC agent who has truly fallen for him.

Sunday, March 21st, 2004

17: Justice Is Blind

Gob steals a file on the government's case against the Bluth Company that Maggie had given to Michael. Tobias is sent to Maggie's house to get evidence, George Michael tries to prove Maeby's fraud, and Lindsay fights to remove the Ten Commandments from the courthouse lawn.

Sunday, March 28th, 2004

18: Missing Kitty

Gob attempts to make good on his promise to make the family yacht disappear. Meanwhile, Lindsay and Maeby try to track down Lindsay's grandmother, Tobias seeks George Sr.'s respect, and Michael attempts to fire Kitty, who claims to have information that could bring down the company.

Sunday, April 4th, 2004

19: Best Man for the Gob

George Sr. uses Gob's bachelor party as an opportunity to set up his accountant in a compromising position so that he can blackmail him. Meanwhile, Michael tries to prove he's a fun guy, and the Funkes reunite their family folk-music band.

Sunday, April 11th, 2004

20: Whistler's Mother

Michael deals with numerous requests for some unfrozen money, and chastises Lucille for being too coddling with Buster. Lindsay decides to protest the war to boost her self esteem while Tobias and Gob decide to start a coffee company.

Sunday, April 25th, 2004

21: Not Without My Daughter

Michael takes Maeby to work with him on Take Your Daughter to Work Day. After being slighted by Michael, Tobias, George-Michael and Gob all go to the mall to prove that they are just manly. Oscar takes Lucille and Buster to Annyong's soceer game.

Sunday, June 6th, 2004

22: Let 'Em Eat Cake

In the first season finale, George Sr. has a heart attack, and Maeby is jealous when George Michael likes another girl. Meanwhile, Lindsay decides to leave Tobias until a book he wrote a long time ago becomes a gay bestseller, and Buster and Annyong compete over women.
Season 2
Sunday, November 7th, 2004

1: The One Where Michael Leaves

Michael and George Michael leave for Phoenix but go back to ensure the family misses them. Lindsay wants to have an open marriage, which causes Tobias to try to join the Blue Man Group under the impression that they are a support group for depressed men. Lucille signs Buster up for the army after being goaded by a Michael Moore lookalike. Gob becomes president of the Bluth Company.

Sunday, November 14th, 2004

2: The One Where They Build a House

Michael is driven crazy by Gob when he impresses the board as the new company figurehead due to Michael's legal troubles. Meanwhile, George Sr. is arrested in Mexico for a crime Oscar committed, and Buster witnesses something that utterly shocks him.

Sunday, November 21st, 2004

3: ¡Amigos!

Michael is increasingly frustrated over being abandoned by the family, and when the staircar is found in Mexico, Michael vows to find his father and give him a piece of his mind. Also, Buster spends time with Lupe's family and thinks he's in Mexico.

Sunday, December 5th, 2004

4: Good Grief

Lucille hires a bounty hunter, Ice, to find George Sr., who may be closer than everyone thinks. Gob tries to pull off an elaborate illusion, Maeby tries to set Lindsay up with Ice, and Michael tries to mend George Michael's broken relationship.

Sunday, December 12th, 2004

5: Sad Sack

George Sr. fears he's losing Lucille to Oscar. Gob motivates Buster for the Army while Lindsay spends more time with Maeby to get closer to Steve Holt and Tobias starts working out.

Sunday, December 19th, 2004

6: Afternoon Delight

Gob stages mass firings after being inadvertently roasted at the Bluth Company Christmas party. Michael is forced to rebuild the Banana Stand, and Buster plays hooky from the Army at an arcade game.

Sunday, January 16th, 2005

7: Switch Hitter

The Bluths rival development company hires Gob, who finds the company president a father figure, in preparation for the Bluth-Sitwell softball game; Lindsay hallucinates from taking anti-depressants.

Sunday, January 23rd, 2005

8: Queen for a Day

Michael sells a portion of his stock in the Bluth company to buy a car, and Lucille 2 returns, only to discover that Buster is dating the company secretary Starla.

Sunday, January 30th, 2005

9: Burning Love

Michael reunites with his long, lost love Sally Sitwell, but faces interference from parents. Meanwhile, the two Lucilles need someone to bid on them at the bachelorette auction with Buster already in a relationship.

Sunday, February 13th, 2005

10: Ready, Aim, Marry Me!

With the company in dire financial straits and the Bluths no longer the primary shareholders, Michael must turn to old family friend "Uncle" Jack Dorso for financial assistance. Uncle Jack, however, wants something in return.

Sunday, March 6th, 2005

11: Out on a Limb

Just as Michael's relationship with Sally starts to flourish, Maggie Lizer returns nine months pregnant, and Michael immediately assumes he's the father. George Michael attempts to break up with Ann, and Buster learns he's being deployed to Iraq.

Sunday, March 6th, 2005

12: Hand to God

Michael tries to find out who's the father of Maggie's baby, or if it's just another of her lies; Gob tries to find out whether he was responsible for Buster's accident.

Sunday, March 13th, 2005

13: Motherboy XXX

Lucille abducts George Michael for a mother-son dance, Buster adjusts to having a hook for a hand and Gob reunites with his estranged wife. Also, Tobias stars as George Sr. in a biopic about the Bluth family, which causes Lindsay to become more attracted to him.

Sunday, March 20th, 2005

14: The Immaculate Election

George Michael runs for student body president, which Gob manages to ruin. Buster has an affair with Lupe, who is being sought after by Lindsay and Tobias attempts to move out of the model home, then develops a new persona when he regrets his decision.

Sunday, March 27th, 2005

15: Sword of Destiny

Gob and Buster team up for some magic tricks with the help of Buster's fake hand, but when Tony Wonder, a rival magician, starts to mentor them, somebody gets the finger. Meanwhile, Michael is forced to delegate some work when he's hospitalized and Lindsay teaches George Michael how to drive using the staircar.

Sunday, April 3rd, 2005

16: Meat the Veals

George Sr. tries to find a way to attend an anniversary dinner for Lucille while Michael deliberately offends Ann's devout Christian parents. Tobias goes overboard performing his "Mrs. Featherbottom" persona.

Sunday, April 10th, 2005

17: Spring Breakout

Gob confronts the editor of the videos that showcased his magic mistakes. Michael tricks Lucille in to rehab, and then attempts to get her out after George Sr. is kidnapped.

Sunday, April 17th, 2005

18: Righteous Brothers

Gob hides George Sr. while the model home's plumbing is checked; George Michael helps Ann protest Maeby's new movie; Tobias takes a liking to Kitty after Michael asks him to keep an eye on her.
Season 3
Monday, September 19th, 2005

1: The Cabin Show

Michael learns that it's actually George Sr.'s twin brother Oscar serving time in prison, not George. After getting a tip from Barry, Michael heads to Reno to find George, but that costs him a camping trip he promised his son.

Monday, September 26th, 2005

2: For British Eyes Only

Investigating his father's claim that a British group set him up, Michael goes to "Wee Britain" and is smitten with a beautiful woman named Rita. Lindsay attempts to seduce the new family attorney, and Gob goes to extremes to avoid his newly discovered son.

Monday, October 3rd, 2005

3: Forget Me Now

George Sr. is placed under house arrest by the family's new attorney Bob Loblaw, and finds that it's not exactly a walk in the park. Michael sets up his first date with Rita, but Rita has an unfortunate encounter with the family beforehand.

Monday, November 7th, 2005

4: Notapusy

To prove he's a man to Rita, Michael and his nephew Steve Holt compete in the Church And State Fair's annual triathlon. George Sr. tries to scare some at-risk youth, and Tobias tries to help George-Michael's girlfriend Ann to compete in the fairs' "inner beauty" pageant.

Monday, November 7th, 2005

5: Mr. F

Michael must deal with a huge mole problem in order to salvage a major real estate deal with Japanese investors. In an effort to help Michael, Gob and Buster team up with George Sr.'s surrogate, Larry, to devise a plan and save the deal, but their plan falls apart in a big way. Meanwhile, Tobias mistakes a CIA agent for a CAA agent and inadvertently betrays the family, and Michael makes Rita a proposal she can't refuse. Frankie Muniz makes a cameo as himself.

Monday, December 5th, 2005

6: The Ocean Walker

After Michael announces he's marrying Rita, George Sr. worries that she's after the family's money. But when Rita's Uncle Trevor tries to stop the wedding by revealing some surprising information about Rita, Michael must decide if he wants to walk down the aisle.

Monday, December 12th, 2005

7: Prison Break-In

The family plans their annual fund raiser, and they actually have a cause this time. Tobias is ailing due to his transplanted hair plugs, which appear to be rejecting him. Lindsay uses the illness as her ticket back into high society, and Michael learns of the prison warden's true intentions with his mother after reading the warden's screenplay.

Monday, December 19th, 2005

8: Making a Stand

Michael is tired of his father always having Gob compete with him, so Michael gets Gob his own banana stand franchise, only to find that Gob has set it up 20 feet from the old one. After the two compete, they decide to teach their father an elaborate lesson, and Buster refuses to use his handicap to scare kids. Meanwhile, Maeby uses Lucille's surgery in a horror film.

Monday, January 2nd, 2006

9: S.O.B.s

George Sr. suggests a last-ditch effort to save the family by holding a fund raiser to raise money to pay their legal expenses. Michael suggests to Lindsay that she take over the house work, and he sends George-Michael to an expensive boarding school. Meanwhile, Maeby has trouble with a snowboarding film and Tobias tries to be a "discipline daddy".

Friday, February 10th, 2006

10: Fakin' It

George, Sr. hires a new attorney who asks the Bluths to participate in a mock trial to help prepare them for the real thing. The attorney gets actor Judge Reinhold to preside over the mock case. Meanwhile, Buster fakes a coma to get out of testifying, and George Michael and Maeby participate in a mock wedding to entertain hospital patients. Back at the office, Michael discovers that he may have a long-lost sister named Nellie Bluth.

Friday, February 10th, 2006

11: Family Ties

In an effort to get to the bottom of things, Michael tracks Nellie down and hires her as a consultant for the Bluth Co. Unfortunately, Michael discovers Nellie's hands-on approach is more than he bargained for.

Friday, February 10th, 2006

12: Exit Strategy

Gob goes to Iraq to perform his Christian magic act on the USO tour and ends up incarcerated. Michael learns George, Sr. sent Gob to Iraq to burn down the model home he built there, so Michael and Buster fly to Iraq to spring their brother from prison.

Friday, February 10th, 2006

13: Development Arrested

After returning home from Iraq, George Sr. is finally cleared of all charges, and Michael is relieved to be the head of a successful company for a change. The real brains behind the madness is revealed, and just as the family begins to celebrate their victory, a whole new set of problems emerge.
Season 4
Sunday, May 26th, 2013

1: Flight of the Phoenix

Michael says goodbye to the family business and starts his own. And the life of the family is turned upside down when their mail man Pete dies.

Sunday, May 26th, 2013

2: Borderline Personalities

George Sr. comes up with a get rich quick scam after his family falls apart.

Sunday, May 26th, 2013

3: Indian Takers

Lindsay tries to reclaim her sense of self while traveling and getting back to her political activist roots.

Sunday, May 26th, 2013

4: The B. Team

Michael is presented with a new business opportunity that could change his life, but unfortunately, he needs his family to sign off.

Sunday, May 26th, 2013

5: A New Start

Tobias searches for meaning after splitting with Lindsay, only to find that old habits die hard.

Sunday, May 26th, 2013

6: Double Crossers

George Sr.'s new business hits a rough patch, and he must bribe a politician to get his scam back on track.

Sunday, May 26th, 2013

7: Colony Collapse

Gob finds a new group of friends after his relationship falls apart and his family abandons him.

Sunday, May 26th, 2013

8: Red Hairing

Lindsay continues to push away from being a Bluth by embracing a relationship and finding a new career.

Sunday, May 26th, 2013

9: Smashed

Tobias returns to his roots and reunites with his leading lady after a rough few weeks.

Sunday, May 26th, 2013

10: Queen B.

Lucille finds that her children have started dividing up her things, and adjusts to her new home.

Sunday, May 26th, 2013

11: A New Attitude

Gob accepts a job from his brother, but is distracted by a scheme of his own.

Sunday, May 26th, 2013

12: Señoritis

Maeby moves out on her own and reconnects with her cousin George-Michael.

Sunday, May 26th, 2013

13: It Gets Better

At UC Irvine things get steamy when George-Michael finds himself in a love triangle with his best friend Ray and his girlfriend Becky.

Sunday, May 26th, 2013

14: Off the Hook

Buster struggles to make it on his own and break away from his overbearing mother.

Sunday, May 26th, 2013

15: Blockheads

George-Michael tries to reconnect with his father, but is finding himself overwhelmed by the responsibility of running his business.