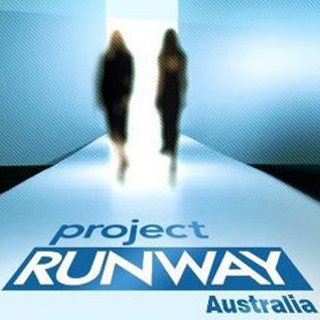 Season 1
Monday, July 7th, 2008

s1e1: Episode 1

The premiere episode of Project Runway Australia kicked off with the twelve designers introducing themselves.

Monday, July 14th, 2008

s1e2: Episode 2

In this episode, Henry brought the designers to St. Kilda's Beach to draw inspiration from the beach for the Australian lifestyle of hanging out at the beach and partying at bars in the night. The designers had to create a garment that was versatile enough to be used at the beach and at the bar as well. For this task, they had 7 hours in the work room.

Monday, July 21st, 2008

s1e3: Episode 3

Monday, July 28th, 2008

s1e4: Episode 4

Monday, August 4th, 2008

s1e5: Episode 5

Monday, August 11th, 2008

s1e6: Episode 6

Monday, August 18th, 2008

s1e7: Episode 7

Singer Kelly Rowland is the client for this week's challenge- to create a glamorous, yet sexy outfit for her to wear onstage.

Monday, August 25th, 2008

s1e8: Episode 8

The remaining five designers are asked to create a day to night outfit for the Basque range of Myer's.

Monday, September 1st, 2008

s1e9: Episode 9

In this episode the designers were driven to a church in a luxury car. The challenge was initially, to create a wedding dress which could be used as a final, show stopping dress on any runway. The contestants were given 15 minutes and 500 AUD to choose their fabrics.

Monday, September 8th, 2008

s1e10: Episode 10

Monday, September 15th, 2008

s1e11: Episode 11
Season 2
Thursday, July 9th, 2009

s2e1: Week 1

All 12 contestants meet for the first time at their apartments and are issued their first challenge by Kristy and Henry on the rooftop of Crown Casino in Melbourne. They need to create a glamorous evening gown worthy of the red carpet that reflects who they are as designers. The catch is all the fabric and trims they will be using are draped around the marquee they are standing under and with only three minutes to snare what they can, it's instant mayhem! On the runway, the twelve designers face their first judgment. Who will be in, and who will be out?

Thursday, July 16th, 2009

s2e2: Week 2

The designers are taken by Henry for a stroll down Melbourne's fashion hub, Chapel Street, South Yarra and make a surprise visit to Peter Alexander's flagship shop where the man himself announces their next challenge. Illustrating his vision with a mood board, they must design at least two sexy pieces of sleepwear. Despite specializing in lingerie design, Claudia feels the pressure from the beginning. Who will be in, and who will be out?

Wednesday, July 22nd, 2009

s2e3: Week 3

The challenge this episode is to create completely wearable outfits from nothing but materials from a hardware shop. The designers had 15 minutes with $85 to purchase their materials and 13 hours to complete their look. Paula Joy acts as guest judge as the contestants showcase their designs on the runway.

Wednesday, July 29th, 2009

s2e4: Week 4

In this week's challenge, the designers are divided into teams of 3 and each team member must create one outfit (3 outfits per team) inspired by a zoo animal. The designers had 15 minutes with $72 dollars each to purchase their fabrics and the total of 8 hours to complete their look. The designers Guest judge Arthur Gallan helps Kristy Hinze and the panel decide who will be in and who will be out.

Wednesday, August 5th, 2009

s2e5: Week 5

The challenge this episode is create a three-piece outfit that is modern cutting edge for a complete male stranger. The designers were told to search for a random male client from the street to model for their outfits. The designers had 15 minutes with $100 to phurcase their fabrics and approximately 12 hours to complete their look.

Wednesday, August 12th, 2009

s2e6: Week 6

The six eliminated designers return to team up with the remaining six designers to create an outfit and head piece for the Spring Carnival. The designers had 10 minutes to sketch their designs, 15 minutes with $100 to purchase their fabrics and a total of 10 hours to complete their look. One designer will be brought back into the competition, and one designer will be out.

Wednesday, August 19th, 2009

s2e7: Week 7

The latest challenge for the designers is to create an innovative outfit using the fresh food and packaging available to them at Melbourne's Victoria Market.

Wednesday, August 26th, 2009

s2e8: Week 8

Wednesday, September 2nd, 2009

s2e9: Week 9

Wednesday, September 9th, 2009

s2e10: Week 10

Wednesday, September 16th, 2009

s2e11: Week 11

Wednesday, September 16th, 2009

s2e12: Reunion
Season 3
Monday, July 4th, 2011

s3e1: Episode 1

The first challenge of the season required the designers to create a cocktail dress utilizing three different fabrics of the same colour. The designers did not get to choose their own fabrics, and their colour scheme was based on the colour of the dress their model was wearing.

Monday, July 11th, 2011

s3e2: Episode 2

Alex introduced the designers to Dannii Minogue and Tabitha Somerset-Webb, who tasked them with creating an evening look for their label, Project D. The winner of the challenge will have their design manufactured and sold with Project D's Spring/Summer 2011 collection.

Monday, July 18th, 2011

s3e3: Episode 3

The 10 designers remaining in the competition are taken to a warehouse where their challenge is literally dumped at their feet - 16,000 items of pre-loved clothing. They have just 8 hours to create Gucci from garbage and design a chic day wear look, but Alex reveals the twist that throws them all "One man's trash is another man's treasure." Shoe queen, Terry Biviano, joins the judging panel to help decide whose designs better suit the clothing bin than the catwalk ? and this week, in a shock double elimination, two of them will be going home.

Monday, July 25th, 2011

s3e4: Episode 4

The remaining eight designers must work in teams to create fashion forward looks based on various decades. Who will put their differences aside and wow the judges? Iconic designer Carla Zampatti joins the judging panel.

Monday, August 1st, 2011

s3e5: Episode 5

Seven designers remain in the competition and are given the challenge of performing a million dollar makeover for each other's loved ones. Claudia Navone joins the judging panel.

Monday, August 8th, 2011

s3e6: Episode 6

The remaining six designers are flown to the Gold Coast where they are reunited with four eliminated contestants. They all must work in teams to create two resort wear looks including swimwear.

Monday, August 15th, 2011

s3e7: Episode 7

The remaining designers are tasked with creating a knock out dress for Megan to wear to a special event. This is an incredible opportunity for the designers, but who will step up to the challenge and who will be out?

Monday, August 22nd, 2011

s3e8: Episode 8

Time's getting short, and with only five designers left, the stakes are even higher. This week, Alex tells them that the path to red carpet glory is full of missteps, andproves his point whenthe models appear wearing copies of some of fashion's biggest disasters. Their challenge: transform these awful red carpet looks into something that will get them on all the front pages for the right reason.

Monday, August 29th, 2011

s3e9: Episode 9

It is the final challenge and the last chance for the four remaining designers to prove they are worthy of a place at Melbourne Fashion Week.So Alex takes them to the Melbourne Fashion Festival's runway to give them their final challenge - they have 18 hours to create a haute couture gown worthy of the runways of Paris, New York and Milan. But since this is Project Runway Australia, there must be a twist in there somewhere!

Monday, September 5th, 2011

s3e10: Episode 10

The final 3 have been selected and they now face their final challenge. They have a once-in-a-lifetime opportunity to kick start their fashion future by creating a collection of 10 designs which will be showcased at a live fashion show in front of their fashion industry peers. Unlike previous challenges there are no restrictions, no limits and no twists. They each have a budget of $10,000, 17 weeks and complete freedom.

Monday, September 12th, 2011

s3e11: Episode 11
Season 4
Monday, October 8th, 2012

s4e1: Episode 1

The first challenge of the season required the designers to create garment of their choosing to showcase who they are as a designer. No one was sent home, however Natalie and William (the bottom two) were required to compete head-to-head in the next challenge, with one of the two going home.

Monday, October 22nd, 2012

s4e3: Episode 3

The challenge required the designers to create a commercial, white women's shirt and an accompanying outfit. The winning designer's white shirt would be featured in Madison Magazine and sold in Witchery stores in Australia, with proceeds going to ovarian cancer research.

Monday, December 3rd, 2012

s4e9: Episode 9

The four remaining designers face their toughest challenge yet - they must create an exclusive, high-end outfit to be shot by celebrated photographer Georges Antoni.

Monday, December 10th, 2012

s4e10: Episode 10

It's now down to three finalists who have four months at home to create a collection for the final Runway show.

Monday, December 17th, 2012

s4e11: Episode 11

By winning last week's surprise challenge against Jordon, Christina gets a second shot at winning and earns the right to join Leah, Tristan and Jamie in the finale.