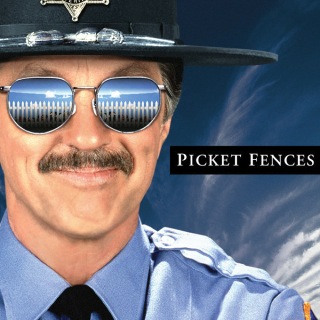 Season 1
Friday, September 18th, 1992

s1e1: Picket Fences

The sudden death of the Tin Man during a community performance of The Wizard of Oz throws the normally sleepy town of Rome, Wisconsin, into chaos and throws Sheriff Jimmy Brock right into the middle of a difficult murder investigation. Meanwhile, when the favourite singing group of Brock's teenage daughter Kimberly arrive in town, they prove not to be what either she or Deputy Kenny had anticipated.

Friday, September 25th, 1992

s1e2: The Green Bay Chopper

The FBI comes to town to search for a serial killer who chops off the right hand of his victims. Max's diligence in investigating on her own pays off when she is allowed to assist in his apprehension.

Friday, October 2nd, 1992

s1e3: Mr. Dreeb Comes to Town

Michael J Anderson guests as a circus performer who "steals" an elephant from the circus to rescue him from ongoing abuse by the trainers. Also, a beloved teacher from the high school loses his job when a brain tumor causes him to have a violent outburst.

Friday, October 16th, 1992

s1e4: The Autumn of Rome

Things get crazy in Rome when the mayoral race between Mayor Pugen and Douglas Wambaugh takes an ugly turn. Jimmy temporarily joins the race in order to seize an opportunity to publicly chastise them both for their behavior and antics.

Friday, October 23rd, 1992

s1e5: Frank the Potato Man

The townspeople of Rome are plagued by a mysterious "serial bather" who sneaks into their homes while they are out and takes a bath. The pressure is on for the Sheriff's department to apprehend the disturbed felon as suspicion falls on Frank the Potato Man, a homeless man who lives in the woods outside of town. Meanwhile, a farmer claims a neighbor's still intoxicates his cows.

Monday, October 26th, 1992

s1e6: Remembering Rosemary

It's Halloween and Jimmy decides to reopen the ten year old suicide case of Rosemary Bauer when Karina Shaw, her former maid who hasn't spoken since the death, suddenly utters the word "murder". On the strength of this new piece of evidence, the case is reopened and elderly Rome resident Howard Buss confesses to killing Rosemary, bringing proof of his guilt to the authorities. Meanwhile, holiday tricks get out of hand.

Friday, October 30th, 1992

s1e7: The Contenders

Jimmy considered it before but now Jill decides she will run for mayor after Bill Pugen ignores women's rights once too often. At a police speed checkpoint, Max and Kenny stop a man with false papers and Kenny, recognising him as former Middle-Weight Champion of the world Jeff Freed, wants to waive the charges against him. He then arranges a match between himself and Freed, with half of the proceeds going to the boxer and the other half going to a local charity.

Friday, November 6th, 1992

s1e8: Sacred Hearts

Max searches for a nun suspected of killing an elderly leukemia patient. When the nun is caught, she confesses to committing a series of mercy killings and the furore over prosecuting her divides the town and causes Zachary to fear death.

Friday, November 13th, 1992

s1e9: Thanksgiving

Jill's father arrives for Thanksgiving with a young love in tow. Wambaugh has his wife Myriam arrested after he catches her in bed with Harold Lundstrom. It all adds up to a typically riotous and far from peaceful holiday in the Brock house.

Friday, December 4th, 1992

s1e10: The Snake Lady

Jimmy, Max and Kenny investigate the mysterious death of a woman who may or may not have committed suicide. Suspects in her death are her snake-raising sister and her own husband, who gets involved with Max.

Friday, December 11th, 1992

s1e11: Pageantry

Zach's teacher, Louise Talbot, defies a court-ordered ban of the annual Christmas pageant on public property, after which disturbing facts come to light about her.

Friday, December 18th, 1992

s1e12: High Tidings

Brock catches Kimberly in bed with her boyfriend, arrests him and cancels Christmas in the household. At the Sheriff Station, Max and Ginny are held hostage at gunpoint by an elderly man dressed as Santa Claus.

Friday, January 8th, 1993

s1e13: Frog Man

Investigating a burglary with Max, Kenny is shot and seriously injured by the Frog Man, a burglar who leaves live frogs at the scene of his crimes.

Friday, January 15th, 1993

s1e14: Bad Moons Rising

When Alice Freeman is charged with murdering her estranged husband by running him down with a steamroller, Wambaugh defends her by claiming insanity as the result of the menopause. The onset of puberty unsettles Matthew.

Friday, January 22nd, 1993

s1e15: Nuclear Meltdowns

When a school friend gets pregnant, Kimberly tells her parents she thinks it resulted from incest. Kenny's girlfriend meets her long-lost twin and Cynthia Parks' pet duck is sacrificed.

Friday, February 5th, 1993

s1e16: The Body Politic

An HIV-positive dentist sues the city of Rome after being fired. A man and his mother-in-law battle over whether to keep his brain-dead pregnant wife alive.

Friday, February 12th, 1993

s1e17: Be My Valentine

Max goes undercover to catch a vicious serial killer named 'Cupid' who murders women he meets through classified ads.

Thursday, April 1st, 1993

s1e18: Fetal Attraction

Jill asks Dr David Williams, her ex-fiance, to perform a controversial foetal tissue transplant on a man suffering from Parkinson's Disease.

Thursday, April 8th, 1993

s1e19: Sightings

A corpse found in the Brocks' trash is found to be a sheriff who mysteriously disappeared 38 years earlier. Carter believes he may have been killed by radiation emitted by a UFO, bringing alien enthusiasts to town.

Thursday, April 15th, 1993

s1e20: Rights of Passage

A group of heavily armed Chippewa Indians declares war on Rome and takes over the courthouse, as a dispute over enlarging the golf course gets violent. Ginny accuses Jill of discrimination when she agrees to give an abnormally young boy a controversial growth treatment. Matthew stands up for Zach against the school bully.

Thursday, April 29th, 1993

s1e21: Sugar and Spice

Attraction to a girlfriend confuses Kimberly. Max and Kenny vie for undersheriff but Max loses out on the promotion.

Thursday, May 6th, 1993

s1e22: The Lullaby League

Zach plays horn for an ailing blues legend but Jill is frustrated when the woman takes ill and fails to appreciate medicine's ability to keep her alive. Max delivers a criminal's baby and begins procedures to adopt it.
Season 2
Friday, October 22nd, 1993

s2e1: Turpitude

Mayor Pugen is caught between a Brock and a hard place when the Sheriff arrests him for murdering a disarmed carjacker, leaving him to rely on Wambaugh for his defense. Frightened at the level of violence creeping up on the Rome people, Jill buys a gun to protect her family.

Thursday, October 28th, 1993

s2e2: Duty Free Rome

Wambaugh appeals Mayor Pugen's conviction and uncovers a technicality that could secure a new trial. Max's therapist admits his attraction to her and the feeling is mutual, raising ethical issues. Father Barrett confronts his church's stand on birth control.

Friday, October 29th, 1993

s2e3: Unlawful Entries

Things don't add up when a math teacher says he was a date-rape victim. Jimmy locks horns with a new mayor and Max decides to prosecute her therapist.

Friday, November 5th, 1993

s2e4: Under the Influence

Still reeling from her relationship with Dr. Shreve, Max allows a drunken driver to continue on home. She then feels indirectly responsible when a traffic accident occurs involving the driver, critically injuring another motorist.

Friday, November 12th, 1993

s2e5: The Dancing Bandit

Marlee Matlin guests as Laurie Bey, the Dancing Bandit who has become a bit of a folk hero for her heists where she and her very talented gang rob from rich bureaucrats and give back to families who have gotten screwed by the system.

Friday, November 26th, 1993

s2e6: Dairy Queen

Jimmy, Jill, Rachel and Father Barrett debate employing a scantily-clad pin-up model, a battered wife, to help promote the dairy industry in Rome. Kimberly considers getting breast implants.

Friday, December 3rd, 1993

s2e7: Cross Examination

Some members of the community don't know what to believe when a woman pulled from a submerged vehicle is discovered to be pregnant - even though she is technically a virgin. Matthew decides to tell Zach about Santa Claus.

Friday, December 10th, 1993

s2e8: Strangers

A jury must decide if it's murder or a mistake after Leonard Taylor, a man with a brain disease that distorts vision, shoots and kills his own brother Brian, when the sibling enters his home in the middle of the night. As Jill and Jimmy clash over his motives, Ginny is romanced by Dr Vernon Leaky, a specialist on the brain condition who arrives in Rome for the trial. Meanwhile, Max is horrified to discover that Kenny and Mayor Rachel have been having an affair.

Friday, December 17th, 1993

s2e9: Blue Christmas

The drug war comes to Rome in place of Santa: controlled substances are found on the high school campus during a drug sweep, Kimberly's friend is arrested and a federal witness turns up in town. Carter is devastated when his mother dies of a heart attack, and it brings out the worst in him.

Friday, January 7th, 1994

s2e10: Paging Doctor God

Jill does her best to uphold the Hippocratic oath when she performs emergency surgery on a pregnant Christian Scientist, who has refused care and whose husband takes the fight to court. Zach wants to convert to Judaism.

Friday, January 14th, 1994

s2e11: Guns 'R' Us

Embarrassed by a prank, Matthew tries to get even with some boys, but the practical joking gets out of hand, which may result in paralysis for him. Meanwhile, budget cuts hit the sheriff's department and Max fills in as sheriff.

Friday, January 21st, 1994

s2e12: Remote Control

The debate over crime reaches a fever pitch Wambaugh blames violence in the media for his client's assault on Matthew. Rachel launches a war on crime and moves forward with new legislation to curb violence.

Friday, January 28th, 1994

s2e13: Abominable Snowman

With his mind failing due to Alzheimer's, Howard Buss proposes that doctors harvest his heart for the transplant his son needs. Meanwhile, Wambaugh pleads with the city to house Frank the Potato Man.

Friday, February 4th, 1994

s2e14: Supreme Courting

Valentine's Day brings love and controversy to assorted age groups: Max helps Carter woo a widow he is smitten with, Zack finds his first love but gets in trouble for kissing her, and Kimberly's boyfriend is too prudent as they struggle with sexual-consent guidelines.

Friday, February 11th, 1994

s2e15: Divine Recall

Mayor Rachel scolds Father Barrett for giving a pep talk colored with religious ideals to a public school's hockey team. Meanwhile, a risque video from Rachel's past jeopardizes her career as Kenny admits their affair to Jimmy.

Friday, March 4th, 1994

s2e16: Terms of Estrangement

Sheriff Brock tries to remain professional when Kimberly is kidnapped---and his onetime partner, who he once testified against, is the prime suspect.

Friday, March 11th, 1994

s2e17: Squatter's Rights

When an obese woman confesses to murdering her husband by sitting on him, Max has some doubts about the motive. A synagogue ostracizes Wambaugh.

Friday, April 1st, 1994

s2e18: System Down

Jimmy becomes the unlikely foreman of a jury deciding the case of a suspect accused of murdering two policemen.

Friday, April 8th, 1994

s2e19: Buried Alive

A visit by Jill's father leads to a lively evening of therapy in the Brock household. Jimmy invites Max to dinner after she arrests Jill's father for disorderly conduct.

Friday, April 29th, 1994

s2e20: My Left Shoe

Father Barrett may lose his parish after Jimmy and Kenny find women's shoes in his closet. Things get worse when the Mayor criticizes the Father on public-access cable, prompting a lawsuit. Matthew fears his sexual curiosities are a sin.

Friday, May 6th, 1994

s2e21: Frosted Flakes

The parents of a dying boy try to get the court's permission to use an unorthodox procedure to save the child's life.

Friday, May 13th, 1994

s2e22: Howard's End

Howard's struggle with Alzheimer's affects his family and the town. Jill's decision during surgery may revoke her hospital privileges.
Season 3
Friday, September 23rd, 1994

s3e1: Survival of the Fittest

Community pressure mounts to convict the prime suspect in a teen girl's murder.

Friday, September 30th, 1994

s3e2: Systematic Abuse

Littleton feels Brock's department is hampering the investigation of a girl's murder.

Friday, October 7th, 1994

s3e3: The Bus Stops Here (1)

As temporary co-mayor, Jill copes with racial tensions from a judge's decision to bus tough black students from Green Bay to Rome's schools.

Friday, October 14th, 1994

s3e4: Enemy Lines (2)

A judge jails Jill for interfering with the busing order. Littleton and Max consider dating.

Friday, October 28th, 1994

s3e5: Cold Spell

Brock investigates the home life of a girl who spray-painted a pentacle on a school wall. Max and Kenny are horrified to find Ginny, frozen to death after falling into her freezer.

Friday, November 4th, 1994

s3e6: Elective Conduct

Racial tensions escalate as the mayoral campaign progresses. Zach pens a report that gets him suspended from school and hurts Jill's chances of being elected mayor. Meanwhile Kimberly gives Aisha a vote of confidence when the teen is mocked for getting good grades.

Friday, November 11th, 1994

s3e7: Rebels with Causes

Jill takes an ailing Wambaugh to Chicago Hope Hospital for tests and locks horns with Geiger over how to practice medicine.

Friday, November 18th, 1994

s3e8: May It Please the Court

Wambaugh and Littleton argue their case in the Supreme Court.

Friday, December 2nd, 1994

s3e9: For Whom the Wind Blows

Jimmy experiences a mid-life crisis on his 55th birthday. Max and Kenny re-open the Latham case.

Friday, December 16th, 1994

s3e10: Away in the Manger

Jimmy investigates cows that are suspected to have been injected with alien DNA, but the Sheriff's department soon finds that the truth is even stranger than fiction and that the cows are being used to help breed human babies.

Friday, January 6th, 1995

s3e11: Freezer Burn

The probe of a masseur's murder uncovers a scandal among his women clientele.

Friday, January 13th, 1995

s3e12: Frogman Returns

The embarrassed son of the Frogman sues for emancipation. Jill strikes Matthew for accidentally injuring Zack.

Friday, January 20th, 1995

s3e13: Mr. Seed Goes to Town

Wanting another baby, Lydia Brock wants to use Jimmy's frozen sperm.

Friday, February 3rd, 1995

s3e14: Close Encounters

Littleton copes with his attraction to an 18-year-old assistant. Max and Kenny decide to put an end to their sexual tension.

Friday, February 24th, 1995

s3e15: When in Rome

After 26 years in prison, a child molester moves to Rome, stirring controversy.

Friday, March 3rd, 1995

s3e16: Heroes and Villains

The Dancing Bandit returns to Rome to help Zack celebrate his birthday but finds federal agents waiting for her.

Friday, March 10th, 1995

s3e17: Changing of the Guard

Jimmy asks the Dancing Bandit to investigate the mayor's murder. Max and Kenny are caught kissing on the job.

Friday, March 31st, 1995

s3e18: Without Mercy

Jimmy arrests Jill for euthanizing a cancer patient.

Friday, April 7th, 1995

s3e19: Final Judgement

While Jill awaits sentencing, her lawyers ask Bone to put the euthanasia law on trial. Kenny and Carter investigate an attack on swans.

Friday, April 28th, 1995

s3e20: Saint Zach

All of Rome is in an uproar after stigmata appear on Zach's hands.

Friday, May 5th, 1995

s3e21: Upbringings

A troubled relationship resurfaces when Jimmy's father wants him to take over the law practice.

Friday, May 12th, 1995

s3e22: The Song of Rome

Judge Bone struggles to be objective with a youth who shot Father Barrett during confession.
Season 4
Friday, September 22nd, 1995

s4e1: A Change of Season

Following Carter's narrow escape from a house fire, Jill fears he tried to commit suicide. Kimberly makes a career decision: she's not going to be a lawyer after all, she's going to be a doctor. Jill is both shocked and a little delighted.

Friday, September 29th, 1995

s4e2: Reap the Whirlwind

A tornado threatens Rome and Zach is so worried for Kimberly's safety that he sets out on his bike to warn her. Kenny's hooker is arrested in a sting operation organised by Max, who ends up commiting a felony by covering for him. Wambaugh's wife leaves him after he embarrasses her at their anniversary party.

Friday, October 6th, 1995

s4e3: Pal Joey

A talk-show-host/physician tries to take over Jill's practice. An Asian man's courting ritual leads to his arrest and Kenny uses a dating-service.

Friday, October 13th, 1995

s4e4: Bloodbrothers

Two escaped convicts show up in Rome looking for one's half-brother, Littleton. Kenny is shot by one of the fugitives.

Friday, October 20th, 1995

s4e5: Dog Eat Dog

Max faces suspension for shooting a man dressed as a bratwurst. Jill suspects Kimberly is pregnant.

Friday, October 27th, 1995

s4e6: Heart of Saturday Night

Saturday night in Rome and the residents' minds turn to leisure activities. Matthew goes cruising with his pals. Jill and Jimmy's attempt at romance leaves him in an extremely painful position. Meanwhile, Judge Bone and Wambaugh's poker gang loses a player when one of them drops dead at the table.

Friday, November 3rd, 1995

s4e7: Down the Tubes

Pregnant Mayor Bey shields the baby's father as Jill considers tubal ligation. Meanwhile, Littleton is haunted by memories of his brother and makes some big decisions about his future.

Friday, December 8th, 1995

s4e8: This Little Piggy

Animal-rights activist Kimberly is arrested for a felony. A woman's medical treatment is inhibited by her daughter's religious beliefs.

Friday, December 15th, 1995

s4e9: Witness for the Prosecution

Rome is in a flutter when Mayor Bey announces that the Pope himself is coming to visit the town. It's a day of celebration as His Holiness arrives, but the walk down main street ends in chaos when someone in the crowd opens fire, killing a man. The resulting investigation reveals the death was suicide, according to the dead man's gay lover... until the Pope announces he saw the whole thing and that it was, in fact, murder. The court case that follows threatens to end Judge Bone and Wambaugh's tempestuous friendship for good.

Friday, January 5th, 1996

s4e10: Dem Bones

A skeleton discovered is that of a suspected Nazi murdered 50 years before and Wambaugh's son returns to prosecute the case.

Friday, January 12th, 1996

s4e11: Bloodlines

Matthew's classmate shoots himself. A bear is loose in Rome and Kenny assumes the role of Mayor Bey's Lamaze partner.

Friday, January 19th, 1996

s4e12: Snow Exit

In the middle of a major snow storm, Judge Bone has a heart attack while, snowed-in at the police station, Mayor Bey goes into labor with only Jimmy to deliver her baby. Meanwhile, it's bonding time with lots of alcohol for Jill, Kimberly and Lydia, as Max is reunited with an old adversary - the one and only Barney Bratwurst.

Friday, January 26th, 1996

s4e13: My Romance

After being struck by a falling power line in a fluke accident, Carter meets his long dead Grandpa Bob while clinically dead for about 3 minutes. This causes him to question his relationship both with God, and his girlfriend Sue. Judge Bone meets up with an old flame from over 50 years ago, both of them now widowed, and a little flames are rekindled. Zack gets a crush on a beautiful young Asian gal that is in their home for a week for some kind of musical competition; she is a cello prodigy. However, she has eyes for Zack's older brother, Matthew, and Zack catches them kissing after dark, and is heartbroken.

Friday, February 9th, 1996

s4e14: The Z Files

Zach's buddy sends a teacher's photo over the Internet. Max dates a chat-room acquaintance.

Friday, February 16th, 1996

s4e15: Bottled

Jill's emotions take control when the Brocks celebrate Zach's 13th birthday.

Wednesday, June 5th, 1996

s4e16: Winner Takes All

The coach of the kids' basketball team collapses at a game and the parents group appoints Jill as interim coach. At first she is determined to play fair and give all the boys a chance, but under pressure from more gung-ho adults, she becomes as obsessed as the rest of them. Fed up with all this, Zach and the other boys on the team take out a court injunction against them. Meanwhile, Matthew becomes hooked on gambling and gets himself into serious trouble.

Monday, April 22nd, 1996

s4e17: Dante's Inferno

With Mayor Bey off on maternity leave, Acting Mayor Max stirs up trouble in Rome with her sweeping changes and orders. Shock jock Chuck Dante makes the situation worse by homing in on her actions on his radio show. And though the situation doesn't seem that serious at first, it becomes that way when Max is gunned down.

Wednesday, June 12th, 1996

s4e18: Forget Selma

Wambaugh is convinced Myriam's new beau has ulterior motives.

Wednesday, June 19th, 1996

s4e19: To Forgive is Divine

When a young Amish rape victim is encouraged by her community not to testify, her rapist goes free and proceeds to rape another girl. Incensed, her parents sue the Amish community, blaming them for their daughter's rape.

Wednesday, June 26th, 1996

s4e20: Liver Let Die

Jimmy is having a rough day. First, he receives some scary news about his health. Then, a young murder suspect, in a desperate attempt to escape, manages to grab Jimmy's gun and threatens him with it. Jimmy manages to calm him down enough to get the whole tragic story.

Wednesday, April 24th, 1996

s4e21: Bye-Bye, Bey-Bey

It's the christening of Mayor Bey's baby, Michael, but the Rome residents are flabbergasted when Laurie announces that she had the baby for her brother Jerry and his lover Gordy, who plan to raise the baby in the town. The Beys' estranged mother Christine, who turned her back on her children because she was deaf and he was gay, turns up and announces she is taking them all to court to get custody of her grandson. Tension brews in Rome as the people take sides on the issue and a campaign begins to have Laurie removed as Mayor, resulting in Jerry and Gordy being attacked at the supermarket by a vicious homophobic gang. Despite attempts by the prosecution to discredit the men and prove their lifestyle is unsuitable to raise a child in, Judge Bone ultimately rules in their favour and allows them to keep baby Michael, saying he doesn't feel they pose a threat to the boy. The court case over, Mrs Bey leaves Rome again under a cloud, and Laurie is emotional as she leaves the baby in the care

Wednesday, April 24th, 1996

s4e22: Three Weddings and a Meltdown

Carter inadvertantly proposes to Sue after she gets her wires crossed. Nevertheless, he's a man of his word and they announce their engagement to the people of Rome. Their sudden decision to wed prompts Kenny and Max to do the same, although they later begin to experience cold feet. Digging in her friend Selma's backyard, Myriam Wambaugh discovers human remains and Selma goes on trial for murder. Persuaded to defend her by his ex-wife, Wambaugh manages to get her off and passion erupts again for Doug and Myriam, who decide to get re-married in a triple ceremony with Carter & Sue and Kenny & Max. Meanwhile, the Brocks' marriage is in serious trouble, with Jill feeling they've come to the end of the line. She moves in with Joey to do some thinking and Jimmy is left to do the same. At the wedding, the three happy couples tie the knot and the wedding fever gets to Jimmy and Jill, who make up and get back together. As the cast gather for a group photo in their wedding finery, we wave a sad
Season 0
s0e1: All Roads Lead to Rome