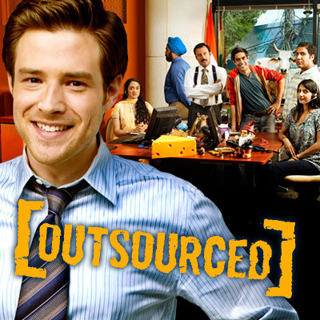 Season 1
Thursday, September 23rd, 2010

s1e1: Pilot

Manager Todd Dempsy returns to work after a training, he gets to an empty office and he learns that the Mid America Novelties call center has been outsourced to India. To keep his job, Todd has to relocate to India, to run the call center there. He then meets in India his new group of employees, and soon realizes that he has to teach them to understand America and his people. He also meets other foreign people working in his office building, including Charle Davies, who runs the All American Hunter call center, and Tonya an Australian who runs the call center for Koala Air.

Thursday, September 30th, 2010

s1e2: The Measure of a Manmeet

Todd reluctantly start to do the employees evaluations, and the staff gets very nervious about their jobs. After Todd's boss Jerry sees the sales numbers, he tells Todd to fire someone from his team. Unwilling to fire someone, Todd creates a plan to save everyone's job.

Thursday, October 7th, 2010

s1e3: Party of Five

Todd learns that Charlie has feelings for Tonya, and he encourages him to ask Tonya out. Trying to help Charlie, Todd organizes a group dinner, that ends up benefiting him when his secret crush comes to the dinner. Unfortunately for Charlie and Todd, a fifth wheel is added to the dinner making everyone uncomfortable. Meanwhile, Madhuri finds her voice and turns one coworker into a ally.

Thursday, October 14th, 2010

s1e4: Jolly Vindaloo Day

Because of Todd's unfamiliarity with Indian holidays, Rajiv creates a fake holiday to mess with Todd and get him out of the office. While Todd is gone, Rajiv gets a visit from his future father-in-law and he tries to impress him by posing as the manager. Meanwhile, the A-Team employees harass Manmeet, Gupta and Madhuri, so they turn to a source to get their revenge.

Thursday, October 21st, 2010

s1e5: Touched by an Anglo

A box of sexual novelty items arrives at the call center and Todd notice some people in the group felt uncomfortable with the products. Then, Todd calls his boss and learns that he was supposed to give a sexual harassment seminar to his group at his arrival. The next morning, Todd learns that someone already filed a complaint and he tries to make things right but only ends up making them worse.

Thursday, October 28th, 2010

s1e6: Bolloween

Excited about Halloween, Todd tries to get the office in the holiday spirit, but his co-workers have no idea what Halloween is all about. After a series of Halloween pranks and an attempt to explain why people dress up, Todd decides to throw a costume party. Taking advantage of the social setting, Todd tries to get closer to Asha, but the plan backfires when Tonya makes a pass at Todd.

Thursday, November 4th, 2010

s1e7: Truly, Madly, Pradeeply

When Asha begins taking the next step toward her arranged marriage, Todd and Manmeet step in and devise a plan that will make Todd a potential suitor. Overhearing Todd's feelings for Asha, Madhuri gives him her ticket to a concert so he can surprise her and have a Bollywood ending. Meanwhile, Rajiv tries to help Gupta get over a bad habit.

Thursday, November 11th, 2010

s1e8: Home for the Diwalidays

Unaware of Diwali, the biggest and holiest holiday in India, Todd is caught off guard when his staffers automatically expect time off. After speaking with his U.S. supervisor Jerry, Todd must tell his employees they cannot leave to celebrate, making him unpopular among the workers. Meanwhile, Tonya tries to help Todd forget about his feelings for Asha.

Thursday, November 18th, 2010

s1e9: Temporary Monsanity

Todd pressures the employees in attempt to win the Black Friday sales competition. Charlie challenges Gupta and Manmeet to a game of laser tag.

Thursday, December 2nd, 2010

s1e10: Homesick to My Stomach

Todd is homesick of American culture until he learns he can see his favorite football team play on TV. Unfortunately he gets food poisoning with street food but refuses to miss the game at any cost. With Todd sick, Rajiv gets to be the manager and takes everything to the extreme.

Thursday, January 20th, 2011

s1e11: A Sitar is Born

When Todd hears a beautiful singing voice, he is shocked to discover who it belongs too. Eager to help make someone's dream come true, Todd offers pay for anyone interested in signing up for an upcoming talent contest. Despite Todd's good intentions, it seems Gupta is the one with stars in his eyes. Meanwhile, Todd encounters problems with the call center's phone forcing him to consider taking Rajiv's unscrupulous advice

Thursday, January 27th, 2011

s1e12: Sari, Charlie

Todd's attempt to keep his relationship with Tonya from Charlie has an unexpected victim; Rajiv is nervous about his employee evaluation.

Thursday, February 3rd, 2011

s1e13: Training Day

Todd decides to reward his staffers for all of their hard work by taking them on a retreat which is an hour outside of Mumbai. However, when the train they are on breaks down, Todd is forced to conduct the team building exercises in the middle of the crowded train. When the staffers begin complaining, Todd devises a plan that will turn them all against him in order for them to bond as a group. Meanwhile, with Todd out of town, Tonya decides to help Charlie find a date.

Thursday, February 10th, 2011

s1e14: The Todd Couple

When the call center workers begin exhibiting poor customer service, Todd decides it is time to give his employees anger management training. Surprisingly, Gupta seems to be the worst offender, forcing Todd to investigate the real cause of his anger. Meanwhile, Manmeet juggles how to celebrate Valentine's Day with two different women.

Thursday, February 17th, 2011

s1e15: Guess Who's Coming to Delhi

When Todd's U.S. boss Jerry makes a surprise visit, Todd instructs his staff to be on their best behavior. However, Todd quickly discovers that Jerry has no interest in work and is ready to party instead. While trying to keep a drunk Jerry out of trouble, Todd ends up in hot water with Tonya. Meanwhile, Charlie receives a reprimand from human resources for being culturally insensitive, so he turns to Gupta for a crash course in Indian culture to try and save his job.

Thursday, February 24th, 2011

s1e16: Take this Punjab and Shove it

When one of the call center workers quits, Todd is excited to have the opportunity to hire a new employee. After interviewing numerous unqualified candidates, Todd finally finds a diamond in the rough. However, Todd's happiness is short-lived when he finds out that someone close to him has poached his new recruit. Meanwhile, Gupta finds himself in trouble with a loan shark and must find a way to pay him back or else.

Thursday, March 17th, 2011

s1e17: Todd's Holi War

Todd and his crew battle over air conditioning after the A-team sabotages theirs during a heat wave. Elsewhere, Rajiv arranges a holiday surprise for his girlfriend, but the plan hits a snag

Thursday, March 24th, 2011

s1e18: Gupta's Hit and Manmeet's Missus

Todd mediates a dispute between Rajiv and Gupta but has trouble determining who's to blame, forcing him to seek help from human resources. Elsewhere, Charlie helps Manmeet make a video for his American girlfriend.

Thursday, April 7th, 2011

s1e19: Charlie Curries a Favor from Todd

When Charlie loses his call center job, Todd hesitantly hires him until he finds a new one. However, Charlie has a hard time not being the manager, which causes friction with Todd. To make matters worse, Todd also learns Charlie is going through a mid-life crisis. Meanwhile, Rajiv concocts an unusual plan to raise money for his honeymoon and manages to enlist Gupta's help in his scheme.

Thursday, April 14th, 2011

s1e20: Mama Sutra

When Todd learns that Tonya's mom is back in town for another visit, he is determined to go out of his way to make a better impression. However, Todd is put in a difficult position when he discovers a secret about Tonya's mom. Meanwhile, Madhuri begins reading the call center workers' palms and not everyone likes what she has to say.

Thursday, May 5th, 2011

s1e21: Rajiv Ties the Baraat (1)

On the eve of Rajiv's upcoming nuptials, Todd decides to throw him an American bachelor party. Running into obstacles, Todd must get creative with the evenings entertainment, but a surprise visitor shocks the partygoers. Meanwhile, Manmeet is nervously awaiting the arrival of his American girlfriend and Madhuri's secret crush is revealed.

Thursday, May 12th, 2011

s1e22: Rajiv Ties the Baraat (2)

After Rajiv is found in a compromising position he worries that the wedding will be called off. These worries are replaced by his own doubts of the pending nuptials when he learns his bride is not exactly who he thought she was. It is up to Todd to convince Rajiv that the ceremony must go on. Meanwhile, Manmeet is excited about his new love, but Madhuri and Asha learn that she has a different idea of the state of their relationship.
Season 0
Tuesday, September 12th, 2006

s0e0: Outsourced

s0e1: Sneak Peak

s0e2: Gag Reel

s0e3: Deleted Scenes: Pilot

s0e4: Deleted Scenes: Bolloween

s0e5: Deleted Scenes: Temporary Monsanity

s0e6: Deleted Scenes: A Sitar Is Born

s0e7: Deleted Scenes: Sari Charlie

s0e8: Deleted Scenes: Training Day

s0e9: Deleted Scenes: Todd Couple

s0e10: Deleted Scenes: Guess Who's Coming To Delhi

s0e11: Deleted Scenes: Take This Punjab And Shove It

s0e12: Deleted Scenes: Charlie Curries A Favor From Todd