update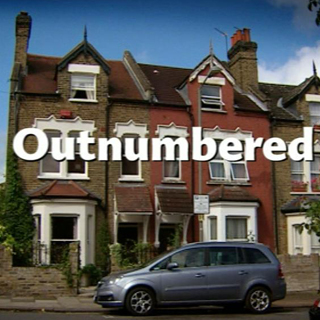 Season 0
11: Series 2: Out-takes

12: Series 3: The Making of Series 3

13: Series 3: The 'Real' Outnumbered

17: Sport Relief Special 2012

Sport Relief 2012 special. The cast are joined by Chelsea footballer Frank Lampard and his tv personality girlfriend Christine Bleakley.

Friday, March 13th, 2009

1: Comic Relief Special 2009

It's Comic Relief and everyone is doing something funny for money. Sue tries some jokes, Karen draws some bizarre pictures and Ben tries to find what to wear.

Sunday, December 27th, 2009

2: The Robbers (Christmas Special 2009)

It is Boxing Day in the Brockman household and Santa has paid a visit, along with some burglars. Seven-year-old Karen is obsessing over a missing hamster, nine-year-old Ben is causing havoc with a mechanical hand, Jake and Mum are trying to find Grandad, and Dad is preparing for dinner guests - some welcome, some not.

Friday, March 19th, 2010

3: Sport Relief Special 2010

Ben presents Pete with his list of things to do for Sport Relief, including running the Sport Relief Mile — Neither Sue nor Jake appear

Friday, March 18th, 2011

4: Comic Relief Special 2011

A special mini episode for Comic Relief, guest starring tennis player Andy Murray. Jake spots Andy Murray first and gets a picture with him, Ben gives him tennis tips, Karen questions him about his 'proper' job, and Pete accidentally injures him. Sue does not appear in this episode.

Friday, March 18th, 2011

14: Comic Relief Special 2011

A special mini episode for Comic Relief, guest starring tennis player Andy Murray. Jake spots Andy Murray first and gets a picture with him, Ben gives him tennis tips, Karen questions him about his 'proper' job, and Pete accidentally injures him. Sue does not appear in this episode.

Friday, November 18th, 2011

5: Children in Need 2011

The three kids sing "(Theme from) The Monkees" whilst moving around the house doing various things. Neither Sue or Pete appear in the special.

Saturday, December 24th, 2011

6: The Broken Santa (Christmas Special 2011)

The family want to go away for Christmas, but can they go with Grandad in hospital? And should they go when Jane is their house-sitter? And was it really wise to give Ben a metal detector as a present?

Saturday, December 24th, 2011

15: Christmas Special 2011

The family want to go away for Christmas, but can they go with Grandad in hospital? And should they go when Jane is their house-sitter? And was it really wise to give Ben a metal detector as a present?

Friday, March 23rd, 2012

7: Sport Relief Special 2012

Sport Relief 2012 special. The cast are joined by Chelsea footballer Frank Lampard and his TV personality girlfriend Christine Bleakley.

Monday, December 24th, 2012

8: The Sick Party (Christmas Special 2012)

The Brockman family have decided to foster a sense of community by throwing a Christmas party for their neighbours. However, as expected, festivities do not go as smoothly as planned. They are visited by some colourful guests, including, among others, an opinionated neighbour, a traumatised ex-weatherman and that most unwelcome of guests, a seasonal gastric virus.

Wednesday, February 13th, 2013

9: From the Heart (Organ Donation Special)

Pete and Ben are at the hospital, discussing organ donations.

Monday, December 26th, 2016

10: Christmas Special 2016

It's Boxing Day and the Brockman family has to carry out a special mission for Grandad. They encounter car problems, child problems, parent problems, emotional problems and World War Two. If the adults can't sort things out, the children will have to. Like all families everything has changed and everything remains the same.
Season 1
Tuesday, August 28th, 2007

1: The School Run

It is Jake's first day at secondary school. However, Ben makes the family late because he wants to take an electric drill to school and eventually Pete has to pay him £5 to leave the house. Meanwhile, Karen has nits and wants to keep one as a pet.

Wednesday, August 29th, 2007

2: The Special Bowl

The celebration of parental incompetence continues, with the problems piling up for mum and dad. Their little girl is outwitting them in the endless negotiations about what she will eat, and seven-year-old Ben is further developing his extraordinary talent for lying. In addition, dad has strayed into job-threatening controversy at school, while mum starts a turf war with her sister. Samantha Bond joins the cast as Auntie Angela.

Thursday, August 30th, 2007

3: The City Farm

Stuck on the A3, mum tries to keep the peace in a car containing a new-age auntie, a bewildered grandfather, three fractious kids and several full bladders. Meanwhile, dad waits outside the headmaster's office, following an ill-judged joke involving obesity and Ramadan. Later at the urban farm, discussions about death, heaven, racism, bird flu and granddad lead to raised tempers, which boil over in the living hell that is a gift shop. As a hectic day draws to an end, mum and dad look fondly at their sleeping kids in the back of the car and have a brief moment of contentment – until they notice that Ben's acquired a new friend.

Monday, September 3rd, 2007

4: The Quiet Night In

Ben's fibbing goes to a whole new level as parents at a school football match begin to compliment dad on his friendship with Gordon Brown and his SAS training. Later, a romantic night in for mum and dad doesn't quite go to plan, as Karen has a friend round whose mum is over an hour late picking her up. When she does finally arrive, she insists on pouring her heart out over a very long cup of tea. As their romantic evening recedes into the distance, Jake raises fears about his friend's parents' divorce, and calls from his form teacher bring more alarming news.

Tuesday, September 4th, 2007

5: The Mystery Illness

Ben's on the case again – this time he's got a mystery illness and is far too sick to go to school, or so he says. Auntie Angela's been dumped by her boyfriend, so the family rally round to cheer her up in the best way they know how – sparking off a jolly discussion about Nazis and rat bags. Meanwhile, dad's little problem at school becomes public knowledge and he begins to wonder if he might be out of a job. Mum's job is safe, however, or is it?

Wednesday, September 5th, 2007

6: The Dinner Party

Five-year-old Karen decides she's had enough of mum's nagging and announces that she's leaving home to go to Spain, or possibly Greenland. Meanwhile, preparations are in full swing for a dinner party, and dad agrees to let Ben crack some eggs – which is a huge mistake. As the guests arrive, Ben gets his first taste of gin and mum gets some unwelcome news from Angela. The drink soon loosens some tongues, and things are said that can never be taken back. The dinner party becomes a disaster zone, and, this time, the parents can't blame any of it on the kids.
Season 2
Saturday, November 15th, 2008

1: The Wedding

Cousin Julie is getting married. However, trouble comes when "Executive bridesmaid" Karen asks her troubling questions about her previous boyfriends, and Ben asks the vicar complex theological questions involving the baby Jesus and lasers.

Saturday, November 22nd, 2008

2: The Dead Mouse

Karen mourns the death of a mouse killed by her parents while also getting into the habit of swearing, Ben uses some devious tactics when he stands for election as class rep and Jake causes Sue to worry when he brings home a girl for tea. Meanwhile, Pete and Sue have to worry about money, chest pains, a friend is using them as a glorified babysitting service and the the superior mother next door.

Saturday, November 29th, 2008

3: The Old Fashioned Sunday

Sue and Pete ban TV as they attempt to have a traditonal family Sunday playing games like hide-and-seek, Pelmanism and scissors, paper, velociraptor, but matters are complicated when Grandad comes to stay after he suffers an accident involving a tin of baked beans. Later, Pete worries about teaching sex education, Karen plays the recorder, and Ben's headmaster suggests that he should take a few days off school.

Saturday, December 6th, 2008

4: The Airport

Pete and Sue find themselves in every parent's ultimate nightmare - trapped in a foreign airport with three bored young children (and an increasingly bewildered Grandad). Six-year-old Karen grills her Dad about al-Qaeda, and security staff grill eight-year-old Ben about the worrying objects in his bag. How many hours will it take them all to run the gauntlet of delays, security checks and endless games of I-Spy? How many times will they lose Grandad? Will they end up in Guantanamo Bay? Will Ben find the Spanish for "Can I play with your machine gun?" and what idiot let the kids drink double espressos?

Saturday, December 13th, 2008

5: The Night Out

A Croatian babysitter has a night to remember when Mum and Dad manage to escape for a meal together. Meanwhile, Ben gets thrown out of his sister's pretend restaurant, and Jake gets advice from Grandad on why he should not invade Russia. And a big decision is looming about Grandad's future, but who is going to tell him?

Saturday, December 20th, 2008

6: The Football Match

Yet more chaos for the Brockman family as six-year-old Karen denounces Satan and Ben gets on the wrong side of a no-nonsense referee. Meanwhile, Dad is asked to 'sex up' an official document and Mum's competition with her impossibly perfect neighbour reaches a sticky conclusion. But most worrying of all, there is Grandad's fate to be decided.

Saturday, December 27th, 2008

7: The Long Night

The semi-improvised sitcom continues as a thunderstorm brings night-time chaos to the Brockman family. Ben wants to go out and dodge the lightning, while Karen is writing to the Prime Minister, asking him to fire her teacher. Jake is being manipulated by his girlfriend, the couple next door are hurling abuse at each other, and Mum has received some shocking news. None shall sleep. And morning brings a policeman to their door.
Season 3
Thursday, April 8th, 2010

1: The Family Outing

Gran takes the Brockman family for a day's sightseeing in London. Karen is unimpressed with modern art, Jake suffers serious trauma when he is unable to text, and one of the family uses a visit to HMS Belfast for a brief re-enactment of World War II.

Thursday, April 15th, 2010

2: The Internet

When Mum finds an inappropriate image on the family computer, an investigation begins. Gran is still staying, and Dad is horrified at the thought of having a heart-to-heart with her. Meanwhile, the ancient game of chess will never be quite the same again after Ben brings his own special talents to it.

Thursday, April 22nd, 2010

3: The Tennis Match

Karen recreates Britain's Got Talent, Ben takes a close interest in Dad's medical tests, Mum thinks Jake's healthy interest in girls is becoming unhealthy, and the ghost of John McEnroe hovers over Dad's Saturday morning game of tennis. Karen decides to sort things out.

Thursday, May 6th, 2010

4: The Pigeon

Dad is suffering from a terrible hangover, and it seems worse as he struggles against a rising tide of superstition, astrology and conspiracy theories that seem to be taking over the family. Ben takes time off from re-enacting the crusades to show a couple of prospective buyers around the house.

Thursday, May 13th, 2010

5: The Restaurant

The last time Mum's sister Auntie Angela came to visit, it all ended in disaster. Now she is back to show off the American therapist she has married. Dad is determined to avoid a major incident as they all go out to dinner. Ben tells everyone about his sex education class, Karen puts Auntie Angela's husband straight on therapy, but then there is a bigger problem between Mum and Dad.

Thursday, May 20th, 2010

6: The Hospital

Mum and Dad struggle to put things right between them, but Karen is unimpressed by their behaviour. She is worried by her vital role in the school concert, while Ben is busy recreating the assault on Everest on the stairs. But then there is a major panic about one of the children...
Season 4
Friday, September 2nd, 2011

1: The Funeral

The Brockman family have some tough decisions to make about work, video games and who to take to a family funeral. The vicar probably wishes none of them had ever come.

Friday, September 9th, 2011

2: The Girls' Day Out

Mum has enough of the boys' attitude to housework so sets out on a campaign to civilise them. Karen battles with chuggers and buying shoes, while Dad goes to war with a domestic appliance.

Friday, September 16th, 2011

3: The Labrador

Karen is on a sleep-over and Ben is away at adventure camp. Mum and Dad are left with a Labrador to look after and a glimpse of what life will be like once the children have left home.

Friday, September 23rd, 2011

4: The Parents Evening

There is a lot to discuss at Ben's parents' evening including muggers, dangerous chemicals and re-enactments of the Great Plague. Mum is still suspicious Jake is hiding something and Karen decides which of the world's great religions to lead.

Friday, September 30th, 2011

5: The Cold Caller (1)

Mum is still convinced Jake has a secret. Ben is determined to enter a school talent competition with an unusual double act. Then a couple of surprise callers make life more difficult than usual for the family.

Friday, October 7th, 2011

6: The Exchange Student (2)

As the family tries to get rid of Auntie Angela, another guest arrives to stay. Mum has to decide what to do about Jake's girlfriend. Ben and Karen discuss dreams, the Mafia and trampolining bears.
Season 5
Wednesday, January 29th, 2014

1: The Hamster

The Brockman family returns, older but no wiser, to face new challenges. Karen is having trouble adapting to big school, Ben is auditioning for a part in the school musical (even though he has a voice like a walrus), and Jake has made a foolish (and possibly permanent) fashion choice. Meanwhile, Mum and Dad try very hard not to interfere or send disastrously explosive emails.

Wednesday, February 5th, 2014

2: The Swimming Competition

Karen indulges her competitive instincts, Ben delves into the mysteries of human psychology and Jake appoints himself as a parenting expert. Meanwhile, Mum falls victim to a dysfunctional printer and Dad is hounded by a vigilant Daily Mail reader.

Wednesday, February 12th, 2014

3: The Goddaughter

The arrival of Dad's god-daughter from Australia has an unfortunate effect on the Brockman household.

Wednesday, February 19th, 2014

4: The Gap Year

Dad and Ben go on a winter camping trip, where Ben shows off his survival skills. Jake has to decide about a gap year, and Mum has had enough of Australian god-daughter Stacey staying.

Wednesday, February 26th, 2014

5: The Chinese Horde

Mum struggles to maintain a work life balance (mainly because her children keep going missing) while Dad battles with a mobile phone that has a mind of its own. Meanwhile, Jake is attempting to get home without money or transport, Ben encounters a Chinese horde and Karen has a life-changing conversation with her headmistress.

Wednesday, March 5th, 2014

6: The Musical

Stacey is back, Ben has a crisis of confidence over his starring role in Spartacus The Musical and Karen still hopes her escaped hamster will be found. Auntie Angela returns.