update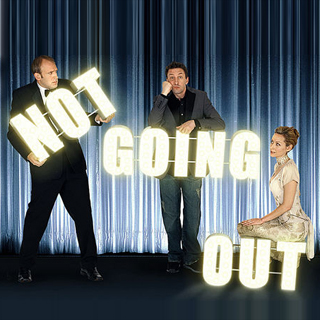 Season 0
not specified

10: Photo Gallery

not specified

6: Series 1 Behind the Scenes

not specified

7: Series 2 Behind the Scenes

not specified

8: Not Going Out on Location

not specified

9: Not Going Right

Friday, November 16th, 2012

1: Children in Need 2012

Not Going Out special for Children In Need 2012 featuring Terry Wogan.

Tuesday, December 24th, 2013

2: The House

In an effort to create the perfect Christmas for Lucy, Lee invites her parents to join the two of them and Daisy in a snug old house in the country which used to belong to his dear dead aunt. But the Christmas spirit is in short supply when Lucy discovers that the house has not been lived in for years and there appears to be a spooky presence. However, the spooky presence turns out to be Lee's dad Frank, who has also turned up to enjoy Christmas in the house with an old flame, and in an effort to get rid of the unwanted visitors he pretends the house is haunted by playing old music and leaving threatening messages on the cellar wall.

Saturday, December 27th, 2014

3: Not Going Right: The Outtakes

Thursday, December 24th, 2015

4: Christmas Shopping

It is Christmas Eve and newlyweds Lee and Lucy are doing some last-minute shopping when an unexpected stranger turns their Christmas upside down.

Sunday, December 24th, 2017

5: The True Meaning of Christmas

It's Christmas Eve, and Lee and Lucy face a possible yuletide disaster when they discover the perfect present they have bought for their children has already been gifted to them by their grandparents.
Season 1
Friday, October 6th, 2006

1: Serious

Kate tries clown classes after unsuccessfully getting Lee to go to them. You couldn't really call her own attempts a success. To repay Kate Lee goes on a date with Lucy Moss, an author whose book, about her turbulent life, was published by Kate's company. It's a less than happy event, as Lee proves less than great at being serious. With Lee out of the way Tim tries to make things up with Kate.

Friday, October 13th, 2006

2: Death

Tim's 94-year-old grandmother dies. Kate accuses Lee of not being in touch with his emotions when he fails to tell her. As penance he sees an expensive psychotherapist, who gets a bit too close to the truth. Tim, flirts with Kate, less than successfully, while she comforts him at his grandmother's funeral.

Friday, October 20th, 2006

3: Aussie

Ruth, an Australian friend of Kate's, comes to stay and Lee is persuaded to pretend to be Tim. Lee gets a job handing out leaflets at a shopping centre, but soon falls foul of a local youth.

Thursday, October 26th, 2006

4: Stress

Lee starts teaching Kate to drive. His (or her) lack of success seems to stress him out and Kate notices. She persuades him to try some yoga and given his track record he doesn't take it seriously. He is banished to have acupuncture while Tim tries his hand at teaching Kate how to drive. He does surprisingly well until Lee admits that he's taking tranquillizers during an increasingly speed fuelled drive in the countryside. Big question...will she pass?

Friday, November 3rd, 2006

5: Kid

Kate and Lee are forced to take in a lodger, a surly 14-year-old boy called Nicky. Lee's attempts to bond with the teenager prove less than successful, while Tim and Nicky discover they have quite a lot in common. Meanwhile, Kate tries to persuade a carnivorous Great Dane to become a vegetarian with unfortunate results.

Friday, November 10th, 2006

6: Caretaker

Lee finally manages to get a job, as a caretaker. But taking up the new post involves moving out of the flat. Kate interviews potential new flatmates including Pete, and Tim sees an opportunity to get back together with Kate. Lee's new boss proves to be a hard taskmaster. So, will Lee stick at the job or throw in the towel and move back in with Kate?
Season 2
Friday, September 7th, 2007

1: Mortgage

With Kate having gone back to America, Tim tells Lee he is going to sell the flat, and hires a cleaner called Barbara to clean it. Lee attempts to get a mortgage so he can buy it. In the meantime however he puts off all the potential buyers, until Lucy, who unbeknown to Lee is Tim's sister, arrives saying she will rent the spare room when Lee buys it. Lucy soon decides she wants to buy it herself, and both offer to buy it from Tim. Tim decides to sell it to Lee, however, he cannot get a mortgage so Lucy buys it. On Tim's wishes, she rents out the spare room to Lee.

Friday, September 14th, 2007

2: Gay

Lucy persuades Lee to pretend to be gay after she lies to a business acquaintance Guy, who she was told is gay himself, by telling him she lives with a gay flatmate to prove she is not homophobic. However, Guy soon starts to get suspicious and tests Lee's sexuality by taking him to a gay bar. Later, Guy overhears Lee saying to Tim, who had started to think Lee was gay, that he is not gay. When Lucy then explains to Guy what happened, he reveals he is not gay and he and Lucy kiss.

Friday, September 21st, 2007

3: Librarian

Lucy and Guy are going out with each other, and Guy has practically moved in. This annoys Lee who thinks Guy is too old for her. Lee soon discovers that Guy owns a lap dancing club. While at the club, Lee and Tim see Rose (Thaila Zucchi), a librarian that Tim has been seeing, and discover she is a lapdancer. Tim later dumps her, but then changes his mind. However, Rose refuses to get back together. Meanwhile, Lucy dumps Guy but they soon get back together but agree to take their relationship more slowly.

Friday, September 28th, 2007

4: Baby

When Guy's daughter Chloe gets appendicitis, Lee and Tim are left looking after her son Dillon while Guy and Lucy visit her. While in their care, Dillon swallows a subbuteo football and Lee and Tim have problems locating it, and try to think of ways to get it out of his body. However, it later turns out Dillon did not swallow it after all. Lucy is worried about the age gap between her and Guy.

Friday, October 5th, 2007

5: Art

In an effort to appear as intellectual as Lucy's friends, Lee shows off his 'knowledge' of the art world - holding forth on the subject of an unknown artist, who his cleaner Barbara has told him is the next big thing. When Lucy takes the advice and invests a fortune in the artist's work, Lee is left trying to prevent her from finding out the artist is actually a nobody.

Friday, October 12th, 2007

6: Dating

As Lucy and Guy's relationship intensifies, Lee starts to ponder his lack of a girlfriend and, encouraged by Barbara, tries speed dating. Tim is forced to go on a disastrous date with Barbara in order to prove that he sees her as more than 'the help'.

Friday, October 19th, 2007

7: Gangster

Lee thinks that Guy is a gangster and gets suspicious when a suspect package is delivered to Guy. However, there appears to be an innocent reason and Guy goes to take Lucy on holiday to Sicily. However, at the airport Guy asks Lucy to marry him but she turns him down saying he is too controlling, and Guy goes to Sicily on his own and Lucy says their relationship is over.

Friday, December 21st, 2007

8: Murder at Christmas

Lucy and Tim's parents Geoffrey and Wendy invite themselves to the apartment for Christmas, and Lucy persuades Barbara to work on Christmas Day to help out. On Christmas Day, Tim brings his girlfriend Daisy. Lee buys a murder mystery game, which they all then dress up and play. However, the game ends abruptly when Tim and Geoffrey argue. Lee then manages to talk Geoffrey round and they finish the game.
Season 3
Friday, January 30th, 2009

1: Pregnant

Lee is shocked when Lucy announces that she is pregnant and he wonders if he could accidentally be the baby's father.

Friday, February 6th, 2009

2: Winner

Lee wins a £1000 after winning an essay writing competition. A journalist shows up to interview Lee but expects him to be disabled after reading his story.

Friday, February 13th, 2009

3: Amy

Lee and Tim ask a lesbian couple who have moved into the building over for dinner. They are shocked when Lucy discovers a side of herself that she never knew existed.

Friday, February 20th, 2009

4: Party

Lee and Tim decide to try and throw Lucy a 30th birthday party but they both have different ideas. Lee is not happy when Lucy shows up at the party with a man and decides to try and get rid of him.

Friday, February 27th, 2009

5: Neighbour

Lucy isn't happy with the noise a new neighbour is making. She asks both Lee and Tim to talk to him but both are scared too. Tim decides to take up boxing so that he will have more courage. Lee ends up going to confront the man.

Friday, March 6th, 2009

6: Speech

Lucy is stressed. She has an important speech to make at a Recruitment Conference and nobody to help her write it. Lee sees an opportunity to impress her and offers his services but at the expense of Tim, who also thinks he's the best man for the job. What starts off as a small job now turns into a competition between Tim and Lee to not only see who can come up with the wittiest lines but also to establish which of them Lucy likes best.

Friday, March 20th, 2009

7: Marriage

Lee is shocked when he finds out that Lucy is thinking about getting married to Pavlov so that he will be able to remain in the country. As Lee attempts to get her to change her mind her family and other friends think that Pavlov is perfect for her.

Wednesday, December 23rd, 2009

8: Absent Father Christmas

Lee's father turns up at the flat unannounced. This is the man who walked out of the family home when Lee was four, never paid his maintenance and ate Lee's goldfish. Lee wants him out of the flat but Lucy tells him that the only way forward is to forgive and forget. Unfortunately, Lee's dad's behaviour makes this virtually impossible for Lee to achieve.
Season 4
Thursday, January 6th, 2011

1: Drugs

After a night spent out clubbing, Tim returns to the flat wearing the wrong coat, and convinces Lee to help him return it to its owner.

Thursday, January 13th, 2011

2: Debbie

Lee's past catches up with him when a young woman appears on his doorstep and asks for a cup of sugar.

Thursday, January 20th, 2011

3: Movie

Lee promises to stop treating Lucy's flat as if he owns it - but not before he has hired it out to a film director.

Thursday, January 27th, 2011

4: Dancing

Lucy and Tim are distraught. Their parents' 30 year marriage is at an end and their father has moved out of the family home - and into Lee's bedroom.

Thursday, February 3rd, 2011

5: Fireworks

When an old lady wanders into Lucy's flat and makes herself at home on the sofa, Lee doesn't know what to do with her.

Thursday, February 10th, 2011

6: Life on Mars Bars

Lee dreams of a perfect life with Lucy, but can the reality ever match up?
Season 5
Friday, April 13th, 2012

1: Band

When Tim joins a band at work and Lucy falls for the lead guitarist, Lee becomes jealous, and decides that if he can't beat them he should join them.

Friday, April 20th, 2012

2: Dads

Lee's lazy weekend is wrecked when his scrounging father turns up unexpectedly. Having just come out of hospital he needs somewhere to stay for the weekend. Will Lee take on the demanding role of carer?

Friday, April 27th, 2012

3: Camping

In a desperate bid to prove his manliness, Lee joins Tim, Daisy and Lucy on a camping weekend in the middle of a dark spooky forest.

Friday, May 4th, 2012

4: Running

To impress Lucy, Lee starts training for a 10 kilometre Fun Run only to injure himself immediately. In an effort to hide the injury from Lucy, he gets himself a secret sports massage, but this just leads to more trouble.

Friday, May 11th, 2012

5: Examination

Lucy finds herself working on a Government initiative encouraging men to regularly check themselves for lumps. Eager to please Lucy, Lee follows the campaign's advice and discovers something he wasn't expecting.

Friday, May 18th, 2012

6: Drunk

After Lucy suffers a mild indiscretion whilst drunk and claims to have no memory of the event, she and Lee embark on an experiment with a bottle of home-made potato hooch to prove once and for all that you can remember what happens when you're mashed.
Season 6
Friday, April 5th, 2013

1: Rabbit

Lucy accidentally runs over a pet rabbit belonging to the daughter of an important client.

Friday, April 12th, 2013

2: Skiing

On a holiday to Eastern Europe, Lee, Daisy and Lucy become stuck on a cable car.

Friday, April 19th, 2013

3: Therapy

Lee takes advantage of Lucy's new-found skills as a relationship counsellor to patch things up with his father.

Friday, May 3rd, 2013

4: Conference

Lee does what he has to do to stop Lucy from flirting with the male delegates at a three-day annual trade conference in order to get herself work.

Friday, May 10th, 2013

5: Rachel

Lee decides that the best way to get Lucy to notice him is to make her jealous. Now all he has to do is find himself a girlfriend.

Friday, May 17th, 2013

6: Play

Lee is forced to fight for Lucy's attention when her first love reappears on the scene.

Friday, May 24th, 2013

7: Magic

When Lucy's god-daughter is suddenly dumped on her the night before the girl's birthday party, Lucy and Lee have to come up with an appropriate entertainment for fourteen nine-year-olds.

Friday, May 31st, 2013

8: Boat

Lee spends a long weekend on his a boat with Lucy, even though she is terrified of water.
Season 7
not specified

0:

Friday, October 17th, 2014

1: Mugging

When Lucy has her handbag stolen from right under Lee's nose, he feels the need to prove his manliness over and over and over again.

Friday, October 24th, 2014

2: Christening

Lee's big mouth has got him and Lucy invited to a christening party thrown by new neighbours Toby and Anna, and now they have no time to find the perfect present for the baby who has everything.

Friday, October 31st, 2014

3: Donor

When Lucy decides it is time to have a baby, she is surprised to find the whole family taking a personal interest in the conception.

Friday, November 7th, 2014

4: Anna

Lucy aspires to be friends with her posh new neighbours Toby and Anna, but she hasn't reckoned on Lee dragging her back down to earth.

Friday, November 21st, 2014

5: Pointless

In an attempt to impress Lucy with his intellectual prowess, Lee joins Daisy as a contestant on the TV quiz show Pointless.

Friday, November 28th, 2014

6: Alcohol

Frank's drinking becomes a problem and forces Lee and Lucy to reassess the living arrangements in the flat.

Friday, December 5th, 2014

7: Surprise

No matter what happens, Lucy's surprise party for her parents' anniversary must remain a secret or it won't be a surprise. So why she tells Lee about it is anyone's guess.

Friday, December 12th, 2014

8: Plane

Flying off on a summer holiday, Lucy and Daisy endure the worst flight of their lives when Lee gets a bad case of the jitters on the plane.

Friday, December 19th, 2014

9: Lucy

Lee spends time in the bar with Toby worrying that the woman of his dreams is drifting further away.

Wednesday, December 24th, 2014

10: The Wedding

The will-they-won't-they tension reaches new highs in this epic series finale for Christmas that sees Lucy and Lee in previously uncharted emotional waters.

Saturday, December 27th, 2014

11: The Outtakes

All the bits you were never meant to see...
Season 8
Friday, January 13th, 2017

1: Romance

After seven years of marriage, Lee and Lucy disagree about the best way to keep the romance alive.

Friday, January 20th, 2017

2: Babysitting

Reluctantly Lucy allows Lee's father, Frank, to babysit and then wishes she hadn't.

Friday, February 3rd, 2017

3: Car

Lee's hopes for a stress-free ferry trip to France with Lucy and the children are dashed when they don't leave enough time for the car journey.

Friday, February 10th, 2017

4: Hot Tub

Lee and Lucy play Hot Tub Fantasy Date with Anna and Toby, and end up in hot water.

Friday, February 17th, 2017

5: Charlie

Lee is worried that Charlie is getting a reputation at school for being the class clown.

Friday, February 24th, 2017

6: Marriage Guidance

If Lee and Lucy's marriage wasn't in trouble before they go to Marriage Counselling, it is by the time they leave.

Friday, March 3rd, 2017

7: Enough

Lee and Lucy's discussion about whether they should have another child descends into psychological warfare.
Season 9
Thursday, March 8th, 2018

1: Home Improvements

Lucy's father reluctantly allows Lee to help Lucy clear up the builder's mess in their new kitchen extension.

Thursday, March 15th, 2018

2: Escape Room

As a surprise for Lee's birthday, Lucy invites the whole family to join them in an escape room.

Thursday, March 22nd, 2018

3: Stolen

A missing toy keyring causes a rift between Lee and Lucy and best friends, Toby and Anna.

Thursday, March 29th, 2018

4: Pets

To teach the children to be more responsible Lee and Lucy get a family pet.

Thursday, April 5th, 2018

5: Pants on Fire

When Lee and Lucy cancel dinner with Toby and Anna at the last moment it opens up a can of worms.

Thursday, April 12th, 2018

6: Lollipop Man

Lee and Lucy object to the school lollipop man handing out lollipops to the kids.

Thursday, April 19th, 2018

7: Bust Up

Encouraged by Anna, Lucy considers whether a breast augmentation is for her.